---
EDITORIAL:
The Nandigram Tragedy


Nandigram in West Bengal will likely remain a black mark
on the reputation of India's longest-running state government led by the Communist Party of India-Marxist.
Last month, police opened fire and killed at least 14 villagers in Nandigram, located in East Medinipur district, following protests against the state government's decision to evict villagers and acquire land to build a Special Economic Zone.
Let's be very clear. We concede that the Left Front in West Bengal has some genuine achievements to its credit. It has implemented arguably the most significant land reform in any part of India and improved the quality of life of millions in rural areas, which in turn has garnered it an electoral support base that has allowed it an unheard-of 30-year-long control of the state legislature.
That said, the government's actions in Nandigram have come as a rude shock, not least to its conscientious sympathizers.
How could a party that once prided itself on being the friend of the little guy become so divorced from reality, so out of touch of the aspirations and concerns of ordinary folk, that it could allow such a ghastly incident to occur?
Grand plans of industrial development with a chilling apathy towards the predicament faced by powerless, impoverished villagers who are thrown out to make way — this is how big bad capitalists are supposed to behave. How ironic that it is the CPI-M that finds itself in the dock!
It is clear that continuous power has taken a terrible toll on the moral bearings of the party. Our India editorial consultant Sandeep Pandey takes a critical look at Nandigram and its aftermath. While we don't agree with everything Sandeep has to say (and it is Siliconeer policy to allow its contributors considerable leeway in expressing their opinions), we have to say that Sandeep makes some very telling points.
Few achievements give the South Asian community more pleasure than the success of their children. It must be said they seldom disappoint. There is a hardly any major U.S. competition — Rhodes Scholarships, National Spelling Bee, Intel Prize — where there the winners don't include a few bright South Asian kids. Sure enough, there are at least nine South Asian college students among the 65 students who have been named 2007 Truman Scholars.
Unfortunately, space limitations precluded a detailed article, so this month we carry just a brief tribute to these nine bright young men and women.
California's love affair with the environment is well known, but what does it actually mean?
If you forget the clichés, you realize that there's more to caring about the environment than protecting the redwoods or keeping offshore oil drilling out of the state.
The fact is that in addition to being blessed with breathtaking natural beauty, the state is also an economic powerhouse, and the way the economic dice are loaded, environmental priorities often come in conflict with large business interests, and sadly, underprivileged ethnic minorities often get caught in the middle.
This is what makes the International Center for Journalists Clean Air Workshop so valuable, because it brought the people best suited to communicate these issues —journalists who serve ethnic minorities, in touch with activists, policymakers and top-notch mainstream journalists to familiarize them with critical issues of air pollution. Supported by The William and Flora Hewlett Foundation, journalists from diverse backgrounds came together in Riverside, Calif. Ashfaque Swapan gives readers an insider's view.
From this year, Siliconeer has begun to offer an additional special section in some of its issues.
Previously we carried a special segment on the ICC World Cup, and this month we carry a special segment on real estate.
As its readership and Web site visitors continue to grow, Siliconeer continues to try to explore ways of adding value to the magazine. We thought that if Siliconeer decides to focus specifically on topic of wide reader interest from time to time, that would be a useful addition. However, we never quite knew what our readers would think unless we actually brought out an issue with a special section.
Well, the verdict is in now, and we are pleased to say that we have received enormous feedback, almost wholly positive, regarding our World Cup special segment. Thanks to our numerous readers who took the time to email us their appreciation, especially regarding the tear-out schedule of World Cup matches (also available on our Web site) that readers found particularly handy.
Nothing gives us more pleasure than our readers' satisfaction, and now that our decision has been vindicated, we are happy to remind readers to be on the lookout for our forthcoming special segments in August and October. In August, we will be probably the first South Asian publication to jointly celebrate the Independence day of India and Pakistan. In October, we shall carry a special Diwali issue.
Do drop us a line with ideas and comments about how we can make Siliconeer better serve you.
|
TOP
|
---
COVER STORY:
Nandigram Killings: Fascism of the Left?
The recent police killings in Nandigram, West Bengal, have revealed a chilling arrogance of the CPI-M, the leading party in the state government, writes Sandeep Pandey.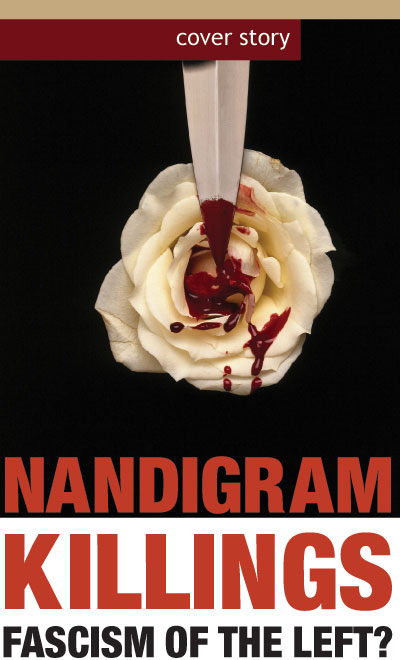 I was in Kolkata Feb. 14 to attend a meeting of the Anti-Nuclear Forum organized against the proposed nuclear power plant at Haripur in East Medinipur District of West Bengal. Not as much in the news as Singur and Nandigram, Haripur had also thrown up a challenge to the Left Front government of West Bengal and officials from the Atomic Energy Commission were not allowed to visit the area for inspection by the local people. Shyamali Mitra, an artist, who spoke at the meeting in Kolkata. talked about the state having become fascist in West Bengal .
It was a jolt to me. I could not visualize a left party or government as fascist. So far, I had associated the idea of fascism only with right wing politics. But people in Kolkata were talking about a government with fascist tendencies. We were told that goings on of every meeting of citizens was reported to the government. Punitive action was taken by the Communist Party of India-Marxist cadres against anybody seen as acting against the interest of the party. Trinamool Congress activists were facing oppression at the hands of CPI-M cadres. I returned from Kolkata with a feeling that my state — Uttar Pradesh, or probably even Bihar too, even with their highly publicized state of lawlessness, provide more democratic space for dissent than West Bengal.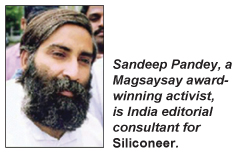 It is not long back when U.P. Chief Minister Mulayam Singh Yadav's police lathi charged the farmers whose land was being taken away for a SEZ in Dadri where Reliance was supposed to set up a power plant. When Mulayam Singh faced bitter criticism for his anti-farmer stance, he decided to put things in cold storage. But the overconfident West Bengal government persisted with their project in Nandigram.
We saw a face of left fascism that we had never expected to see. Even though only 14 people were killed and about 30 went missing, which is much smaller compared to the figures in Gujarat after the Narendra Modi backed wholesale violence in 2002, one cannot but help compare the two unfortunate incidents. Whereas in Gujarat the police turned a blind eye while the Hindutva brigade went on a rampage, killing and raping Muslim citizens, in West Bengal the police was directly used to fire upon people and CPI-M cadres were reportedly wearing police uniforms and firing alongside. A CBI investigation had revealed some police helmets along with CPI-M flag and literature at one place. Did we hear of any Rashtriya Swayamsevak Sangh or Bharatiya Janata Party workers wearing a police uniform and killing a Muslim in Gujarat?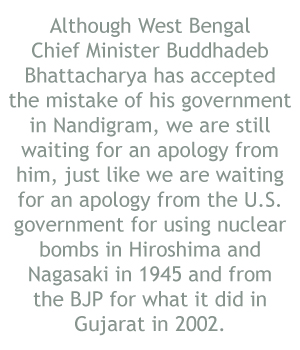 The idea of fascism is associated with a group which has a sectarian thinking and doesn't believe in democracy. It thinks of itself as superior to others. The right wing Hindutva group clearly fits the definition. It is unfortunate that they have used the freedom and flexibility offered by Indian democracy to capture political power through the backdoor. Kalyan Singh, reneging on his promise given to the nation just before the Babri Masjid demolition, has also demonstrated that they have scant regard for the Indian Constitution. Ideally, no party or group believing in sectarian ideology (catering to only one segment of population at the cost of other) should be allowed to operate in a democracy. However, for the time being the Hindutva brigade gets to use emotional, nationalist and religious issues, which are potentially explosive, to further its politics.
CPI-M, also by its actions, has increasingly begun to fit the description of a fascist force. They have come to believe in the infallibility of their ideology, so much so that they do not care about any other view point. They did not feel the need to undertake a democratic consultative process with the people either in Singur or in Nandigram before deciding on the projects which were proposed there. It remains mysterious why, going against the proposed National Rehabilitation Policy which suggests that developmental projects should be initiated at places which will either cause no displacement or minimum possible displacement, projects were conceived in Singur and Nandigram which are agriculturally very fertile lands and would have resulted in very painful and large scale displacements. Although West Bengal Chief Minister Buddhadeb Bhattacharya has accepted the mistake of his government in Nandigram, we are still waiting for an apology from him, just like we are waiting for an apology from the U.S. government for using nuclear bombs in Hiroshima and Nagasaki in 1945 and from the BJP for what it did in Gujarat in 2002. Only Sonia Gandhi has apologized for Operation Bluestar in 1984, the military attack against Sikh separatists in the Golden Temple in Amritsar that claimed at least 300 lives.
Moreover, in Kerala, we saw how blatantly disregarding the opinion of their Chief Minister V.S. Achuthanandan, the CPI-M party decided to get an approval in cabinet by "consensus" for a ADB loan. CPI-M seems to be losing its tolerance for democracy, betraying an increasingly fascist tendency.
The people of India now face dual danger of fascism— one from the right and another from the left and they'll have to confront both.
On March 22, Medha Patkar and 61 other activists as part of their national protest, Action-2007, against the anti-people policies of the government went to the Planning Commission and were lathi charged and arrested. The Planning Commission deputy chairman Montek Singh Ahluwalia has sent a message to people who protested against the arrest of Medha Patkar and colleagues, saying that these activists had arrived unannounced without a prior appointment and had forced their way into the Yojana Bhawan. They were first politely requested to disperse but they continued to create disturbance. The security personnel informed the local police and the police took an action as they thought fit.
If Montek Singh Ahluwalia were to put himself in the position of the people of Singur, Nandigram, Dadri or any of the places where development projects or SEZs are being imposed unannounced on common people, he would see that he would have the same set of grievances against the government as he has expressed against Medha Patkar and the activists. And this is when the Yojana Bhawan is not even his permanent home and the activists were not taking away his land or causing a threat to his job.
The harsh truth today is this: The cold logic of development combined with the fascist attitude of governments is resulting in insensitivity towards the people, in whose name exist the political parties as well as the Planning Commission.
|
TOP
|
---
AWARD:
Tomorrow's Leaders: Truman Scholars

At least nine South Asian Americans are among the 65 Truman Scholars for 2007. A Siliconeer report.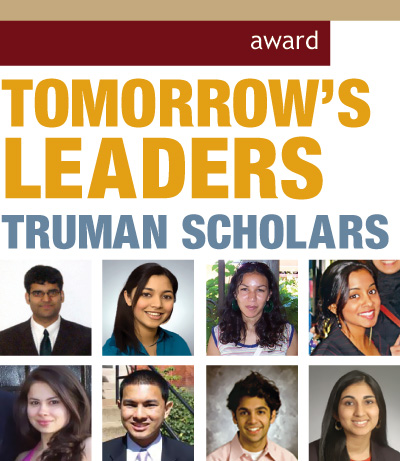 South Asian American 2007 Truman Scholars: (Top, l-r) Umair Iqbal, Monica Mukerjee, Kesha Kaleire Ram, Salmah Yasmeen Rizvi, (bottom, l-r) Victoria Sehgal, Indra Narayan Sen, Deep Jayendrakumar Shah and Malkit Kaur Singh. Truman Scholar (Meghan Desale is not pictured above.)
Former U.S. Secretary of State Madeleine K. Albright, president of the Harry S. Truman Scholarship Foundation, has announced that 65 students from 56 U.S. colleges and universities have been selected as 2007 Truman Scholars. They were elected by eighteen independent selection panels on the basis of leadership potential, intellectual ability, and likelihood of "making a difference." At least nine of this year's Truman Scholars are of South Asian descent.
The South Asian American Truman Scholars are: Meghan Desale, Umair Iqbal, Monica Mukerjee, Kesha Kaleire Ram, Salmah Yasmeen Rizvi, Victoria Sehgal, Indra Narayan Sen, Deep Jayendrakumar Shah and Malkit Kaur Singh.
A native Californian, Meghan Desale now studies Spanish and psychology in the B.A./M.D. program at Boston University.
Umair Iqbal was born in Pakistan and immigrated to America when he was nine. He is a junior pre-med student with a major in biological sciences and a minor in political science at the University of Anchorage Alaska.
Monica Mukerjee is studying international relations and psychology with specializations in political economy and gender studies at Michigan State University.
Kesha Ram is pursuing degrees in natural resource planning and political science at the University of Vermont.
Salmah Rizvi, a double-major in anthropology and international relations at the Johns Hopkins University, founded Vision XChange, a nonprofit organization which serves as a mechanism to create entertaining, opportunistic events while spreading awareness of important issues.
Victoria Sehgal is currently a junior at Amherst College. Her main policy interests are the social and economic impacts of education, and she has been thoroughly engaged in activities related to this passion.
Indra Sen is a junior at Georgetown University majoring in culture and politics.
Deep Shah is a Foundation Fellow at the University of Georgia. Majoring in both biology and international affairs, he hopes to pursue a career in health policy.
Malkit Singh, a student at George Mason University, plans to practice medicine in underserved areas, focusing on AIDS and other "problems of living turned into medical illness."
The 65 scholars were selected from among 585 candidates nominated by 280 colleges and universities. Each selection panel interviewed finalists from a 3 - 4 state region and generally elected one scholar from each state and one at-large scholar from the region. Each panel typically included a university president, a federal judge, a distinguished public servant, and a past Truman Scholarship winner.
Each Scholarship provides $30,000 for graduate study. Scholars also receive priority admission and supplemental financial aid at some premier graduate institutions, leadership training, career and graduate school counseling, and special internship opportunities within the federal government. Recipients must be U.S. citizens, have outstanding leadership potential and communication skills, be in the top quarter of their class, and be committed to careers in government or the not-for-profit sector.
|
TOP
|
---
NEWS DIARY: March 2007 Roundup


West Bengal Relents on Nandigram, Moves SEZ | Love in Cyberspace | Son on Trial | Save the Tiger | Radical Females | Violence in Terai | Lanka Offensive | Sponsors Reeling




West Bengal Relents on Nandigram, Moves SEZ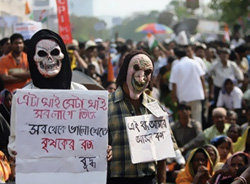 A public protest against the West Bengal government shooting in Nandigram on opponents of a massive petrochemicals hub that would have evicted villagers.

The communist-ruled West Bengal state has agreed to relocate but not abandon plans to build a massive petrochemicals hub following deadly protests by furious villagers.

"Any death is tragic. We don't want clashes, bloodshed and deaths for industrialization," an official quoted Buddhadev Bhattacharya, the communist chief minister of West Bengal, as telling a public meeting.

The state had set aside land around the village of Nandigram as part of its plans to set up Special Economic Zones — SEZs — modeled on a Chinese program to give foreign companies large tax-free enclaves to spur industrialization.

But 14 villagers opposed to the compulsory purchase of their farmland on behalf of Indonesia's Salim group were shot dead during a clash with police on March 14.

"My party and the government have learnt from the mistakes from Nandigram," he said of the violence at the village, which is situated around 75 miles south of the state capital Kolkata.

"I am officially saying that the government won't go to Nandigram as the people of the area are opposed to it," Bhattacharya said.

"We can't afford to lose the chemical hub," he said. "It will be set up in a suitable place."

The controversial SEZ scheme, launched in 2005, has met with massive protests from those living on land earmarked for such zones.

It has also sparked debate over whether farmland should be used for industry in India, where some two-thirds of the billion-plus population live off agriculture.
|Back to NEWS Diary| |TOP|

Love in Cyberspace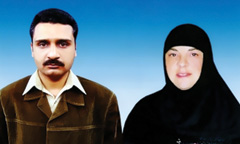 Mohammed Ali Tipu met his American wife 21 years his senior over the Internet.

Mohammed Ali Tipu, from Pakistan's conservative tribal northwest, met his American wife 21 years his senior over the Internet. Now it is only cyberspace that is keeping their love alive.

The pair are sustaining their marriage via emails after Tipu's bride Ann Slayton had to leave his remote home town and return to North Carolina to be with her ailing mother.

"Each day separated from Ali, my husband, is hell," Slayton, 49, told AFP in an email. "I miss Ali each and every day with such sadness, words cannot express my sadness. I miss him very much."

Tipu, 28, a newspaper page designer, said he was among the first Internet users in Kohat, a dusty gateway town to Pakistan's lawless tribal areas bordering Afghanistan.

His town lies on the route that security forces say is criss-crossed by Al-Qaeda and other Islamic militants as they move between remote safe hideouts in the region.

It was at the beginning of 2003, when Pakistani forces were battling Al-Qaeda militants in the Waziristan tribal belt, that Tipu and Slayton "met" in an Internet chatroom and struck up a friendship.

"I was inspired to use the Internet after watching an Indian movie where the hero finds a lover the same way," said Tipu, sitting cross-legged in his small home with open drains running outside the boundary walls.

First, though, he needed to have a telephone line installed at his house.

"I started visiting chatrooms, my special interest was Islam. One day I saw the profile of Ann and I felt attracted to her smiling face," he said.

The Christian American grocery shop owner joined the chatroom because she was interested in other religions. She was "very charming" and keen to learn about Islam, said Tipu, who prays five times a day but says he is not a fundamentalist.

"It was not love at first sight. It developed slowly over two years and then we both were immersed in it," Tipu said.
|Back to NEWS Diary| |TOP|

Son on Trial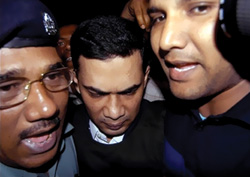 The high-profile son of Bangladesh's outgoing prime minister, Tareque Zia (c) in court.

The high-profile son of Bangladesh's outgoing prime minister appeared in court to hear extortion charges and that his trial will be moved to a fast-track tribunal.

The lawyer of Tareque Rahman, the eldest son of Khaleda Zia and slain president Ziaur Rahman, said the charges were "politically motivated" and criticized the decision to wrap up a trial within 45 days from April 5, when the hearings will begin.

"The case has been transferred to the speedy trial court and the trial of Tareque will begin on April 5," prosecution official Shahidul Haque Bhuiyan told AFP.

Rahman, widely seen as being groomed to take the leadership of Zia's Bangladesh Nationalist Party, is among some 45 influential figures who have been detained on suspicion of corruption since emergency rule was imposed in January.

He and his personal secretary are accused of extorting 10 million taka ($144 million) from a businessman.

The detentions are part of a major anti-graft crackdown by the country's new military-backed interim government.

"The charges are all baseless and politically motivated," Rahman's lawyer Naushad Jamir said.

"He cannot be tried in a speedy trial court... (and) we will make an appeal so that the case should be tried, if at all, at a regular court," he added.

The caretaker government took over on January 12, after President Iajuddin Ahmed stepped down as head of the earlier interim government.

He also cancelled disputed elections, which the opposition said had been rigged by the BNP, and imposed emergency rule.

The new government has pledged to clean up Bangladesh's notoriously corrupt politics before holding credible elections.

Save the Tiger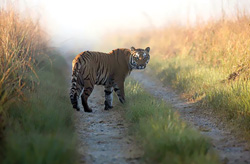 Visitors to the Corbett Tiger Reserve can track the Royal Bengal Tiger, the magnificent yellow-and-black striped cat found only in Asia, from the back of an elephant.

Corbett National Park is no Serengeti or Kruger. Unlike those African parks, you won't see hordes of animals under shady trees or watering holes. But tracking and spotting a tiger in the Indian jungle with an experienced guide is every bit as thrilling as homing in on a pair of cheetahs in the African grasslands.

Corbett National Park, located in the northern Indian state of Uttarakhand, epitomizes India's success in saving the endangered Royal Bengal Tiger, the magnificent yellow-and-black striped cat found only in Asia.

A victim of hunting, poaching and human encroachment, the tigers were threatened with extinction when the global Project Tiger was launched in Corbett National Park on April 1, 1973. At the time, the tiger population in the park was 44. Across India, only about 1,800 existed, down from 40,000 at the turn of the 20th century.

Under the stewardship of Rajiv Bhartari, the director of Corbett Tiger Reserve, the tiger population in Corbett has increased to about 175. Overall, there are about 3,600 tigers in India but other national parks have not fared as well as Corbett and some reserves have no tigers left.

"Right now, what you see is a glorious Corbett. We have never seen anything like it. (Tiger) sightings are becoming more common," said Bhartari in an interview at the Dhikala forest lodge.

It is the largest and most frequented of the 12 lodges, operated by the state forest department, inside the 200-square-mile Corbett National Park.

The park is named after Jim Corbett, a British colonial army colonel who was born in 1875 in Nainital, not far from the sanctuary, and lived virtually all his life in India until 19847. An ardent hunter, he gave up killing for sport after witnessing a carnage of water fowl by three army officers, and dedicated his life to preserving wildlife.
|Back to NEWS Diary| |TOP|

Radical Females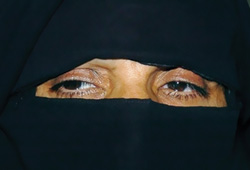 Alleged brothel owner Aunty Shamim.

Female students at an Islamic school in the Pakistani capital freed an alleged brothel owner after the woman donned a burqa and promised to shun "immoral acts."

The students at the madrassa in Islamabad had kidnapped the woman, identified only as Auntie Shamim, along with her daughter and a daughter-in-law, sparking a standoff with the government.

Clad in an identical black burqa to the ones worn by the students, the woman was brought before the media at the Jamia Hafsa school and read out a confession.

"I seek forgiveness for the sins that I have committed and declare I will live like a true Muslim and preacher of religion," Shamim said in the signed statement.

"I do confess getting involved in certain acts, which are considered moral crimes, with my house being misused for the purpose," she said.

She denied that she had been forced to sign the statement but said that there were "several men, who tied and tortured me before I arrived here. But the attitude of the female students was exemplary."

The kidnap sparked tensions in Islamabad when police arrested two female teachers from the school. Baton-wielding students then abducted two passing policemen.

The police officers and the teachers were freed later.

But the three women kidnapped from the "vice den" were held overnight and were only freed after a marathon meeting of mullahs, said the vice principal of the seminary, Abdul Rashid Ghazi.

The case has raised questions about the Pakistani government's willingness to tackle the hardline school in the centre of the capital, following a series of incidents.

Many of the school's female students are still occupying a nearby government-run children's library after launching a protest in January against plans to demolish a mosque in the capital.
|Back to NEWS Diary| |TOP|

Violence in Terai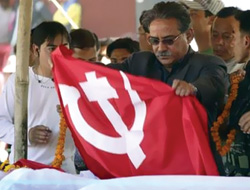 Nepal Communist Party chief Prachanda covers the bodies of his comrades with the Party's flag during a condolence gathering in Kathmandu.

An ethnic leader from the Terai plains was shot dead in Nepal and another supporter critically injured in what protesters alleged were are revenge' attacks.

Mata Prasad Verma, a leader of the Madhesi Janadhikar Forum, the ethnic group from Nepal's Terai plains that is spearheading a protest movement demanding an autonomous Madhes state for plains people in southern Nepal, was gunned down at his residence in Bethauni village in Banke district.

An armed gang also attacked Lalka Shah, the owner of a small hotel in Inaruwa town in Sunsari district, critically injuring him.

Shah, who is reported to have received at least 10 dagger wounds, is fighting for his life in hospital.

The plains have been beset with violence, arson and disruption since last December, resulting in the death of over 60 people and deepening the rift between Nepal's hill community, the Pahadis, and the plains people, the Madhesis.

The first spate of arson, vandalism and looting in Nepalgunj town on Christmas Day targeted Madhesis while the district administration remained mute spectator with reports of security personnel taking part in the attacks.

However, the government is yet to take any punitive action against the guilty.

The biggest administrative failure occurred last week when clashes between the Forum and the Maoists resulted in the death of at least 29 people in Gaur town. But the seven-party government of prime minister Girija Prasad Koirala is yet to initiate an investigation into the carnage.

As the government delays its probe, the Maoists are alleging that the Forum was supported by criminal elements, followers of King Gyanendra, vigilantes armed by the royal regime and Hindu extremists from India, who supported the royal regime.

Forum leaders counter-allege that the violence was unleashed by the state working in tandem with the Maoists to suppress the Madhes movement.
|Back to NEWS Diary| |TOP|

Lanka Offensive

Sri Lanka's military said it had captured a key Tamil Tiger rebel stronghold in the island's embattled east, two days after the guerrillas stunned the capital with their first ever air raid.

Security forces took control of Kokkadichcholai in the district of Batticaloa and seized a large haul of arms, ammunition and land mines from the Liberation Tigers of Tamil Eelam base, the army said in a statement.

"Marking one more milestone in the army's forward march to secure the besieged eastern areas from LTTE clutches, valiant troops this morning completely brought Kokkadichcholai under their control," the statement said.

It gave no details of casualties, but the statement suggested that the Tigers may have abandoned the area without putting up any resistance.

The army said it found a large amount of "warlike items that had been hurriedly left behind by fleeing Tiger terrorists in the face of advancing troops."

The guerrillas had left behind a distillery which had been used to manufacture alcohol for sale in the coastal district, the army said. "It has been a local money-spinner for the terrorist organization," the army said.

More than 60,000 people have been killed in Sri Lanka's Tamil separatist campaign since 1972. The two sides agreed to a truce in February 2002, but subsequent peace talks have broken down.
|Back to NEWS Diary| |TOP|

Sponsors Reeling

The stunning exits of Pakistan and India from cricket's World Cup has left one of the game's biggest sponsors reviewing its future in the sport and sent the advertising world into a tailspin.

Giants such as Pepsi have had to rethink marketing campaigns centered around the teams, Indian advertisers are demanding cut-price television spots and in Pakistan the ad industry reckons losses will run into millions of dollars.

"We are sunk," said Delhi-based advertising executive Rajmohan Singh.

"No one wants to advertise any more. Is there a World Cup going on? Where? My figures don't show that."

South Korea's LG Electronics said it was unsure if it would remain a global partner of the International Cricket Council when sponsorship contracts are renegotiated later this year.

LG, which jumped on the cricket bandwagon seven years ago to boost sales in the lucrative Indian market, said its priorities had changed.

"Our requirements were different when we signed up with cricket seven years ago," said LG's Indian spokesman Girish Rao.

"Today, we have lot of visibility being the number two brand in the Indian market. But a final decision will be taken by our parent company."

India, the 1983 World Cup winners and 2003 finalists, failed to advance to the 2007 version's Super Eight round after losing two of their three games in the preliminary stage.

Pakistan, winners in 1992, went out at the hands of minnows Ireland in one of the sport's biggest shocks.
|Back to NEWS Diary| |TOP|