---
EDITORIAL:
Space: The Final Frontier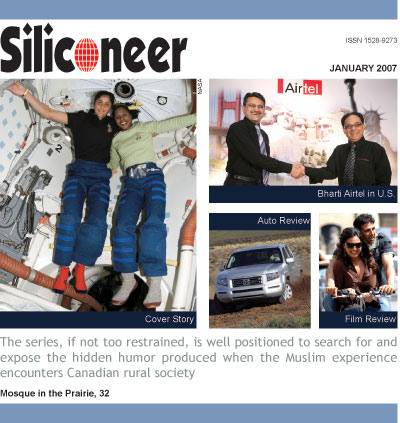 Each show of 1960s cult favorite television series Star Trek used to begin with a ponderous intonation: "Space, the final frontier."
The remark captured something essential about the human spirit. From the ancient hunter-gatherers to the sea explorers in previous centuries, the urge to seek out new, undiscovered places, to push the frontiers of knowledge just a little bit more, represent almost a primordial human instinct.
In the modern age, where the entire world has been charted and accounted for, space casts the same spell that the unknown seas and lands did in the 18th century.
Despite being a developing country, India's prowess in space technology has been impressive. However, human space travel has been beyond its capability.
Fortunately, Indians individuals have had the rare opportunity to travel into space.
Indian cosmonaut Rakesh Sharma spent eight days in 1984 aboard the USSR's space station Salyut 7, becoming the first Indian to travel into space. The second person of Indian descent, Indian American Kalpana Chawla, died tragically in the space shuttle Columbia disaster in 2003.
Sunita Williams becomes the third person of Indian descent to travel into space. Her experience in space includes not just travel, but walking in space and spending an extended period in a space station.
Her trip has generated great interest and pride among the global Indian diaspora. This is also a good moment to celebrate the exciting human drama of space travel, which brings the entire world together irrespective of nationality and borders. We celebrate Sunita Williams and space travel in our cover story.
Something very peculiar is happening in the West Bengal township of Singur.
Indian corporate giant Tatas are all set to move and to set up an automobile plant with the enthusiastic encouragement of the ruling Left Front government.
After decades of rule, the Left Front has realized that to move a substantial part of people out of poverty, what you really need is manufacturing jobs. Progress in information technology is well and good, but this progress is beyond the reach of the bulk of the population in Third World societies as IT jobs are essentially skills and knowledge-intensive.
Realizing this, the pragmatic Left Front has assiduously courted industrialists both within and outside India. In addition to the Indonesian corporate investor Salim Group, the West Bengal government has managed to bring in the Tatas to set up an auto plant, hoping for a windfall of jobs and resulting from economic growth resulting out of what economists call the multiplier effect.
However, in a densely populated, desperately impoverished state like West Bengal, realizing the plan cannot be painless. Farmland is being acquired (with owners paid due compensation, insists the West Bengal government), but what of the landless laborers and others whose living depends on the existing agricultural infrastructure?
In Singur, many are protesting the loss of land, and the protest has attracted some strange bedfellows. The Congress Party and the Bharatiya Janata Party, normally ardent backers of reform and market economics, have ended up going against their own professed policies to take on the left front. We carry detailed story in our issue.
At Siliconeer, we make an effort to expand our readers' horizon beyond the South Asian ethnic comfort zone.
In an increasingly diverse, multicultural America, we think it makes sense to try to understand and develop a familiarity with smaller communities like us with whom we share a lot in common to begin with.
Thanks to the wonderful resources of the New America Media, it's not very difficult to do this.
This month we carry a moving account by NAM writer Angelika Gomes. After going on a trip to Guatemala, she learned about the country through the eyes of her often estranged father who immigrated from the war torn Central American country. Gomes writes with disarming simplicity and candor as she blends a description of her trip with an account of her turbulent life—we learn about her hot-headed father, her love-hate relationship with him, her relatives in Guatemala, and the fascinating, vastly different lifestyle in Guatemala.
Much of this is very different from the South Asian experience, but there is also much that is common. The loneliness and cultural dichotomy of living between two cultures, the warmth of relatives in the old country — those are a few of the things that most immigrants share.
What's more, at a time of rising anti-immigrant hysteria, it is imperative that immigrant groups transcend their ethnic differences and come together to fight for their rights. The best first step of bringing communities together is to get to know each other a little better. Siliconeer is happy to do its part with its occasional "Ethnic Neighbors" section.
Do drop us a line with ideas and comments about how we can make Siliconeer better serve you.
|
TOP
|
---
COVER STORY:
Historic Voyage: Sunita Williams in Space
Sunita Williams has created history as she became only the second woman of Indian descent to go into space. A Siliconeer report.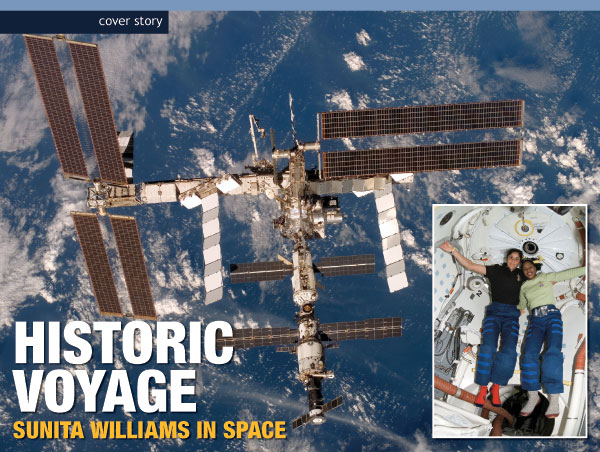 (Inset): Astronaut Sunita L. Williams (left) and Joan E. Higginbotham, both STS-116 mission specialists, float arm-in-arm near Space Shuttle Discovery's hatch, which leads into the International Space Station. Rendezvous and docking operations between the shuttle and station occurred Dec. 11 at 4:12 p.m. Central Time and the crew entered the orbital outpost at 5:54 p.m. (Pic: NASA)
(Background): Backdropped by a blue and white Earth, the International Space Station moves away from Space Shuttle Discovery. Earlier the STS-116 and Expedition 14 crews concluded eight days of cooperative work onboard the shuttle and station. Undocking of the two spacecraft occurred at 4:10 p.m. (CST) on Dec. 19, 2006. During their stay on the orbital outpost, the combined crew installed the newest piece of the station's backbone and completely rewired the power grid over the course of four spacewalks. (Pic: NASA)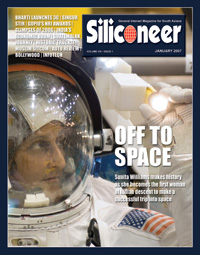 Cover photo: Astronaut Sunita L. Williams, Expedition 14 flight engineer, puts the final touches on a training version of her Extravehicular Mobility Unit (EMU) spacesuit, prior to being submerged in the waters of the Neutral Buoyancy Laboratory near the Johnson Space Center. (Pic: NASA)
As we speak, NASA flight engineer Sunita Williams is 215 miles above the planet, helping unpack at the International Space Station.
Carrying a copy of the Bhagavad Gita, a statue of Ganesh and a packet of samosas as she traveled into space, Williams created history after she became the second woman of Indian descent to go into space as the space shuttle Discovery lit up the sky in Cape Canaveral late Dec. 9, blazing off for the first nighttime space shuttle launch in four years.
The 41-year old astronaut of Indian and Yugoslavian descent, a new crewmember for the International Space Station, is spending six months conducting experiments onboard the orbiting outpost, fulfilling a childhood dream.
During their 12-day mission, Discovery's crew rewired the space station, delivered an $11 million addition to the space lab, and brought home one of the space station's three crew members, German astronaut Thomas Reiter of the European Space Agency. Sunita Williams replaced him, beginning a six-month-long stay.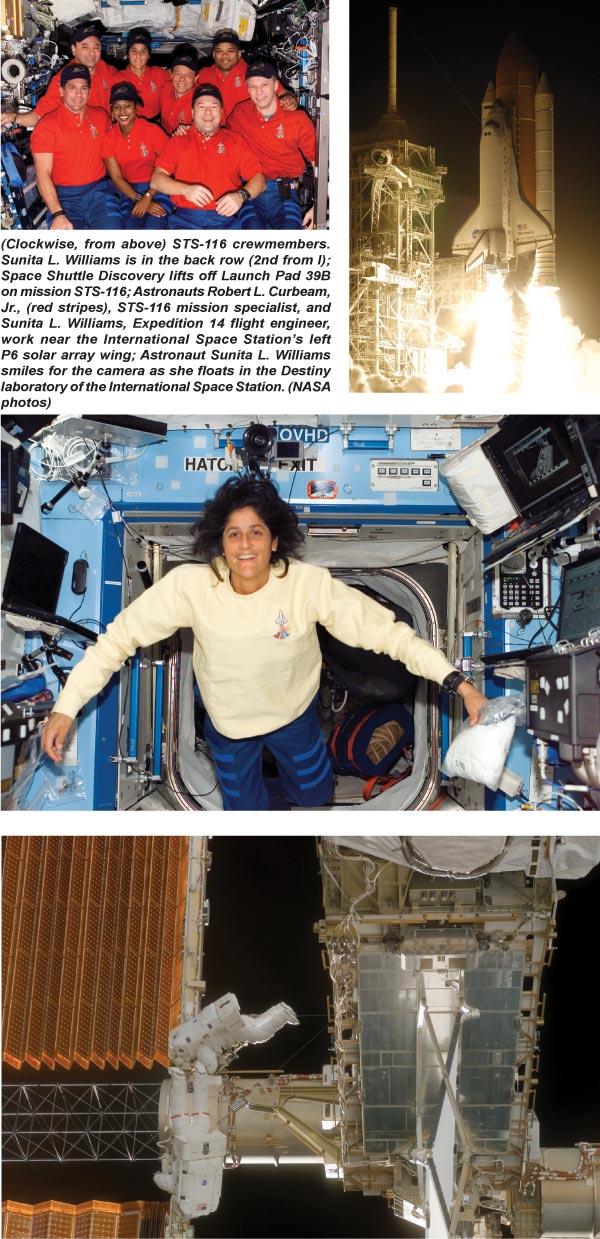 Commanded by Mark Polansky, the mission was highlighted by the success of three planned spacewalks and an unplanned foray to fix a sticky solar array.
The first spacewalk was performed by Bob Curbeam and Christer Fuglesang. During the next spacewalk, Curbeam and Fuglesang set out to connect half of the cables needed to funnel electricity from the new P4 solar array. The wiring job went off without a hitch and far quicker than engineers had anticipated.
The story was much the same when Sunita Williams joined Curbeam for the third spacewalk. The pair again made quick work of the rewiring, completing that task and installing a space station debris shield with plenty of time to spare.
Before heading back to Discovery's airlock, mission controllers dispatched Curbeam and Williams to take a closer look at the jammed P6 solar array.
Following a week of showing how good teamwork makes the best plans better, the STS-116 crew departed for the International Space Station. Discovery conducted a construction mission on the International Space Stations, in orbit 400 km above the earth.
After flying on the space shuttle's STS-116 mission to the International Space Station, Williams has joined the station's Expedition 14 crew. When a new crew arrives aboard a Russian Soyuz in March, she'll become part of the Expedition 15 crew. Williams is scheduled to return to Earth with the STS-118 shuttle crew in the summer.
Williams said that one of her biggest jobs as a member of the space station crew will be to further human understanding of how to live and work in space. That knowledge will prepare NASA to take the next steps of exploration.
"So the space station's just a stepping stone to get us to understand space, and how to live and work in space, and then potentially get back to the moon," she said.

In an interview with NASA before leaving for space, Williams said she remembered, as a five-year-old child how she watched Neil Armstrong walk on the moon with awe. She recalls thinking then that was what she wanted to do, even if it seemed like an unrealistic dream.
"I never really thought that that would happen in my life," she said. "It seemed too far out there, something that I could never achieve." That changed, though, during a visit to NASA's Johnson Space Center in Houston.
Williams had earned her bachelor's degree in physical science at the U.S. Naval Academy. She was attending test pilot school to become a Navy helicopter test pilot. During a field trip, her class went to Johnson Space Center, where they met John Young, who walked on the moon during the Apollo 16 mission. She said that most of her classmates were training to become jet test pilots, which is a common steppingstone to becoming a pilot astronaut.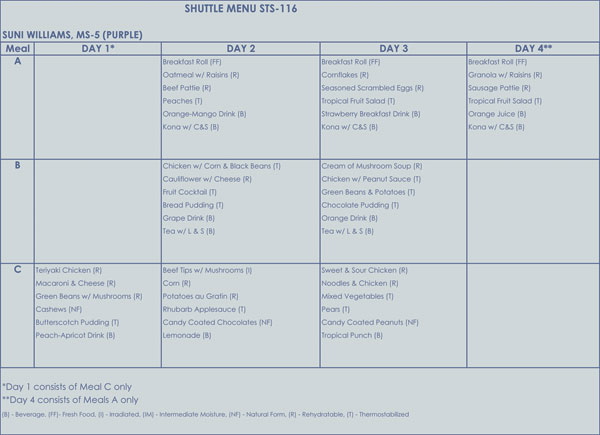 Sunita's food menu for the space trip. Bon Appetit! (NASA pic | www.nasa.gov)
"It was me and a couple of other helicopter pilots sitting in the back while all the jet pilots in my TPS [Test Pilot School] class were all sitting in the front, listening to John Young talk about the shuttle and about flying to the moon," she recalls. "I remember him talking about learning how to fly a helicopter to land the lunar lander. Something just clicked in my head, and I said, 'Wow, you know, maybe there's a use for helicopter pilots if we're going to go back to the moon.' So I sort of said to myself, 'The only one who's telling me I'm not going to be an astronaut is me.'"
She earned her master's degree in engineering management at Florida Institute of Technology, and applied to become an astronaut. Her application was rejected. But, rather than give up, she applied again in 1998, and was accepted.
|
TOP
|
---
SUBCONTINENT:
The Strange Case of Singur: Left, Right Change Roles

In a battle over setting up an auto plant in West Bengal, it is the state left front who are championing investment and reform, while the Congress and BJP, who have always castigated the leftists for being against reforms, are trying their best to throw a spanner in the works, writes Siddharth Srivastava.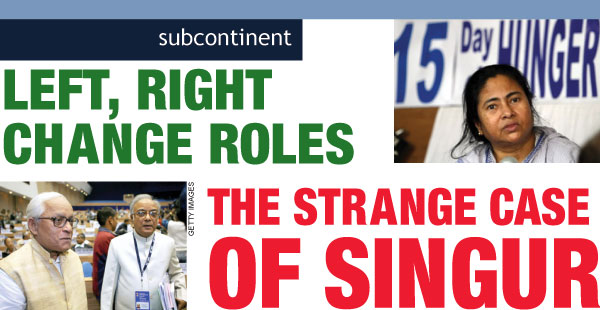 (Above): West Bengal Chief Minister Buddhadeb Bhattacharjee(l) and Finance Minister Asim Dasgupta. (Top, right): Trinamool Congress party chief Mamata Banerjee.
A bizarre version of narrow politics and blinkered vision is being played out at Singur, in the eastern Indian state of West Bengal, where agricultural land is being acquired by the leftist government in power to allow the Tata Group, India's second largest corporate entity, to set up a car factory in a sprawling area covering almost 1,000 acres.
Ironically, it is the left parties, generally at the forefront to resist economic change at the federal level, who are in the firing line this time. Over the past few days, television channels have been broadcasting pictures of supposedly disaffected farmers (who could well be hired goons by vested political parties) fighting pitched battles with the police and vandalizing Tata show rooms in Kolkata, the state capital.
In an exercise of political opportunism, the generally pro-economic reform parties Bharatiya Janata Party and the ruling Congress (at the federal level) are siding with the stormy local leader Mamata Banerjee in order to take a few easy pot shots at the politically well entrenched left parties in West Bengal.
The left are crucial coalition partners of the Congress-led government at the federal level and oppose the government on economic reform, more than the opposition BJP.
Mamata, known for her rabble-rousing abilities in Parliament and outside is leading the so-called "revolt" using time-tested arguments — farmers versus capitalist czars who are out to exploit the downtrodden and have the government of West Bengal in their pockets.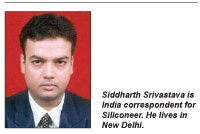 The left, for a change, has been putting up a stout defense with statements that sound very much the kind that Indian prime minister, finance minister or the commerce minister use to defend economic policies that range from setting up of Special Economic Zones (more than 200 have been cleared) for industry which again requires agricultural land to be acquired, opening retail to foreign investment or privatization of airports or public sector units.
"We need land for industry. No country, whether capitalist or socialist, can progress only on agriculture. From agriculture to industry, village to city, this is the path of development and civilization," Buddhadeb Bhattacharya, the reformist chief minister of West Bengal has said, sounding like a federal Congress minister.
Senior left party leader Sitaram Yechury, one of the most ardent in opposing the Congress government's reform process, has been singing praises of the West Bengal government.
"We are giving the people affected compensation and skills... There has been no forcible eviction. People are standing in queues and taking the checks (being paid by the government to the land owners). People are happy," he said. "The Congress double-speak has become obvious. The Congress has been saying the left is blocking the reform process. Where reform is taking place, they are opposing it," Yechury has said.
Incidentally, Yechury has labeled the Congress government in Haryana or the BJP government in Madhya Pradesh, Rajasthan as "land grabbers" due to the SEZs that are being formed.
India's largest private sector entity Reliance Industries and the Haryana government have signed an agreement for setting up India's largest multi-product SEZ involving an investment of nearly $9 billion (Rs. 400 billion).
However, there is some truth in the latest statements of both Buddhadeb and Yechury.
Indian agriculture is in the throes of stagnation. More than 600 million depend on it, while the sector's contribution is less than 25 percent of the gross domestic product. This smacks of low productivity and disguised unemployment.
Though finance minister P. Chidambaram has hailed India's growth at 9.2 percent in the second quarter, the highest rate in 15 years, he isn't so keen to talk about the fact that agriculture's annual growth in July-September slumped to just 1.7 percent from 3.4 percent in the previous quarter. The Indian economy has grown more than 8 percent in six out of the last seven quarters, gaining 8.9 percent in the three months to June 30.
The main drivers in the current round of growth of the Indian economy have been hotels, communications; manufacturing and construction.
Thus, the only way to raise the lot of people dependent on agriculture is to shift them to industry and services, as Buddhadeb has said.
What Yechury has said is also quite right, but perhaps applies elsewhere as well. State governments and private industry have been doling out payments to farmers at rates that are much higher than market value.
Reports in mainstream media, as well as some interactions with beneficiary farmers by this correspondent in Haryana, show that landowners, who at times enjoy considerable political clout, are by and large happy at the returns their land have fetched.
In Singur, the West Bengal government is paying more than 10 times the market value of land.
Indeed, the big private enterprises who are buying land from farmers do not want a political problem in their hands. Congress president Sonia Gandhi, who exercises considerable power over the government, has already expressed reservation against diversion of farmland for industrial and non-agricultural use, without the farmers being compensated adequately.
SEZs have a projected investment of $80 billion and employment potential of 2 million, which the private players do not want to lose out on.
With a fair bank balance farmers are looking to buy land elsewhere where it cheap or set up ancillary services catering to the industries being set up in their area. There is also the option of new employment opportunities. These farmers now are part of a new category of the rural rich with an estimated buying potential of $00 billion of consumer goods.
In Gurgaon, an outsourcing hub, villagers paid hefty amounts by private developers drive big cars and cater to businesses linked to outsourcing firms. Many have found employment in the slew of service-related jobs such as hospitality, insurance, security agencies and banking.
However, the ones feeling the most insecure and done in by this process are the landless laborers, sharecroppers and peasants, who form the largest numbers and see their livelihoods being snatched away in the interim.
They form the bulk of the 400-million odd poor and illiterate rural population who eke out a living on less than a dollar a day and do not have any social security of any kind to fall back upon. Land is their only solace.
They are usually the ones who take on debts in order to till small farms on behalf of landowners and commit suicide due to crop failure. Performance of agriculture is determined by the fickle monsoons, given the absence of adequate irrigation infrastructure.
Though some of the landless should absorbed by the new industry in the area, the transition as well as the many who may be left in a lurch, is the main cause of anxiety.
In the absence of adequate education and health facilities, they do not see how they can ever escape the vicious trap of being without land, money or jobs. The fact of the matter is that 400 million is not a small number and their angst will need to be addressed.
However, these critical issues can only be answered by politicians with a commitment to India's most powerless constituents, not by opportunist politicians who raise populist slogans to score quick cheap points.
The left front's point that only industrial and manufacturing jobs will ease the bitter poverty in the villages is well taken. However, they also have to make sure the transition is done with as little economic pain as possible.
|
TOP
|
---
NEWS DIARY: December 2006 Roundup

Quelle Horreur! Mittal Makes French Elite Squirm | Losing an Ear And a Nose for Love | NOIDA Killings | Poll Boycott | Missing Rhinos | Auto Exports





Quelle Horreur! Mittal Makes French Elite Squirm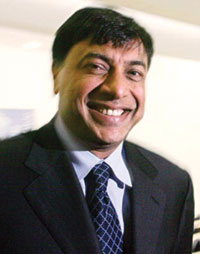 Lakshmi Mittal
When steel tycoon Lakshmi Mittal made a bid for French steel giant Arcelor, former Arcelor chief Guy Dollé had haughtily retorted that a merger was unthinkable because Arcelor distilled perfume while the Mittals made cheap eau de Cologne.

Well, now that the eau de cologne wallah rules of the perfume maker, the snooty French elite are none too pleased, the British newspaper Daily Telegraph gleefully reports.

Some are complaining that he breached the spirit of the memorandum of understanding with Arcelor, in which he agreed to take a back seat in the actual operations of the company, when he fired within the chief executive within four month of his takeover.

Mittal has been imposing an "Asian style" on his European steel workers after "snatching Arcelor from beneath the noses of the Paris establishment" a Telegraph columnist wrote.

Oddly enough, French workers are reportedly far from hostile to a man viewed as a better long-term bet than the last lot. "I am amazed to say it, but Mittal has given us hope," said Edouard Martin, a union chief at the CFDT labor federation in Florange.

In the Valle de la Fensch, where mills supply Peugeot, Volkswagen, Mercedes, and Toyota — the most demanding, say the workers — with flat steel, the 4,000 employees were already on death watch before the Mittal takeover. The mills were to be run down over the next three years. But the first thing Mittal did was to take a fresh look, informed Martin.
|Back to NEWS Diary| |TOP|

Losing an Ear And a Nose for Love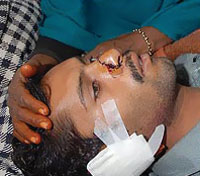 NEWS IQBAL.JPG
Mohammad Iqbal

Outraged in-laws slashed the nose and ears of a college student who married a woman without the consent of her higher caste family, and then fractured his legs with blows from an ax.

Mohammed Iqbal told The Associated Press about 30 male relatives of his wife stormed into his mother's village home during the Islamic festival of Eid al-Adha, demanding vengeance for the "dishonor" the marriage had brought to their family.

Iqbal, 22, speaking from his hospital bed, said the attackers chanted, "You have mixed our honor with dirt," as they assaulted him with a dagger and ax at night. They also slit his brother's ears and shot his mother in the thigh, he said.

Police officer Manzoor Ahmed in the city of Multan, where the three victims are recuperating, said seven men suspected of involvement in the attack in the village of Inayatpur Mahota have been arrested. Police were hunting for 22 other suspects.

Iqbal's wife, Shahnaz Bibi, 19, was not at home at the time of the attack. She has been living in another town following a similar assault against Iqbal two months ago at the end of the holy month of Ramadan in which he suffered broken fingers.

Iqbal, whose nose and ears are now severely scarred with surgical stitching, said he and Bibi did nothing wrong when they wed last year.

"We married in court with our consent. We like each other. Islam gives us permission to marry out of our own choice," he said.

He said they fell in love after they met in a mango orchard. Iqbal used to buy fruit from Bibi's father to sell for profit. Bibi's family, considered to be a higher caste clan of land owners, was against the union.

In deeply conservative rural areas in Pakistan, many men consider it an insult if their female relatives marry without their consent. Offenders are rarely punished because of poor policing, corruption and legal loopholes.

The independent Human Rights Commission of Pakistan, citing government figures, said in a report last year that about 1,000 women die annually in honor killings.
|Back to NEWS Diary| |TOP|

NOIDA Killings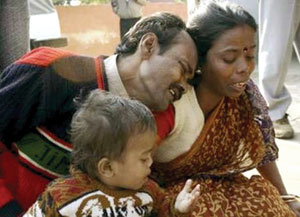 NEWS NOIDA.JPG
Weeping parents of a missing child.

India ordered a high-level probe into the discovery of skulls and bones of at least 17 people, many of them children, at a house outside New Delhi which police say is a gruesome case of serial killing.

The remains were dug up recently from the backyard of a house in Noida, an industrial town on the outskirts of the Indian capital. The incident has shocked the country and continues to make national headlines.

The victims had been reported missing by their relatives, some for as long as two years.

Police have arrested the businessman who owns the house and his domestic servant in connection with the case. There has been no word from the pair, and it was not immediately known if they had legal representation.

The high-level panel, comprising officials of the federal home and women and child development ministries, has been asked to report within a fortnight, a government statement said.

The panel will also look into alleged lapses by the police in investigating complaints about the missing children. Five policemen have been suspended for negligence, an official said.

Earlier, anger spilled over into the streets of the area of Noida where the house is located. Grieving parents and relatives stoned the building and clashed with police, accusing them of failing to find their children.
|Back to NEWS Diary| |TOP|

Poll Boycott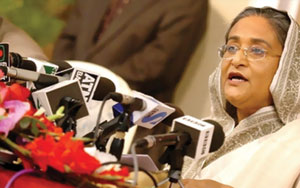 NEWS BANGLA.JPG
Sheikh Hasina
Bangladesh's main opposition parties have declared they will boycott national elections set for Jan. 22, alleging the polls would be unfair.

"We are not going to participate in the national elections," said Awami League leader Sheikh Hasina Wajed, speaking on behalf of an alliance of 14 opposition parties and reneging on an earlier pledge to take part in the polls.

The outgoing Bangladesh Nationalist Party government accused the opposition of seeking to scuttle the polls but said it would take part in the elections and it was confident that they would be held on time.

Sheikh Hasina said President Iajuddin Ahmed was "illegally" holding the post of interim government chief "and he wants to hold the elections without a correct voter list".

"We cannot accept this unfair election," she said.

Since the Bangladesh Nationalist Party-led government stepped down at the end of October, the opposition has demanded a string of reforms it said were necessary for the parliamentary elections to be fair.

The opposition alliance accused the BNP of trying to rig the elections by appointing party loyalists to key positions in the temporary administration and election commission.

The Awami League said Dec. 24 that it would take part in the elections after repeated strikes, protests and blockades that caused massive disruption across the country and left at least 35 people dead.

The party had earlier objected to the voter list, saying it contained 14 million fake names.

"The election commission had promised to correct the voter roll but instead they scrapped the names of our supporters and put in the names of a huge number of fake voters as part of the election engineering process," said Sheikh Hasina.

Reacting to the announcement, the BNP accused the Awami League of attempting to sabotage the elections.

"We are surprised by their indecision. They are making trouble in the election process, but we will participate and we are sure the election will be held on time," said former BNP minister Khandaker Mosharraf Hossain.
|Back to NEWS Diary| |TOP|

Missing Rhinos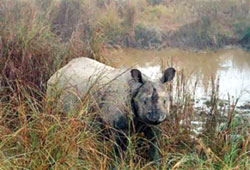 NEWS RHINO.JPG
A great one-horned rhino in Nepal.

Dozens of endangered great one-horned rhinoceros have mysteriously gone missing from a nature reserve in southwest Nepal over the past few years, a wildlife official said.

Authorities introduced 72 rhinos, also known as the Indian rhinoceros, in the Babai Valley, 200 miles southwest of Kathmandu, as part of a conservation drive that started in 1984.

"We have records showing 23 rhinos had died due to poaching or other causes. The rest are missing," Laxmi Prasad Manandhar, a senior official at the Department of National Park and Wildlife Conservation, said.

But he ruled out the possibility of all the 49 missing rhinos falling prey to poachers.

"If poachers had killed them they should have left behind the bodies" after taking away the horn, he said, adding that just one rhino skeleton had been found during an extensive search in June.

"Where did they go? I have no answer. It is a mystery," Manandhar said.

The rhinos were moved to Babai Valley from Chitwan National Park on Nepal's southern plains under a conservation scheme supported by global conservation group WWF.

In December, Nepal's Supreme Court ordered the government to step up security at Chitwan — the Himalayan nation's biggest rhino reserve — after local media reported at least 10 animals had been killed since July.

Officials say at least 12 rhinos had died in the past six months in Chitwan where their population dropped to 372 in 2005 from 544 in 2000.

Their numbers fell mainly due to poaching for horns which are believed to have aphrodisiac qualities and are in great demand in China.

The one-horned species of the rhinoceros has been one of the greatest conservation success stories in South Asia. With strict protection, especially in India, their total numbers have touched around 2,500 from 100 about a century ago.
|Back to NEWS Diary| |TOP|

Auto Exports

Japanese auto maker Nissan plans to invest $180 million in an auto plant in India.

China's car market may be double that of India, but when it comes to exports, it clearly lags behind.

China's auto exports doubled to 340,000 units in 2006 but were less than half of India's total vehicle export tally of 970,620 units (including two- and three-wheelers). Sedan exports tripled to 90,000 units in China but fell far short of India's 191,723-unit passenger vehicle export tally.

According to statistics, India's passenger vehicle exports, dominated by cars, quadrupled from 46,028 units in 2001 to 164,965 units in 2004, hitting 171,608 units in 2005.

China's total vehicle exports, on the other hand, jumped 120 percent from 78,000 units in 2004 to 173,000 units in 2005. In terms of value, China's vehicle exports have hit $1.58 billion while India's tally is expected to be $2.8 billion, up from $2.25 billion clocked in 2005. Just passenger vehicle exports from India (mostly cars and some jeeps) were worth an estimated $1.4 million in 2006.

Analysts say the reason behind the skew lies in China's predominant position in parts exports as opposed to vehicle exports. China exports ten times more in value terms of components than India does as global companies use the Chinese scale to source for developed markets. However, China's domestic appetite for vehicles is so big, that the local vehicle production is pretty much consumed locally.
|Back to NEWS Diary| |TOP|