---
EDITORIAL:
Towards Immigration Reform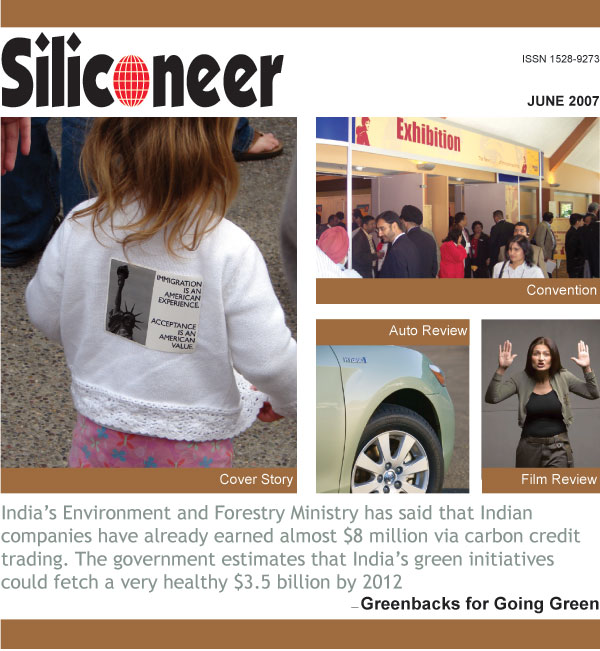 In the heat of the fevered, xenophobic hysteria over immigration, it is sometimes hard
to believe that this is a country that prides itself on respecting the rights of the individual and human dignity.
The fear mongering and thinly veiled race-baiting of the anti-immigrant lobby masks a profound hypocrisy in U.S. society — while wrath and contempt is targeted at immigrant workers, not a whisper is heard about the beneficiaries of their hard labor — from huge agribusinesses to middle class moms who hire undocumented nannies.
At times of economic uncertainty, public suspicion invariably falls on hapless immigrants. It is at this disturbed time that Congress is considering reforming the immigration law. Unfortunately, given the public hysteria generated by the anti-immigrant lobby, politicians are running for cover, and the Senate is headed towards a compromise where many cruel provisions lurk.
Partha Banerjee is a long-time human rights activist based in New York. In this month's cover story, he takes a long, incisive look at the compromise being hatched in the U.S. Senate, and he doesn't like what he sees.
If a grassroots movement is not mobilized against the current compromise, undocumented immigrants who have been here for years may be saddled with draconian provisions that will bring untold misery on them and their families, he writes in this month's cover story.
This editorial page has been tireless in pointing out that India's economic growth is only part of the story,
and those who get carried away by the euphoria of India's admittedly stellar economic progress do so at their peril. Large swathes of the country are still in the middle ages, for crying out loud.
Well, it seems that this sensible observation is backed by experts. At a high-powered seminar hosted by the University of California at Berkeley, big honchos came from India, ranging from cabinet ministers to the Infosys CEO to nationally known activists, and several pointed out that India's public services were so bad that its human development indices sometimes were worse than sub-Saharan Africa and Bangladesh.
Jointly hosted by UC Berkeley's Center for South Asian Studies and the U.S.-based NRI nonprofit Foundation for the Democratic Reforms in India, the seminar focused on governance and empowerment on the local level, an issue of critical importance.
Two days of passionate discussion and scholarly reflection later, while it was clear that India's challenges are too complex to be addressed in one seminar, there were signs that a substantive dialogue had begun.
Will any of these deliberations be translated into action? One hopes so, for the sake of the organizers and participants, who otherwise face the rebuke of the Bard: "Life's but a walking shadow, a poor player that struts and frets his hour upon the stage and then is heard no more: it is a tale told by an idiot, full of sound and fury, signifying nothing."
For all its worldly pleasures — and if you are successful in this country,
they are considerable — one of the downside of expatriate life is that ties with the old country that can sometimes turn painful. Love of family and filial piety are core South Asian values, so if you know that your father is ill, or your mom is getting old and needs care, but you can't provide it from 10,000 miles away, it's a tough, heartbreaking issue to deal with.
Then there are more mundane issues. If you grew up in privileged circumstances back in the old country, you might inherit or own property — but who's going to look after it or deal with the flurry of paperwork that's a given in a nation beholden to the asinine principle of trivia in triplicate?
The Indian conglomerate Sahara has an answer that appears to be a Godsend, if Sahara's global operations chief Romi Datta's words are anything to go by. Traveling in the U.S. with a road show to launch the Sahara Care House program, he says the program can take care of virtually any kind of need in India of an expatriate Indian.
The program, launched in the U.S. by Sahara India Pariwar, a $10.8 billion Indian conglomerate, is a single window service platform for Indian Americans enabling one point, easy access for over 60 support and care services for themselves and their families/ friends in India. The launch in the U.S. marks the company's first foray into the American marketplace.
The comprehensive offering covers health care, utility, personalized and relationship services and subscribers will be served by highly trained workforce of 3,500 Relationship Ambassadors, enabling family-like support and care to the families of NRIs in India, according to Sahara. From the medical needs of ailing parents to renting out property, Sahara's relationship ambassadors can do it all for you, he told
Siliconeer.
Do drop us a line with ideas and comments about how we can make Siliconeer better serve you.
|
TOP
|
---
COVER STORY:
A Trojan Horse: The U.S. Senate Immigration Deal
Wheelers and dealers in the U.S. Senate, in their politically expedient, closed-door maneuvering, are hatching an immigration deal that excludes from the dialogue the millions of working-class, undocumented immigrants. The new deal has many dangerous provisions that will bring enormous misery for immigrant workers and their families for many decades to come, writes Partha Banerjee.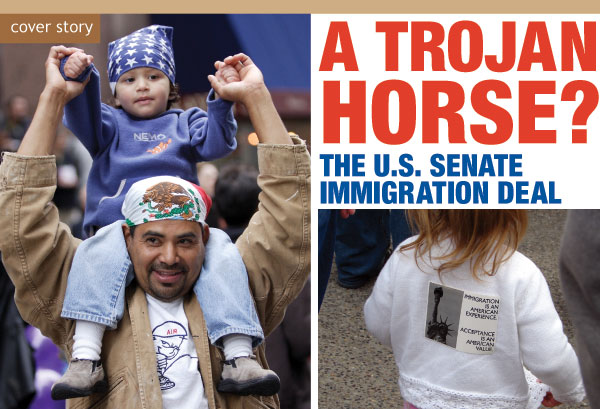 (Above, left): A man in San Francisco wears a Mexican flag while holding a child with a bandana of the U.S. flag during a pro-immigrant rally. [REUTERS photo]
(Right): A child at a pro-immigrant rally.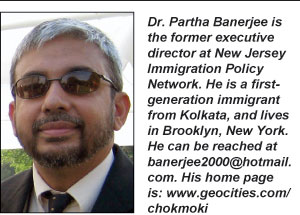 On May 17, immigration reform negotiators in Washington announced an unworkable deal. Our elected leaders, in their politically expedient, closed-door maneuvering, excluded from the dialogue the millions of working-class, undocumented immigrants who had earlier come out and marched all across the United States demanding a real, meaningful, comprehensive reform. The new deal, despite making some rudimentary progress, falls far short of their expectations and their children's aspirations. In fact, it has many dangerous provisions that neither the politicians nor the U.S. media are talking about. Unless drastically improved in Congress, the bill, if enacted as law after negotiations between the two chambers, will bring enormous trouble and misery for the immigrant workers and their families. The negative aspects of the legislation will impact the immigrant communities for many decades to come. In fact, the prospects are scary.
Many labor unions, pro-immigrant advocates and lawyers, faith institutions and grassroots organizations have already opposed the bill, now introduced in the Senate as Secure Borders, Economic Opportunity and Immigration Reform Act of 2007. Notably, key politicians such as House Speaker Nancy Pelosi, Senate Majority Leader Harry Reid and Robert Menendez, the Democratic Party's Hispanic senator, have expressed reservations.
New York's Mayor Michael Bloomberg, a Republican, said on May 28 at a Memorial Day speech: "Lawmakers should all look back on their history, and realize that if we had had the laws that they are proposing in many cases, they wouldn't be here because their parents or grandparents would not have been here."
The League of United Latin American Citizens, one of the country's oldest and largest Hispanic groups, said, "This bill will dehumanize workers, short-change employers and lead to widespread undocumented immigration as many workers inevitably overstay their visas rather than return home." Even moderate, non-grassroots groups voiced doubts. National Council of La Raza, a Washington, D.C.-based Latino group, said it would try to reshape the bill. "It is important that we get a good bill over the finish line," the group said.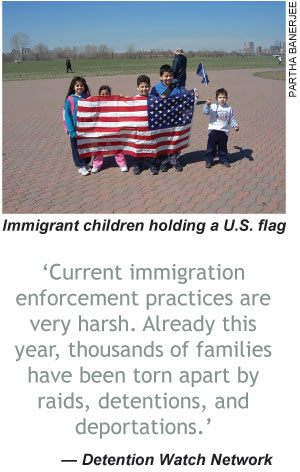 Why This Bipartisan Bill Now?
The short answer is, Republicans and Democrats wanted to cater both to conservative and liberal voters, and thus paid more attention to the upcoming 2008 presidential elections than the lives and suffering of the immigrants who do not have a vote. The chief architects of the bill especially bypassed the millions of so-called "illegal aliens" (a term much liked by restrictionist groups, politicians and media — as if these people have descended from the Mars, wiggling antennas) who, unlike the better-placed, permanent resident or H1-visa-holder immigrants, do not have any economic or political power.
They are not computer professionals, outsourcers, engineers, doctors, lawyers, stock market brokers, restaurant or construction firm owners, or teachers — working in Silicon Valley, Wall Street or the many upper-class neighborhoods in Boston, Chicago, D.C., Houston, Jersey City, New York or Seattle. They are low-income, work-a-day people, and can often be found at street corners, looking for day jobs.
They have no job security, health insurance or other benefits. Many of them work seven days a week just to make ends meet. But they risked their lives, in the midst of nationwide roundups by police, FBI and immigration agents, and staged massive demonstrations never witnessed in America since the Civil Rights days. But the politicians did not include them in their closed-door discussions. That political game is an opportunistic, insider game, and unjust. It is also beyond any known standards of morality or ethics. But then again, whoever said the current U.S. political establishment was ethical or pro-poor?
The Devil's in the Details
The so-called bipartisan legislation is a huge disappointment to immigrants who organized million-strong marches on the streets of Los Angeles, Chicago, Dallas and New York over the past two years. The bill has serious flaws. Most importantly, the newly-introduced proposal that originated in the White House and was then negotiated with only a handful of senators from both parties (and perhaps even a smaller number of neo-liberal lobbying groups that call themselves "pro-immigrant") takes away our country's bedrock family-based immigration path, prevents temporary "guest" workers from earning legalization, thereby perpetuating an indentured servitude, and conveniently links post-September-11 national security with immigration reform, rationalizing an increased border militarization, a national ID system, and expansion of interior enforcement and detention.
In fact, since former President Bill Clinton passed his Illegal Immigration Reform and Immigrant Responsibility Act of 1996, private prison corporations have greatly prospered. Immigrant detainees have added to the large number of Black detainees across the U.S.; just like the numerous Black prisoners, many immigrants are detained indefinitely without charges or access to lawyers.
As my Columbia University journalism professor Steve Ross says, the real issue for the two big parties is the poor Mexicans, and not anymore the so-called Islamists. He's right: in a knee-jerk reaction they created and exploited Islamophobia after the 9-11 attacks, and threw thousands of innocent Muslims in prison; now, after six years of 9/11, it's the poor Latino immigrants' turn to be the scapegoats. The "Spanish-speaking invaders" are now to blame for all the social and economic ills of this "pure, best in the world, English-speaking" country.
Grim Border Situation
As a member of a delegation to Arizona and Mexico in June 2006, I had the rare opportunity to see poor Mexicans and Latin Americans crossing over the Sonoran desert into the U.S. Many of these desperate people — men, woman and children — don't survive the horrendous heat and hardship. It reminded me of the 1971 Bangladesh liberation struggle days, when I had the privilege to work among the refugees walking across the Petrapol border into West Bengal. Here in Arizona, our team visited a morgue in Tucson, where unidentified bodies of migrant victims were brought in. I also met a young, single mother of three who walked and hitch-hiked hundreds of miles from southern Mexico to Nogales, a border town, leaving her three children and an ailing parent behind, only to be ripped off by "coyotes" (privately-hired border-crosser mafia).
The indigenous, native-American community (or whatever is left of them), who have lived on both sides of the modern frontier for centuries, is savaged by the brutality of the border militia and the new, steep fence and rampant militarization. The ecology and wildlife diversity has been destroyed by the newly erected walls and powerful field lights, courtesy U.S. Border Patrol. Again, it reminds us of the fences and militarization of the Bengal borders that suddenly cropped up, first in 1947, and then again, in 1971, displacing and impoverishing millions.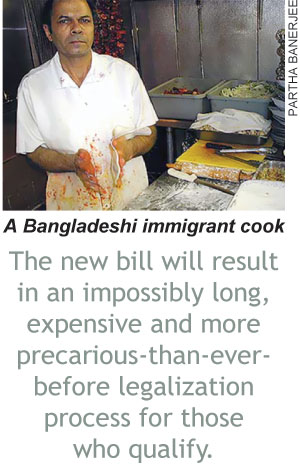 Lack of Due Process
The newly introduced immigration bill, now being debated in Congress, will take the already grim situation one step farther. Even today, since the 1996 IIRAIRA passed, a minor offense committed years ago — such as shoplifting or jumping turnstiles — is considered reason enough for any non-citizen to have an indefinite detention without due process, and then a certain deportation. Many mixed-status citizen families are now permanently separated because of these harsh measures.
According to Detention Watch Network, a group of activist lawyers specializing on this issue, the "current immigration enforcement practices are very harsh. Already this year, thousands of families have been torn apart by raids, detentions, and deportations. Giving more power to immigration agencies that reject responsibility for detention conditions and treatment undermines the checks-and-balances in our justice system and hurts our communities and families even more while ensuring the private prison industry locks up higher profits. A real comprehensive immigration bill that offers a just solution must strip these egregious provisions."
The ivory-castle politicians and insider "advocacy groups" must see how immigrant detainees are yanked away from their families and kept in U.S. jails indefinitely without any charges filed against them. Grassroots groups such as East Coast-based Families for Freedom, Desis Rising Up and Moving, the Coney Island Avenue Project, national groups such as the Oakland, Calif.-based National Network for Immigrant and Refugee Rights, the American Friends Service Committee and American Civil Liberties Union, or border groups such as Arizona's Derechos de Humanos have worked closely with detainees and deportees for years. They know how dismal the situation is. I myself worked with a number of immigrant women who fled from India and Bangladesh because of domestic violence. A few of them are still rotting in U.S. jails, just because they don't have proper immigration papers.
The
New York Times
, in its editorial May 29, writes: "The Senate bill is repellent in many ways. Its fragrant blossoms are grafted to poisonous roots…The problems with the restrictionist provisions of the bill are serious and many. It includes a path to citizenship for 12 million illegal immigrants, which is a rare triumph for common sense, but that path is strewn with cruel conditions."
The Role of U.S. Media
The problem is, the
New York Times
is one of the very few major, mainstream establishment media that has taken a strong, objective and principled stand on immigration issues.
There are hundreds of small or big newspapers, radio talk show hosts, Internet sites and TV personalities that are sparing no opportunity to blast this bill as blanket amnesty for "criminal illegals." Their stories are often filled with half-truths or lies supplied by anti-immigrant politicians such as Rep. Jim Sensenbrenner, R-Wis., Rep. Tom Tancredo, R-Colo., or Rep. Dana Rohrabacher, R-Calif.
A few Democrats have joined them, too. And they make sure the average people don't get the correct picture about immigrants and their lives, or the socioeconomic reasons that drive up underground migration (such as the North American Free Trade Agreement and other neo-liberal, globalization factors, war and repression), and the dysfunctional immigration system of this country. Recently, CNN's prime-time anchorman Lou Dobbs used false data to link leprosy with the surge of undocumented immigrants. Radio talk shows have spread anti-immigrant hate messages on a daily basis. Their money and political power far outweigh that of pro-immigrant, peace, justice and rights-minded people of America. Many of these anti-immigrant media personalities openly support far-right-wing, xenophobic groups and individuals with dubious reputation and political connections.
Who Are These Restrictionists?
Tom Barry's account in the alternative periodical
Counterpunch
in June 2005 answers the question:
"In most cases, the leaders of the national restrictionist groups are reactionary nationalists who fundamentally believe that immigrants are undermining the U.S. economy and society, while also posing an increasing threat to U.S. national security. But many restrictionist groups, including NumbersUSA and the Center for Immigration Studies, frame their views in the policy language of environmental protection, access to jobs, anti-corporate sentiment, and population control. Their rhetoric often sounds closer to liberal groups than to the citizen militias, white supremacists, and more nationalist institutes such as Americans for Immigration Control, which is explicitly dedicated to "preserving our common heritage as Americans." The rhetoric obscures the profile of a growing movement that has as its shared goal a campaign against immigrants and for draconian border controls and legislation."
Add to Barry's list the Federation for American Immigration Reform and armed border vigilante group Minuteman.

'Grand Bargain' or Politics of Convenience?

Here's what you are being told by politicians and media:
The new immigration bill
Promises path for legalization for the approximately 12 million undocumented immigrants


Includes the DREAM Act (Development, Relief and Education for Alien Minors Act, to provide at in-state tuition costs college education for many undocumented children)


Includes AgJOBS (Agricultural Job Opportunity, Benefits, and Security Act for farm workers)

Here's what you are NOT being told:
The new bill will result in
An impossibly long, expensive and more precarious-than-ever-before legalization process for those who qualify.


Those granted the new "Z" nonimmigrant visa becoming deportable if they fail to maintain continuous full-time employment or school attendance until able to adjust to lawful permanent residence status, a period that would continue for 13 to 18 years for some applicants.


Legalized immigrants having no ability during this extended period to petition for their spouses and minor children who live abroad.


Requirements to adjust to permanent residence for the Z non-immigrants that would include a mandatory departure and return by the head of household, not just across the border, but generally to the immigrant's country of origin.


In a final stage of the legalization process where adjustment to lawful permanent residence status cannot be completed until the current immigration backlog has cleared, and certain difficult-to-achieve immigration enforcement "triggers" have been met.


Sharp cuts in family immigration, a change that would undermine our country's shared belief in family values.


A drastic dismantling of our longstanding system of legal immigration and its replacement with an untested "merit-based" points system that devalues immigrants who are not English-proficient or highly educated.


A mandatory, poorly designed, electronic employment eligibility verification system with absurd implementation timelines calibrated to guarantee that the system will be implemented whether or not the necessary improvements are made to ensure its accuracy.


Wholesale sharing of personal information between government agencies that would undo confidentiality provisions in the tax code and undermine privacy rights
Provisions that compromise the due process rights of immigrants, which were originally included in last year's infamous Sensenbrenner legislation (HR 4437) and later incorporated into last year's Senate-passed bill.


Increased militarization of the border without sufficient civil and human rights protections for migrants and members of border communities.


A provision that requires immigrants who have worked and paid into the Social Security system for years to forfeit all of the contributions they made before obtaining a newly issued Social Security number.


Undue restrictions on the ability of courts to review Dept. of Homeland Security decisions in individual legalization cases and in the agency's implementation of the legalization program.

(Source: National Immigration Law Center www.nilc.org)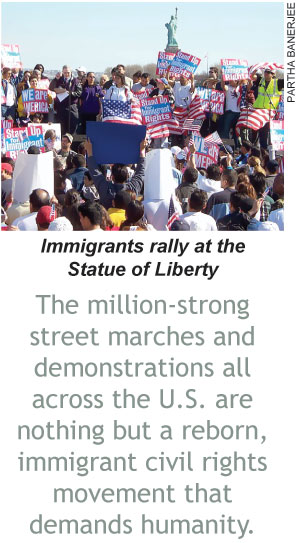 Families Don't Matter

It's Washington insiders and corporate America that are pushing the bill, where families don't matter. The newly introduced education- and skill-based point system is bound to create deep divisions in the immigrant community — both at familial and societal levels.

Basically what our politicians and business owners are saying is, if you're rich or educated, you're welcome; if you're poor or lack high skills, get out — it doesn't matter if the rest of your family is U.S. citizens. You're not supposed to be a part of the American Dream.

What does it mean? A permanent resident or even a citizen family of an immigrant husband and wife, with or without children, can't sponsor their parents lacking in English proficiency, or apply for a Green Card for their brothers and sisters who don't have enough education or job skills. The post-September-11 era-created Department of Homeland Security that took over the erstwhile Immigration and Naturalization Service would not allow in the "potential burden" immigrants such as these parents or siblings.

The bill, touted as a "grand bargain" by the Washington, D.C.-based political establishment, eliminates most options for family sponsorships and replaces them with a visitor visa program. According to some South Asian media reports, residents will lose the ability to sponsor parents and children who are 18 years or older. One of the grassroots groups said, "How can other American families stand by while children lose their grandparents, and parents are cut off from their own children? While we build the economy for families in this country, we could be completely cut off from our own."

Under the new plan, out-of-status immigrants present in the U.S. could initially seek a probationary status while border security measures and a high-tech, worker identification program are put in place. Qualified applicants could then seek a renewable visa. After paying huge fees and fines, and waiting for at least eight to thirteen years, they could finally get on track for a Green Card — although heads of households would first have to return to their home countries. Don't ask who fends for the family in U.S. when the breadwinner is on a long "vacation."

The New Slavery

The temporary, "guest workers" would have no chance for permanency — they'll be allowed in for three installments of two years each, with a mandatory gap of a year in between their stays. After all, these disposable people, who line up daily at street corners — in heat, rain or snow — will be needed to pick apples, grapes and strawberries at pesticide-laden farms, landscape on injury-prone sites, will be put to use on night shifts at corporate chain stores to mop up, employed as round-the-clock slave-maids or nannies whose passports would be confiscated not by Homeland Security but by their employers (who often speak the same language and practice the same religion), or worked in the back of plush Indian, Italian, Chinese, Caribbean or Spanish restaurants to do dishes. Meatpacking industries will need them too.

The entire process is inhumane, unrealistic, cumbersome, and puts severe onus on the immigrant worker and families. Irony is, the measure is being proposed by politicians who do election-year, wide-smile photo-ops on family values.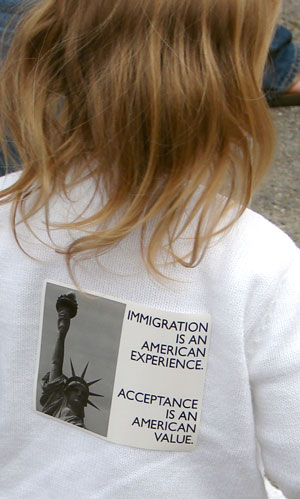 Human Rights for All

Is this what U.S. stands for? America had a civil rights movement decades ago that precisely talked about such discrimination, abuse, pain and suffering. The glorious struggle of black Americans also whipped up zealots' angry reactions. History repeats itself.

The fact is, the immigration landscape of U.S. has changed over the past fifteen or so years, and South Asian, Korean, Chinese, Russian, Filipino, Haitian or the large number of Hispanic newcomers are suffering miserably. The million-strong street marches and demonstrations all across the U.S. are nothing but a reborn, immigrant civil rights movement that demands humanity.

Are we ready to embrace this politically opportunistic, deeply flawed legislation the Bush administration and media are touting as comprehensive immigration reform? America needs its working-class immigrants and their back-breaking labor to keep its economic machine running. To return the favor, America must give the workers and families their due rights, respect and dignity.

The civil rights movement in the sixties under the leadership of the Rev. Martin Luther King called for emancipation from the shackles of poverty and despair. The new leadership of today's immigrant rights movement is repeating the call. It's time we embrace the new rights and justice movement.
|TOP|


---
SEMINAR:
Democracy in India: What is to be Done?

Ministers and activists rubbed shoulders with academics at a very special conclave at a two-day seminar hosted by the Center for South Asia Studies at the University of California at Berkeley. A Siliconeer report.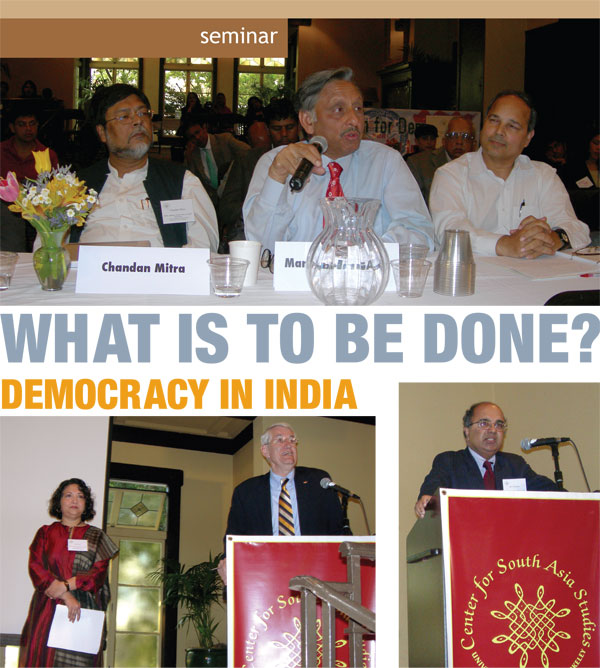 (Top): Union Minister for Panchayati Raj Mani Shankar Aiyar flanked by veteran journalist Chandan Mitra (l) and Foundation for Democratic Reforms in India member Venktesh Shukla. (Bottom, left): UC Berkeley chancellor Robert Birgeneau welcoming attendees as Center for South Asia Studies chair Raka Ray looks on. (Bottom, right): San Francisco Consul General of India B.S. Prakash speaking at a two-day seminar on India in Berkeley.
In terms of the participants alone, the seminar on Indian democracy in Berkeley in May was something to write home about. It's hard to think of any seminar outside India —even in India, for that matter — which has brought together so many distinguished people together.
Two Union ministers, a state minister, a former chief minister, some of the better known citizen activists of India, and a host of academics weighed in at the Bancroft Hotel in Berkeley at a two-day seminar on local governance and empowerment jointly hosted by the University of California's Center for South Asia Studies and the U.S. nonprofit Foundation for Democratic Reforms in India.
"India is unique in history in having a sustained democracy in a poor country with a multi-ethnic, multi-cultural society," the seminar's organizers said in a statement.
"Today, its economic strength is also widely recognized and celebrated. The role democratic processes play in the sustenance and diffusion of this economic strength into the wider reaches of Indian society is a central question that must be engaged. In order to create an environment in which such crucial questions can be discussed and alternative solutions offered by politicians, policy makers, thought leaders, NGO activists, and scholars, the Center for South Asia Studies at the University of California, Berkeley, together with the Foundation for Democratic Reforms in India, are launching a high-level annual seminar series hosted on the Berkeley campus."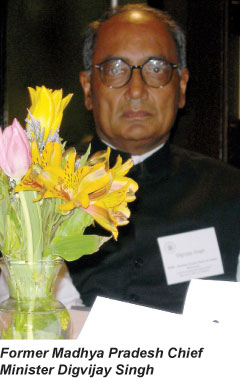 Two days of intense discussion included Indian federal Urban Affairs Minister Jaipal Reddy, Panchayati Raj Minister Mani Shankar Aiyar, Kerala's Finance Minister Thomas Isaac and former Madhya Pradesh Chief Minister Digvijay Singh. Activists included Arvind Kejriwal and Jayaprakash Narayan. Infosys incoming CEO Kris Gopalakrishnan was chimed in.
A slew of academics — this was, after all, an academic seminar — joined in, many of whom have a worldwide reputation.
The whole seminar was open to the public, a nice touch.
Two days of presentations brought forth passionate discussion, scholarly assessments, and some debate, which clearly brought out the reality of India's stark contrasts. The rather clichéd description of India as the land of the missile and the bullock cart, it turns out, is not too wide of the mark even today.
Notwithstanding its blistering economic growth and admirable record of democracy, its role in delivering public services remains appalling and the accountability of public officials is minimal.
Almost as interesting and intriguing as the seminar itself is one of its organizers, The Foundation for Democratic Reforms in India. Many of its key members are products of Silicon Valley whose entrepreneurial success has led them on to broader socio-economic goals.
FDRI was formed in 1998 "to promote electoral, democratic and governance reforms in India," according to an announcement of FDRI itself. "If India is to emerge as a prosperous country where all its citizens have the opportunity to develop their full potential, FDRI believes that such reforms are essential."
FDRI certainly has its work cut out. Indians tend to bristle at being offered nostrums from abroad — many Indian activists take a particularly dim view of expatriates pontificating while they fight on in the trenches back home.
From appearances, though, it seems like FDRI activists have mastered the humility and grace to make a go of it — they seem to be in touch with many activists and the grassroots representation in this seminar was impressive.
Policymaking can be an unwieldy beast, and it is unrealistic to expect anything earthshaking to come out of a single seminar. What this conference did was set off a sober, substantive discussion on local governance — although some of the academic stuff was admittedly pretty heavy going for all but the most committed policy wonks.
Whether it will lead to something more enduring remains to be seen.
There'll be another seminar next year, but will anything more substantive come out? It's a bit early to tell, but organizers should guard against this effort ending up being all talk and no action.
|
TOP
|