---
EDITORIAL:
Ode to a Hero

This year is the birth centenary of Indian freedom fighter Bhagat Singh.
In India, his birth centenary has been marked with enormous grassroots affection.
Some, though, have tried to co-opt Bhagat Singh, sequestering the rationalist, atheist, revolutionary into pigeonholes of their liking. Some celebrated him for being a true Arya Samaji, Sikh fundamentalists celebrated him for being a Sikh, while leftists used him to take pot shots at Mahatma Gandhi.
Even the general public have a vague idea of the man. Poet, folklorist and scholar of the Gadar movement Ved Prakash Vatuk writes a detailed account of Bhagat Singh, his illustrious ancestry and the intellectual evolution of this fearless revolutionary freedom fighter whose struggle was not just about a change of flags, but a complete societal change to ensure that the oppressed would be forever free of exploitation.
A whopping 43.7 million people in 127 countries gathered to Stand Up Against Poverty and Speak Out for the United Nations' Millennium Development Goals in 24 hours on Oct. 17.
This is the largest single coordinated movement of people in the history of humankind. . In India more than 13.77 million people all over the country stood up to demand an end to poverty and for the Millennium Development Goals.
This is an astounding mobilization of public opinion, and it didn't come a moment too soon.
The MDGs include eight basic goals to fight poverty, illiteracy, disease and gender inequality. In September 2000, heads of state of virtually every country in the world pledged to meet these goals by 2015.
At 2007, midway between the pledge and deadline, it is by no means certain that the goals will be reached, though instances of piecemeal success suggest it is doable with the right amount of political will.
In the case of South Asia and particularly India, it is particularly vital to raise this issues, because elite opinion seems increasingly blindsided by the blistering growth rate.
With 13 million people raising their voices, a strong message has gone to the powers that be that the Indian elite's giddy celebratory mood needs to be tempered by the sobering reality of shocking backwardness in India's rural hinterland. In this issue Salil Shetty, director of the UN Millennium Campaign, makes a compelling case for India and indeed, the rest of the world, to act towards redeeming its pledge to the less privileged to make society more human and equitable where everyone can live with dignity.
San Francisco Bay Area theatre group Naatak has been championing the cause of Indian theatre for over a decade.
With unflagging commitment to quality, the group's productions have been a joy for desi theatre aficionados.
Naatak's 25th production is Sleuth, an intense psychological battle of wills between two characters. The original classic play by Anthony Shaffer has been staged countless times all over the world. It has also been made into a film by Joseph Mankiewicz starring Sir Laurence Olivier and Michael Caine. Interestingly enough, just as Naatak presented its performances recently, a new movie adaptation starring Michael Caine and Jude Law and directed by Kenneth Branagh, which marks a considerable departure from the original film, has opened in cinemas around the U.S.
Naatak member Harish Agastya Sunderam, who directed Naatak's version, writes on how Naatak has give the play a decidedly desi flavor as he reflects on how the various versions of the original play, both on stage and in film, present distinctly different perspectives.
Do drop us a line with ideas and comments about how we can make Siliconeer better serve you.
|
TOP
|
---
COVER STORY:
Remembering an Indian Hero:
Shaheed Bhagat Singh
On the birth centenary of Bhagat Singh, poet folklorist Ved Prakash Vatuk offers a detailed overview of the life and times of one of the most beloved heroes of India's freedom struggle.


(Above, left, from top downwards): Shaheed Bhagat Singh; Jallianwala Bagh in 1919, months after the massacre; and interior of the Secundra Bagh after the slaughter of 2,000 freedom fighters by the 93rd Highlanders and 4th Punjab Regiment, November 1857, Lucknow.
(Above right, from top downwards): Chandrashekar Azad's dead body kept on public display by the British to serve as a warning message for other revolutionaries; and Muhammed Ali Jinnah and Mahatma Gandhi.


Year 2007 has been an important year for Indians. India is celebrating the 150th anniversary of the first independence war. The Indian government has sanctioned 1.5 billion rupees for the country-wide show. At the same time this is the centenary year of the birthdays of Bhagat Singh, Sukhdev and Rajguru. That too is being observed throughout India — more by the people than the government. And this is the year when India completed sixty years as an independent country. All in all, this has been a year full of patriotism.
The 150th anniversary of the first war of independence is being celebrated with much pomp and show. Hundreds of cultural shows, exhibitions, seminars and other activities are organized all over India. However, in spite of all the hoopla, all these shows remained mere junkets where participation of the public remained dismal. Many of these shows were inaugurated by the people in power, like the prime minister, governors, etc., and the audience participation in most of them was by invitation only. They were all full of patriotic slogans and very little new was learnt from them. It was an exercise in hero worshiping. No objective analysis, no lessons to be learnt.
On the other hand the martyrdom of Bhagat Singh, Sukhdev and Rajguru was fondly remembered by people all over India. These martyrs have become legends in their life time — especially Bhagat Singh. In a way the martyrdom of these heroes is the climax of the revolutionary movements which freed India. In this article we will focus on Bhagat Singh and his times.
The story of Bhagat Singh can not be told just by describing his life alone. Bhagat Singh was a symbol of sacrifice for and selfless devotion to humanity. However, his story began long before he was born. Several generations before him his ancestors were involved in a struggle against colonial rule and injustice. After the death of Maharaja Ranjit Singh in 1839, the British fought to occupy Punjab. At that time one of Bhagat Singh's ancestors, Fateh Singh, fought against them. And the same Fateh Singh participated in the first independence war, which the British writers called the great mutiny of 1857. Naturally he suffered when the British survived. He lost his property.
Fateh Singh had a son named Gurbachan Singh. One of Gurbachan Singh's three sons was Arjun Singh, the grandfather of Bhagat Singh. Arjun Singh met Swami Dayanand Saraswati, founder of the Arya Samaj, when the Swami was touring Punjab. He was so impressed by the Swami that he decided to join the Arya Samaj and dedicate his life to reform Hindu society. At the same time he got involved in the freedom movement. It was he who at the time of the yanjopaveet ceremony for his grandsons — Bhagat Singh and Jagat Singh — declared, "I give these two grandsons to be sacrificed at the altar of goddess liberty." The grandsons kept their grandfather's pledge — they would indeed dedicate their life to the freedom movement.
Arjun Singh had three sons. In 1878 his eldest son Kishan Singh, father of all his grandchildren, was born. After graduating from Anglo Sanskrit High School, Jalandhar, he became a great supporter of Mahatma Hansraj, a great devotee of Swami Dayanand Saraswati. He helped victims of famines, plagues, earthquakes and floods from 1898 to 1905 in different parts of India. He came into contact with Gadar heroes like Kartar Singh Sarabha and Rash Behari Bose and completely dedicated his life to the freedom movement. He was jailed for his activities. Thus he gave his children, Bhagat Singh among them, lessons in patriotism from the day they were born.
Kishan Singh's younger brother Ajit Singh (1881-1947) also got involved in the freedom movement after graduating from the same high school. In his college days he gave talks asking fellow students to dedicate their life to the service of the nation. He was greatly influenced by Lokmanya Bal Gangadhar Tilak. He became a close friend of Sufi Amba Prasad when the latter was released from prison after serving a five-year sentence for his involvement in the freedom movement. They along with Ajit Singh's brothers Kishan Singh and Swarn Singh and other revolutionaries founded Bharat Mata Society. Ajit Singh was one of main leaders in the peasant movement which protested the increase of irrigation taxes and the exploitation of the peasants by moneylenders. The slogan pagree sambhaal jatta — Oh peasant, guard your turban (honor) — became the mantra of the movements. He was jailed for his participation in this movement. Later he was exiled along with Sufi Amba Prasad and Lala Lajpat Rai. Ajit Singh could return to India only after 39 years in 1947. He died on August 15, 1947, the day India became free.
This was the legacy to which Bhagat Singh was born on September 28, 1907 in this revolutionary family in the village Kharkharkalan, District Jalandhar, the day his uncle Ajit Singh came to their village after being released from jail. Since his birth he found his home to be the center of revolutionary activities, where freedom fighters congregated and debated the ways to work for India's freedom. As described above his grandfather had decided at his yajnopaveet ceremony that he was to dedicate all his life serving the nation. There is a legend about him that when Bhagat Singh was five years old, his family was sowing sugarcane in a field. He put a rifle in place of a sugarcane piece. When asked what he was doing he answered that he was sowing rifles, so that they can be used to chase the British away from India.
After graduating from high school Bhagat Singh joined the National College of Lahore, an institution founded by the famous Congress leader Lala Lajpat Rai, who was called Panjab Kesari (the Lion of Punjab) by the people. This institution did not produce clerks or civil servants for the British rule, but prepared its students to fight for freedom. Here, besides Lalaji he came into contact with Gadar hero Bhai Parmanand, who taught history. Bhai Parmanand had already served the harsh sentence in kala pani — Andaman Nicobar's Cellular Jail — where the most dangerous prisoners were sent. It was at this time when Mahatma Gandhi launched the first non-cooperation movement. Bhagat Singh was greatly influenced by Gandhiji. But when Gandhiji withdrew the movement because of violence in Chauri Chaura, in which many policemen were murdered, Bhagat Singh, like many young men, was disappointed. To them Gandhiji's non-violence was only a tactic and not a dharma. They decided that there was only one way to free India and that was the way of armed revolution.
As we can see, Bhagat Singh was influenced by a variety of thoughts and people. In his young age he was a staunch Arya Samaji, he was greatly influenced by the Gadar movement. Its youngest hero Kartar Singh Sarabha, who was hanged by the British at the age of 19, became his political guru. He kept Sarabha's photograph in his pocket. He was greatly moved by the heroes of Kakori Case. Its martyrs Ram Prasad Bismil, Ashfaqullah, Rajendra Lahiri and Thakur Roshan Singh inspired him immensely. The massacre of Jallianwala Bagh left a deep impression on the mind of teenage Bhagat Singh. Later he was absorbed in the study of various European revolutions which left a deep impression on him. Bhagat Singh's mind was like a house whose windows were open on all sides and all revolutionary thoughts entered in like a free breeze. Throughout his life he kept churning these ideas logically until he became a rationalist, Marxist, atheist, revolutionary willing to sacrifice his life to kindle the flame of revolution.
It was 1928. The British government, besieged by the unrest in India, decided to send the Simon Commission to India to find out what kind of reforms would appease Indians. Since there was no Indian member in the commission and since Indians were fooled so many times by the British before, Indians decided to boycott the commission. In every city the commission went it was met with black flags and protests. "Simon go back," became the united call. When they came to Lahore on Oct. 20, 1928, a huge protest march was led by the prominent Congress leaders Madan Mohan Malviya and Panjab Kesari Lala Lajpat Rai to oppose their arrival. The police superintendent ordered cane charge on the peaceful crowd. Lala Lajpat Rai was attacked severely and he died because of the blows showered on him on Nov. 17. The whole country was stunned by this savage blow on the most respected leader. Lalaji's last words were, "Each blow on my head will become the nail in the British rule's casket."
Bhagat Singh and his other friends, members of the Naujawan Sabha and Hindustan Socialist Republican Army, were outraged. They had to retaliate to show that Indian youths were not dead and they would show the British they would avenge the death of their beloved elderly leader. On Dec. 17, 1928, they were ready. When a red motorcycle started from the police office, they fired. Unfortunately, the rider was not the police superintendent but his assistant. Next day the hand bills appeared on walls all over Lahore that the death of Lalaji had been avenged and the honor of the nation was upheld. Bhagat Singh escaped and with the help of his friends — Sukhdev and Durga "Bhabhi" along with his leader Chandrashekhar Azad went to Kolkata fooling the police who were everywhere.
Instead of paying attention to their grievances, the colonial government tried to suppress Indian masses even more. In order to suppress workerss, who were going on strikes to demand better treatment, the government decided to introduce the Trade Dispute Bill along with another bill to curb mass movements called the Public Safety Bill. Those bills were brought before the Central Legislative Assembly. Even when the assembly rejected them the viceroy used his veto power and declared them adopted. The declaration of the adoption of these bills was to take place on April 8, 1929. The Hindustani Socialist Republican Army decided to protest that by throwing a bomb in the Assembly. The party took inspiration from a French anarchist Auguste Vaillant (1861- 1893) who threw a bomb in the French Chambers of Deputies in 1893 in revenge of the execution of his comrade Rovachol. He shouted, "It takes a loud voice to make the deaf hear." When he was hanged for his action, he shouted "Death to the bourgeoisie. Long live anarchy." Bhagat Singh changed that slogan to, "Death to imperialism. Long live revolution." When I was a child we used to shout in the rallies, Inqalab zindabad, British hakoomat ho barbad (Long live Revolution, Down with the British Government.)
HSRA was not prepared to send Bhagat Singh to throw the bomb in the Assembly. But when Sukhdev teased him that he wanted to save his neck while pretending to be a revolutionary, Bhagat Singh became agitated and insisted to Azad that he had to do that. Finally he and Batukeshwar Dutt were selected to do the job.
At the appointed time, when the bills were to be declared adopted on April 8, 1929. Bhagat Singh and Batukeshwar Dutt threw the bomb in the empty space of the assembly, declaring: "It takes a loud voice to make the dead hear. This British Government thrust upon the helpless but unwilling Indian nation is no better than an organized gang of robbers." They declared that freedom is a birth right of everyone.
The bomb created panic. The assembly was soon empty except for two or three Indian leaders, Malviya among them. Bhagat Singh and Batukeshwar Dutt did not run away. They stood and courted arrest — like brave soldiers of war.
These two episodes made Bhagat Singh a household name, a legend in his own time. Women and men composed songs. They sang them at various occasions — at weddings, while grinding corn and working in fields. Ever since I began to talk and understand I grew up singing these songs at the lap of my brother and father — both freedom fighters.
Bhagat Singh insisted that he was not a terrorist, but a revolutionist. He said again and again that individual terrorism can never bring freedom. He loved life and he and his friends were sorry that they took the life of a British policeman as a human being, but sometimes it is unavoidable to take a life of a person representing a tyrannical repressive rule.
Bhagat Singh and his comrades used the trial as a tool to further awareness of their cause. They explained their philosophy of revolution, motives of their actions and telling their friends outside what to do. Soon the government caught up with their game and they were suddenly tried by a tribunal instead of the lower court.
Again and again Bhagat Singh emphasized that he was a revolutionary. And by revolution he meant "the ultimate establishment of an order of society which may not be threatened by such breakdown and in which the sovereignty of the proloteriat should be recognized and a world federation should redeem humanity from the bondage of capitalism and misery of imperial wars." To him this revolution was an inalienable right of mankind. To him, like Lokmanya Tilak, freedom was an imperishable birthright of all. "Revolution means complete overthrow of the existing social order and its replacement with the socialistic order." To Bhagat Singh freedom did not mean merely replacing the white faces with black ones on the throne. Like the Gadar heroes, Bhagat Singh also wanted a casteless, classless, society free from all kinds of social and economic exploitation.
Unfortunately we pay homange to the image of Bhagat Singh who holds a pistol in his hand, not that of a true revolutionary. We don't admire him for his great love for literature, his fondness of poetry. During the time he spent in his jail cell before he was hanged, he read continuously. His study did not stop at revolutionary books or Marxist literature. He read novels by many American authors of his time. His jail notebook is full of quotations from all genres of literature and subjects — love, marriage, revolution, you name it. He must have read close to two hundred books.
Today the tragedy is that everyone wants to cash in on the martyrdom of Bhagat Singh. Even those religious institutions who did not give a damn about the Gadari babas or Bhagat Singh today want to arrange akhand path in their memory. To me it is an insult to Bhagat Singh — a rationalist, atheist — to place his portrait next to fundamentalish Sikh separatist Jarnail Singh Bhindranwale. To me at is an insult to Bhagat Singh when the Haryana chief minister proposes to build a statue in his honor, because he was a "true Arya Samaji." To me it is also an insult to Bhagat Singh when the armchair leftist historians want to use him to condemn Gandhiji. They blame Bhagat Singh's execution on Gandhiji. On this score let us be clear. Did Bhagat Singh want to live? He is his own best witness for that. Like Kartar Singh Sarabha, Ram Prasad Bismil, Thakur Roshan Singh and Ashfaqullah, Bhagat Singh, too, felt that his martyrdom will serve their country better. Bhagat Singh was so angry when his own father tried to save his life and sent a petition to the government that he rebuked his father in no uncertain terms. He felt sorry that his father showed weakness. He told his father that he had put no defense for himself at the trial and he did not want to live devoid of his principles. "My life is not at all worth living at the cost of my principles" Anyone who can rebuke his father in such a harsh way could have never wished anybody including Gandhiji to beg for mercy on his behalf, especially when Bhagat Singh and Sukhdev in several communications rejected Gandhi's way of thoughts.
Let me quote extensively from Bhagat Singh's statement.
"I make no secret of the fact that it is but natural for me to desire to remain alive. But I can live only under certain conditions. I refuse to live in prison or parole. My name has become the focal point of the party of revolution and its sacrifices have placed me on an elevated pedestal. This pedestal is so high that if I survive by being spared I will not be able to live up to that standard. My weaknesses are not generally known and the public is unaware of them. If I manage to cheat the gallows , they will be exposed for all to see. Maybe the revolutionary fire in me will cool down. it may be even extinguished."
He further writes:
"But if I am hanged like a brave man, with a smile on my face, Indian mothers will encourage their children to emulate my example. Our hangings will substantially add to the number of martyrs in the cause of the freedom of our motherland, so much that it will be impossible any longer for the satanic powers of imperialism to resist the Revolution."
On November 30, 1930 Bhagat Singh wrote to Batukeshwar Dutt:
"(I) am anxiously waiting for the day when I will be fortunate enough to embrace the gallows for my ideals. I will climb the gallows gladly and show the world how bravely the revolutionaries can sacrifice themselves to the cause."
Bhagat Singh is a hero because of his martyrdom. When I look at the life of those heroes, who were no less heroic or deep thinkers than Bhagat Singh, but who survived gallows, I feel sad. Shiv Varma, Durga Bhabhi, Batukeshwar Dutt and many others were not remembered by the masses even when they died. How many people know about the youngest prisoner of Kakori case, who served fourteen years in prison? His name — famous Hindi novelist Manmathnath Gupta.
With all due respect to my armchair leftist historian friends, I would like to close the article by quoting Gandhi. In Gandhi's tribute to these heroes, who were hanged at 7 pm on March 23, I feel the whole nation paid tribute to them.
Gandhi wrote in Young India March 29, 1931 issue:
"Bhagat Singh and his two associates have been hanged. The Congress made many attempts to save their lives and the government entertained many hopes of it, but all has been in a vain.
"Bhagat Singh did not wish to live. He refused to apologize or even file an appeal. Bhagat Singh was not a devotee of non-violence, but he did not subscribe to the religion of violence. He took to violence due to helplessness and to defend his homeland. In his last letter Bhagat Singh wrote: 'I have been arrested while waging a war. For me there are no gallows. Put me into the mouth of a cannon and blow me off.'
"These heroes have conquered the fear of death. Let us bow to them a thousand times for their heroism."
|
TOP
|
---
GLOBAL ISSUES:
Stand Up, Speak Out: Fight Against Poverty

Salil Shetty, director of the UN Millennium Campaign, asks if India will stand up against poverty and for the Millennium Development Goals of the United Nations.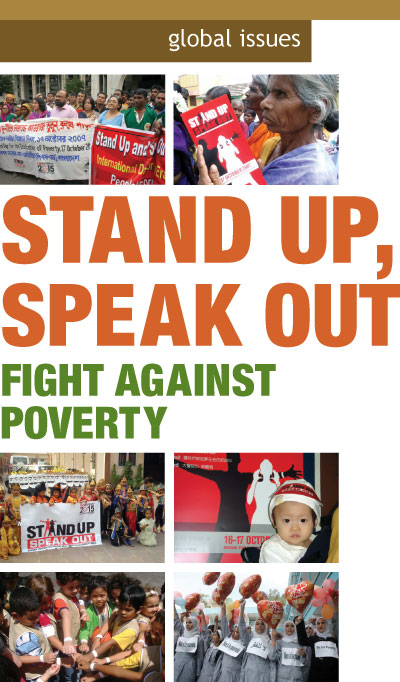 (Originally published Oct. 17 in
The Mint
, a Mumbai newspaper.)
Millions of people in India and across the world will today mark the International Day for the Eradication of Poverty by attempting to break the Guinness world record of the maximum number of people to Stand Up and Speak Out Against Poverty and for the Millennium Development Goals (MDGs).
The MDGs, 8 basic Goals to fight poverty, illiteracy, disease and gender inequality, were agreed by heads of state of virtually every country in the world, including those of South Asia, at the dawn of the new century and millennium in September 2000 at the UN. 2007 is the mid-point between 2000 and 2015, a good time to ask the hard question — will these Goals be simply another set of broken promises?
The big difference is that for the first time in decades, South Asia and India in particular, are enjoying a period of unparalleled macro economic growth. At the aggregate level, official data shows a significant reduction in income poverty, although debates on poverty statistics have always been a blood sport amongst academicians in India. More children are enrolled in primary schools than ever before, even if there are serious quality issues. On many of the other Goals as well, there has certainly been progress at the national level. But the new found prosperity has brought with it deep and increased inequality.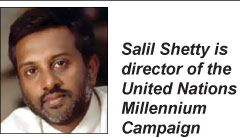 The emergence of a significant and growing and visible middle class is a relatively new development — today there are over 100 million Indians who have some disposable income (cell phone ownership appears to be a good proxy indicator). Then there are the "incredible Indians" — those microscopic few who have really got a large slice of the newly acquired cake. India has now beaten Japan in the race to have the largest number of $ millionaires amongst all Asian countries. The best of Indian industry today is undoubtedly as good as you can get anywhere in the world. One can't really blame "foreigners" or cursory followers of global TV news outside India, particularly in the West, for starting to believe that most Indians are software engineers or about to become one.
It is clichéd to say that India lives in the 19th, 20th and 21st century at the same time. But the growing economic inequality poses a new challenge to a society that is plagued by historical challenges of social and political inequality along the lines of caste, tribe, gender, region and religion. So gyms, low calorie foods, jogging tracks and diet advisors to deal with obesity operate uncomfortably alongside the largest number of malnourished people in the world (almost half the women in many parts of India are anaemic and 40% of children malnourished). Some of the best hospitals and medical talent in the world coexist with one of the weakest health systems in the world coping with 2 million infant deaths a year and over 100,000 women dying during pregnancy and childbirth, not to mention the largest number of people suffering from TB anywhere in the world. It should be noted that on many of these indices, it is not just the absolute numbers that are high, which is to be expected given the large population of India, but on many of the health indices like Maternal Mortality Rate, the ratios are also worryingly high.
Just like the health facilities, the contrast between the schools that the elite patronize and the poor have to use is to be seen to be believed. Those who could afford it have always used private doctors and private schools. But this duality now extends to power generators, roads and even security! Whilst one could celebrate this from the point of view that this will reduce the pressure on government facilities in health, education etc, as fewer and fewer people who have voice and influence use the public systems, the level of investment and quality of services offered by the public systems could further deteriorate. The most egregious forms of poverty, hunger, ill-health and illiteracy could concentrate further amongst the poorest regions of the country, the most marginalized social groups including Dalits, adivasis, minorities and women in general.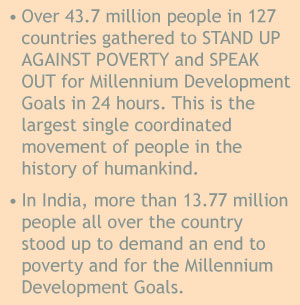 The social, spatial and structural causes that makes poverty in the bottom third of the population stubborn and impenetrable have deep social roots. At the heart of this are discrimination, prejudice and exclusion based on caste, tribe, gender and religion. Some of this will not change unless people themselves take action to put an end to it.
But as Wada na Todo Abhiyan and other social movements struggling for the rights of the poor and excluded remind us, Government policies and practice at the national, State, district and local level continue to be critical for the over 350 million people living in extreme poverty in India. Increasing public investment in the services that are relevant for the poor is a pre-requisite for India achieving the Millennium Goals. India has amongst the lowest public investment in health in the world as a proportion of national income. Equally, systematically enhancing the livelihoods of the poor is the only way to sustain poverty eradication and the achievement of the Millennium Goals. This requires investments that are targeted towards agriculture, livestock, forestry and other sectors in which the majority of the poor are engaged. Along with the hard investments is the challenge of ensuring that resources actually reach the poor and don't get siphoned off along the way.
There are many thoughtful Government programs in place now to address many of these issues. As poor and excluded sections of Indian society get more socially and politically organized and media and information becomes more accessible, India should not only achieve but exceed the Millennium Goals. That is the solemn responsibility that we have for the millions of people Standing Up today.
Reprinted with permission from
Mint.
© HT Media Ltd. All Rights Reserved.
|
TOP
|