---
EDITORIAL:
The Hindi Tamasha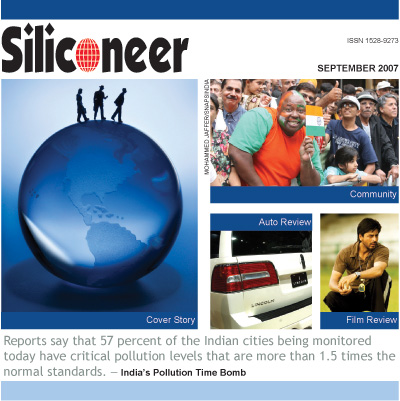 Hindi enthusiasts like to talk the talk but don't walk the walk, as this year's Vishwa Hindi Sammelan in New York proved once again.
When you think about it, Hindi finds itself in a rather odd situation. Despite shrill cries of establishing the rashtra bhasha, it is by no means clear that the language, at least its evolved literary version, faces a very promising future.
The reason has to do with a paradox. While Hindi chauvinists like to rave and rant about establishing the language, it isn't clear at all that on a mass level there is enough enthusiasm for Hindi literature. Comparison to other South Asian languages reveals a discomfiting contrast. Novelists and poets in Bengali, Marathi or Malayalam, for example, are avidly read and lionized by those communities, but you would be hard pressed to find Hindi speakers who can name their favorite Hindi writer.
Over the years, the quadrennial sammelan has acquired all the bad attributes of a government junket. Dreadful organizational glitches and vacuous speeches rule the roost and this happened at this year's sammelan as well. Government honchos, whose connection to Hindi is tenuous at best, called the shots.
With a sharp pen, award-winning poet folklorist Ved Prakash Vatuk skewers the shenanigans of a government junket whose contribution to the promotion of Hindi remains miniscule, and castigates the penchant of Hindi promoters for barking up the wrong tree.
The surest way of guaranteeing a long and lasting future for Hindi lies not in facile sloganeering but in making Hindi a genuine part of the lives of Hindi speakers. Vatuk suggests that Hindi enthusiasts need look no further than their neighboring South Asian expatriate communities. Every year, several thousands of U.S.-based South Asians gather at Telugu, Bengali and Marathi conventions where they celebrate their language and culture in emphatic fashion. It is this deep and committed mass engagement with the language that Hindiwallahs need to instill in Hindi speakers if they hope to secure the future of Hindi, he argues in this month's cover story.
There's more to environmental justice than good science,
responsible regulation and vigilant monitoring. Take Richmond, California. Numerous low-income minorities live in this diverse San Francisco Bay Area township which is ringed by a number of plants that often give rise to air pollution hazards and emergencies. Yet something as simple as a warning in an emergency can be useless to substantial parts of the community with poor English language skills.
Community activists won a landmark victory when following a fire in 1999, the Contra Costa county decided to introduce a multilingual warning system to cater to those with poor or no English language skills.
But hold the champagne. Eight years after the decision, the county is still to put the multilingual warning system in place. While work is going on to put in place a warning system for the Laotian community in their own language, the project will serve 300 families in a community of 10,000, and nothing as yet is planned for other minorities with English language difficulties. This month's issue carries a report by Ashfaque Swapan. The report was made possible by a grant from the Hewlett Foundation.
Like many a major poet and author, Pakistan's Ahmad Faraz
is the conscience of his people, and has even gone to jail for speaking up against injustice and oppression by the autocrats that seem to perennially plague that South Asian nation.
A keen sense of moral outrage informs his politics, and some of that finds its way into his poetry as well. But his real claim to fame is his nuanced, exquisitely sensitive Urdu romantic poems.
Ethnically a Pashto-speaking Pathan, Faraz studied Persian and Urdu at Peshawar University. Often compared with Urdu poetry titans like Allama Iqbal and Faiz Ahmed Faiz, he holds a unique position as one of the greatest living Urdu poets, with a fine but disarmingly simple style of writing which even common people can easily understand and identify with.
When he went to college, his heroes were Faiz Ahmed Faiz and Ali Sardar Jafri, the best progressive poets at that time.
His outspoken views on political freedom forced him to go into self-imposed exile for three years during the Zia-ul-Haq era after he was arrested for poems critical of military rule. He was awarded the Hilal-e-Imtiaz in 2004 in recognition of his literary achievements, but he returned the award in 2006 after becoming disenchanted with the government and its policies.
Now 75, the literary titan still retains his sharp intellect and insight, as our correspondent Ras Hafiz Siddiqui found out when he got to spend a memorable evening with Faraz in the San Francisco Bay Area. We carry a report on Faraz in this month's issue.
Do drop us a line with ideas and comments about how we can make Siliconeer better serve you.
|
TOP
|
---
COVER STORY:
The Hindi Tamasha: Vishwa Hindi Sammelan
Every four years, the Indian government organizes a world convention on Hindi. This year, it was hosted in New York.
Despite the hoopla, the event itself is a pointless government junket full of banal, vacuous speeches with little to show by way of achievement, while the actual state of Hindi leaves a lot to be desired, writes Ved Prakash Vatuk.


It all began in 1975. Suddenly someone discovered that Hindi is not confined to North India alone but was spoken in other parts of the world, particularly in those parts where Indians were sent by the British Empire as part of indentured labor to help grow sugarcane for the English masters after slavery was abolished in 1838 and the African slaves, once freed, refused to work on plantations. This new slavery, by which innocent peasants/workers from India were tricked into bondage for five years, brought millions of Indians to Fiji, Mauritius, Suriname, Guyana, Trinidad and Tobago and other places and their descendants still spoke some form of Hindi. Mauritius was specially cited as a place where Hindi was flourishing and many writers were writing good Hindi novels, plays and poetry. People also discovered suddenly that Hindi was taught in many Western countries at college level. This knowledge inspired some Hindi enthusiasts to organize the first World Hindi Convention. As it happened this thought, too, took deep root in the mind of a non-Hindi speaker, Marathi writer/journalist/publisher Anant Gopal Shevre.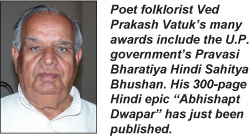 One should remember that the first thesis about or on a Hindi subject was not written in Hindi by an Indian but by a foreigner, Father Kamil Bulke. He refused to write his thesis titled "Ram Katha" in English. So one should not be surprised that the first World Hindi Convention (Vishwa Hindi Sammelan) did not take place in a Hindi-speaking area but in Maharashtra's Nagpur and it was organized by a Marathi speaker. It was a four-day-long grand affair.
With that sammelan, Hindi suddenly became a world language. Not only that, a new phrase, "World Hindi," was coined, by which one meant that there is such a thing as universal Hindi.
Soon the sammelan became a government affair. It was dominated by Indian government officials and very clearly evolved a class system. The prime minister, other ministers of the cabinet, Mauritius Prime Minister Sir Navinchandra Ramgoolam, ministers of other countries all became far more important than any prominent Hindi writers and scholars. It did not matter if they could not speak good Hindi or did not really have anything substantive to contribute. Their pronouncements became more valuable — like the mantras of the Vedas. The few foreigners who were invited by the government gave legitimacy to the claim that Hindi indeed was a world language. After all, they were teaching Hindi for 10 or 20 years and could prepare a talk and deliver it in a European accent, which was like honey to the ears of Hindi speakers in India who were exposed for the first time to such an experience. That a foreigner could speak Hindi was a miracle to them. Any European who can speak a sentence or can quote a line or two from a Hindi or Sanskrit epic was immediately given the status of a Shankaracharya. These eminent delegates, on whose shoulders rested the great task of making Hindi a world language, were treated like gods. As for great Indian Hindi scholars/ writers, they became the dalits in their homeland.
In this convention it was declared that Hindi should become one of the official languages of the United Nations.
And this has become the norm ever since for all Hindi sammelans.
Since the first Vishwa Hindi Sammelan was organized in 1975, there have been seven more such melas — all organized by the Indian government with very little input from the Hindi scholars/writers. The last and the eighth was held in New York July 13-15. Several years before, some Hindi organizations tried to hold that convention in the U.S., but at that time the vicious infighting among various groups who approached the Indian government with their request made it impossible. This time the good relations between the Bharatiya Vidya Bhavan and the Indian Consulate made it feasible to hold this convention in New York.
After attending the two most publicized and well organized conventions — one in Nagpur in 1975 and the other in Delhi in 1983, I had very little desire to attend the convention held in New York. Even though these conventions held abroad are branded "world conventions," hardly anybody who is not paid their fare by the Indian government attends them from countries other than the host country. Of course, many people have their relatives or children in the countries where the convention is held, and they come to see them. For example, there was only one delegate from Germany, where Hindi is taught in many universities. None of the eminent writers and professor-scholars who have been living in America for decades were informed or invited or consulted. For example, eminent Hindi lyric writer Professor Indu Kant Shukla, the famous Hindi novelist and professor of Hindi at the University of Wisconsin Usha Priyamvada, president of Hindi Sahitya Sammelan Prayag and prominent poet Gulab Khandelwal, and the author of these lines — an award-winning poet — knew nothing about the convention, neither were they consulted at any time.

Only a few New York-based persons were involved, and those, too, nominally, in organizing the event. I came to know about the convention when Susham Bedi from New York asked me to contribute an article for the smarika or souvenir. She asked me to call Bharatiya Vidya Bhavan chief P. Jayaraman. I did. He told me that I have to attend. He told me that he would inform me about it as soon as the program was finalized. After that I never heard from him. I e-mailed him several times. He never answered. When I reached New York, I called him. He sounded very rude and insulting. He said, "I had e-mails from so many people and so many people left me messages on phone, I can't answer everyone." I was totally disgusted by his attitude. Later, many people told me how insulting he had been to them. If he or his organization did not have the courtesy or time to answer the queries, why did he take the responsibility to organize? Simply to run after the government ministers and to get close to them to get a padmashri some day? Literally dozens of people told me of a similar experience.
I have attended lots of international conventions but not one of them had been this badly organized. And they were attended by thousands of delegates, not merely 800. Almost 80 percent of the delegates were deeply dissatisfied by the way the convention was organized or run.
Now let us talk about the convention itself. Since this sammelan was held in New York, the Indian consulate managed to hold the inaugural session in the United Nations auditorium and have the inaugural speech delivered by the United Nations Secretary General Ban Ky-Moon.
Now Moon had lived in India many years as a representative of his country and had learnt some Hindi. Not only that, his daughter has married an Indian man. So it should not have been a great surprise that he addressed a Hindi gathering in Hindi. But that became the highlight of the convention. The pride of Indian nationhood, Hindi, was brought to the doorstep of the United Nations. Now it is bound to take its place as one of the official languages of the UN. I was amazed how easily our hearts are won. We live by symbolism and not harsh reality.
As far as the tone of the convention was concerned, most of the time it was cliché-ridden. Hindi is the language of love, Hindi unites the world in peace, Hindi is the soul of Bharat, Hindi is the asmita of our samskriti, Hindi is spoken in more than hundred and fifty countries, Hindi is taught in more than 150 universities around the globe. These cliché-ridden slogans were repeated so many times that one begins to wonder if these defenders of Hindi are truly sure about their own case or they are simply shouting their slogan so loudly because they feel that by doing so they can persuade the world community to believe in them. Otherwise which language of India — or the world — divides, is the language of hate, is not spoken around the globe where the speakers of that language have migrated? It's Hindi. If we compare the reality with slogans we find that many Indian languages are used far more extensively than Hindi by its speakers abroad.
Take the case of Punjabi. Punjabi is the language of not one, but two or even three generations in Canada, America and Britain. Hindi speakers have a hard time even teaching Hindi to their America-born second generation kids. There are literally dozens of weekly papers in Punjabi sold in the U.K., U.S. and Canada, while even three or four quarterly magazines in Hindi are struggling to survive. Thousands of Punjabi families also subscribe to many Punjabi papers published in India.
The fact is simple: No matter how loudly we Hindi speakers shout in these sammelans about the glory of Hindi, as far as our children are concerned we have bestowed English to them as the language of their education and career.
In every annual convention of Marathi, Telugu or Bengali speakers in the U.S., which are attended by several thousand people and which are not sponsored by any government, I have seen that they organize large book exhibitions, where publishers bring thousands of volumes. These books are bought enthusiastically. In New York alone, multiple weekly Bengali tabloid newspapers serve the Bangladeshi community. An annual book fair brings authors from Kolkata and Dhaka and not a cent comes from any government.
Compare that to the so-called government run book exhibition at the eighth Vishwa Hindi Sammelan. Where were the thousands of Hindi publishers there? There were only government publications and they, too, were mostly distributed, not sold. The only exhibition which was not government approved was arranged by Anjana Sandhir: the exhibition of books written by persons living in America. But that was not worthy of being given a prominent place or being inaugurated by the visiting Indian state foreign minister.
Again, of course, the resolution to make Hindi the official language of the UN was passed — for the eighth time in 32 years. For the last three decades we have been organizing seminars on this issue. Hindi leaders must have earned millions of rupees by participating in them, but there hasn't been any result. We forget that all the official languages of the UN are indeed the official languages in their own countries: French in France, Chinese in China, English in so many English speaking countries, Russian in Russia, Spanish in Spanish speaking countries and Arabic in all Arab nations. These languages are used in day-to-day government work. In these three decades we have never passed a law that Hindi should be the language of India's Supreme Court, or in Indian government offices. That it should be the language of instruction in high institutions, or Indian embassies or consulates or even of the Indian offices at the United Nations. Anyone can speak in any language at the United Nations and they have done so. But do the officials of the Indian delegation listen to their Hindi lecture or do they have to resort to an English translation? If no one is listening or reading in Hindi then what is the justification of spending billions of rupees just to have the false pride that our language is an official language of the UN?
We have to establish that language in our homes, offices, parliament and the courts first. I remember that once our ex-president Neelam Sanjiva Reddy was addressed in Hindi in Delhi and he was annoyed. Two years ago, at a Pravasi Bharatiya Sammelan in Hyderabad, one delegate spoke in Hindi and Sam Pitroda apologized for that. Have we ever asked the non-Hindi speakers of India what they feel about our slogan?
And indeed, why Hindi alone? Why not Bengali, which is used in every government office of Bangladesh? Or Urdu, the undisputed national language of Pakistan? Why not make all standard literary languages the official languages of the UN? In fact, when we demand that India should have a permanent seat at the UN Security Council, I feel that demand to be undemocratic and imperialistic. I would like Gandhi's India to demand that the Security Council should be organized on a democratic basis where elections are held every five years and the veto is abolished.
And if we truly want Hindi to be a world language then we should translate literally hundreds of thousands of great literary and scientific works into Hindi.
Most of the delegates came out dissatisfied from this convention, even those who are in the habit of attending every one of them. But the most hurt were the writers/poets who live in the U.S. itself. They thought they would be treated in the same way they are treated in India, where the professional promoters of pravasi Hindi sahitya go out of their way to glorify them. Here, they were not even noticed. So much so that the kavi sammelan was held without their participation and they in protest organized their own outside the hall. Even if most of them would have never been published in any reputed literary magazine, had they stayed in India, they felt hurt that they were not given any recognition here — in their own territory. But then again, the whole show was organized from India by the government that did not give a hoot about what they felt.
The sammelan, like sammelans before, left many questions unanswered. The most important of them was — why should the government spend millions of rupees for this mela? So that the same people can visit foreign countries? Or we can meet some friends we have not seen for years? As far as I am concerned, this is just another show that the government organizes every four years to prove its sincerity to a cause about which it could not care less. So in the end I came out from the convention with a feeling that I wrote down in verse. In Hindi, of course.
"Haat dar haat ham bhatak aaye/ Kuchh khareeda naheen na bik paaye/
Aur mela ujar gayaa yoonhee/ Kuchh diya bhee naheen na kuchh laaye."
This roughly translates as the following: "And we wandered from shop to shop/ We bought nothing, nor could we sell ourselves/ The mela was over just like that/ We did not give it anything, nor did we bring anything from it."
|
TOP
|
---
ENVIRONMENT:
Language Matters: Multi-language Hazard Warning

As the U.S. population gets more diverse, language can be a critical issue in ensuring environmental justice. Ashfaque Swapan writes about the challenge of notifying the multilingual community in Richmond, Calif., in the event of an air pollution hazard from the many plants that surround it. This article was made possible by a grant from the Hewlett Foundation.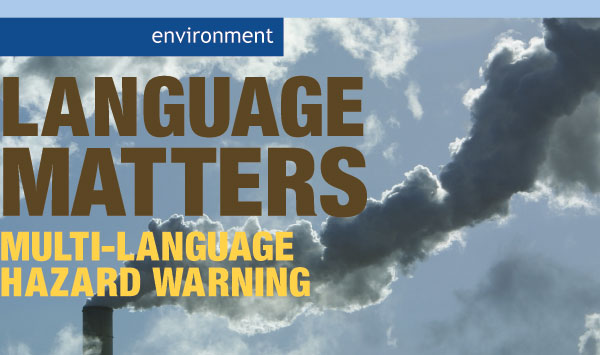 On Jan. 15 this year in Richmond, Calif., when a fire broke out at a nearby Chevron refinery, for Laotians residents with minimal to nonexistent English skills, it was like déjà vu all over again. Not just the fire, but the fact that no warning phone calls came in any language other than English.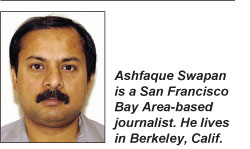 But it wasn't supposed to be like this.
About eight years back, following a fire in the same Chevron refinery, community activists were up in arms about the county's shoddy early warning system.
The fire at Chevron's Richmond refinery in March 1999 had sent a plume of black smoke over western Contra Costa County, and hundreds of residents had to go to hospitals with respiratory problems. Residents had said then that sirens in a county warning network were not sounded for 20 minutes after the explosion.
About 7 percent of Richmond's adult population and 12 percent of San Pablo's do not speak English, according to the 1990 census. An estimated 10,000 Laotians live in the western Contra Costa county, many in Richmond, which in addition to Laotians, has also Spanish-speaking and Vietnamese communities.
About half of the Laotian residents are either illiterate or speak only their native language, activists said then.
Following public demand, a Contra Costa county Board of Supervisors committee decided to expand the county's phone warning system to include telephone calls that would warn Laotians and Spanish speakers of disasters in their own languages.
"When we began this project in 1999 working with the Laotian Organizing Project, they thought the best way to help the Laotian community know . . . was to do an automated phone message," said Michael Kent, hazardous materials ombudsman with the Contra Costa County Health Services.
"This had never been done before. . . and we began this pilot just with the Laotian community . . . with the understanding that there are other minority communities that don't speak English as their first language, predominantly Spanish, and ultimately we hoped to be able to expand whatever we learned from the Laotian community to those communities."
Organizations like LOP celebrated a landmark victory, but today, the celebrations seem premature.
On Jan. 15 this year, after the fire broke out at around 5:15 a.m. in the Chevron refinery, automated warning calls went out — still only in English. Even those calls were delayed by an hour, prompting angry complaints.
The automated calls, which go out to homes and businesses near the refinery, are a key part of Contra Costa County's efforts to notify residents about refinery fires that can affect the air quality.
"There are two issues in there," said LOP activist Torm Nompraseurt. "First there is a very loud siren to let people know that an incident happened. The second is the call notification calling system so the computer calls different households. So it's always English first, and after that, it's different Laotian dialects. That is the regular procedure.
"What happened in January, the English language call (didn't go) out to the residents until an hour later — that's one big issue. Second, the Laotian calls didn't go through. That was another big issue."
So whatever happened to the Laotian warning calls that were supposed to come? That is still a work in progress, according to Contra Costa county officials.
"We've gone through a couple of different versions, we have had some technical problems," Kent said. "There were problems with the system in January and in fact, we got rid of the vendor who ran the system then and we have a new vendor."
Eight months after the Jan. 15 fire, the county is in the process of installing a high-tech device in Laotian homes that need it. The device is attached to a landline phone. The way this works is when a warning message goes out in English it electronically tells this device to then put out an alert in that language.
A hazard advisory triggers this box, and a distinctive alert tone results, so a person at home knows that something is happening. The devices have been pre-programmed to ask residents to follow a preventive drill in Laotian.
Two Laotian outreach workers from the county are making home visits and installing these devices in people's homes based on need.
"Right now we are still in a targeted outreach to the Laotian community, we have funding for 300 boxes," Kent said.
Meanwhile the Jan. 15 fire has raised new issues. "On the morning of the fire it was blowing toward the bay and the much wealthier — and whiter — Point Richmond area, to which 2,988 calls were made in English," the alternative weekly East Bay Express noted somewhat accusingly. "None of the phone numbers in the Lao-language database were activated because the Laotian community was considered upwind of the fire."
Nompraseurt of LOP was more diplomatic. "The wind direction protocol is good but then sometimes the wind direction changes very quickly in five minutes, so what do you do?" he said. "Overall I would say that not only just the Laotian language implementation but overall I think the warning system (is) still not in good hands."
Kent agreed that calls went out only to Point Richmond, but there was a reason, and in any case, the county has revised its policy since.
"We only called Point Richmond . . ., at the time our policy was (that) we looked at who we think might be impacted, and that's who we called. We didn't call people in the other direction of the facility."
Kent said hazard notification was a fine balancing act. "If you send an advisory to people and advise them to go inside a shelter-in-place, maybe for several hours, instead of going to work . . . and there's really no danger to them, people will stop listening. We want to make sure our advice is good advice," he said. "You have a fine line. You want to err on the side of caution, in terms of making sure everybody who is impacted is advised to shelter-in-place, but if you start advising people who have no chance of being impacted, then you lose credibility. We have to keep both those factors in mind.
"Partially in response to the concerns that were raised, what we are going to do now in the future is when we think of a shelter-in-place incident, before we even know which way the wind is blowing we're going to call anybody within a thousand feet of the incident."
Kent conceded that the county's progress in installing a multi-language early warning system left much to be desired, but he stressed that the county's grassroots education and information program through posters and video that accompanied the program had been a key achievement.
"I think it is obvious that it would have been nice if we had been at this point earlier, but there are lots of reason why it took this long, because it's a very complicated thing to try to do, and it's never been done before," he said. "We've done a lot of one-on-one personalized targeted outreach that's culturally appropriate for the Laotian community and I think that's very important and very beneficial."
That said, it is not clear how far 300 devices will go towards satisfying a need of a 10,000-strong Laotian community which tends to be insular and has a high proportion of people who speak little or no English.
Furthermore, the comprehensive multi-language automated emergency calling system that was promised in 1999 seems as distant as ever.
"I don't know what the next step's gonna be. We're going to take it back to the board of supervisors," Kent said. "We have done some pilot testing in the Spanish speaking communities to see if they are interested, but we don't know where we're going with that, and there are other languages obviously spoken in West County, and I can't tell you at this time what we are gonna do."
|
TOP
|
---
NEWS DIARY: August 2007 Roundup

Twin Bombings Kill 42 in Hyderabad | Pakistan Test Fires Air-launched Cruise Missile | Nuke Deal in Danger | Bangla Eases Curfew | Against the King | Media Protest | Defense Network | Protest over Stores Closure




Twin Bombings Kill 42 in Hyderabad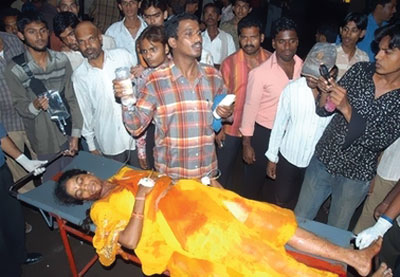 A victim of a twin blast in Hyderabad, India.

A pair of almost simultaneous bombings blamed on Islamic extremists tore through a popular family restaurant and an outdoor arena on Saturday night, killing at least 42 people in this southern Indian city plagued by Hindu-Muslim tensions.

The restaurant was destroyed by the bomb placed at the entrance. Blood-covered tin plates and broken glasses littered the road outside.

The other blast struck a laser show at an auditorium in Lumbini park, leaving pools of blood and dead bodies between rows of seats punctured by shrapnel. Some seats were hurled 100 feet away.

Officials said that foreign-based Islamic extremists may have been behind the attacks.

"Available information points to the involvement of terrorist organizations based in Bangladesh and Pakistan," Y.S. Rajasekhara Reddy, the chief minister of Andhra Pradesh state, where Hyderabad is located, told reporters after an emergency state Cabinet meeting.

Reddy did not name any groups, but Indian media reports, quoting unnamed security officials, identified the Bangladesh-based Harkatul Jihad Al-Islami. Reddy declined to provide more details. "It is not possible to divulge all this information," he said.

Harkatul, which is banned in Bangladesh, wants to establish strict Islamic rule in Bangladesh, a Muslim-majority nation governed by secular laws.

The Bangladeshi Foreign Ministry said Dhaka had not been informed of these allegations.

Witnesses described chaotic scenes in the aftermath of the bombings.

"We heard the blast and people started running out past us. Many of them had blood streaming off them," said P.K. Verghese, the security manager at the laser show. "It was complete chaos. We had to remove the security barriers so people could get out."

Most of the dead were killed in the Gokul Chat restaurant at Hyderabad's Kothi market, said K. Jana Reddy, the state home minister.
|Back to NEWS Diary| |TOP|

Pakistan Test Fires Air-launched Cruise Missile


A Pakistani handout picture of cruise missile Babur (Hatf-VII).

Pakistan has successfully test fired a new air-launched cruise missile capable of carrying nuclear weapons, the military said in a statement.

The locally developed Ra'ad (Hatf-8) missile — Ra'ad means thunder in Arabic — has a range of 350 kilometers (217 miles) and uses stealth technology, it said.

The missile "has been designed exclusively for launch from a variety of Pakistan's air platforms, providing these with a strategic stand-off capability on land and at sea," it said.

"The Ra'ad can carry all types of warheads and has an accuracy comparable to Pakistan's longer Babur cruise missile," the statement said. Pakistan last test fired the Babur, which has a 700-kilometre range, in July.

"The missile has a low detection probability due to stealth design and materials used in its manufacturing," it said.

President Pervez Musharraf and Prime Minister Shaukat Aziz congratulated the scientists and engineers involved in designing the new cruise missile, it added.

"Pakistan's defense will continue to be strengthened as an imperative of national security," the military statement quoted the two leaders as saying.

Pakistan and its nuclear-armed arch rival India have routinely conducted missile tests since the neighboring countries carried out tit-for-tat nuclear detonations in May 1998.

However in 2004 they launched a slow-moving peace process aimed at ending six decades of hostility and resolving their dispute over the Himalayan territory of Kashmir, the cause of two of their three wars.

In February, Pakistan signed a historic deal with India to cut the risk of atomic weapons accidents.

The latest test however comes against a backdrop of mounting political opposition to military strongman Musharraf — fuelling international fears about the security of Pakistan's nuclear arsenal.
|Back to NEWS Diary| |TOP|

Nuke Deal in Danger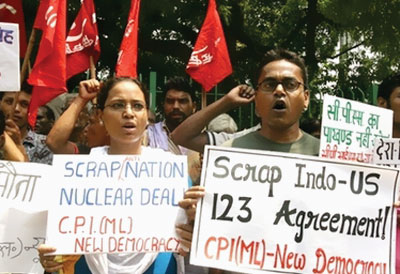 Activists protesting against the India-US nuclear deal in New Delhi.

A historic nuclear energy deal between India and the United States is hanging in the balance due to political opposition in New Delhi, but could still be saved if it reaches the U.S. Congress early next year, analysts said.

Communist allies of Prime Minister Manmohan Singh's coalition have demanded the deal be put on hold until their concerns are addressed and have implied they would end their support for the government, triggering fears for the pact.

Both sides are trying to buy time, looking for a face-saving way out of the crisis as neither is considered keen to see the government fall or face polls at the moment.

But having come this far, neither is blinking either.

The deal needs one final approval from the U.S. Congress to go through. But with Washington entering an election year in 2008, the clock is ticking fast, officials and analysts in New Delhi and Washington said.

The communists have demanded India put off negotiations for key global approvals for the deal, required before it can be presented to Congress.

But a delay would imperil the agreement, which would then have to struggle to make it over the din of the U.S. election campaign and tight Congressional schedules.
|Back to NEWS Diary| |TOP|

Bangla Eases Curfew


Police beat an activist during clashes in Dhaka.

Traffic poured onto the streets of Bangladesh's main cities as the army-backed interim government relaxed a curfew imposed two days ago to quell street violence, allowing people to venture out to buy essentials.

"The law and order situation is fully under control," the country's police chief, Nur Mohammad, told Reuters, dismissing fears the curfew relaxation might see a return of the protests, which had begun as a student demonstration on Monday.

A statement from the government said the curfew, which was lifted at 8 a.m. would be reimposed at 10 p.m.

The curfew — which shut down public transport, schools, banks, clinics and pharmacies — was imposed in Dhaka and five other cities after a student-led protest against the presence of troops at a football match at the Dhaka University campus turned violent and spread across the country.

The violence subsided the next day as security forces patrolled the streets and the authorities warned they would take stern action against disorder.

All universities and colleges in the six cities, including the 40,000-student Dhaka University, were closed indefinitely.

Security forces detained two Dhaka University professors, including Anwar Hossain, general secretary of the university's Teachers Association. The other was professor Harun-ur Rashid, dean of the Social Science Department.

Two other teachers and a top student leader have been arrested, and cases filed against 2,500 students.
|Back to NEWS Diary| |TOP|

Against the King


King Gyanendra

Nepal's Maoist leader said the former rebels planned to launch protests to push for the immediate ouster of King Gyanendra before crucial polls set for November.

The former guerrillas, now in government after signing a landmark peace deal last year with mainstream political parties, had agreed to wait until after the polls that will decide whether the country becomes a republic.

But Maoist leader Prachanda said they now want Gyanendra to go right away.

"To push for a republic, it's imperative to launch protests from inside government, in parliament and on the streets," Prachanda told business leaders, human rights activists and journalists at a meeting organized by the party.

Nepal is due to go to the polls to vote for a body that will rewrite the country's constitution and decide on the fate of the 238-year-old monarchy.

Parliament was suspended for two months to allow members to begin campaigning for the constituent assembly elections.

"Monarchist and regressive forces are still active in conspiring against the constituent assembly election," said Prachanda.

He said the protests by the fiercely republican Maoists would be peaceful.
|Back to NEWS Diary| |TOP|

Media Protest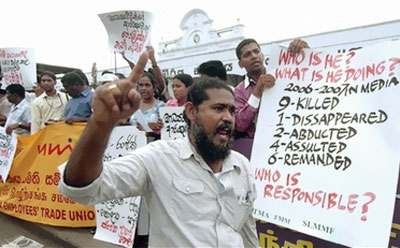 Journalists protesting in Colombo.

A media rights group urged Sri Lanka to ease emergency laws that curtail freedom of expression and warned of worsening conditions in one of the world's most dangerous places for journalists.

Working conditions have deteriorated in the Tamil-populated northern district of Jaffna since fighting erupted there between government troops and Tamil Tiger rebels, the Free Media Movement said in a statement.

"At least seven media workers including two reporters have been killed since May 2006," the statement said, adding that one journalist was missing and the offices of three media outlets had been physically attacked.

"Murders, kidnappings, threats and censorship have made Jaffna one of the world's most dangerous places for journalists to work," the FMM said, referring to the government-controlled peninsula.

Dozens of reporters have also fled or abandoned their work due to a climate of fear, the rights group said.

President Mahinda Rajapakse's military offensive against the Liberation Tigers of Tamil Eelam has also led to abductions and extra-judicial killings, rights groups say.

At least 835 civilians were kidnapped in Jaffna district between December 2005 and May 2007, according to Sri Lanka's independent Human Rights Commission.
|Back to NEWS Diary| |TOP|

Defense Network

Trade, bilateral relations and other economic issues figured prominently in Japanese Prime Minister Shinzo Abe's visit to India.

But underlying his talks with Indian leaders will be the changing geo-strategic map of Asia and the desire of some countries — with Japan a prominent player — to forge a new network of relationships; if not to contain China, then at the very least to create a counter-weight to the region's rising giant.

Over recent years long-standing allies like Japan, the United States, and Australia have been renewing their defense ties.

Japan's military posture has undergone some subtle but significant changes.

Japan's armed forces have shrugged off at least some of the restrictions imposed by their constitutional commitment to a solely defensive role.

This more muscular Japan, prompted in large part by concerns over North Korea's nuclear and missile programs, is also entertaining the idea of broader defense relationships.

Last May, on the sidelines of a regional meeting in Manila, officials from Australia, Japan and the U.S. met for the first time with India at the table, to pursue a broad strategic dialogue.
|Back to NEWS Diary| |TOP|

Protest over Stores Closure

Industrialists are up in arms in the northern Indian state of Uttar Pradesh after 30 Western-style supermarket stores were ordered to shut down.

Chief Minister Mayawati ordered the closure of the shops citing reasons of law and order.

The stores are owned by the industrial group Reliance which opened 10 shops in the state capital Lucknow two days ago.

The opening saw protest demonstrations, and some of the stores were ransacked by a group of local traders.

Until the committee gives a green signal, Reliance Fresh stores will remain shut said Chief Minister Mayawati. A worried Mayawati ordered the shutdown, saying she feared large-scale violence over the issue.

The opening of 20 other Reliance stores in the city of Varanasi has also been put on hold while the government reviews policy.
|Back to NEWS Diary| |TOP|