---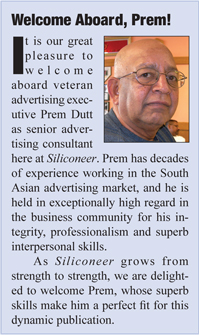 Please Join us as we
welcome veteran
South Asian advertising guru Prem Dutt to the Siliconeer family.

Email Prem
Call Prem: (510) 797-8315
---

Click here for photos


---
---
EDITORIAL:
A Festival of Books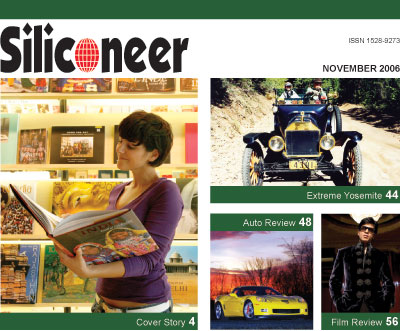 India's growing visibility in the West no longer raises any eyebrows, whether in India or in the West. Still, it's nice to know that the world's largest fair for books specially set aside space and time for India — and according to reports, India made quite a splash at the book fair.
The Indian preeminence in the Western world of books is not a new thing. Indian authors writing in English have been attracting attention for quite a while now, in a trend started decades ago by Salman Rushdie and followed by the likes of Amitav Ghosh, Amit Chaudhuri, Vikram Seth, Vikram Chandra and many others.
But that preeminence has not been without controversy. Valid questions have been raised of whether what is only a small segment of Indian literature (authors writing in English), is mistakenly being considered to be the entire canon of modern Indian literature (Rushdie must definitely take some of the blame for making ill-considered remarks on this issue).
The book fair's homage to India could surely go some way towards rectifying that. Indian authors in English were there, to be sure, represented by the likes of Amitav Ghosh and Shashi Tharoor, but so were regional language titans like Mahasweta Devi and U.R. Ananthamurthy.
Frankfurt Book Fair director Juergen Boos made a particularly perceptive observation about the value of Indian literature in regional languages, and the warm welcome he proffered to India will warm the hearts of all South Asians. Our cover story gives more details.
Amartya Sen is rightly celebrated by Indians — South Asians, too, particularly Bangladeshis hold him in high regard — for his Nobel Prize-winning work in economics, but he has recently been in the public eye for a somewhat different reason.
In recent times, he has tirelessly spoken and written against growing sectarian schisms in the world, arguing that this goes against common sense and reason. Sen says diversity is not just something that characterizes human society, diversity of manifold identities is inherent in each individual human being as well, and we must guard against attempts by sectarian thugs to hijack reason and impose on us one preeminent identity or the other and sow discord, hatred and violence.
What's so remarkable about Sen is that although he brings a lot of passion to his speeches and his writing, he is never polemical. Eschewing hyperbole, he prefers to present meticulous arguments, peppered with historical and cultural references that cut an astonishingly wide swath.
Sen was recently in the Bay Area to deliver the Sidhartha Maitra Memorial Lecture at the University of California at Santa Cruz, and while it has to be admitted that some of his arguments had a familiar ring — he had given a two-day lecture not too long ago at the University of California at Berkeley where he had similar points, perhaps his message of an abiding, deep humanism, a respect and celebration of pluralism, is one that deserves, nay, demands repeated iteration in these dark days of sectarian schism.
Sen is a pleasure to listen to and read — not only because of his meticulous arguments, polymath interests and invariable courtly, old-world manners, but also because he himself embodies the ethos he champions — a product of the Bengal renaissance that produced titans who had mastered the fine art of balancing one's cultural identity on one hand with a vibrant curiosity and openness to all foreign ideas, producing a synthetic identity that was at once Bengali and universal. We carry a report of Sen's lecture in this issue.
Indians love to take pride in their democracy, as they should. But perhaps a more pertinent question is what kind of democracy does India have?
One of the more exciting developments in recent years has been grassroots movements working towards making government more accountable and transparent, and surely the most significant among these is the Right to Information Movement. Started off by activists in Rajasthan to shake up corrupt state and local governments as they cheated the very people in whose name they governed, the movement grew into a nationwide mass movement whose moment of crowning glory came when the Indian Parliament passed the Right to Information Act in 2005.
Well, anybody who expected India's crafty bureaucrats and politicians to sit back and applaud was living in a fool's paradise. The empire struck back indeed — with a slew of amendments that aimed to knock the teeth off the law that, for the first time, gives the ordinary citizen the tools to find out what her or his government is actually up to.
As the battle rages over the proposed amendments, we carry an article in this issue that explains exactly what is at stake and what grassroots activists are doing about it.
Readers may remember that Siliconeer carried an article on the issue by our India editorial consultant Sandeep Pandey, who had gone on a five-day fast against the proposed amendments.
Do drop us a line with ideas and comments about how we can make Siliconeer better serve you.
|
TOP
|
---
COVER STORY:
A Festival of Books: India in Frankfurt
Mahasweta Devi, U.R. Ananthamurthy, Vikram Seth and Amitav Ghosh and were some of the literary luminaries at the Frankfurt Book Fair where India was guest of honor. The fair celebrated India with contemporary films, modern dance and theatre, new music, contemporary art and the art of bookmaking and cartoons. A Siliconeer report.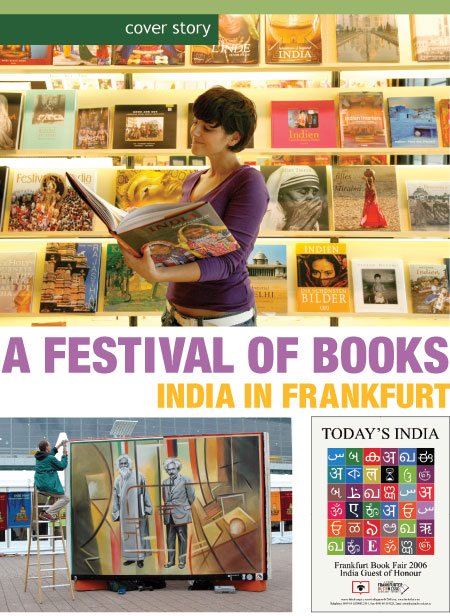 Top: A reader looks at a book on India at the Frankfurt Book Fair; workers put finishing touches on a mural showing Rabindranath Tagore and Einstein (bottom, left); a poster specially published in honor of India, the Guest of Honor at the Frankfurt Book Fair (bottom, right).

ALL PHOTOS FROM FRANKFURT BOOK FAIR


There's a buzz about India, there's no doubt about it. In the world's largest book fair Oct. 10-14 at Frankfurt this year, India was the guest of honor. Indian authors took centre stage as the fair opened and aptly enough a romantic comedy based on outsourcing was released.
Thousands of people thronged the 58th Frankfurt Book Fair which has attracted over 7,000 exhibitors from over 100 countries, including 200 from India, as it was opened to the public, a day after being formally inaugurated by India's Human Resource Development Minister Arjun Singh.
"Once Upon a Timezone" by Neelesh Misra was released by Singh at the main function on the first day of the exhibition where leading authors from India and around the world assembled.

Right: U.R. Ananthamurthy; Below: Amitav Ghosh (l) with Gunter Grass; Bottom: South Asian visitors at the Frankfurt Book Fair.
Singh also released "Partners in Freedom: Jamia Millia Islamia" by Prof Mushirul Hassan. Misra, a journalist with a leading Indian daily, and Prof Hassan are among 70 Indian authors present at the fair. Mahashweta Devi, the 80-year-old grand dame of Indian literature, Kiran Desai, Amitav Ghosh and Shashi Tharoor, who quit a bid for UN Secretary General's post, were also attending the four-day fair.
"The Frankfurt Book Fair is a great celebration of plurality, of linguistic diversity of mankind and of creativity, knowledge and wisdom, of anxieties, insights and concerns which mark our period," Singh said in his inaugural speech. "Personally I am a modest book-lover having deep and abiding faith in pluralism and it gives me a kind of spiritual satisfaction to be here.
"We are grateful for this honor and appreciate the German generosity for doing this. India is one of those countries which could be said to be the most abiding celebration of human diversity and it is very appropriate that India should be here this year in a big way at a book-fair which is itself a most forceful assertion of human and civilizational
diversity."
The focus on India brought "a huge program of literature, art, music, film and dance to the Fair," said a book fair press release. "Around 70 Indian authors (brought) insights into their literary cosmos in a symphony of the 24 languages officially spoken in their country. With a population of more than a billion, a total of 120 regional languages and dialects and 80,000 new publications a year, India is not just a cultural giant, but a rapidly growing book and media market as well. More than 150 Indian publishing companies in an area of 1,400 square meters exhibited at the Fair, alongside a separate Indian collective IT stand."
In an earlier welcoming message, Juergen Boos, director of the Frankfurt Book Fair urged visitors "to experience India from a wide range of perspectives covering 2,500 square meters."
"India is a truly fascinating country," he said. "With more than one billion people and 24 official languages, India offers unsurpassed diversity and contrast. To us in Europe, India is a faraway country, but in many ways it is also a familiar country. We are already familiar with many facets of its history, with its religious and spiritual traditions, yet also with the problems of the country — we practice yoga and watch Bollywood films.
"Many German publishers have acknowledged India's Guest of Honor status by including more Indian books and books about India in their programs. We are particularly pleased that translations from India's regional languages make up more than one-fourth of the new literary releases. Among the list of 44 literary titles newly introduced on the market in 2006, 14 titles were translated from regional Indian languages, and there were three anthologies translated from English and the regional languages.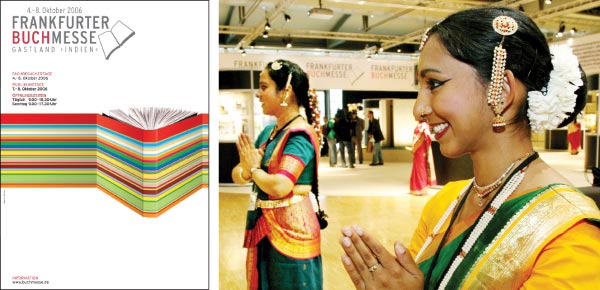 (Above, r):
Classical Indian dancers were part of an elaborate cultural program to supplement the exhibit of Indian books at the Frankfurt Book Fair. Above, l: The official poster of the fair.
"The regional languages in India are by no means languages spoken only by a few. This applies primarily to Hindi, which is spoken by more than 350 million people, but also to Bengali with 69 million, Telugu with 72 million, and Urdu with 47 million speakers. Many literary treasures undoubtedly remain to be discovered in these languages; the curiosity and fascination are certainly strong. The fact that the reception for Indian literature up to now has been concentrated on authors who write in the English language is merely due to the fact that there are hardly any literary translators who can translate literature from Malayalam, Marathi, Kannada and the other regional languages of India.
"I would hope that the presentation of India as the Guest of Honor at the Frankfurt Book Fair will serve to launch a more intense awareness of the entire literary spectrum of the country, and will stimulate license trading between India and European countries. Ensuring that this is more than just a flash in the pan, however, will require that all partners continue with their commitment to promoting translation and industry networking which began with the signing of the Guest of Honor agreement two years ago.
Right: A b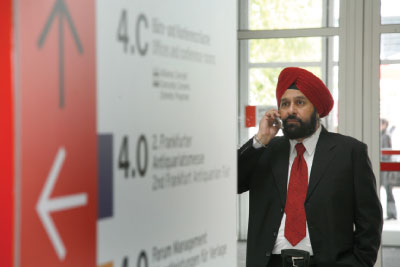 usy Indian visitor at the Frankfurt Book Fair. The fair showcased India this year.
"Seldom has a guest country received the kind of media attention in the German press that India did: special supplements in many papers, one-hour-long programs on television, unprecedented crowds on the public days," wrote Urvashi Butalia in the Business Standard. "Everywhere you turned at the fair, you met an Indian academic, or author, or dancer, or playwright, or television personality. And yet, there was a constant rumble of discontent, principally among those who make books.
"The only country to be invited as Guest of Honor twice (the first time in 1986) to the world's largest book fair (more than 7,000 exhibitors from 111 countries, and hundreds of trade visitors), India put on an impressive spectacle, showcasing art, theatre, popular culture, food, authors — everything, in fact, except the real business of the fair, books and publishers."
However if the fair was a success as a showcase, it fell short as a business enterprise, she wrote.
"More than a year in preparation, and with extensive initial consultations with different publishers, a Rs 20 crore budget, a number of pre-Frankfurt workshops — all this augured well for what is essentially a trade event, a business opportunity for publishers to showcase their work, and their authors, to sell and buy rights, to discuss deals, to establish partnerships," Butalia wrote.
"If some of this happened, it did so, in the words of one Indian publisher, 'not so much because of the National Book Trust (the organizing body), but despite it.'
That said, as a showcase for India, the fair was a roaring success, she adds: "There's little doubt that the show put on at Frankfurt, and in other cities of Germany, was impressive, popular, colorful, varied, and it caught the attention of the media."
|
TOP
|
---
ARGUMENT:
Rooting for Reason: Amartya Sen Lecture

Nobel Prize-winning economist Amartya Sen's current focus is not economics but the violent sectarian schisms that bedevil our present times. He recently delivered the Sidhartha Maitra Memorial Lecture at the University of California at Santa Cruz. A Siliconeer report.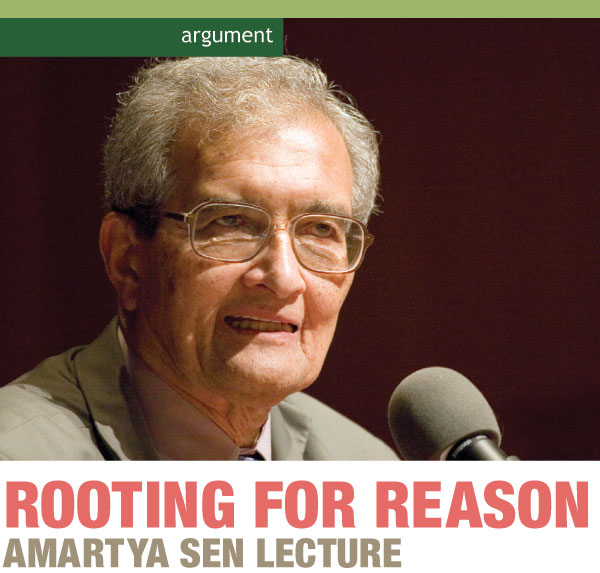 (Above): Amartya Sen speaking at Santa Cruz. (Bottom, r) UCSC foundation president Anuradha Luthra and acting chancellor George Blumenthal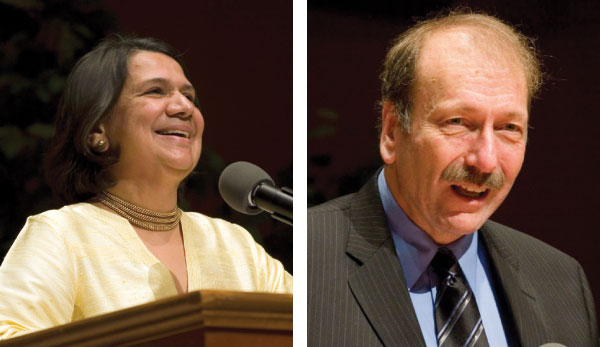 What's an economist doing speaking out against intolerance and sectarian schisms? It would be a valid question only for those unfamiliar with the work of Nobel Prize-winning economist Amartya Sen. Another Nobel Prize winner, Kenneth Arrow, called him "the conscience of economics."
Currently professor of both economics and philosophy at Harvard, Sen has never been one to keep quiet when his conscience bid otherwise.
In an increasingly troubled world torn by sectarian, divisive tendencies, Sen has spoken — and written — passionately against a tendency to focus on one aspect of a person's identity at the expense of others. He champions a diversity that inheres in every one of us – a diversity that each person embraces with a multiplicity of identities that should, if reason prevails, militate against sectarian violence. He pointed this out when he delivered the Sixth Annual Sidhartha Maitra Memorial Lecture at the University of California at Santa Cruz.
The ordinary fact is that the same person can be without any contradiction whatever, many different things—an American citizen, of Malaysian origin, with Indian ancestry, a Tamil, a Christian, a liberal, a woman, a vegetarian, a long-distance runner, a historian, a school teacher, a novelist, a feminist, a heterosexual, a believer in gay and lesbian rights, a theatre lover, an environmental activist, a tennis fan, a jazz musician and someone who belongs to an outer space club where members take the view that aliens from space are widely present on earth because of illegal immigration from outer space that had been going over the centuries and these aliens are hard to detect because they do look just like us, though here is the good news: They can be unmasked by making use of the fact that these space wetbacks are particularly fond of reciting Shakespeare.

That's vintage Sen for you. Meticulous argument, delivered without polemical hyperbole, and leavened with a gentle wit.

Just how can this sense of multiple identity play out in an enlightened society? Sen gives the example of India, not without a touch of pride:

I think India has a lot of failures, but in terms of democracy we have reason to take some pride in the fact that if you look at the three principal positions in a country with more than 80 percent Hindu population, the fact that the president is a Muslim, Abdul Kalam, the prime minister is a Sikh, Manmohan Singh, and the leader of the ruling party is a Christian, a Catholic, namely, Sonia Gandhi—not one of the three principal positions is occupied by the majority community—it's interesting that that does not appear at all peculiar and there is no reason why it should be, because they are not seen just as representatives of their communities at all. Abdul Kalam is a scientist, Manmohan is an economist as well as a great administrator and Sonia Gandhi is a tactician and politician and a visionary statesman who brought the secular identity very strongly to the elections in 2004 following the Gujarat riots which was a tremendous transgression and in a sense, allowed the voters to do what they did, namely reject the party which was in office responsible for that. I think that has become possible when one can think of each other not in sectarian terms and for that you need civil society—without a media, without interaction, I don't think any of these would appear as natural as they do in India today.

Sen is the first to concede that despite a reality that suggests otherwise, the notion of a single-minded, sectarian identity has been gaining ground. He calls it the tyranny of singular identity, and warns about its dangers.
The tyranny of a singular identity in a world of manifestly plural affiliation may be contrary to common sense, and yet it is very successful, alarmingly so, sometimes with extremely bloody consequences.
The cultivation of a singular identity to the exclusion of all other manifold association not only serves as an instrument of incarceration that tyrannizes our lives, it can also generate some terrible consequences. A strong and exclusive sense of belonging to one group can go with the perception of distance and divergence from other groups. Within-group solidarity can help to feed between-group discord.

Sen does not reserve his criticism just for sectarian fanatics. He is equally critical of an odd tendency among Western policymakers and leaders to implicitly accept the fanatic's unifocal definition of identity:
It's really not surprising that inciters of riots and terrorism like to reduce many dimensional human beings into one particular identity only suitable for instigation and recruitment.
What is really tragic and sad is when those who want to resist violence and defeat terrorism fall for the same denuded, miniaturized and I believe dehumanized view of people.
For example, the recent British use of singular partition of the British population based on religion, separating out British Muslims, British Hindus, British Sikhs and other newcomers drastically miniaturizes human beings and their many affiliations related for example to politics, civil society, citizenship, occupation, linguistic background.
This reductionism not only involves an epistemic failure in understanding the nature of human identity, it also entails political befuddlement.
To take just one case, Bangladesh's emergence as a new country was not linked with religion but mainly with the Bengali language and culture and with commitment to secular politics for which a great many people, hundreds of thousands, in fact, gave their lives. But now, in official reckoning, the Bangladeshis in Britain of Muslim origin are defined simply by a single category of being British Muslims, whether you come from Morocco, or Bangladesh, Pakistan or Sudan.
On the 7th of July, 2005, after the bombs went in London, when the government was asking British Muslims "to get their act together," a Bangladeshi Muslim friend of mine in Britain, a British citizen, as it happens, totally shocked by the events, but also a little startled by the governmental invitation that followed it, told me, "The political leaders of my country, Great Britain, want me to act not as a British citizen, not as a member of the Labor Party, nor as someone active in civil society, nor as a secularist of Bangladeshi origin, but as a Muslim, who must act within what the government has defined as my community."

Sen is also critical of the broader tendency in the West to look upon democracy as a uniquely Western tradition, waiting to be exported to the rest of the world.
Democracy cannot be seen as a purely Western cultural condition. Democracy is political decision-making and participatory public reasoning and there's a widespread history in the world of varying success in the cultivation of that value. It has had ups and downs everywhere including in the West and the fact that the West has been able to make excellent use of that mode of decision making over the last two and a half centuries or so is a matter for global celebration rather than for it being used as the basis of a parochial theory of a purely Western notion of democracy ignoring our global past. It's particularly important to see that democracy does demand not just voting but also a civil society that is not fragmented into little boxes of communities.

Sen questions the very notion inherent of a debate of whether Western countries can "impose" democracy on Iraq or any other country.

While he is the first to concede that modern democracy and public reasoning have been tremendously influenced by the European Enlightenment, the French revolution and the American revolution, he dismisses the attempt to extrapolate backwards from this and posit a quintessential dichotomy between the West and non-West. Sen says it makes more sense to take a broader view of the social and political context which makes democracy possible.
Democracy is not about ballots and votes but about public deliberation and reasoning by what John Stuart Mill called government by discussion. While public reasoning did flourish in ancient Greece, it also did so in several other civilizations, sometimes spectacularly so. For example some of the earliest open general meetings aimed specifically at settling disputes between different points of view took place in India beginning in the 6th century BC in the so-called Buddhist councils, the first having been held in 6th century BC where adherents of the different points of view got together to argue out their differences. Ashoka in Pataliputra also was the author of the first primitively formed Robert's Rules of Order about how to conduct a discussion and how to listen to each other.

Public deliberation and reasoning flourished in the Middle East as well, he said.

Middle Eastern history and the history of Muslim people also include a great many accounts of public discussion and political participation through dialogue. In the Muslim kingdom centered around Cairo, Baghdad or Istanbul, or in Iraq or India, or for that matter Spain, there were many champions of public discussion such as Caliph al-Rahman III of Cordova in the 10th century whose prime minister, incidentally, was a Jewish intellectual called Hisdai ibn Shaprut or Emperor Akbar of India in the 16th century.

In fact, when at the turn of the 16th century Emperor Akbar was completing his codification of the right of religious freedom for all, and also arranging dialogues between Hindus, Muslims, Christians, Jews, Parsees, Jains and others including atheists, the heretic Giordano Bruno was burned at the stake in Rome in Campo de Fieri, in fact, because of apostasy exactly at the same time.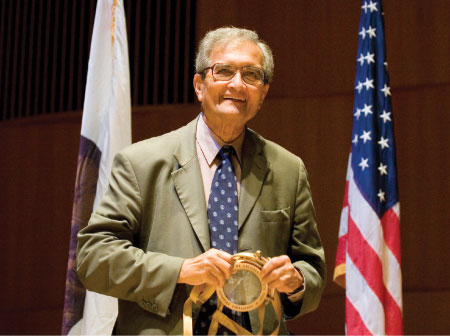 (Right): Prof. Amartya Sen with the UC Santa Cruz Foundation medal, the highest honor awarded by the university.

In today's troubled world, the need was to rekindle in our tense, riven societies a more tempered, nuanced and reasoned view of society and its members that acknowledges and accepts our many different identities, instead of drawing lines on the basis of one particular aspect, Sen urges.
The hope of harmony in the contemporary world lies to a great extent in a clear understanding in the pluralities of human identity and in the appreciation that they cut across each other and work against a sharp separation along one single line of hardened and impervious division.

After his lecture, Sen was presented with the UC Santa Cruz Foundation Medal — the highest honor awarded by the university. Acting chancellor George Blumenthal noted that this tribute is granted to "individuals of exceptionally distinguished achievement whose life and contributions to society illustrate the ideals and the vision of UC Santa Cruz."

The Sidhartha Maitra Memorial Lecture at UCSC was established in 2001 by Foundation president Anuradha Luther Maitra to honor the memory of her late husband who was a distinguished scientist and visionary entrepreneur. His lecture was followed by a screening of Satyajit Ray's Ghare Baire (The Home and the World).

|TOP|

---
NEWS DIARY: October Roundup


Royals in Pakistan | House Speaker Hastert Meets Evangelist | Delhi Shopkeepers Strike | Pakistan Erupts in Protests after Madrassa Killing | Spice Therapy | Deadly Clashes | Editor Detained | Court vs Parliament



Royals in Pakistan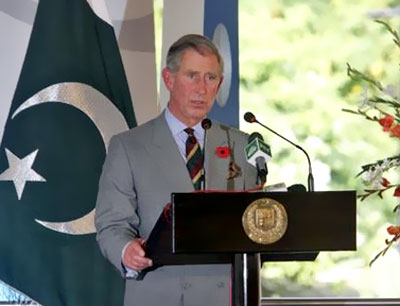 Prince Charles speaking at the Prime Minister House in Islamabad.

Britain's Prince Charles held talks with Pakistan President Pervez Musharraf but local officials said he did not raise the controversial case of a man on death row in the Islamic republic.

Charles and his wife Camilla, Duchess of Cornwall, met military ruler Musharraf after arriving in Pakistan for a high-profile and-high security tour lasting five days.

British sources would not say if Charles and Musharraf talked about Briton Mirza Tahir Hussain — whose hanging was scheduled during the visit but later delayed — but Pakistani officials said they did not.

"This issue was not discussed. Neither did they want to talk about it nor did we want to talk about it," Pakistani Information Minister Mohammad Ali Durrani told AFP.

Musharraf thanked Britain for its help after the October 2005 Pakistan earthquake, which killed more than 74,000 people, officials said. Charles and Camilla are due to visit the disaster zone.

Camilla also held talks with Musharraf's wife Sehba and the wives of other senior officials. She wore a cream silk tunic, matching trousers and a dupatta scarf.

The royal couple also met Pakistani Prime Minister Shaukat Aziz and discussed issues including a youth business scheme that will echo Charles's Prince's Trust initiative in the U.K.

Later in the week the royal couple are expected to visit the northwestern city of Peshawar where Charles will address a college and one of Pakistan's controversial madrassas.

They are also scheduled to attend an 'interfaith meeting' in Lahore, in keeping with Charles's well-publicized interest in religion.
|Back to NEWS Diary| |TOP|

House Speaker Hastert Meets Evangelist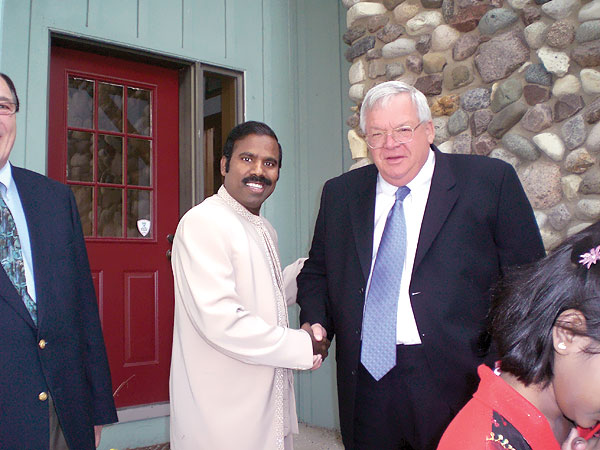 Evangelist K.A. Paul (l) with Hastert

An Indian American Christian evangelist who boasts he persuaded warlord Charles Taylor to give up the Liberian presidency came to House Speaker Dennis Hastert's home on a similar mission: to get the Republican leader to step down over the congressional page scandal.
Hastert welcomed Houston evangelist K.A. Paul, founder of the Global Peace Initiative, at his door and spent about 30 minutes inside with him. Later, Hastert declined to comment on the meeting, saying, "That's a privileged conversation."

Paul said the two prayed together and he told the speaker he should resign.

"You need to for the sake of the country and for the sake of your future," Paul said he told Hastert. "You pray within your heart and you do it."

Why Hastert would agree to meet with Paul mystified Dan Busby, an executive of an accrediting group that found problems with one of Paul's charities.

In 2005, the Evangelical Council for Financial Accountability, which has more than 1,200 members, terminated the membership of Paul's Gospel to the Unreached Millions for failing to meet financial accountability and governance standards.

"I find that more shocking than surprising," said Dan Busby, vice president of the accrediting council. "It would mean Dennis Hastert or his people didn't do their homework on the history of this organization."
|Back to NEWS Diary| |TOP|

Delhi Shopkeepers Strike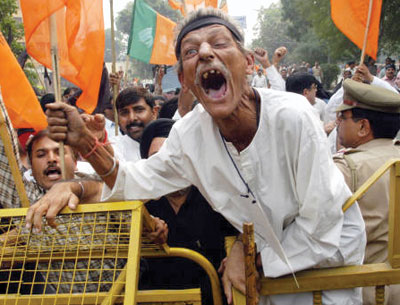 A shopkeeper shouts slogans in New Delhi.

Police used water cannon to disperse thousands of shopkeepers and traders protesting in New Delhi against the state government move to shut down shops operating illegally in residential areas.

The protests came at the start of a planned three-day strike that shut markets and businesses across the city of 14 million.

A similar protest turned violent last month when at least three people were killed in the demonstrations and police action.

Over 5,000 businessmen marched to the state assembly and burned straw effigies of Prime Minister Manmohan Singh, Delhi Chief Minister Sheila Dikshit and Sonia Gandhi, head of the ruling Congress party which also holds power in Delhi state.

"Stop the sealing, stop the sealing," "Clean Delhi, Don't Burn Delhi," "Sealing is no solution," the protesters shouted and clapped as they broke through one security cordon.

"If they don't stop the sealing I will have no option but to tell my workers to go and burn these officials," Chopra said.

The civic clean-up drive began nearly a year ago after the Supreme Court said shops on at least 2,000 city roads, which pass through residential colonies, were illegal and should be closed.

Deep Mathur, information officer of the Municipal Corporation of Delhi which is sealing the shops, said the body was ready to resume closing illegal premises as ordered by the court.
|Back to NEWS Diary| |TOP|

Pakistan Erupts in Protests after Madrassa Killing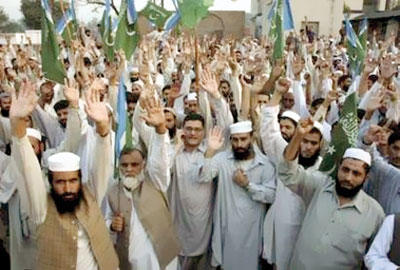 Activists in Peshawar protest air strike.

Wild scenes have erupted in Pakistan as funerals took place for the 80 people killed in an air raid in October in northwest Pakistan.

According to Pakistani military officials, the attack by army helicopter gunships in Chingai, destroyed a madrassa which they say was used by militants as a training camp.

Army spokesman Gen Shaukat Sultan told reporters the strike killed militants only. "There was no collateral damage," he said.

However, as funerals took place in the region later in the day it was apparent that was not the case. Pupils and teachers were killed in the attack, said local witnesses.

According to a BBC report, the leader of the madrassa, radical cleric Maulana Liaqat, was among the dead. An eyewitness told the BBC that the madrassa was filled with about 80 local students who had resumed studies after the Muslim Eid holidays.

Journalists trying to get to the scene were being turned back as they tried to enter the Bajaur region.

In Islamabad, Qazi Hussain Ahmed, an opposition political leader, blamed the U.S. for the attack and said claims that the madrassa was a terrorist training center were "rubbish." Thirty children were among the dead, he said.

"It was an American plane behind the attack and Pakistan is taking responsibility because they know there would be a civil war if the American responsibility was known," Ahmed was quoted by CNN as saying.

Thousands took part in protests against Pakistan's alliance with the U.S. chanting "Death to Bush" and burning American flags, the Associated Press news agency reported.
|Back to NEWS Diary| |TOP|

Spice Therapy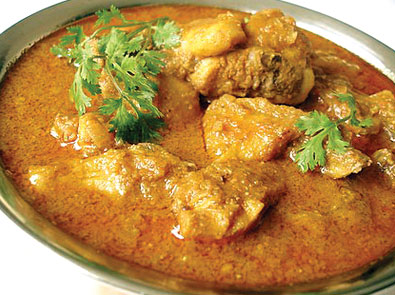 Chicken curry

Curry could be good for you, U.S. research suggests. Extract of a spice used in curry could help prevent rheumatoid arthritis and osteoporosis, as lab work by University of Arizona researchers, published in Arthritis & Rheumatism shows that turmeric's curcuminoid extracts have a therapeutic effect.

Experts say new drugs may be found, but eating more spices is unlikely to work.

The researchers said clinical trials were needed before turmeric supplements could be recommended for medicinal use.

Earlier work by the University of Arizona team showed turmeric could prevent joint inflammation in rats. In their latest study, they set out to find exactly what ingredient in turmeric was having the anti-inflammatory effect.

They prepared extracts from the root of the turmeric plant, and compared them against the commercially available products that contain turmeric extracts.

A version of turmeric extract that was free of essential oils was found to most closely match the composition of the commercial supplements.

And it was this extract, containing curcumin, that was most effective at blocking the onset of rheumatoid arthritis in the rats.

Dr Janet Funk and her colleagues believe their findings also suggest turmeric extract could treat other inflammatory disorders, including asthma, multiple sclerosis and inflammatory bowel disease.

Professor Robert Moots, professor of rheumatology at Liverpool University and spokesman for the Arthritis Research Campaign, said people with arthritis will have to wait to see if the study results in new treatments.

"It will come as no surprise if naturally occurring compounds have a drug-like effect," he said.
|Back to NEWS Diary| |TOP|

Deadly Clashes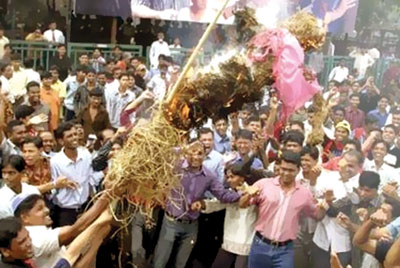 Awami League supporters burn an effigy of former Prime Minister Begum Khaleda Zia during a protest in Dhaka.

Bangladesh's police chief has vowed there will be "zero tolerance" of violence following a political crisis that sparked deadly clashes between rival parties.

His comments came as the country braced for further bloodshed after the opposition called nationwide protests over President Iajuddin Ahmed's decision to name himself head of a caretaker government to oversee elections due in January.

At least 15,000 police were on the streets of the capital Dhaka and thousands more were deployed nationwide after three days of protests led by the leftist main opposition Awami League that left at least 21 people dead.

"There will be zero tolerance of further violence. Anyone who tries to disrupt law and order will be punished," Inspector General of Bangladesh Police Anwarul Iqbal told AFP.

"We have now enough police and paramilitaries all over the country and the situation has improved markedly," he added.

In the capital Dhaka, private cars and buses were off the roads although offices and shops remained open and no fresh clashes were reported, police said.

Rallies and small marches by the outgoing ruling party, the Bangladesh Nationalist Party, and the Awami League passed off peacefully, police said.

Awami League activists burned an effigy of outgoing prime minister and BNP chief Khaleda Zia, an AFP photographer said.

An isolated clash was reported on the southern island of Bhola that left at least 35 people injured, according to the private ATN Bangla television channel.

Awami League leader Sheikh Hasina Wajed met the president Monday in his capacity as the new interim head and asked him to reform the voters list and the election commission by Nov. 3, adding that the opposition would suspend protests until then.

"He has to prove his neutrality through his activities and he has to remove all suspicion about lack of neutrality," she told reporters.
|Back to NEWS Diary| |TOP|

Editor Detained

Immigration officials at Dhaka airport have prevented a Bangladesh newspaper editor from leaving for London after journalists at the paper complained that he was fleeing without paying them.

Shafiq Rehman, editor of the Bangla-language daily Jai Jai Din, was taken off an Emirates Airlines flight on Saturday night, airport officials said. Rehman holds a British passport and was carrying five airline tickets, they told reporters.

The journalists said Rehman had suspended publication of the paper indefinitely on Friday and sacked 104 journalists and other employees without notice.

Police later took Rehman away as the sacked journalists demonstrated at the gates of Zia International Airport.

"He was trying to flee the country without paying our dues. We can't allow him to do so," said Jai Jai Din journalist Amit Habib. The staff had filed a complaint against him with police.

The daily hit the news stands only last June.

Rehman was unavailable for comment, but relatives said he had been going to Britain for medical treatment.
|Back to NEWS Diary| |TOP|

Court vs Parliament


The Indian Parliament Building in New Delhi.

A row has broken out in India between the judiciary and parliament over whether the courts have the right to overturn laws passed by parliament.

It comes after several recent judgements by the country's Supreme Court which overturned government decisions on the grounds that they were against the constitution.

Politicians argue that laws passed by parliament should be protected from judicial review since MPs are the people's representatives.

But this is being challenged especially after a recent report showed that nearly a quarter of Indian parliamentarians are facing criminal charges.

The row is splitting apart two of the pillars of Indian democracy — parliament which has more than 500 elected representatives and the judiciary which has earned a justifiable reputation for independence.

At the heart of the matter is the question of who has a right to finally determine what becomes law under India's constitution, which was drawn up more than 50 years ago.
In recent months, India's Supreme Court has challenged a number of government decisions saying they are unconstitutional.

Earlier this month, the court ruled that affirmative action quotas for disadvantaged groups should be capped at 50 percent and that prosperous members of these groups should be excluded from benefiting.

And the court has also made a number of rulings which have struck down moves by the government to protect illegal businesses and ordered that their premises be demolished.
The court's interventions have been applauded by many Indians who see it as a way of keeping the government in check.

These decisions, and other similar ones, have been opposed by the country's political parties who are concerned that it could hurt them politically.
|Back to NEWS Diary| |TOP|