---
EDITORIAL:
The Art of Rajasthan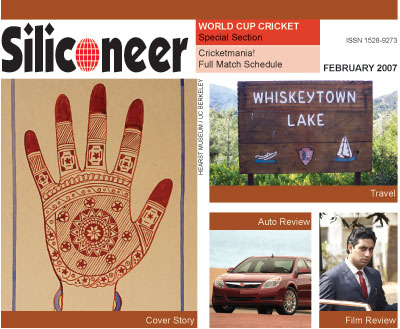 Rajasthan is sheer magic.
Anybody who has visited that storied land of the Rajas has unforgettable memories of desert landscapes, camel caravans and its unforgettable fortress cities.
Whenever Indians visit the state, they are struck by the arresting beauty of the artistry that is part of the everyday life of Rajasthan, be it the miniature paintings of its upper-crust denizens, or the colorful designs of the men's turbans and the cloth rings that women use to rest their water vessels on their heads.
Trouble is, it's about 10,000 miles away from California, so even if the thought of Rajasthan makes you wistful, you can't visit it at a moment's whim.
The next best thing would be if Rajasthan came to you — and that's pretty much what the Phoebe A. Hearst Museum of Anthropology in Berkeley, Calif., has managed to accomplish in its exquisite exhibit that opens this month. This exhibit, which runs for almost a year and is open and free to the public at this University of California museum, gives visitors a vivid sense of the artistic temperament that permeates that desert state.
From a 30-foot painted scroll depicting the epic of Pabuji, a semi-divine folk hero, to examples of domestic crafts, wedding textiles, festival material, puppets and theatrical costumes, ritual masks, musical instruments, paintings for traveling storytellers, temple sculptures and paintings, and paintings made for tourists, the exhibit is a wonderful introduction to the state for the uninitiated and a delight for the Rajasthan aficionado.
Many of the pieces are uncommon in American museum collections because of their large size.
Hearst Museum research anthropologist Ira Jacknis provides an introduction to this marvelous exhibit in our cover story this month. This is an absolutely must-see exhibit for South Asians. Put the word out, and don't come alone, bring an American friend with you!
Sandeep Pandey, our India editorial consultant, is nothing if not contrarian.
Trained as a mechanical engineer with a Ph.D. from the University of California at Berkeley, today he runs an ashram in a small town in Uttar Pradesh. The Magsaysay award-winning activist did teach briefly at IIT Kanpur, but left in disgust after the IIT authorities were unhappy with his efforts to help construction workers organize and bid for IIT contracts.
In this issue, he reflects on the gap between India's strides in knowledge and the widespread hunger and poverty of its masses.
In India the socio-economic disparities are ghastly, and not only is it unclear that these disparities are diminishing notwithstanding the nation's blistering economic growth rates, the elite seems to be too absorbed in narcissistic navel-gazing to care much one way or the other.
While we cannot say we agree with everything he says, we have to say he does make a few sobering points. His appeal for a more humane, egalitarian and communitarian society may seem utopian, but few would argue when he writes: "Until wisdom is wedded to education, unless science, technology and IT and its users follow a value system which is the basis for a just human order, the fruits of modern development will not be shared equitably by all."
Filmmaker Suma Josson has chronicled the dark side of Indian economic reforms in her heartbreaking documentary films I Want My Father Back and Before the Last Tree Falls.
While the Indian — and the Western media as well — wax eloquent over how India is set to tower in the global economy in the future, Josson's films depict with scary clarity the terrible human toll in India's rural hinterland caused by policies driven by free market ayatollahs who rule the roost in Washington and multilateral organizations like the World Bank, the International Monetary Fund and the World Trade Organization.
The current buzz word is BRIC (for Brazil, Russia, India, China) coined by investment banker Goldman Sachs which has projected that India will overtake the United States by 2050 to become the world's second largest economy after China. No one is talking about India's farmers, who are on a suicide spree unprecedented in its history.
Fully two thirds of the Indian population depends on agriculture, so this is the real India. Josson shows how their traditional methods of farming, developed over millennia, are being systematically destroyed by policies that serve global corporate interests.
Subsidies have been withdrawn, farmers no longer grow their own seeds but have to buy it in the market where pesticide merchants tout it, and traditional multi-crop farming has been replaced by single cash crops.
The result is capital-intensive, soil-destroying farming with pesticides and fertilizers. Farmers are up to their neck in debt, but sell their produce at abysmal price as it competes in the global "free" market where prices are artificially low, thanks to massive farm subsidies farmers in the affluent West.
This month's issue carries an article on Suma Josson's work.
Do drop us a line with ideas and comments about how we can make Siliconeer better serve you.
|
TOP
|
---
COVER STORY:
Land of the Rajas: Berkeley Exhibit
A year-long exhibit opens this month at the Hearst Museum at the University of California at Berkeley showcasing Rajasthan's colorful and distinctive art styles.
Ira Jacknis presents an introduction.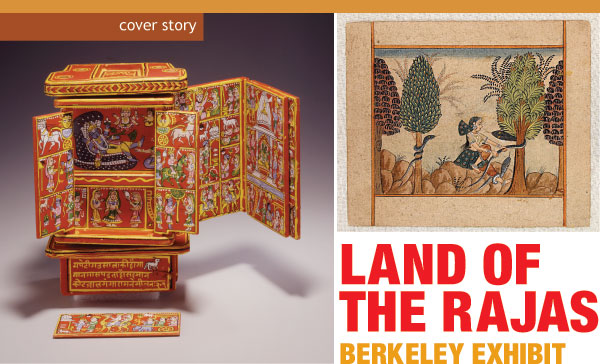 (Above): The small drawer of this storyteller's shrine is painted with cows, contains the following message: "This container is for the cow shelter, to buy grass for cows … suggested donation 201 rupees." (Right): Rajasthani painting of a woman with snakes, in a forested and rocky place. [All photos courtesy HEARST MUSEUM / UC BERKELEY]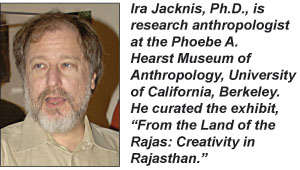 Rajasthan, a state in northwestern India, is famed for its colorful and distinctive art styles. For centuries, its princely rulers have encouraged a wide range of arts. The arts of Rajasthan (literally "land of kings") are distinguished by a complex interplay between court and village traditions, especially evident in those used in ritual performances.
These traditions are explored in a current exhibition at the Phoebe A. Hearst Museum of Anthropology at the University of California at Berkeley, "From the Land of the Rajas: Creativity in Rajasthan," on view now through Dec. 21. As the curator, I was inspired to put on the show about eight years ago. For a class that she was teaching, Prof. Joanna Williams, the university's expert in South and Southeast Asian art history, had requested a large, rolled-up painting that I had not seen before. I was overwhelmed with this giant and detailed painting of Krishna and Radha, and vowed to one day find a way to share it with the public. This exhibition now offers us the opportunity to present this and other wonderful objects, many of which have never been displayed before.
"From the Land of the Rajas" explores the social and cultural context of visual artistry in the desert state. The exhibition focuses on festival and religious arts, especially those concerned with pictorial narrative. Among the roughly 150 objects in the exhibit are domestic crafts, marriage and festival arts, puppets and theatrical costumes, ritual masks, musical instruments, paintings for traveling storytellers, temple sculpture and painting, and tourist painting. Two featured works are an over-thirty-foot-long painted scroll depicting the epic of Pabuji, a semi-divine folk hero, and a large temple painting devoted to the worship of Krishna.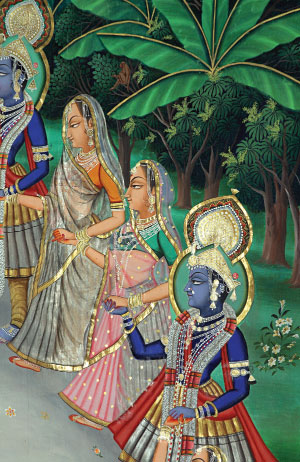 (Right): Detail of a painted temple wall-hanging called a pichhavai depicts Krishna dancing with milkmaids (gopis) (detail).
Almost all the pieces on display come from the rich Hearst collection from Rajasthan, about 230 items. Most were acquired in 1969–70 by Dr. Renaldo J. Maduro (1942–88), then a U.C. Berkeley anthropology graduate student, as part of his dissertation research on creativity among Rajasthani painters. In anticipation of the exhibit, in the summer of 2005 the museum commissioned a small collection of related objects; and a few pieces are on loan from private collectors.
As an anthropology museum, we aim to explore the social and cultural contexts of artistry in Rajasthan. Who makes these objects, and who do they make them for? What are they intended for, and where they are used? In fact, few of the arts on display are "folk art," in the sense that they are made by untrained individuals. Instead, almost are the products of professional artisans, trained in family traditions. To illustrate this perspective, we have arranged the objects according to a combination of form and function, reflecting how different kinds of objects are used and seen in different Rajasthani settings, such as the field, home, fair, theater, tribal ceremony, temple, and market.
At the same time, we attend to more aesthetic issues of form and meaning. Are designs representational or abstract? What associations do colors have? What features are selected to represent gods? Are narrative scenes laid out in a series or all at once? "From the Land of the Rajas" contains a rich assortment of traditional Rajasthani styles of painting and decoration, full of gods, kings, and heroes.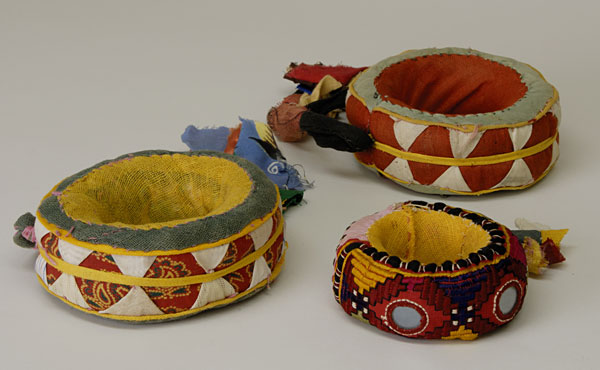 (Above): Colorful Rajasthani carrying rings for balancing water pots on top of one's head.
To set the scene, we start with the most famous of Rajasthani arts: the tradition of miniature court painting. Moving then to the homes and field of rural Rajasthan, we present several objects illustrating the important role played by camels in Rajasthan, especially among the worshippers of the hero Pabuji. One case of domestic crafts presents a representative sampling of the state's renowned craft media, primarily pottery and metalwork. Rajasthan is famous for its brilliantly-colored and richly decorated clothing. After some examples of the distinctive types of decoration, primarily kinds of tie-dying and block-printing, comes a representative sample of women's and men's clothing, household textiles, and a set of brilliantly embroidered shoes.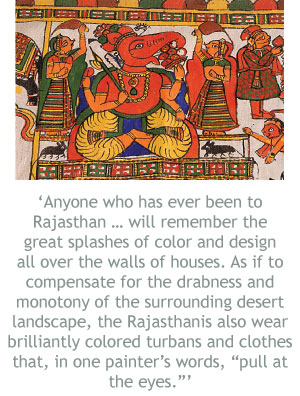 (Right): Detail from a scroll painting (par or phad) that tells the story of epic hero Pabuji. This particular scroll is very large, running 36' in length.
The central section in the exhibit's first half deals with marriage — one of the most important aspects of Rajasthani life, and, consequently, a dominant theme of its art. Through the wedding ceremony, ordinary people explicitly model themselves on gods and kings. Among the decorative objects used in weddings are door decorations, wall hangings, henna hand paintings, a painted container for vermillion powder, and, of course, a full set of married women's jewelry. A nearby case on festival arts features a pair of ceramic figures for the Gangaur festival (a spring fertility festival), a rakhi arm ornament for Raksha-Bandan, and a baby's bonnet for the spring Holi festival.
A section on folk drama contains decorative objects used in common plays. Famous Rajasthani kings are the main subjects of both the puppet plays (illustrated by a lively set of marionettes) and the khyal drama (seen in a set of colorful costume turbans). These court-derived traditions are contrasted with the bold masks for the Gavari dance drama, which is a Bhil tribal version of a Hindu fertility myth.
The methods of visual storytelling are vividly explored in two portable religious shrines used by itinerant bards: a storyteller's box of painted folding screens, narrating the exploits of Krishna and Rama; and the 32-foot scroll illustrating the story of the folk hero Pabuji.
Since the early 16th century, rural Rajputs and Rebari shepherds and camel herders have worshipped the hero Pabuji. He seems to have been a real person, a minor ruler of the Rathor Rajputs, living in Marwar (around Jodhpur) during the early 14th century. Now regarded as a god, he is prayed to during the sickness of humans and livestock and for other misfortunes. Although there are temples dedicated to him, for at least the past two centuries his worship has centered around the ritual performance of a lengthy epic poem recounting his exploits. By tradition, these stories have been recited by bhopas (folk priests) who travel from village to village with a painted scroll illustrating his story. Although the complete story takes about 36 hours to recite, they usually spend one night recounting a portion of his story before moving on. Because of the decline in the viability of herding in Rajasthan, as well as the greater exposure to modern media such as movies and television, this ancient tradition is currently endangered.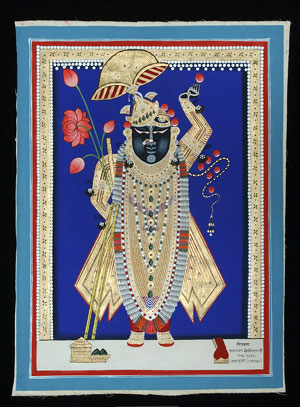 (Right): Painting for a domestic shrine: Krishna as Sri Nathji. This piece was made by artist Pannalal Motilal and his sons.
Our scroll, about twice the size of a usual par, was painted around 1969 by Durgesh Kumar and Rajesh Kumar Joshi of Shahpura. It is in a bold and dramatic style characteristic of Rajasthani popular art. Unlike a movie or comic book—or the nearby story-teller's shrine—the story on the scroll is not illustrated in sequence from one side to the other. Instead, it is more like a map, representing distinct places mentioned in the story. As the bard recites the epic he dances from one part to another, pointing with his bow to the relevant section. Nearby is a case of musical instruments that accompany these performances: the ravanhatha spike fiddle and dholak hand drum.
The core of the exhibit is devoted to Hindu worship, with sections on shrine and temple decoration, amulets, and votive ceramic plaques. These illustrate a range of divine imagery: Krishna, Ganesha, Amba Mata, Hanuman, and Nandi. Because of his prominence in Hindu devotion, we have a separate section on Krishna, seen as a mischievous child, a youth dancing with milkmaids, a flute-player, and in the venerated form of Shri Nathji.
Perhaps the single most impressive object in the show is the large and detailed painting—measuring about 9 feet high and 8 feet wide—that first inspired me. It depicts the Rasa Lila, the divine dance of Krishna and the milkmaids (gopis). Associated with the cult of Krishna in Nathadwara, a pilgrimage site in southern Rajasthan, these pichhavai paintings are placed behind the statue of Krishna in the temple. Although much larger in scale, these pichhavais follow the tradition of the more finely-detailed miniature paintings. Our example, one of two in the collection, was painted around 1969 by the noted artist Kanhaiyalal (ca. 1900–98). This image is complemented by two smaller but fine paintings of Krishna as Sri Nathji, made for purchase by pilgrims. To balance the focus on Hinduism in the rest of the exhibit, we also include a marble figurine used in Jain devotion.
The final section reveals how these courtly and ritual arts have been reflected in versions made as fine art for the commercial market. Since the abolition of princely titles and privileges in 1971, tourists have replaced kings as the prime patrons of Rajasthani artists. While modest in size, the exquisite miniatures, from the courtly tradition, continue to illustrate popular subjects of gods and kings.
The objects are contextualized with a rich array of media: many vivid photographs of Rajasthani life, recordings of Krishna songs, and a video documentary about the narration of the Pabuji scroll and its current fate in modern India. Following its normal practice, the Hearst Museum will also prepare an on-line version of the exhibit (
http://hearstmuseum.berkeley.edu/exhibitions/rajasthan
).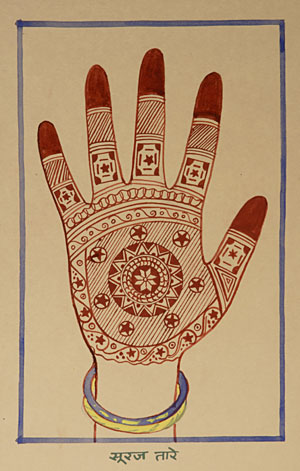 (Right):
Design for henna hand-painting from the Udaipur District of Rajasthan
With this exhibition, the Hearst Museum is proud to share with the general public some extremely impressive, rare, and beautiful paintings, setting them against the colorful and diverse scene of Rajasthani life. Because of their large size and ritual use, the featured paintings are rare in American collections, and so offer an exceptional glimpse into the ritual arts of an Indian region famed for its tradition of court painting. We expect the subject to appeal to the large local Indian American community in the Bay Area. Over the coming year, the Hearst Museum well be presenting a full suite of public programs, including lectures, demonstrations, films, and performances.
"From the Land of the Rajas" is a tribute to the spectacular artistry of traditional Rajasthan. It well illustrates the observation of collector Renaldo Maduro: "Anyone who has ever been to Rajasthan … will remember the great splashes of color and design all over the walls of houses. As if to compensate for the drabness and monotony of the surrounding desert landscape, the Rajasthanis also wear brilliantly colored turbans and clothes that, in one painter's words, "pull at the eyes."
More information is available at:
http://hearstmuseum.berkeley.edu
Email: pahma@berkeley.edu;
Phone: (510) 642-3682
Cover photo: Jodhpuri-style shoes (Hearst Museum, UC Berkeley, photo).
|TOP|

---
COMMENT:
Wisdom & Knowledge: The Limits of Science

IUntil wisdom is wedded to education, unless science users adopt as their goal a just human order, the fruits of modern development will not be shared equitably by all, writes Sandeep Pandey.
One would assume that education, science and technology and information technology, all seemingly very progressive things, will have a role in combating hunger and violence. However, experience shows that these tools have been exploited by the elite and powerful to create worse conditions of hunger and violence. Advances in development based on the above-mentioned tools have only served to increase the gap between the rich and the poor. The problems of hunger and violence have certainly not been mitigated by modern development propelled by the achievements in science and technology. They continue to stare at us, demanding more urgent attention than ever before.
The process of education is considered to be desirable. There is an underlying assumption that education will produce a better society and will help us in solving the problems of the society. Education is meant to produce enlightened citizens.
However, the competition-inducing education system makes us less sensitive towards our fellow human beings. The educated class is seen to become self-serving, concerning itself less with social problems. The education system has materially benefited only a miniscule minority of the population, considering that only nine percent of the Indian population enters the college level of education. Most of the students either drop out or are ejected out of the system. Even the people who complete their education are not able to fulfill their aspirations in the jobs that they end up with. Hence a condition of material and mental poverty prevails even after receiving education.
The major scientific intervention in agriculture, the green revolution, did seem to present the illusion of solving the problem of India's perennial shortage of food. However, we continue to have starvation deaths and farmer suicide incidents, probably in numbers larger than before. In Uttar Pradesh alone, more than 40 hunger deaths have taken place over the last three years and farmers have committed suicide at a rate exceeding one per day over the last five years. Even the epicenter of green revolution, Punjab, is witnessing farmer suicides. Obviously, something went amiss. The scientific intervention created more problems than it solved. The agricultural fields and groundwater are now poisoned with pesticides and hazardous chemicals. The political system could not deliver the benefits of enhanced production to the poor. Massive siphoning off of food grains which come as part of the Public Distribution System or earlier what was called the Food for Work program made the situation worse. More education has not been able to tackle the rickety racket of irregularities and corruption. If anything, matters have deteriorated.
The educated class seems to have accepted the system of commissions and cuts as a way of life and is quite happy to go along with it rather than resisting it. In fact, the training imparted in the education system prepares one mentally to be subservient. This class certainly lacks the courage to change things.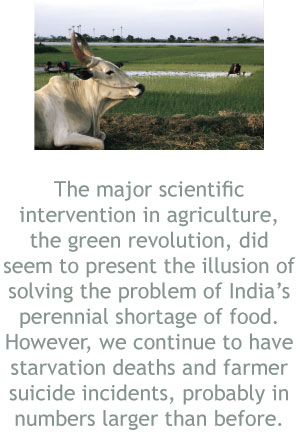 In a broader, global context, it seems clear that because the majority of peoples are not satisfied, uncertainty rules and peace can not be ensured. The power of science and technology has been used to develop the most dangerous weapons. With primitive weapons we could kill people one at a time. Now there were weapons of mass destruction with the amazing prowess of inflicting damage on a horrifyingly larger scale. Hiroshima and Nagasaki were the exhibition and demonstration of that strength. Destruction was justified in the name of science and technology, which goes on to show that wisdom has become completely divorced from the idea of education. In fact, we take pride in glorifying the destructive capacity of science and technology. There should be little surprise that violence has increased manifold as the fruits of modern development became available to human society.
Now Information Technology is creating a digital divide so that the more privileged have now more avenues of exploiting opportunities. The poor are more at the mercy of the market as they are becoming more knowledge dis-empowered.
There are rare examples where tools of modern development have helped the poor. The "Lokvani" innovation by the district magistrate of Sitapur, U.P., in 2004 brought some transparency in the administration and made the officials accountable to the people. For a brief period it appeared as if IT offered great potential in realizing the dream of people-friendly governance. However, the system was found to be dependent on the drive of the district magistrate. It did not do as well in most other districts.
Until wisdom is wedded to education, unless science, technology and IT and its users follow a value system which is the basis for a just human order, the fruits of modern development will not be shared equitably by all. We have to free human beings from the clutches of markets and governments. Only a self-imposed value system and a desire to create a society which is free of all artificial divisions created by human beings can bring happiness and prosperity. The value of competition, held so highly by the market and governments, will have to be replaced by the value of cooperation. The objectives of education, science and technology and IT will have to be changed. All kinds of destructive activity, justified in the name of knowledge, against human beings, their physical and mental health and environment, will have to be stopped. Sharing will have to be developed as a value and practice. Claims of ownership over natural resources will have to be given up. We have to learn to accept that material resources are meant to take care of everybody's needs and not for self-aggrandizement. We have to be mentally conditioned to believe the truth that human needs are limited and can be fulfilled by finite resources. The model of more consumption equated to more growth will have to be abandoned.
We would have to believe in a concept of security based on mutually satisfying human relationships. This is the only condition which guarantees permanent peace. The fact that arms add to more insecurity should be as clear as transparent water. An atmosphere of trust in society is the only state which will rule out violence.
The solutions to the problems of hunger and violence, therefore, lie in the domain of wisdom rather than the tools of modern development.
|
TOP
|