REMEMBRANCE:
The Eternal Ghazal King: Jagjit Singh (1941-2011)


His diligence and perseverance reflected in every word that he pronounced and the audience was time and again overwhelmed with his subtle musical expression, charming timbre, soothing style and sophisticated blending of traditional and modern.
Last month Jagjit Singh left this world but his legacy of music will be heard forever, writes Priyanka Bhardwaj.

---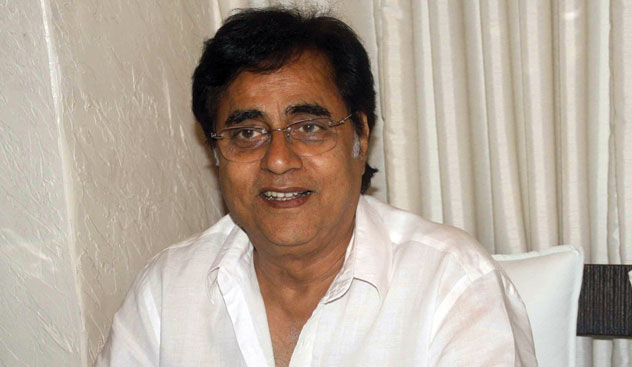 (Above): Jagjit Singh
---
The entire subcontinent and diaspora is testimony to the Indian ghazal king Jagjit Singh's popularity that flowed from his countless soulful musical compositions and renditions that defined a genre so unique that at best can only be partially imitated.

Born in Sri Ganganagar, Rajasthan, in a Sikh family on 8th of February 1941 India's leading ghazal singer, composer and music director Jagjit breathed his last on October 10th 2011.

His duo-association with another renowned Indian ghazal singer Chitra Singh, also his better half, his enchanting solo performances and marvelous duets with legendary artists like Lata Mangeshkar, were gems of the music world.

Immensely enthralling and mesmerizing was the humongous body of modern lilting ghazal numbers that included "Tum ko dekha toh yeh khayal aaya," "Jhuki jhuki si nazar," "Kagaz ki kashti," "Koi yeh kaise bataye ki," "Baad muddat unhein," "Yeh tera ghar yeh mera ghar," "Hoshwalon ko khabar kya," "Chhitti na koi sandesh," "Pyar mujh se jo kiya tumne," "Hothon se choo lo tum," "Baat niklegi to phir door talak jayegi," and "Sarakti jaye hai rukh se naqab ahista, ahista."
Notwithstanding his departure from classical ghazal singing, his style imbued the genre with a true vocal identity and institutionalized it further.

His career of five decades witnessed tremendous democratization as he moved inch by inch to simplify the form of the Indian classical ghazal.

His diligence and perseverance reflected in every word that he pronounced and the audience was time and again overwhelmed with his subtle musical expression, charming timbre, and soothing style and sophisticated blending of the traditional and modern.

Within the realm of the world of cinema and television serials (in films like Arth, Saath Saath, and Prem Geet, and TV serials like Mirza Ghalib and Kahkashan) and outside it, Jagjit's pioneering work attained unparalleled commercial success and in languages as diverse as Punjabi, Hindi, Urdu, Bengali, Gujarati, Sindhi and Nepali.

His singular contribution fetched him love and following of both the mass and the class, at best recognized by his receiving Padma Bhushan in 2003, India's third highest civilian honor for promotion of traditional Indian arts and culture.

As a small boy he was known as Jagmohan. He was named Jagjit upon the suggestion of a Namdhari saint who said that the child's golden voice had the ability to win the heart of the world.

---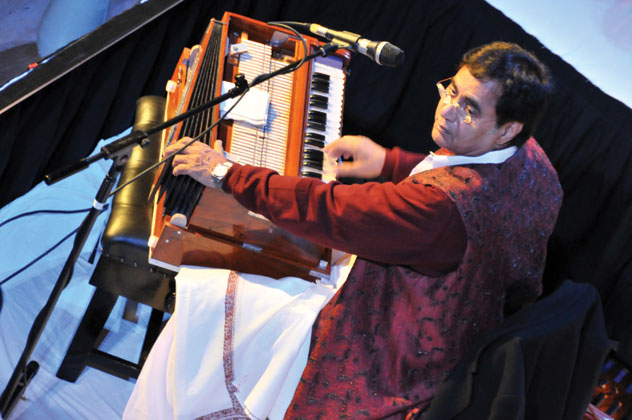 (Above): Jagjit Singh performing live at Symphony Hall, Birmingham on September 12, 2008 as part of his Voice of Emotions UK Tour in 2008 organised and promoted by Heritage Arts and Events Limited (UK). [Photo: Heritage Arts and Events Limited | Wikimedia Commons]
---
Jagjit began his musical taleem (education) under tutelage of Pandit Shaganlal Sharma and after two years he learned khayal, thumri and dhrupad (forms of Indian classical music) from Ustad Jamaal Khan of the Sainia Gharana school, a distant relative of Mehndi Hasan.

In his formative years Jagjit also dabbled in academics, studying science after matriculation at Government College in Sri Ganganagar, and then history from Kurukshetra University in Haryana.

Yet music was his calling and he arrived in Mumbai around 1961 for better opportunities and his share of trials and tribulations that were to precede his path to eminence.

While singing in weddings and parties there was an offer, the first one, to sing in a Gujarati film called Dharati Na Chhoru produced by Suresh Amin.

Skepticism and criticism were a usual impediment as he struggled in a music world dominated by stalwarts like Noor Jehan, Malika Pukhraj, Begum Akhtar, Talat Mahmood, Muhammad Rafi, Mukesh and Mehdi Hassan, but Jagjit was resolute.

With patience, resilience and self-belief in tow he charted his own course recording best sellers in quick succession and then there was no looking back.

His deep understanding for great poetry made him choose the work of renowned poets like Mirza Ghalib, Firaq Gorakhpuri, Qateel Shifai, Shahid Kabir, Ameer Meenai, Kafeel Aazer, Sudarshan Faakir and Nida Fazli, and contemporary writers like Zaka Siddiqi, Nazir Bakri, Faiz Ratlami, Gulzar and Rajesh Reddy.

He popularized the poetry of Shiv Kumar Batalvi through his album Birha Da Sultan which has numbers such as "Mae Ni Mae," "Main Ik Shikra Yaar Banaia" and "Eh Mera Geet Kisi Ni Gana."

What was extraordinary about his music was that he set Urdu nazms on contemporary musical notes, employed a full orchestra comprising of western instruments as well.

His compositions also included songs written by former Indian Prime Minister, Atal Behari Vajpayee, also a critically acclaimed poet, in two albums, Nayi Disha and Samvedna.

Not averse to using new technology Jagjit recorded music with digital multi-track in 1987 in his album Beyond Time which also showcased his experiments with sounds.

Apart from ghazals, Jagjit also composed and sang Hindi bhajans and Sikh gurbani (devotional music).

He brought out albums like Maa, Hare Krishna, Hey Ram...Hey Ram, Ichhabal and Man Jeetai Jagjeet that can be easily compared to work of eminent singers of devotional music like Hari Om Sharan, Yesudas, Purushottam Das Jalota and Anup Jalota.

As far as his personal life was concerned his musical journey brought him in touch with singer Chitra Singh in 1967 and after two years of courtship they got bonded matrimonially and professionally.

The hit pair produced a line of unforgettable albums that included The Unforgettables, Ecstasies, A Sound Affair and Passions.

However, Jagjit's life was marked with one tragedy after another and yet, as his associates and friends would vouch, he managed to hold on to courage, conviction and humor.

He lost his only son Vivek on July 28, 1994, and wife Chitra gave up singing altogether.

Then in 2009 his step daughter, Chitra's daughter from first marriage, committed suicide leaving behind two young sons.

---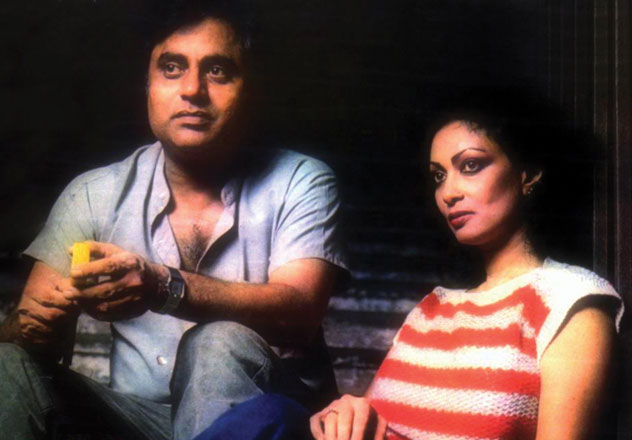 (Above): File photo of Jagjit and Chitra Singh.
---
Even then music never deserted him, and it could be the reason why it transformed into being more soulful, real and philosophical.

A legendary artist that Jagjit was, the influence of his virtuosity and vitality was also incredible and he used it to the best purpose of humanism, for establishment of peaceful relations between communities and countries at strife, for issues that demanded immediate attention and response, and silently associated with philanthropic endeavors.

Of particular concern to him were politicization of arts and culture in India and lack of support to practitioners of India's traditional art forms.

Jagjit was one shining star that regaled audiences on both side of the Indo-Pak border.

His velvety heart warming delicate voice and lilting melodious and yet sophisticated music magically transports listener to an eternal timeless era marked with no barriers of space or distinctions and heavily laden with simple emotional stirrings and profound intellectualism.

As destiny would have it, Jagjit suffered a brain hemorrhage and had to be hospitalized at Lilavati Hospital, Mumbai before he could share the stage for a recent performance with his good friend and Pakistani ghazal counterpart Ghulam Ali.

Though the world has lost this maestro his music will always entertain and soothe the souls of listeners for it has a unique quality of needing no visuals to embed on to memories.

In the words of Mir Saqib: "Bade shauq se sun raha tha zamana, hum hi so gaye dastaan kehte kehte ..." (The world was listening with relish and I myself fell asleep relating the tale). The intoxication of Jagjit Singh's compositions will carry his voice to kindle the hearts of young and old, romantic and sorrowful, for generations to come.