---
The story is simple. When Faisal, a hard working and honest Indian IT salesman in Atlanta, is laid off from his job, his troubles seem never-ending. He has massive debts and no employer wants to sponsor his work visa. Just as he is ready to give up and go back to India, his fate changes. In a wild 70s themed Indian party, Faisal runs into an old childhood friend who just happens to be the recruiter for a hot new IT startup called BA-IT. Over much drinking and partying, Faisal lands a job there. Ka-ching! Faisal is ecstatic at his good fortune.
However, things are not what they seem. Faisal is forced to sell IT services to the Atlanta mafia … and they are not buying! His life is in danger as he struggles to figure out what else he can sell to them and how. With no other way out, Faisal is forced to make his boldest sale yet – a sale that is going to require all the persuasion and creativity he can muster, an item number, and the courage to "go boldly where no salesman has gone before."
The film, directed by Atlanta Nagendra, has been screened at a variety of international festivals in the U.S. and India including Third World International Film Festival, Urban Mediamakers Film Festival, Atlanta Asian Film Festival, Bangalore International Film Festival, BronzeLens Film Festival, Dixie Film Festival and South Asian Film Festival. The film won the 'Best Feature' award (Third World Independent Film Festival 2011), 'Best Feature' award (Atlanta Asian Film Festival 2011), 'Best Feature Runner-up' award (Urban Mediamakers Film Festival) and 'Best Key Art' award (Urban Mediamakers Film Festival).
Mumbhai Connection is now gearing up for a theatrical release in India. Nagendra, a veteran of two super hit Kannada films, is well versed in the arcane art of taking a film from pre-production all the way to distribution success. His first movie was Joke Falls, released in 2005, which went on to a 25 week Silver Jubilee run in PVR, Bangalore. His second movie, Rambo, released in 2012, also was a blockbuster hit across Karnataka and the international markets.
---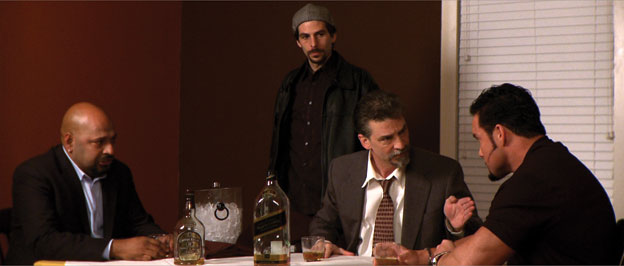 (Above): Suresh (l) as "Alvarez," David (standing) as "Vinny," Dick Mays (c) as "Gambino," and Eli Jones (r) as "Igor."
---
This is Nagendra's first Hindi language venture. Nagendra felt that the subject matter needed to be shot in Hindi since the concept of "bhai" and "mafia" works better in Hindi. "Many movies have been made with IT as backdrop. Lot more movies have been made with underworld or Mafia as an integral part. Nobody tried to connect the two. So the story was woven around it," Nagendra says.
The film features a mostly U.S.-based cast and crew, picked from the burgeoning Atlanta film industry that has been booming ever since the Georgia state government offered tax incentives in 2008. Some talent was also flown in from Los Angeles. Post-production was split between Atlanta and India.
Nagendra also had to balance his full-time job as an IT professional while running around for all production activities – from casting actors and location scouting to renting lenses and reviewing dailies. Since most the actors also had other jobs, the only time they could shoot was during the weekends. Mumbhai Connection has some café, restaurant and nightclub scenes. The hurdle though was that these locations only allowed shooting on weekdays. The situation was resolved by shooting overnight, in 17-hour-stretches, at times.
"The movie has been shot in some friends' homes and a lot of people even lent their cars," Nagendra recalls. "My engineering manager at work plays an Italian mafia don in the movie," Nagendra adds. Since the story revolves around Indian and foreign actors, about 20 percent of the movie has English dialogues, while 80 percent is Hindi, Spanish and Italian.
Award-winning composer, Praveen Duth Stephen, scored the background track as well as the movie's item number "Dance with me," sung by Indian female playback singer, Sunidhi Chauhan.
Interested readers can get more information at www.mumbhaiconnection.com.