(Above): Sadequain Mural National Geophysical Research Institute Hyderabad Deccan 40x12 feet. (Below, right): A sketch of Sadequain, the artist.
---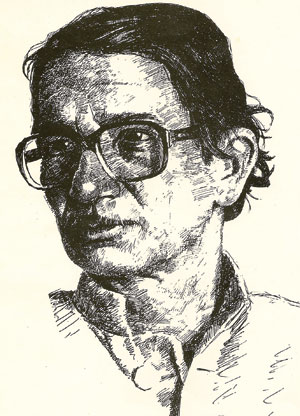 Born in Amroha, Uttar Pradesh, India, in the year 1930, Sadequain physically left this world in 1987 and is now buried in Karachi, Pakistan. His life journey was certainly short by many standards (years) but gargantuan in terms of artistic productivity. He drew, wrote poetry, or painted till the very end.
Most of us who had never had the pleasure of meeting the great artist himself came to know of him through television programs on PTV. Often found in a smoke filled environment speaking in Saqueel (chaste) Urdu, Sadequain came across as a man immersed in many spirits and at times not of this world.  At one time he was working on calligraphy depicting the Ninety-nine names of God. And on many other occasions he was embarked on projects so large (murals) that they seemed almost impossible to complete. How he was able to manage the scaling on these still amazes many. A fusion of Picasso and Michelangelo reflected in one of our own artists, he was a delight to watch.
And those that met him always had some interesting things to say. He used to give away his art and never sold it. A friend of mine noticed that men only received an autograph from Sadequain and that women were given more elaborate drawn images. So this bright young man returned to the great artist and asked for a memento for his sister. Sadequain obliged and he still has it in his possession!
The event in Milpitas featured this scribe's first exposure to the Sadequain Foundation of San Diego, Calif., which is the brainchild of the artist's nephew Dr. Salman Ahmad, an engineer by profession, graduate of NED Engineering College (now university) in Karachi, who furthered his education in the United States to the level of a Ph.D.
Sadequain himself never married and had no family of his own so his older brother's family, including Dr. Salman Ahmad, were close to him. For the purpose of this article yours truly (RS) interviewed Salman Ahmad (SA) to learn more about Sadequain – the artist, the person, and the foundation. A shortened version of the interview is presented below:
RS: When did you decide to create the Sadequain Foundation and why?
SA: Just like the fact that we are more familiar with some Urdu poets - compared to others who could be equally good - because of vocalists like Mehdi Hasan and Noor Jahan, artists also need individuals, institutions, and means to promote their talent. Sadequain never sold his work. He gave it all to individuals and institutions around the world. In return, he was praised universally. But after his death the recipients of his generosity were often mainly interested in cashing out on his hard work. So much so, that during Sadequain's life, the Pakistan government established three art galleries dedicated to his name in Karachi, Lahore and Islamabad. But after his death all three galleries were either closed or run down, and some of their contents went unaccounted for (stolen). These are some of the factors that compelled me to establish the Sadequain Foundation in June 2007, with the main goal(s) of discovering, preserving, and promoting the art and poetry of Sadequain and in essence, preserve his legacy.
RS: The question comes to mind as to why in San Diego?
SA: We have been residents of San Diego since 1982 and it is now home to our family. Therefore San Diego is the headquarters of Sadequain Foundation.
RS: Are there other organizations in Pakistan or in other countries doing similar work?
SA: There are no formal affiliations in other cities, or states, or countries. But several individuals and organizations have helped conduct Sadequain Foundation's events in the U.S., Canada, U.K., Dubai, Pakistan, and India in the past six years. These individuals offer their assistance on voluntary basis. 
---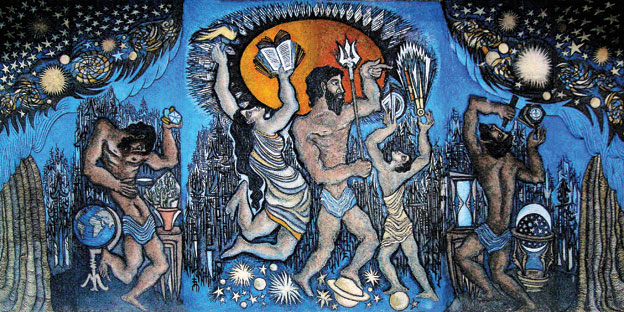 (Above): Sadequain Mural Banaras Hindu University 40x12 feet rev2.
---
RS: Who really owns the Sadequain legacy? Is there a central controlling entity which can guide art enthusiasts or potential buyers?
SA: Sadequain is a national treasure, but unfortunately there is no other entity in the world (besides Sadequain Foundation) that can claim to be an expert on Sadequain or to look after his interests. Like the poet Ghalib said "Muft haath aaye to bura kya hai" (That which is obtained free can't be too bad), which applies here to Sadequain's art. He gave away all his work to institutions and individuals who later became interested in only profiting from it. He is also a frequently copied artist as his fakes have flooded the market. Anwar Maqsood of TV fame said sarcastically that Sadequain painted more paintings after he died than when he was alive!
RS: In your estimate approximately how many genuine Sadequain works of art are there in existence? 
SA: Sadequain never kept an inventory and never cataloged his works therefore there is no official and verifiable record as to how many paintings, drawings, murals, calligraphies he did. Sadequain Foundation estimates his serious work to be around 15,000 pieces. But he himself claimed to have done hundreds of thousands of sketches, drawings, and calligraphies as personal favors to his visitors who literally surrounded him at all times day and night.
---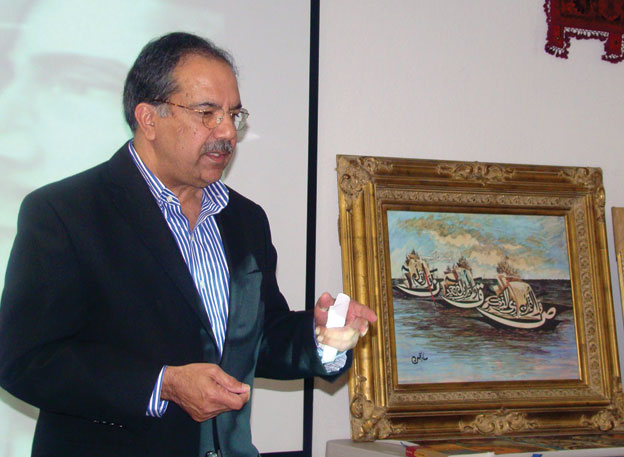 (Above): Sadequain Foundation's Dr. Salman Ahmad talking in Milpitas, Calif.
---
RS: Where in the world is the largest collection of Sadequain's artwork located?
SA: The world's largest collection of Sadequain's art is with Pakistan's ministry of cultural affairs. The ministry has in its possession more than 250 extremely significant masterpieces. The estimated value of these pieces is more than $60 million in today's market. These were removed from Galerie Sadequain in Islamabad to the new location after his death. 
RS: And where is the largest mural painted by him? 
SA: Sadequain painted more murals than Michelangelo and Diego Rivera combined. Total murals he painted number more than 45. His murals are found in Mangla Dam, State Bank of Pakistan, Lahore Museum, Punjab Library, Punjab University, Frere Hall Karachi, Aligarh Muslim University, Banaras Hindu University, National Geophysical Research Institute Hyderabad, India, Islamic Research Institute Delhi, Ghalib Institute Delhi, Urdu Ghar Hyderabad India, Museum of Modern Art in Paris, Canada, Abu Dhabi, etc. The largest mural by Sadequain is at Mangla Dam titled The Saga of Labor, measuring 170x28 feet.
To conclude here, one has to try to appreciate the complexity of the work that the Sadequain Foundation is trying to do. When one is attempting to document the accomplishments of a Faqeer, a Dervesh, someone who was (often simultaneously) trying to capture both the atom and the cosmos in his work, the task cannot be easy.  In this article we did not even get to just touch upon Sadequain the poet or even highlight more than ten elaborate books so far produced by the Sadequain Foundation. Maybe at some other time down the road we will get that opportunity. 
Interested readers can visit the Sadequain Foundation at sadequainfoundation.com.