Publisher's Note
:
In this month's issue, we have departed from our normal practice of focusing on an issue of primarily South Asian interest. Our cover story looks instead at Scotland, where a commercial plant has begun to produce electricity from tidal waves.
Happily, India has a similar program in the works, and a power plant is scheduled for operation soon, so there is an Indian connection, albeit a bit tenuous.

Still, we chose to focus on this story for two reasons.

Firstly, and this is especially true if one lives in the United States, any concern for the environment is invariably accompanied by a sinking feeling of frustration, given this country's penchant for dragging its feet when it comes to being an ecologically responsible global citizen. We thought it is worth bringing forth a heartening story of a technological breakthrough implemented in another country to demonstrate that not all news about the environment is bad.

Secondly, even if the project is in Scotland, a triumph there will undoubtedly benefit us all, because the environment is something we all share, and regardless of rich or poor, we all have a stake in it.

In this month's issue we also have an extended interview of Bharatbala, who plans to make the first IMAX film on India. As we have said before, although our primarily focus is on science and technology as it affects South Asia, we have an open mind and an avid interest in all aspects of the South Asian experience, and plan to continue to let our magazine reflect that.

|TOP|

Main Feature

Ocean Waves
New Energy Source - By V. Venkataramanan

As society's appetite for energy grows, a company in Scotland has set up the first commercial plant to harness electricity from tidal waves, writes V. Venkataramanan.

On almost any sea shore, as waves ceaselessly hurtle on the shores, it is easy to wonder if all that energy could not be harnessed for a species whose appetite for energy is insatiable.

Man has been harnessing some of these natural forces; he has solar power panels, windmills, and hydro turbines converting the kinetic energy of falling water into electricity. Now it seems the time has come for one more frontier.

Indeed, for the first time ever, waves are today being converted to energy commercially in an innovative new program in Scotland, and not a moment too soon. The world is so hooked on energy that it is heavily dependent on energy sources that are not renewable as well as polluting.

The company, Wavegen, has announced that it has successfully installed a commercial tidal wave energy converter and started feeding electricity produced from the waves in coastal Scotland.

Wavegen is a world leader in wave power development. It has technical backup from the Queen's University Belfast. The project is funded by the European Union and a consortium of venture capitalists from Switzerland and Italy. The commercial plant named LIMPET — Land Installed Marine Powered Energy Transformer — is rated at 500 kW and is providing enough electricity for about 400 local homes. According to the developers some of the advantages of this technology include low cost power, simple air turbine, high reliability, maximum local content, all electrical equipment on land, easy plant access by road, easy construction and installation, no marine operations, 60 year life and minimal maintenance.

Another source of energy, so what? Why rave about it? What is special? The answer to this should be read in the context of Kyoto Protocol of 1997. The developed countries of the world continue to emit 75 percent of the total greenhouse gases in the earth's atmosphere. The amount of gases released by the industrial and automobile exhausts in the U.S. is about 25 percent of the whole world.

This exceeds the total gases emitted by all the developing nations put together. Alarmed by the increasing trend in global warming and uncontrolled emission of greenhouse gases (CO2, methane and a series of chlorofluorocarbons), representatives from countries worldwide discussed and signed the protocol in Kyoto, Japan.

However, the United States has not ratified this treaty in its Senate; that means the protocol remains in paper. (Thus Kyoto protocol joins the list of a host of other well-meaning international treaties like nuclear non-proliferation, nuclear test ban, etc., that are not ratified by the U.S.)

This being the political scenario, the only hope to save the planet from environmental catastrophe is renewable energy with minimal adverse environmental side-effects. Nature has abundance of energy. It also has the awesome capacity to renew them. There is a lot of energy that can be harnessed from solar radiation, from the ceaseless winds, from the perpetual tidal waves. These are called clean energies, in contrast to the present prominent sources such as nuclear, thermal, etc.

The latter, in the process of conversion of energy from a raw form to the useful, release a host of gases, nuclear particles, which harm the environment.

In the process of conversion of solar, tidal or wind energies, there are no harmful by-products. So these energy forms have an increasingly important potential to help restore the polluted atmosphere. However, there are a lot of technological problems that need to be solved in harnessing these energies.

For example, in converting solar energy into electricity, amorphous silicon is currently used in solar cells. Though useful in small quantities (remember your solar powered digital watch and calculator), this falls short in powering even a personal computer. Besides, the developed countries which are concentrated in the Northern hemisphere do not have abundant sunlight, as are our poor tropical cousins. The same is true with windmills. On the other hand solar energy is too capital intensive to be feasible in poorer countries.

Where is India? It is heartening to note that India is not far behind. Predicting the needs for alternate energy sources and recognizing tidal energy as one of the potential components there, the Council of Indian Institute of Technology, Madras, under the visionary guidance of Prof. Y. Nayudamma established a Ocean Engineering Center at IIT in 1977.

This has been sustained by funding from various government agencies and some industries. This center has been functioning as an academic department since 1982 and has been doing some pioneering work on the technology of tidal energy. It pursues many related activities vigorously. India's ambitious plans to harness abundant tidal energy from its long coastlines will get a major boost when a prototype 1 Mega Watt plant starts rolling near the coast of Thoothukkudy.

This is being installed at a depth of about 1,000 meters and is expected to go functional within a year. The long peninsular coastline of the Bay of Bengal and the Arabian Sea have some of the most violent tides. India falls short in meeting its energy demands. With depleting coal reserves and repeated failures in exploring oil – India needs to turn the tide to its favor. The IIT Madras project could go a long way in achieving this.

Experts have reacted to the press report from Wavegen with a mixture of jubilation and caution. Some scientists have disparaged the turbine technology used in the Wavegen project. But, this is true with any evolving technology.

Some have voiced fears over unforeseen stopping the tidal waves (or large portions of winds) to convert into electricity. For example, there is a fear over disturbing the marine flora and fauna. Coral reefs may be endangered; fishes can get entangled in the turbine and so forth. Nevertheless, the new technique offers too much promise of a healthier alternative to a society addicted to energy to be dismissed out of hand.

Energy needs of the planet is not going to decrease; let us be honest about it. What we need at the moment and for the future are a great number of diverse energy sources. Tidal generators are yet another milestone in our quest to quench the thirst for energy.

– V. Venkataramanan is a science writer
based in Chennai. He can be reached
by e-mail at venkat@tamillinux.org.
|TOP|
Infotech India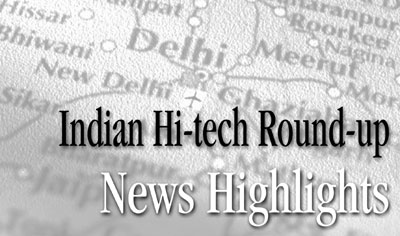 NIIT bags huge IT contract...Sun, Tata Infotech to set up center of excellence...Sun to invest $10 Million...Oracle Solutions...RS/6000 Unix server comes to India...Quality Counts — Here is the latest on information technology from India

NIIT Deal

NIIT has bagged the largest IT contract in India valued at Rs. 1.48 billion from the Karnataka government. According to a release, the order for implementing computer education in high schools across the state will run for five years.

Giving details, NIIT vice president L. Balasubramanian said, "This prestigious contract gives NIIT an opportunity to partner in Mahiti Sindhu (Information Ocean), the Karnataka government's initiative to broad-base IT education and take it to students in the deep interiors."

As part of this single biggest schools computer education project, NIIT will be setting up the infrastructure of computer classrooms in 700 government schools across Karnataka. The classrooms will use the latest software, networking technology and Internet connectivity. To cater to the IT learning needs of school-children, the company has set up an independent business unit, Project K-12, headed by Balasubramanian with a dedicated team focussing on the implementation of these projects within specified quality and time norms, the release said.

This contract comes in soon after NIIT baggied the five-year Tamil Nadu project, where NIIT will provide computer training in 371 schools. NIIT will be enhancing the skill base of Karnataka by using the network of schools to provide state-of-the-art computer education to local citizens after school hours.
|Back to Infotech Index| |TOP|

Center of Excellence

Sun Microsystems and Tata Infotech have jointly set up a Center of Excellence in Bangalore to provide technology and business expertise to e-enable companies in the Internet economy. The solutions and services offered by the center will be built exclusively on Sun's technology and Internet infrastructure.

The comprehensive portfolio of services offered by the Center of Excellence will begin with developing proof-of-concept and presale. In the second phase, it will offer professional services like implementation, architecture and enterprise services. The third phase will see the center offering do-tcom consulting, which will be focused on the service provider market space. The services will include end-to-end design and architecture addressing Internet Service Providers, Application Service Providers, e-com business houses and portal service providers.

Speaking about the center, Tata Infotech managing director Nirmal Jain said, "Tata Infotech and Sun Microsystems have had a very successful relationship. The Center of Excellence embodies the commitment of both companies to provide services that shall help Indian companies surge ahead in the new economy. Tata Infotech is also one of the leading partners for Sun in India and we provide all the associated services for IT consulting, architecting, benchmarking, implementation, performance tuning and support of Sun systems."

Sun Microsystems' products, ranging from desktops to large mission critical online systems, are being installed and supported by Tata Infotech in India and abroad. Around 400 engineers of Tata Infotech will exclusively work for Sun Microsystems in India.
|Back to Infotech Index| |TOP|

Sun to Invest $10M

Sun Microsystems plans to invest $10 million in the expanding Enterprise Services in India. Announcing this, Michael J. Hunt, Vice-President, Enterprise services, Asia Pacific region, said, "Our aim is to provide Indian customers proactive services that maximize system uptime, deliver optimum levels of ongoing support, and value add with Sun Professional services and Sun Educational services to enable Indian companies to surge ahead in the new economy. Globally enterprise division has contributed around 15 percent of Sun's overall revenues and we are growing at 40 per cent." As part of this program, Sun has launched SunSpectrum Platinum and SunSpectrum Gold in India to provide customer support.

Under this initiative, Sun enterprise will expand from one central support hub, located in Bangalore, to five zonal locations in New Delhi, Mumbai, Calcutta and Chennai. Along with this, the company is increasing its technical team of Sun Certified Partner Engineers to 300 within a period of two years. Complementing the Enterprise services division in India, Sun has also set up the Sun Professional Services division and Sun Educational Services division.

Speaking on the educational services, Bhaskar Pramanik, managing director, Sun Microsystems India, said, "Sun India has seen substantial growth in this area, which includes increased base of authorized Sun Educational Centers from 22 to over 50 centers till date and we are projecting to double the number of certifications to over 40,000 this year. Apart form this there is a growing demand for Solaris training in addition to Java training in India. Sun India has ambitious plans of setting up at least 25 Solaris centers this year." He also said that the overall investment from Sun in India for the year July 2000 to June 2001 would be around $25-$30 million.
|Back to Infotech Index| |TOP|

Oracle Solutions

The Asia-Pacific division of Oracle has entered into a strategic tie-up with E-PAC International to develop business applications and ensure quality implementation of its solutions in the Asia-Pacific region. The tie-up is expected to reduce the existing gap in consulting skills due to the surging demand for Oracle applications in the Asian region. Oracle has a sizeable presence in the APAC region especially in areas like CRM, SCM, and B2B exchanges for which specialized consulting skills are required. The alliance is expected to address the resource gap in this segment. Derek Williams, executive VP, Oracle Corp, said, "We need partners who can work across boundaries and E-PAC is building the resources and the infrastructure to address this resource gap."

E-PAC will train and certify its implementation team through Oracle's process applications training and certification. The team will be ready for deployment by April 2001. Initially, E-PAC and Oracle APAC will target countries with a high demand for Oracle applications and with a shortage of quality resources for implementation. This includes India, Singapore, Malaysia, Taiwan, Hong Kong and China. Thereafter, both companies will look at countries that have a strong need for such skilled resources. E-PAC will also work with selected Oracle application partners for providing complementary solutions to Oracle's e-business suite. In India, E-PAC will work with Oracle on implementation.

Speaking about the alliance, Oracle India country manager Shekhar Dasgupta said, "Oracle India will leverage our synergy with E-PAC to develop methodologies and solutions jointly for quick implementation."
|Back to Infotech Index| |TOP|

RS/6000 in India

Tech Pacific and IBM have firmed up an alliance under which Tech Pacific will become the first Indian distributor to distribute the RS/6000 UNIX server and IBM Storage Systems devices, which are now called the eServer P series.

IBM will provide training to Tech Pacific's personnel to develop their skill sets for marketing the RS/6000. Tech Pacific will augment the capabilities of tier-2 resellers to help them compete with the large system integrators in the market. Towards this end, the company will provide technical, pre-sales and after sales support to the channel partners of RS/6000.

Speaking about this tie-up, IBM India general manager-channels Alok Ohrie said, "The Internet explosion is throwing up great opportunities in the marketplace. We hope to address these opportunities with our products, custom-designed to address the demands of the Web. This agreement with Tech Pacific will help us reach out to more customers across the country with our Web servers."

According to IDC India, IBM's RS/6000 had a market share of 22 percent in the April-June quarter this year, up from 15 percent in the previous quarter.
|Back to Infotech Index| |TOP|

Quality Counts

The software industry has to wake up to the fact that just attaining CMM level certification will not ensure sustained growth. At the end of the day, it is world-class products that will ensure healthy bottom lines. While CMM certification is only a benchmark of the processes being followed within the organization, there are no processes that would monitor the quality of the product, which is in fact the goal of the processes. Industry experts are of the opinion that just as there are benchmarks for software processes like CMM certifications, there ought to be standards that would determine the quality of the products being developed.

Emphasizing the need to have quality products, Alan M Davis, president of U.S.-based Omni-Vista says, "India has established itself in the software development world. But in order to have sustained growth in the industry, it is time to focus on the quality of the product that is being churned out. Although there are no evolved standards, the best way to assess the quality of the product is customer satisfaction." Elaborating on the concept of customer satisfaction, Davis says that sometimes even the best-developed product may not be successful if it does not fulfill the criterion of appropriateness.

Appropriateness is the criterion that refers to what the customers want and not what is necessarily the best available.

Companies can broadly follow three parameters to assess the quality of their products: whether the product sells well or not; whether the product has been developed within the budget, and whether the product has been developed within the time limits. It is important that companies negotiate with clients on these three parameters before closing a deal. And organizations that have achieved higher level of CMM certification are usually those that are better placed to make more accurate predictions in terms of the budget and the time required for the project.

Colorado-based Omni-Vista is a consultant to software organizations, helping them understand clients' need and aligning the development of the product to suit those needs. The company has developed 'On your mark-Pro' which enables organizations to monitor the quality of developed products. Davis is currently in the process of negotiating with distributors to launch this product in India. Priced at $499 per seat, it also includes support and maintenance for a year at an additional cost of $90.
|Back to Infotech Index| |TOP|

CULTURE

Bharatbala
Cultural Ambassador – By Vishal Ramani

Bharat Bala created a sensation with two music productions with A.R. Rahman, "JanaGanaMana" and "Vande Mataram." Now he plans to make the first IMAX film on India. Vishal Ramani recently interviewed him. Excerpts follow.

Vishal Ramani: Let's talk about you. You have made a huge name for yourself through music and films.

Bharatbala: Basically I create concepts. When we create concepts, all my concepts are related to music and films. My strength is film-making, so it's all focussed towards that.

There is a very personal reason for that, ok? I have got to go back...so basically my first ten years, has been making television commercials. Then in '96 I stopped making advertising films. My father was a freedom fighter. He was one of the closest associates of K. Kamaraj.

V: Yes, I read.

BB: So, the man has been a typical Gandhian. My father asked me in '96, to say that in his youth he did something for the nation, in your youth, what statement are you making? And he said, in advertising, you create big ideas, why don't you create a big idea for India?

In the last 50 years you'll see that, there is especially a younger generation, (which) does not have any connection with the culture, or they don't want to be a part of this culture, or they don't want to learn the tradition, or they don't want to know about the art, so he said: "Can you motivate, can you create an idea that will motivate, and that will sell India back to the Indians?"

And that was the trigger.

V: So, you are really motivating not just all Indians but mainly the youth in India.

BB: Absolutely, absolutely.

V: And have you done that? Have you delivered there with such kids.

BB: 100 percent; 100 percent. It has triggered up. You see, I can proudly stand up and say today that it has contributed to bringing back the emotion and the pride in saying that it's cool to say' "Vande Maataram." I'm proud to sing the national anthem.

V: What was the idea of this mingling?

BB: Again, I just go back and stress. First, there has to be an idea, and if there is an idea, for me it doesn't matter whether it is the president of India or a Michael Jackson or XYZ, if there is an idea and there is a commitment for that idea, we can achieve anything.

If I could bring 50 musicians, Hindustani, Carnatic and more all put together and say, "Hey, lets sing the anthem together. Let's render it. Today tell me, can you go ahead and pick up a soundtrack of the anthem that is listenable? Can you buy a cassette? You just get what you hear broadcast on All India Radio or Doordarshan of some old recording and nobody is adding value to it. So I said, "Why go and do one more or reinvent one more song?" You know, lets produce the anthem first. Let's make it like a treasure, so at least for the next 10-15 years. there are some soundtracks put together, and again, Rahman and I are great friends and we all work together, it's a team.

V: Tell me your recording experiences. How exciting was it there when you actually did it?

BB: Ah, let's say definitely excitement was there but it was also a lot of pressure, lot of hard work, OK?

V: Was there a time constraint there or all the time in the world to do it?

BB: Nothing. Never. See, first of all, we don't have the time. We just do everything.; if we get an idea, it has to be delivered. We will do it. We will set a target. In twenty days I got all the artists together, you know from say Jagjit Singh to Hariprasad Chaurasia, Amjad Ali Khan Sahib or Sudha Raghunathan, Unni Krishnan, Hariharan....you name anybody, right? We got all of them together.

V: You mean you brought them all under a single canopy?

BB: Yeah, in the sense that we did two sessions of recordings, one in Madras, one in Bombay, OK? And the idea was to say that you know, let's not keep it classical, classical. Can we blend something, this has to be like a refreshing album where I would love to listen to every version of my album, that is the vision. So to achieve that, say for example we did D.K. Pattammal, mixing two generations of artists. Her grand daughter Nityashree singing with D.K.P. So we did a lot of collaborative work, say folk music blending with classical; in instrumental we blended say sarod and ghatam together.

V: Your final delivery and packaging is also great.

BB: See, if you look at it, we took from Rabindranath Tagore's "Jana Gana Mana," his rendition of the anthem we have in this. (Points to the packaged album)

Again, this is like releasing a CD, right? You don't release it like a CD, we've got to add value. So we put it in the same size of a CD, and made a booklet, giving the lyrics, who wrote the anthem, then what is the constitution, when was the republic formed, all that stuff put together and the biggest honor for this was when we got the president release it in the central hall of Parliament, not president in the Rashtrapati Bhavan where a lot of things can happen.

Still this is just the beginning. Everything about India fascinates me. Now, having done this within India, I want to expose India internationally. Have you seen IMAX films?

V: Yes.

BB: We are making the first Indian film on IMAX.

V: Great.

BB: What it does is, you'll go and see (the film) in the Smithsonian in Washington, you can see it in Sony Metreon in San Francisco, or the Tech Museum in San Jose, you'll see that mainstream kids going to schools in America will watch this film. Families, American families, will watch this film.

You see, that's the best way to reach or say, culturally portray India. And you know, you might say that Indians are doing great in the valley, you know? In America, they have big name. Everybody recognizes them. There is this new resurgence of this Indian phenomena, but that's within the business community. That is within the technology community. You walk across to the McDonald's and can you find an average American there who knows about India? I don't think so. They don't know even which part of the world it belongs to.

V: Its absolutely true.

BB: See? Only when you bring it to the part of their mainstream cycle, then they can go and watch a movie, then it fascinates them and then they can say, "Hey, I've seen country like India." They know what this culture is. So, they know more about China. They don't know much about India. And we have grrrrreat pride in saying culturally we are the best, we have more traditions, and heritage, etc., but we have never shown what it means.

V: We have not marketed this or broadcast it.

BB: Forget marketing, we've neither told our children nor told the outsiders. So it's a challenge, it's fun. The space is open, nobody has done it. We're going to do it.

V: This is India in IMAX, that's great! When is this going to be out?

BB: So, now actually what we are saying is it's not all about doing it in India alone. Let's look at Indians around the world, OK? And also doing a crossover approach, reaching out to more people beyond India. The idea is use all the new media available. Could be IMAX film, feature film, television, all the internet media. Create ideas that can be presented through these media.

V: So, how long are you here in the U.S.?

BB: I am going to be more in the U.S. because my next project IMAX has the largest market in the U.S. Basically, we'll be setting up our office in L.A. and I am now in the preparatory stage of presenting a new company which will make the IMAX.

V: Tell me about your work with Michael Jackson.

BB: We did a song with him, OK? In Sanskrit; he was doing a concert in Munich in aid of Nelson Mandela's Children's Fund for the United Nations, So he was bringing various artists from the around the world. Then after coming to India, he has great interest in India, and so through a common friend, he says, "I want to do a song, an Indian song" over there. So, when the common friend identified me to say, "Hey, you have to catch hold of the people who did 'Vande Maataram'"

And that's it. I came on board and then we thought of an idea and then we got Rahman involved and so we recorded a song, "Ekam Satyam" that means one truth. So we said let it be universal in thought. It was a new song.

We are thinking of releasing it also. It should come out shortly.

V: So, your IMAX, are you only going to market it here or are you planning on other countries.

BB: The IMAX? Its going to Japan, South Korea, Australia, Singapore, Africa, Israel, Kuwait, England, you name the country in the world, any country where there is an IMAX theater, it will be there.

This is just a beginning. We have more to do and definitely we need more minds to add value to make it even more exciting. And, the first round has been very, very successful. I made a presentation to the IMAX people. They loved it. I presented it to all the museums and theaters in the U.S. and they loved it. So, it's falling in line. We have Aishwarya Rai to play Mumtaz. So we got to represent India's glamour, India's fashion, that's how it should be. And for the musical we hope to get a couple of great songs in it.

It is the story of Taj Mahal. It's a love story. That's it. It has to look like a feature film. Then only it will be worth. See, nobody knows that the seventh wonder of the world is a story of human commitment. Nobody knows it's the greatest love story. Nobody has marketed the story of Shah Jahan and Mumtaz Mahal.

V: So, who is playing the role of Shah Jahan.

BB: Well, that's the launch announcement. We have left it for that. (Laughs)

V: You already have someone in mind?

BB: Yeah, definitely.

V: Where do you think this will lead? People are seeing the story of Taj Mahal and then what?

BB: This is just a drop in the ocean. It's just a beginning. You'll have to make a start from there.

V: Then you want to produce more.

BB: Yeah, we'll make more films. That's my area of interest, right? So, we will produce more films, but be very focused. One film, tell that story. Don't make a khichdi out of showing everything on India.

V: When you watch the Grand Canyon at IMAX and all that, they show the scenes with dramatic force, right? So do you have cameramen and crew to do this kind of thing?

BB: As a matter of fact we have the best people in the world. The same person who shot Grand Canyon, he is the director of this Taj Mahal.

V: Great! That's what we wanted to know.

BB: No compromise, no compromise.

V: To those that come in contact with you, especially the youth, is there a message you wish to give the future generation?

BB: (Thinks) Have a dream. First you should have a dream, then you should work very hard to deliver your dream. Now, it's very important to dream. Because you know, you should never settle to say, "Maybe I can't do that." That's not acceptable. For me, to dream is important and then to fulfill that dream is even more important.

V: Who has given you most inspiration?

BB: How do I test my ideas? Do the kids get excited? Then I have won it. Otherwise it is a failure.

V: Do you see your work reflected in the children around you?

BB: Of course, you won't believe it. There is my friend's child that tries to sing the JaNaGaNa, our national anthem exactly as it is. That is success for me. Then there is this little one that plays the Vande Maataram in the piano, that is thrilling, you know?

Vishal Ramani is an exponent and
instructor of classical Indian dance.
She is also co-host of "Echoes of India,"
a public access TV show.
|TOP|
ARTS:

Prabin Badhia:
An Artist at Work

Orissa a long, long way from California. That is where artist Prabin Badhia has come from, and he continues to blend artistic influences from his birthplace as well as his adopted home.




Prabin Badhia was a featured artist at the 14th Annual Emeryville Art Exhibition, a month-long showcase of top local artists held recently in Emeryville, Calif. His painting, Faces, an oil painting on canvas paper, was chosen for the show.

Now celebrating its 14th year, the Emeryville Art Exhibition has a loyal following of art lovers. This year's event was held at the Hollis Street Business Center where a capacity crowd attended the gala opening event, and more than 200 people per day visited the exhibition. All of the artists showcased in the exhibit are either residents or workers in Emeryville. Although Prabin is a very recent Emeryville resident, he was quickly recruited to submit a work for this exhibition. Prabin's paintings grace private collections in India, Kenya, Iran, Germany, and the United States. He has exhibited his works in Orissa, New Delhi, New York, and the Bay Area. Prabin's artistic career has led him to work in all aspects of publishing including cartoons, illustration, and design layout. He has produced original artwork for promotion and education campaigns for United States AID, UNICEF, All India Institute of Medical Sciences in New Delhi, and the Nav Bharat Times in Jaipur. As a self-taught computer graphic artist, he now works for India West.

Prabin's artistic training started at home in Orissa. As a young child, he watched his mother do ritual drawings on the floor and participated in many Hindu cultural events at the neighborhood temple. The vibrant colors of the community festivities made an impression on him. He is expert in the use of vivid colors and uses them freely to express his artistic vision. For Prabin, the paint is alive. After getting a sense of the pigment and materials, he becomes tempted by his brush to start a new creation. Classical painting skills were developed during his formal education. He was top student in the bachelor of arts program Berhampur University in Orissa, and then moved on to New Delhi to earn his masters degree in art history from the National Museum.

|TOP|
PHOTOGRAPHY:

Wintry Images
Welcoming a Season – By Arun Chauhan

Photography enthusiast Arun Chauhan talks about capturing winter in photographic images.




It is winter and the year is coming to an end. There are a lot of things we have to catch up with. Between the office Christmas party, freeways and busy malls, we will try to make time to travel, meet the family, here or back home. Make sure to bring your camera along because whether you go or stay home there is possibility of great pictures.

My front yard has some beautiful Roses and the winter storm leaves some water on them. If it is overcast the colors look very rich.

The San Francisco Bay Area does not get any snow but Lake Tahoe is only a few hours away.

And taking pictures in the snow is very rewarding, Take a picture of a winter sunset, make sure the framing is good. Every picture should have a theme or a message or the composition should be such that it represents your thought. It will be probably next Christmas or the one after that when you will be sitting in your bed room, looking at some old pictures and they all will have a story and thoughts from your memory to go with it.

Enjoy the photographs of Lake Tahoe, which were shot in a big hurry before the sun went down.

All pictures are shot on Kodak Print Film I.S.O. 100 and the camera used was Nikon with 55 mm Nikkor Macro lens.

– Arun Chauhan is an amateur photographer.
He presents "Saaz Aur Awaaz,"
a popular Bay Area Indian radio show.

|TOP|
LEGAL ISSUES:

H-1B Visa:
The New Law - By Gopalan Nair

Congress has just passed a new law that increases the number of H-1B visas. What else has changed? Attorney Gopalan Nair gives a detailed overview of the new changes that accompany the American Competitiveness in the 21st Century Act.

The law new passed Oct. 17 on H-1B Non Immigrant Work Visas is Section 2045, the American Competitiveness in the 21st Century Act. We have no doubt that the title would indeed live up to its purpose, as the main thrust of this legislation is the increase in visa allocation from the previous 115,000 to 195,000. This is a long awaited helping hand for the software industry in the United States who have been crying out for more foreign help due to continuing and serious dearth of software engineers.

Now for the nitty gritty. First the law increases the total number of visa allocation to 195,000 for the years 2001 to 2003. The increase is for per fiscal year, fiscal year commencing October of each year. The mechanism for those uninitiated to the game is that visas will be issued and counted from Oct 1, of each year and when all of the 195,000 have been issued, no more H-1B cases will be granted until the following October when once again visas will be granted until the same maximum is reached.

This figure is governed retroactively, i.e. cases filed earlier before the passing of the law, i.e. Oct 17, which were un-approvable by reason that the cap of 115,000 had run out for the year 2000 would now be approvable by reason of the present increase which takes effect backwards. Therefore this bill would effectively clear all earlier backlogged cases un-approvable because they were caught by the earlier cap.

What it therefore means is

The cap of fiscal year 2000 is also increased to 195,000 for the benefit of those backlogged cases already filed


The fiscal year 2001, commencing Oct 1, 00 will still have the full 195,000 for the said fiscal year. Very generous of the government.

Educational Institutions:

Higher education institutions, non-profit research organizations and government research organizations are not covered by the cap. They can file as many H-1Bs as they want. However if a worker issued a visa for one of these exempt organizations changes jobs to a non-exempt organization, such as for instance the ubiquitous software consultancy for profit, then he would be subject to the cap just like anyone else and would lose the protection he had of being cap free. Also as was the case even earlier, if the worker is already in possession of a H-1B visa which has not reached the full 6 years and the worker wishes to change jobs, he would not be counted for purposes of the cap, and he would have the balance remaining of his entitled duration of up to six years. If multiple H-1B visa petitions are filed by the same worker, he is naturally only counted once, for the determination of the final count of visas.

This education exemption has turned out to be an unexpected boon for workers in the non-education sphere such as software engineers. Previously those in education were counted towards the cap but as I have said earlier not anymore. It is generally accepted that educational institutions use up between 6,000 to 10,000 visas per year. Because these cases are now exempt, software engineers will have this additional amount which they did not previously have.

Green Card Cases:

As you know the maximum duration of a H-1B worker in the US under this category is six years. After which he has to be physically outside the United States for one year before he can be issued with another H-1B work visa. Now this limitation of 6 years has been lifted in certain cases. If the worker has already filed an immigrant petition for permanent residence with the INS which is either pending or has been approved, the worker is no longer subject to the six-year limitation and may continue working until the adjustment of status to permanent residence is adjudicated however long that may be.

As you know, for immigrant visa petitions, different countries have different quotas per year, providing a ceiling to the number of immigrant visas that may be issued each year for that country. Previously when the quota for that country ran out, they had to wait until visa numbers became available, generally known as the backlog. Now under the new law, if a country with high H1B applicants such as India is backlogged for immigrant visas and another country such as Germany has unused visa numbers because the number of H-1B applicants from that country is not heavy such as India, those unused German quota would flow to India for the benefit of Indian applicants. The same is true for all countries.

Portability:

Rather odd word. I would rather use the word mobility. This law permits a worker who already possesses a H-1B and whose six- year duration has not run out to work for a new employer who has filed for a new petition for him, or to use common parlance in "transfer" cases, he may start work for the new employer immediately upon filing. The question arises as to what "filing" means. Does it mean that the employer has to wait for a "WAC" number from the INS before placing the worker on the payroll or does it mean that he could do so upon dropping the INS petition into the jaws of the letterbox or "mailbox" as we live in America, to use the American lexicon. I would think, as the word used in the legislation is "filing", it should mean once you have posted the mail and not any later. A much better arrangement than previously where the employer had to wait until the approval came, some 2 to 3 months later.

Green Card, Lengthy Adjudications:

For those with adjustment of status or green card issues which has been pending for more that 6 months, they may change jobs without adversely affecting the underlying labor certification and petition which was specific and limited to the earlier employer, on condition that the new job is of the same type as the earlier position. Therefore quite obviously if the software engineer suddenly decides that he wants to work as a fishmonger when the labor certification was in the field of electronics, his adjustment of status would naturally be denied.

Further, if we are so lucky and there are unused immigrant visas for any year, the law provides for the roll over of the same for future use in the event that there is an oversubscription of immigrant visas in the future. This and the above provision will in a large way alleviate the problems of those who face the perennial problem of Department of Labor and INS delays in labor certification and visa processing.

Increased Fees:

INS filing fees have also gone up by $500.00. The fee was $110.00 which was increased to $610.00 by reason of a penalty to employers of $500.00. Now this penalty has gone up a further $500.00 which would now make the INS filing fee to $1,110.00 per case. As the government has given a grace period of 2 months form the date of enactment of the law which was Oct 17,, the new cost will take effect for those cases filed after December 17. Educational institutions and charities are exempt from the penalty portion and would therefore continue to pay only $110.00 in fees.

As we are on the subject of other countries and workers, here is a light-hearted digression. The U.S. gives Israel $3 billion in aid per year. Some years ago when Yitzhak Shamir was the prime minister of Israel, some farmers from the Negev in Israel went to Shamir and said: "Sir, sir there is a drought!" Shamir said "Oh my God, Where?" And the farmers said: "In the Negev." When he heard this Shamir gave a sigh of relief and said: "Thank God, I thought the drought was in America."

Happy reading and laugh a little. After all ,we only live once, or may be twice as James Bond author Ian Fleming would say.

- Gopalan Nair is an immigration attorney
based in Fremont, Calif.
Auto Review: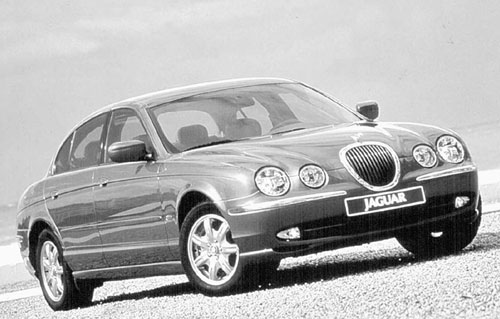 Jaguar Travelogue
2000 Jaguar S Type Sedan – By Al Auger

Our automotive editor Al Auger is a true romantic. When he took off with the new Jaguar S-type with his friend Lindsay Turner for the charming coastline, he chose not to limit his commentary to the nitty gritty of the superb driving machine. Instead, Auger and Turner describe how the superb automobile and the fetching beauty of the Northern California coast came together into a seamless, memorable travel experience. Their paean to Jaguar and California will interest auto enthusiasts as well as vicarious armchair travelers.

We left San Francisco on a beautiful Fall day, under sparkling blue skies and a benevolent warm sun shining down. We crossed the Golden Gate bridge into Marin County and found ourselves on a strangely, but gloriously, empty Highway 1. What truly made this phenomenon so spectacular is our vehicle of choice, which happened to be the brand new Jaguar S-type.

For those who have never enjoyed the delightful curves, bends, dips and scenery of this world famous byway, a description is necessary. Approximately five miles north of the Golden Gate Bridge we exited highway 101 at Mill Valley. Almost immediately the road becomes a snake, heading up towards Mt. Tamalpais and the sleeping maiden. And, if you haven't experienced such a road in the new Jaguar S-type, I will simply echo my Mercedes-owning partner (who has also helped evaluate many automobiles): "This is the most magnificent car I've ever driven."

It was also lunch time, a perfect time to stop at the Pelican Inn, hard by Muir Beach for some fish 'n chips and a Guinness. The Pelican Inn is hidden away in a corner of Highway 1, built to replicate a half-timber English pub. The Jaguar looked right at home. The Pelican Inn offers both lodgings and fine dining are available for the trail weary.

Off again, and the last of the urban communities of Marin are behind. Ahead stretches the sinuous asphalt as it winds through the picturesque and bucolic villages of upper Marin. This is truly Jaguar country, and the S-type concurs with a throaty purr. On your left is the sparkling blue of Tomales Bay, commercial fishing boats bobbing with the waves. Tomales Bay is also a globally famous area for the farming of oysters. Further on, the North Sea ambience is replaced by the green waves of farmland and contented cows munching the grass with lazy insouciance. The inland portion of Highway 1 takes through the villages of Point Reyes, Marshall, Tomales and Valley Ford, where time seems to have stopped.

Less than three hours out of San Francisco we cross the line into Mendocino County and the burg of Gualala. Next stop: the posh Whale Watch Inn, five miles north at Anchor Bay. A left turn into the entry and we're greeted by a vibrant swatch of floral color, the smell of the salty ocean lapping at the deeply rock-carved cliffs and a thick forest of trees. In the middle is a curve of buildings befitting the surroundings.

Standing in the approximate center is the Pacific Edge structure, flanked by the other four, together housing a total of 18 rooms and suites. The Pacific Edge is your entry port and holds eight rooms of delectably varied design and ambience. The reception area is awash with fresh flowers, artwork and, streaming through the large windows, the fading afternoon glow. All this and soft classical music immediately lulls us into the easygoing attraction of the Whale Watch.

Joyce, a soft-spoken innkeeper greets us with a warm "hello" and glasses of chilled Chablis. Which was gratefully quaffed after the intensive, but thoroughly agreeable, cruise from San Francisco. After relaxing with the wine, Joyce gave us a tour of the eight rooms that constituted Pacific Edge. Each room features its own theme and most have a view of the ocean and dramatic coastline. All the accommodations feature the finest in furnishings, huge comfortable beds with down comforters you literally sink into, tubs with whirlpools and a working fireplace. The most fetching room was the split-level Bath Suite with its entrancing 2-person tub and whirlpool that overlooked the magnificent ocean view framed by giant cypress and pine trees. There are no TVs and no phones unless specifically requested.

Joyce asked of our beverage choices and if we had any food allergies or special dietary needs and what time we would like breakfast delivered to our room. An eight o'clock time was agreed upon and, once alone, we bet on how late our meal would be. Our aptly named "Showcase" suite had an almost Zen-like atmosphere with soft lilac hues, a lavish Oriental rug and furnishings purchased from a Santa Rosa Symphony League Showcase home. Large windows framed the ocean vista, and the fireplace was laid with logs and ready to be fired up. A queen-size bed piled with exquisite linens and down comforter reposes beneath a skylight from which a towering cypress presides.

Outside on one of the two decks, the world is redolent with the embracing essence of clean salt air. Anchor Bay lies below, accessible by a narrow private staircase. At the discovery of the whirlpool bath and accompanying Egyptian cotton towels and fluffy robes, my partner is devising a scheme to turn a two-day stay into weeks.

Apparently cynicism doesn't work too well at the Whale Watch Inn, as at 8:05 a.m. a discreet knock announced our breakfast had arrived via a large wicker basket. As we spread the goodies over the coffee table before the crackling fire, we filled ourselves with a fragrant quiche in its own ramekin, orange juice, in-season fruit smothered in sweet cream sauce and oven warm muffins that destroyed any dietary vows. A graceful touch was soft linen, good silverware and fine china.

After breakfast, we planned our day over cups of darkly delicious coffee.

We grab our cameras and set off on an early morning prowl. First we visit the Whale Watch room that features a full-view windowed deck, fresh coffee and tea, hundreds of books and a powerful telescope. The room is also used for special events and select wines and champagnes are available. Since the whales weren't traveling, we headed down the steep staircase to the beach and discovered a wonderland of sparsely populated beaches, tidepools and exotic wildlife viewing. A later picnic on the beach that day was duly noted with food from the Food Company just down highway 1 towards Gualala.

While the Whale Watch Inn's kitchen is only used for breakfast, dining is easily found close by in Point Arena to the north or Gualala to the south. A friend who has a weekend home in Gualala recommended two restaurants to us. On Port Road in Point Arena is the Galley Restaurant, our favorite by unanimous vote. Don't let the funky, no-nonsense ambience throw you, for the seafood offering is straight-ahead delicious at nominal prices. First, though, stop by the huge ornate bar that once graced Tommy's Joint in San Francisco.

The next night we dined at Pangaea in Point Arena on Main Street. Unfortunately, the food was both overpriced and overly spicy for most palates. Fortunately, from Gualala to Point Arena there are a host of fine dining spots to fit all budgets as well as delicatessens and the ubiquitous pizza joints.

The following day we decided to give the Jaguar a canter and took off for the rugged cliffs and ocean of Salt Point State Park a few miles south of Gualala. With such a spirited animal at our command, we took a circuitous route in and out of the narrow, hardly driven roads inland of the coast. By the time we reach Salt Point, the Jag had been given a full workout on the snakes and coils of the backcountry roads that lace this boisterous country. Both Lindsay and I took turns at the wheel and experienced the sheer exultation of driving a pure motorcar in the environment best suited to its exuberance.

At Salt Point we found a scuba diving school being conducted by a local dive shop. The ocean here is a perfect shop to learn the exotic world that lies beneath the surface. The water is literally a cornucopia of sea life and plants, plus a fickle tide that tests the students to the max.

Entertainment on the north coast, for the most part, is a do-it-yourself effort. The coastline along the bluffs of Anchor Bay is called the "banana belt" by locals as it is seldom visited by the fog so prevalent to the area. The beaches provide wonderful distractions for long walks during the day or romantic strolls in the moonlight. During November-December and February-March, the whales parade on their way south to Baja California and back again to home in the north. A few miles south is Sea Ranch and its Scottish-style golf links.

Camera buffs will find a wide range of photo opportunities from wild game, birds and whale watching cruises. The Whale Watch Inn is as lovely a destination spa you will find anywhere, be it for relaxation, a romantic liaison or honeymoon. A private get-away with superb service. But nothing fits so well as the combination of the lush Whale Watch Inn, the posh luxury and taut performance of the Jaguar S-type and the seduction of Highway 1.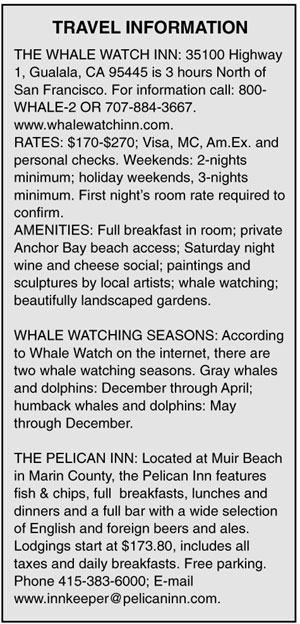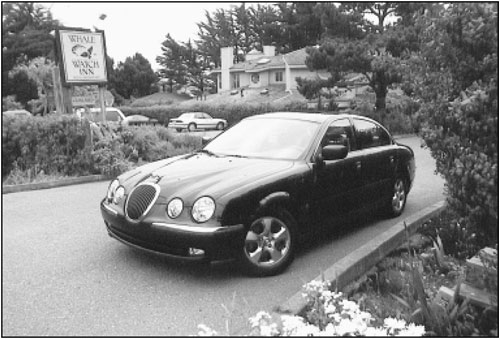 Today's Test Drive: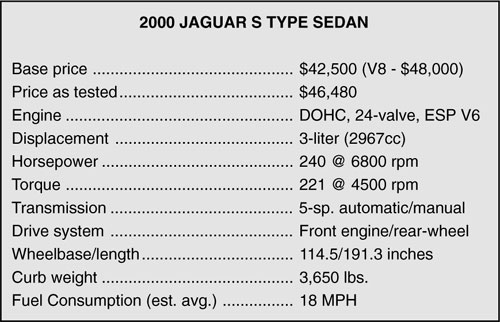 Al Auger, our automotive editor has been writing about cars for over 30 years.
He has spent 20 years as a race driver and public relations specialist.
|TOP|
Bollywood: | Guftugu | Hindi Film Review |

Guftugu

The Twinkle in Akki's Eyes

Beefcake hero Akshay Kumar is ready to say adios to his Lothario lifestyle. Guess who got old Akki to settle down? None other than Twinkle Khanna.

The lovebirds made it official Dec. 12. Only relatives and a few friends were allowed into the private party where Akki and Twinkle promised to be true to each other. The party was held at Betty Kapadia's bungalow in Juhu. Betty is Twinkle's grandmother.
|Return to Bollywood Index| |TOP|

Raveena on Marriage

So she hasn't actually been married, so what? Bollywood, after all, is the land of make believe, and Raveena Tandon feels quite okay launching a new magazine called Vivaha.

From to love to divorce, the magazine covers it all, and wags in Bollywood say Raveena is well experienced in all aspects of it except the actual vivaha – remember her long relationship with Bollywood hunk Akshay Kumar?

At any rate, the first issue has Raveena resplendent in a bridal outfit. Maybe the real thing is not so far away, huh?
|Return to Bollywood Index| |TOP|

Another Shah Rukh

Catch them young, say sports experts when they talk about grooming talent. Shah Rukh Khan seems to have taken this to heart.

Little Aryan is all set to face the camera in daddy's friend Karan Johar's Kabhie Khushi Kabhi Gham. He will play his daddy Shah Rukh in his childhood, so that should not be a problem. Mom Gauri had a problem, but Shah Rukh and Karan Johar have reassured her, and now Aryan accompanies the big Khan on the sets. Is a new dynasty about to begin?
|Return to Bollywood Index| |TOP|

Scared Sushmita

Enough of bit parts, says the former Miss Universe. She got cold feet after being signed in for Mahesh Manjrekar's Tera Mera Saath Rahe, and Manjrekar has promptly replaced her with Sonali Bendre. She was apparently worried Ajay Devgan would dominate in the film.

So despite the fact that she dazzled in bit parts and one-off songs in Sirf Tum and Fiza, she wants a lot more than that. Goodbye bit parts, hello heroine? One just hopes it's not goodbye Sushmita.
|Return to Bollywood Index| |TOP|

Live Devdas

He got so drunk and looked so forlorn, he almost convinced Sanjay Leela Bhansali of dropping Shah Rukh Khan and putting in Salman Khan in the main role in Devdas.

But then, real life can get every bit as poignant as the tearjerker Bengali novel of unrequited love.

A day after he spent whole night banging at Aishwarya's door at Brookhill Towers Andheri, Salman reached the sets of Devdas, but again in an inebriated condition. He had given Aishwarya such a hard time the previous week at a pub that Aishwarya missed the shoots of Devdas and Rohan Sippy's Kuch Na Kaho. He patched up with her after a long midnight ruckus outside her house at Andheri.

When he reached the sets of Devdas, the unit was cautious, but Salman went and sat in a corner and never said anything. In a word, a real-life Devdas.
|Return to Bollywood Index| |TOP|

Saawal Manisha Ka

The Nepali princess was miffed. It's all Anupam Kher's fault, she fumed. She said Kher was treating her roughly in Zee's troubled game show Sawaal Dus Crore Ka. Kher, on the other hand, was surprised to see Manisha pop up in a show which he believed he was supposed to anchor. He tried to pull rank, and Manisha had a fit.

The Zee folks hurriedly cobbled a compromise, and now Manisha gets to talk a lot more than Kher had originally planned.

Lost in all this fracas apparently is the fact that all this ruckus may soon be moot, because the show is sinking like a stone.
|Return to Bollywood Index| |TOP|

Hrithik-Shah Rukh

The two lions are in battle and choreographer Farah Khan is caught in the crossfire.

Farah had appeared all set for a dream debut as director when she had both Hrithik Roshan and Shah Rukh Khan for her film. On the one hand, Bollywood's reigning Khan, on the other, the super-hot debutant superstar who seems all set to unseat the mighty Khan – it seemed like a casting coup.

Then Farah announced the credits of her film, and surprise, surprise. No Hrithik. It's going to be Shah Rukh and Abhishek Bachchan.

All parties are being civil about it, but that isn't stopping the rumors. Apparently while Hrithik had made a commitment before seeing the script, he balked after seeing his role which he did not think was meaty enough to match the Khan. He wanted some changes and when Farah couldn't oblige him, he chose to opt out.

The fallout of this appears to be hurting Farah, who has been dropped from the credits of Rakesh Roshan's next film with Hrithik and Preity Zinta, just as she was dropped from the Pepsi ad that Rakesh made with Hrithik.

A restrained Rakesh maintains there are no hard feelings, while Farah refuses to make any further comment.
|Return to Bollywood Index| |TOP|


Hindi Film Review
Impressive, Realistic Fare

KURUKSHETRA

Director: Mahesh Manjrekar
Music: Himesh Reshammiya and Sukhwinder Singh
Starring: Sanjay Dutt, Mahima Chaudhary, Om Puri and Shivaji Satam

It may be an old, old story, but Mahesh Manjrekar and Sanjay Dutt may yet pull it off.

Sanjay Dutt's recent reincarnation as a good guy – remember Mission Kashmir? – definitely adds zing to a story which is about as hackneyed as it gets, and Manjrekar brings some of the gutsy reality-check authenticity and maturity of his aptly named previous film Vaastav.

The story is as old as Bollywood itself. Prithvi Raj Singh (Sanjay Dutt) is an honest determined cop who makes all crooks and their politician cohorts quake in their boots. Not only are the crooks scared of him, but some even come to respect him for his integrity. Case in point: Underworld don Iqbal Pasina (Mukesh Rishi), who is so impressed with Prithvi's commitment to his work that he changes from an adversary to an ally .

Prithvi, however, enters muddied waters where politics and crime intermingle when he tries to bring to book two obnoxious rapists. Ambar and Rohit, two little creeps, rape the young Geeta in a hotel room, and a furious Prithvi is determined to make sure the two brats get their comeuppance.

Trouble is, Ambar is the son of Chief Minister Babu Rao Deshmukh (Om Puri).

Opposition leader Sambhaji Yadav (Shivaji Satam) is only too keen to fish in troubled waters. He chooses to settle scores with his political rival and comes to the aid of Prithvi and his new-found ally Iqbal.

Deshmukh is no sissy, either. Powerful, unscrupulous, he is ready to do absolutely anything to protect his son. What results is a vicious all-out war.

In the imaginary world of Bollywood, virtue, like vice, knows no limit, so it is no surprise that at home Prithvi is the epitome of the family man, living a life of idyllic bliss with his wife Anjali (Mahima Choudhury) and his sister Aarti.

Of course, the storyline does not exactly takes one's breath away with its originality. Savvy director that he is, however, Manjrekar proves how it is ultimately the cinematic treatment that can make all the difference in the world. He proves his point well in this film.

With fast-paced, well-edited scenes and crisp dialogues, the story moves smoothly and the audience is kept engaged. Most of the major characters are well-drawn out and so the audience is made to care about what happens to them.

Be warned, though, that this is not the standard escapist fare where heroines travel, with each pelvic gyration during a song-and-dance sequence, from Khajuraho to Sydney to Switzerland to the Scottish Highlands, and reality be damned. Rather it is the damned reality of today's political-criminal nexus that the film dares to portray, so if it is mindless candy floss entertainment you are looking for, look elsewhere.

Having said that, the mayhem and gore can be a bit too much at times, and the film could still have made its point without the vicious violence. Film can be a very creative medium, and given Manjrekar's commendable penchant for avoiding the conventional rut, it surely is not too much to expect that he can master the techniques of making telling points about the ugliness of present-day violence without literally showing it. Legendary suspense king Alfred Hitchcock was a master at suspense and fear, yet barring occasional sequences, he achieved most of his effects by innuendo and careful creation of suspense and mood where even the mundane became sinister.

The film is undoubtedly enriched by the powerful performances of Sanjay Dutt, Om Puri and Mukesh Rishi. Mahima Choudhury was unremarkable, but then so was her role.

Himmesh Reshammiya and Sukhwinder Singh's music add little to the film besides providing occasional relief, and is uneven in quality in any case.

In a nutshell, the film is a welcome break from the usual escapist fare, but it is definitely not for the faint hearted.

However, if you think that cinema has a responsibility that goes beyond mindless entertainment, that a film should make you reflect and ponder, not just sit back and relax, then this film is definitely worth viewing, even if it is not quite perfect.

|Return to Bollywood Index| |TOP|
Telugu Film Review:
Fun Filled Youth Movie

NUVVE KAAVAALI

Director: Vijayabhaskar
Starring: Tarun, Saikiran and Richa
Music: Koti
Producer: Ramoji Rao

What a relief to see teenagers being themselves after years of watching heroes in their forties trying to act as love-struck boys. Nuvve Kaavaali is a simple, refreshing and fun-filled youth movie offering clean entertainment.

Radiant youth Tarun (Tarun) and Madhavi (Richa) are enviable best friends who were born on the same day in the same hospital, live in the same neighborhood and study in the same class. Their friendship is accepted and encouraged in both homes, as their parents, too, are friends. Enter Prakash (Saikiran, son of play back singer Ramakrishna) from the United States. He too joins the same college where the two friends study. Prakash falls in love with Madhavi and proposes to her. By then Tarun also realizes that he too is in love with her. But he doesn't reveal it, fearing the break in friendship. Madhu (as Madhavi is called) discusses Prakash's proposal with Tarun and finally agrees. But when things move towards marriage she realizes that she can not leave Tarun and live. Then she also comes to know that Tarun was in love with her but didn't reveal it. With some emotional drama and twists the friends and their parents realize that the friendship is the strongest basis for love and consequently for marriage.

This simple story is told with all the light verve of youth, without much melodrama and emotions. Except for the last half an hour it's a light-hearted fun-filled film. The great relief in the film is that the director was not attempted cheap comedy at any point.

Tarun and Richa, both debutantes, essayed their roles with ease. They looked good and acted well. Saikiran, another debutante, was good but faded in front of the superb lead pair. Music elevated the ambience. All the songs were choreographed and picturized well. As a bonus Laila presents a song as a guest.

|TOP|
Recipe:

Paneer, Spinach and
Carrot Sandwich – By Seema Gupta

Tired of using super market spreads or processed meats in sandwiches? It doesn't have to be that way, says Seema Gupta, who offers a vegetarian recipe for a sandwich that is deliciously different.

Preparation:
5 minutes

Ingredients

For paneer spread:
3 whole wheat bread slices

50 gm crushed paneer

1 tablespoon fresh yogurt

2 finely chopped green chilli

Salt to taste

For spinach spread:

10-12 steamed spinach leaves

1 tablespoon crushed paneer

2 finely chopped green chilli

Salt to taste

For paneer and carrot spread:

1 cup grated carrots

50 gm crushed paneer

1 tablespoon chopped tomato

Salt to taste

Method

Mix all the ingredients for the spread. Divide into three equal parts and apply on each slice of bread. Serve as open sandwiches with ketchup.

– Seema Gupta is a homemaker
based in Sunnyvale, Calif.
|TOP|
December Horoscope

ARIES (March 21 to April 20): You will overcome major obstacles in career. A big organization will make a lucrative offer. Finance will improve. An addition in the family is possibility. You will be meeting old friends and attend many parties.

TAURUS (April 21 to May 20): A property will cause tension. Life will improve but with struggle. You will be working extra hours. You will buy some capital items and may purchase another vehicle. Money will come and go. You will be exploring new career opportunities.

GEMINI (May 21 to June 20): Do not leave issues unattended. You will make some easy money this month. You will be in touch with an expert to plan your strategy for next year. Money will go on upgrading home. Avoid buying any property this month.

CANCER (June 21 to July 22): A refund from government is on its way. Money can come from stocks too. You will go on a pleasure trip with family. You will be working on a great opportunity in career. Have patience with new partners. You will feel like taking off from work and relax at home.

LEO (July 23 to August 22): You will make big plans for a vacation. It will be an expensive month. Some of you will commit to a new offer that may start early next year. A child may not keep well. You will be calling on old friends.

VIRGO (August 23 to September 22): You have some easy money coming this month. You will be promised a big promotion with added benefits. New projects will take-off suddenly. Weather changes may cause ill health. You will try to get in touch with old friends.

LIBRA (September 23 to October 22): Do not take any chance with the law and drive carefully. You could be a victim of conspiracy involving some old acquaintances. You will add some luxury items at home. Some of you will go on a short vacation. Avoid any financial speculation in the near future.

SCORPIO (October 23 to November 22): Watch out as someone may try to cheat you. Socially you will be invited to number of gatherings. You may decide to buy another property as an investment. Spouse will need to pay extra attention to health.

SAGITTARIUS (November 23 to December 22): You will be accepting a smaller deal than what you really deserve. Help from an expected quarter will not come on time. Some of you will go on an overseas trip soon. Money will be spent on buying gifts. Do not forget the people who have helped you during trouble.

CAPRICORN (December 22 to January 19): You will be exploring new opportunities in career. Concern about the health of an elder family member will reduce. Bank balance will keep growing. You will make plans for holidays and commit to charitable work.

AQUARIUS (January to February 18): You will earn name in professional circle. You will also receive government clearance that will help make room for future growth. The hunt for another place to live will end. You will be going on a business trip. You will be invited to a big party.

PISCES (February 19 to March 20): Avoid speculation and do not sell stocks in a hurry. You may be negotiating a dream job. Travel plans will have last minute changes. You may change earlier plans on money. Spouse will need extra medical care.