---
EDITORIAL:
Sensex Sensation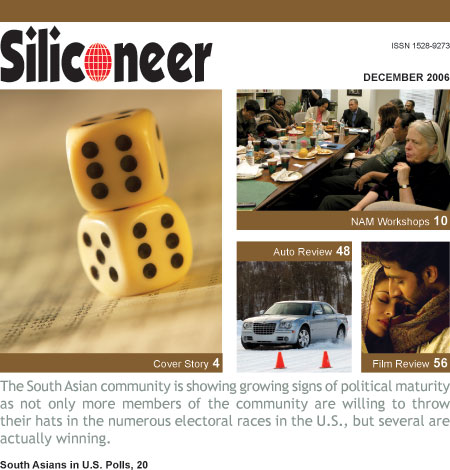 The recent spike of the Bombay Stock Exchange Sensex has made business analysts sit up. Any sharp rise in a stock exchange carries with it the peril of a bursting bubble in the future, but analysts say this bull market is based to a large degree on sold fundamentals, led by the excellent performance of the Indian banking and information and technology sector.
Foreign institutional investors seem to be eyeing India with greater relish. FII inflow in October 2006 (till 26 October) reached Rs. 64.99 billion compared to Rs. 46.43 billion in August 2006 and Rs. 54.25 billion in September.
Morgan Stanley says India strategy report has noted that as the demand is growing and Indian companies are operating at full capacity, they are now going for expansion.
The Indian economy is growing at around 9 percent and companies are showing better than expected results.
However, there is reason to be cautious. The heady bull-run at the start of the year sent the benchmark index to a peak on May 11, only to be savaged by an emerging markets sell-off that knocked it back 30 percent by mid-June.
At the end of the day, the element of chance and luck cannot be altogether ignored in the ups and downs of the stock market. How much this actually reflects the actual health of the economy is a matter of speculation.
But as our cover story details, the going is awfully good now, and investors are making a killing. Tomorrow could well be another day, but nobody cares about it right now.
What went wrong in Iraq? As the sickening, horrific news of grisly sectarian strife keeps pouring in, analysts and political observers have been scrambling to offer critiques of what could be America's biggest foreign policy debacle since Vietnam, not to mention the trauma of the Iraqis themselves.
Amid a flurry of books and articles that have taken the Bush administration to task comes Washington Post managing editor Rajiv Chandrasekaran's perceptive on book based on his own reportage of Iraq.
It is a credit to the quality of his reporting and analysis that even in a flurry of comment and analysis on Iraq his critique has drawn national attention.
Chandrasekaran's book makes sobering reading. It is a shocking tale of hubris, partisan pettiness and possible malfeasance that have led to a mess in Iraq which has brought untold misery on the Iraqi people.
In a frank interview with New America Media journalist Sandip Roy, Chandrasekaran gave his take on the current mess in Iraq and what led to it.
Chandrasekaran says that there was a very clear screening process in the Pentagon which focused on people in who would be politically loyal rather than people with skills in Arabic, post-conflict reconstruction, experience in the Middle East.
We carry the detailed interview in this month's issue.
Octogenarian author Mahasweta Devi is not only a literary institution in her native Bengal, but respected widely in India and even abroad. Winner of the Jnanpith, India's top literary award, and the Magsaysay Award, she is one author who doesn't just talk the talk, but also walks the walk.
For decades she has been a strident voice of protest against oppression of India's most marginalized communities, issuing withering, unsparing critiques of her own Bengali community for its disgraceful treatment of Adivasis. She has also worked for them, helping them organize, and given voice to their hopes and aspirations in "Bortika," the periodical she edits.
Devi went to Frankfurt this year at the inauguration of the world's largest book fair, where India was the guest country of honor, and delivered a memorable lecture reflecting on India as well as her life and times, which we carry in this month's issue.
It was a passionate, angry, loving, poignant conflicting rumination about being Indian.
"From the Indus Valley to the bluetooth handset, India has seen it all, contains it all within itself and its cultures," she says. "There is room in India for all faiths, all languages, all people. Despite the communal crises, despite the fundamentalism, the backwardness of rural life, the memories of underdevelopment which are no memory but reality for us, the threat of AIDS, tsunamis, earthquakes, floods and droughts, farmer suicides, police violence, environmental disasters wreaked by industries and farmland being bought over by multinational companies, despite the battering by history and circumstance, India still is. Its culture still is. Hence we all, still are. India has learnt to survive, to adapt, to keep the old with the modern, to walk hand in hand with the new millennium whistling a tune from the dawn of time. This is truly the age when the joota is Japani, the patloon Englistani, the lal topi, Roosi. But the dil — the dil is and always will remain Hindustani."
Do drop us a line with ideas and comments about how we can make Siliconeer better serve you.
|
TOP
|
---
COVER STORY:
The Three Trillion Rupee Ride: Sensex Unbound
Driven by the banking and information technology sectors, the Bombay Stock Exchange 30-stock sensitive index has hit the giddy heights of 14,000, with investors making a cool Rs. 3 trillion in just six months, and analysts say more growth is on the way, writes Siddharth Srivastava.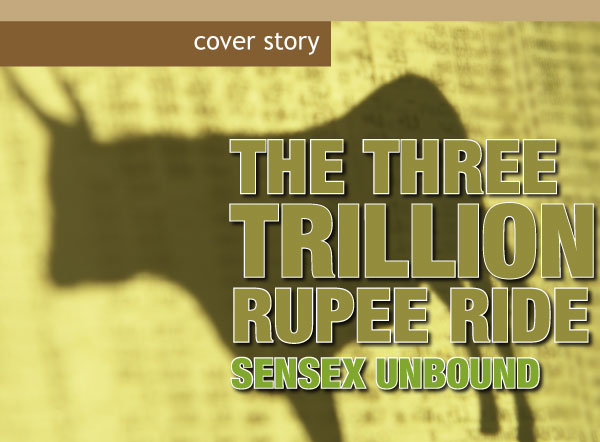 The banking and information technology sectors have catapulted the Bombay Stock Exchange 30-stock sensitive index over the 14,000 mark for the first time in history, making the investor richer by Rs. 3 trillion in just six and a half months. Analysts say there is reason to hope for more as the India growth story is only bound to get better.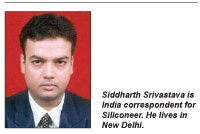 Since Sept. 15, 2006, the Sensex has gone up by around 8.4 percent, the BSE index for banking companies improved by 15.5 percent and that of IT companies also rose by 12.2 percent. The small and mid-cap companies, on the other hand, are yet to reach the previous high. Auto, pharmaceuticals, FMCG, metals as well as the PSUs, also remain depressed.
According to analysts, the skewed bull-run predominantly due to blue chips means that the small and mid cap stocks remain under priced and could make for good pickings for the retail investor. Total investor wealth has now risen to over Rs. 34 trillion from Rs. 31 trillion on April 20 when the Sensex first hit 12,000.
"It is another milestone. The market is backed by strong fundamentals (GDP growth over 8 percent). Corporate performances (over 15 percent) in the last two quarters have been by and large better than expected. Economic factors are also better than ever. The uncertainty over runaway inflation and higher crude prices are not there anymore," said N Sethuram, chief investment officer at SBI Mutual Fund, in a comment. "If these factors are going to remain the same, the market is likely to go up further."
The index for large cap companies has moved beyond the peak of pre-May 2006 crash level. Banking stocks, followed by IT, have emerged as the biggest gainers in the wake of robust quarterly results, strong credit growth and capital raising initiatives, adding more than Rs. 450 billion, during the 12,000-13,000 journey, to a total of Rs. 2,700 billion. Metal stocks drove the journey of the Sensex from 11,000-12,000, while up to 11,000 it was the capital goods stocks.
The BSE Bankex index, comprising 18 banking stocks, including giants like SBI, ICICI Bank and HDFC Bank, has risen more than 23 percent since April 20 when the market first hit 12,000.
According to Ravi Sardana of ICICI Bank, rise in the share prices of banking sector companies was a clear indication that the investors have confidence in the Indian economy. "As the general perception in the market is that Indian economy would perform well in the short- to medium-term, there is a demand for the shares of banking sector companies,'' he said.
In a further fillip to the banking sector, Finance Minister P. Chidambaram has announced a plan to introduce a bill in parliament to lift the 10 percent cap on voting rights for foreign banks acquiring stakes in private Indian banks. He said there was scope for expansion of the banking sector, as it contributes only 50 percent to the gross domestic product.
Earlier Chidambaram has said that the surge in the Indian stock markets was orderly and attributed it to improved corporate prospects and falling oil prices. "That means the movement is orderly," he said.
In order to check inflation and high credit offtake, the Reserve Bank of India hiked the repo rate by 0.25 percent to 7.25 percent, which should have a further positive impact on the investor sentiments toward the banking stocks.
In other sectors, the combined market cap of 10 IT stocks (which again has reported very good quarter results) present on the index has increased by over Rs. 350 billion to near Rs 3.5 trillion.
India's top software services companies, TCS, Wipro and Infosys Technologies, have overtaken market expectations by clocking nearly 50 percent growth in revenue (48.24 percent) and net profit (48.52 percent) during the quarter ended September 2006.
Infosys leads the chart with operating margins of 32.14 percent (32 percent), followed by TCS at 28.27 percent (30.25 percent) and Wipro with 21 percent (20.91 percent).
Among the large caps that boosted the index include Reliance Industries (Rs 300 billion surge), Bharti Airtel, Reliance Energy, Reliance Communications (increase Rs 400 billion), Grasim, Infosys, HDFC Bank and ICICI Bank.
ONGC (down Rs 200 billion) and other old economy stocks such as NTPC, ITC, Tata Steel, Tata Motors, Hindalco Industries, Hero Honda and Ranbaxy have, however, lost during this period.
Foreign institutional investors have also increased buying in recent months, despite gloomy sentiments in the Asian, European and U.S. markets. According to the Securities & Exchange Board of India, FII inflow in October 2006 (till 26 October) reached Rs. 64.99 billion compared to Rs. 46.43 billion in August 2006 and Rs. 54.25 billion in September.
Foreign funds have returned to the market after dumping $2.5 billion worth of stocks after the May-June tumble. Their net investment so far this year is over $5.5 billion, still a slower pace than the $10.7 billion seen in 2005. However, since June 14, they've bought local shares over $3 billion, surpassing the amount they sold during the rout.
Morgan Stanley in its India strategy report has noted that as the demand is growing and Indian companies are operating at full capacity, they are now going for expansion. The report said capital expenditures by companies, are likely to go up by 50 percent in 2006 and 40 percent in 2007.
Chairman of DSP Merrill Lynch, Hemendra Kothari, has said India continues to be a great growth story. "The Indian economy is growing at around 9 percent and companies are showing better than expected results. Overall, it is a great opportunity for investors," he said.
However, one has to be cautious still. The overall mood is still less euphoric after the heady bull-run at the start of the year that sent the benchmark index to a peak on May 11, only to be savaged by an emerging markets sell-off that knocked it back 30 percent by mid-June.
"The major difference is that this time there is no euphoria. The market may be at a new high but there are a large number of stocks not at a new high," said Jayesh Shroff, fund manager at SBI Mutual Fund, to Reuters. "Retail participation is still not near where it was in May."
Analysts have said that the rally this time is not broad-based and is restricted to a handful of stocks in select sectors. The rise is almost entirely driven by stocks from the services sector, mainly information technology, with manufacturing taking the back seat.
The momentum for the Sensex's rise has been provided mainly by eight stocks of which three, Infosys, TCS and Satyam, are from the IT sector, two from telecom (Bharti Airtel and Reliance Communications) and two from the finance sector, ICICI and HDFC Bank. Grasim Industries is the sole manufacturing company with a notable increase in value.
|
TOP
|
---
ANALYSIS:
Mugged by Reality: The Iraq Mess

Washington Post managing editor Rajiv Chandrasekaran, whose account of the American occupation, "Imperial Life in the Emerald City" was nominated for a 2006 National Book Award, says opportunities in Iraq were squandered long ago when Donald Rumsfeld's Pentagon won the battle with the State Department over who would call the shots in Baghdad. He talked to New American Media's Sandip Roy.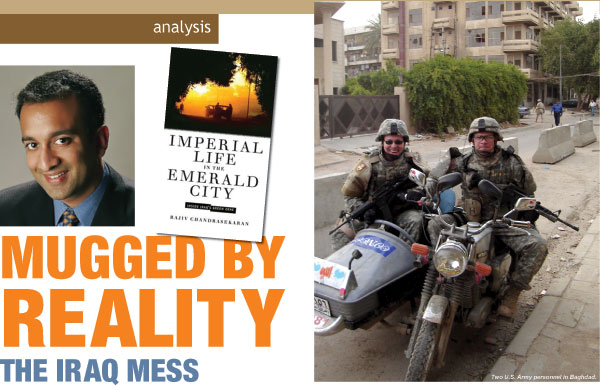 Who coined the term Emerald City?
A number of disaffected people who worked in the Green Zone began to come to the realization that they were living in a fantasy that bore no relation to the real Iraq. So they began to jokingly refer to the Green Zone as the "Emerald City." It was kind of like going to Disneyland. It was like popping a Prozac.
I read even tomatoes from the fields of Iraq were not allowed into the Green Zone.
They didn't want to buy food on the local market for fear it might be poisoned. No Iraqis were allowed to work in the kitchen.
Were there loyalty tests before you got a position in the Coalition Provisional Authority?
There was a very clear screening process that took place at the Pentagon. The Office of the White House Liaison to the Pentagon focused on trying to bring people in who would be politically loyal. People with skills in Arabic, post-conflict reconstruction, experience in the Middle East weren't really valued. People were asked questions like, "What are your views on Roe v. Wade?" "Did you vote for George W. Bush in the 2000 presidential election?"
But political ideology aside, are you saying unqualified people were put in charge of ministries?
There was a view at the highest levels of the Bush administration that bringing in these veteran Middle East experts, would be to bring in people with old ways of thinking, people who were insufficiently committed to democratizing the Middle East. They wanted people with no baggage.
Take "Skip" Berkel, who was the foremost post-conflict healthcare specialist. He has a master's in public health. He worked in Kosovo and Somalia and Northern Iraq. He's a naval reservist with two Bronze Stars. The guy had a wall full of degrees, but he didn't have a picture with the president. So he was replaced by a man who ran a large adoption agency that urged pregnant women not to have abortions.
Would it have been really different if the State Department had won out in the power struggle with the Pentagon?
There would have always been an insurgency driven by zealots. But it didn't have to be this bad. Here's a country with 40 percent unemployment. What do Bremer's economic advisors suggest? A new tax code, and not just a new tax code, but the dream of neoconservatives in this country — a 15 percent flat tax.
But the goal was not just to build democracy, but also to build a free market.
Saddam Hussein had a very ossified, socialist system. It was a very subsidy-laden economy. Fuel was almost free. Fertilizer was so cheap, that Iraqi farmers made more money by smuggling their fertilizer to Syria and selling it than actually using it. The economy was rotten to the core.
But, the question is, how do you go about fixing it? A number of Bremer's economic advisors felt you privatize things right away. You remove the subsidies. It's destabilizing in the short term, but it's what we did in Eastern Europe, and we should do it in Iraq. Their view was that multinational companies like Nestle and Unilever would come in and build big factories. Well, you didn't have the same security problems that you did in Eastern Europe. The airport wasn't open. The drive from Jordan was a treacherous 12-hour trek through the desert, Eastern Europe wasn't under foreign occupation.
By the way, there are international treaties of warfare that prevent an occupying power from selling off the real assets of an occupied country - a set of international laws that was conveniently forgotten in the Green Zone.
Did anything go right?
In the world of higher education we promulgated a bill of rights that would provide academic freedom to professors. We did so little to rebuild Iraqi universities that were looted that most of the repairs were paid for by Shiite political parties. As a quid pro quo their activists hold sway on college campuses. So there may be a bill of rights but effectively the local Imam is in charge of what can or cannot be said.
Do you think democracy was too much too soon?
You can't just pop the lid off the pressure cooker in one fell swoop. We Americans, have come to think that democracy is easy. It's not. It requires institutions, a bureaucracy, a free press. John Agresto, a lifelong friend of the Cheneys and Rumsfelds, told me how he got very little money to rebuild looted universities and said: "I feel like a neoconservative who has been mugged by reality."
Does Paul Bremer share that view?
I certainly think Bremer was mugged by reality. I am not sure he realizes he has lost his wallet.
|
TOP
|