Publisher's Note
:
As India basks in its newfound glory of world-class success in information technology, a recent development gives us reason to pause for a moment.
There is no question that the sheer brilliance of the nation's nimble infotech professionals has made the world sit up and take notice. Indians are leaving their mark in Silicon Valley, the West is wooing Indian hi-tech professionals, and Indian IT companies are making forays into international capital markets.

However, as anyone living in Silicon Valley knows all too well, IT is a business of cut-throat competition, characterized by innovation at dizzying speed. New products and technology are constantly changing the business environment, and India simply cannot afford not to keep pace.

The plan to develop broadband IT linkage is a laudable, timely move, but the political wrangling over it is an ominous sign. Assigning blame is besides the point – the vital, broader lesson is that India has to evolve a system of making public policy decisions that is free of the all-too-familiar gridlock that has characterized its political functioning to date.

There are abundant signs that India has the talent to take on the world's best in information technology. However, at the end of the day, that alone will not suffice. India's infotech talent needs to be able to function in an environment that nurtures its scientific and entrepreneurial talent, and key to that are swift, sound public policy decisions that keep pace with the constantly changing IT business and technological scenario.

NOTE: Instead of our regular Bollywood section, we are carrying a special section on India Fesival 2000 – Editors

|TOP|

Main Feature

Furore Over
Sankhya Vahini - By Deepak Goyal

It was supposed to be India's ticket to next generation internet. Instead, it has become a huge controversy, bringing together critics as disparate as the RSS and Communist MPs. Deepak Goyal reports.

Sankhya Vahini was supposed to be the hi-tech high-speed data network that would help India leapfrog into the Information Age. Unfortunately it has become a political football, with accusations flying fast and loose as backers and detractors accuse each other of bad faith.

Sankhya Vahini – the name means "river of numbers" in Sanskrit – has instead become a river of vicious rhetoric.

Supporters of the plan say the proposed broadband network will be a godsend for India as the nation emerges as a major global player in information technology, because Sankhya Vahini will provide a test bed for developing and establishing multi-gigabit technologies that will soon become the norm throughout the world in the next decade.

"At present it is difficult for Indian educational institutions to subscribe large bandwidth connectivity because it is very costly," former DRDO chief and key supporter V.S. Arunachalam said in an e-mail interview with news website Rediff.com. "They can, however, afford to pay the marginal costs if the network could also be accessible to other commercial customers, including local and regional ISPs that are bandwidth-starved now."

The issue is bandwidth. Currently India's network bandwidth is modest – 34 Mbps is considered exceptionally fast, yet Sankhya Vahini promises a whopping 2.5-4.0 Gbps bandwidth.

"This network will be primarily a data network forming the National Backbone, and will initially connect at least 10 metropolitan centers and over 100 universities, institutions of higher learning and research centers," said a special committee of the National Task Force on Information Technology and Software Development. "As the speed of the network will be more than 1,000-10,000 times the speed currently available in the country, it will be able not only to meet the research, teaching and learning requirements of educational institutions, but also the high bandwidth data communication needs of other organizations in the commercial, manufacturing and financial sectors."

Critics, however charge that the deal was shrouded in mystery, and flouts many key laws of the land including the Indian Telegraph Act of 1885, the Indian Wireless Act of 1933 and the telecom policy of 1999.Darker accusations are making the rounds, charging that the network will kill India's Internet and telecom backbone provider Videsh Sanchar Nigam Limited and jeopardize security.

Three key people are behind Sankhya Vahini, and they were part of the special committee of the national task force for IT that recommended the program. Former DRDO chief V.S. Arunachalam, Carnegie Mellon University Prof. Raj Reddy, who is the founding director of the university's Robotics Institute are the program's U.S.-based supporters. Reddy is also on U.S. President Bill Clinton's IT Advisory Committee, and Arunachalam is presently a professor of CMU's Robotics Institute.

Reddy and Arunachalam roped in Andhra Pradesh Chief Minister Chandrababu Naidu, and the three of them finally managed to make it happen.

Here's how it works. India's Department of Telecommunications has signed a deal with IUNet, a company set up by CMU. Sankhya Vahini has been set up with IUNet owning 49 percent of equity and the government 51 percent. The plan is to dedicate a pair of fibers from DoT totally to data networks.

Critics are crying foul, however. The program has divided the Indian cabinet, with IT Minister Pramod Mahajan initially against it, and it has brought together the strangest political bedfellows.

Rashtriya Swayamsevak Sangh supremo K. Sudarshan was one of its earliest detractors, calling it a sell-out, while MPs of the left have lambasted it as well.

The Parliament's Standing Committee on Communications has issued a scathing report on Sankhya Vahini in April 2000. The all-party panel has 40 MPs from both houses, and is led by veteran CPM MP Somnath Chatterjee.

Among the issues raised by the panel were the following points:

The Department of Telecom appears to have conducted no study at all of the technology available with its proposed partner or its competitors.


IUNet will invest no cash, yet will own 49 percent equity and appoint the first chair.


Decisions on equipment to be bought have been made without checking with competitors or inviting bids.

"It appears that a technology was selected among many similar technologies and a particular concern was chosen to be a partner without any evaluation of the merits of similar technologies and of also other possible partners," the committee said. Panel chair Chatterjee noted pointedly that there was no dissenting note from any MP in the ruling coalition.

Former DRDO chief and CMU Prof. Arunachalam, who has become the pointman on the program, categorically dismisses all allegations.

IUNet will bring in cash and state-of-the-art equipment worth Rs. 5 billion, he says, and he scoffs at allegations of increased security vulnerability.

"Through Sankhya Vahini, India will have a state-of-the-art modern high-bandwidth data infrastructure that will provide necessary bandwidth for both educational and commercial applications," he told Rediff.com. "Without a globally collaborative venture like Sankhya Vahini, it would take India many years to set up such an infrastructure.

"With Sankhya Vahini, India will establish a data network that leapfrogs many networks now being set up around the world. It will offer world-class bandwidth at internationally competitive prices."

– Deepak Goyal is a freelance writer
based in Calcutta.
FINANCE:

Life Insurance:
Useful Tax Edges – By Ashok Gupta

Death and taxes may be a sure thing, but a financial tool can lessen the impact of both. And it is as mundane as a life insurance policy, counsels Ashok Gupta, who explains that this ubiquitous instrument is a versatile financial tool for the savvy planner.

Life's only certainties, so goes the saying, are death and taxes. Life insurance policies not only help cushion against the economic impact of the former, but may also offer the added benefit of providing assets to pay for the latter. That's why if you or those close to you own life insurance, you should be well aware of the tax advantages it may offer under certain scenarios.

At its essence, life insurance is purchased for the death benefit it provides, but it can also be a versatile financial tool. With the assistance of a qualified insurance professional, products can be used to meet a wide range of financial needs and objectives, both personal and business-related. For example, depending on circumstances, both permanent and term insurance can address diverse purposes in the event of a death – from providing income assistance for families, to allowing small businesses to carry on, to assisting the conservation and timely distribution of an estate.

One of the major tax advantages of life insurance is that beneficiaries generally receive death benefits free from federal income tax. Those proceeds may add much-needed cash to an estate settlement, allowing survivors to pay estate taxes without being forced to sell off assets they'd rather not. And if ownership of the policy is held outside the estate – in an irrevocable life insurance trust, for example – proceeds are not subject to estate tax either.

But there are other tax advantages to owning permanent life policies that can be realized prior to the death of the insured.

For example, the net premiums paid into a permanent policy may grow income tax deferred, and the cash value is not subject to current income tax. Policy owners can access amounts up to the cash value via loans or withdrawals, generally income tax-free, as long as they don't receive more than the policy basis – generally equivalent to the amount they've paid into the policy. (Keep in mind that withdrawals and loans will affect policy values and the death benefit, and may have tax consequences, so it is wise to consult a financial professional.)

If you decide that your permanent policy is no longer required – perhaps a mortgage has been retired or a college education paid for – you can take tax-free loans against the cash value. Or if you wish to surrender the policy, tax will only be due on the amount that exceeds the basis of the policy. If your policy is a modified endowment contract, loans are taxed as distributions and taxable distributions prior to age 59 1/2 may be subject to a 10 percent federal income tax penalty.

Many policies include a waiver of premium provision that provides for premium payments to be made as long as the policy owner is disabled as defined in the policy. All premium payments made into the policy under this provision would be tax-free.

Premiums payments made under the disability provisions are not included in the policy owner's cost basis. In addition, the amount paid for the waiver of premium option is not included in policy owner basis.

If your policy includes a "living benefits" clause or rider, be aware that the Health Insurance Portability and Accountability Act of 1996 changed federal tax law to allow "terminally ill" individuals to receive death benefits from their life insurance policies free of federal income tax. In addition, if certain conditions are met, a "chronically ill" person may also receive accelerated death benefits federal income tax-free.

- Ashok Gupta is a financial planner.
He is based in San Jose, Calif.
|TOP|
eBAZAAR:

Indiaplaza.com:
Virtual Bazaar – By Chittabrata Roy

From haldi to Bollywood DVD, the needs of the desi diaspora is now just a click away, thanks to a new e-retailer with 50,000 products online and offices in three continents, says Chittabrata Roy.

Anybody who has tried to negotiate bumper-to-bumper traffic to buy a DVD of a Bollywood hit or a pound of haldi knows that the joys of shopping for Desi merchandise pall quite a bit when one considers the hassle of getting there from here.

With a spread-out yet affluent diaspora, and enormous cultural affinity and needs, the expatriate Indian community seems to be an ideal target for internet consumer commerce.

Internet retailer India Plaza knows it, and brings formidable skills to bear as it courts Indian customers. Currently it has about 50,000 products for sale, with one of the most extensive merchant affiliate programs in the Asian Indian online web market, expected to grow to about 1,000 participants during the upcoming fiscal year.

The San Jose, Calif.-based company is the child of founder CEO & president Vijay Shah, COO and co-founder Sheila Juthani, CTO & e-commerce strategist Davinder Luthra The company has offices in London and Mumbai as well.

With a staff of about 30 other people spread over three continents and two fulfillment centers, India Plaza "currently is the only Indian Internet pure play to ship products worldwide, where it does a significant quantity of business," the company says., with a goal "to become the pre-eminent internet based shopping destination for Indian products and services.". This appeal, says CEO Shah, is "rooted in us have the largest source of cross-category product listings, the broadest & deepest appeal to customers and an extensive network of affiliates and content partnerships".

Vijay Shah's family has operated a successful multi-store retailing business targeted to the Asian Indian market for more than 15 years. The retailing experience gained from the brick n' mortar business was translated onto the Internet where India Plaza has been selling products for over two years.

India Plaza has aggressive plans and partnerships to increase the number of products it sells to a staggering 1,000,000 products by the end of this fiscal year. The various categories include

Entertainment – Approximately 500 DVDs , 15,000 video titles and about 10,000 CD titles in 15 different Indian languages, 8,000 books, 500 CD-ROM's, 300 magazines in over 10 languages, sporting goods & musical instruments.


Home and Grocery – Sweets & snacks, houseware, kitchen appliances, herbal & beauty products, gourmet specialties & incense.


Gifts and Fashion – Perfumes, 22k gold jewelry, men & women's clothing, statues & artifacts, flowers & cakes, arts & handicrafts, crafts & jewelry.

The company also offers several categories of services: Free e-mail, free postal service to India, matrimonial, classifieds, NRI, horoscope, khana khazana.

"Shortly we will be introducing a slew of additional service lines that will deepen the customer experience of our brand", says CTO and e-commerce strategist Luthra. "We are operating a policy of free shipping on 95% of the products sold on the site" says COO Sheila Juthani.

As well as it's key business-to-consumer offerings India Plaza also provides its transactional infrastructure and e-tailing expertise to a growing number of key clients and Indian Internet sites. "Being part of the fabric of how our business clients conduct commerce on the Internet is as much a part of our unique value proposition as our flagship IndiaPlaza.com internet site.", says Luthra.

"Our strength, market position and dominance lies in our people and our ability to work as a virtual organization spanning three continents… we have a highly motivated and gifted development team that help turn services into reality at e-speed."

India Plaza says it will offer the most extensive selection of products and services of any virtual mall that sells products to the Asian Indian market by continuing to expand the scope and number of the products and services. However, IndiaPlaza's consumers are not all Asian Indians. A significant percentage of the company's sales are made to non-Indians. The company has already been featured in articles about e-commerce in ethnic markets in publications like Computer Today, online in CNNfn, CNN's financial network, and New Delhi Television and Mumbai Television.
All pictures are shot on Kodak Print Film I.S.O. 100 and the camera used was Nikon with 55 mm Nikkor Macro lens.
– Chittabrata Roy is free-lance writer
based in the San Francisco Bay Area.

|TOP|
LEGAL ISSUES:

H-1B Visa:
The Lowdown - By Gopalan Nair

The much-coveted H-1B visa is the golden key to working in the United States, and ultimately getting permanent residency and citizenship. What are the rules, loopholes and pitfalls? Attorney Gopalan Nair presents an overview.

H-1B visa is a non-immigrant visa for a professional who is needed by an American company. This visa has a maximum duration of six years, after which the applicant will have to leave the United States and if he wishes to reenter the U.S. on the same visa he will have to stay out of the country for a minimum period of one year before re-entry. Although this is a non immigrant visa, the H-1B visa is unique in that it is different from a pure non-immigrant visa, such as a student visa or a visitors visa because the H-1B visa is a dual intent visa. In other words, an H-1B visa can still be issued even if an immigrant visa petition has been filed on behalf of or by that applicant.

This visa has a maximum worldwide quota of 115,000 visas per fiscal year regardless of the applicant's country of origin. There is a movement now in motion in the political process to increase this quota and other more favorable terms, but the law has not been passed to implement these actions. The largest percentage of H-1B visas are being applied for by professionals in the computer software industry, and India has been the largest beneficiary country.

The requirements for an H-1B visa petition is a bachelors degree in the specialty or alternately a sufficient number of years' experience in that specialty to compensate for the lack of a degree. The degree should be a minimum of a bachelor's degree which is supposed to be at least four years of university education. The Indian degree in engineering is four years and therefore sufficient. However, a bachelors degree from India other than engineering is only three years and therefore it is short of one year. The Immigration and Naturalization Service is prepared to accept three years' experience in that specialty to compensate for the lack of one year's academic study. Therefore a person with a bachelor's degree of three years with three years of experience would technically qualify for an H-1B visa petition. Even though this may be the case, however, every petition will stand or fall on its merits, and therefore the mere existence of these qualifications cannot assure one of the success or failure of any visa petition. The normal method of filing is to file the H-1B visa petition papers together with supporting documentation with the INS at the INS service center where the employer is located, or where the beneficiary will work.

There are four service centers in the United States: Vermont, Nebraska, Texas, and California. Each service center will deal with a number of states which are within range. For instance, California will deal with Arizona, California, Hawaii, Nevada.

After filing of the petition the INS informs the employer on the success or failure of that petition. In the event of failure, the employer can appeal. In practice it is usually useless to file an appeal due to the long delay that will occur in the adjudication of that appeal. Therefore it is much more prudent and practical to file a fresh petition with the errors corrected to ensure greater success or if the earlier petition had no merits at all, in which case that petition should not have been filed in the first place.

Upon the success of that petition the INS will contact the U.S. Consulate nearest to the place of residence of the beneficiary. The employer then forwards the original of the petition approval to the beneficiary who then presents himself at the consulate for an interview. If the consulate is satisfied that the beneficiary is indeed who he or she that he claims to be, with the attributes he or she claims to possess, it stamps a visa certificate inside his passport after which, the now happy beneficiary packs his bags, bids goodbye to his loved ones for the future promise of this America where he expects to reap the benefits of his hard work..

The issuance of the visa in the passport is, however, no guarantee that an officer at the port of entry will grant him entry, because the final authority in admitting or refusing admission rests with the immigration officer at the port of entry in the United States. If the officer at the port of entry is not satisfied with the credibility of the beneficiary he still has the power to put him/her on the next flight back.

The H-1B visa petition is an employer-specific visa, in other words if the visa entitles him/her to work for Orange Company Inc. he/she is not allowed to work in Mango Company Inc. If he /she wishes to do so, a new petition has to be filed and approved on behalf of Mango Company, Inc. The other point to keep in mind is that the INS will not approve a petition for change of employer, if at the time of filing the petition the beneficiary was out of status. The beneficiary becomes out of status the moment the beneficary's employment was terminated and the controlling time is the time of petition filing. If the beneficiary was out of status at the time of filing, the petition will nevertheless be approved provided it has merit. However the only disadvantage is that the beneficiary will only be allowed a visa on condition that he obtains a visa at the U.S. Consulate in his country of origin. Of course, a person out of status attending a visa interview at a consulate will probably have a more arduous time. Unless the individual had been out of status for more than six months one could argue that he/she could be granted a visa in spite of the immigration violation. Keep in mind that a consular officer in a U.S. Consulate overseas is not within the jurisdiction of the United States and therefore the constitution and laws of the United States do not apply to a this official. Consequently the issuance or non issuance of a visa is entirely at the discretion of that the vice consul. The same principle applies to individuals at inspection areas in international airports in the U.S. Until the time that the beneficiary crosses the line from the inspection area, the beneficiary is still deemed to be in international territory, not the U.S.

- Gopalan Nair is an immigration attorney
based in Fremont, Calif.
|TOP|
CULTURE:

Bhangra by the Bay:
Sun Micro Celebrates India - By Punam Nair

In the global village that is the Bay Area, whether it is Cinco de Mayo or the Chinese New Year, barely a week passes by without an ethnic festival. Now Sun Microsystems has celebrated "Discover India Week." What happened at the fest? Punam Nair reports.

The Sun shone on India in May. It's not the celestial orb we are talking about, but the Indian American-founded IT behemoth in Silicon Valley.

Sun Microsystems celebrated "Discover India Week" during the third week of May at four of its campuses in Cupertino, Menlo Park, Hayward and Palo Alto. The event was open only to its employees.

Inspired by Sun's celebration of Hispanic Heritage Month, Srilu Sitaraman, senior engineer at the Sun campus at Menlo Park, helped in bringing together the Discover India Week at Sun.

The smells and colors of India descended on Sun campuses May 15-19 as employees treated themselves to chaat, had their hands painted in mehndi and vendors hawked a slew of ethnic merchandise ranging from corals, silver jewelry, apparel, pottery, handicraft and even Indian videos and CDs.

For the more culturally inclined, there was a bhangra workshop and a kathak event. Some of the employees joined in the dance performance.

Becky Schmitt, SQE engineer at Sun, loved the mehendi design on her hands, "I've always wanted to do this and since it was free, it was easy way to do it." Schmidt was joined by men like Richard Sears, also an SQE engineer. " I did it to set a trend for all men," said Sears.

"Typically cost is an inhibiting factor; that's why we offered free food and mehendi," said Arun Gupta, co-founder of "Discover India Week."

"Sun has a considerable Indian population and India is a country with diverse cultures and traditions," said Sitaraman. "I felt, and the company agreed, that we should celebrate an Indian week at SUN," added Sitaraman.

A whopping 15 percent of Sun's 32,000 employees worldwide are Indians. Sun was founded by Vinod Khosla, Scott McNealy, Andy Bechtolshein and Bill Joy in 1982. Khosla later left to become a partner at Kleiner Perkins, a top venture capital

firm in Silicon Valley.

After getting the go-ahead from Sun's corporate diversity department and learning that May was Asian Heritage Month, Sitaraman decided to host Discover India Week during the third week of May.

Together with volunteers, both Indian and non-Indian, an Indian affinity group, "Surya," was born to promote the multicultural identity of Sun.

"Someone had a concept and we just built on the idea of India Week," said event co-founder Gupta, a member of the technical staff with Sun at its Cupertino campus. "We wanted to create an awareness of Indian culture at the Sun campuses," said Gupta.

Sandhya Balakrishnan, an independent marketing communications specialist, helped co-ordinate the mela events for SUN. "I think it's really great that a leading Silicon Valley Company is promoting diversity in such a pro-active manner," said Balakrishnan.

Even the Los Angeles government of the India Tourist office and the San Francisco Indian consulate chipped in by donating free caps, T-shirts, envelopes and brochures to promote travel to India.

"The turnout was wonderful," said Gupta. "About 200 people alone came within an hour for the mela which was held at the cafeteria of the Cupertino office," said Gupta. At the Menlo Park campus, the mela was held on the open lawn amidst Sun's huge infrastructure and crowds went estactic when the Gujurati garba folk dancers , from the Sangeet Dance group, brought a burst of joie de vivre with their lively dance movements.

The events were completely funded by Sun as part of its commitment to promoting ethnic diversity.

Based on the tremendous turnout, Sitaraman hopes this becomes an annual event during the month of May. "Discover India week was an overwhelming success," said Sitaraman. "We received tons of e-mail congratulating us on planning and executing the week and requesting we do it again," he said. Some of the emails he received talked said how the "interesting music, dance complexity and physical demands of the gorgeous art form just blew my mind," and lauded the "fun opportunity to get acquainted with Indian culture," he added.

According to Sitaraman, connecting the Indian community within Sun increases networking opportunities and helps retention of employees. "It is also a very easy and convenient way to educate other cultures about the Indian culture."

TECH SERVICES:

ASA Computers
Customized PC Systems - By Gayathri Sreenivasan

From a fairly modest beginning just over 10 years ago, ASA Computers has grown to offer customers dependable, state-of-the-art custom configured PC-based systems, writes Gayathri Sreenivasan.

It all started in a garage. Arvind Bhargava started assembling PCs in 1989. He did not have the marketing clout of the big players, but he more than made up for it in keen, personalized service and a sound understanding of what he was doing.

At least his customers must have thought so because pretty soon the garage became too small and he had to move into an office with three employees.

Nor did it stop there. Today ASA Computers has its very own ASA Development Center and employes 35 people.

"The key to success is a combination of hi-tech flexibility and a close attention to the customer's need," says Ashok Bhargava, vice president of vendor affairs.

"We have many things going for us — We offer multi-platform configurations using Linux, Solaris, BSDI, FreeBSD, OpenBSD or WindowsNT." Bhargava adds that their products are fully tested for compatibility and performance and are matched with on-site support.

"Selecting the right hardware and software is complex," says ASA Computers CEO Arvind Bhargava. "A wrong choice can be quite expensive. That's why we have a lab where customers can test performance and compatibility before investing in a total configuration. We built this lab so that our clients can design systems that suit their needs best."

Arvind says it is this focus on customer needs that has helped ASA Computers get clients among some of the most well known organizations in the U.S. It includes corporate giants like AT&T/Bell Labs, Boeing, Lockheed Martin and Cisco, internet high flyers like Deja.com and Excite@Home, and top schools like Harvard, Stanford and State University of New York.

- Gayathri Sreenivasan is free-lance writer
based in San Mateo, Calif.
AYURVEDA:

Battling Arthritis:
Does Ayurveda Have the Answer? - By Kumar Pati

Arthritis sufferers face a problem: It's hard to find relief without side effects. However, ancient Indian sages might have been on to something says Kumar Pati, who talks about a gummy extract of an Indian tree which has anti-arthritic properties. Ayurveda texts said so 1,500 years ago, and Western scientists today are beginning to agree.

Thanks to an ancient health science, relief without side effects may be at hand for many arthritis sufferers. Contemporary researchers and physicians are validating the findings of medical texts more than 1,500 years old which praise the anti-inflammatory and anti-arthritic uses of the gummy extract. In a series of recent studies conducted at Indian government laboratories, the extract from Boswella serrata was found to be both safe and effective.

There are many medicinal plants of greater therapeutic values mentioned in the old treatment systems of Ayurveda. The two important treatises on Ayurveda, Sushrita Samhita and Charak Samhita describe the anti-rheumatic activity of guggals (gum resins of certain trees), especially of the tree Boswella serrata. Another guggal obtained from Commiphora mukul has been shown to have excellent anti-hyperlipidemic properties.

Boswella is extracted from the gummy exudate of the genus Boswella Roxb (family Burseraceae). Boswella serrata is also known as Dhup or "Indian Olibanum" and is widely distributed in India.

It is a moderate to large branching tree about 12 feet in height and three to four feet in girth, generally found in dry hilly areas of India.

The collection of the gum resin from the Boswella serrata plant is restricted to certain parts of India. The tapping of gum oleo-resin is carried out towards the end of October. A portion of stem bark is scraped, usually six to eight inches wide. The practice generally used is to make transverse incisions in the upper and lower portions is the tree trunk to be exposed and then the bark is peeled off. The gum exudate is collected for the next 10 to 12 days.

The Boswella serrata tree already is a celebrity of sorts. Its oil, called "Indian frankincense," has long been an important ingredient in oriental perfumes. Researchers and clinicians are showing that boswella is indeed potent for inflammatory diseases such as arthritis.

It effectively shrinks inflamed tissue, the underlying cause of pain, by improving the blood supply to the affected area and enhancing the repair of local blood vessels damaged by proliferating inflammation. This ability is attributed to chemical compounds in the gummy extract, scientifically known as boswelic acids.

In one study conducted at the Government Medical College in Jammu, India, nearly 60 percent of arthritic patients tested experienced good to excellent results against stiffness and pain. Over three-quarters of the patients in the study were either bed-ridden or incapacitated from doing normal work. Within two to four weeks after starting on the B. serrata extract, they reported a lessening of morning joint stiffness, pain, and improved grip strength. In another study of 26 patients suffering from arthritic knees, dramatic improvement was experienced within four weeks.

Experimental and clinical usage of boswella indicates it has none of the side effects on blood pressure, heart rate of the gastric irritation and ulcers associated with many anti-inflammatory and anti-arthritic drugs. It is now an approved herbal medicine in India for use against osteoarthritis, rheumatoid arthritis, soft tissue rheumatism, low back pain myositis and fibrositis.

In the United States, physicians are giving boswella high marks for effectiveness. Dr. E. W. McDonagh, a Kansas City physician, has reported success among 350 patients suffering from a variety of advanced muscular and skeletal conditions for which other treatments had failed to help. "Many were taking multiple prescription and non-prescription medication and had developed side effects from them," McDonagh says. "Once taking boswella as prescribed, pain significantly reduced — or even vanished — in two to four weeks' time. All patients were able to eliminate other medication or reduce the dosages significantly."

In Abilene, Joe B. Alexander, M.D. reported "fantastic results" among 20 patients. Among them was a 56-year old woman with arthritis who previously used many medications but said the effect of boswella was the "best of anything she had ever had."

Even veterinarians are putting Boswella serrata to good use. I.L. Jacques, D.V.M., of Seattle, has reported considerable improvement among both cats and dogs suffering from arthritis. Patrick J. Moloney, D.V.M., of Louisville, Ky., found that boswella improved the condition of horses with a variety of chronic soreness and arthritis.

The use of boswella as a medicinal herb springs from the ancient Indian healing tradition known as Ayurveda, which in Sanskrit means "science of life."

- Dr. Kumar Pati, trained both in Western medicine
as well as Ayurvedic medicine, is the
former publisher of Health World magazine.
He owns Best Nutrition Products,
a nutrition company.
SAVINGS:

Endless Summer:
Planning for Retirement - By Ree Mitra

Warm weather, vacations, little league baseball and cookouts – Summer means fun. If you set aside a little time and plan well, you can have a happy summer for the rest of your life, says Ree Mitra.

Summer is now officially here, and warm weather, vacations, little league baseball games and cookouts take center stage, providing plenty of diversions during the warm summer months.

Whether your summer is busier than ever or your plans involve little more than relaxing in a hammock with a glass of sun-brewed iced tea, this halfway point of the year offers a great opportunity to evaluate your investment goals for retirement and how your portfolio is designed to meet them.

Everyone has a different idea of what his or her retirement will hold. Whether it means traveling the world, volunteering time, starting a business or visiting family, your retirement plan should allow you to reach a goal that is important to you and your loved ones.

You have several investment choices to help you seek your ideal retirement. A 401(k) or 403(b) plan through work or an IRA are investment vehicles that can offer tax-advantaged investing, helping you keep more of what you earn while creating a long-term investment plan. Once you have started investing for your retirement, you'll want to evaluate how much risk is acceptable to you. Certain types of investments are inherently more risky than others, but may have the potential for higher returns. Does it make you nervous to see the value of your retirement nest egg fluctuate with changes in the markets? If so, you might be more comfortable in less volatile investments.

In any case you should diversify your portfolio to help safeguard against the inevitable ups and downs in the markets.

A diversified collection of investments can mean much more than owning several mutual funds. If you examine the holdings in your funds and find that they hold many of the same securities, your portfolio may be vulnerable to dips in the markets.

Other factors to consider may be how close to retirement age you are. It is likely that the closer you get to the age when you will need your money, you will want to move portions of your portfolio to more conservative investments.

Once your plan is in place, you should monitor its performance at least annually to ensure that its holdings are still in line with your retirement goals. Life is a long, exciting journey, and your priorities and needs may shift from time to time.

Once your retirement plan is in place, however, you can afford to be patient and let compounding interest work to your favor. Compounding interest, in which your investment earns interest on both the original investment and the gains on that investment, is your retirement plan's best friend over time.

As the saying goes, "Summertime, and the living's easy." By investing diligently in a retirement plan that meets your tolerance to risk and is designed to meet your future goals, you can go a long way toward not only "living easy" this summer, but for many summers to come.

This article is not intended to provide specific advice or recommendations for any individual. Consult a financial advisor.

- Ree Mitra is a financial planner
with LPL Financial Services. He lives in Fremont, Calif.
|TOP|
CULTURE:

Raag Bhopali:
Ode to Nightfall - By Habib Khan

As evening heralds the onset of nightfall, Hindustani music has the perfect raga to match its mood. Raag Bhopali, a tender raga, reflects the meditative change of energy, says sitarist Habib Khan.

Raag Bhopali is a tender raga that is played in the evening at the onset of nightfall. This audav, or five-note raga, reflects the meditative change of energy that evening brings as day dissolves into night. To play or sing this raga at its appropriate time is itself a meditation; when Bhopali is perfectly rendered, no other mantra or puja is necessary.

Belonging to the Kalyan Thaat, Raag Bhopali's scale is Sa Re Ga Pa Dha Sa; on both aroha and avroha, Ma and Ni are absent. Bhopali's vadi sur is Gandhar and samvadi is Dhaivat; and in this Raag, the descent from Dhaivat to Rishab through Pancham and Gandhar is especially touching, reflecting the energy of Shiva, lost in deep meditation.

Bhopali shares its five-note scale with both Raag Des and Raag Jait Kalyan. However, these ragas can be differentiated by their vadi and samvadi surs. It is important to notice, therefore, that a raga is defined by much more than the notes or swaras it contains. The chalan of a raga, or the way the raga moves, is each raga's most important defining characteristic.

In the case of these three ragas, each can be easily identified by its chalan by anyone familiar with Indian classical music. A performer must use great skill and expertise to present these ragas distinctly, however, especially in drut laya or fast tempo.

Several features of these ragas are important in performance. Bhopali is a Purvang raga, while Des is an Uttarang raga. Des, appropriate for morning, uses Dhaivat as vadi and is sung in Bilaval ang. Bhopali, on the other hand, is presented in the evening with Kalyan ang. Bhopali, while sharing certain features with other ragas, presents a unique texture and mood. Its repetition of the movement from Pancham to Gandhar is definitive and eliminates the possibility of Deshkar, another audav raga that shares Bhopali's notes.

While Raag Bhopali requires great care and skilled presentation, its serene and meditative mood is well worth the effort.

- Habib Khan is a well-known sitarist based
in the San Francisco Bay Area.
CONCERT:

An Evening to Remember:
Zakir Hussain and Shankar in Concert

Virtuoso violinist and singer Shankar and Grammy award-winning tabla maestro Zakir Hussain will perform together, presenting a memorable concert in the next month.

Virtuoso violinist Shankar is an international phenomenon. He plays his unique invention — a 10 string stereophonic double violin which was first used in a Phil Collins debut album.

Shankar excels in three categories of musical styles — Indian classical, world music and pop.

The New York Times once described a concert of his as "an absolutely spell-binding performance, the finest this listener has heard."

His numerous solo albums and videos have featured an impressive line-up of guest musicians including Phil Collins, Peter Gabriel, Bruce Springsteen, Yoko Ono and Warren Cuccurullo of the rock group Duran Duran.

Zakir Hussain learned the rudiments of the tabla from his father, the legendary Alla Rakha. Starting as a child prodigy, he grew up to play a pivotal role in bringing the tabla beyond the confines of classical Hindustani music and vastly increasing the popularity of this versatile instrument.

Among the slew of awards that he has won, there is the Grammy which he won in 1991 for the best music album, for his part as a performer, composer and co-producer of Mickey Hart's "Planet Drum."

Shankar and Zakir Hussain. Aug. 20. Mountain View. Info: 925-947-1908.

|TOP|
AUTO REVIEW:





Electric Debut
2000 Honda Insight (Gasoline-Electric Hybrid Coupe) – By Al Auger

The electric car has been largely a fond fantasy of environmentalists. In the real world, where the almighty internal combustion engine rules, the electric car has been more of a political football. Not any more. Al Auger is ecstatic about Honda's new hybrid model.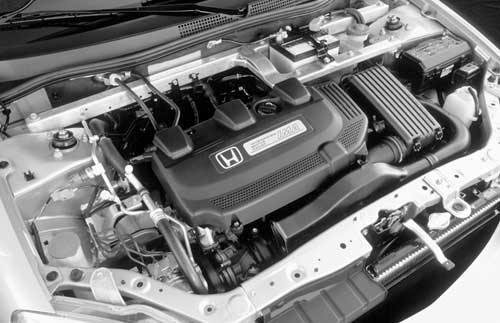 View of the engine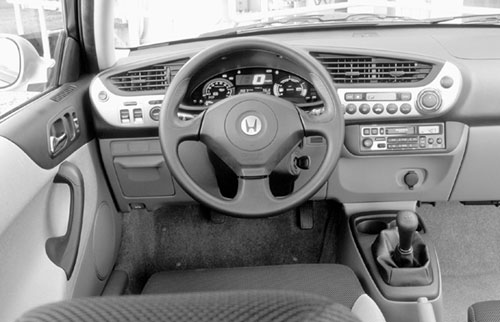 Interior view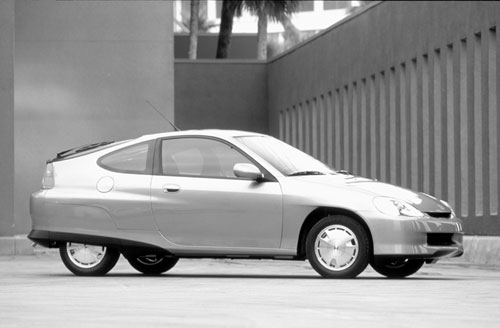 Exterior view of the 2000 Honda ULEV Gasoline-Electric Insight Hybrid Coupe.

The question has always been: Has the auto industry really wanted to make the electric car a viable consumer product? The answer: Probably not.

That, of course, is a mostly subjective conclusion. But, when you consider what the carmakers were up against, the answer came readily. They are expensive, only independent marques can be purchased, the major builders opting to lease to the business community, replacing the battery packs is costly, the owner's 220 electrical system has to be rewired and they are more a political football than a real product.

But, there is definitely a light at the end of the tunnel in the form of the hybrid, a dual-purpose power system that works. And works well.

In this particular case, we are focusing on the 2000 Honda Ultra Low Emission Vehicle Insight. We're also taking a departure from the normal rant, rave and discourse to answer the literally hundreds of technological queries (well, it seems that way) from sidewalk critics, curious friends and frustrated dogs. The Honda Insight is a rolling cornucopia of technology far apart from even today's high-tech marvels.

First off, Honda engineers and designers have downsized many of the traditional automobile's basic features. The Insight is a simple package, with some highly complex-sounding features, mainly designed for a commuter. Seats two, lightweight aluminum body, unique plastic resin muffler and VTEC-E 1.0-liter gasoline engine with Integrated Motor Assist electric motor.

This latter concept is at the heart of the Insight's personality and determination. The IMA system is not a battery powered assist program. It is a basic electric motor that works in tandem with the gasoline engine. The electric motor also acts as the generator for the IMA system and high-speed starter.

The IMA electric motor is purely a support act for the engine, used only when extra power is needed, i.e., climbing hills, accelerating, and when the A/C is in economy mode. The charging of the electric motor does not, as mistakenly thought by most, come from the gasoline engine. It recaptures the energy generated by the forward momentum and braking. The engine even stops running at stoplights and is quickly restarted when the accelerator is pressed. This happens so quickly, you're not even aware of it.

The most oft asked question, of course, is can this little gnat keep up in the traffic environment of today. Definitely, and in a much more aggressive manner than one would expect from a 995cc, 3-cylinder engine rated at only 67 horsepower/73 with electric motor assist. The Insight only weighs 1,800 pounds and the electric motor adds six more horsepower and 25 lb.-ft. of torque to the engine's 66 lb.ft lowering the kick-in revs to 2,000. For those with an electrical engineers' parchment, the IMA electric motor features a permanent magnet, puts out 10 kilowatts of power @ 3,000 rpm and is 60mm wide.

The Insight is quick from a standing start, it's free breathing, 12-valve, SOHC engine easily climbing to freeway speeds helped by the IMA. The Insight can seemingly cruise forever on its 10-gallon tank maintaining a constant 65-MPG average. The EPA estimates the Insight will cost the owner a bounteous $277 a year in fuel cost.

And the Insight is one of more seductive shapes on the road today. Next to the basic technological and mechanical queries, the sexy Insight drew admiring crowds wherever we went. The shape is so smoothly sculpted, with a return to rear fender skirts (dogs hate them), it boasts a 0.25 co-efficient (Cd). Honda has also joined the nostalgia affliction jamming the showrooms today with a return to one of Honda's most loved profile, the CRX, though much racier.

Nor is the Insight penny-squeezed in the area of performance, safety, comfort features and people stuff. Standard equipment includes anti-lock brakes, remote power controls, A/C, sound system, rear-window wiper/washer excellent supportive seating. The Times Square neon-like digital/analog instrumental is a mish-mash of bright lights flitting hither and yon, needles spinning madly and you eyes bouncing all over the display. There isn't much space and the Honda designers have squeezed every kind of telltale graphics into the mix.

I was pleasantly surprised by the performance, handling and just plain jollity of driving the Insight. It's a neat package of transportation, frugality and sauciness. This is but a synopsis of what the Insight represents, for be assured, it is only the foot in the door of some exciting progression in the growth of this new operating philosophy.

Today's Test Drive: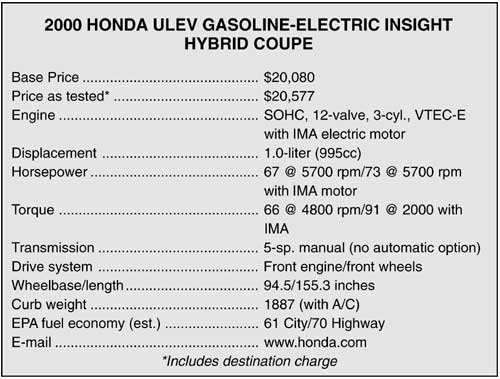 Al Auger, our automotive editor has been writing about cars for over 30 years.
He has spent 20 years as a race driver and public relations specialist.
|TOP|
India Festival 2000: A Curtain Raiser
| Welcome | Miss Universe: Lara Dutta |




Warm Welcome:
Celebrating Mother India - By Biren K. Chowdhary

As August comes, the heart of every Indian warms with affection for the motherland. Biren K. Chowdhary offers a warm welcome to all San Francisco Bay Area residents at the India Festival 2000.

We come from many different parts, from Kashmir to Kanyakumari, we speak many languages, our cuisines vary.

Yet come August, we all feel the tug at our heart-strings that binds us ever closer to our beloved India, no matter how far away we may be physically.

Here in beautiful, sunny California we are gathering in Union City for a weekend of fun and festivities. We will have a grand mela, with food, music, performances and dancing, a health fair where you can get a free check-up and get useful information from some of our distinguished Bay Area Indian-American physicians.

We are delighted to have Miss Universe 2000 Lara Dutta officiate as grand marshal of the parade where you can watch the colorful floats that will highlight the rich diverse culture of the old country.

If you want something more fancy, why not come to our gala banquet where Lara will be in attendance as well?

Or even better, why not volunteer? It's a marvelous of meeting and working with fun, community-spirited people, and you will leave with a great feeling of having made a meaningful contribution.

A lot of volunteers have joined me in putting together this event. It's taken a lot of hard work, but we think it's a small price to pay because we are confident that the mela will bring all of us together in joy and in kinship, and we shall all reaffirm the affectionate bonds of our proud, common heritage.

In our moment of happiness we must remember the less privileged. All net proceeds of the event will benefit the Gujarat Drought Relief Fund.

See you at the mela.

Jai Hind.
- Biren K. Chowdhary is the president
of the executive committee for India Festival 2000
|Return to India Festival 2000 Index| |TOP|

Lara Dutta
Grand Marshal: India Festival 2000

The winsome 22-year-old woman did Indians proud when she edged 78 contestants to win the Miss Universe 2000 title.

On May 12, the youngest daughter of Wing Commander L.K. Dutta and Jennifer Dutta stunned the whole world when she bagged the Miss Universe 2000 title.

Lara Dutta, the grand marshal of India Festival 2000, is more than a pretty face. She has a degree in economics, likes bungee jumping, and was a leading fashion and print model before winning the title.

Now during her 12-month reign, she has made New York her home. And for those who think being Miss Universe is one of the less substantive responsibilities, here's a partial list of her duties:

Traveling the world to promote AIDS HIV awareness


Hosting forums and participating in events as a partner of the Harvard AIDS Institute


Participating in World AIDS Day at the United Nations


Working with Face to Face, an international campaign to increase global awareness of women's rights, specially access to reproductive health care and family planning services


Being a Goodwill Ambassador for the UN Population Fund

This fun-loving woman is close to her older sisters Sabrina and Sherly, and is the beloved sherni of her doting father.
|Return to India Festival 2000 Index| |TOP|
Telugu Film Review:
Charming Slice of Real Life

Ramya Films
SAKHI

Story, Screenplay & Direction: Mani Ratnam
Music: A. R. Rahman
Starring: Madhavan, Shalini and Jaya Sudha
Producer: Madras Talkies

This film starts with Karthik (Madhavan) frantically searching for his wife Santi (Shalini) in a railway station. As the local trains come and leave the suburban station, Kartik remembers his first meeting with Santi and how that blossomed into a meaningful relationship and marriage.

Kartik was an engineering college student, and Santi a medical student living in the same city when they first met. Their love started by observing each other while traveling. When they fall in love, the couple informs their parents to take steps towards their marriage. Since Kartik belongs to a rich family and Santi to a middle class family, there is some friction and egos clash. Santi, a conservative woman, decides to part with Kartik.

But the separated lovers cannot keep away from each other. Finally Kartik and Santi get married at a registrar's office, keeping their parents in the dark. When their parents come to know about this all hell breaks loose. The couple start living on their own, now that they have graduated.

As they start living on their own, small misunderstandings crop up. At one point Santi comes to know that her father is hospitalized. When she asks Kartik to accompany her to the hospital, Kartik refuses, as her father has slapped him in the past. That evening she gets the news that her father has died. Kartik starts feeling uneasy in front of Santi, thinking that he is indirectly responsible for her father's death.

Meanwhile, Santi's suspicions grow when she happens to see Kartik hug the sister of Santi in a public place. The twists that follow are sorted out in the rest of the film

Madhavan, the model-turned-TV actor, plays a hero's role for the first time. Mani Ratnam knows what he wants and Madhavan is the perfect fit. His smile is his strength and Mani Ratnam uses his smile to great effect. Baby Shalini has transformed into Babe Shalini. She looks convincing as a decent middle-class girl next door. The veteran actress plays her role with ease and zest.

The story, though, is very thin. Mani Ratnam is a master craftsman, and he manages, nevertheless, to pull it off.

A.R. Rahman's music in this film has a mix of melodious numbers and masti songs. Special mention should go to Sridhar for extraordinary mixing.

The camera work by P.C. Sreeram is top class. The way he pictured the songs is remarkable.

If you have seen the film Geetanjali, you will like watching Sakhi. If you like sensible films, I recommend this film strongly, for Mani Ratnam has crafted an extremely realistic tale which casts a spell on the viewer by convincing you that you are watching a slice of reality.

|TOP|
Recipe:

Aloo Pastry Puffs – By Sadhana Agarwal
Cutlet Supreme – By Seema Gupta

Vegetarian snacks from North India are easy to prepare and all of us love to eat them. Here are two delicious snacks that you can easily prepare and impress your guests at your next party, suggest Sadhana Agarwal and Seema Gupta.

Aloo Pastry Puffs:

Ingredients

1 pastry sheet (from freezer section in grocery store)

1 medium potato

1/2 tsp. garam masala

1/2 tsp. jeera

3 curry leaves

2 green chillies

One pinch turmeric

1 tsp. corn oil

Salt to taste

Method

Boil the potato, peel and cut it in small pieces. In the frying pan put oil, add curry leaves, jeera, then add potato. Add all the masala and fry for 5-6 minutes. Take the frozen pastry sheets, (allow it to thaw for 20-25 minutes to bring it to room temparature). With the rolling pin roll it a little. Cut the sheet in square pieces. Now take two pieces of pastry sheets and put some mixture (potatoes) between them. Press the two ends of the sheet to lock each other, using some water to make them stick together. Make all puffs with the stuffing. Preheat the oven to 400°F. Bake for 15-20 minutes or till light brown and crispy. Serve this hot as an evening snack or as an appetizer.


Cutlet Supreme:

Ingredients

4 boiled potatoes (mashed)

1 cup chopped french beans

1 cup chopped carrot

1 cup chopped cabbage

Peas and onions optional

1 cup milk

1 tsp. cream

1 tsp. bread crums

1/4 tsp. black pepper

I cup fine vermicilli

Corn oil to fry

Salt to taste

Method

Boil the vegetables in milk. Add salt, pepper, cream, bread crums and mashed potatoes. When it looks like a semi-solid paste, allow it to cool. Shape the paste to form the cutlets. Roll it in fine vermicilli and deep fry in pre-heated corn oil. Serve this hot as an evening snack or as an appetizer.
– Sadhana Agarwal is a homemaker
based in Fremont, Calif.

– Seema Gupta is a homemaker
based in Sunnyvale, Calif.
|TOP|
July-August Horoscope

ARIES (March 21 to April 20): You will be looking for solutions. You will be worried, as no immediate solution will be visible. You will be spending extra hours at work and reap the rewards. Family will go on a trip without you. You will be processing some legal documents also.

TAURUS (April 21 to May 20): You will be making many important financial decisions, only to increase liability. People may cause irritation at work. You will have difficulty in facing enemies. It will be better to seek advice from a matured trustworthy person.

GEMINI (May 21 to June 20): People will just listen to your ideas and act positively. You will be dealing with government officials to fix an important issue. You will communicate with people overseas to organize a vacation. You will make a major change in your financial strategy.

CANCER (June 21 to July 22): You will be planning a vacation. Some of you will start a new project or job soon. You could loose heavily if you speculate. A government department will cause some headaches. Expenses will sky-rocket but will not cause any panic.

LEO (July 23 to August 22): It will be a very profitable week. You will be offered a big deal involving some risks. Influential friends will help and boss will offer a promotion. You will have minor concerns about a child. You will be travelling to a hot area. Watch your food or health will suffer.

VIRGO (August 23 to September 22): There may be disturbance at work but it will pass. Interest in religious activities will increase. Issues related to children will cause some aggravation. You will donate to a political party or invite some influential people.

LIBRA (September 23 to October 22): You will go for a big opportunity offered through old friends. Domestic life will get better and you will get to spend more time at home. Spouse will be spending on unnecessary things. You will dispose off some assets for a profit. People trying to oppose will not succeed.

SCORPIO (October 23 to November 22): Big financial opportunity coming your way. There will be some interesting development in career. Another big offer is on its way. You will hear some good news regarding children also. Do not neglect your health. Take your medication on time.

SAGITTARIUS (November 23 to December 22): A relationship is at risk. Spouse will be ambitious and make big plans. Competition in business will multiply. Some of you will need to start a legal proceeding also to defend yourself. Business trip will be very fruitful.

CAPRICORN (December 22 to January 19): Changes in career will be beneficial. Family may go on a short vacation without you. You will be financially comfortable. Some remodeling at home is also possible. Competition in business will die. You will have spare time.

AQUARIUS (January 20 to February 18): You will take some legal actions. Another vehicle will be added to your existing fleet. Focus will be on a new relationship. A useful trip is possible. You may get an upset stomach as a result of overeating. Money will come through stocks.

PISCES (February 19 to March 20): A major move at work will require a change of residence. You may purchase another business. Spouse will become health conscious. Children will demand more attention. Consult an expert before making any big move.