Publisher's Note
:
As we have repeatedly stated in these columns, our passion is science and technology, with particular reference to how it affects the Indian community and India.
In recent years, India has been a study of stark contrasts. While the whiz kids of IIT take the West by storm, vast millions do not know how to read.

The gung-ho boosters of market magic and globalization forget that every underdeveloped country which has succeeded in making a significant dent in attacking the major challenges of mass poverty and underdevelopment have done this by addressing this issues head on.

It is wonderful that India's best and brightest had access to the world-class IITs and making the world sit up and take notice, but for India as a whole to make progress, it has to deal with basic education and mass poverty seriously. Take one look at nations like South Korea and Taiwan. The tremendous strides of these nations owe more to their ability to bring the fruits of development to its masses than sending their brightest kids to elite institutions.

Technological expertise will not suffice if the underprivileged remain outside India's modernization boom.

This is precisely we are so excited to present this month's cover story. A group of enlightened, engaged citizens have come together under the rubric of a remarkable organization called Vidya Vrikshah, which uses computer tools for mass education. They dismiss the conventional wisdom that poverty and backwardness is intrinsically resistant to high-tech solutions.

Turning this argument on its head, these volunteers argue that the ease of modern technology actually makes it easier to use computers and information technology to address mass illiteracy.

They are a small group, but they have an idea – and the commitment – that could well earn them greatness.

|TOP|

Main Feature

The Tree of Knowledge
Computers for Mass Literacy - By Deepak Goyal

Computers and illiteracy would hardly seem to have anything in common, right? Well, it's exactly the opposite, says a feisty voluntary organization in Chennai, which has joined hands with IIT Chennai to develop computer tools to fight illiteracy. Deepak Goyal explains.

"The Krishna Yajur Veda (Taittiriya Samhita -VI-3.10.5) teaches us that we are all born with three debts: one to the gods, the second to our ancestors and the third to our ancient seers. The last debt is that of knowledge that the seers have bequeathed to us. This teaching implies that our present lives must be used to repay these debts. Our ancient tradition also tells us that the free spread of knowledge is a great way of doing so. The Gita declares (3-12) that one who has received anything from the world but has not given back anything in return, is no more than a thief, and the Sukla Yajur Veda prescribes (XXVI-2) that knowledge must be passed on to all without distinction of sex, caste or race."

— From the mission statement of Vidya Vrikshah

Ohas been unable establish a educational system that can reach the millions who live in abject poverty, and give them the basic education and skills that will enable them to lead lives of fulfillment," N. Krishnaswamy wrote in The Hindu recently. Krishnaswamy, a retired IPS officer, is one of the key organizers of Vidya Vrikshah.

He thinks there are two main reasons for India's failure to address the problem of mass literacy.

"The prevailing bureaucratic or institutional approach to education is so expensive, wasteful and unproductive, that its reach, content and quality have been severely limited," he says. "Secondly, there has been a failure to seriously explore alternative, pragmatic and productive solutions."

In association with IIT Madras, Vidya Vrikshah has developed a software package that enables a computer accept input and display, speak and print output in all major Indian languages and English. For the visually impaired, the output can be in standard Bharati Braille or English Braille. This software package, which enables easy computer usage, is offered free by IIT Madras. It has been developed as a working model by Vidya Vrikshah, which provides training in the use of the software, again free of charge, to volunteer trainers. Vidya Vrikshah hopes that the trainers in turn will themselves will go out and train other volunteers, and through a multiplier effect increase the number of large number of trainers needed to bring computer skills and education to the needy, blind and sighted alike, in Indian languages, free of cost, close to where they live, in all parts of the country.

Dissemination of computer skills to the illiterate is a key aim of Vidya Vrikshah.

"A lot of misconception and misapprehension prevails today, where many simply assume that the computer is an advanced tool and the illiterate cannot start the learning process on a computer," says Krishnaswamy. "But the truth is (that) today computer usage has become so simplified that an illiterate can learn how to use it as easily as he would learn how to weave a mat, or ride cycle or use a telephone.

"The alphabet, numerals and other symbols of a language, and the onward steps of reading, writing and arithmetic, can be interactively learnt on a computer far more speedily and effectively on a computer than with blackboard and chalk or paper and pencil alone.

"This is already being convincingly demonstrated today in many primary schools. Such a start will enable the illiterate of India to leapfrog into a new style and level of illiteracy, relevant to the 21st century."

This is not just idle talk Vidya Vrikshah was founded in 1998 by a few friends. By the end of November the following year the organization had grown drawing home makers, retirees and professionals, demonstrating the amount of social commitment present that is just waiting to be tapped. The organization had also trained 50 volunteers, drawn from Andhra Pradesh, Kerala, Uttar Pradesh, Gujarat as well as Tamil Nadu.

"The software is extremely simple in its operation," Krishnaswamy says. "The ASCII keyboard is used and character mapping on the keyboard is phonetic and is therefore uniform across all Indian languages. The experience at Vidya Vrikshah has established that a person, even without any background knowledge of computers, can be trained as a Trainer in four days, which is the duration adopted for its training course."

The software package is essentially an Editor Program and is available in three Versions : a DOS version, a Windows-95, and an Enhanced Windows-95 version.. All the versions enable creation of text files in an Indian language, as also in English.

Languages can be mixed in input, within a file, and even within the same text line.

The enhancement in the third version is that it is speech enabled for use by the visually handicapped in most Indian languages and also English, with options for speech echo letter by letter, word by word, line by line, or of a whole file. The pitch and speed of speech can be adjusted. The DOS version is carried on a single Floppy Disk and can work even on a PC-XT. The Win-95 version is carried on two floppy disks and can work even on an entry level 486. The Enhanced Win-95 requires 50 MB of hard disk storage for the package, and will work on a Pentium with a speed of 133 MHz of over, with RAM of 32 MB or over, together with a sound card and speakers.

A phonetic code design makes it possible for the package to be extended virtually to any language. The DOS version supports Devanagari (for Hindi and Sanskrit), Gujarati, Bengali, Assamese, Oriya, Punjabi, Tamil, Telugu, Malayalam, Kannada, Grantha, Greek, Hebrew, Japanese and IPA. (The last item is the standard International Phonetic Alphabet for diacritized English representation of non-English text). For want of acceptable fonts, some of the above languages are not yet supported in the Windows versions. Support for the Urdu script is expected shortly. All three versions follow a uniform file format, making the files transportable between all the versions.

Utilities are available to convert an ASCII file to the file formats used by these versions of the Language Editor. Utilities are also available for adopting other popular keyboard layouts and for conversion to or from ISCI file formats used by other Editor Packages. Finally, it must be noted that this software package forms part of a continuing commitment of the IIT Madras to the cause of multi-lingual communication, literacy and education in the country. Though today, its synthesized speech output of the enhanced Windows Version is monotone, it is clear enough and has been hailed as a new dawn by the blind of different language groups in the country, who do not know English.

"In just a year, Vidya Vrikshah has grown from a small move by a few friends into what promises to be a broad social movement, to restore to the home and the individual, the position of a prime mover for social welfare, without leaving this role entirely to governmental or institutional bodies which are effective only up to a point," says an organization statement.

"We need to remember that the family home, the home of the scholar and the forest ashram has comprised the educational establishment of ancient India, and from these arose a system of lofty human values and an extraordinary range and depth of knowledge and skills in the fields of language and literature, religion and philosophy, science and the arts that enriched and sustained Indian society through the millennia."

Interested readers can contact Vidya Vrikshah in the U.S. by calling Krishnan Narasimhan at (919) 467-2114, who can be reached by E-mail at knn@mindspring.com. The organization's Web site is at www.vidyavrikshah.org.

– Deepak Goyal is a freelance writer.
He is based in Kolkata. In assoc. with Chennai Online.
|TOP|
Infotech India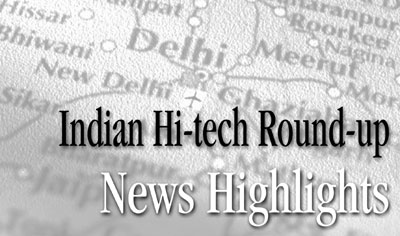 Telemedicine Plan... Philips Targets $1.5B... CNN Tech Show... Two U.S. Firms to be Bought... E-tickets Flop — Here is the latest on information technology from India

Telemedicine Plan

Apollo Telemedicine Enterprises, the Indian Space Research Organisation and Arangonda Apollo Medical and Educational Research Foundation are negotiating to set up a satellite-based communication system.

Initially, this project will establish a network and extend super-specialty consultancy from Apollo Hospitals, Chennai, to Aragonda Apollo Hospital, ISRO hospital at Sriharikota and ISRO Health Center at Bangalore.

Apollo Hospitals and ISRO envisage extending this association to a nationwide telemedicine network and to group hospitals outside India to deliver quality healthcare to anyone, anywhere and at any time.

Telemedicine has the potential to address the healthcare needs of the poor, particularly in the rural areas.

The group is embarking on establishing a nationwide satellite-based telecommunication network to provide and support health care, a press release said.

The maiden venture of Apollo Group in telemedicine is the Aragonda telemedicine project, which US President Bill Clinton saw during his visit to India.

This project serves a population of 50,000 in Aragonda and surrounding villages and has the infrastructure to scan, convert and send data to Apollo Hospitals in Chennai and Hyderabad.

President Clinton was impressed and commended Apollo Hospitals and its chairman Dr. P.C. Reddy.

ISRO, with its expertise in satellite communications, and Apollo Hospitals group are jointly developing and executing the satellite-based telemedicine communication model.

Citadel Health Limited and the Apollo group's bio-medical team have developed the technology used for the model project.

The pilot project will focus on:

Remote consultation, where doctors at the three centers can request and receive opinions from a super-specialist/ expert from Apollo Hospitals in Chennai;


Second opinion, when specialist can seek the opinion of a super-specialist at Apollo Hospitals in Chennai to get accurate diagnosis or to provide the right treatment at the right time;


Home care, where medical peripherals like trans-telephonic ECG will enable users to cut down travel costs and avoid risking strenuous journeys. The patient will get the benefit of remote monitoring and remote diagnosis;


Public and health worker education, where the public can be educated and made aware of health-related issues; and


Database and interactive modules, where interactive modules between general practitioners and tele-consultants will be designed and a healthcare database will be developed.

Apollo Hospitals will provide free second opinion from specialist consultations, a license to use telemedicine software for this project only, provide trans-telephonic ECG free of cost and provide videoconferencing equipment at Chennai and Aragonda.
|Back to Infotech Index| |TOP|

Philips Targets $1.5B

Bangalore-based Philips Software Center, a 100 percent subsidiary of the Netherlands' Royal Philips Electronics, has set a target of crossing $1.5 billion by next year.

PSC CEO Bob Hoekstra said though the company was set up only in 1996, it had shown impressive growth, adding more product divisions as well as manpower. This year's revenue was likely to cross $1.2 billion, he added.

On the company's future plans, he said it would forge a tie-up with the Indian Institute of Technology at New Delhi and collaborate with the Indian Institute of Sciences for research activities.

Philips Semiconductors president and CEO Arthur Van Der Poel inaugurated a state-of-the-art facility at the PSC.

The new Rs. 1 billion structure, revolved round the theme of environment, with each floor addressing issues like water to health
|Back to Infotech Index| |TOP|

CNN Tech Show

Global broadcast media giant CNN Nov. 12 launched two new locally produced shows for South Asian viewers.

The first, CNN Indiadotcom, is a weekly programme covering every aspect of information technology and is presented by Anish Trivedi.

The other show, dubbed Style South Asia, is hosted by eminent danseuse Mallika Sarabhai and will showcase the best of lifestyles, art, architecture, food fashion and personalities from India and across the subcontinent.

CNN Indiadotcom will look into the industry and how it affects both corporate and personal lives and bring expert opinions, interviews and the latest news on this rapidly growing industry.
|Back to Infotech Index| |TOP|

Two U.S. Firms to be Bought

Chennai-based Soffia Software will acquire two IT firms in the United States soon at an estimated cost of $6-10 million.

According to Venkata Subramani, managing director of the firm, the acquisitions are being made under supervision and advice from consulting firm KPMG.

The firms will be acquired either through exchange of equity shares or by stock and cash.

Subramani was talking to reporters Nov. 15 in Mumbai .
|Back to Infotech Index| |TOP|

E-tickets Flop

The film was new, the theater was new, and the new booking technique through Internet had netted 100 booked seats, but hardly 20 people showed up.

Typical scenarios like this are being repeated across cinemas in the Madhya Pradesh capital Bhopal.

The plan had gone awry because some people used it to have some fun at the theater's expense. As Internet bookings have to be kept till at least half an hour before the counter closes, no-shows of "internet mischief mongers" hurts revenue, he added.

For the time being, over-the-counter seems to be the best bet. Says Mohini, a college student, "After going to the Web site, I was disappointed to know that there were no tickets for next few days. However, I got the tickets when I reached the picture hall."
|Back to Infotech Index| |TOP|

eBUSINESS

ThinkIndia Joins Rediff
A Marriage Made in Silicon Valley – By Sonali Pinto

A U.S.-based Web site geared towards Indian Americans has tied up with one of the most well-known providers of Internet content in India, writes Sonali Pinto.

One of the leading Web sites in India. Rediff.com recently announced an agreement to acquire a thinkIndia.com, a privately held, U.S.-based Web site focusing on Indians in the U.S. ThinkIndia.com is now a wholly -owned subsidiary of Rediff.com India, named Rediff.com Inc.

"It is our mission to make Rediff.com the online portal of choice for Indians worldwide. We will do this by helping all Indians living outside India connect with their community, both in India and in the countries where they live. This merger is the first step towards accomplishing the greater objective," Rediff.com India CEO Ajit Balakrishnan said.

ThinkIndia.com was founded by Gopal Krishna along with co-founders Gaurav Dalmia, an Indian entrepreneur, and Sandy Rekhi, a former executive at Oracle, and backed by North American venture capitalists and several Indian American angel investors.

Rediff.com will customize its content, services and marketplace offerings for the Indian community in the U.S. through dedicated pages for Indians living in major U.S. metropolitan areas such as the San Francisco Bay area, Los Angeles, Chicago, the greater Washington D.C. area, New York, Jersey area and Houston. The web site's city pages are a resource designed to provide users with information they need to connect with their local Indian community on topics such as local Indian news, events, movies, restaurants and Indian business directories.

"Joining forces with Rediff.com will allow us to accelerate the growth and development of our customized content, product and services which are uniquely designed to meet the lifestyle and needs of the Indian community living in the United States. We look forward to the opportunity of establishing Rediff.com as the leading portal for the Indian community in the United States," said Gopal Krishna, CEO and co-founder of thinkIndia.com.

Founded in 1996, Rediff.com India is one of the leading Internet portals, focusing on India and the global Indian community. Currently, Rediff.com's web site consists of interest-specific channels, extensive community features, local language editions, sophisticated search capabilities and online shopping. Rediff.com also provides users extensive Internet community offerings, which include e-mail, chat, instant messaging and personal homepages, all tailored to Indian interests.

Sonali Pinto is a freelance author
based in San Carlos, Calif.
|TOP|
BUSINESS:

What it Takes:
SIPA's Start-up Showcase - By Bobby Sharma

It's no longer easy to be a dot-com millionaire. If you want to start something in your garage and think you will be richer than Bill Gates someday, you better do some homework. Start-up whiz Naren Bakshi recently gave a pep talk to members of the Silicon Valley Indian Professionals Association. Bobby Sharma reports.

The Silicon Valley Indian Professional Association recently hosted a startup showcase. The key speaker for Dr. Naren Bakshi, founder of Xpede and Versata. Over a hundred people attended the meeting held in Cupertino, Calif.

Bakshi talked about the key choices that people today have when it comes to joining a startup. He feels that today people have many choices. What choice one makes is dependent on how much risk one is willing to take and your personal lifestyle.

He said had worked for 20 years in big companies, including Standard Oil, BP, Ameritrust, and TRW. He had always worked in IT, but in many different industries. It goes on to show that any one person can have many different careers in a lifetime.

He said startups take place anywhere. A lot of them begin in somebody's garage, or their spare bedroom, or where one is working.

He said every startup should ask the following questions: What is the business model of the startup? How much cash is in the bank? What is the burn rate? When an individual is getting ready to join a startup, it is alright and acceptable for the individual to ask these questions to the company and should accept an answer.

When assessing a startup, one needs to understand the need for structure. It is usually a question of structure versus responsibilities. When assessing a startup, clearly understand the role that you want to play.

Entrepreneurship is not about "power" or a "permanent job". It is about creating value from nothing. If you succeed, then you have:

Innovation to your credit

Fame

Personal satisfaction

Financial independence

Social entrepreneurship

He gave an example how once Versata succeeded, it spawned other successes.

What does it take to succeed? Bakshi says it takes the following:

Passion

Persistence

People (who can create successful teams)

Pragmatism

Profitability

He then went on to describe how the 5P's worked for Versata.

To be a successful entrepreneur, in addition to the aforementioned five P's you need to have a clear-cut goal, a good sense of timing, be able to produce an outcome and have the experience to manage the show, Bakshi stressed, Above all it is a journey, he stressed.

SIPA organized its Annual Event at the Santa Clara Marriott in October. Over 250 people were present at the event, which featured some very prominent Silicon Valley insiders.
- Bobby Sharma works for WebEx Communications,
a Silicon Valley start-up.
LAW:
B Visa: For Visitors Only – By Gopalan Nair

Not all Indians dream of a Green Card. Some just want to visit or come for business. How should they go about trying to get a visa? Attorney Gopalan Nair gives an overview of the visa that suits them best, including conditions prospective visitors have to fulfill to get the visa.

Not all visitors who arrive in this country enter to immigrate. As the size of the community grows, many Indian Americans have a large group of friends and relatives in the old country who might want to visit the United States. The B visa is for them.

The B visa is of two kinds: B1 or B2. These are either business visitor's (B1) visa or a visa for visitors for pleasure (B2).


General requirements for a B Visa are:

The applicant must have a residence in a foreign country. This need not be his own home but it must, in fact, be an actual dwelling place.


It must be shown by compelling circumstances that he has no intention of abandoning his residence


The applicant must show that the trip to the U.S. is for business or pleasure. Thc maximum initial admission is for one year with six-month increments available on application.

The Visa applicant must show his intention to depart the U.S. on or before the expiration of his stay. He/ she must show strong employment, family or social ties to his/ her residence abroad or all of the above. The U.S. Consulate may require the posting of a bond with the district director, INS, at the U.S. port of entry as a precondition to issue the Visa The applicant has also to show that he/ she has a valid passport with at least further six months validity, and proof that he will be re-admitted to his home country after the U.S. visit. The applicant must also show proof of sufficient financial means to maintain himself while in the U.S.

The B visa holder may be granted a one time entry visa or a visa for multiple entry up to 10 years. This does not mean that a person with a 10-year visa can live in the U.S. for ten years as a visitor. His duration of stay in the U.S. each time is dependent on the allowed time given to him at the U.S. port of entry, through a document known as the 1-94.

It is not possible for a multiple entry ten-year visa holder to live in the U.S. pennanently by departing ßthe U.S every six months and re-entering. The officer will monitor the pattern of the travel of the applicant at the U. S. port of entry, applying a subjective test to see whether the person is actually a real visitor. If shown otherwise, the visa will be canceled and the person ordered to return.

B1 Visa —The B1 visa is for business visitors. The visa holder may engage in U.S. commercial transactions not involving gainful employment such as negotiating contracts, litigation, and consulting with clients or business associates. The visa holder may study if it is part of work or recreational activities. He/ she can participate in scientific educational, professional, religious or business conventions. Religious workers are legitimate candidates for the B visa if they come only to proselytize without receiving donations and income in the U. S. It is also alright if the religious worker is paid entirely from abroad.

B2 Visa — The B2 visa holder is a visitor for pleasure. He/ she may visit friends and relatives, seek health treatment, participate in conventions, participate in musical events with no remuneration. He/ she may be a dependent of U.S. Armed Forces personnel, may accompany B1 aliens, and may come to the U.S. to marry but depart before reentry permanently, he/ she may be a non-spousce partner of an E, H, or L visa holder, he/ she may be a language student of short duration.

Procedure — B visa applicants should apply through the U.S. consulate abroad that handles non-immigrant visas. There may or may not be an interview before issuance ofthe visa depending on the strength of the visa application.

Let me end with a funny anecdote. One day a person walked into my office and asked if he could apply for a visa to stay here. I went through the usual questions about whether he had relatives in the U.S., his education, his financial resources, etc. I discovered that he did not fit any visa category and told him so. He had a sense of humor. Before walking out, he said that perhaps he could get a Mastercard or American Express is no Visa is available!

– Gopalan Nair is an immigration attorney
based in Fremont, Calif.

|TOP|
CONFERENCE:

SBIT 2000:
Bangladesh in Silicon Valley

There is more to Bangladesh than cyclones and political unrest. Expat Bangla residents in the Bay Area hosted an IT meet that brought together Silicon Valley honchos, Bangladeshi government officials and experts, and budding Bangladeshi IT entrepreneurs.

The South Asian business community in Silicon Valley joined forces to organize SBIT2000, a conference focused on Information Technology held Nov. 11-12 at the Santa Clara Marriott.This conference presented a unique networking opportunity for the successful entrepreneurs and business leaders of Silicon Valley, and the emerging breed of IT professionals and entrepreneurs of South Asia.

US high-tech companies have successfully leveraged the vast pool of talent from overseas, particularly from India by setting up satellite offices and outsourcing to that region. This practice has helped the industry take giant leaps in productivity, cost efficiency and time-to-market.

SBIT2000 presented a unique opportunity to Silicon Valley companies, investors and educators to invest in the future by discovering new frontiers of potential growth. For the visiting participants from Bangladesh, India, Pakistan, and Sri Lanka it is an opportunity to share, and promote the undiscovered gems of South Asia.

"This business focused conference will bring together successful business leaders, entrepreneurs and venture capitalists from the U.S. and the South Asian countries to create business opportunities", said Shaukat Shamim of Yahoo!, one of the conference organizers.

"This was the first conference that brings together the potential capabilities, issues and success stories of software development in South Asia. I was happy to participate in it and found it to be a great opportunity to learn and foster business relationships," said Prem Jain, VP/GM Enterprise Line of Business, Cisco Systems.

This business-focused conference will brought together successful business leaders, entrepreneurs and venture capitalists from the U.S. and South Asian countries to create business opportunities. SBIT2000 will enable North American companies, investors, entrepreneurs, and educators to discover new possibilities in IT outsourcing.

Silicon Bangla IT 2000 was organized by the American Association of Bangladeshi Engineers and Architects, Silicon Valley chapter.

|TOP|
FINANCE:

Saving for College:
Financial Tips for Parents – By Ree Mitra

So you want to save for your kid's college. Don't know how to go about it? Financial planner Ree Mitra says not to worry, because there is a state program that might make your life a lot easier.

Families looking to put a child through college can face a dilemma when investing for future higher education expenses. Traditional college planning options offer tax-advantaged investing, but allow the child to legally access the funds at age 18 or 21. Parents or grandparents who choose to retain control of their college funds generally give up tax advantages in doing so.

This often difficult choice stems from the fact that most families' goal is to provide children with access to a quality education, not a no-strings-attached cash windfall upon reaching the age of majority. Fortunately, the Qualified State Tuition Program, or 529 plan, allows not only tax-deferred growth for college investing, but offers control over assets and flexibility with how the funds are used and by whom.

The 529 plan, named for the section of the 1996 Internal Revenue Code that created it, is a state-sponsored investment vehicle. Most states feature some variation of the 529, and not all states require residency to invest in that state's plan. This allows the potential to shop around for the best plan.

The state plans come in two basic versions, of which states may offer one or both. The first and more conservative option is a pre-paid tuition plan, which offers a fixed return on the money saved in the plan based on the level of inflation for in-state college expenses. The money can be also used for out-of-state schools.

The other option is a college savings plan, in which the fund's performance is based on that of its underlying investments. Depending on the state's plan, investment options such as equities and fixed income are available, providing the opportunity to outperform the inflation of college costs.

One of the many significant benefits of the 529 plan is control. Owners of a 529 can name a beneficiary of the account, yet retain control of the assets until death. They can also control the distribution of qualified withdrawals to the plan's beneficiary, which may be used for college at any time. Funds are taxed at the beneficiary's marginal income tax rate, which as a full-time student usually falls within a lower tax bracket than the owner's. Owners can also designate a new beneficiary, so long as that person is within the immediate family of the original beneficiary. In other words, a sibling of the original beneficiary would be eligible to receive transferred funds; a cousin would not.

There are many other significant benefits of a 529 plan. These are just a few that may appeal to college savers:

Earnings may grow tax-deferred until used for qualifying higher education expenses. These expenses include tuition, fees, books, equipment and supplies. Room and board expenses may also qualify if the student meets certain criteria.


If the beneficiary receives a scholarship, funds in the plan can be withdrawn without penalty, passed on to a beneficiary's immediate family member or left alone for graduate school. Should the beneficiary pass away or become disabled, withdrawn funds are not penalized but are taxed to the owner.


Owners of 529 plans may withdraw assets for their own personal use. However, non-qualified withdrawals are subject to income tax, and gains in the fund are subject to a minimum 10 percent penalty. So in other words, even if funds are withdrawn for non-educational purposes, the original contribution to the plan plus 90 percent of the gains is available to the owner on a tax-deferred basis.

As with any financial plan, the 529 plan may not be right for everyone. But as a flexible, tax-deferred college planning tool, this plan is definitely worth a look.

This article is not intended to provide specific advice or recommendations for any individual. Consult your financial adviser, attorney, accountant or tax adviser with questions. Ree Mitra can be reached at reeshava.mitra@lpl.com

– Ree Mitra is a financial planner.
He lives in Fremont, Calif.

|TOP|

PHOTOGRAPHY:

Sunset off a Window
A Photographer's Journal – By Arun Chauhan

Images attract us, and no wonder we want to preserve them with the numerous photographs that we take. But favorite topics can get hackneyed with overuse, and a good way to change it is to think differently, says Arun Chauhan.




It was the late '70s. Instead of being self-employed like I am now, I had a job. I used to return home at about midnight every day and my favorite pastime used to be a couple of hours of midnight TV. It was at that time that I saw a wonderful movie on PBS. It talked about how the brains of an artist or painter are actually physically different.

I found it hard to believe, but the story stayed in my mind for a long time. Recently the Apple Computers' campaign reminded me of the movie. So here is an example of thinking differently.

Most of us own cameras and use it regularly. All of us at one time or another go and visit a beach. In the evening we point our cameras right at the sunset and take a picture of another beautiful and gorgeous sunset. I jokingly tell my wife if it were not for the sunsets she would be my most photographed subject on earth.

Yet a sunset photograph does not have to be cliched. Along with this article are two pictures we took in Pacifica, the coastal city of Northern California.

I knelt down and took the first photo. I knelt down in front of a really annoying fence (from a photographer's perspective, of course) and look what it did to the picture.

But on the same evening, same place, I turned around and shot the same sunset as it was reflected on an apartment window and this time around, of course, I was able to get my beautiful sunset, unencumbered by the obtrusive fence.

I think Apple has a point. Sometimes you do discover something new and fresh when you think differently.

Not to be willing to challenge conventional thinking is to remain limited, and it can be a sad handicap, which can be a big obstacle to unleashing your creativity.

Take our good family friend Arunjee. He used to say, "I love taking pictures of flowers." And he really did. One day I was able to look at his selection. I could tell that he loved flowers and his camera. Every single picture was very sharp but also from exactly the same angle and the lighting was also exactly the same.

I had the tact to keep my mouth shut, thank heavens, but the question loomed in my mind for a long time. Could he have used a diffusing filter, change the lighting or the angle in some of the pictures?

We had another great friend who loved his camera equipment and it was very expensive.

His pictures were technically excellent, always very sharp and crisp. However, he appears to have reached a plateau. He was never able to use his camera as a creative tool, I sadly felt. Like an Indian painter who used brushes imported from England but never created a painting as he was afraid he might damage the brushes, he was hobbled by the fear of damaging his camera.

Recently I took some web designing classes. Our instructor always told us: "I can explain art. I can tell you the nuts and bolts of it, but your art can be developed only by yourself."

Perhaps the courage to be adventurous, to think differently can help us unleash our creative potential. I learned that lesson when I took a photograph of a California sunset off an apartment window.

These pictures were shot by a Nikon F3. Film used was Extachrome 64 ISO.Normal 55 mm lens.

– Arun Chauhan is an amateur photographer.
He presents "Saaz Aur Awaaz," a popular
Bay Area Indian radio show.

|TOP|
PHOTO FEATURE:

Diwali Festival Celebrations:
Paramount's Great America – By Subhash Bagga

History was created Oct. 14 when the Indian American community celebrated Diwali at Paramount's Great America, the first time Diwali has been celebrated in a North American amusement park. Here are a few glimpses.


|TOP|
CULTURE:

Breeze from Tamil Nadu:
New Tamil Magazine – By Ashok Subramaniam

It gives us, the editorial team, an immense pleasure to launch a new monthly magazine in Tamil named Thendral (Breeze) for our expanding Tamil population in the Bay Area and North America. We dedicate this magazine to the many pioneers of Tamil community whose accomplishments in all walks of life have contributed to the overall quality of life to everyone.

We also believe that the time is ripe for ethnic magazines to blossom and thrive in our communities and we are sure that through these publications, our culture, our prosperity, our literature, our issues and above all our rich and varied experiences will be shared among the thousands of our own and respective ethnic groups.

After all the country of our choice for living is a salad bowl. The richness and health of this society actually lies in the diversity that is has promoted and brought in. The diversity and the amalgamation of thoughts, experiences are essential ingredients to continued vibrancy in our innovativeness. After all, who can refute that we all (at least most of us) still think in our respective tongues and translate most of the times?

Some of you may wonder, why do we need a printed ethnic magazine when the entire universe it moving towards intergalactic medium of communication aka Web? Frankly, do you think and believe that you get the same intimacy in reading and enjoying a book when you move and meander through Web pages?

We bring this issue out to you with the cooperation of Chennai, India based Chennai Online and their Tamil literary web magazine Aaraamthinai and locally with the technical and logistic help from the folks that bring you a different type of monthly, Siliconeer.

Who wants to pay for breeze after all? It is fresh and free. So is our magazine. You will have this magazine available to you through local Indian groceries and video stores and restaurants.

Our monthly issue covers news compilations from India, analyses of matters that matter to all of us, Tamil crossword puzzles, poems, short stories, interviews with famous personalities, sections for children, interesting usage of the language, food court and many such interesting stuff.

Prudence and Providence are two things that we put our faith in to carry us through this effort and we realize that readers like you are the ones that will give us your vote of confidence to make this a successful venture.

We solicit your active involvement through your expert opinions as well as expressions of creativity to make this a true community effort that will be another milestone in our journey towards the new millennium.

Auto Review: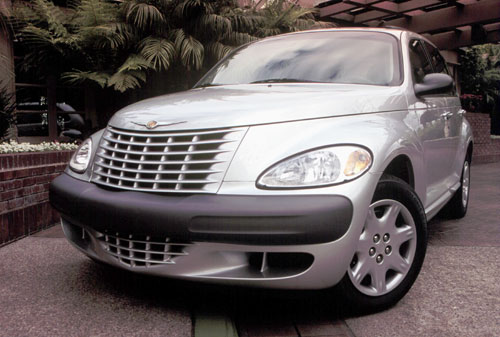 A Lot More Than Nostalgia
2000 PT Cruiser – By Al Auger

Wait a minute, is this a car that has just popped out of a Dick Tracy comic strip? Not quite, says auto critic Al Auger, who waxes eloquent over the canny Chrysler car which is a hip blend of nostalgia and modern creature comforts which effortlessly crosses the generation gap.

"Certain designs are so alien you just don't want to hug them. One of the things we were trying to get across is that the PT is a little fun, a little huggable, something you can sidle up to that isn't going to bite you."

— Tom Gale, executive vice president
Development and Design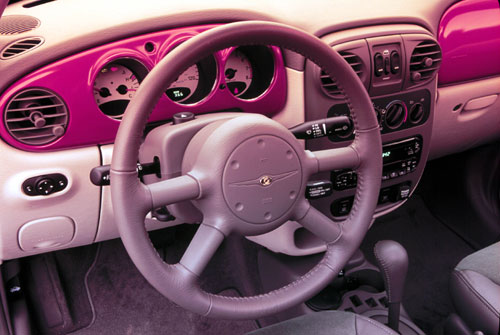 The 2000 Chrysler PT Cruiser is all of that and a lot more. Just spend one day cruising the town and you will see what Gale was talking about. The most interesting fact about the PT is it crosses the generation gap so smoothly you don't even notice. Everyone from pubescent teeners to senior citizens smile, give the thumbs up and want to know all about it.

Everything about the PT is non-traditional, including its soft-core nostalgia factor. The PT is a sedan, the PT is a station wagon, the PT is a hatchback, the PT is a remake of the late 1930's Chrysler Airflow, then itself a radical machine. The transition from concept car to showroom car has diluted the nostalgia somewhat, but it is still there.

Inside, the designer seemed to have locked the studio door and partied their way to a truly unique, no holds-barred piece of motoring work. There were no parameters holding them back. According to Chrysler designers there are 26 different configurations that can be made to the interior. With the rear seats and the passenger seat folded flat, items up to 8-feet long can be carried. Need more room? Remove the rear seats completely, a simple maneuver helped by the rollaway wheels on each seat. With the full-width hatchback cover and low floor, loading the PT is slick and easy.

Nostalgia and radicalism aside, the interior and platform connections are totally modern. Insofar as the flavor of the week is concerned, we are surrounded by plush, posh and plenty. Our Limited Edition featured optional leather amongst a long menu of personal and performance equipment (Customer Preferred Package 28G – $4,580). Other people stuff included folding passenger seat, power remotes, heated outside mirrors, cruise, moonroof, etc.

Outstanding is the large, easy to reach and operate center console with air conditioning, sound system controls window remotes. It dominates the cluster array that is augmented by round dials with sharp contrasting graphics and background. The PT is a comfortable car to drive ably abetted by the excellent seating with thigh and side bolsters.

Performance-wise, the Limited was optionally packed with a touring suspension system, 16-inch aluminum wheels and fat touring tires, anti-lock brakes with traction control and 4-speed automatic transmission. If you're really into nostalgia, the manual transmission comes with a cue-ball shifter. The biggest weak link is the 4-cylinder, 2.4-liter, 16-valve, DOHC engine that, on paper, seems more than adequate for the sophisticated handling. Once up in the higher rev numbers, the PT cruises with the best (hence the name). Off the line the PT has but a momentary lull before the revs kick in. Like the platform and suspension, the engine is also based on the well-proven Neon series. The PT is heavy (3200 lbs. curb weight), but surprisingly perky when the right foot pounds the pedal.

That said, the 2000 Chrysler PT Cruiser is enjoying a waiting list wherever it is offered for sale. As far away as Eureka, the local Chrysler dealer has a list of 110 anxious hopefuls waiting for delivery.

Driving the PT Cruiser is like being in a four-wheel time warp. Open the windows, kick up the sound on the Woody Herman Thundering Herd CD, and wait for the smiles, the waves, and the questions.

Today's Test Drive: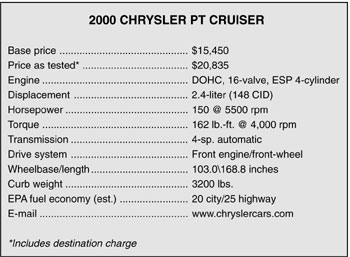 Al Auger, our automotive editor has been writing about cars for over 30 years.
He has spent 20 years as a race driver and public relations specialist.
|TOP|
Bollywood: | Guftugu | Hindi Film Review |

Guftugu

Good News at Last

Poor Aishwarya and Tabu can smile at last. Their film Kandukondein Kandukondein has at last found admirers. But it had to travel all the way to good old England for that.

No less a newspaper than the London Guardian chose the Rajiv Menon film as one of 12 top picks in the London festival where it was recently one of 270 films from all over the world.

Now you can be cynical and say well, would that have anything to do with the fact that the film is based on Jane Austen's famous Victorian novel of manners "Sense and Sensibility?" You could also smirk and say it's just a case of the Brits getting mushy with their good ex-colonial subjects.

Well lighten up, and try to look at the bright side – Why is it so implausible that a Brit audience can appreciate an Indian film purely on its merits? I'll grant you that Menon is no Satyajit Ray, but having said that, the old master Ray used to repeatedly cast a spell on those snooty Europeans with his films, did he not?
|Return to Bollywood Index| |TOP|

Bubbling with Joy

Each of them is a bubbly effervescent woman who lights up the screen. So it's no surprise that they are such dear friends. In parties they frolic together, and no wonder. Rani Mukerjee and Preity Zinta have a great deal to be happy about.

Their film Har Dil Jo Pyar Karega has been a huge success, in no small measure because with this two fun-loving outgoing women projected their real life personalities to super effect, cavorting in hip clothes and driving jazzy cars.

Expect more of the same, given Bollywood's habit of getting into a mad rush to stuff films copycat roles to squeeze the moolah out of anything that clicks with the audience. Rani is doing Chori Chori and Preity and Rani are both doing Chori Chori Chupke Chupke and both films feature beefcake hero Salman Khan.

Both of them love to work with Salman, and who are we to quibble with that?
|Return to Bollywood Index| |TOP|

Heartthrob Hrithik

Hrithik is on a roll. Bollywood is going bananas over the new wonderboy and even Hollywood is courting him. He has just been signed on for a big banner when Rajshri films signed him for Deewana Tumhare Prem Ka.

The heroine is still undecided, and it's still not clear that a gaggle of stars won't clutter the credits with half of Bollywood showing up in the cast.

We can bet nothing will change the fact that Hrithik will steal the show, no matter how many film stars are stuffed into the film.

With lots of music, and heartthob Hrithik dancing like a dream, it seems safe to bet that the pulses of teenage women are already racing. Come to that, maybe their moms are not so immune, either.
|Return to Bollywood Index| |TOP|

Kapoor Thing

She is blue eyed and sexy. She is also the reigning queen of Bollywood. Wanna date her?

Perish the thought. Even film makers can't get dates out of the ruling queen of Bollywood, Karisma Kapoor. Take director Kamal, who had to get a new heroine instead of her in Rahe Na Rahe Hum, which also has Ajay Devgan.

Sis Kareena is not far behind, though she has only just begun in Bollywood. She debuted with the recently released Refugee, and has had to turn down Lalit Kapoor and Raju Nirula's Chori Chori.

Apparently little sis is also being inundated with offers.

I suppose it's a Kapoor thing. Trends come and go and films may fall in a row, but the Kapoor mystique? That is as permanent as the North Star.
|Return to Bollywood Index| |TOP|

Two Intervals? No

A rumor was making the rounds, but now Mohabbatein is out and whizkid director Aditya Chopra is basking in the praise.

But there's also something odd. Remember all that buzz about the film being so long it had two intervals? Well, guess what? It turns out there was only one interval, after all. The Chopras have said they chopped off 10 minutes off the final print, but that only makes the whole thing curioser.

You see, 10 minutes is not enough to change the film from a two-interval film to a one-interval one. So we still don't know if everybody is actually hushing up the fact that the film had been drastically cut to fit the conventional film format. And we are back to square one, speculating on a rumor who no one will deny or confirm.
|Return to Bollywood Index| |TOP|

Shhh!

You would think Bollywood's film makers think publicity is a great thing. After all, the more people know about a film, the more they will want to see it.

Well, think again. Now some film makers launch a new film, completely hush-hush with a chosen few, and then chase reporters away from the sets. Abhishek's new film with Aishwarya Rai Kuch Na Kaho, is aptly named. Mum's the word as far as the Sippy family is concerned. They won't say a word about the film now.

Well Aishwarya and Abhishek were a fetching pair in Raj Kanwar's Dhai Akshar Prem Ka, but the film sunk like a stone. The two get along well, and you can bet your last dime that Abhishek is hoping that rubs off on screen and gets him off the tight corner.

Until then, Kuch Na Kaho.
|Return to Bollywood Index| |TOP|

Anupam's TV Show

Not Madhuri Dixit, Not Paresh Rawal, it's Anupam Kher. Who would have thought?

The talented actor is hosting the much publicized Sawaal Dus Crore Ka on Zee TV. The channel is banking on the star's charisma as it tries to lock horns with STAR TV's runaway hit game show Kaun Banega Crorepati'

Speculation and hype surrounded the show, which offers Rs. 10 crore in prize money, but Kher is calm and gracious, and has said he admires the Big B for his tremendous presence.
|Return to Bollywood Index| |TOP|


Hindi Film Review
Mission Not Acomplished

MISSION KASHMIR

Director: Vidhu Vinod Chopra
Music: Shanker, Ehsan, Loy
Starring: Hrithik Roshan, Preity Zinta, Sanjay Dutt, Jackie Shroff and Sonali Kulkarni

Vidhu Vinod Chopra's Mission Kashmir sustains interest for the most part, but loses out on overall appeal, something the plot could ill afford. There are different strains of thought running throughout the movie, which keep overlapping, resulting in no tangible objective. The movie stresses on militancy in the valley, then it shifts focus to the relationship between a boy and his foster father; and somewhere in between it tries to squeeze in a romantic side to the protagonist. The relatively misleading title doesn't help much either. Despite Chopra's best efforts, the movie fails in whatever mission it set out to achieve.

Inayat Khan (Sanjay Dutt) is a law-abiding officer who wants to rid Kashmir of militancy. He leads a happy life with his wife Neelima (Sonali Kulkarni) and his son, Irfan. The terrorists in Kashmir issue a fatwa against any doctor treating a wounded police officer or a member of his family.

Khan's son is injured and he runs from pillar to post to get his son treated. With no doctor willing to touch him, Khan's son succumbs to his injuries. An emotionally disturbed Khan plans a massive attack on a militant hideout. While executing his plan, he kills the innocent parents of a seven-year-old boy, Altaf (Hrithik), watches in shock the merciless killings. He survives, but the eyes of the masked policeman who shot his parents haunt him at night. In a bid to undo his mistake, Khan brings Altaf home to replace his lost son and to give back to Altaf his lost home. Altaf soon learns of Khan's identity and the role he played in the shoot-out. He attempts to kill Khan but fails. He leaves vowing to return to take Khan's life.

With nowhere to go, Altaf turns to Hilal Kohistani (Jackie Shroff) who poisons his mind and makes him a terrorist. Hilal then uses Altaf to launch his Mission: Kashmir' which aims at foment communal violence in Kashmir. Altaf meets childhood friend Sufiya Pervez (Preity Zinta) who is now a TV journalist. He uses Sufiya's influence to smuggle in four of his companions into the TV station to execute the bombing of the TV tower, marking the first assault on Khan and his men. Khan, with great effort, makes Altaf see reason and the mission is aborted. Khan and Altaf together save Kashmir from getting destroyed.

Sanjay Dutt as Inayat Khan fails to breathe life to his role. His performance lacks intensity. Hrithik is well cast but is too busy flexing his muscles (including the facial ones) to give a realistic performance.

Preity Zinta doesn't have much to do, but she makes her presence felt. Sonali Kulkarni does justice to her role. Jackie Shroff is the sore point of the film. Neither his characterization nor his costume make sense. His interpretation of the role is the worst part of the film.

The songs in the movie are picturized well, particularly the "bhumbro" song sequence. The movie has two brilliant scenes. One, the first scene, is when a Shikara boat on the peaceful Dal lake is blown to smithereens and the other is the following scene when Sanjay Dutt comes to investigate the bombed Shikara.

Music by Shankar, Ehsan and Loy is hummable. Their background score is well orchestrated. Binod Pradhan's cinematography is the highlight of the film. His camera captures Kashmir at its pristine best. The disappointment lies with Chopra who has written the weak screenplay with Vikram Chandra, Suketu Mehta and Abhijeet Joshi. Coming from a man who gave us films like Khamosh and Parinda, this is not among his best efforts.
— Maheen Abdul
Rating: ** (Mediocre)
November-December Horoscope

ARIES (March 21 to April 20): Be careful in all financial matters and do not make any big commitments. Avoid taking any risks. You will be working hard to meet deadlines Issues pending with authorities will be delayed. You will attend parties.

TAURUS (April 21 to May 20): You will need to pay more attention to your health and may change food habits. Do not fall for any gimmick. You will work extra hours and reap benefits. You will visit relatives.

GEMINI (May 21 to June 20): Aim high and try to work on long term goals. You will buy capital items and value of your assets will increase. You will meet an old friend. Someone from the past is going to make an interesting offer. You will be on the move most of the time.

CANCER (June 21 to July 22): Expect some major changes in career. An old friend will come up with a good offer. You will finalize a major purchase. You may feel exhausted due to the running around. You will go on an important trip.

LEO (July 23 to August 22): You will need to borrow money for your projects. You will meet important business associates. Money will be spent on upgrading the house and buying furniture. Pressure at work will rise. You will gain weight.

VIRGO (August 23 to September 22): Money will come and go. You will be writing a check to government. You will look for new leads in career. You will go on a pleasure trip. You will be involved in religious and charity work.

LIBRA (September 23 to October 22): You may go out of your way to please others resulting a temporary financial pressure. A government official will try to make things difficult. You will be gain the blessings of a holy man. Valuables lost in past will be relocated. You will have visitors from far off.

SCORPIO (October 23 to November 22): You will get decent gifts and will get to spend quality time with family. Changes in career will be good though you will be a little shaky. There will be gradual improvement in finance as some bad debts would be recovered. You may have an argument with a colleague.

SAGITTARIUS (November 23 to December 22): Trustworthy people will be hard to find. What you need is good advice to ease off worries in daily life. There will be interesting changes in career. You will be associated with some influential person who has a strong political connection.

CAPRICORN (December 22 to January 19): Life will be comfortable and relaxed. Professionally you will do better but will be looking for an opportunity to start a new venture. You will buy new stuff for children. A child will need extra medical attention and may miss school.

AQUARIUS (January 20 to February 18): Some of you will be changing job in the near future. You will spend money on upgrading your residence. Some one in politics will need your help. Drive carefully and park your car properly. You will be offered a very lucrative business proposal.

PISCES (February 19 to March 20): Financially you will do really well. You will go out and spend money on buying gifts. Spouse may need special care and medication to improve health. Payments long overdue will show up. You will make several overseas phone calls.