Publisher's Note
:
The hoopla about globalization and liberalization tends to obscure a terrible truth: Poor governance can turn the process over its head. A look at Eastern Europe and states of the former Soviet Union only underscores the fact that unaccountable, corrupt government combined with deregulation and free market policies make an awful mix.
U.S. multinational Enron's power project in Maharashtra is a case in point. As activist Abhay Mehta makes clear in his superb expose, the appalling failure of the state and central governments to protect the public interest has resulted in a deal that is beginning to exact a disastrous financial price.

Conventional journalism today is too driven by company press releases and official pronouncements which have a vested interest in saying what suits the powers-that-be. We decided, instead, to let an activist present a cogent, coherent argument on the pros and cons of one of the biggest purchase deals in India.

Protests against globalization and markets are not rare, but as Mehta points out, reality is more complex.

It's too facile to lay all blame on the reviled triumvirate of the World Bank, IMF and the West, when the real culprits are much closer to home.

As India makes the transition from a license raj to a more deregulated economy, the Enron deal has a lesson that the nation ignores at its peril. Transparency and accountability are essential components in a formula for success. Without a responsible watchdog for the public interest, globalization will result in the rule of robber barons.

|TOP|

Main Feature

Enron's
$35 Billion Bonanza - By Abhay Mehta

India's largest deal ever was made without public scrutiny flouting every major law, charges Abhay Mehta.

U.S.-based energy giant Enron's entry into India is a watershed in many respects. It is the first private power project in India. The renegotiated deal between Enron's Indian subsidiary, the Dabhol Power Company, and the Maharashtra State Electricity Board in 1996 obliges MSEB to buy about 2,000 MW of electricity for 20 years. In term of payments, it constitutes one of the largest civilian or military contracts in world history, and the largest contract in Indian history. Total payment will amount to $35 billion over the life of the contract.

The terms of payment are unprecedented in India's history. In case MSEB defaults, the Maharashtra state government is liable, and the state has put all of its assets on lien. The state guarantee, in turn, is backed by a counter guarantee from the center, and the government of India has in turn staked all its assets. Also unprecedented is the fact that interpretation of the guarantee is according to English law, not Indian law.

So what is this super special power deal? Why was it so important that all caution had to be thrown out of the window?

Maharashtra, like the rest of India, faces a power crunch, but it is necessary to understand the nature of the problem. Electricity is a commodity that cannot be stored. Yet the need for electricity varies during the course of a day. There is a sudden surge of demand in the morning, when middle class consumers switch on their boilers. The surge is repeated in the evening when everyone turns on the lights. The maximum demand is known as peak demand. At night, the demand is considerably lower, in fact almost half the peak demand.

Therefore the system must be ready at all times to meet the changing pattern of demand. The installed capacity has to be more than the peak demand to meet it.

The installed capacity in India as of 1996 was 84,000 MW, and the peak demand is about 60,000 MW. There should be a surplus – but there isn't. The reason is mismanagement of power stations and massive theft.

On June 20, 1992, Enron and MSEB signed a memorandum of understanding. The memorandum of understanding specified that MSEB would buy electricity and capacity from Enron which would build, own and operate a plant of about 2,000-2,400 MW capacity. The power station was to be built near Dabhol in Maharashtra's Ratnagiri district, about 300 km south of Mumbai. The memo specified that a plant "with a minimum capacity of 2,000 MW" would be set up, that the MSEB "agreed" to the "need to set up a 2,000 MW plant" to run on "liquefied natural gas (LNG)," that the "electrical power purchase contract" would be "a contract for 20 years term between power venture and MSEB," and the "contract was to be structured to achieve an all in all price of $0.073/kWh (Rs 2.34 per unit at the then prevailing exchange rates."

An electricity generating plant is usually set up after an initial examination of the context in which the plant is to be used is determined and the need and pattern of electricity demand are assessed.

Maharashtra, like the rest of India, has a peaking shortage. There are enormous reserves of one of the world's best quality coal in Chandrapur in Maharashtra. The memo, on the other hand, specified the size of the plant, the fact that imported fuel (about four times expensive than the best quality coal) was to be used, and the final price to be paid.

There is no explanation on record or otherwise why a decision that involved the largest series of payments in India's history was taken so quickly.

Given the monopolistic nature of the generation and sale of electricity, all countries, including the West, have stringent controls over the entire industry. Consequently, power producers are guaranteed a return, but they have to abide by the governmental checks and balances.

The Enron deal flouted every Indian government check with impunity, and matters got more curious when the Bharatiya Janata Party and Shiv Sena, which swept to power on virtually this single issue, "renegotiated" the deal – essentially changing nothing – after brief public posturing against the deal.

The most telling critique of the project came from the World Bank. What makes the bank's critique so powerful is the fact that the organization has been one of the biggest promoters of private enterprise. Here is the World Bank's conclusion:

The project is not a least-cost choice for base-load power generation compared to Indian coal and local gas. Even if domestic fuels are not available, important coal would be the least-cost option for base-load generation for MSEB. In addition to lower fuel cost, the coal alternative is more attractive due to its flexibility. Capacity can be added in 500 MW units in steps to meet growing demand.


The unique features and risks of this LNG-based project (large minimum consumption, dependence on one power generator and on one LNG supplier) need to be considered; these offset LNG's environmental benefits over coal.

If all goes according to plan, MSEB will be paying three private parties about Rs. 80 billion a year for 20 years. The payments will certainly go up, because the payments are linked to many factors which will raise prices. This payment is simply not sustainable, and MSEB is looking at a crisis that will make Bihar look like the epitome of fiscal probity.

I don't think the problem is Enron per se. In fact, I must confess a sneaking admiration for a remarkable opponent for securing the deal of the century. Enron did what most business houses would have done to get such a deal.

The harsh fact is that by and large, we do not accept responsibility for ourselves and instead prefer the convenient alternative of blaming the "other." This could mean "outside forces," or the usual gang of suspects – the IMF, World Bank and GATT and Enron itself. However, the problem lies mostly with us – the Indian nation state. At the core of this problem lies our inability to look after our own interests.

The mantra of globalization and liberalization has become the new secular dogma, and the Indian elite has embraced it with open arms. While there is much that was wrong in the previous state controls that tended to serve a privileged coterie rather than the public interest, the brave new world that India has entered brings with it many challenges and real dangers. The Enron deal in Maharashtra is a classic wake up call that proves conclusively that unless the public interest is protected effectively by the representatives of the people, it is the public that will be left saddled with the exorbitant bill.

According the Maharashtra State Electricity Regulatory Commission, MSEB is paying DPC an average of Rs 5.95 ($.13 a unit). This is probably one of the most expensive power purchases from any power plant in the world. What is worse is that MSEB has stopped buying power from the Tatas at Rs1.80 in order to meet its contractual obligations to DPC.

At current prices MSEB is paying about $430 million a year. When Phase 2 comes online in the third quarter of 2001, MSEB will be paying DPC around $1,600 million a year for 20 years thereafter.

Payments of this magnitude in almost all probability will bankrupt the state of Maharashtra — representing nearly 30 percent of all governmental spending in the state.

– Abhay Mehta filed a lawsuit together with
CITU trade union against the Enron deal. The case is
still pending. He is the author of "Power Play,"
an expose based on four years of research during the lawsuit.
Abhay Mehta can be reached at abhaym@vsnl.com.
|TOP|
Infotech India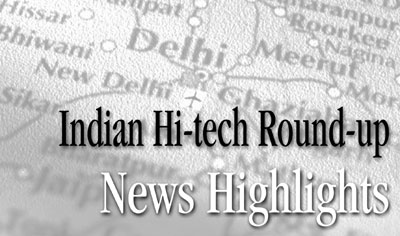 Kerala plans an infotech institute... India's share of global IT is dismal... Portal for Disabled... New telecom giant faces challenge... Push for Rural Telecom... Gramsat Moves... Website plans 15 city portals — Here is the latest on information technology from India

Kerala IITM

President K.R. Narayanan will inaugurate the Indian Institute of Information Technology and Management, the Kerala government's ambitious infotech project, in Thiruvananthapuram Nov. 23.

The state government aims to develop an institute of excellence to catch up with the advances in information technology.

To be set up at the technopark in the city, the project first came up in a policy document on IT and the government has already sanctioned Rs. 50 million for the project in the last two budgets.

The school is to provide infrastructure facilities and expertise for result-oriented research and development projects initiated by other institutions and industries, according to the policy document.

The details of the program were worked at a meeting chaired by Kerala Chief Minister E K Nayanar Sept. 30. An executive committee with the chief minister as chairman was formed for the successful conduct of the program.

Technocrat and Keltron founder-chairman K.P.P. Nambiar, who is locked in a row with the government over the proposed Rs. 15 billion Kannur power project, is to be chairman of the board of directors of the academic council.

The board also has other big names like F.C. Kohli, deputy chairman of Tata Consultancy Services, Dr. Bhatkar, formerly with the Center for Development of Advanced Computing and Prof. Raja of the Indian Institute of Sciences.

The school, expected to begin by August, will target high-end requirements of IT industry and research in the country. The government has entrusted Hyderabad-based Education Consultants of India Limited with the responsibility of designing the institutional framework for the school.
|Back to Infotech Index| |TOP|

Measly Share

Despite all the hype about the size of the Indian IT market, a recent report has predicted a pretty measly share for Indian companies.

According to a Goldman Sachs report the Indian IT sector will capture just five percent of the global IT services market by 2004, though the compounded annual growth rate will be a sizable 39 percent.

Currently, Indian accounts for only 1.6 per cent of the international IT services market.

In a 197-page survey and analysis of India in the global IT services market, the Goldman Sachs Asian technology research team concluded that through India's piece of the large and growing global IT services pie is still small, it is well positioned to capitalize on "E-volution" as IT companies are reinventing themselves for the technology cycle, diversifying both customer and revenue streams.

Anil Tewari, securities analyst with the Goldman Sachs Asian technology research team, says: "Given India's large talent pool and its increasingly conspicuous credibility in high-quality solutions, we see tremendous upside opportunity. We have rated NIIT as a 'market performer' and recently initiated coverage of Infosys Technologies and HCL Technologies, which are possibly among the highest quality names in the industry."

The reports however, pointed out that key challenges before the Indian IT services sector will continue to be to sustain the present strength in growth rates and quality of execution, and the risk of slow rate of growth in infrastructure development and political uncertainty.

Global spending on IT services was $349 billion in 1999, of which India grossed $5.7 billion. Goldman Sachs estimates that while international outlay on IT services will increase to $585 billion by 2004, India will, at a "conservative estimate," capture $30 billion of this market.
|Back to Infotech Index| |TOP|

Portal for Disabled

Svayam.com, India's first non-government portal for the physically and mentally challenged, was launched in New Delhi Oct. 1 by Madhya Pradesh Chief Minister Digvijay Singh.

The portal will act as a bridge between the disabled and over 2,500 institutions working for the cause in an effort to improve the quality of life of the physically and mentally challenged people.

Speaking on the occasion, Dr. Charles Gay, founder of www.greenstar.com, said: "There is a 100-million strong community of disabled people in India. This portal will serve them as an interactive platform to voice their opinions, concerns, hopes and their aspirations. We want to create a space, a society, where the challenged people can interact with others who can understand them and share their thoughts."

Indresh Batra, who is leading the team of young enthusiasts who have come forward to develop this portal, said after covering the expenses of maintaining the portal, the revenues will be applied to furthering the scope and reach of the portal and into organizations having a proven track record in the welfare of the handicapped people.

The svayam.com project is supported by a host of accomplished people, including Sangeeta Jindal, president of Art India, and Vasanti Pai, president of the Federation for the Welfare of the Mentally Retarded.
|Back to Infotech Index| |TOP|

Telecom Challenge

Telecom is undoubtedly one of the few profitable sectors that the government operates in. Total revenues of India's telecom services sector is estimated at about Rs. 2,700 billion.

Also, the Mahanagar Telephone Nigam Limited, of which the government owns 56 percent, provides fixed-line phone services in Delhi and Mumbai.

Videsh Sanchar Nigam Limited, which is 53 percent state-owned, is the monopoly provider of overseas voice services and India's main Internet service provider.

But challenges faced by the newly created Bharat Sanchar Nigam Limited are as big as the opportunities. The most difficult will be the cultural transformation in an organization used to decades of government monopoly.

Industry experts say the Department of Telecom Services is at least three times overstaffed for its 24-million line phone network but its unions are well-organized, which could be the main stumbling block towards privatization.

The most significant competition for BSNL will come in about 15 months when private firms commission networks to carry domestic long-distance phone traffic. The segment was opened to private competition in August and revenues from it make up a significant portion of DTS revenues.

Also, new private competitors are building high-capacity broadband networks to accommodate data and applications traffic aimed at corporate clients in the new economy. BSNL will have to follow suit but upgrading its network will be costly.

Analysts estimate India needs some $80 billion between now and 2010 to increase its telephone density from three per hundred people to the current world average of 15, a very tough task whichever way it is considered.
|Back to Infotech Index| |TOP|

Push for Rural Telecom

Minister of State for Communication Tapan Sikdar Sept. 30 warned of legal action against private operators if they obstructed the government's objective of expanding the rural telephone network.

Addressing a press conference in Calcutta, Sikdar said while the government had a social commitment to the expansion of village telephones, it would not allow private operators to provide connections only to high-end customers for high returns, and would make sure that equal importance was given to the rural customers as well.

Sikdar said most of the unions were making the same demands. But the authorities had to hold meetings with each of them separately, resulting in delay in sorting out various faults.

He announced a unique proposal to the people of the state who would be doing long distance calls during the puja holidays.

He said reduction in long distance charges had been offered to the telephone users of West Bengal from Oct. 4 to the Oct. 7. The long distance users would have to pay only half the rate during these days between 9 a.m to 8 p.m.

He clarified that concession would be applicable to calls originating from any exchange under Calcutta telephones or in West Bengal circle to anywhere in the country. This would be the first time during 119 years history of Calcutta that this sort of concession was being offered.
|Back to Infotech Index| |TOP|

Gramsat Moves

Gramsat, the new program of Indian Space Research Organisation taking satellite applications to villages, will cover more states in the country very soon.

Talking to reporters here, Dr. S. Rangarajan, director ISRO, Bangalore, said that after the formal launch made by Prime Minister Atal Behari Vajpayee in Orissa May 24 with a few nodes, the program had been expanded to the entire state of Orissa. All the blocks had been covered and more particularly the KBK region, the most under-developed pocket in the state.

With 110 nodes installed now and beaming more than four programs a month, the three functions of educational broadcasting, inter-active teaching and wide-area networking had been introduced in Orissa, Rangarajan said.

ISRO and the central government had recently redesigned Gramsat with full involvement of the respective state governments right from the stage of planning.
|Back to Infotech Index| |TOP|

15 City Portals

123India.com, India's premier portal, will be launching fifteen city-specific portals as part of its strategy to build regional web communities.

The portal, which has been rated among the top 5 websites in the world by Alexa, has chosen Delhi to kick off its ambitious localization strategy with a Delhi-specific portal to be launched shortly.

According to a news release, even as it plans to go regional with its city-specific portals, 123india.com is already on the path to becoming India's premier mobile portal.

With the implementation of its WAP-enabled service underway, 123india.com will now offer a value-for-time proposition to its users with the aggregation of a host of services such as email, calendar, instant messaging and information.

With plans on the anvil of launching 14 new channels in the next six weeks, India's premier portal is on the super fast track.
|Back to Infotech Index| |TOP|

eRESOURCE

Obongo:
Key to Internet – By Parul Shah

Businesses are having a hard time keeping up with the fast-paced changes on the Internet. Obongo has mastered a better way to attract Internet surfers, says Parul Shah.

In the rapidly changing world of the Internet, today's innovation is tomorrow's artifact. Keeping up with the needs of the savvy Internet surfer is the name of the game if you want to be a successful Internet entrepreneur.

As more and more companies scramble to compete for the attention of the internet surfer in what is mushrooming into a multi-billion dollar market, in comes a company that helps firms hold on to net surfers for a sustained period.

Obongo, founded by Indian and British entrepreneurs, is headquartered in Redwood City, Calif. It offers what it calls "portable personalization."

Personalization on the World Wide Web has gone through many phases since 1994. First came Internet companies whose websites delivered impersonal data. Then came companies whose websites allowed visitors to personalize the information they wanted according to their tastes.

What Obongo offers companies is something that takes this a step further. It helps companies offer internet surfers a toolbar that can be customized according to their needs, and this personalization data is no longer anchored to a website, letting the Internet user access his personalization data anywhere in the world on any user interface device including personal computer, mobile phone or hand-held device.

In other words, Obongo makes personalization "portable."

No longer do you have to go to a website like say, Yahoo, for a customized version of your needs. An Obongo-supplied company can present the same personalized service without requiring a visit to any website.

This can be a vital tool in today's competitive Internet marketplace for banks, financial institutions, telecommunications providers, Web portals, internet service providers and Internet merchants, because it can provide sustained visibility for the company that provides this service to the Internet user.

Global banking giant Citibank has pounced on Obongo's offer. Citibank has chosen Obongo to power a Citibank-branded Internet toolbar that can be downloaded freely. The toolbar allows single-click log-in, registration, form filling, searching and comparison-shopping.

"The Internet is a tremendous resource for consumers," Citicard North America CEO Steven J. Freiberg said at the launch. "But it needs to be more consumer friendly for them to take full advantage of it. They want to be able to conduct their online shopping and other activities in a fast, easy and secure manner and the new Citibank toolbar provides a tool to do just that."

Obongo's customers include ZDNet, Phoenix Technologies and NextCard. It supports over 1,000 sites.

The media is also beginning to take notice.

"The Obongo companion strives to make your online experience easier by saving passwords and billing info for you," said CNET television. Forbes said Obongo "eliminates repetitive tasks … and puts consumers in control."

Fortune called it a "choice morsel," and John Browning, European editor of Wired, calls it "a very cool idea indeed. Obongo makes trust practical, convenient even. And it offers benefits everybody on the net: surfers, sellers and sites."

The Obongo companion offers the following benefits:

Instant registration at over 100 sites

E-wallet functionality

High customizability

Access to data on Obongo servers from mobile phones or PC

One-click search on web, stocks or shops at more than 20 search engines

Comparison shopping

One-click product and merchant reviews

100 percent security

Key figures in Obongo include chief technology officer Jai Rawat and vice president of business operations Samir Palnitkar. Rawat and Palnitkar co-founded Chabi.com, a company that automated user check in and save the trouble of having Internet users key in the personal details each time they registered at a web site. Both joined Obongo following a merger of Chabi and Obongo.

Parul Shah is a freelance writer
based in Milpitas, Calif.
|TOP|
NETWORKING:

Empowering South Asians:
NetIP SF Meet - By Seema Bhimani

This year's Network of Indian Professionals' ninth annual conference, hosted by the Network of Indian Professionals –San Francisco Bay Area, on September 1-4, 00, attracted a 1,000 people from North America, Japan and England. Due to the record registrations this year, conference organizers had to close down registration early and turn away 300 hopeful registrants.

The conference, held at the Embarcadero Hyatt hotel, had a theme of "Empower Yourself" and included stimulating panel discussions, a company showcase, yoga lessons, a scavenger hunt across the city, networking mixers, a night out in San Francisco, and a banquet. The variety of topics and casual atmosphere of the conference provided attendees with a broad range of panel discussions to attend, ways to increase their breadth of knowledge in fields outside of their expertise, and networking opportunities with attendees and various speakers.

The theme of this year's conference, "Empowering South Asians for the New Millennium", was woven throughout the conference activities including panels, keynote addresses, and networking activities. The primary goal of the conference was to support South Asian professionals in making contributions in their professional lives and in their community, by providing them with the resources, information, opportunities, and the impetus to realize the goals and objectives set at the conference.

The conference programming presented four tracks: Entrepreneurship & Venture Capital, Arts/Entertainment, Politics and Social Issues, and the Internet. It started with a networking mixer to familiarize attendees with conference activities and to meet their peers from across North America. The next day's events presented opening keynote speaker Shailesh Mehta, CEO of Providian Financial Corporation, and track keynotes in the morning and panel discussions in the afternoon. After each track's keynote address, attendees moved from room to room for the rest of the day, dropping in on panel discussions and question/answer sessions.

Attendees participated in more intimate chai chats to discuss topics like Empowering Ourselves to Deal with Aging Parents, Political Empowerment to Make Changes in Society and South Asian Identity Issues.

In addition, to these activities the conference hosted a Bone Marrow Drive to raise awareness for the need for South Asian Bone Marrow donors, which resulted in 65 registrants. In addition, 80 stuffed animals were collected through a Teddy Bear drive for local hospitals and terminally ill children. In conjunction with the South Asian Bar Association, a voter registration booth was hosted in the Company Showcase to raise awareness of South Asian political issues and regarding the need to register to vote. In addition, attendees were able to meet and talk to local representatives of non-profit organizations like Asha, Junior Achievement, and Narika, regarding their efforts and how to get involved in other community activities.

Conference sponsors included: E-India, Chai-Time, StarTec, WISP, Narus, Velocity HIS, Sybase, CISCO Systems, Intuit, UPS, MetLife, Allison International, Northwest Airlines, Namaste.com, Aashiyana, Hyatt, Indian Express, and Z-Box Company.

An ongoing Company Showcase gave firms like the new MeraPyar.com (a South Asian matchmaking service), Chaitime.com and eIndia.com the chance to get their products out to their core markets.

Author Chitra Divakaruni, television actor Anjul Nigam and Kathak master Chitresh Das inspired

those considering careers in the arts; while Berkeley, Calif., city attorney Manuela Albuquerque, civil rights attorney Hina B. Shah and educator Darren Zook drew capacity crowds to a series of panels on social and political issues.

Arts and Entertainment track keynote speaker novelist Chitra Banerjee Divakaruni ("The Mistress of Spices"), said that for young Indian Americans longing for a creative career, now is the best time to start. "Yes, the arts are always risky," she said. "But things have changed since your parents got here in 1965. It's not as risky now — the entertainment industry is very big, and now more than ever people are interested in the South Asian experience."

In the Politics and Social Issues track, attorney Manuela Albuquerque said that seemingly "mainstream" issues like the minimum wage, reproductive rights and even police conduct are more relevant to South Asians than many of them imagine. "Police can't tell us apart," she said; "Americans have never been adept at telling us apart, especially during the Gulf War, when Sikhs across the country heard taunts of "Go home, Arab!"

Dr. Ronjon Nag, CEO of the cellular phone comparison/shopping site CellMania.com, was the Internet Technologies track keynote. Nag co-founded CellMania after spending six years at Motorola, where he was vice president in charge of technologies for smart mobile products.

Ann Winblad, co-founding partner of Hummer Winblad Partners and a software entrepreneur named by Vanity Fair as one of the top 50 leaders in "The New Establishment," said that when deciding what new companies to fund, she and her partners weigh four factors: the size of the market's potential; the viability of estimates of how much each customer could be expected to pay; her confidence in the company's founding team; and whether the company had the proprietary advantage of a head start in the market.

The "Entrepreneurship and Venture Capital" panel, moderated by Winblad, focused on "Transforming an Idea into a Company" and featured Greg Shove, chairman of the board of Katmango; Eric Walczykowski of The Angels' Forum LLC; Mahesh Kanumury, general partner at Gabriel Venture Partners; eLaunchpad president and CEO Palaniswamy Rajan; and Devi Mohanty, "Employee No. 1" at EthnicGrocer.com.

The Internet track panel "The Future of the Wireless Web," moderated by Edward F. Snyder, senior analyst for wireless technologies at Chase Hambrecht & Quist, featured Dr. Sreeram Balakrishnan, director of Motorola's Palo Alto Human Interface Lab; Venkatesh Shukla, CEO of Everypath; Krishna Malyala, CTO of WISP, Inc., Miten Mehta, vice president of Net Appliances at InfoSpace; and Mohan Vishwanath of Yahoo! Everywhere.

The "Entertainment" track panel, moderated by Niraj Desai of Horizon Entertainment, brought together filmmaker Somnath Sen of Lemon Tree Films; producer/director/writer Krishna Shah (Warrior Prince: The Legend of the Ramayana); modern dancer/choreographer Yasmen Mehta and actor Anjul Nigam.

The panel on "Negotiating Identity," which was moderated by management consultant Hemali Dessani and educator Malaika McKee, featured Inderpal Grewal, professor and chair of the department of Women's Studies at San Francisco State University; Vasudha Dalmia, a professor of South Asian studies at UC Berkeley; writer Rashmi Sharma; and Lubna Khalid, founder of Real Cosmetics.

The panel devoted to "Political Empowerment for South Asians" drew a capacity crowd to hear remarks by Darren Zook, a professor of Politics and South Asian History at the University of California, Berkley; Manuela Albuquerque; Sharon Singh, a political and media consultant from Washington, D.C. who serves on the executive committee for Asian Pacifics; Malaika McKee and Hina Shah, moderated by Brandon Shamim, founder and president of Nexus Forums. Keeping in step with the theme of the conference, each panelist provided an insightful perspective of what South Asians must undertake to empower themselves. Education of the issues, a sense of hopefulness for the future, and an ability to transcend identities bound solely by culture alone were touched upon by the speakers.

This exchange underscored a theme articulated by all of the panelists: political empowerment can be translated through means of educating our own community as well as the mainstream.

The moderator, Brandon Shamim, said: "The community is collectively creating positive momentum. It is essential for us to define ourselves within the largest framework, so we will be able to provide leadership for all Americans without being bound by race or class."

"India and the U.S.: Using the Internet to Leverage Competencies," a panel moderated by Dr. Rafiq Dossani, a consulting professor at the Asia/Pacific Research Center at Stanford, brought together Sriram Viswanathan, director of business development at Intel Capital; Aditya Sharma, head of U.S. operations for eVentures India; Makarand Teje, in charge of marketing (North America) for Wipro Technologies; and Yogesh Sharma, co-founder of SiliconIndia.

Ram Shriram, former vice president of business development for Amazon.com and now a partner with Sherpalo and a leading angel investor in the Silicon Valley, moderated a panel discussion on "Working with the VC community" which included Chris Vora, managing director of Redwood Venture Partners; and Chris Noble, general partner at Bay Partners.

Key organizers of this year's conference were Sangita Patel (corporate relations), Ader Gandi (finance), Anjan Nadimpalli (marketing), Tina Shah and Camille Ramani (programming), Priya Parthasarathy and Prashun Patel (registration) and Manish Patel and Seema Bhimani (logistics).

- Seema Bhimani is a consulting
engineer in Walnut Creek, Calif.
LEGAL ISSUES:

Promoting Trade
E Visa – By Gopalan Nair

India has chosen not to participate in one of the easiest U.S. visa programs, where applicants are not even required to check with the INS, says attorney Gopalan Nair.

The E visa is a way for an overseas business to transfer personnel from its company to set up a concern here, continue substantial trade with the overseas country or invest substantial funds in the U.S. to carry on a new business. The business has to be based in a country with which the U.S. has treaties of trade and commerce.

Therefore E visa is one of two kinds.

E1 is where the concern is set up in U.S. to continue substantial trade with the foreign country


E2 has nothing to do with trade with the foreign country but merely to start a new investment.

The bad news is that the U.S. has not signed such a treaty with India. Indians, therefore, do not qualify. The good news is that Pakistan has.

For E1, the foreign business has to show that the major portion of their trade is with the U.S. After issuance of the visa, the U.S. concern has to show that they continue to trade substantially with the U.S. If it is not so, the status will fail in due course.

For E1, substantial investment has to be shown. What is substantial will depend on the nature of the business and the showing that the proceeds from the investment will be able to at least sustain the principal E visa recipient and his immediate family members. Common sense rules. For instance if you invest $5,000 for a business, it would be hardly likely that you would be able to recoup $5,000 per month in income. However if you invested $200,000 to purchase a McDonald franchise in a good location with a track record of solid returns, there should be no reason for denial. However, if you invested less in the purchase of a software company, which obviously does not require a heavy outlay of funds, but can show a good record for returns, the visa should be given.

E Visas are non immigrant visas, which are renewable for an indefinite duration. One could apply for extensions through the INS or each time you travel outside a further extension of a year would be given. Keep in mind that these remain non immigrant visas. There may come a time when the INS may not renew the visas because a person cannot remain on this visa indefinitely, although technically the visa does not have an outside time limit.

One advantage of E Visas is the speed with which they may be got. This is because unlike other visas, one can apply for it at the consulate directly without the need for involvement of the U.S. Immigration Service filing in the U.S. We recently did one for a Canadian through the U.S. Consulate in Toronto. They take 2 weeks to process the visa.

Keep in mind that at the time of visa application, you must have committed your funds and the business must be up and running. It is not possible to merely keep funds in escrow and apply on the basis that the business will be started on condition that the visa is issued. Many asked about the situation where one expends money and places it at risk only to discover subsequently that the visa is not granted. The answer would be to draft all agreements on a contingent basis which gives the applicant a way out if the visa fails. Japan is the country which is the biggest recipient of this visa, followed by the U.K. and European countries.

As mentioned above India is not a signatory. Malaysia, Singapore and Indonesia are also not signatories. There may be a good reason for India not becoming one, a fear that there would be a drain of Indian currency to the U.S.

It is unclear how effectively the money drain has been stopped, but there is no question that Indian's themselves are one of the most adventurous travelers in the world, ready to go anywhere in search of a better life.

– Gopalan Nair is an immigration attorney
based in Fremont, Calif.

|TOP|
FINANCE:

Playing After Dark:
Trading After Hours - By Ree Mitra

For many individual investors playing the market, with its limited hours, just isn't enough. Now new programs will allow individuals to trade after hours. But hang on to your checkbooks and make sure you know what you are getting into, says financial analyst Ree Mitra.

Right now the only trading after the market closes is between institutions, on programs like Instinet. But there' s a new effort being made to let individual investors get in on some of that action. That might be good, but you better know how to play the game before you put in your first buy or sell order.

If one of these new proposals gets approved, individuals will be able to buy and sell stock after the stock market has officially closed. The timing of a program isn't known yet, but there is plenty of interest from many sources, including Instinet which already does a large portion of the institutional NASDAQ transactions during the trading day. After hours trading will probably happen because online traders are looking for a way to act on announcements made by companies after the close, usually in the form of earnings.

However, the trading rules will be quite different if a program is implemented. Trading will happen between specified hours such as 6 to 9 PM EST or 7 to 10 PM EST. There will be no market makers or specialists involved. That means everybody's on their own as to where the market really is. There isn't a central place where buyers and sellers will form a "book" of interest which allows the specialist to make an orderly market. Buyers will enter bids into a system, and sellers will enter offers. When the two coincide, a trade will occur. (Instinet, in its proposal, will offer a "crossing" time, 6:30 EST, for all investors who want to buy and sell stocks at their closing prices.)

So how can you actually trade? The first rule is: Don't enter a market order. That will guarantee losses. If you want to buy a stock, put in the buy order with a limit price. That means you won't pay more than your stated price for a stock. It may mean you don't buy the stock. But it also means you won't get stuck with a high price just so your order could get filled. Similarly, don't enter a market order to sell. That means you may not sell your stock either. But you won't be looking at a confirm with such a low price that you have to check it two or three times. By sticking with limit orders you'll save a lot of headaches.

Another problem you'll encounter: You won't always be able to buy or sell the amount of stock you want. If you're trying to buy or sell a 1,000 shares, you may only be able to get 100 or 0 shares done before the price moves away from you. Remember, this is mostly between individuals who are looking to act on the same information. If they know you want to buy stock, they may try to manipulate the market up so you can't buy it until it's much higher. There are supposed to be safeguards against this which will monitor all trades and prohibit any one individual from trading through several different accounts to show activity in a stock or to manipulate the price, but whenever there is money to be made from neophytes, the pros will find a way of getting around the hurdles. So the second thing to remember: Executing your full order at one price may be difficult.

Another important point: You still don't get the news first. Institutions are where the big money is, and on Wall Street, money doesn't talk, it screams. They'll still get the news first either in print or on the phone and will act on it before you even read about why a stock is moving. Don't think you're the first to act on something you've read. Furthermore, without a visible market reaction to the news, each investor will have to interpret the news and put in orders accordingly. While the news per se may seem good, the institutional investors may have already expected the news or even better and will look to sell into seemingly good news to the uninformed. For a good example of this, think of the Dell earnings last quarter which were better than expected but the revenue growth had slowed. Since the earnings were better than anticipated, most investors would have bid the stock up. Instead, the stock tanked because of the revenue numbers and concerns that the profit margins were contracting. Again, you're on your own with the news and how to react to it.

Finally, be aware there will often be very large spreads between the bid and ask for a stock. Sometimes there won't be a bid or an ask, especially if the news is very good or very bad. Everyone will want to be going the same way on the stock. Sometimes you won't be able to execute any trades unless you're going contrary to the crowd. And you won't have a clue as to the real size of the market. You may get to buy 500 shares of a stock but the real seller may have 25,000 more behind it and may pound every bid that comes along until the stock is sold, no matter what the price. With the NASDAQ market makers or the exchanges, you can always see how much size is bid or offered at the moment. With NASDAQ, there's a Level II service that lets investors see what bids and offers and the sizes of each behind the current bid and offer. Again, you won't have that kind of information to help you with your trade. If there's a major seller or buyer, he or she will look to pick off the uninformed with a lot more stock behind the trade.

If the current Instinet proposal prevails, then you'll be able to enter your orders to their program only through the online brokers that have signed up for after hours trading. In other words, individuals still won't be directly involved in Instinet but will have to enter orders through a participating broker.

Two other firms, Wit Capital and Eclipse Trading, both in New York, are also working on an after hours program that would allow individuals to directly enter bids and offers. They have developed some very good safeguards such as limit orders only. That will prevent anyone from simply entering a market order to buy and getting a confirm back with a price so high that it looks like a mistake.

My guess is that there is good interest among traders to have after hours trading and that a program will be offered this year. Even the New York Stock Exchange is rumored to be working on a program for a July launch. However, I don't expect it to attract too many participants unless it has liquidity, and the few traders that play in the game will have a rough go of actually trading. There's too much of a gap between reality and fantasy on this one for traders, especially when they're used to seeing a bid and hitting it or lifting an offering with a click of the mouse. That isn't going to happen in after hours trading. There's no specialist or market maker to facilitate a trade, and no one required to make an orderly market. Without those extra ingredients, actual trades will be few and far between.

This article is not intended to provide specific advice or recommendations for any individual. Consult at your attorney, accountant or tax adviser with questions. Ree Mitra can be reached at reeshava.mitra@lpl.com.

- Ree Mitra is a financial planner with
LPL Financial Services. He lives in Fremont, Calif.
|TOP|
POLITICS:

Senate Chalo
Minnesota Desi Aims High

Two-term Minnesota Rep. Satveer Chaudhary is running for state senate.

Almost a hundred people gathered Sept. 24 at the Sarovar restaurant in Milpitas, Calif., to raise money for Minnesota state Rep. Satveer Chaudhary, who is running for state senate that has fallen vacant for the November general elections. The fundraiser, organized by Rajbir and Swadesh Singh and Minakshi and Sudhir Singh of Fremont, Calif., raised about $2,000 for Chaudhary's campaign.

Thirty-one-year-old Chaudhary, a two-term Minnesota legislator, is seeking the state senate seat that will be vacated by Senator Steve Novak. Chaudhary said he had decided to run for the Minnesota Senate seat "because in this new century, it is time for a fresh, clear-headed, yet more powerful voice for my district and all Indians." There are 67 state senators in Minnesota, Chaudhary told Siliconeer,

"It is really humbling to have such a show of support from people so far away from home," he said in reaction to the fundraiser. He said he was also elated that "members of the high-tech community and TiE organization attended. I think this is the start of a beautiful friendship."

If Chaudhary, currently one of only two Indian-American state legislators in the country, is elected, he would be the highest-ranking Indian office-holder in America, the only Indian senator in America, and the first Asian to be elected to the Minnesota Senate. As member of the Minnesota House, he was the first Asian ever elected to the Minnesota legislature. Chaudhary will be up against the Republican mayor of one of his district's suburbs.

He stressed the important investment that each one of the attendees was making in his political career: "Just like smart investors in any Fortune 500 — at the beginning. This election victory will mark the cornerstone of our ability to field an Indian congressman. I won't forget your investment today."

Interested readers who wish to get involved can visit Chaudhary's web site at www.chaudhary.org.
|TOP|
PHOTOGRAPHY:

The Magic of Fall
A Trip to Yosemite – By Arun Chauhan

The beauty of California draws people from the world over, and Arun Chauhan, who went to sample the exquisite charms of Yosemite in the Fall, writes about his experience embellished with some photographs he took.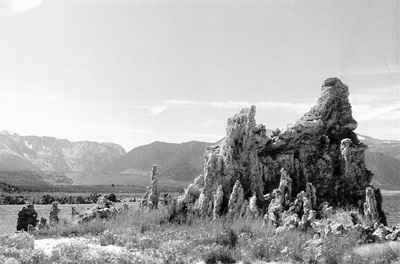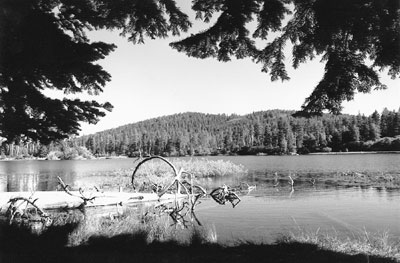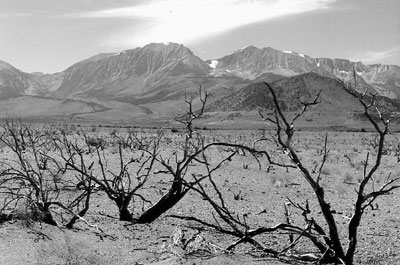 Top to bottom: Mono lake, fall at Tioga Pass and Mono Lake

Sometimes it is easy to forget our wonderful luck. We live in beautiful California, and the breathtaking natural grandeur can easily get swamped under the grueling nine-to-five lifestyle that most of us have. As we rush through our daily life negotiating the dreadful commute traffic gridlock with gritted teeth, thoughts of the soothing charm of nature just a few miles away seldom cross our minds. Yet, we live within a few hours of driving distance from the great mountain range of Sierra Nevada. Our fun playhouses are in Lake Tahoe and Reno, and our backyard park is the world famous Yosemite National Park.

Every year around this time nature comes to celebrate in the wilderness areas . The air becomes crisp and dry leaves turn gold, red and yellow. A poet can write a book of poems and a photographer can get award- winning pictures, but the larger prize is within the reach of us all: A joyous, rejuvenating reaffirmation of life.

After planning for so many years, we never quite made it to the Rockies to enjoy the world famous fall season, but we were able to made a trip to the Sierra Nevada.

Camping around this time of the year in Yosemite Valley is easier to find since schools open during the first week of September and the fall beauty is at its peak around the third week of September. If you are a Hindi film buff you must remember the famous fall shots of Kashmir.

During this trip we have camped in Yosemite valley but the next day we decided to go Tioga Pass. That is where the real fall takes place, not to mention the great California salt lake Mono Lake, which is at its best It is hard to fathom the profound natural changes that take place, but it does happen: The sky changes color, the reflection of sun is different, and high clouds add a breathtaking dash to the landscape. When I first showed these pictures to an American guest at the house she thought I had used special effects filter. It's actually a lot simpler than that. You just have to turn your face around to see the beauty, which is provided by nature at no cost. You just have to be there.

Nature starts showing its colors, in a manner of speaking, as soon as you enter the valley. Camping in Yosemite valley is always nice, not too many people are around the camp sites in September, just some foreigners.

These pictures have been a part of the India Circuit Exhibition a few years ago.

Camera used is a Nikon F3 with normal Nikkor 55 mm lens. I did not have my zoom lens at that time. If I did, it would be easier to compose since the film used is Kodachrome.

– Arun Chauhan is an amateur photographer.
He presents "Saaz Aur Awaaz,"
a popular Bay Area Indian radio show.

|TOP|
RELIGION:
Pramukh Swami Visits




(From top downwards): Pete McHugh (r) presenting a key to Santa Clara county to Pramukh Swami; San Jose Mayor Ron Gonzales (r) presenting a bouquet to Pramukh Swami.

Spiritual leader Pramukh Swami Maharaj and 22 monks of the Bochasanwasi Shree Akshar Purushottam Swaminarayan Sanstha arrived for a three-day visit to Milpitas, Calif., Sept. 15. Over 1,000 devotees attended a swagat sabha (inaugural reception) held on the day of his arrival at the Swaminarayan temple in Milpitas to welcome Pramukh Swami Maharaj.

A host of events and special programs were organized for the next two days, starting with a special event Sept. 16 at the temple for high-profile Indians residing in Silicon Valley who were invited to learn more about the socio-religious aspects of BAPS. TiE founder Amrish J. Patel, Kailash Joshi, Bakulbhai Joshi and IBM executive Arvind Patel were among the many attendees..

About 2,000 people attended the next two evening's events which presented a slew of cultural activities. A dance by children highlighted their determination to lead a life of discipline and service. Youths presented a four-part drama that stressed the role of traditional values in bridging the generation gap.

Dignitaries who attended the Swaminarayan festivities included Milpitas Mayor Henry Manayan, San Jose Mayor Ron Gonzales and former Rep. Tom Campbell, who is the Republican candidate for U.S. Senate. Santa Clara county supervisor Pete McHugh also attended.

In his address, Pramukh Swami Maharaj stressed the need for maintaining harmony in the family.

|TOP|
AUTO REVIEW: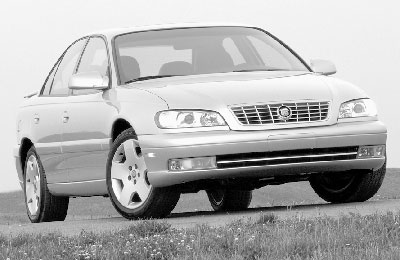 Cadillac Goes Hip
2000 Catera Sport Sedan – By Al Auger

Gone are the days when a Cadillac was associated with rich graybeards driving into the twilight of their lives. The new Catera Sport sedan rocks, says our ecstatic auto critic Al Auger.

Close your eyes and picture a deep, jet-black (called Ebony here) Cadillac sporting (literally) a rear spoiler, low-profile, H-rated, serious Goodyear tires mounted on even more serious looking 5-spoke, flat-faced, cast aluminum 17-inch wheels. What's your response? Kind of, like: "Yeah, really dude. Duh."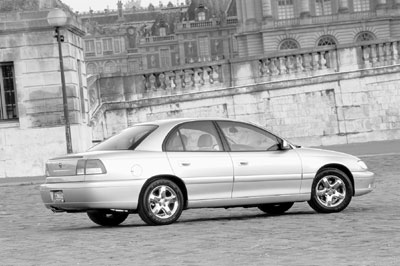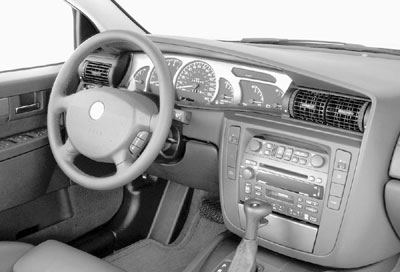 Well, dude, this exotic sounding piece of motoring machinery exists and it's available now. Toddle down to your local Cadillac venue and ask to see the Catera Sport Sedan. And there it is, in its entire European splendor. Make no mistake, the Catera is definitely an Euro-bred vehicle. Built at the Adam Opel factory in Ruesselsheim, Germany, Opel is General Motor's German badge, which is the beginning point of the Catera, with contents from England, France and North America, as well.

Originally, the Catera hit our shores as a 1997 model and the Catera Sport came to fruition in 1999 – and little fanfare. It is another step by GM to bring down the average age of Cadillac buyers into a more viable range – say 35-50, instead of mid-60s. This graybeard visage of Cadillac owners has been a hairshirt for the Cadillac hierarchy, and that's why today's issue is truly a far cry from your daddy's Caddy. But, hey, I know a few "graybeards" that could put the Sport through its paces with unexpected verve and vitality.

Consider the equipment that comes standard on the Sport badge. The basic (if you will) Catera comes pretty well stacked with a surfeit of amenities, but the Sport goes well beyond that with a host of performance and cosmetic goodies, both standard and optional. Beginning with the earnest set of tires and the comely 17-inch wheels, integrated rear spoiler, oil-to-air transmission cooler, sport-tuned suspension, full-range traction control, 4-wheel disc anti-lock brake system and, for true Prussian performance, rear-wheel-drive. Much of Catera Sport's new personality and mechanical improvements and attachments are part – along with many people-oriented stuff - of the Sports Package ($2,000) and worth every dollar.

In essence, the 00 Catera is all new in terms of a thorough face-lift, particularly inside the generous cabin. On the outside the "look" has been refined with a more muscular appearance. New additions and revised equipment include the lighting system, wet-arm wipers and, with the Sport, high-intensity discharge Xenon headlights.

The interior has been made for user-friendly and certainly more comfortable for the passengers. A more smoothly integrated instrument panel with more storage containers and side-impact airbags, along with the OnStar 3-button system, are now standard throughout the model line. All windows are fully automatic, up and down and the full-sound 8-speaker Bose sound system with in-dash CD player; an optional 12-CD changer is offered. The charcoal leather fitted beautifully with the deep Ebony exterior finish.

Of course all this touchy-feely stuff is good for our hedonistic impulses, but the question is, does the Catera Sport fulfill its true purpose? The answer is an emphatic yes. The Zig-Zag Duck syndrome has been banished and the serious intent of the Sport is right there on top of the automatic shifter. A button with "S" (sport shift mode), when depressed drops the engine revs nearly a thousand rpm's. Shift points are reached quicker with more juice, plus the alternative Normal and Winter modes. Now, Mr. GM honcho, how about a manual shift mode as well? The 4-speed automatic distributes the power of the 3.0-liter, twin-cam, 0-horsepower V6 unruffled to the rear wheels.

Befitting the power is the firm sport-tuned suspension that is really the heart and soul of the Catera Sport Sedan. Driving the Sport is the definitive center of its existence. If there are any doubts this is an Euro-centric motorcar, the Sport's flat and unerring directional stability clears that up in an instant on any challenging roadway. If enough people get their hands on the wheel of the 00 Cadillac Catera Sport, Cadillac's age hex should spiral downward like the Internet IPO's of recent history.

Today's Test Drive: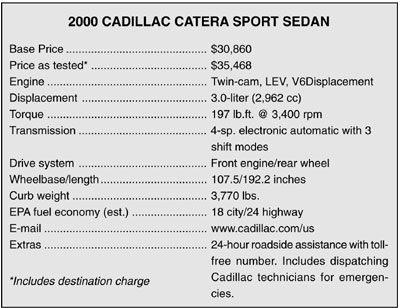 Al Auger, our automotive editor has been writing about cars for over 30 years.
He has spent 20 years as a race driver and public relations specialist.
|TOP|
Bollywood: | Guftugu | Hindi Film Review |

Guftugu

Hollywood Beckons

Hollywood seems to have set its eyes on our very own superstar in the making Hrithik. It seems no one is spared this particular brand of charm. And none other than The Cell director Tarsem Singh has made the offer. Yes, the same one who directed Jennifer Lopez! This is the first time in Indian history that an Indian hero will star in an all American commercial movie as the main lead, Of course we have our very own baddie, Gulshan Grover already establishing the Indian base over there for years.

It seems Hrithik's estimated worth is already around Rs. 100 million. Any guesses what will happen after the release of the movie?
|Return to Bollywood Index| |TOP|

Hrithikmania

While on Hrithik, we must put in a word about the Hrithik craze that has hit this nation. Firstly Fiza opened to "house full" boards and the situation remained so for three weeks. Girls were lining up from six in the morning outside theatres to book the tickets.

Cynics like me who didn't believe were proved wrong on the first day's first show at a theatre in Bandra. A serious movie, his acting were all drowned under hysteric screams and whoops of joy that rented the air the first five minutes of Hrithik's appearance on screen.

Khalid Mohamed obviously did the right thing by taking his close-up and making him flex his muscles –the girls just about fainted at this. It was a wonder anyone could hear anything being said. This was the first time that we saw people actually clicking pictures with a camera every time Hrithik appeared on screen. I, personally, won't be surprised if there were a few video cameras there as well.

The guy, we must admit, makes the most cynical hearts swoon.
|Return to Bollywood Index| |TOP|

Stork Coming

If rumors are to be believed, two top actresses are all set to present the world with their beautiful reproductions. And when we say top, we mean top. One is our very own Mrs. Nene – Madhuri Dixit, who is supposed to be all set to go the family way. If that's true then all we can do is feel sorry for poor dear Sanjay Leela Bhansali who was all set to deliver his own baby – Devdas. For if the news is anywhere near being true, then he either shoots Madhuri's scenes within the next three months or waits for another year before resuming his pet project.

The other actress is Juhi Chawla, who herself seems to be in a hurry to finish all her productions. And yes, she is asking all her producers to finish her shoots as soon as possible. Now, that is what we call professionalism.
|Return to Bollywood Index| |TOP|

Esha's Woes

What is with Esha Debut. – er – Deol, folks? First there's trouble deciding as to who would have the honor of being cast opposite her, then there's Esha herself deciding to act pricey ,insisting that people call her "madam," and now there is talk of Papa Dharam angry over her choice of career. Now, we all know that it is solely because of mama Hema Malini that Esha got into films. But if the grapevine is to be believed then it seems that Esha's early debut has caused such angst to Dharam paji that there's a major rift in the family over the issue. But with new age woman Hema as a mother, we don't see how Esha might have any trouble.
|Return to Bollywood Index| |TOP|

Ravishing Rav

Another actress to look out for is the gorgeous Raveena Tandon, After her plain "look" and performance in Shool, we must say that Ravs has quite a few surprises up her sleeve. After Shool she seems to have taken up offbeat films. The new releases everyone is awaiting is Aks (no, it's not a short form for Akshay, but the name of a movie), Kalpana Lajmi's Daman and now the latest is Aruna Raje's Khajuraho.

Yes, the legendary Khajuraho, but Raje promises that this one won't have explicit sex scenes. And guess who's her co-star in this film? Pooja Batra. Yes, Akshay's very first girlfriend. Going by Akshay's track record, though, by now every other actress turns out to be an ex-Akki. And since both seem to have gotten over it, there are reportedly no sparks flying here.
|Return to Bollywood Index| |TOP|

Cyber Film

Yes, absolutely. No, we are not talking of those teeny-weeny snippets but a full-fledged movie, folks. It seems UthPlanet.com is all set to host India's first web-active film. Here you get the option to decide on the movie, from the script to the main leads.
|Return to Bollywood Index| |TOP|


Hindi Film Review
Veteran Critic Disappoints

FIZA

Director: Khalid Mohamed
Music: Anu Malik
Starring: Hrithik Roshan, Karisma Kapoor and Jaya Bachchan

After the cynical, critical eye Khalid Mohamed cast on all Hindi movies over the years, it is surprising that he himself fell prey to the commercial aspect of film making. The very qualities of Bollywood that he derided for ages are used in his own film.

Fiza predictably fizzles out after the interval. Khalid presumably gave in to the popularity of Hrithik and re-shot the entire second half. Thus giving equal footage to Karisma and Hrithik (who was not the Hrithik Roshan when signed on for Fiza).

After Fiza's (Karisma's) search for her brother ends in the first half of the movie, what remains is a commercial potboiler. Karisma breaking in to a "vendetta number" in a discotheque just to prove to her boyfriend how she can be a "modern woman" too, or the Sushmita Sen "sexy" number only results in taking away the serious aura built up in the first half. Whatever was Khalid thinking of? What happened to the sound advice he dished out in his weekly reviews to directors of Bollywood?

The film is set in the 1993 Mumbai riots is a Muslim family – Rifatbi (Jaya Bachchan) and her kids Fiza (Karisma) and son Amaan. The happy, middle-class existence turns into a major upheaval when Amaan is lost in the riots. Tired of the eternal, heart-wrenching wait, Fiza decides to take matters into hand and investigates the disappearance of Amaan.

Bravely facing politicians, steering clear of falling prey to their evasive techniques, Fiza finds that Amaan has become a terrorist. She successfully brings him back home, but Amaan is unable to re-establish his connection with people.

Khalid has got his perspectives wrong, for one really is at a loss to understand why he is elevating the status of anti-social acts to a form of patriotism. It is just his luck that he has the Hrithik, currently the hottest property in tinseltown in the film. his close-ups are enough to get his revenue back in the first two weeks.

Jaya Bachchan is obviously too good to be true. It's a shame that such a talented actress had closed herself out of the industry. For she is simply superb. As for Karisma, she has definitely been giving better and more concrete performance with each new movie.

With three such strong artists working for her, there is hardly any doubt that story or no story, this movie will draw in the crowds.

So…. which day have you booked the tickets for?

|Return to Bollywood Index| |TOP|
Telugu Film Review:
Funny, Sentimental Love Story

NINNE PREMISTHA

Director: Shinde
Music: S. A. Rajkumar
Starring: Srikanth, Nagarjuna, Rajendra Prasad and Soundarya
Producer: R. B. Chowdary

For those who love films with doses of love, sentiment and loud comedy, this is another film that will meet their needs. This Tamil remake offers clean entertainment in a slow-paced love story with a twist every half an hour, blended with melodious music shot in picturesque locales. The film has all the critical elements which this production group generally offers – a thematic tune played every 10 minutes, actors talking and living love that is too ideal to be practical and a carefully fashioned climax.

Coming to the story that is too long with innumerable twists, we have Meghamala (Soundarya) who is a neighbor of bank manager Kalyan (Srikanth) in a coastal village. She hovers around him from the day he enters the village and takes care of all his needs. Kalyan falls in love and he understands that she also is in love and goes ahead a with marriage proposal. But to his rude shock, she says that she doesn't love him. Moreover, she says all that love she has shown was for his eyes – yes, you heard that right.

Here is what's going on: Nagarjuna (Srinivas), her love-at-first-sight prospective bridegroom , died in an accident even before marriage. In the same accident Srikanth lost his eyesight and the eyes of Nagarjuna were implanted on him. So she says that she loves only the eyes, not the man. She believes in love for lifetime and cannot fall in love for a second time.

Now what can this man, who is neck-deep in love with the woman, do about this bizarre predicament? If the heroine's love is for a lifetime, can a hero's love be any less? No way. However, before the movie reaches the climax where love is reaffirmed, it has some more twists.

The film tries to cash in on the latest craze for Nagarjuna with the roaring success of Nuvvu Vasthavani. The role he essayed does not last for more than half an hour. But it has two songs, two fights and dynamic scenes with an obvious effort to satisfy his fans. The role reminds the one he did in Ninne Pelladatha.

Srikanth and Soundarya, the major players in the film, play their roles with enormous ease, as if it were just a cakewalk for them. The hapless actor in the film is Rajendra Prasad. He plays the role of the hero's (Srikanth) friend, generally played by Sudhakar in all the films whose main objective is to generate comedy with his stupidity.

Director Shinde plays safe with sticking himself to a well-tried formula. If the story and screenplay were too long that fault has its roots in the Tamil original. The film's music, already a hit in the market, complements the mood of the story well.

|TOP|
October-November Horoscope

ARIES (March 21 to April 20): You will do well financially. Child will cause major concerns and you will consult an expert for it. You will process some legal documents. You may get an offer from far off place. Someone taking revenge will fail.

TAURUS (April 21 to May 20): Health conscious people will lose some weight. Money will come but disappear fast. Some of you may have to go on a short business trip. You will spend money towards a vehicle or do some upgrade on a property.

GEMINI (May 21 to June 20): Mars in third will make you very aggressive but you may hurt some one close with the choice of wrong words. Travelling will be beneficial and you will get positive reply to all letters. You will make a good investment and may benefit from stock market also.

CANCER (June 21 to July 22): Financial pressure will go away after middle of the month. Assets and value of stocks will increase. You will be taking some courageous actions to prove your point. Some of you will be working on a future travel plan. Spouse will calm down and domestic life will be blissful.

LEO (July 23 to August 22): You will be full of energy. All efforts will bring desired results. You will spend money on property. You will get a business proposal but spouse will not agree. Extra running around may have some negative impact on health. You will feel like taking an overseas trip.

VIRGO (August 23 to September 22): Government official could cause headaches. You will do extremely well in all financial matters. People in business will sign a major deal taking them towards financial freedom. Handle all machinery and tools with care.

LIBRA (September 23 to October 22): Mind will stay cheerful and health will improve. You will invite few friends at your place. You will recover more than half of your previous losses. A property deal may take final shape. Business will improve and you will get new deals.

SCORPIO (October 23 to November 22): Value of your stocks will shoot up. This could be a major turning point in finances. You will overcome major opponents and victory is possible in legal matters. There will be some celebration in the family. You will be asked to change food habits.

SAGITTARIUS (November 23 to December 22): Spouse will befull of good ideas. There will be some changes in partnership. Competition in business will grow. You will get an offer from far off place but will decide against it. New member will be added in the family.

CAPRICORN (December 22 to January 19): There will be a big change in career. Some of you will be advised minor surgery or some strong medication. You will be involved in religious work. You will receive some good news from far off places.

AQUARIUS (January 20 to February 18): You will come across an excellent opportunity to improve your income. Past hurdles will go away. An old friend will help you. Spouse may plan to travel alone. You need to change your vehicle soon. Money will be spent making some changes at home.

PISCES (February 19 to March 20): Spouse may not keep well. You will try to get a loan. You may have to spend extra on advertising because of increased competition. Some of you will be moving to another location soon. You will be slightly disappointed with the changes you made in life in recent months.