Publisher's Note
:
A recent article in the
Wall Street Journal
highlighted India's growing importance as a destination for biotechnology firms. Several U.S. firms are looking for possible Indian partners.
Biotechnology? Many readers must have done a double-take. It was information technology that was supposed to be India's forte, wasn't it? Well, recent news reports suggest that biotechnology could well become another scientific frontier where India makes the world sit up and take notice. An expatriate Indian has already pledged his support towards building a biotechnology institute at IIT Mumbai, and M.S. Swaminathan, the famous architect of India's Green Revolution, is leading public policy in Tamil Nadu to woo biotech firms and investors.

Yet the growth of and spread of biotechnology also has its naysayers. For critics, the question is less about the scientific pursuit of knowledge than the social and economic context of the pursuit. A few years ago, the proposed "terminator" gene by biotech giant Monsanto brought out shrill cries of protests from activists in India, and Indian activists have joined a global band of protesters who worry that the greed of corporate behemoths threaten not only the survival of Third World farmers but also put biodiversity in jeopardy.

Be that as it may, it appears unlikely that the biotechnology bandwagon can be stopped, so what is imperative now is to make sure that policymakers and the government have the integrity, commitment and savvy to make sure the public interest is adequately safeguarded.

|TOP|

Main Feature

Biotechnology:
India's Latest Frontier By Qaiser Ahmad Naqvi

Biotechnology is the cutting-edge frontier that promises dramatic advances after information technology. India, it turns out, is ready to take on the world, but some critics are wary about the hype, writes Qaiser Ahmad Naqvi.

If you think that information technology is what has ushered India into the global marketplace you could be right; if you think IT is the only show in town, think again. Biotechnology is fast becoming another cutting-edge field where India is all set to make a mark. Consider the following:

Houston-based entrepreneur Rahul Mehta's family foundation is making a "significant contribution" toward the establishment of a new Rs. 55 crore ($12 million) School of Biosciences and Bioengineering at the Indian Institute of Technology in Mumbai.


The funds have been pledged by the Mehta Family Foundation, set up by Mehta, founder, president and chief executive officer of NuView, Inc., a privately-held software company in Houston.

The 40-year-old entrepreneur has founded three previous technology firms that have been acquired by other high-tech companies, was in Mumbai March 26 at ceremonies at IIT to launch the Bhupat & Jyoti Mehta School of Biosciences and Bioengineering, named after his parents.



India is spending over $1 million attempting to clone a cheetah which vanished from the subcontinent 50 years ago. A team of scientists from Hyderabad's Center for Cellular and Molecular Biology expects to make the animal copy within five years.


The researchers will employ techniques similar to those used by American scientists, who are in the process of cloning an endangered Indian wild ox.

"Biotechnological intervention for the long-term conservation of species is a sound and most modern way of saving species that are headed towards extinction," team leader Dr. Lalji Singh told the Indian Express newspaper.

Dr Singh and his team will take the genetic material from live cheetah cells and fuse it with empty leopard eggs.



The government of India and Massachusetts-based Therion Biologics are partnering with New York philanthropic grou IAVI to develop and test preventive AIDS vaccines for India.

India's Ministry of Health and Family Welfare and the Indian Council for Medical Research have signed a memorandum of understanding with IAVI to construct and evaluate one or more vaccines appropriate for use in India. The vaccines will be tailored to HIV strain C, the subtype of the virus most common in the country. The first of these vaccines will be developed by Therion Biologics, of Cambridge, Massachusetts. Working closely with the Indian team, Therion will design and manufacture a modified vaccinia Ankara (MVA) vaccine that aims to stimulate the production of immune cells that kill other cells infected with HIV. Pending regulatory approval, the partners intend to submit the vaccine to human testing in India within two years.

"Already India has proven itself an international leader in the fight against AIDS and the search for a vaccine, and today's action strengthens that commitment," said Seth Berkley, M.D., IAVI's president and CEO.

After information technology, will bio-technology be the golden frontier of Indian science? Recent events like this strongly suggest that India could quickly become a major player in another cutting-edge area of science, though critics are already warning that the field of biotechnology brings with it a new set of hazards that profit-hungry corporations do not want people to know.

Regardless of what critics say, the next scientific wave is already sending ripples. Bangalore is hosting Bangalore Bio.com 2001 this month offering a common platform for key players in biotech industry and the government, to explore new avenues in the emerging biotechnology market, particularly in the light of the recently announced "Millennium Biotech Policy" by the Karnataka Government. The conference comes at a time when the global biotech market is expected to grow from $2.5 billion in 2001 to $4.5 billion by 2010.

"The Government of Karnataka is committed in its efforts to establish a biotech corridor for the development of the biotech industry in Karnataka," said state IT Secretary Vivek Kulkarni. "The journey from IT to BT is a natural progression for Bangalore specifically, given the vast global potential held by bio-informatics and its proven excellence in software and scientific development. Bangalore Bio.com 2001 is one such sincere effort to highlight Karnataka as India's emerging biotechnology capital and the future course that will be taken by Indian biotechnology firms."

"After India's software revolution, biotechnology is being described as the next big thing to hit the country.

Multinational and Indian research companies are investing heavily in the industry, encouraged by biotechnology-friendly policies," BBC correspondent Crispin Thorold reported in a recent report to BBC Online.

In Tamil Nadu, one of the world's leading agricultural scientists, Professor M S Swaminathan, has helped draw up local policy to promote biotechnology.

Swaminathan was the creator of India's "green revolution," a scheme that massively increased crop yields in the late 1960s. He believes that by improving infrastructure and encouraging investment "socially beneficial" biotechnology can flourish.

"We will invite entrepreneurs, non-resident Indians, or even outsiders," he said. "We welcome anyone who shares our vision of reaching the unreached, or including the excluded in terms of technological benefit."

Facilities being built to attract businesses include a biotechnology park near Chennai, medicinal plants laboratories near the temple-town Madurai, and a marine center in the south of the state.

An existing women's biotechnology park near Chennai, will continue to be supported by the government, and a Bioinformatics and Genomics Center will be opened at the state's main IT industrial park.

Overseas investors are being drawn by India's enormous natural resources. Tamil Nadu alone has 5,000 species of flowering plants and 22,500 square kilometers of forests.

The area also has a sizeable section of India's 7,500 km coastline. It is part of the ecological treasure trove that is the basis of much of the local biotechnology.

An estimated 60 percent of the world's population live within 60 km of the sea. For them, global warming is a real threat to food security.

Topsoil will be washed away leaving marshy saline soil, an environment in which conventional crops won't grow. It's a problem researchers at the M S Swaminathan Research Foundation are trying to resolve.

"Our scientists have mapped mangrove trees. They grow in the estuaries, between seawater and fresh water and they have genes for seawater tolerance. We have identified those genes and transferred them to a number of crops, including mustard, tobacco, pulses and rice," says Swaminathan.

In medicine as well as agriculture, India's ecosystem has much to offer. Many Indian tribes turn to traditional healers who use locally found plants to treat diseases.

Multinational companies have realized the potential of these remedies in drug development. In recent years, overseas firms have rushed to patent chemicals from natural sources that have been used locally for hundreds of years. These include turmeric, neem, and ginger.

This "biopiracy," which for many critics is nothing less than the theft of indigenous resources and know-how, is being combated to some extent in the courts. But there is real concern about the motives of the multinational companies who are investing in India.

M.V. Subbiah, chairman of the Murugappa Group, is cautious about the hype surrounding biotechnology.

Over the past 10 years, his large company has been using tissue culture to maximize yields, and increase disease resistance in sugar cane.

But he says that after much consideration, his family have decided not to invest in biotechnology.

"The modification of a gene and what it will lead to is one of the biggest ethical questions we have, and nobody has the answer to it," he said.

The second reason is that wherever anything has gone into a monoclonal approach, even without biotechnology, diversity has been reduced quite substantially.

"Therefore we believe the same thing will happen here, and the extraordinary biodiversity that we have will be lost to this country."

The issue of the "terminator" gene rocked the Indian news media several years ago, and brought protesters to the streets.

The terminator gene was developed by the U.S. Department of Agriculture in collaboration with Delta and Pine Land, a seed company now acquired by biotechnology giant Monsanto, which already has extensive interests in India.

The independence of the Indian farmer, says food expert Devinder Sharma, is anathema to the United States, which has built up a huge biotechnology industry. The U.S., he said, wants to sell not only genetically engineered seeds but the tailor-made fertilizers and pesticides that go with it as cotton farmers in Andhra Pradesh discovered so painfully.

So far, Indian farmers got by very well, putting by a part of their crops for seed in the time-honored way and in the process maintaining the rich crop-diversity of their famed varieties of wheat and rice perfected to suit Indian agro-climatic conditions and to local tastes.

The Indian government which has so far been wary of the interests of the United States food lobby has become lax and last year even allowed Monsanto to set up a $ 25 million research laboratory on the Indian Institute of Science campus at Bangalore.

If the terminator gene does not help the United States destroy India's crop varieties through cross-pollination it can certainly do it by manipulating market forces, he alleged.

''Farmer's rights are incompatible with the intellectual property rights regime which the United States wishes to foist on the world,'' says activist Vandana Shiva.

According to Dr Shiva, agriculture based on globalization, genetic engineering and corporate monopolies on seeds will eventually establish a food system in which multinationals will control everything grown and eaten.

Currently, Indian agriculture is characterized by diversity, decentralization. It focuses on improving small farm productivity through ecologically sound methods that are nature-friendly and sustainable.

Small ecological farms are far more productive than the large industrial farms of the United States, although multinationals like Monsanto promote the idea that the world needs biotechnology to be fed, Shiva said.

Notwithstanding the debate, politicians and policy makers now believe that as well as creating wealth, the growth in biotechnology may bring medical and ecological breakthroughs.

Biotechnology, like IT, is knowledge intensive. This gives India's highly qualified, English speaking but relatively cheap work force a real commercial advantage. The question for India in resolving critics' doubts is not unlike that in other areas: How to harness the explosive power of market forces and entrepreneurship with effective and accountable checks and balances – this is a skill that the Western countries have acquired in large measure, but for India, as the Enron debacle shows, there is a long way to go.

– Qaiser Ahmad Naqvi is a freelance writer
based in New Delhi.
|TOP|
Infotech India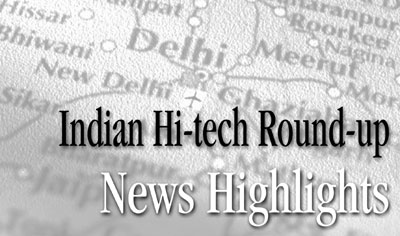 SEBI to Probe Satyam ... Bell Labs in Hyderabad ... Aptech Chief Quits — Here is the latest on information technology from India

SEBI to Probe Satyam

The Securities and Exchange Board of India has asked two stock exchanges to investigate an alleged leak of the financial results of Satyam Computer Services ahead of its board meeting, according to newspaper reports.

The Bombay and Hyderabad stock exchanges have been asked to probe the leak, which appeared on two Web sites about 40 minutes before the board meeting, the Business Standard and The Economic Times reported.

Satyam's shares, which were languishing at an intra-day low of Rs. 217 rupees, surged in evening trade to close up 7.37 percent at Rs. 233. Dealers attributed the rise to the leaked results. Satyam has denied releasing the results before the board meeting. The company, India's fourth largest software exporter, reported a better-than-expected 164 percent increase in earnings for the January-March quarter.

The reported probe also comes at an embarrassing time for Satyam, when it is planning an issue of American Depositary Receipts. Its subsidiary Satyam Infoway is already listed on the Nasdaq. "We are examining the possibility of anyone accessing the unapproved information even for a few seconds from our Web site due to any technical snag," Satyam Computer's company secretary G. Jayaraman told a newspaper.

However, Satyam officials were not immediately available for comment.
|Back to Infotech Index| |TOP|

Bell Labs in Hyderabad

Bell Labs has opened its research and development center, Bell Labs India, here in Hyderabad. The new facility, which will complement the activities of the existing Bell Labs R&D facility in Bangalore, will engage in research on emerging technologies such as 3G wireless and Universal Mobile Telecommunications Systems). It will play a vital role in the development of Lucent products distributed globally.

Inaugurating the facility here, Andhra Pradesh Chief Minister Chandrababu Naidu said: "We want to make Hyderabad a major knowledge hub of India and opening up of facilities like this would go a long way in achieving our prime goal. Bell Labs could prove to be very useful in promoting knowledge here and eventually it could become a center of excellence for all the convergence technologies."

With more than 30,000 employees in 30 countries, Bell Labs is one of the largest R&D organizations dedicated to communications. It has generated more than 28,000 patents since its inception in 1925 and has played a key role in perfecting communications technologies, including transistors, digital networking and signal processing, lasers and fiber optic communications systems.

The Hyderabad facility has 50 software professionals working on the latest communication technologies. Bell Labs in India is engaged in emerging technologies such as broadband and mobile Internet. Lucent has its offices in New Delhi and Bangalore, and project offices at Mumbai, Hyderabad, Kerala, Chandigarh and Jaipur.
|Back to Infotech Index| |TOP|

Aptech Chief Quits

Ganesh Natarajan, managing director of Aptech Limited, a pioneer in computer education in India, has relinquished his post and is speculated to have taken up a job in India.

However, as the founder member of the company, Natarajan will continue to be the director of BConnectBWorldwide., a subsidiary of Aptech.

The company's board has appointed Pramod Khera, executive director, as acting chief executive of the company and Abhay Sinha, executive vice president as the acting head of the software business.
|Back to Infotech Index| |TOP|

TRIBUTE

NASSCOM Chief Dies:
Farewell to India's IT Star – A Siliconeer Eulogy

He was a one-man roadshow for India's software industry. The recent death of Nasscom president Dewang Mehta in Sydney has shocked all aficionados of India's IT industry. Siliconeer presents a fond tribute.

I feel have reached my peak as far as lobbying is concerned. So said Dewang Mehta nearly six years ago while sitting in NASSCOM's plush office in Delhi's Ashok Hotel. But events that would unfold in the next few years would show that he would continue to play that role with sophistication and exemplary skill.

Mehta, the hyperkinetic, peripatetic one-man roadshow for Indian information technology, fulfilled almost all the goals he had set for himself except for two — his desire to make a commercial Bollywood masala movie and obtain a commercial pilot license for which he was training hard.

The once financially fragile 72-member industry forum in 1997 now boasts of 1,000 members and an extremely healthy bottom line, thanks to the inspirational leadership of this dynamo of a man. But the success was not easy and a lot of it can be attributed to his informal style and successful lobbying among government circles.

He also deserves credit for his excellent public relations skills that led to income tax exemption for software exporters and software reproduction legislation, and excise & sales tax exemption for software from a numbers of state governments.

This apart, the NASSCOM chief is also widely credited for convincing the Finance Ministry to reduce duty on software from a peak of 107 percent to zero. He also started the annual software industry shows that have gained popularity over the years.

Humble Beginning

Born in Umreth, a small village in Gujarat in 1962, Dewang's family shifted to Delhi when he was just six. He passed out from Bharatiya Vidya Bhavan in 1979 with the hope of becoming a doctor. Although he got selected in three medical colleges, he chose AIIMS in Delhi.

Unfortunately, he was rejected due to a bizarre admission policy at the AIIMS. He traveled to Mumbai and was admitted into St. Xaviers College, where he opted for political science, French and history as he was toying with the idea of becoming an IAS officer.

After two months of history and French, a dissatisfied Dewang sat for the entrance exam of CA, and in 1984 became a qualified chartered accountant. In 1977, on a vacation to his village, he was introduced to Shyam Benegal, who at that time was making his movie Manthan.

For two months, Dewang worked with Benegal as spot boy. Here, he developed an understanding of the art of movie making. Since then, he got hooked on to the idea of making a movie of his own.

His fascination for writing compelled him to come out with an article, which was published in The Times of India in 1978. This article was his lucky break as Menaka Gandhi, who was the erstwhile editor of Surya magazine, appointed him to write for the magazine at a princely salary of Rs. 600.

Not to remain content as a mere writer, in 1982, he along with two other journalists formed Asian Travel Writers Association, with the aim of promoting Indian writing on travel and tourism. In the same year, he made his first film, a 20-minute documentary on Indian tourism, Glimpses Of India. This documentary won an award at the Commonwealth Film Festival in Leeds in July 1983. This was where he came in contact with computer graphics for the first time. It was an interest that he would carry for the rest of his life.

The IT Connection

In October 1988, Dewang cut short his stay in London at his mother's request and joined Orissa Cement as general manager for diversification into computer graphics. Besides working in OCL, he continued to dabble in making ad films.

In the meantime, Harish Mehta asked him to find a replacement for the previous secretary of NASSCOM. Unable to find anybody suitable, Harishbhai offered him the job. So in April 1991, Dewang joined NASSCOM on a part-time basis because "he wanted to carry on with his film making."

The rest, as they say, is history.

He was the icon of Indian software industry to the world. The irresistible Dewang was a shrewd lobbyist who taught an India, tottering under the aftermath of the license-Raj, the art of liaising with the government for the common interest of an industry. His industriousness and optimism saw the premier software association become a powerful voice in the history of Indian industry.

He was the best brand ambassador Indian software could ever dream of. Under his leadership, NASSCOM rescued the "Made in India" label from obscurity and transformed it into a prized tag. The man who had the temerity to coin the phrase "Roti, kapda aur bandwidth" became Indian software industry's official voice, both on the domestic and the international scene.

"I share a dream with the people of India," he wrote. "We all wish to see India emerge as a software powerhouse. For this, we not only have to achieve higher revenues and value-addition in software developed in India but, we also have to ensure that we are effectively able to channelize the power of IT to provide basic necessities to all the citizens of India. We have to work together in penetrating IT to every nook and corner of the country. In this direction, it is also important, say in next five years, to aim for 100% literacy in India."

Dewang's irrepressible optimism could sometimes drive even a fellow optimist mad. Yet the IT industry gained immensely from his optimism. For starters, the import duties on software were completely taken off under his relentless lobbying through NASSCOM. When the IT industry was worried over the political uncertainty during the last general elections and behind-the-scene maneuvers for government making, Dewang was cool as ever. He had already met prominent politicians from both the Congress and the National Democratic Alliance and had apprised them of the software industry's aspirations and concerns. When the industry was suffering from post-Y2K blues, Dewang assured that either the Euro conversion projects or the Web boom will come to India's rescue. The Web boom did.

Dewang's rise in the Indian industry skyscape was quite meteoric. From just being the president of NASSCOM, Dewang rose up to don the advisory roles in most of the technology missions, commissions, panels and task forces of the government of India.

Dewang was extremely democratic in his approach to life and work. He would always press for consensus. He was also a man of multi-hued interests and talents. He was a film maker, chartered accountant, journalist, computer graphics professional, entrepreneur, he had done it all. In the last 18 years in his 38-year life span, Dewang lit a fire under the software industry. A fire which is hard to tame. His untimely death has come as a shock to the entire IT fraternity. "This is absolutely tragic. Unbelievable. He was a great person and a great personal friend. This is a huge personal loss for me," said MindTree chairman Ashok Soota.

Here, we recall some of the significant achievements of Dewang Mehta.

Dataquest IT Man of the Year – 1997

World Economic Forum nominated Dewang as one of the 100 "Global Leaders of Tomorrow"

Software Evangelist of the Year – 1997, 1998, 1999

He was the industry's voice during the formation of the Union IT policy

Advisor to the IT panels of most Indian states.

His Mission

Dewang's mission was to bring the power and benefit of Information Technology to every man, women and child of India. This would involve, amongst others, the following.

Computer and Internet in every school/college of India by 2005-2008

Internet/Email at every STD/ISD booth by 2003

Internet through cable TV - reach at least 15 million household by 2003

Employment generation through IT (I.T. Enabled Services)

E-commerce proliferation

Tele-medicine in all villages, taluks of India

E-governance implemented by 2003

IT to help the disabled

IT to emerge as the main movement in India (IT for masses)

The man gave all he had and more to the cause of the Indian software industry. His time, life and maybe the passing away all got dedicated to a self-determined mission of promoting Indian software abroad. And he managed the multifarious activities involved with the panache of a skilled acrobat.

At the time he took over NASSCOM the software industry was strong but under-leveraged. He lobbied hard and long for it, both inside and outside the country. He lobbied for it at business forums and in schools and colleges. He contributed to building it up to a level where it became a symbol of success for the country and a beacon of hope for thousands of software enthusiasts.

Recently he had lamented "I am tired, just when things are looking settled this US slowdown starts." Maybe he should have taken it easy. But then that would not be the Dewang we knew.

Now that he is no more, the void that has been left will become very obvious. Under a big tree other plants cannot grow. And NASSCOM will have to struggle hard to find a worthy successor. The unfortunate part is that the tragic end came at a time when his dynamic presence was most required and when he had a carved a niche from where he could have gone to many other bigger things.

The one-man band of the Indian software industry is no more. But the music must go on.

|TOP|
FINANCE:

Annuities
A Retirement Planner's Friend – By Ashok Gupta

With fears growing about the viability of Social Security, the prudent thing is to save for retirement. Annuities can be a very useful tool for this, says financial adviser Ashok Gupta.

Here are three big reasons why annuities, under the right circumstances, may be a very tax-efficient way to accumulate assets for long-term retirement needs.

Tax deferred earnings

Future payments guaranteed by insurance

Various investment options to choose from

Annuity purchase payments are not tax-deductible, so it may not be advisable to put money into an annuity before you've contributed the maximum to plans that may be funded by pre-tax dollars. However, qualified plans have some type of contribution limit — $2,000 annually for IRAs and $10,000 for 401(k)s for example. If those limits are too small to achieve your retirement goals, and you can afford to set more aside, an annuity affords an excellent spot for extra savings to grow tax-deferred.

Purchase payments go into a fixed annuity at a guaranteed rate or into a variable annuity whose earnings are tied to the performance of a subaccount invested in underlying variable investment options.

Tax-deferred Earnings

Earnings on an annuity are not taxed until withdrawn, allowing the value of the savings to grow and compound. It's that tax-deferred feature – combined with a growing assortment of innovative products that offers many levels of growth potential and investment risk –that have popularized annuities among people who still have many years to go before retirement.

Future Payments Guaranteed

The insurance feature of the annuity can be selected to assure payments — for life, for a specified time period, say 10 years, or for life with a certain period guaranteed, meaning that if the annuitant dies early a beneficiary will receive the remainder of the promised payments.

Various Investment Options

It has been shown that unlike other investments, where gains are subject to tax annually, variable annuities allow owners to shift their money among various subaccounts without having to "cash in" and pay tax until they're ready for a distribution.

Alternatively, a fixed annuity offers safety of principle and earns a guaranteed interest rate for a certain period of time.

Points to Ponder

Of course, like any investment, you shouldn't purchase an annuity until you've closely evaluated how well it suits your financial objectives and tolerance for risk.

Here are some points to help you determine whether annuities are right for you:

An annuity is designed as a long-term investment that should only be considered as a part of your carefully orchestrated retirement income strategy. If you're much younger than 59, don't count on it as an emergency savings account, because, in addition to being taxable, there is usually a 10% federal income tax penalty on early withdrawals. Surrender charges may apply as well. Except for annuities that begin to pay out immediately, don't expect to withdraw money any time soon.


Variable annuities generally have higher fees than mutual funds because of their insurance component. It will take some years for the benefits of tax deferral to offset the cost of the fees.


Remember that when withdrawn, annuity earnings are taxed as ordinary income, while mutual fund profits often qualify for the lower long-term capital gains rate. You might consider avoiding annuities if you think you will be in a higher tax bracket at retirement.


Annuities are not the best estate-planning tool because your heirs are subject to income tax on any earnings. Heirs do not have to pay income tax on mutual fund gains in the estate at time of death.


Before buying an annuity, be sure to evaluate the characteristics of the issuing insurance company – its financial strength, the flexibility it offers you in choosing subaccount funds, and the investment performance of its funds over time.

Ashok Gupta is a financial planner.
He is based in San Jose, Calif.

|TOP|
IMMIGRATION LAW:

Lifeline for Kin : V Visa – By Raja Ahluwalia

No more inordinate delays for immigrants who are trying to have spouses or family members join them. A new law will bring enormous relief, says attorney Raja Ahluwalia.

This country attracts immigrants like a magnet, and not all of them enter or remain in this country within the law. The latest gift from the U.S. Congress to illegal spouses and children of green card holders and U.S. citizens in the form of the V visa is worth applauding.

As everyone is well aware (my phone has not stopped ringing), on December 21, 2000, the Legal Immigration and Family Equity Act became law. Among several provisions, LIFE creates a V visa that will allow certain spouses and children of permanent residents to live and work here while their immigration cases are pending.

Due to processing delays and quota backlogs, husbands, wives and children of permanent residents and U.S. citizens often wait abroad months or years to get immigrant visas. Congress passed LIFE to bring families together.

The V visa is available to the spouses and unmarried minor children of permanent residents. Because of quota backlogs, these close relatives have to wait five to six years to get permanent residence.

The V visa is available to the spouse and unmarried children under 21 of permanent residents. The applicant must have been waiting for permanent residence three years or more from the time the INS received a second preference petition filed on his or her behalf. The INS must have received the applicant's petition on or before December 21, 2000. The INS need not have approved the petition. For example, if a green card holder filed a petition on January 1, 1998 and the petition is still pending, his or her spouse (or minor children) can obtain V visa.

V visa holders can live and work in the United States while waiting to qualify for permanent residence. Prior to LIFE, these relatives of permanent residents often had difficulty getting a visa to visit the United States because the previous law disallowed issuance of non-immigrant visa to someone who is beneficiary of immigrant visa petition except in certain situations.

V visa applicants outside the United States will apply for their visa at a U.S. consulate abroad. The bars for applicants unlawfully present don't apply. Applicants in the United States, even those here unlawfully, qualify to change status without returning home. Once the V visa holder has a relative petition approved on his or her behalf and a current priority date, he or she can adjust status under 245(a) or 245(i), if qualified. V visa applicants are not inadmissible for having been unlawfully present in the United States more than 180 days.

The law went into effect on the day of enactment, December 21, 2001. However, INS and DOS have not yet issued instructions and/or interim regulations and are not yet accepting applications for V visa from qualified people present in the U.S. As of April 2, 2001, the consulates have starting accepting such applications for V visa.

V visa is a temporary relief, though, because of its limited applicability resulting from qualifying conditions. Since the petition has to have been filed on or before December 21, 2001, the prospective beneficiaries of such applications do not have the same recourse or hope of being united with family utilizing such visa. However, let us hope that this law will set the trend for some permanent law in the future.

– Raja Ahluwalia is an immigration
attorney based in San Mateo, Calif.

|TOP|
CULTURE:

Raag Malkauns
The Majestic, Introverted Raag - By Habib Khan

Indian folklore says that if played exactly at midnight, Raag Malkauns can draw the attention of even supernatural beings. Few modern musicians will acknowledge belief in this myth today, but all acknowledge the contemplative quality of this elegant Hindustani raag, says Habib Khan.

One of the most majestic yet introverted raags in Hindustani classical music is Raag Malkauns. This audhav or five-note raag omits pancham and rishab. It's scale includes komal gandhar, dhaivat and nishad, with vadi swar madhyam and samvadi swar shadja. Raag Malkauns, also known as Malkosh or Kaushik, or in south India as Hindol, is a very ancient raag, which has evolved over the centuries to become one of the most popular raags in the pantheon of Indian classical music today. This raag is used in many genres, an is especially popular in khayal and bhajan

The time of play for Raag Malkauns is midnight. One of the most interesting features of this raag is the wide range of emotions it can express. Malkauns can be presented to express a feeling of deep spirituality, turning the mind inward with its long arcing meends from dhaivat to madhyam and from madhyam to gandhar. Offered with this sentiment, Malkauns can fill the mind of the listener with a sense of deep peace and devotion, as if the mind of the listener has become a temple in which the haunting strains of Raag Malkauns are echoing. This raag can also embody a sense of noble majesty when offered in a slow and dignified manner. In Raagmala paintings, which visually depict the nine rasas or emotional states that can be evoked through music, Malkauns is sometimes pictured as a heroic nobleman in repose.

But perhaps one of the most interesting and controversial expressions portrayed by Raag Malkauns is the feeling of a yogi, who while meditating at midnight, must chase away the demons or negative force that disturb his meditation. Interpreted this way, Malkauns becomes a powerful, angry raag, generating tremendous energy through the use of strong notes connected by arcing meends. There is actually a myth connected to Raag Malkauns, which claims that if a musician can offer this raag completely perfectly at the stroke of midnight, supernatural beings will enjoy the music. Most modern musicians deny any belief in this myth, but few of them will actually try performing Malkauns at this exact time.

The wide range of emotion or rasa expressed by this raag combined with the beauty and majesty of its notes and tonal structure make Raag Malkauns on of today's most frequently hear raags. This raag can be enjoyed in many recordings currently available, spanning the genres from pure classical to light music.

- Habib Khan is a well-known sitarist based
in the San Francisco Bay Area.
INTERNET:

Bollywood Meets Cyberspace
People's Choice Awards - By Vishwesh Ranganathan

Indians love Bollywood. Indians are also enormously internet-savvy. Put together those two facts, and Web-based film awards are inevitable, writes Vishwesh Ranganathan.

Bollywood fans around the world can now participate in a "People's Choice Awards" and cast their votes over the Internet for the best Bollywood film of 2000, best actor, actress and various other categories.

"It is about time that Bollywood fans around the world had the ultimate voice in choosing the Best of Bollywood. Various old-style award shows held in Mumbai are increasingly becoming very biased, and rarely reflect people's choice", said Raj Baronia, president of INDOlink, an ethnic web-media company based in San Ramon, Calif. INDOlink has been running the People's Choice Awards on the internet for last six years via its entertainment Web site PlanetBollywood.com.

"Bollywood is not confined to India anymore, it is now a global phenomenon. As Bollywood films entertain millions of people across the globe, it is only appropriate that all these people from various parts of the world have equal opportunity to participate in the selection process to determine the Best of Bollywood. And of course, the Internet is the best medium to connect such a diverse global audience", said Baronia.

Best of all, even voters get to win prizes if their selection matches all or most of the winning nominees. In order to participate, all one has to do is connect to the web-site www.planetbollywood.com and select from a list of nominees under various categories such as best film of the year, best director, producer, etc. The online voting will continue for approx 6 weeks. At the end of the polling period, all the votes will be electronically tabulated and the nominees receiving the maximum number of votes will be declared winners of the "People's Choice Awards."

"It is a unique interactive experience involving a vast global community", said Ramesh Kainthla, managing editor of PlanetBollywood.com. "Last year, for example, four prize winners whose selections matched the final results, were from four different continents – the first prize going to a Bollywood fan from the U.K., second prize to an Indo-American in Boston, and third prize was a tie between two participants from India and South Africa.

"It is a major undertaking, and we have developed a very robust voting system using state- of-the-art computer technologies. You would not find any hanging chads here."

- Vishwesh Ranganathan is a freelance
writer who lives in Livermore, Calif.

So what if there was no bhang? Some folks brought in beer, and the colors were just as riotous as it is in any Indian city as desi college kids at Stanford celebrated Holi with gusto. Over 1,000 people crowded the Wilbur Field at the university campus in Stanford at the Holi revelry hosted by Asha Stanford to celebrate the traditional Indian festival that welcomes the arrival of spring.

Asha supports basic education projects in India, and the holi revelry also had underlying good intentions. About $10,000 was raised from the event, according to organizers. Local businesses chipped in with sponsorships. Kadam & Kadam Jewelers, Narayan Foods, Kinetic Fluid Systems and Indian news Web site Rediff.com were among the sponsors.

This was the third annual event hosted by Asha Stanford. Asha for Education was founded in the University of California at Berkeley by students to raise funds to support basic education programs in India. The organization has two distinctive features: All raised funds go to support its programs as organization volunteers take care of organizational overheads, and Asha volunteers themselves monitor the programs they support during trips to India.

At the Stanford event this year, over 500 pounds of color was imported from India, and for those who wanted more, the wet muddy field was an arena for more revelry as participants were dragged into the mud.

Revelers loved it: It was literally a colorful event, and all for a good cause. What more could you ask for?

|TOP|
COMMUNITY NEWS:

NFIA Applauds Jindal Appointment

The National Federation of Indian American Association, the largest umbrella organization representing over 1.5 million Americans of Indian origin, applauded the nomination of Bobby Piyush Jindal as assistant secretary of the U.S. Health and Human Services, making him the highest Indo-American nominee in the current administration. NFIA urged the U.S. Senate for his speedy confirmation.

Parthasarthy Pillai, the president of NFIA, said that President Bush could not have picked a better individual, full of energy, enthusiasm, and commitment than Bobby Jindal for this job. "Today, the entire Indian community takes pride in the nomination of this young and dynamic person," echoed Niraj Baxi, the NFIA president elect. "Jindal has distinguished himself as a great administrator at such a young age." Jindal is merely 29 year old.

At age 24, Jindal made remarkable contributions to fix the Medicaid system in Louisiana State, when he served as the Secretary of Health and Hospitals. During his tenure at DHH, he helped Louisiana's Medicaid program escape from bankruptcy by turning a $400 million deficit into a surplus.

Award for PATA's New York Chapter

The New York chapter of the Pacific Asia Travel Association has won the 2001 "Spirit of PATA" Award from PATA.

Under Pallan Katgara's chairmanship the chapter won the 2000 "Award of Excellence" and the 2001 "Spirit of PATA." Katgara is director of Travel Corporation India, India's largest privately owned travel organization with 28 offices in India and 12 around the world. TCI serviced over 250,000 tourists last year. It recently launched its Web site www.nritours.com.

Katgara, who operates the TCI operations in North America from their offices in New York, is the first person of Indian origin to be named chairman of the New York Chapter in its 38 years of existence and the first win these awards. He visited Malaysia to receive the award at the 50th PATA Annual Conference April 9.

Founded in 1951, the Pacific Asia Travel Association is the recognized authority on Pacific Asia travel and tourism. PATA provides leadership to the collective efforts of 41 national government members, 48 state and local tourism bodies, 66 airlines and cruise lines — all in all, nearly 2,000 travel industry companies. Members include companies that provide a wide range of services to the travel industry. PATA's chapter membership includes 17,000 travel professionals in over 80 PATA chapters throughout the world.

|TOP|
Auto Review:




Luxurious Excitement
2001 Acura 3.2 TL – By Al Auger

Acura marketers are the soft-sell emeritus professors of the automotive industry,
says auto expert Al Auger, who is thrilled with the new Acura TL.

Of the numerous brands, badges, models, sub-models and hybrids on the market today, there can't be a more subtle and successful name than Acura. I think of their marketeers as the soft-sell emeritus professors of the automotive industry. To make this definition even more valid and unique is the spread from luxury transportation to high-powered luxury excitement.

Two excellent examples of this duality are the 3.2TL and 3.2TL Type-S. The former is a fully equipped sedan with all the niceties and mechanics of a thoroughbred show horse; the latter, again a fully loaded sedan with all the same niceties and mechanics, plus a lot more targeting the adventurous.

Built at the Honda/Acura Marysville auto plant in Ohio, the TL twins begin their rationale with the sophisticated 24-valve, 3.2-liter VTEC all-aluminum V6 engine. The TL powers out 225 horsepower, while the big brother rates 260 horsepower. Discriminating small differences show up in the S-Type such as cylinder liners, compression ratios, torque curve, induction system, etc. This thin-line difference in many of the two vehicles features streams throughout, meaning the only real differences are a narrow cost separation and attitude.

This report could have quickly ended with simply detailing the power, handling, performance and tightness of the TL twins, forgetting its full package of luxuries and people pleasures. For me, the Acura can be summed up simply as "Once driven, always happy." The response they both send once they have been powered up is as good as it can get. But, we do realize there are a lot of drivers and – in particular – passengers who march to a different drummer.

At the top of my list that makes the TL twins reach into the strata of enjoyable machinery are the engine, the 5-speed SportShift transmission and solid 4-wheel independent suspension system. The S-Type features a finely sports tuned version of the TL's excellent system. Each corner is tied down with anti-lock ventilated disc brakes and V-rated tires – 16-inches on the TL and 17-inches for the Type-S.

The transmission's automatic shifter is the perfect answer to city and autobahn driving and by shifting the lever into the SportShift gate, it's your gear of choice with a simple up or down move. Very neat. That old bugaboo of an automatic "hunting" for gears on steep grades is no problem with the TL's Grade Logic Control System. The Type-S adds to the delight of driving with Vehicle Stability Assist (VSA). This system, a feature of Acura's flagship 3.5 RL, adds immeasurably to acceleration, cornering and avoiding sudden confrontations.

The handsome exterior has been enhanced with a more definitive front-end look. Untouched are the extensive greenhouse effect and easy entry and exit through the wide swinging doors.

One little change has made all the difference in the enjoyment of the plethora of amenities of the cab. A standard in-dash 6-CD changer has replaced the previous standard single-disc changer or optional in-trunk changer. Otherwise you will be surrounded by the usual tedious list of supple leather, deeply lustrous wood-patterned accents, multi-adjustable power front seats – heated, of course. The Type-S goes a bit further with ebony wood-patterned inserts, perforated leather seating and steering wheel. The one and only factory-installed option is the DVD-based Acura Satellite-linked Navigational System.

I sometimes wonder how a carmaker can make such quiet runners as the Acura 3.2TL even quieter. The Noise, Vibration and Harshness (NVH) isolation is excellent, but road feedback is far from numb. The rear passengers are treated to plenty of room, top to bottom. A large trunk, HomeLink remote system, accessible cupholders, front and side airbags, and forth, total up to a rather complete package of choices for the self-indulgent and/or attitude driver

Pricing has not yet been announced, although according to Acura spokesman Mike Spencer, the prices will remain relatively stable from last year. "We haven't received the official pricing index as yet," Spencer said recently, "but the price for the 3.2TL will have only a small increase and the new TL Type-S will represent a figure in the low-to-mid $30,000 bracket."

Today's Test Drive:


Al Auger, our automotive editor has been writing about cars for over 30 years.
He has spent 20 years as a race driver and public relations specialist.
|TOP|
Bollywood: | Guftugu | Hindi Film Review |

Guftugu

Star Return

The charms of married life appear to have palled a bit for yesteryear's cutie pie Sridevi. Now, now don't get your imaginations running amuck here, folks. Much though would like to hear of bad news, there isn't any. Sridevi is doing just fine with hubby Boney Kapoor, and if you have a mean streak, you may make the sly observation that sure the marriage is going well, the much-married Boney has lots of practice.

Well the fact is that after her marriage Sridevi has been a good bahu. Despite the flurry of film offers that followed her everywhere, she decided to stay at home and focused on raising two daughters. However, the arc lights continue to beckon, and her fans will be delighted to know that at last Sridevi has given in.

So get ready guys to the svelte Sridevi star with beefcake hunk Akshay Kumar. The film was started a while back, but the producer went broke. Then Sridevi got pregnant.

Let's hope everything goes well this time. Oh yes, the name of the film is Meri Biwi Ka Jawab Nahin. Exactly Boney's sentiments, wouldn't you say?
|Return to Bollywood Index| |TOP|

Li'l Brother

They were always a close knit family, the Deols. Evergreen dad Dharmendra is a doting dad, and Sunny adores his kid brother Bobby to death. So it should come as no surprise that bhaiya has roped in his brother for a little item number in his upcoming film Indian. When the upcoming home production sees the light of day, expect to be dazzled by a very hip Bobby, who is known for his great dancing skills. The song is already a hit in the South, and nobody should expect any less Sunny's film either. After all the music is by none other than A.R. Rahman, and Bobby is second to none when it comes to shaking a leg.
|Return to Bollywood Index| |TOP|

Sapphire Story

Film star are like politicians, very vulnerable and insecure. And how can you blame either when the fortunes of both are so dependent on the vagaries of a very fickle public? So you have Bollywood folks changing name to please numerologists, running to astrologers and doing all kinds of stuff that make them seem like love-struck adolescents.

Even the big B is not immune. Rumor has it that when Amitabh Bachchan was really in the doldrums, with his corporate venture ABCL about to go belly up and his comeback attempt Mrityudaata sinking like a stone, a family confidant suggested he wear a sapphire ring.

Now this was just before Kaun Banega Crorepati was about to go on air, and the Big B apparently took the advice. The rest, as they say, is history.

So what do you do when you have a stroke of good luck? You want more of it, of course. So dad Amitabh and mom Jaya rush to get their son Abhishek a sapphire ring and guess what? Abhishek is offered to play the freedom fighter Chandrashekhar Azad. The poor kid has not had a very easy beginning, and is pinning his hopes on Shararat, his upcoming release.
|Return to Bollywood Index| |TOP|

Painter's Pet

The wacky painter in tennis shoes is at it again. Artist M.F. Husain is no shrinking violet, as you all well know. His latest project, Gajagamini, was supposed to be a paean to evergreen Bollywood star Madhuri Dixit, but it got crucified in the Box Office.

If you think that would send the painter back to his familiar world of palette and canvas, think again. Husain is back with a vengeance. Now he has set his eyes on former beauty queen Sushmita Sen, and he has signed her up for his Do Qadam Chalke Dekho. He spends hours watching her shoot for films, and has signed A.R. Rahman for the music.

Will the music maestro and the luscious lady generate enough oomph to avoid the sad fate of Husain's last Bollywood foray?

Only time will tell, but for Sushmita's sake, we hope Husain gets his act together this time around.
|Return to Bollywood Index| |TOP|

Taj Story

If you do it, do it in style. That was true for Cecil B. DeMille, who used to make all those huge Hollywood epics.

Well now Bharatbala is ready to join the DeMille club. Remember him? He is the one who brought out a CD on the national anthem that won great critical acclaim.

Well Bharatbala says he is going to make a film on the timeless love story of the Taj Mahal, and he is going to do it in IMAX. So who do you think gets to play the beautiful woman who inspired the Taj? Who else but our very own Bollywood siren, the sultry, green-eyed Aishwarya Rai.
|Return to Bollywood Index| |TOP|

J is Jolly Good

If it starts with a J it must be good. Well, Juhi Chawla's name starts with a J doesn't it? So does hubby Jai's. So what's good for dad and mom must be good for the baby, brand-new parents Juhi and Jai seem to think. So after much soul-searching, the proud parents have decided to call their darling little daughter Jhanvi. It's all according to the birth chart, which says the name has to start with a J, they sagely inform. Never mind that the very same name has been given to Sridevi and Boney's daughter recently. It's a great name, it starts with a J, and Juhi and Jai like it. End of story.
|Return to Bollywood Index| |TOP|

Ladies' Man

Now our new Bollywood friend Aftab Shivdasani seems to be quite a ladies' man. He hobnobbed with Esha, and was hanging around with Andhra beauty Keerthi Reddy, so we are told by those who make it their business to know these things. Now he is doing daandiya raas with beauty queen Yukta Mookhey.

Okay, you can relax, folks. The raas is strictly for the pleasure of Bollywood lovers. Aftab and Yukta are doing this cute little folk number for Pyaasa. Aftab plays a ordinary middle class boy-next-door here, and Yukta plays – you guessed it – a spoiled rich brat.

Now, now don't wrinkle your noses here, didn't you know that packing old wine in new bottle is Bollywood's stock in trade? If they package it right, things might just work out.
|Return to Bollywood Index| |TOP|


Hindi Film Review
Less than Sum of Its Parts

ONE 2 KA 4

Director: K. Shashilal Nair
Music: A.R. Rahman
Starring: Shah Rukh Khan, Juhi Chawla, Jackie Shroff, Nirmal Pandey and Dilip Joshi

The problem with director K. Shashilal Nair is that he has no idea where he wants to go. So he ends up taking a meandering path not unlike an airport shuttle van that goes in all directions before actually getting you to the airport.

What that means is the film is a stew of delicious bits, but the end result is a mish mash – whodunit, romance, comedy, you can take your pick.

It's still a fun film, mind you, but with a bit of focus, it could really have been a blockbuster. God knows Shah Rukh could use a blockbuster after his recent tepid successes including his home production of Phir Bhi Dil Hai Hindustani.

The story line of the film combines a thriller with a domestic comedy.

Javed (Jackie Shroff) and Ajay (Shah Rukh Khan) belong to a special anti-drug task force that's trying to nail drug kingpin KKV (Nirmal Pandey). The two cops are also enormously fond of each other, and live together.

A widower, Javed's entire life revolves around his four motherless children. But Ajay can't stand the kids. The sentiment is heartily reciprocated, and the kids are little devils from hell who make his life miserable with constant pranks. After Javed is killed in an ambush, however, the heartbroken Ajay feels it is his responsibility to take care of Javed's kids. The children, though, can't stand him and refuse to accept him. Ajay tries to sort things out with old roommate Champak (Dilip Joshi), but gets nowhere.

In comes Geeta (Juhi Chawla), a loud and talkative rustic Hariyanvi, who has enough spirit and charm to take on the kids. This being a Bollywood film, her charm is not limited to the kids, and before you can say mohabbat, Ajay is also putty in her hands.

Just when you thought that this is a romantic comedy about to come to a satisfying end, the story heads off in another direction. One night, Ajay is tailing KKV, our old friend the drug kingpin. Here he is in a nightclub, and KKV is dancing with a glamorous, sexy vixen, and who do you think it is? It's our Haryanvi damsel, Geeta.

Ajay is utterly confused (so is the audience, to tell the truth), and after he reaches home, he double checks with the kids. They all say Geeta has always been with them. Geeta makes loud protestations of her innocence. So who exactly is this woman? And who killed Javed in the first place?

The rest of the film makes a clumsy effort to sort out these loose ends, and it has to be said the film does this in the hallowed Bollywood tradition of absurd solutions with minimal concessions to logic.

It's a totally avoidable pitfall in what is otherwise quite a watchable film. The production values are quite good, if you ignore standard absurdities like how does an honest cop have such a lavish lifestyle, and the Khan is very impressive. The kids are good, and Juhi Chawla is an absolute scream as the ambitious rustic Haryanvi with dreams of upward mobility. To top it all, Juhi and Shah Rukh have amazing chemistry, and it shows.

The music has already done quite well, and the film might do fairly well too, but in the end, this is another story of a missed opportunity.

|Return to Bollywood Index| |TOP|
Tamil Film Review:
Neither Here Nor There

NATCHATRA KADHAL

Director: Nayakam
Starring: Ajay, Bhavana, Ashok Rao, Subhalakshmi, Pathy and Jayaraman

The intention seems to be to make a film that is different from run-of-the-mill Tamil films, yet also not to go too far away from the usual formula. What results is a mess, a film that neither satisfies one aesthetically nor entertains. Further, the director seems to be a bit confused as to which language his characters should speak, Tamil or English. So he lets them speak both. For example, a character speaks in Tamil and promptly translates his words into English. And vice versa. Naturally, it all looks a bit superficial, and the actors look confused. The language issue settled, the director moves on with his story.

It is about a wealthy girl Malini (Bhavana) who loves the car-mechanic Shekhar (Ajay), an orphan. The girl's parents come from abroad to finalize her marriage. The father, though fond of Shekhar, desires a son-in-law whose antecedents are known, and more importantly whose horoscope matches his daughter's. Shekhar doesn't fit the bill, and Mumbai boy Ashok does. The girl bows to her father's wish, but goes on a weekend trip to Bangalore with Shekhar to have a "nice time." They book a room in a hotel and just when everything is set, the director suddenly seems to remember that he would be dealing with an Indian audience. So, when Shekhar enters the room in anticipation, Malini, to the shock of Shekhar and the audience, talks about purity of love saying, "My body will be with Ashok, but my heart will be with you."

An infuriated Shekhar refuses to settle for anything less — till he gets a tight slap and push from the girl. The duo returns home and Malini gets married to Ashok, who seems to be suffering from AIDS. It is Shekhar who comes to take care of Ashok at the hospital, with the earlier rejection forgotten. The director for some unexplained reason makes him wear a doctor's coat now and then. There is some half-hearted attempt to talk about AIDS. A suffering Ashok pleads with the doctor to end his life. A lecture on euthanasia from the doctor follows. Finally, a frustrated Ashok pulls out the life-saving device himself. Malini's father gives a lecture on superstition, horoscope, etc. "I want to confess something," he begins. But the director never allows him to tell what he wanted. The final scene has Malini and Shekhar quite happy in each other's company.

Ajay, who had played a psychotic villain in Ooty, plays Shekhar and gives a good account of his talent. The rest are quite confused, trying to understand what's going on. And who can blame them?

|TOP|
Recipe:

Cheese Rings
Delightful Savory Snack – By Seema Gupta

Guests at home? Or is it simply a relaxed afternoon at home, and you are thinking of serving a savory tidbit with tea? No worries, says Seema Gupta, who offers this delicious, easy-to-prepare recipe for a quick snack.

Ingredients

1 cup flour (maida)

1 tbsp oil

1/2 tbsp mustard powder

Salt to taste

For the filling

8 boiled potatoes

6 tbsp grated cheese

Method

Mash the potatoes well. Add cheese and salt and pepper to taste.

Roll out the dough into a big round layer.

Spread the filling evenly on it.

Roll to form a long thing roll.

Cut into 1/2 inch thick slices.

Deep-fry the pieces and serve hot.

– Seema Gupta is a homemaker
based in Sunnyvale, Calif.
|TOP|
April - May Horoscope

ARIES (March 21 to April 20): Some one will try to drag you into unnecessary litigation. This is not the best time to take any financial risks. You will be going on an important trip. You may need minor surgery to resolve some health problems. Money will come but expenses will be high.

TAURUS (April 21 to May 20): You have to be patient with your spouse while she gets irritated on small issues. You will be travelling. An earlier investment will appreciate and you should take advantage by disposing them off for the time being.

GEMINI (May 21 to June 20): Some interesting developments will take place in career. Long awaited reply from government could come this month. You will be assigned an important task and a challenging position. Financially you will be very comfortable, as you might avoid some big expenses.

CANCER (June 21 to July 22): You will be relaxed as you end up finishing important tasks on time and well within budget. You may miss meals and have an upset stomach. Speculation will be profitable and stocks purchased recently will shoot up. Legal matters look favorable.

LEO (July 23 to August 22): Slow progress and financial worries will keep spirits low. You will spend money on repairs and may need to change some electric items at home. Be careful as someone may offer a bad contract. You may get some gifts from the in-laws. Spouse will support with great ideas.

VIRGO (August 23 to September 22): Legal matters look favorable. Chances of making some easy money look strong. You will be going on a short trip. There will be some dramatic changes at job to your advantage. People creating problems earlier will quit the scene.

LIBRA (September 23 to October 22): It will be another expensive month and you may end up borrowing heavily. Right eye may need treatment. Competition will grow. You may try to dispose off a property at a loss.

SCORPIO (October 23 to November 22): You will get a big break in career. Grab the opportunity. You will enjoy a new relationship you recently entered. Your trip will be successful. You will sail clear of your opponents. Quick decisions will produce money.

SAGITTARIUS (November 23 to December 22): An influential person will offer a lucrative business proposal. You will go on an important trip. You may purchase another automobile. There will be some positive changes in an ongoing litigation.

CAPRICORN (December 22 to January 19): Changes in career will be relaxing and good for you in the long run. You will spend money on home improvement. You have money coming from government. Your letters will get proper attention and produce effective results.

AQUARIUS (January 20 to February 18): You will get the work done, be diplomatic. A solution for some domestic issues is nowhere near. Spouse will be suspicious of your activities. You will benefit from dealing in high tech stocks. You will stay double minded about a long distance journey.

PISCES (February 19 to March 20): Beware, protect yourself as some one could dupe you. People in business should watch out for a trap by authorities. You will be writing a big check to government soon. Plans for move will be delayed by another month.