Publisher's Note
:
In this month Siliconeer again steps away from its favorite topic of IT and desis to focus on the environment, just as we did last month. Our professed interest in science cuts a wide swath, and we feel that the particular dilemma the global environmental challenge poses to countries like India deserves special attention.
Developing countries are caught in a double bind: In the cut-throat world of globalized competition, they are expected to industrialize and compete to get themselves out of poverty, but in the process they open themselves to the danger of worsening the environmental mess many of these nations already find themselves in.

The power structure and civil checks and balances in Third World countries offer minimal safeguards for the masses in societies that are too sharply stratified to provide an adequate voice to the people. Even when a government has good intentions, environmentally safe technology does not come cheap, and for cash-strapped societies like India they can be a prohibitively expensive remedy.

Our cover story is an effort to heighten awareness of the challenges that come with unbridled growth, all too often lost in the hoopla of roller coaster stock market indexes and dot-com dreams. The dire man-made problem of POPs – persistent organic pollutants – is an object lesson of one of the most serious hazards created by industrial growth that does not show up in economic indices or corporate balance sheets.

Growth rates and booming stock markets alone will not, then, suffice in realizing the vision of an India that is prosperous and successful; the answer to the challenge of resolving the environmental crisis has to be a key part of any worthwhile development program.

|TOP|

Main Feature

POP Goes the Earth:
Battling Organic Toxics - By R. Padmanabhan

In the mad rush for mindless consumption, man has created a mass of virtually indestructible hazardous organic wastes – persistent organic pollutants – which are a serious threat to health. India, which shares the global dilemma, has joined over 100 nations to devise a plan to get out of the mess, writes R. Padmanabhan.

India joined 121 countries in a meeting in South Africa's Johannesburg Dec. 10 to finalize a legally binding treaty that would require governments to minimize and eliminate some of the most toxic chemicals ever created – chemicals that jeopardize the environment and the health of human beings and wildlife throughout the world.

These are POPs – persistent organic pollutants. POPs are man-made organic (carbon-containing) compounds that are extremely difficult to break down owing to their resistance to degradation by light, chemical reactions or biological processes. Consequently these have become widely dispersed through the environment and are expected to persist for years, even decades. These toxics have been responsible for dramatic "epidemics" in wildlife that resulted in dolphins, seals and porpoises dying en masse in far-flung parts of the world, there is increasing evidence that suggests that

the several health problems reported in laboratory animals and wildlife like immune system problems, neurological and behavioral abnormalities and reproductive disorders affect humans in a similar fashion.

India has a serious problem of POPs; it is one of only four countries in the world to use the pesticide DDT, one of the "Dirty Dozen" – the 12 most toxic POPs. Illegal use of POP pesticides are widespread in India, and the nation exports

substantial quantities of POP pesticides legally and illegally. According to the environmental activist group Greenpeace, chemical pesticides have been in use in India since 1949, when DDT was first imported for malaria control.

The use of all other POP pesticides is officially banned in India. But, says Greenpeace, at least seven tenths of the pesticides used on Indian farms belong to the banned or severely restricted category in industrialized countries.

India exports nearly 800,000 kg of POP pesticides a year to a large number of countries. There are also reports of such pesticides being manufactured clandestinely and exported illegally to Bangladesh and Nepal.

Not only POP pesticides but dioxins, too, are cause for concern. The Indian government says that industries that engage in activities involving TCDD (the most toxic dioxin) are required to assess major hazards, adopt measures to prevent accidents and limit environmental pollution and the impairment of human health, give their workers the necessary information and prepare crisis-management plans. Greenpeace, on the other hand, says these requirements are not enforced.

Many POPs are highly toxic and accumulate over time in the fatty tissues of human beings and animals.

Occurring as POPs do in either solid or vapor form, they travel thousands of miles by evaporating, riding on air currents to cooler regions, condensing and settling, evaporating again when the temperature rises sufficiently and resuming their travels.

There is no clean, uncontaminated place anywhere on Earth: POP pesticides are used in the tropics; persistent combustion and manufacturing byproducts are released in temperate industrial regions; poorly-stored stockpiles of POPs leak in many parts of the world; and globehopping POPs come to rest in wild and remote places.

Fortunately, there are alternatives to most POPs. Not so fortunately, high costs, lack of public awareness and the absence of appropriate infrastructure and technology are formidable barriers to the widespread use of the alternatives.

The treaty in Johannesburg resulted from intergovernmental negotiations under the United Nations Environment Program that began in June 1998 with the goal of concluding a legally binding global treaty on POPs before the end of 2000. The conference in Johannesburg Dec. 4-10 was the fifth session of the Intergovernmental Negotiating Committee set up for the purpose.

The treaty prescribes control measures that cover the production, import, export and disposal, to begin with, of 12 identified POPs that are the most widely-studied synthetic chemicals. At the same time, it envisages the establishment of a review committee that would regularly consider additions to the POPs list.

The list of 12 POPs, all of them chlorine-containing compounds that belong to a class known as organochlorines, includes eight pesticides (aldrin, chlordane, dichlorodiphenyl trichloroethane, or DDT, dieldrin, endrin, heptachlor, mirex and toxaphene), two types of industrial chemicals (polychlorinated biphenyls, or PCBs, and hexachlorobenzene) and two families of unintended byproducts (dioxins and furans) – byproducts of the manufacture, use and/ or combustion of chlorine and chlorine-containing materials.

The treaty will be formally adopted and signed at a diplomatic conference in Stockholm May 22-23, 2001. Ratification would be the next step: the treaty will come into force as soon as 50 countries have ratified it. This process normally takes years.

Synthetic chemicals have been produced and released in vast quantities globally over the past 75 years . Every person living today carries hundreds of synthetic chemicals that were not present in the bodies of the planet's inhabitants during the 19th century.

Scientists found residues of DDT in human fatty tissue in 1944. Since then , there has been mounting evidence that DDT and the other 11 priority POPs are adversely affecting children's health, behavior and intelligence.

Here we are talking of strong circumstantial evidence as it is virtually impossible to make definitive statements about the impact of these chemicals on human health; as everybody carries a load of these substances, there is no unexposed population to study as a control group.

Over the years, several health problems have been reported in laboratory animals and wildlife exposed to one or more of the 12 POPs. They include malfunctioning of the immune system, neurological and behavioral abnormalities and reproductive disorders, the last being a manifestation of disruption of the hormone system.

During the 1980s and the early nineties, thousands of seals, porpoises and dolphins died dramatically and mysteriously in the Baltic and North Seas, the Mediterranean, the Gulf of Mexico and the North Atlantic, and off Australia's eastern coast. On the basis of scientific evidence accumulated over the past decade, it is very likely that damage to the immune systems of these animals as a result of exposure to DDT, PCBs and other synthetic organic compounds contributed to the "epidemics."

The levels of accumulation in fatty tissue of many POPs increase as one animal eats another. The highest levels are therefore found in animals at the top of the food chain, such as fish, predatory birds, mammals and human beings. Animal products – meat, fish and milk in particular – are the primary routes of human exposure to POPs.

The developing young of both wildlife and humans are the most vulnerable to the toxic effects of POPs: these substances are passed to a fetus in the womb from the mother's body and to an infant through breast milk. Of all human beings, breast-fed infants experience the heaviest exposure to POPs because these chemicals, with their affinity for fatty substances, get concentrated in breast milk.

Human beings seem to be suffering increasingly from the very health problems that have been reported in laboratory animals and wildlife exposed to POPs. There is mounting scientific evidence that the twelve priority POPs are adversely affecting children's reproductive potential as well as their ability to learn and to resist disease.

The treaty that is to be adopted next May requires governments to promote the best available technologies and practices for replacing existing POPs while preventing the development of new POPs. The governments of different countries are expected to get legislation enacted and work out action plans for meeting their treaty obligations.

The treaty provides for a financial mechanism to help developing countries and countries with economies in transition to minimize and eliminate POPs. "New and additional" funding and technical assistance are to be provided.

The agreed text of the treaty provides for certain conchessions. Governments will be permitted to keep using DDT for malaria control until they are in a position to replace it with cost-effective and environment-friendly alternatives.

Another concession on PCBs has been allowed as well. Though they are no longer produced, hundreds of thousands of tons are still in use in electrical transformers and other equipment. The treaty will permit governments to maintain existing equipment till 2025 in a way that prevents leaks.

For other POPs, several country-specific and time-bound concessions have been agreed to. The treaty commits governments to reducing releases of furans and dioxins "with the goal of their continuing minimization and, where feasible, ultimate elimination."

Other measures the treaty requires of governments relate to reporting, research and development, monitoring and public information and education.

– R. Padmanabhan is a science writer
based in Chennai.
|TOP|
Infotech India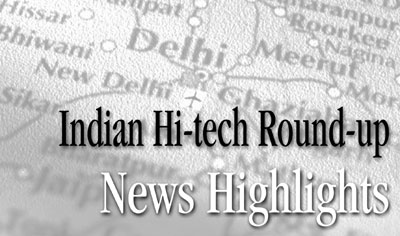 Cisco chief in India...Infosys plans campus...Selectica to help...Texas Instruments opens wireless center...Infosys Income Up 136%...Symantec Security...LG Electronics to produce more monitors...E-Newspaper — Here is the latest on information technology from India

Cisco Chief in India

The two-day visit of John Chambers, president and CEO of Cisco Systems, will be action-packed with meetings and addresses. This is the first ever visit by John Chambers to the country although the company has been present here since 1995. Arriving in the capital on mid-January, Chambers will meet Prime Minister Atal Behari Vajpayee and the IT Minister Pramod Mahajan.

He is also expected to address four separate industry meets organized by the CII, NASSCOM, The Economic Times and Cisco. While the address to be delivered at the meet organized by the CII will be on "Building business in the Internet Economy," the topic at the NASSCOM meet is "Industry Leadership Summit on Networking Directions in the Next Generation". The technical showcase organized by Cisco will feature technologies of the future on which Chambers will deliver another address.

Cisco is gambling on the proposed $38 billion investment to be made in the country to increase teledensity to 7 percent by 2005. A substantial part of the investment will go to converged networks and Cisco is eyeing a sizable pie of that investment. Secondly, with Cisco's core focus on the access and carrier business, ISPs are still a lucrative market, especially so as the segment is expected to experience three-digit growth figures for the next five years. Cisco is also betting on the increasing proliferation of contact centers, which will soon be IP-based.

Commenting on Chambers' India visit, Cisco Systems president, India and SAARC regions, Manoj Chugh, said, "The Industrial Revolution divided the society between the haves and have-nots. The Internet Revolution has the potential to unite by combining the strength of the Internet and education. During his India trip, John will highlight how we can apply what we have learnt in business to all aspects of society through the Internet to positively change people's lives."
|Back to Infotech Index| |TOP|

Infosys Campus

Infosys Technologies has announced that it will set up a software development campus in Hyderabad. A memorandum has been signed between the company and the government of Andhra Pradesh.

According to a release, Infosys will invest Rs. 800 million in setting up facilities that will house about 1,200 software professionals within two years from the signing of the memorandum. It will invest an additional. Rs 1billion in facilities that will have an additional 1,300 software professionals in the second and third phases of the project.

For its part, Andhra Pradesh has agreed to provide Infosys 30 acres of land in Manikonda village, Hyderabad, near the Indian School of Business campus. Infosys has retained the option to purchase a further 20 acres of adjacent land for future expansion.

Infosys already has a development center in the HI-TEC City at Hyderabad seating over 60 software professionals. Speaking on the occasion, Infosys chairman N.R. Narayana Murthy said, "Infosys has followed a strategy of setting up world-class software development campuses which cater to the overall well-being of its human resources and help tap local talent. We are delighted to expand in Hyderabad which is an important destination for investment on the country's IT map."

Chief Minister Chandrababu Naidu said, "Infosys' setting up its software development campus in Hyderabad is ample testimony to the quality and depth of IT talent available in Andhra Pradesh and of the confidence in our industry-friendly administration."
|Back to Infotech Index| |TOP|

Selectica to Help

Pick-and-pay e-commerce will be big business. Around $2.3 trillion to be precise, by the year 2003, says Dr. S. Sunderrajan, vice president (India operations), Selectica Configurators.

With Indian companies looking for their share in the global market pie, Sunderrajan figures that helping them go global will fuel Selectica's growth plans. Sunderrajan plans to achieve this objective through its Internet selling system.

"The word e-commerce as understood by the common man is synonymous with pick and pay through credit cards. However, from the sellers' perspective, e-commerce has not been an unqualified success. Statistics reveal that even in the pick-and-pay environment, Internet selling is failing to convert most shoppers into buyers," explained Sunderrajan. He believes that while the early e-commerce success stories were about selling relatively simple products, a larger opportunity exists in selling complex products and services over the Internet.

Sunderrajan believes that people who succeeded in acquiring and institutionalizing knowledge are likely to be leaders in the corporate world. Once the knowledge is acquired, a rule-based or constraint-based "configurator engine" can drive the business processes, he said. And the first killer application for the configurator is likely to be the Internet selling systems. And Selectica is an Internet selling systems company.

What is an online sales configurator? Sunderrajan explains that this is a software package that guides users to optimal solutions based on user input compared with predefined product area. "A configurator can be thought of as an ideal virtual salesperson, who is available 24 hours a day, requires no salary and delivers the best possible product or service for every sale," he remarked.

At the core of the ISS lies a configurator engine. The configurator engine interactively assists buyers through selection, configuration, quoting, pricing and fulfillment of products or services that precisely meet their needs.

Sunderrajan cited the example of shopping for a new car. Instead of visiting a car maker's Web site that features the different models, an Internet selling system driven by a configurator engine is more convenient. If your top criteria for a new car are price, number of seats, mileage, sunroof and CD player, then all you need to do is enter this data. From here, the configurator asks you to make a few more required choices. With the click of a button, the configurator displays the car models that best fit in with the needs of the customer. The customer can then narrow this down to one final configuration, save it and then create additional configurations for comparison.

Selectica's ISS is the preferred choice for some of the world's largest and biggest B2B and B2C sites. Take the case of Selectica's success story with BMW of North America. Recreating the experience on the 'ultimate driving machine' on the Web was quite a challenge before the company. The company used its Ace ISS to build a virtual center and managed to reduce what was a 15-step process in purchasing a car to a mere three-step process. With Samsung Electronics, Selectica faced the challenge of integrating e-commerce applications and support for double-byte Korean characters. The result: a configure-to-order system enabling resellers and customers to order PCs online.

Enthused by its success with global companies, Selectica is now looking at Indian companies. "We are adopting a two pronged strategy for growth. Besides tapping the Japanese and the Far Eastern markets, the company also plans to offer solutions to the medium scale industry. Eventually, this will be a packaged solution," Sunderrajan said.
|Back to Infotech Index| |TOP|

Texas Instruments Opens Center

Texas Instruments India has set up a third generation wireless center in Bangalore. According to newly-appointed TII managing director Biswadeep Mitra, the center will build both DSP (digital signal processing) software (infrastructure and applications) and hardware (integrated DSP platform) solutions for the exploding wireless market. "We will develop strategic partnerships with key players who can develop and deploy solutions optimized for our OMAP (Open Multimedia Applications Platform)," he added. TII will scout for such partnerships among both the industry and universities.

Texas Instruments' OMAP has been adopted by major manufacturers such as Nokia, Ericsson, Sony, Microsoft, Symbian and Handspring. According to the company, almost two out of every three cellular phones present today use TI's DSPs, ASICs, microcontrollers and memories.

On the future plans of TII, Mitra said that the company would focus on building integrated semiconductor and software solutions for end-equipment such as Internet audio players, cable modems, digital subscriber lines, IP telephony, digital still cameras etc. He added that TII will be increasing the team strength by 50 percent during 2001.
|Back to Infotech Index| |TOP|

Infosys Income Up 136%

Infosys Technologies has posted a whopping 136 percent rise in its total income while net profit has shot up by 125 percent during the third quarter ended December 2000 against the corresponding period in 1999.

Total income during the period rose to Rs. 5.51 billion (Rs 2.33 billion during the corresponding period in 1999-2000) and the company realized Rs 5.29 billion through export of services and products (Rs 2.24 billion).

Total expenses also rose 146 percent to Rs 3.32 billion (Rs 1.35 billion).

Net profit after tax and extraordinary items was at Rs 1.66 billion (Rs 737 million). Earnings per share rose to Rs. 25.14 (Rs. 11.16).

In a board meeting held Jan. 9, Infosys has appointed former U.S. Senator Larry Pressler as an additional director of the company
|Back to Infotech Index| |TOP|

Symantec Security

Symantec Corporation, the Internet security technology company, and CMC., one of the largest system integrators in India, have announced a joint sales and support partnership program. This program will enable CMC to effectively manage and implement security solutions that would minimize potential security risks and maximize network uptime through Symantec products.

Speaking on the alliance, Symantec India country manager Joy Ghosh said, "For Symantec, this partnership is in line with our objective to offer our best-of-breed Internet security solutions, in conjunction with superior services, to more customers across the country. What is particularly exciting to us about this relationship is that large enterprise and government customers, a market segment which is CMC's stronghold, will have access to the leading security solutions, combined with the support and security skills required to be truly effective. This is truly a milestone in our tenure in India."

Commenting on the partnership, a CMC customer services director said, "Our relationship has come at an opportune time when large enterprise customers are realizing the need for strong security solutions in this Internet driven economy. Through this partnership, CMC will not only be able to provide top-of-the-line Internet security products from Symantec, but also work together in identifying and addressing the market demand for security and risk management. We believe that by using Symantec products as part of our solutions, we would be offering our customers the best value for their investment."
|Back to Infotech Index| |TOP|

LG Monitors

LG Electronics India will begin assembling PC monitors at its Noida facility by May 2001. With an investment of $10 million in the manufacturing unit, the company expects to roll out 750,000 units in the first year of production.

During this fiscal, the company plans to focus on IT products by expanding its product range and double the revenue generation from its IT products from the current 10 percent to 20 percent. Revenue generation from IT products during this year will increase to Rs 500 crore as against Rs 200 crore during 2000. Besides launching new models in PC monitors, LG will launch PC cameras, optical storage products and notebook PCs. The company hopes to increase its market share in the PC monitors segment from 24 percent last year to 31 percent this year.

During this year, LG hopes to increase its sale of monitors from 300,000 to 500,000 units. The company hopes to do a first in the world by launching the first ever DVD RAM during August this year. The new PC monitor range will include a finger print recognition monitor and its Internet model. One of the company's mandate during the year will be to consolidate its position in its immensely successful Flatron monitor range which gained a market share of 55 percent during the year.

The last fiscal saw LG achieve total sales of Rs. 19.03 billion as against a target of Rs 15 billion. This year, the target has been set at Rs 25 billion. Last year the company clocked a growth rate of 100 percent as against the industry's compounded annual growth rate of 45 percent.
|Back to Infotech Index| |TOP|

E-Newspaper

The India Today group crossed one more milestone Jan. 3 by launching the country's first e-newspaper, thenewstoday.com. Information Technology Minister Pramod Mahajan formally unveiled the site.

The company claims that the 20-page e-newspaper has appearance similar to that of a newspaper with familiar column grids, mastheads and earpanels. It consists of front page, nation', world, edit, business, sports, entertainment and other pages similar to any world-class newspaper.

The e-newspaper is targeted at Indians and non-resident Indians who value updated anytime anywhere news. The newspaper will be available in a subscriber's mailbox, PDA, fax and on mobile phones.

While unveiling the site, Mahajan said that this is a new revolution in the newspaper world. Speaking at the launch, editor-in-chief, India Today group, Aroon Purie, said that the newspaper would be updated every second and a dedicated independent editorial team from 10 e-centers across the nation, backed by 300 multimedia journalists worldwide, would deliver the latest news as and when it happens..
|Back to Infotech Index| |TOP|

TRIBUTE

William Hewlett:
The Man Who Made Silicon Valley – By Parul Shah

If you thought Hewlett-Packard co-founder William Hewlett's entrepreneurial and engineering skills were the greatest thing about him, think again. He was also a great man, says Parul Shah in an affectionate tribute.

William Hewlett, who died Jan. 12 at the age of 87, was the quintessential American innovator-turned-tycoon, who helped launch Silicon Valley with fellow Stanford classmate David Packard. Together the duo launched the first garage start-up in 1938. Today the company they founded has grown into the 13th largest business in the U.S., with annual sales of $49 billion and 88,500 employees in 120 countries.

A talented engineer who loved to tinker, he earned 13 patents in three decades, and his company was a pioneer in miniaturization techniques. His zeal for miniaturization led HP engineers to shrink the refrigerator-sized computer to a desktop computer in 1968. Characteristically, Hewlett wanted one that fit his shirt pocket, and his engineers actually measured his shirt pocket to create the HP-35, the world's first scientific hand-held computer.

His undoubted scientific, managerial and entrepreneurial talent is duly recognized, but what really shines through is his remarkably humane outlook that appears all the more admirable in today's world of barracuda-style corporate management and peripatetic employees.

Hewlett's humane management outlook looks particularly anachronistic in today's bottom-line driven business world, but it was his management style that he took the greatest pride in. With his life-long friend and partner Packard he pioneered such workplace practices as health insurance, profit sharing, employee stock ownership and flexible work hours. It was affectionately known as the HP Way.

In 1970, after sales had slumped sharply, the company needed to cut its work force by 10 percent. Instead of laying off the 1,000 people that measure would have required, Hewlett decided to make all employees take Fridays off for six months without pay. Of course, that included himself.

His human touch spilled over outside the workplace. In today's world of sharp policy and partisan division where business interests and environmentalists are so often implacably opposed to each other, it is worth noting that Hewlett was a member of the Sierra Club since 1939. And he meant it, too. In 1970 he bought land on the shore of Lake Tahoe and gave it to the U.S. Forest Service to prevent the construction of 1,700 condominiums. In 1989, he sued Squaw Valley ski resort for illegally cutting trees, and won a judgement of nearly a million dollars.

He created the William and Flora Hewlett Foundation with his first wife Flora in 1966. The foundation has assets of $3 billion and donates $120 million a year to education, arts and other programs. The bulk of Hewlett's fortune will go to the foundation, increasing its assets to $9 billion. In addition to millions of dollars that he gave to his alma mater Stanford, he also made a $120 million grant to set up a public policy institute in San Francisco.

Hewlett's enduring legacy transcends his soaring business success and offers a lesson worth emulation: His life was an example of how to temper profit-seeking zeal with a humane sensitivity, how to broaden a vision of life that had the wisdom to look at more than raising quarterly returns at any cost.
- Parul Shah is a freelance writer
based in Milpitas, Calif.
CULTURE:

Art & Reality:
Dance Takes on Domestic Violence – By Shobha Hiatt

Classical dance group Abhinaya Dance Company has a distinguished record of preserving South Indian traditional classical dance in the Bay Area, but the focus of its upcoming performance takes on a very contemporary social problem, writes Shobha Hiatt.

The topic of domestic violence in the South Asian community and its impact on the lives of the women who undergo the abuse is the focus of Abhinaya Dance Company's latest offering to audiences in the Bay Area.

Titled Jagriti: The Awakening, the performance will take place Jan. 20, at the Mexican Heritage Theater in San Jose, Calif.

"Domestic abuse is often ignored or swept under the carpet in many families," says Abhinaya's artistic director Mythili Kumar. "By bringing this issue out into the open and on-stage, we hope to send a message to the many women living silently in abusive situations that they are not alone and that there is help available if they need it."

Funded by the Arts Council of Silicon Valley's Arts Build Communities grant, this thought-provoking production is based on a series of interviews conducted by anthropologist Usha Welaratna at a local battered women's shelter.

The centerpiece of the production is a powerful dance solo by Kumar. In a series of vignettes she dramatizes the lives of the women who fled there to avoid being battered. A young woman in an arranged marriage sees her dreams of a happy life go up in smoke as her husband resorts to physical abuse. An agonized mother's child is taken from her when her spouse gets custody of the child in court. A woman becomes a virtual prisoner as she suspects that her husband, whom she has run away from, is stalking her.

In a larger sense Jagriti: The Awakening is about the exploitation of women through the ages, and the subtle and not-so-subtle ways in which they have tried to fight it. Drawing from India's rich cultural and literary traditions, Abhinaya dancers will also present several pieces showcasing the strength and resilience of the Indian woman from ancient to modern times.

"The theme of oppression is universal," Kumar emphasizes. "Women from all backgrounds and cultures will easily relate to what we are attempting to portray."

The performance features over 14 dancers and musicians. Music composition and vocals are provided by accomplished Carnatic musician Asha Ramesh who has starred in almost all of Abhinaya's recent productions; Vidya Ramakrishnan will play the nattuvangam with the small cymbals; N. Narayan will play the percussion instrument, the mridangam; Shanthi Narayan, the violin, Srinivas Prabhala (veena and keyboard), and Abhinay Padhye (tabla).

The dancers featured include Mythili Kumar, Radhika Kannan, Satyasri Yendluri, Rasika Kumar, Malavika Kumar, Preeti Vissa, Priya Jayachandran, Madhuri Sharma, Vishali Vanniarajan, and Vani Iswara, a talented dancer and teacher who has recently moved to the Bay Area from Chicago.

Under the artistic guidance of Kumar, the Abhinaya Dance Company of San Jose has successfully showcased the classical dance forms of South India for audiences in the West. This award-winning company with its talented dancers and exceptional musicians has participated in several multicultural productions over the past few years including the recent, critically acclaimed Power of Saturn, a collaborative presentation with ShadowLight Productions of San Francisco. Jagriti: The Awakening, is also funded by the City of San Jose and the California Arts Council.

Interested readers can call the Abhinaya Dance Company at (408) 983-0491 or e-mail: abhinaya_sj@yahoo.com for more information and tickets.

Shobha Hiatt is a freelance writer
based in Berkeley, Calif.

|TOP|
LAW:

New Immigrations Rules:
Glad Tidings for the Holidays – By Gopalan Nair

Uncle Sam is playing Santa Claus this year with rules easing for many unfortunate immigrants. Attorney Gopalan Nair gets into the holiday spirit as he lists the goodies.

Adjustment of Status for Illegal Entrants

Good news, folks. Many of you must recall the old law where one could not change status from non-immigrant to immigrant, if circumstances similar to the following had occurred:

The person had entered the United States without inspection, or to put it bluntly, he/ she had paid a farmer $500 to hide him in a pickup truck and drive him across the Tijuana, San Diego border.


He/she had overstayed his permitted stay, or in other words, he landed at San Francisco and was told that he could visit the U.S. for three months, but fell in love with San Francisco and abandoned his native place for good.


He/ she worked illegally. (One has to eat, after all!)


He/ she entered as a crewman or in other words, he was a waiter aboard the Caribbean Princess, and after arriving in Miami, lost his sea legs.

Well the good news, as I said, is that folks who have been in situations similar to these can change their status to permanent residents, if an avenue is available under the law, on the following conditions:

They do not leave the country because if they do, they will not be able to return. That is to say, the three-year bar and 10-year bar still remain. In other words, if in trying to return to the U.S., it is established that they had overstayed for 180 days, they are barred for three years and 10 years in the event of one-year overstay.


They establish by some documentary evidence that they were physically in the U.S. on or before Dec. 21, 2000.


They file the petition or labor certification before April 30, 2001.

Fiance Visas Have Been Extended

Remember K Visas? A fiance of a U.S. citizen can enter the U.S. to marry the U.S. citizen within 90 days. Remember that a citizen, on the other hand, who had already married his foreign spouse had to wait for his petition to be approved, perhaps three months, wait further time, perhaps six months for the U.S. Consulate to process the documentation, while the poor wife or fiance is desperately suffering under this painful separation? The good news now is that provided there is a petition filed, such a spouse will be issued with a visa to enter the U.S. immediately.

Those Who Have Waited Too Long

Remember the preference visa categories such a as spouse of a permanent resident who has to wait for up to five years, or a brother of a U.S. citizen who has to wait 15 years before they get a visa? Well, there is good news here as well. If the beneficiary has waited for more than three years, they will be issued with a non-immigrant visa also entitling them to work while they wait for their turn until their visa becomes current. Since they can work, there is no hardship on them at all whatsoever, regardless of when the visa actually comes through.

I am writing this article on Christmas Day, and it is customary to say Good Cheer. Even though one may be a Hindu, and despite my having violated my time-honored rule that I should never work on Christmas Day, may I take this opportunity to wish all and everyone, happy times for now and eternity.

Gopalan Nair is an immigration attorney
based in Fremont, Calif.
|TOP|
FINANCE:

Key to Security:
Saving for the Future - By Ashok Gupta

The market is looking more like Russian roulette, and numbers make your eyes glaze. Yet there is no getting away from the fact that if you expect a comfortable retirement, you not only have to save, but use the market intelligently to augment your savings adequately. Ashok Gupta offers some simple but savvy tips on how to do just that.

With all due apologies to Noah Webster, recent financial market developments have shown that you can't spell investment without "R-I-S-K." But experience suggests that simply by concentrating on two A's – Allocation and Averaging – personal investors can continue to write success stories.

Time has shown that Asset Allocation and Dollar Cost Averaging can be integral elements in a long-term investment strategy. Those who stick with a well-designed plan, with clear financial objectives that fit both their financial situation and tolerance for risk are generally rewarded for their discipline. Their overall track record is normally superior to those who try to time their investments by flipping in and out of the market or by concentrating their investments in "hot" markets.

Monitoring the Mix

Both allocation and averaging are somewhat rigorous approaches that at times require a strong stomach. For example, once you've decided on a suitable asset allocation, you and your financial planner will need to watch your portfolio results closely in order to keep the right mix. You're likely to face some pretty tough decisions.

Say you've decided on the following allocation for your portfolio: 60 percent stocks/30 percent bonds/10 percent money market instruments. But the stock portion's growth quickly outpaces the increase in value of your bonds. Now you've got a dilemma if you stick to the plan – Should you sell off a portion of the successful stock segment in order to buy more of the bonds and money markets, which aren't doing as well?

That kind of question can give even disciplined and experienced investors a quick dose of indigestion. Complicating matters, you also have to evaluate the tax and transaction costs of buying and selling, and you need to consider allocation changes whenever your personal circumstances change.

Your might be able to make your life somewhat simpler, and still benefit from the time-tested advantages of asset allocation by buying mutual funds that practice allocation strategies similar to yours. Even so, that still won't excuse you (and/or your financial advisor) from regularly monitoring your portfolio if you intend to maintain a truly diversified and appropriately balanced portfolio.

"Time In The Market Is More Important Than Timing The Market"

This old maxim states a basic truth for those looking to set up a portfolio for the long-term: the sooner you can begin an investment program, the better. And many professional financial investment advisors favor dollar cost averaging – the disciplined practice of making regular, periodic fund purchases by investing the same dollar amount each time you buy. In that way, you'll be buying more shares when the price is low, and fewer when it's high.

Dollar cost averaging can make market fluctuations work for, rather than against you. The inherent discipline of such an approach is generally regarded as far sounder than trying to time your purchases to market developments. Not only is that difficult to do, the hesitancy that may result could cost you some excellent opportunities as you sit on the sidelines.

Dollar cost averaging is extremely effective if the share price declines and then recovers, as illustrated by the accompanying chart, but the strategy demands that you have the fortitude to stick with it, even when the market sags.




This dollar cost averaging approach can be applied effectively to a host of investment programs, including annuities, mutual funds and IRAs.

Lump Sum Caveat

Averaging is a great way to invest in increments, but its effectiveness can wane over a period of years, as the impact of early returns tends to be diminished by the growing portion of your account that was purchased at later dates. If you come across a large lump sum or inheritance, you might want to think about investing it more quickly, especially if you have confidence in the stock market's demonstrated ability to rise consistently over time.

Insurance Options

Some variable life insurance policies can conveniently blend allocation and averaging approaches along with your need for death protection. Variable contracts can be structured so that you can pay premiums when and in the amounts you want. You can also choose from among many investment options for funds credited to your policy. Moreover, many insurers offer an automatic asset reallocation feature that responds to the investment results credited to the policy. Note that if you make excess premiums to a life insurance contract, you may become subject to unfavorable tax treatment.

Ashok Gupta is a financial planner.
He is based in San Jose, Calif.
|TOP|
PHOTOGRAPHY:

Glimpses of a Mela
Remembering Makar Sankranti – By Arun Chauhan

Photography enthusiast Arun Chauhan recalls fond childhood memories of visiting the traditional carnival of the Makar Sankranti mela, which mixed spiritual fervor with family fun.




As I often tell my wife, I have lived here for 24 years and in my own hometown for only 17 years, so what does it make me? An America-living Confused Desi?

Be that as it may, I have to say that being born in a small town of Bundelkhand has given me many memories and they will be part of my personality forever.

Some of my fondest memories are visits to the annual Makar Sankranti mela every year. People traveled for days and every means of transportation imaginable was used to attend these melas in my childhood. People walked, came on bikes, three wheelers and of course the age-old mode of transport, the bahl gadi (the bullock cart), which was used by families because it had an inestimable advantage: The family could camp right in the gadi. We are talking about an environmentally-friendly RV here.

Other than being a spiritual festival it was also the event of the year. Touring talkies showed religious movies, everybody brought blankets and sat on the golden sands on the banks of the Narmada and enjoyed the movies. Circuses paid annual visits. There were mithai shops. Food could be bought or you could always make your own daal baati and baigan bharta.

Days can be spent just taking pictures on any type of camera — still or motion picture. Documentaries can be, and have been, shot. Toy vendors, people camping, making food – the possibilities are endless.

The most amazing thing to observe was the importance of family in the whole sense.

Kids with fathers, little girls acting like their mothers, little boys trying to big like their fathers – many touching cameos were enacted. Not to be forgotten are the merchants trying to make a buck. The entrepreneurial spirit of the Indian was also evident all over the place.

Arun Chauhan is an amateur photographer.
He presents "Saaz Aur Awaaz," a popular
Bay Area Indian radio show.
Auto Review:




Goodbye, Oldsmobile
2001 Silhouette – By Al Auger

So the Olds is going the way of Schwinn, the bicycle manufacturing American institution that nevertheless went into oblivion because it was no longer in tune with the times. We present our auto expert Al Auger's affectionate review of the Silhouette by way of a fond farewell.




My neighbor took one look at the 2001 Oldsmobile Silhouette Premiere Edition 4-door van sitting at the curb and said: "Wow, that is a black beauty." And it is definitely that and a lot more. More like a Family Pleasure Palace on Wheels in deep lustrous black. To sum up the bag full of exotica that come standard with the premiere edition means to step ahead of the mechanicals and normal line of creature comforts.

A clue to just what market niche the Silhouette is targeted for can be seen in the new generation version of General Motor's OnStar system and the rear video cassette player. The OnStar system (standard on all three models) has become so sophisticated it just about offers a complete working office space. Web-based information such as stock reports or notice of incoming e-mail or phone calls can be accomplished hands-free and voice activated and the Internet response is relayed via synthesized voice to the driver.

Now that our workday is done let us step in the back theatre for a video show on the LCD color monitor unfolded from the overhead console. Again, Oldsmobile has reached beyond the expected with cordless headphones and the flexibility of separate entertainment options. Passengers can watch a video, or play a video game, listen to the radio or choose a CD from the in-dash 6-CD changer or listen to the movie audio all at the same time. Dedicated second-row speakers are also standard in the Premiere.

Of course we're going to be comfortable while cruising along with Ricky Martin, Pokemon, The Usual Suspects or National Public Radio's "All Things Considered." Driver and passenger are treated to plush heated leather seating and dual zone air conditioning with auxiliary rear controls. All the rear captain's chairs lie flat, each with a flat surface and cupholders for a multitude of uses. Or they can individually be removed for cargo storage. Neat little touches are the rear parking aid that audibly warns of close obstacles when backing up and power remote rear wing windows.

To complement all this lovely people stuff, the Premiere has a taut and responsive touring suspension system, traction control, anti-lock brakes and large P225/60R-16-inch tires plus automatic leveling and an air inflation kit. This latter duo is standard on all Silhouette models. Also standard on all three is the 3400 Vortec 3.4-liter, OHV, V6 engine that has been certified as a low-emission vehicle (LEV) for 2001.

The 2001 edition of the Oldsmobile Silhouette is a trio of well appointed and engineered vans that go just a tad beyond its competition in the realm of family values. They missed in only having a driver-side sliding on remote with the right side door manual. But, given all the overlapping conveniences, entertainment and ride comfort they engineered into the Silhouette, I'll let that slide. The 2001 Oldsmobile Silhouette, in any of the three trims, is a real piece of work.

Today's Test Drive:


Al Auger, our automotive editor has been writing about cars for over 30 years.
He has spent 20 years as a race driver and public relations specialist.
|TOP|
Bollywood: | Guftugu | Hindi Film Review |

Guftugu

Slow and Steady

Slow but steady, like the proverbial tortoise, that's our Aamir Khan. Meticulous to a fault, this thoroughly professional Bollywood star brings the same fastidious attention to his work whether he is facing the camera or behind it.

The release of his second home production Lagaan, which was supposed to add color to the Eid festivities, has now been shunted off to June. Oh, the shooting was all over in six months, it is just the post-production work which has taken over a year. Khan contemptuously dismisses naysayers who are feeding the rumor mill. Let's hope that Lagaan is worth the wait – both for the sake of Aamir as well as the audience.

After all, when a Bollywood artist shows a rare commitment to excellence, the audience owes a debt of acknowledgement which it ignores at its own peril.
|Return to Bollywood Index| |TOP|

Garam Hawa?

Now people, I know you don't want to give away your ages, but those old enough must remember how delightful it was to see Garam Dharam and his vivacious love interest Hema frolic in the blockbuster Sholay, which sent the producers laughing to the bank.

Well, life imitated art as Hema Malini actually became Dharmendra's wife, but it's funny, the love birds do tend to keep a low profile.

Take a recent bash to honor fellow Punjabi Ujjal Dossanjh, the premier of British Columbia.

The duo were seen together, but it was a bit like two ships passing each other. Mom Hema with daughter Esha happened to run into Dharam as he had come in. Hema, with Esha in tow, was getting ready to leave. They exchanged a few brief pleasantries (we hope), and went their separate ways. What gives?
|Return to Bollywood Index| |TOP|

Going English

My, my, we are all going phoren now. OK, here is the deal. If I told you about a film that has signed the gorgeous Dimple, debonair Vinod Khanna and delicious villain Gulshan Grover, you would probably yawn and say so what, it's another Bollywood potboiler in the making, right?

Wrong.

We are talking Angrezi, baba.

Dimple Kapadia, Vinod Khanna and Gulshan Grover has been signed in to star in an English film produced by Lemon Tree films. Somnath Sen will direct the film, with music by Shantanu Moitra and Jagjit Singh.

Remember, it's not so unique as it sounds. Aparna Sen's gem 36 Chowringhee Lane was largely in English too, and it won her an award in Manila. Let's hope similar great things await this film.
|Return to Bollywood Index| |TOP|

Last Laugh

There were people who had written him off. Well, now they are having to eat their words.

Carping critics may have sniped at Tamil superstar Kamal Haasan's ambitious directorial venture

Hey! Ram, but guess who had the last laugh?

The film is the Indian selection for the Oscars, and that is not all. His latest film Thenali is not only a huge success in Tamil Nadu but also among Sri Lanka Tamils.

The hyperkinetic Kamal is not one to sit on his laurels. He is busy making the best of good times, putting the finishing touches on his next film Abhay.
|Return to Bollywood Index| |TOP|

Fiery Spirit

Remember Shyam Benegal's offbeat Ankur? Shabana Azmi may have played a village belle, but boy, did she have a fiery spirit!

Well decades have gone by, and Shabana has gone places, both cinematically and otherwise. In addition to essaying unforgettable roles on-screen, she has made waves with her social activism, working on a range of issues including slum dwellers in Mumbai as well as taking on communalism during the Ayodhya debacle.

Happily, her activist spirit remains undiminished. Recently in a seminar, she made her views known with characteristic candor, urging more substantive portrayal of women on screen as well as betterment of women offscreen through improved education and health care.

From an ankur what an awe-inspiring banyan tree has grown!
|Return to Bollywood Index| |TOP|

Ups and Downs

Nobody said life is fair, but that doesn't mean everybody's beloved hunk is about to throw in the towel. Sunny Deol tried to play loverboy in Dillagi, but the box office response was no dillagi.

Enter the macho persona in Champion. Well, that failed to with the championship of audience hearts.

Now comes Farz. We sure hope it's not three strikes and you are out. Rather, we sincerely pray that watching the film becomes farz for Bollywood buffs. After all, he has persevered, so isn't it time he deserved some success?

Pretty babe Preity Zinta will do her bit for a good cause in Farz, at least we are confident of that much. Let's hope everything else falls into place.
|Return to Bollywood Index| |TOP|

Big B Rules

It wasn't so long ago that Big B had become a big bust. Unkind critics noted acidly that his dud venture Mrityudaata was aptly named. ABCL, the vessel of his corporate dreams, was going down the tubes, and creditors were baying for his blood, even his Juhu bungalow was in jeopardy.

Well, what a difference a show makes.

This was all BKBC, i.e., Before Kaun Banega Crorepati, the blockbuster Star TV show. The show's success has catapulted him to success. The high note in his life was crowned recently when big B got to look at a likeness of himself at London's Madame Tussaud's, where he became the first Indian actor to have a wax statue of him put up for display.
|Return to Bollywood Index| |TOP|


Hindi Film Review
Magic on Celluloid

RAJU CHACHA

Director: Anil Devgan
Music: Jatin-Lalit
Starring: Ajay Devgan, Kajol, Rishi Kapoor, Johny Lever, Sakshi, Harsh, Kinshuk and Sanjay Dutt

Ajay Devgan's lavishly budgeted in-house production Raju Chacha is targeted at little children. It has brother Anil as a first-time director and wife Kajol playing the female lead. The director has let his imagination run wild and cross the barriers of the routine run-of-the-mill fare. This has resulted in a script that is enjoyable, with some unusual backdrops that transport one into a land of fairy tales. The set of the palatial bungalow where Rishi Kapoor, playing a widower, and his three kids live, is breathtaking. Art-director Nitin Desai should be commended for his visualization. Kajol can charm you with her light eyes and vivaciousness, and Ajay Devgan with his intensity. Age has not withered Rishi Kapoor's charm. But what lingers in one's mind are the three lovable little kids – Sakshi, Harsh and Kinshuk – who inhabit it.

A wealthy widower hires a governess (Kajol) to look after his three spirited kids. After some unsuccessful attempts to chase her away, a strong bonding develops between them. Ajay Devgan, a small-time thief and con man, falls for Kajol and tricks his way into her heart. On their wedding day she discovers his real identity when the police come to take him away. Heartbroken, Kajol returns to her orphanage.

Rishi Kapoor's avaricious relatives, hand-in-glove with their unscrupulous business associates, plot to kill Rishi and his kids. While Rishi is killed, the three children escape, only to be traumatized by the evil gang who have taken over the house. Devgan now turns up as their long-lost uncle, Raja chacha, and stakes his claim as the rightful heir. Kajol, too, returns to the house. How the duo, with the help of the kids, the servant of the house, and a jailbird (Sanjay Dutt in a special appearance), give the villains what they deserve forms the rest of the story.

The film has some fine special effects. The opening scene of the hero dressed in a clown's garb and robbing a bank has its origin in a Hollywood film, inspiring the producer to incorporate it in this film too. The closing scene of the remote-controlled toy car hounding the villains can also be traced to a Hollywood film.

The film is not without its flaws, however. There is a lot of gruesome mayhem in the second half of the film which seems both unwarranted and inappropriate for a childrens' film. With a running time of about three hours, the film could certainly use some trimming. Jatin-Lalit's music is also a very big disappointment.

That said, it's fun time for the kids with Raju Chacha which is magic on celluloid.

Horoscope:
Yearly Forecast for 2001

ARIES (March 21 to April 20): Jupiter will keep finances on the edge. Money will keep coming in but to save it will be an uphill task till June 16th. Value of stocks may not appreciate during this period. It will be better to stay put. Money will not be wasted but spent on good reasons. Its transit in third from June and onwards will be a lot better. Earlier investments will bring in big returns and you will be more fortunate in all efforts and especially in financial matters. Saturn in second will help in career but you will need to work very hard to generate income. There will be major changes in career making things more relaxed and easy for you in the middle of 2001. You may get some money through a lawsuit this year. You will purchase a new vehicle and may invest towards a land also. People having multiple business will get rid of some of it to decrease the pressure. Chances are that you would be moving in your own home around July. You will be relieved of stress from the past, health will improve with better family life assured by the planets. You will be satisfied with the changes strong planets are going to bring in 2001.

TAURUS (April 21 to May 20): Prosperity will be associated with some headaches. You should be careful about your health and watch your weight. You will become very ambitious and may try your hand with politics. If you play your cards right and show some patience with stocks or in other financial matters, you will mint money before June 16th. Money made will be invested wisely thereafter when Jupiter moves into second house. Saturn in your sign will refine you and fill you with maturity and teach you to have patience. All these qualities will help you move up in profession and make good financial decisions. Rahu in second will dig a hole in your pockets, so money will come and go. Some of you may require minor surgery to tackle some health problems. You will escape from getting hurt in an accident this year. A new member will be added in the family. If you try to get into oil, gas or hardware business, you will succeed. Wearing a blue Sapphire will bring better luck and success.

GEMINI (May 21 to June 20): Some uncertainty will crop up in career in the beginning and you will in two minds about trying out a new field or venture. You will be exploring new avenues to improve earnings to meet the increasing commitments. Jupiter moving in Gemini around June will bring stability in career. Start of another business and change of job to a better one will become a reality. Such changes will be good and long lasting. Rahu will make you ambitious and determined to concentrate and achieve goals. Any partnership you enter after June will prove to be a fortunate affair. You will focus on improving family life and help children meet fresh challenges. Bachelors will have tension but will ultimately find some one mature and intelligent from far off place to help them. You will travel overseas for a family reunion this year. A blue sapphire can work as a catalyst and help overcome obstacles in career.

CANCER (June 21 to July 22): Projects that were delayed in last year will take off before June 2001. You will find yourself working with successful people. Throw all suspicions out, things will work out fine and go a long way. You may get large amount of money through lawsuit as a result of Saturn and Jupiter in house of gains before May. Mars will cause major improvement in career after 19th October. You will travel overseas and gain from far off places when Jupiter moves in Gemini after June. Interest in charity and religion will increase dramatically. You will help a needy relative this year. Saturn in eleventh can bless with sudden wealth in shape of inheritance or speculation. The time after May 2001 is very favorable for all financial matters. You will move into a bigger place. You will spend more time with family and see the improvement in children. Health will give trouble occasionally but without any major concerns. Extra Calcium and a Pearl will help.

LEO (July 23 to August 22): Some uncertainty and delay will continue in career. Working condition could get tough and you will be looking for a change. Reply anticipated from government will not come on time. Legal action against employer will be a waste of time. You will be associated with a tall and intelligent person but some differences will develop towards the end of year 2001. This could be the right time to think of becoming independent and starting on your own. Starting a consulting company will be very fruitful and long lasting. Jupiter in eleventh after June may bless you with a child or the marriage of a child will get arranged in a very good family. April will be slightly depressing and the onslaught of enemies or opponents will increase during this period. Financially this year will be mediocre. You will travel to a warm area or may move to a warm area nearby. Wearing a red Coral will enhance your fate and fortunes and donating black objects will expedite issues with government.

VIRGO (August 23 to September 22): Be prepared for some big changes in career around June this year. Sudden developments around May will cause panic but ultimate result will be beneficial for you. Jupiter in ninth will make relationships strong. You will escape few big problems as a result of timely action and advice from experienced people. Boss will not cooperate and try to make things tough for you in first few months of 2001. You will make few big investments and may move to a bigger place this year. People in business will stay comfortable and do better this year. Some unnecessary tensions about house and where to live will keep your mind occupied because of Ketu in fourth. Feeding birds will help get you peace of mind. Saturn in ninth will ask you to make some sacrifices. You may put a close family members need before yours and may go out of your way to help them. Earnings will soar after July. There is a strong chance of addition in the family. You will be making several trips this year.

LIBRA (September 23 to October 22): Saturn transiting eighth could be little tricky this year. You will need to be careful in financial and health matters for first few months. Such Saturn can cause friction in family life due to the outside interference. Do not expect any quick decision in legal matters. Jupiter in ninth will cause settlement in legal matters after June 16th. You will also receive help and blessings of a spiritual person. Planet Mars will have some negative impact on health will make you impulsive forcing you to make few self-destructing decisions early this year. Expenses will escalate and you will need to borrow heavily for your projects. Profits will come later this year after September only. You may start construction on a land or start a fast food business also. You will go on several trips, always on a short notice. You will be travelling for a religious cause after June. Worshipping Lord Shiva, donating black articles and wearing a Blue sapphire will help reduce the negative influence of Saturn in life.

SCORPIO (October 23 to November 22): The year will begin on a weak note. You will lack confidence and may not have anybody to trust, as mars will be in twelfth. Jupiter in seventh will keep your financial hopes alive but Saturn will keep delaying things. Money expected in the beginning of the year will be delayed till June 2001 thereafter Jupiter will cause gradual prosperity for a long time to come. You may get a large chunk of money from in-laws in some form. Your efforts will multiply and so will the results after April 10th. Ketu in the second with Jupiter aspecting it after June can give sudden wealth. Your assets will grow this year and you may invest in property and purchase new vehicles. Spouse may start complaining about pain in joints and knees. Bachelors will find a very hard working partner with technical education. Maintain a low profile till February and take all-important decision thereafter. You will be paying some attention to improve health also this year.

SAGITTARIUS (November 23 to December 22): Jupiter weak in sixth till June will delay progress. You will face a few setbacks due to tough competition in the market and may have to work far below your qualifications and experience. You will narrowly miss few opportunities and may have to commute a lot or stay out of town for business purpose. The moment Jupiter enters Gemini on June 16th, Your will be more confident and see success in all directions. Mind will settle, domestic life will improve and you will purchase some property. You will overcome few emotional issues with the help and guidance of a learned person. You may also win a lawsuit in a big way but financial gain will be lot less than expected. Marriage is in the air for bachelors with some one from the past. You will be travelling to far off places for important reasons. Children will be the source of happiness in life towards the end of 2001. Donating white articles and feeding the birds will give peace of mind and avert some unexpected situations in family life.

CAPRICORN (December 22 to January 19): It will be a good year for you with Saturn sitting tight in 5th. You have strong chance of striking it rich. Of course you will have to work hard but the results will be good and there will be stability in life. Health will get better with proper exercise and walking. Saturn can cause some anxious moments about children. When Jupiter leaves 5th in June, you will have an addition in the family. Expect a hard time from school or college going children in the beginning of year 2001. You will be very much tempted to change your residence but it may not become a reality. You will put off unnecessary expenses and believe in savings. You will benefit from overseas and especially from all journeys after June. People in sales will have great time. Starting any business this year will be good and will last forever. Rahu in sixth will destroy all enemies and Ketu in twelfth will make you charitable and cause tremendous spiritual growth in life.

AQUARIUS (January 20 to February 18): Saturn in fourth is not that bad. You will add more vehicles to the existing ones and may invest on a property also. You will just keep investing. Incomes on the other hand may not increase till June. People who owe you money will take their own time in returning it, but expect a full recovery after June. There will be some anxiety about financial matters initially otherwise the year will be good for you. Once Jupiter moves in 5th on June 15th, financial matters will be sorted. You will get some very profitable deals, and it could become a big turning point in life. Jupiter will provide an excellent educational opportunity and can add new member to the family. A child may decide to live away for educational purpose. You will have stomach related problems off and on this year, but without any major worry. Interest in religion will increase and you will visit holy places and gain wisdom. Wearing a Diamond will improve luck and cut delay. It will be a profitable year.

PISCES (February 19 to March 20): Saturn and Jupiter in third can keep you involved in legal matters but with favorable outcome. Your income will multiply and you will go on many trips during year 2001. Some of you will be moving to your first house after summer. This is the right time to make long term investments. Stocks should yield big profit after May. People in communication industry and doing writing work will be extra successful. You will be isolated from close friends and a relative because of their move to a far off place. Ketu in tenth will give worries and unnecessary fear for those who are working. You will be full of energy and the success after June will boost your morale. You will travel to coastal areas with family and may have some visitors from overseas. Planets will bring large gains after October. Siblings will help you in your cause and may even offer financial assistance for your ventures.