Publisher's Note
:
Times change. And not a moment too soon, if one considers that only a few years ago India provoked images of bullock carts and baksheesh in the Western mind. Now hordes of bright IT professionals have changed that stereotype dramatically. With high profile Indian entrepreneurs creating successful empires in San Jose and Bangalore, the land of the rope trick and snake charmer is now the land of IT — and countries like Britain, Germany and Australia are making a beeline, while the United States has already opened its arms.
Which is not to say that India's long-standing problems have gone away. They haven't. But no one can gainsay that India's success in technology has brought a welcome air of confidence in its capacity for excellence. Few eyebrows will be raised when it is announced that India will host a conference on the cutting edge field of nanotechnology, the science of manufacturing at the molecular level.

The cutting-edge field holds vast promise, but it is still highly theoretical, and exists mostly in theoretical speculation in computer models. Yet it is surely an excellent sign that the Indian government has responded to this development with alacrity and the federal department of science and technology is hosting this meet.

But what of the mass poverty and underdevelopment? Isn't that just as real too? It is, but there is a glimmer of hope there as well. Land records in Karnataka are going online, and Andhra Pradesh is going to follow soon, and Human Resources Minister Murli Manohar Joshi has just celebrated the introduction of a low-cost computer for the masses, the "simputer."

The digital divide won't go away so quickly, but these are steps in the right direction.

|TOP|

Main Feature

Nanotechnology:
The New Scientific Frontier By Deepak Goyal

It's been called a shotgun marriage between chemistry and engineering. Nanotechnology is the fascinating science that deals with manufacturing at the molecular level, and India is holding a conference in December, writes Deepak Goyal.

The dramatic growth in miniaturization and rise in computing power surprises no one anymore. But where does it end? What is the limit of miniaturization?

If scientists are to be believed — a and there is a whole tribe of them who do believe in this — designing and manufacturing can come down to the molecular level.

Welcome to the futuristic science fiction world of nanotechnology, where machines are constructed on a molecular size through a self-replicating processes.

If you remember your high school physics, a nanometer is one billionth of a meter. Nanotechnology refers to research in really microscopic dimensions, less than 1,000 nanometers.

Scientists are now saying that if structures could be designed and replicated at the molecular level, it could revolutionize the science of manufacturing.

None of this has happened yet, but computer models and some experimental research suggests it could all be a reality in 10-15 years.

After all, considered from the molecular level, today's manufacturing seems downright crude. Even the fine art of lithography can be compared to building structures with heaps of Lego blocks, when the nanotechnological equivalent would be to individually link them to build more clearly defined structures.

All of this is still very futuristic, but India is getting into the act.

Come December 16, over 250 international and national scientists and engineers will attend a three-day international conference on nanocomputing, beginning in Tamil Nadu's Thanjavur, to address the directions of nanocomputing in wide areas including materials, processes and devices in which this technology could be put to use.

The needs of computing technology are pushing the power of microelectronic devices, as they exist today, to their ultimate capability.

In a bid to maintain the growth further, scientists and engineers had been looking at nanostructures and nanocomputing techniques to build devices, machines and materials, atom by atom, in nanometric scale, Dr. V.S. Ramamurthy, secretary in the federal Ministry of Science and Technology, told a press conference June 8.

"Efforts are on in the areas of quantum computing, molecular computing, biological computing and optical computing to utilize various phenomena in these areas to build nanostructures for computing," he said.

Nanocomputing is about computing using the building blocks of incredibly tiny electronic circuits and micro-processors.

Commercially viable microprocessors today are built using 0.18 micron technology which means that individual transistors and wires are around 180 nanometers in width. Nanocomputing aims to reduce this to just a few nanometers, Ramamurthy said.

The computer industry has been instrumental in spearheading the movement toward miniaturization.

Moore's Law, first noted by the Intel pioneer and cofounder Gordon E. Moore in 1965, has held that the number of transistors that can be etched on a single chip of silicon doubles on average every 18 months. The law has outlasted even its founder's faith, because in 1993 Moore had suggested a physical barrier of .25 micron which the industry has since crossed.

At a technical conference in Kyoto recently, Intel said it had made silicon transistors 70-80 atoms wide and three atoms thick. With a capacity to switch on and off 1.5 trillion seconds a second, these are the world's fastest silicon transistors.

What is remarkable is that this was done using standard commercial techniques, proving once again that scientists can move around technical barriers to continue the phenomenal four-decade exponential growth of computing speed and power.

Which explains some scientists' firm belief that nanotechnology will become a reality, however unreal it may seem today.

Nanotechnology has been called "a shotgun marriage of chemistry and engineering," and computing miniaturization is expected to play a key role in its development, but its benefits are expected to be infinitely broader.

Just imagine, if structures can be rearranged at the molecular level, you can take coal, move molecules around and make diamonds. Rearrange molecules of dirt, water and air, and you could get a luscious peach or a sheaf of wheat, because that's what a plant actually does.

Nanotechnology will become a reality with the ability to build things from the atom up, so that matter can be rearranged with atomic precision. This technology offers a thorough and inexpensive system for controlling of the structure of matter.

The central idea of nanotechnology is that almost any chemically stable structure that is not specifically disallowed by the laws of physics can in fact be built. Nobel laureate physicist Richard Feynman foresaw the possibility in as far back as 1959: "The principles of physics, as far as I can see, do not speak against the possibility of maneuvering things atom by atom."

The ability to make commercial products may be a few decades away. But theoretical and computational models indicate that molecular manufacturing systems are possible — that they do not violate existing physical law. Scientists today are busy figuring out techniques to transform nanotechnology from computer models into reality.

Precision is the key benefit of this technology, because with greater understanding and flexibility that comes from planning and executing the manufacturing process on a molecular scale, scientists expect to expand control and drastically cut costs.

When this technology works, it is expected to bring profound changes in various fields. Doctors are already dreaming of "cleaning" microscopic machines that move through our veins and arteries, tracking and attacking cancer cells, repairing damaged tissue.

If scientists can master the skills of positioning and change the configuration of a molecule, what is to stop us from creating filtration systems that clean the air and water?

Space research could be immensely helped, because our present day crude manufacturing techniques—from the nanotechnological point of view—is crippling our research, given the high expense of moving payloads in space. With smaller, nimble, precision engineered machines, our reach in space can be infinitely increased.

Nanotechnology will allow scientists to precisely position every atom and make almost any structure consistent with the laws of physics and chemistry that can be specified in atomic detail. Manufacturing costs will be nearly the same as the raw materials and energy.

Scientists are working on two key ideas to make nanotechnology happen: positional technology and self-replication. The technique of getting the right molecule in the right place is called positional assembly. The concept is borrowed from conventional manufacturing today. This is expected to be done through molecular robotics, devices which are molecular both in precision and size.

But even if that happened, it would take an eternity for a single molecule to manufacture what we need it to manufacture in the amount we need. This is where the concept o self-replication comes in.

A self replicating manufacturing system is able to allow molecules both to make copies of themselves and to manufacture useful products. If scientists can design and build one such system the manufacturing costs for more such systems and the products they make (assuming they can make copies of themselves in some reasonably inexpensive environment) will be very low.

– Deepak Goyal is a freelance writer.
He lives in Kolkata.
|TOP|
Infotech India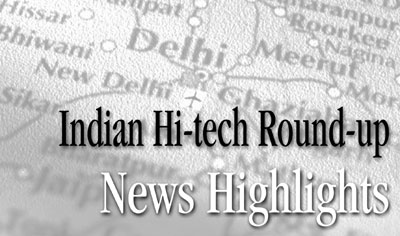 'Simputer' for masses … Pentamedia's film on Buddha … States told to develop IT ... Wipro tie-up — Here is the latest on information technology from India

Sweet Simputer

With a view to bridge the digital divide, scientists have developed a low-cost, small, portable computer which can be used even by illiterate people, Science and Technology Minister Murli Manohar Joshi said June 7.

"The new computer, called Simputer, is a low-cost portable alternative to PCs by which the benefits of IT can reach the common man," Joshi told reporters here.

It costs about Rs. 9,000 at large volumes and is the result of coming together of scientists from the Indian Institute of Science and technologists from Encore Software, he said.

The Smart Card feature of the new system enables it to be shared by a community, he said, adding that a local community like village panchayat or village school should be able to loan the device, which has applications in areas like microbanking, large data collection, agricultural information and school laboratory, to individuals.

The computer, which is operational in Hindi, English, Kannada and Tamil, has a special role in the Third World because it ensures that illiteracy is no longer a barrier in handling a computer, he said.

The key to bridging the digital divide is to have shared devices that permit simple and natural user interfaces based on sight, touch and audio, he said, adding that Simputer meets these demands through a browser for the Information Markup Language.

"The system has not been developed for profits and thus has not been patented and all intellectual property related to it has been transferred to a non-profit entity called the Simputer Trust. The information is available for those who want to improve upon it," Joshi said.
|Back to Infotech Index| |TOP|

Buddha Film

An Indian multimedia company is teaming up with Singapore's Economic Development Board to make a hi-tech animated movie about the life of the Buddha, officials have said.

India's Pentamedia Graphics is hiring 105 software engineers and other computer experts in Singapore to work on the $6 million film, titled Buddha, the company said.

Chennai-based Pentamedia decided to tie up with Singapore because of the city-state's hi-tech infrastructure and large pool of computer experts, said K. Srinivasan, the company' s director and chief operating officer.

The project is part of the Singapore government's drive to make the country an Asian hub for hi-tech industries and media.

The Economic Development Board is coordinating personnel and technical resources for the film, and providing incentives for Pentamedia to work in Singapore, EDB managing director Ko Kheng Hwa said. He declined to give further details.

The 90-minute feature film will use traditionally hand-drawn, two-dimensional characters on a computer-generated, three-dimensional background, Srinivasan said at a news conference.

It will take at least 18 months to make the film, which Pentamedia hopes to release first in Asia and then in Europe and North America, Srinivasan added.

The venture could lead to more such projects if successful, Ko and Srinivasan said.
|Back to Infotech Index| |TOP|

Develop IT, States Told

Indian Home Minister L.K. Advani June 9 asked each state to closely study the advantages it has or it can develop in information technology to attract investment, entrepreneurs and professionals as IT development cannot be the same for the entire country.

Delivering the valedictory address at the three-day business summit on IT and biotechnology and Shimla Knowledge.Com, Advani said there was need for top-class educational and research institutions to produce trained professionals in great numbers to meet the needs of the IT industry.

But, the government had neither the required financial resources nor the managerial capabilities to tap this potential in education. Hence, "We would need to attract private investors and promoters with proven experience in the field of higher education," he said.
|Back to Infotech Index| |TOP|

Wipro, Concord Tie-Up

Wipro Infotech, India's leading IT services organization, June 11 announced its partnership with Concord Communications, a market leader in solutions that maximize performance and availability of the e-business infrastructure.

Wipro said the tie-up is to provide performance management, analysis and reporting solutions for telecommunication companies and service providers.

Wipro Infotech is one of the two flagship IT divisions of the $660 million Wipro Limited.

The solutions, a Wipro release said, will help enterprises and service providers manage and analyze the performance of their systems, networks and applications.

The partnership leverages on Concord's market leading e-health suite and the high-end systems integration and project management capabilities of Wipro Infotech, it said.
|Back to Infotech Index| |TOP|

Legal Issues:

After Dreams Turn to Dust:
Immigration Help for Battered Women - By Raja Ahluwalia

What if an NRI sponsor turns out to be an abusive person? Is the battered victim at the tormentor's mercy for immigration status? Not any more says Raja Ahluwalia, who adds, however, that there are special conditions.

The dream is common enough: A woman in India, well educated, is in college. Her parents begin to seek a match, and a Non-Resident Indian in America with a good job seems the perfect match. The families get in touch, and after due consultations, a match is made. The woman gets married, then follows her newly-wed husband to the United States, all starry eyed, ready to build the American dream.

Sometimes that dream can turn into a nightmare if the husband turns out to be abusive. Since he has sponsored his wife to come and live in the United States, he wields enormous leverage, and if he is unscrupulous as well as abusive, he can give his harassed wife a really hard time.

Or what if a child becomes the target of abuse? Human rights activists have long lambasted what they saw as the callous attitude of the Immigration and Naturalization Service, which seemed to be focused more on preventing immigration fraud than helping battered wives and children. Now Congress has passed a law that offers some protection.

The battered spouse and children petition provisions went into effect on January 1, 1995. Through this provision, Congress has finally acknowledged that spouses and children can be totally at the mercy of abusive family members, and that this is unacceptable. In situations involving an immigration benefit, the abusive spouse can exploit the alien unmercifully. It is now possible for the battered spouse /child to "self petition," in other words, file the petition without the participation of the other party.

This legislation permits self-petitioning by a spouse:

Who is eligible to be classified as an immediate relative or a second preference immigrant;


Who has resided in the United States with a U.S. citizen or permanent resident spouse; and;


Who has been battered or subjected to "extreme cruelty" by the permanent resident or U.S. citizen spouse;


A person who is of "good moral character," during past three years immediately preceding the date self-petition is filed;


Whose deportation will result in "extreme hardship" to himself/herself or to child;


Who entered marriage in good faith and must still be legally married at the time of making the application.

The Immigration and Naturalization Service requires the self-petitioning spouse to be legally married to the abuser when the petition is filed. The abuser must be a citizen or lawful permanent resident when the self-petition is filled. A spousal self-petition must be denied if the petitioner's marriage to the abuser legally ended by annulment, death or divorce before that time. The INS, however, will not revoke the approval of a self-petition solely because the marriage has legally ended. Similarly, a self- petition may be granted despite the legal termination of the marriage while the self-petition was pending before the INS. On the other hand, a pending spousal self-petition will be denied or an approved self-petition will be revoked if the self-petitioner chooses to remarry before becoming a lawful permanent resident.


Spousal self-petitioners are subject certain provisions of Immigration Marriage Fraud Amendment Act. The whole idea is to deter and detect immigration-related marriage fraud. As a result of IMFA, a self-petition by a spouse will be denied if:

There is substantial evidence that self-petitioner attempted or conspired to enter into a marriage for the purpose of evading the immigration laws;


The marriage creating the relationship to the citizen or the permanent resident took place while the self-petitioner was in deportation, exclusion or related proceeding unless the self-petitioner provides convincing evidence that the marriage was not entered for the purpose of obtaining immigration benefits;


The lawful permanent resident abuser acquired permanent residence within past five years to a citizen or a permanent resident (unless the self-petitioner can convincingly show that the abuser's prior marriage was entered into good faith)

A self-petition will not be approved if the self-petitioner is not living in the United States or has never lived with the abuser in the United States. However, it is not necessary for the self-petitioner to residing with the abuser when the petition is filed. A self-petitioner cannot meet the residency requirements by merely visiting the United States or visiting the abuser's home in the United States while continuing to maintain principal residence abroad. The INS rule does not require the self-petitioner to have lived in the United States or any abuser for any specific length of time. It also does not mandate continuous physical presence in the United States. A qualified self-petitioner may have moved to the United States only recently, or resided with the abuser in the United States for only a short time.

The self-petitioner must show that the abuse took place during the marriage to the abuser. Instances of abuse that have occurred at other times are not qualifying abuses. However, there is no time limit on the time that may have elapsed since the last incident of qualifying abused occurred. Only abuse perpetrated against the self-petitioning spouse, or the self-petitioning child is qualifying. The qualifying abuse must have been committed by the abusive citizen or permanent resident spouse or parent. Abuse by any other person is not qualifying, unless it is shown that the citizen or permanent resident willfully condoned or participated in the abusive acts.

Furthermore, the qualifying abuse must also have been sufficiently aggravated to have reached the level of battery or extreme cruelty. Threatened acts of violence, forceful detention, which results or threatens to result physical or mental injury, psychological or sexual abuse like rape, molestation, incest (in case of minors) or forced prostitution are some example.

The self-petitioning spouses and self-petitioning children who are 14 years of age or old must provide evidence showing that they have been persons of good moral character for three years immediately preceding the date self-petition is filed. There are numerous factors which are taken into consideration in evaluating whether the person meets this criteria.

The self-petitioner must show that he/ she will be denied if the petitioner does not show that his or her deportation would cause extreme hardship. There are numerous factors which are taken into consideration in evaluating whether the person meets this criteria. Most common are age, health, length of residence, the economic and political conditions in the country, etc.

Wherever it is found that the self-petitioning spouse entered into marriage just to obtain immigration benefits, the petition cannot be approved. However, the spousal petition will not be denied, solely because the spouses are not living together and the marriage is no longer viable. The key factor in determining whether a person entered a marriage in good faith is whether he or she intended to establish a life together with the spouse at the time of the marriage.

A child of a self-petitioning spouse may be derivatively included in the self-petition. No separate petition is necessary for derivative classification, and the child is not required to have been victim of abuse.

Raja Ahluwalia is an attorney.
He is based in San Mateo, Calif.
Finance:

Disbursing the Spoils
The Retirement Gauntlet - By Ashok Gupta

For those in their '50s, retirement is not very far. For the prudent and wise, perhaps a nest egg is ready, but now comes a series of complex choices: How to deal with the distribution of savings and assets. Ashok Gupta assures that new laws have made this much easier.

With memories of Woodstock fading fast and with age 55 just around the corner, retirement is bearing down on Baby Boomers like "a darkness at the edge of town."* Participation in employer-sponsored pension and 401(k) plans, savings in tax-advantaged IRAs, and the bull market of the 1990s have combined to help allow many Boomers to successfully complete the accumulation phase of the retirement gauntlet. What remains could be the distribution challenge.

Those approaching retirement may be faced with a mind-boggling set of decisions concerning distribution of qualified plan and IRA assets. In fact, in its training materials for people studying to become Certified Financial Planners, the American College lists 22 "Issues and Decisions at Retirement." These decisions include:

Whether benefits should be received as an annuity or a lump sum;


Whether lump sum distributions should be rolled into an IRA;


When should distributions begin;


What is the minimum required distribution; and


Who should be the beneficiary of qualified plan and IRA benefits following the participant's death.

For many retirees with significant assets in qualified plans and IRAs, the game usually becomes one of how to minimize distributions for the longest period of time. After all, assets left untouched in these plans continue to grow tax-deferred.

Until recently, decision-making was complicated by IRS rules requiring irrevocable choices at retirement as to beneficiary and type of distribution. Furthermore, calculation of the annual minimum required distribution was so complex that it often necessitated the combined brainpower of a tax lawyer, accountant, and licensed financial professional.

Recently proposed regulations make running the retirement gauntlet easier than in the past. Under the proposed regulations the timing of when distributions must begin has not changed. IRA distributions may still be delayed until April 1 of the year following the year in which the participant reaches age 70. Employees who are not principal owners of the company may delay distributions of employer-sponsored plans until April 1 of the year following the year of retirement, if they work beyond age 70.

However, under the proposed regulations, determination of the minimum required distribution is greatly simplified. If you can consult a table and divide your plan's account balance by the figure indicated for your attained age, you'll come up with the correct answer. The divisor reflects life expectancy and provides a more hopeful perspective than in the past. Under the new table, the divisor for a male age 70 is 26.2 compared to 16 under the old rules, thus reducing the amount of the required distribution.

Example: Charlie is age 71. His IRA account balance at the end of the preceding year was $200,000. The first year's minimum distribution is $200,000/25.3, or $7,905.

The new uniform table elimi-nates one of the more difficult choices of the past — whether to recalculate the minimum distribution each year, based on life expectancy at the current attained age. Under the new regulations, the divisor is simply the figure indicated in the table for the attained age.

Example: Charlie is age 73. Previous distributions reduced his IRA account balance as of the end of the preceding year to $195,000. The minimum distribution is $195,0000/23.5, or $8,298.

Furthermore, the availability of the new unified table eliminates the necessity of selecting the form of the payout — single life or joint annuity — and making an irrevocable beneficiary designation prior to retirement. Under the new table, the divisor is the same whether the payout is in the form of a single life or joint annuity. However, if a joint annuity is selected, the spouse is the beneficiary, and he or she is more than ten years younger than the participant, the spouse's longer life expectancy can be taken into account to even further reduce the minimum distribution.

Example: Charlene is age 71. Her 51-year-old spouse is the beneficiary and joint annuitant of her IRAs. Her IRA account balance at the end of the preceding year was $200,000. The first year's minimum distribution is $200,000/33, or $6,060.


Although it is expected that the proposed regulations will be finalized shortly, the details are still being sorted out. You'll want to consult your tax and or legal advisor as to their effective date and the implications for your specific situation. Keep in mind that issues of asset reallocation, selection of assets to provide retirement income, and coordination of retirement planning with estate planning are not resolved by the proposed regulations.

But, just in the nick of time for the Baby Boomers, the pain of the retirement gauntlet has been eased.

* "Darkness at the Edge of Town," Bruce Springsteen
- Ashok Gupta is a financial planner based in San Jose, Calif.
Culture:

A Hallowed Tradition
Remebering the Guru Shishya Parampara - By Sargam Shah

The key to Hindustani music is the Guru-Shishya Parampara, the highly personalized system of dissemination of musical knowledge, explains Sargam Shah.

The full moon in early July is "Guru Purnima," a special day to honor all gurus and the tradition of teaching and learning called the "Guru-Shishya Parampara." TheGuru Shishya Parampara is literally the "line of descent" which links a series of gurus and disciples in the same way that a "family tree" links the members of a family. The guru-disciple tradition is very important in the classical culture of India. In ancient times, children from highly cultured families would spend the first seven to ten years of their lives with their parents, and then would be sent to live with a guru in his or her gurukul for several years, until they reached the appropriate age to become householders. Even today, some families maintain this tradition, and many more people participate in the guru-shishya tradition by taking a spiritual guru through the ceremony of "mantra diksha." The spiritual tradition of guru and disciple relationship is well known, but there is an equally ancient and important tradition of Guru-Shishya Parampara in Hindustani classical music too.

Historically, Hindustani classical music has been propagated through the system of "Gharanas," or music families, some of which are quite well known, such as Gwalior, Kirana, Indore, and Patiala. Gharanas are named for the city in India in which they originate. Each gharana is etstablished by an exceptionally gifted musician, and this musician's style of music is passed down to successive generations through the Guru-Shishya Parampara. In older times, the styles of the gharanas were quite separate and distinct, because the gharanas were distant from each other and there were no easy means of communication between them. Gharana knowledge was also kept very secret. The special features of a gharana's musical style would be taught only to disciples, who were duty-bound to keep this knowledge to themselves. Sometimes, even lessons were conducted in great secrecy. Musicians were often supported by the royal courts of India in by-gone days, and there are wonderful stories about how gurus would teach in secret underground chambers in the royal palaces and how outsiders would try to sneak in and steal the music. Today, of course, much of this has changed. Modern mass communication and ease of recording has eliminated the distance between gharanas, and while some features of music may still be taught only to disciples, most gharana music is available in some form to everyone. Some modern musicians believe in the importance of maintaining the purity of their gharana tradition, but many younger musicians eagerly seek out and learn whatever they can, combining various traditions in new and creative ways. A few master musicians, some of whom have grown up in khandani or gharana families, are now teaching outside of India, so we may well see the rise of new gharanas, like the "Berkeley Gharana" or the "San Jose Gharana" here in America.

But despite these changes in the gharana system, the Guru-Shishya Parampara is still a central and living tradition in Hindustani classical music. Nearly all of today's serious musicians participate in this tradition . Hindustani classical music is taught by many people today who have a questionable range of experience and background. Anyone with some knowledge can teach compositions and a little bit about ragas. But to really teach or learn the heart of classical music, the raga system, is a life-long process that requires enormous dedication. Genuine, authentic raga music is still passed from guru to disciple in the traditional way, because this is the only way it can really be learned. Of course, people can now learn from tapes, videos, and CD's, and music is widely available to all. But real mastery of classical music can be obtained only from a guru in the traditional way.

The formal relationship between guru and disciple in Hindustani classical music tradition is established through a ritual called "Ganda Bandhan" or "thread-tying ceremony". The decision to make Ganda Bandhan is a very serious one for both the guru and the disciple, because once this relationship is established, it can never be broken. Through the Ganda Bandhan ceremony, the guru "adopts" the disciple, and they become like father and daughter or son. Usually, a student will study with a guru for many years before Ganda Bandhan is performed, since both guru and disciple must be completely sure of each other before making this commitment. The ceremony itself is very beautiful. Performed either in a temple or in the gurukul, it includes an elaborate puja, followed by the tying of the thread. In some gharanas, only the guru tries the thread to the shishya, while in others, guru and disciple tie thread to each other. The thread tying ceremony symbolizes the unbreakable bond and commitment the guru and shishya make to each other. The guru promises to share all his/her knowledge with the disciple, holding nothing back, and the disciple promises to work hard and practice sincerely to be able to assimilate the great gift of music that the guru offers. The disciple then offers dakshina or initiation gifts to the guru in the puja, which symbolize the offering of himself or herself completely to the guru. It is the disciple's responsibility to serve the guru in every way possible, and to look to the guru's needs before his/her own. Of course, the disciple's greatest service to the guru is to practice well and to make the guru's knowledge his/her own.

As part of the Ganda Bandhan ceremony, the disciple must offer music. In some gharanas, this takes the form of a simple "mini-lesson" between guru and disciple, while in other gharanas, the disciple will present an entire concert. This performance shows the public that the disciple has the potential to grow into the guru's music, but it is by no means the completion of anything; rather, it is the beginning of a period of long and arduous talim, or training.

My knowledge of the history of this tradition is based on study and what I have heard from my guru. But my experience of the Ganda Bandhan ceremony and the Guru Shishya Parampara is personal. About one year ago, I had my Ganda Bandhan with my Guruji, Ustad Habib Khan, and shortly after that I gave my Ganda Bandhan concert. This ceremony was one of the most moving experiences of my life. When Guruji gave me his blessing at the conclusion of the ceremony, I could literally feel the blessings of generations of musicians from Guruji's khandan flowing into me. When I sang at the conclusion of my Ganda Bandhan ceremony, my music was different from before. And when I gave my Ganda Bandhan concert a few weeks later, I could feel the blessings of generations of musicians from Guruji's lineage all around me. I feel so blessed to be a part of this great tradition, and I pray that I can be worthy of the magnificent gift my guru is giving me.

- Sargam Shah is a Bay Area-based student
of Hindustani Classical music.

|TOP|
Web Business:

Web Vacations
TCI's New Web Site for NRIs - By Nidhi Agarwal

It's hardly a secret how Internet savvy Non-Resident Indians are. Now one of India's oldest tour operators has launched a Web site to specially cater to their travel needs, says Nidhi Agrawal.

When NRIs and Internet are almost synonymous, can Internet travel service be far behind? One of India's oldest tour operators has launched a special Internet site to cater to NRIs, and no prizes for guessing the name: It's NRITours.com.

TCI director Pallan Katgara says: "NRItours.com offers a vast range of holiday options worldwide, backed by a wealth of industry experience; so the traveler can take control of planning holidays, and give them the option of deciding how they would like to enjoy their vacation."

A press release from the travel firm adds: "Whether it's a honeymoon, a family holiday, a getaway for two or a trip with a group of friends — we leave the choice to the traveler to decide where, when, how and with whom. Pick any destination from TCI's list of mix n'match options for every travel need.

NRITours.com general manager Mini Vaidya says that the Web site offers the option for travel agents to do the planning, or allowing the actual traveler to take control of his/ her vacation planning, with the advantage of saving more by purchasing their tours through the agent.

- Nidhi Agrawal is a freelance writer
based in New York.
|TOP|
Sure, everyone knows that Social Security provides retirement benefits to America's workers. But fewer people realize that there is more to Social Security than the retirement program. Even fewer know to what extent it provides for the financial future of most Americans.

Social Security protects more than 150 million workers and pays benefits to more than 45 million people. Consider the following:

Social Security pays monthly retirement benefits to more than 31 million retired workers and their family members.


The agency pays monthly survivors benefits to about 7 million Americans, almost 2 million of whom are children.


More than 5 million disabled workers under age 65 and 1.6 million dependents (including more than a million children) receive Social Security.

In 2001, Social Security pays an average monthly amount for the following benefits:

A retired worker — $845


An aged widow(er) alone — $811


A widowed mother and two children — $1,696


A disabled worker with a spouse and one or more children — $1,310

The average survivors and disability benefits are worth a life insurance policy of $374,000 for a surviving spouse and two children and a disability policy of $220,000 for a disabled worker with a spouse and two children

One of the most asked questions I receive as a Social Security office manager is, "How much will I get from Social Security?" That question is answered each year by the Social Security Statement we send you — it gives estimates of the benefits you and your family may be eligible for now and in the future.

The Social Security system is designed so that there is a clear link between how much a worker pays into the system and how much he or she will get in benefits. Basically, high wage earners get more, low wage earners get less.

At the same time, the Social Security benefit formula is weighted in favor of low wage earners, who have fewer resources to save or invest during their working years. Social Security retirement benefits replace approximately 53 percent of the pre-retirement earnings of a low wage earner and 40 percent of an average wage earner.

Although earnings are averaged over most of your working career, and higher lifetime earnings result in higher benefits, your benefit amount may be lower if you had some years of no earnings.

When you receive your Statement, be sure to check your earnings record carefully since your benefits will be based on Social Security's record of your lifetime earnings.

Social Security should be the base for your individual financial planning. The agency offers a number of tools to help American workers plan for their future.

The Social Security Statement, sent yearly to workers age 25 and older, shows the worker's earnings history and gives estimates of his or her Social Security retirement, survivors and disability benefits.

Online benefit calculators can be found on Social Security's Web site, www.ssa.gov/planners. The calculators allow you to use different assumptions about your future earnings or when you will stop working. The calculators allow you to explore different options and see how these options may affect your benefit amounts.

More than 90 percent of America's workers are protected by Social Security. The benefits provided by Social Security, together with financial planning, will help them maintain their standard of living in the future.

For more information on Social Security benefits, log on to our Web site, www.ssa.gov, or call our toll-free number 1-800-772-1213.

- Cal Gee works in public relations in the
Social Security Administration.
Auto Review:




Escape to Comfort
2001 Ford 2WD Escape SUV – By Al Auger

Escape is the right word to describe Ford's new sports utility vehicle, because it will help the driver escape the mundane, says a clearly appreciative Al Auger after a test drive.

Escape — isn't that one of the great words in our life? We escape from boredom; we escape from the "things" of life; we escape from people. To escape is to literally "get away from it all." I think this is what Ford had in mind when they created the all-new 2001 Escape sport ute.

To escape from something, is also to escape to something. In this case, Ford has put the consumer on the road to rational transportation that pleases the pocketbook. Yet, all the sensible accoutrements of the current sport utility frenzy are in place, plus a number of enhancements. The only element missing in this report is Escape's Control Trac II full-time 4WD with the drivers' option of 4WD automatic or "4X4 On" to lock the system into 4x4 mode. Even so, the front-wheel-drive version gave us a definitive idea what such a 4X4 Escape could be like. In addition to the traditional mechanics of a sport ute, Escape gets modern with an all-new platform with unibody construction, lower stance for stability at speed and a low emission vehicle (LEV) rating. Only, one suggestion, the word doctors at Ford should refrain from calling the Escape a "small" SUV – it isn't necessarily so. It is only small by comparison when you factor in such gargantuan siblings as the Navigator, Expedition, Excursion, et al.

The room in the Escape is generous by any standards with flexible fold-flat 60/40 rear seats, plenty of headroom and hip space for 5 passengers. Ergonomically, our XLT Escape is fully equipped with the people stuff, A/C, full sound system with in-dash 6-CD changer, 4-speed automatic, etc. The "entry level" XLS model is only slightly less equipped. If there is one jarring note, it's the busy and overloaded sound system fascia. Little, hard-to-find buttons are everywhere; a major distraction when driving. We also had the pleasing use of the optional Duratec 3.0-liter V6 engine. Standard in both the trim models is Ford's Zetec 2.0-liter 4-cylinder powerplant. Add the optional towing package with the V6 and the Escape is capable of towing 3,500 pounds. Frankly, I had problems not "chirping" the tires on acceleration from a standing start. The combination of 200 horsepower and 200 lb.-ft. of torque and just over 3,000 pounds of curb weight pulled the Escape with no sense of concern.

The most important factor in driving a sport ute — in this mind, at least — is handling. On paper, there's nothing remarkable or revolutionary about the Escape's independent rear suspension and MacPherson front strut architecture. But, the computer jockeys put it all together to make a satisfying and solid ride/performance package. The rigidity of the unibody construction adds a seamless feel on the road and gives the Escape a large measure of low noise, vibration and harshness. Anti-lock brakes are standard on the XLT and optional on the XLS.

Step away from all this macho/macha stuff for a moment and you find that Ford has done a nice job of attaching a lot of "little" things as standard that make even the lowliest "stripper" an agreeable, well furnished piece of transportation. Standard on both trims are rear-window defroster/wiper, A/C, single-CD audio system, power remotes, hardy, good looking upholstery, five cupholders, fold-down seats and liftgate with flip-up glass. The latter frames a low-level floor making packing an easy maneuver. And Ford does something I wish all carmakers would do; they include as standard a roof rack with double crossbars.

Our test machine was emboldened with a menu of options that, surprisingly, still kept the price tag well under $25,000. The biggest factor was the Duratec V6 ($1,450), side-step bars (we used to call them running boards) and the premium Comfort Group: overhead console, underseat storage, leather steering wheel, leather sport bucket seats, 6-way power drivers seat ($870) plus side airbags ($345).

Ford Outfitters, the fun branch of Ford Motor Company's wide ranging SUV lineup, has also made available an optional pet barrier and a system to haul two mountain bikes in the cargo area. The roof rack will also accommodate roof-mounted bikes.

There's a lot more to the Escape story and, for once, a consumer product can actually live up to its appellation.

Today's Test Drive:


Al Auger, our automotive editor has been writing about cars for over 30 years.
He has spent 20 years as a race driver and public relations specialist.
Guftugu

Oh! Nepal!

The grotesque slaying of the entire royal family in Nepal has stunned the Himalayan kingdom's neighbor India, and even Bollywood is not unmoved. The Nepali connection in Bollywood is not just Manisha Koirala, in case you are wondering. In addition to another well-established Bollywood Nepali, playback singer Udit Narayan, you have Hero No. 1 Govinda's better half Sunita Ahuja who goes every year to Nepal.

All are stunned. Manisha cancelled a planned trip after the nation went into chaos following the mass slaying. Udit Narayan learned about the horrible news from his wife Deepa. Both had met the king before, and Udit's links go way back when he was a performer for Radio Nepal. He visited the palace — this was in the '70s — and the king summoned him to sing before him.

Times may have changed after that, and Udit has come a long, long way from being just a modest singer for Radio Nepal, but his love for king and country did not diminish.

Recently both Manisha and Udit were in Nepal to collect the Gorkha Dakshin Bahu award, and both remember fondly King Birendra telling them that he was proud of them.
|Return to Bollywood Index| |TOP|

Actor at Heart

OK, so women swoon over stud muffin Jackie Shroff for his macho good looks, but Jaggu-dada is serious about acting. Did you know that he has shaved off his moustache for Agnivarsha? Or that he is taking acting lessons for his role in the Ramayana-based Maryada Purushottam? This must be one hell of a Ravan — the role Jackie is said to be playing in the film.

Ramayana fans must be waiting with bated breath for Jackie's new avatar.
|Return to Bollywood Index| |TOP|

Twinkle's Woes

It's bad enough to be dropped from a film. Now to add insult to injury, rumors are floating that a baby is in the way — exactly the stuff of which blighted filmi careers are made of. Twinkle is seething. She has harsh words for those spreading rumors, but even she cannot deny that Feroz Nadiadwala has dropped her from his forthcoming Awara Paagal Deewana. Curiously, her hubby Akshay Kumar is still doing the film, and no wonder. The film, which is being directed by Vikram Bhatt, uses top of the line stunt directors from Hollywood, and promises action scenes on par with some of the best action scenes in Hollywood.

The stars are not going to be the same as announced earlier, though. The multi-star film was supposed to have Akshay Kumar, Sunil Shetty and Aftab Shivdasani, with Twinkle and Gul Panag. The guys are in, but the women are out. Feroz says it's by mutual consent, but Bollywood gossips are skeptical. What remains to be seen is if the film can weather star changes, or will all that Hollywood action be in vain.
|Return to Bollywood Index| |TOP|

Bad Times for Baadshah

Shah Rukh Khan used to be the baadshah of the box office, but times change. After Mohabbatein, his One Two Ka Four did mediocre business, although it has to be said that the Gujarat earthquake did not help matters.

Now the Khan has landed himself into trouble entirely of his own making. Take the case where he was supposed to play the role of a drunk actor in his plum role in Sanjay Leela Bhansali's Devdas. Guess what he does? He turns up for the scene and actually gets drunk.

Now it must be said that the poor guy is having a hard time, what with cops after him on the Bharat Shah case, and city officials after his Bandra house, but Shah Rukh bhai, this is not the time to lose your cool. Remember what the Americans are fond of saying: "When the going gets tough, the tough get going."
|Return to Bollywood Index| |TOP|

Back to Glamour

Who would have thought that the glamorous Raveena Tandon, who once shook her booty to survive in Bollywood, would win the National Award for her role in Kalpana Lajmi's Daman?

Offbeat roles are well and good, but to thrive in Bollywood you have to please the janta as well as the awards jury. So glamour is in again, and Raveena is playing a sexy nymphet in Aks, and is trying out all kinds of different roles. Agnivarsha has her doing a negative role, and she has just signed an action film as well.

Raveena might have dug herself into a hole before, but those days are gone. The glamorous star is back, and ready to take on the competition. Good for you, Raveena, and it's good for Bollywood, too.
|Return to Bollywood Index| |TOP|

A Wiser Star

Fardeen Khan is a wiser man after he was caught trying to buy cocaine, and the court has allowed him to go to work. He has been allowed to leave Mumbai for a few days to work for E. Niwas' Love Ke Liye Kuch Bhi Karega.

Meanwhile the cocaine case keeps getting curiouser. Nasir Shaikh, the drug dealer who was nabbed, is crying foul, saying drug enforcement officials have broken his hand while questioning him. Officials responded with the dubious claim that Shaikh had broken his hand when he fell in the bathroom and was trying to use that to run away from his earlier confessions. Come again? When was the last time you heard anybody breaking his/ her hand in the bathroom?

Meanwhile Fardeen and father Feroze Khan have shown exemplary contrition, and there is genuine hope that he will come out of this a mature and better person.
|Return to Bollywood Index| |TOP|

Evergreen Big B

You gotta admit it, the man has class. Remember the time when his company ABCL was in deep doo-doo, creditors were after his home, and his film Mrityudaata had flopped so miserably that wags were saying that the film was one of Bollywood's most aptly named?

Well, how times change. That was then, BKBC, i.e., before Kaun Banega Crorepati. With his sheer presence, his endearing politeness and class, Amitabh has turned the tables, and now he has the younger generation in tow with Junior KBC. In real life he seems to playing a role from one of his earlier blockbusters, where Amitabh wins against all odds.

Now happily for him, his success is rubbing off in his film career as well. Bollywood, as you know, is not kind to older stars. Yet the Big B is getting meaty roles, if recent films are anything to go by. Ek Rishta has him playing a significant role as a tycoon, and in Mahesh Manjrekar's Kutumb he will play a Mafia kingpin. His son Abhishek plays his reel life son. But the biggest coup for this silver-haired superstar may well be in the forthcoming IMAX film Taj Mahal, where the father-son duo may play the older and younger version of Shah Jahan, if negotiations work out. How apt, when you pause to consider what Shah Jahan means — emperor of the universe.
|Return to Bollywood Index| |TOP|

For the Love of Ram

You have to hand it to the tax guys. Sometimes they dig out stuff that's grist for the rumor mill as well. When they recently raided the sizzling starlet's home, guess what they found? Apparel belonging to a man a.k.a. blockbuster film maker Ram Gopal Varma.

Which has produced a big yawn from avid Bollywood watchers. Urmila and Varma's romantic liaison is old news, they say. Literally. True, they were living together, but that's history. Now they are "just good friends," and Varma's favorite heroine now is Twinkle Khanna, his heroine in Love Ke Liye Kuch Bhi Karega and Company.
|Return to Bollywood Index| |TOP|

Family Film

The Rajshris have mastered the art of family entertainment, and how handsomely it has paid off. Their feel-good musicals have provided much appreciated entertainment to millions, and have kept the box office busy— doubtless much appreciated by the Rajshris.

So it should come as no surprise that they are at it again. After Maine Pyaar Kiya, Hum Apke Hai Koun? and Hum Saath Saath Hai, what's next? Nobody's telling, but we do know that Sooraj Barjatya is working on the script. Whether their favorite Salman Khan will be in the film is not certain, because things are not going too well.

But hey, that doesn't mean a thing — Bollywood, after all, functions on the prime principle of politics: There are no permanent enemies or friends, only permanent interests.
|Return to Bollywood Index| |TOP|

Hamesha Khushi

You gotta hand it to whizkid film maker Karan Johar. The man is counting his profits even before his Kabhi Khushi Kabhi Gham has seen the light of day. And as of now it's already a cool Rs. 100 million.

The math is simple. His film, starring Amitabh, Shah Rukh and Hrithik, cost around Rs. 300 million to make. He has already sold satellite and overseas rights for about Rs. 400 million.

And we haven't even begun talking about the music sales and distribution. Regardless of how Kabhi Khushi Kabhi Gham does, as far as the film goes, Karan, it seems, will be hamesha khushi.
|Return to Bollywood Index| |TOP|

Another Item

Talking of romance, whatever happened to love birds Karisma and Abhishek? Well, things seem to be going downhill there as well, because here we have Karisma trying to get back roles which she had turned down before because she had expected to be otherwise occupied — we are talking matrimony here.

Well, matrimony no longer appears to be on Karisma's mind as she is trying to get back the heroine's role in Ankh Micholi, a role that she had earlier turned down. So what gives? Is this another case of "just good friends?" At least one hopes it's not "just bitter enemies."
|Return to Bollywood Index| |TOP|


Hindi Film Review:
Great Acting, Not-so-great Film

EK RISHTAA

Director: Suneel Darshan
Music: Nadeem-Shravan
Starring: Amitabh Bachchan, Rakhee, Akshay Kumar, Karisma Kapoor, Juhi Chawla and Mohnish Behl

The good news is that Amitabh Bachchan is back. And the bad news is that Amitabh Bachchan is back.

Bear with me, and I will explain. Amitabh Bachchan's towering presence is the great plus in this poorly put-together film, which may be a great thing for viewers, but is definitely a mixed blessing for the Big B.

Producer-director Suneel Darshan is guilty of an oft-committed crime in Bollywood. He tries to ride piggyback on the magnetism and charisma of one of Bollywood's true superstars, and tries to use the star's sheer presence to cover up the many deficiencies of the film. The end result shouldn't surprise anyone. Amitabh's shoulders, though ample, are unable to shoulder the weight of the many gaping holes in execution in filmcraft that the film suffers, and certainly Bachchan is not to blame here. The task would defy even the Greek god Atlas.

The story line is a familiar Bollywood masala cocktail. Vijay Kapoor (Amitabh Bachchan) has a lovable family with four kids. He is also a rags-to-riches businessman who has reached success through sheer hard work. His family includes three daughters, Ranu, Priya and Priti (Juhi Chawla) and son Ajay (Akshay Kumar) who is abroad getting a degree in information technology.

Priti falls in love with Rajesh Purohit (Mohnish Behl) a business graduate who impresses patriarch Vijay with his good manners and sharp work ethic. Ajay is in love with Karisma.

However, the story centers around how Ajay and father Vijay part ways because of differences in style and temperament, and how Rajesh turns out to be a villain who manages to drive a wedge between the family and almost swindles them out of their wealth.

It's not a particularly plausible story. How the heck did Vijay Kapoor manage to amass such wealth in Mumbai's dog-eat-dog business world starting from scratch, and yet be completely bamboozled by a youngster like Rajesh, you may wonder.

Yet give credit to the Big B. He brings style, superb dramatic skills and considerable gravitas to a role which is essentially silly and contrived. And Akshay, too, deserves some credit. While he has not quite managed to rid himself of his stock wooden expressions, he does a superb job much of the time, rising to the occasion quite frequently.

What is so sad is all this histrionic talent is wasted in a film that fails to knit all the loose strands together into a neat package. The director had all the elements here to make a real tearjerker of a film, but his poor directorial skills fail him. Suneel Darshan's insecurity is manifest in the way he clings to cliché and cannibalizes from his own earlier hits. The story becomes a spaghetti of loose ends, and somebody should tell Bollywood directors that just being pleasant is not justification enough to put a song in a movie. Nadeem-Shravan's music is pleasant enough, but their songs are irrelevant to the story. One sighs with nostalgia, there used to be a time when songs packed considerable punch because the fit the situation in the film; at the same time, they enhanced the story and helped propel it forward to its conclusion.

Despite superb performances by Amitabh and Akshay, the director makes a real pig's breakfast out of a simple, though admittedly unoriginal idea. The idea of a rotten apple ruining the blissful happiness of a family is neither novel, nor original, but with some adept direction it could be made into a perfectly enjoyable film. Instead, we have an inordinately long three-hour mish mash with some good parts, but overall, the film is a big disappointment.

The recent record of box office performance of Bollywood films is nothing to write home about. It is becoming increasingly difficult to recoup even the initial investment in films. After paying overpriced stars an astronomical sum, many Bollywood producers are discovering that the expensive product often has few takers.

When will film makers learn that the days of pulling the wool over the viewers' eyes are gone? Today, a successful film needs a tight, well-told story, tautly edited with superb acting and world-class production values, because otherwise, the movie-goer simply is unwilling to shell out the steep price of today's tickets.

Ek Rishtaa tries to ride this challenge solely on the shoulders of Amitabh Bachchan. Nevertheless, adroit publicity and hype seem to have guaranteed quite healthy initial returns. This is less a reflection of the film's quality than a sad commentary of the recent dreadful fare from Bollywood which have been dying a well-deserved death in the box office.

One feels sorry for Amitabh. Big B, sadly, seems to have the curse of Bengali matinee idol Uttam Kumar — inept directors and producers are happy to ride piggyback on the formidable talent of a superstar and try a sleight of hand in terms of poor film making. But how long can they fool the people?

|Return to Bollywood Index| |TOP|
Tamil Film Review:
Interesting Family Saga

ANANDAM

Director: Lingasamy
Starring: Mammootty, Murali, Abbas, Shyam Ganesh, Devayani, Rambha and Sneha

If the tale is reminiscent of Vanathai-ppol, there is good reason. Debutant director's promising effort not only shares the theme of sibling bonding with the aforementioned film, it borrows freely from it as well. However, he does a fairly skillful job, so the generous Tamil movie viewer is likely to forgive him.

The film primarily acts as a showcase for veteran actor Mammootty's histrionic talent, and it must be said that the master performer proves worthy of the director's trust. Mammootty plays Tirupati, eldest of four brothers, who has to take care of aging parents as well as his younger siblings. On his shoulders lies the responsibility of not only making sure the family survives, but assure its growth in terms of both affluence and social prestige.

Tirupati proves to be able, and even when he falls in love with Bharati, he keeps one eye on the family's interest, carefully considering whether she will fit in the closely knit family setting. His judgement is proven to be right, and Bharati proves to be a good addition to the family. The same cannot be said for Renuka, unfortunately. She enters the family as Madhavan's newly-wedded wife, and tries to create trouble and dissension within the family. Meanwhile, brother Kannan falls in love with Viji, the local don's daughter. The don is far from pleased, but Tirupati manages to turn him around with his charm.

In the end, unscrupulous business partners and rivals all fall by the wayside as Tirupati proves triumphant.

Mammootty's superb acting adds power to the dominating role in the film, and it must be said that Lingasamy has made a very promising debut indeed.
|TOP|
Recipe:

Delicious, Savory Snack:
Vegetable Pastries – By Seema Gupta

Tired of the usual pakora with your chai? Why not add some style by trying these delicious baked vegetarian pastries? Seema Gupta tells you how to make it.

Ingredients

1 cup roasted semolina

1 1/2 cup hot milk

1 tbsp oil

1 1/2 tbsp cream

1/4 tbsp baking powder

1/2 tsp salt

1/2 tsp white pepper

1 1/2 tbsp lemon juice

4 green chillies, made into a paste

Inch-long piece of ginger

Mix all ingredients thoroughly and leave to ferment for an hour. (In winter leave it for another 30 minutes.)

For the vegetables:

3 cups finely cut mixed vegetables (peas, carrots, french beans, cab- bage)

6 green chillies

2" long piece of ginger

1 tsp salt

1 tsp garam masala

2 tbsp bread crumbs

2 tbsp cream

1 chopped onion

1 bell pepper

Mix all ingredients thoroughly except the cream and breadcrumbs. Add the breadcrumbs and cream.

For the paneer layer:

Mash paneer and add salt to it.


Method:

Grease a baking dish. Spread vegetables and cover it with paneer layer, finally pour the batter. Bake in oven for 15-20 minutes at 150-160 degrees. Invert it on a plate and decorate with grated coconut. Cut into pastries and serve hot.

– Seema Gupta is a homemaker
based in Sunnyvale, Calif.
|TOP|
June - July Horoscope

ARIES (March 21 to April 20): You will be very aggressive. Deal differently and you will succeed in government matters. You could be using strong medications to avert surgery. Expenses will reduce. A vacation is possible.


TAURUS (April 21 to May 20): Negotiations will be favorable. An excellent opportunity to make extra cash is possible. Speculations could be profitable. Spouse will need to watch their health. You may take a vacation.

GEMINI (May 21 to June 20): A government agency will need top priority. A property deal will take the final shape. You will spending on home improvement. Watch your weight to avoid possible complications. A very lucrative proposal is on its way.

CANCER (June 21 to July 22): Do not take chances with law and watch out for hidden enemies. Some one close will try to ruin your image in the society. It will be better to put off investments and stay away from stocks for a while. Some of you will have big changes in career soon. Foreign travel is predicted.

LEO (July 23 to August 22): Work environment may ease as a troublemaker quits. Some of you may start a new venture. You will get help from influential people. Money awaited for long could show up in mail by mid July. Spouse will oppose all ideas initially but will agree later.

VIRGO (August 23 to September 22): There will be major turmoil at work making things difficult. Some of you will start exploring new possibilities. Financially you will stay comfortable. Some of you may move in to your own home.

LIBRA (September 23 to October 22): You should be careful in all money matters. Sudden expenses may upset your budget but you will have enough for your needs. Some one close will move to a distant place. Your car may need minor repairs.

SCORPIO (October 23 to November 22): Changes in career will become clear and inevitable. Some of you may take off from work for health reasons. A relationship will finally end causing slight frustration. Money long owed to you will be recovered. You may travel to a hot area to see some old friends or relatives.

SAGITTARIUS (November 23 to December 22): An excellent opportunity will restore self-confidence. Worries will diminish. It is the right time to launch a new project with old acquaintances. Some of you may move to a new place. Financially things will improve.

CAPRICORN (December 22 to January 19): You will be more relaxed about a child. An interesting vacation is possible. You may be improving on your home. Flying colors are seen if you are appearing in a competitive exam. Income will improve.

AQUARIUS (January 20 to February 18): You will resolve an important issue lagging for some time which was not letting you grow. Some of you will start a new venture in association with very prominent people. You may join short-term course to update your knowledge.

PISCES (February 19 to March 20): Some of you will be moving to another location soon. Money will go towards a travel plan. You may accept a small assignment to make a few extra bucks. You will buy some luxury items for yourself. There will be an addition in the family soon. A relationship will turn serious as a proposal is underway.