Publisher's Note
:
The world's dependence on fossil fuels can be a crippling affliction when oil prices shoot up. Even affluent Western nations have a hard time. Countries like India get shaken to the core as fuel price hikes reverberate through the economy, sending a scary ripple effect of rising prices.
On top of that is the damage to the environment. As India tries to catch up with the Western world, a larger segment of the population will have access to gas guzzling vehicles, and the thought of the extra burden in already polluted cities is enough to make a city planner cringe.

For this reason, we found Dr. Kumar Pati's interest in alternatives to gasoline particularly interesting, and the fact that Pati is keen to explore its potential in India makes it even more important.

Pati has an eclectic scientific background. He is the former publisher of a leading U.S. alternative health magazine Health World. He has a degree in Western medicine as well as Ayurvedic medicine in an integrated medical degree from the University of Calcutta.. Pati has published many papers on natural health in many countries, and has written books on nutrition. Presently he is a manufacturer and exporter of vitamins, nutritional supplements and herbal extracts to 30 different foreign countries.

Pati says that the usage of edible oil wastes for gas is not restricted to the lab; several U.S. cities are already using it. We certainly hope Pati can overcome the logistical as well as practical challenges in India that introducing a new concept can present. We also sincerely hope large-scale usage of this alternative fuel takes off both in the U.S. and in India.

|TOP|

Main Feature

From Frying Pan to Your Gas Tank:
The Promise of Bio-Fuel By Kumar Pati

Have you seen the oil after pakoras are fried in it? Not a pretty sight. But that edible waste is perfectly usable for automotive fuel, writes Kumar Pati.

About two months back, I saw some news about a new type of diesel from phyto chemicals. I am always interested in this subject as I manufacture natural vitamins, hormones, herbal extracts from plants.

I learnt that the city of Berkeley, Calif., which pioneered curbside recycling, has scored another environmental first by running trucks that pick up newspapers, bottles and cans on fuel made from recycled vegetable oil.

It smells like one of those all-night doughnut shops. The fuel, biodiesel, is made from waste oil collected from restaurants such as McDonald's, Dunkin' Donuts and KFC. Advocates say that although the fuel is more expensive than regular diesel, it burns cleaner, is an alternative to fossil fuels and can be used in any diesel engine. Berkeley's 10 recycling trucks are "the first municipal fleet to use 100 percent biodiesel," according to Randall von Wedel, founder of CytoCulture, an environmental biotechnology company that supplies the fuel to the nonprofit Ecology Center that runs the city's curbside program. Other cities around the country have begun using a blend of 20 percent biodiesel and 80 percent conventional diesel fuel.

Among those using the mixture are school buses in Phoenix, Ariz., and Medford, N.J., and city buses in Cincinnati and Cedar Rapids, Iowa. Research boats in the Channel Islands National Park, off Santa Barbara, use 100 percent biodiesel, as does a pickup truck at Yosemite National Park. Closer to home, San Francisco International Airport is testing both the 100 percent and 20 percent biodiesel fuels for possible use in the shuttle buses that take passengers to and from the long-term parking lots and rental car agencies.

As I have a diesel Mercedes Benz, I drove one day to Berkeley. I filled up the tank for about $35.00. The cost is about $3 a gallon, or about 40 percent more than conventional diesel fuel. I have been using for the last 3 weeks on a regular basis. I do not see any smoke and it burns like regular diesel. The price may come down if the it is produced in large scale, and there are more users. I encourage owners of diesel cars to try this type of diesel. I am thinking seriously of process bio-diesel in Calcutta where the air is full with carbon-dioxide.

From an air-quality standpoint, we must be very concerned about diesel because the particulate matter that is released is an air quality problem and a toxics problem. We need to find ways to move away from diesel used in trucks and other motor cars, yet we all know how widely diesel is used in India.

From Soybeans, with Love

Most biodiesel is made not from recycled grease, but from virgin soybean oil, to the delight of soybean farmers in the country's heartland. The U.S. Department of Agriculture has begun subsidizing the soybean oil variety, which means that of the seven major biodiesel plants in the United States, only one will continue using waste oil.

The biodiesel people in Berkeley said they will open a biodiesel filling station in San Francisco next month, and they plan retail outlets in Richmond, Sacramento and Petaluma as a result of demand from farmers, building contractors, delivery truck operators and drivers of diesel Mercedes-Benz.

How much waste oil is thrown away in India? First of all, since waste oil has no intrinsic value, the oil is used again and again by chefs in cheaper commercial restaurants. Consider how much better off consumers would be if this oil was instead turned over for automobiles.

In the U.S. biodiesel is made from waste oil collected from fast-food restaurants or from virgin vegetable oil, primarily soybean oil in the United States. It is nontoxic and biodegradable and contains no petrochemicals, and burns cleaner than petroleum-based diesel.

I also would like to encourage Indian restaurants to save cooking oil which they use to fry pakoras, samosas or papadam. It is not good for our health at all to re-use the same oil again and again. It is also not good to waste the oil.

Interested readers can visit Kumar Pati's business Web site at www.bestnutrition.com or www.nutritionbest.com

– Dr. Kumar Pati, trained both in Western medicine
as well as Ayurvedic medicine, is the former publisher of
Health World magazine. He owns Best Nutrition Products.
|TOP|
Infotech India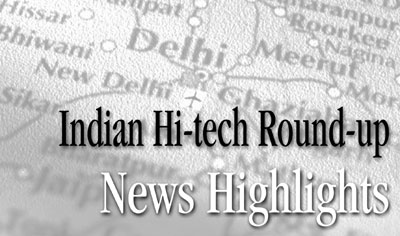 An electric car is introduced … Hindi career Web site … BPL's cell subscribers … MIT project … Infosys Banking Site Hacked … Call Center — Here is the latest on information technology from India

Electric Car

Vice-President Krishan Kant launched the country's first zero-pollution and zero-noise electric car, developed by Bangalore-based Reva Electric Car Company, on the occasion of Technology Day celebrations in New Delhi May 11.

The car, named Reva, was developed after six years of research by S.K. Maini.

It is priced at Rs. 249,000. The per kilometer driving cost of the car totals 40 paise compared to Rs. 2.40 for most other four-wheelers.

It does not require engine tuning, oil changing, replacement of spark plugs and mufflers.

Though the launch was a national event, it will be delivered only in Bangalore during the current year
|Back to Infotech Index| |TOP|

Hindi Career Web Site

A Web site in Hindi providing information on employment and career guidance has been designed and is now available free of cost on the Internet.

CareerDunia.com will provide information on central and state civil services, various competitive examinations covering disciplines like management, computer, science, commerce and art, various employment-oriented courses and scholarships available within the country and abroad.

At present, Web sites on employment opportunities are available only in English with not a single Web site available in Hindi, Meena Bhandari, managing director, CareerDunia.com, said in a release here.

The Web site, has been launched. It is expected to benefit about 100 million students studying in Hindi medium.
|Back to Infotech Index| |TOP|

A Million Cell Subscribers

BPL Communications said May 11 its cellular subscriber base had crossed the 700,000 mark and could hit 1 million by the end of the year.

The firm's operating revenue had crossed Rs. 7.3 billion. BPL operates cellular phone services through subsidiaries in Mumbai and other parts of Maharashtra, Kerala, Goa, Tamil Nadu and Pondicherry.

BPL Communications said in a statement it currently has a 19 percent market share of India's total cellular subscriber market.

BPL Communications said it was also interested in fixed-line licenses which allow firms to offer mobile services within a limited area using the CDMA wireless in local loop technology, provided the government adopted a transparent process of allocating them.

State-run telecom giant MTNL is the third cellular operator in Mumbai and New Delhi, while state-owned fixed-line service and national long-distance telephony operator BSNL has the option of being the third cellular operator in the rest of the country.
|Back to Infotech Index| |TOP|

MIT Project

An agreement on the ambitious Rs. 50 billion Media Lab Asia project is likely to be signed during the visit of an MIT delegation on June 25, Information Technology Minister Pramod Mahajan indicated May 10.

Discussions on the project are at the final stages and the progress of the project will be assessed every three months after signing the proposed "zero year" agreement with MIT, he said.

MIT might put in $800 million for the project while India would have to shell out $200 million.
|Back to Infotech Index| |TOP|

Infosys Banking Site Hacked

Infosysinbanking.com, a Web site of software giant Infosys Technologies, was hacked May 7 from an educational institution utilizing a security loophole in the web server system.

"We are trying to reach the administrators of the institution to pinpoint the source," Infosys said in a release.

Following the attack in the early hours of May 7, the service was brought down and was not available till late in the evening when the hacking was rectified by applying appropriate patches.

The Web site contained basic information on products offered to the banking industry and some brochures in an electronic form.

Sources in the company said that other Web sites of the company, including the chat section, however, remained unaffected.

The functioning went offline in the early hours of May 7 and officials struggled throughout the day to set it right.
|Back to Infotech Index| |TOP|

Call Center

National Association of Software and Service Companies May 8 announced the launch of its Call Center and Back Office Operation Forum aimed at making India the favored destination for these services over the next decade.

NASSCOM chairman Phiroz Vandrevala said this was being done in view of the vast potential offered for call centers and back office activities. He said Arun Seth of British Telecom would be the convenor of the forum.

The administrative and structural issues relating to the forum's functioning would be decided within a few days. The first meeting of the forum is scheduled to be held during the India-IT Enabled Services Conference 2001, to be held in Chennai May 30-31.

India is increasingly becoming the preferred hub for Call Center and back office operations. The Call Center business is one of the fastest growing sectors within the IT industry. This sector contributed Rs. 21 billion in terms of revenue during 2000-01.
|Back to Infotech Index| |TOP|

EVENT

The InduUS Entrepreneur:
Desi Infotech Meet – By Urvashi Majmundar

The speaker's list includes the movers and shakers of Silicon Valley, and anybody who is anybody worth noting in the high-flying Indian American community will be there. Urvashi Majmundar gives a preview of the TiE conference.

All the desi big guns of information technology will gather at the eighth annual conference of The Indus Entrepreneurs, TiEcon 2001.

At this premier event of desi IT, TiE as usual has lined up a formidable array of keynote speakers: Cisco Systems CEO John Chambers, Hewlett Packard CEO Carly Fiorina and TIBCO Software founder and CEO Vivek Ranadive.

The theme of this year's conference is, "Entrepreneurship- Back to Basics." TiEcon 2001 will be held at the Westin Santa Clara Hotel and Convention Center in Santa Clara, Calif. June 23-24.

"As the times and economic environment change, we need to be agile and responsive to the requirements of our members in areas such as entrepreneurial education, financial rigor and the process of mentoring. Keeping these changes in view, our team has established an appropriate theme for TiEcon 2001, "Entrepreneurship - Back to Basics." We expect more than 2,500 attendees from around the world," said Kailash Joshi, president of TiE, Silicon Valley.

Parveen Gupta, Convener of TiEcon 2001 added, " Current market conditions pose a special challenge to us. As the world's leading conference on entrepreneurship, TiEcon 2001 focuses on how to succeed in today's environment, the rules of the game now and the new trends & opportunities."

Rick Bolander, general partner at Gabriel Ventures, sums up TiEcon: "The ability to bring together every element of an entrepreneur's world exist at TiEcon that surpasses any other conference that I've ever experienced. From workshops, tutorials, industry trends, management practices, leadership, recruiting to financing strategies can be found during the value-packed two days of TiEcon. It truly is a tribute to entrepreneurs in the making and extraordinary commitment of successful entrepreneurs such as Suhas Patil, Kanwal Rekhi, A. J. Patel, B.V. Jagadeesh, Lata Krishnan and countless more.

"These entrepreneurial leaders of TiE have invested in the next generation to not only guide for financial success, but more importantly, to share a way of life. To not only dream, but to rigorously pursue one's dreams."

Distinguished leaders from business, finance and academia will present their views. Speakers include Dr. Laura Tyson, dean of University of California's Haas Business School in Berkeley and former chief economic advisor to President Bill Clinton; Bill Draper, founder, Draper International Fund; Hatim Tyabji, former CEO, Verifone; Judy O'Brien, partner, Wilson Sonsini Goodrich Rosati; Umang Gupta, CEO, Keynote Systems; Mike Moritz, general partner, Sequoia Capital; Jim Goetz, general partner, Accel Partners; Geoff Yang, general partner, Redpoint Ventures; Sabeer Bhatia, founder of Arzoo and co-founder, Hotmail; John Kao, founder and CEO, The Idea Factory; Les Vadasz, president, Intel Capital, executive VP at Intel; Greg Papadopoulos, CTO, Sun Microsystems and Roy Whitfield, Co-Founder and CEO, Incyte Pharmaceuticals.

Following the successful launch at the last conference, TiEcon 2001 will again feature "Company Showcase." Expanded to more than 25,000 feet of space, the showcase provides start-up companies a platform to position their products for investors, partners and prospects.

TiEcon is sponsored by well-known banks, corporations as well as venture capital, law, accounting and consulting firms such as Sequoia Capital, Comerica Bank, Accel Partners, McKinsey & Company, Kleiner Perkins Caufield and Byers, Morgan Stanley, Price Waterhouse Coopers, KPMG, Venture Law Group and Wilson Sonsini Goodrich Rosati, among others.

Established in Silicon Valley in 1992, TiE is the world's leading organization for the advancement of entrepreneurship. TiE is a not-for-profit organization chartered by entrepreneurs, corporate executives and senior professionals with roots or interest in the Indus region. TiE's explicit goal is to benefit all entrepreneurs, would-be entrepreneurs and professionals with an interest in entrepreneurship. Today, TiE is a worldwide organization comprised of 500 charter members and 6,000 members from 25 chapters across five countries.

For more information about the TiE organization, the conference, and for press registration, interested readers can visit the TiE Web site at www.tie.org.

Urvashi Majmundar is a freelance writer
based in Tracy, Calif."
|TOP|
START-UP:

Bye, Paper Chase
PaperFly's Virtual Archive – By Anjali Parekh

One of the more annoying headaches of a growing company is the burden of managing and accessing a mountain of documents. No need to panic, writes Anjali Parekh, because a Silicon Valley start-up has come up with the ingenious idea of a virtual archive.

Here's the problem: A top media company is successful, but the paper shuffling is a chaotic annoyance. It has legal assets in 40 different geographically dispersed franchise locations, and it is saddled with 22,000 documents containing 325,000 pages of local cable ordinances, legal document, other information. All of this stuff is stored in 1,300 hard cover binders, with an average of 250 pages per binder.

That is only the beginning. This stuff has to be shuffled, and that's when the real fun begins. This paper mini-mountain is stashed away in some East Coast office, but local franchisees and attorneys all over the U.S. need material all the time. But that doesn't mean you can get it all the time, of course. And to top it all, approximately 25 percent of its documents are misfiled or lost.

Stuff has to be faxed, copied and moved all the time and that leads to wear and tear.

This is where PaperFly comes in. The start-up information technology company, an Applications Service Provider, has a great solution, and like many great solutions, it is exquisite in its simplicity.

All you do is put the material online. Anybody who is authorized can access any material at any time, there are no lost files, and a huge amount of money and headaches are saved.

The result? The company slashes its earlier monthly expenditure on maintaining its documents – a stiff $10,000 per month – by a whopping 50 percent.

Founded in 1999, this Sunnyvale, Calif.-based company has just roped in Toshiba Solutions Group as a client, and has expanded it s customer base to include AOL Time Warner, AlterEGO, Webpartner and Appshop. It has won the ASP World Class Award for Best Enterprise Service, October 2000

PaperFly is an award-winning Application Service Provider providing best-in-class technology for managing and collaborating on business information at the department level and across the enterprise. PaperFly's unique capabilities allow corporations to manage, distribute and route information stored as active documents, records and electronic files. PaperFly's secure and scalable ASP platform, built on Newgen technology allows enterprises to rapidly deploy business information management solutions that are easy to maintain without increasing investment in IT or training.

"PaperFly is emerging as a leader in the ASP industry, providing innovative solutions for managing and collaborating on information assets," says PaperFly CEO Ajay Narain. "Because we offer our service through the ASP model, companies can immediately deploy our easy-to-use application to achieve significant cost savings and global access to their information assets. Our recent partnership with Toshiba will leverage a network of resellers across the nation who will resell a private labeled version of the PaperFly application to customers ranging from the SME market to Fortune 1000 customers."

PaperFly allows companies—large and small—to manage their information assets in a secure, controlled, web-based environment. Here's a brief overview:

Organizations: The PaperFly solution is designed around the concept of an Organization—which consists of a group of registered Users and the Organization's files.

Remote File Storage: Organizations can store a large number of file types with PaperFly—including imaged paper documents and over 200 electronic file types.

Flexible User Base: Registered Users can be employees of a single company or a cross-section of employees from multiple companies—the only requirement is that they must have an e-mail address.

Controlled Access: Organizations can control what particular Users can do with specific files by granting or restricting a User's access rights to those files.

Centralized Management: Account supervisors centrally manage PaperFly Organizations by setting User privileges, executing audit trails and much more.

What Users Can do

Some of the actions registered Users can perform on their Organization's files are:

Add Files: PaperFly offers Users multiple methods for getting information into PaperFly's secure, web-hosted environment, including e-mail in, fax in and browse up for low volume file transfers and backfile conversion services for transferring large volumes of paper documents.

Find Files: Users can find files stored with PaperFly either by looking in logically organized cabinets and folders or by using PaperFly's advanced search capabilities, including full-text search of both electronic and image files.

View Files: Through PaperFly's powerful imaging processor, Users can view imaged paper documents and over 200 electronic file types.

Work With Files: PaperFly offers an array of features to increase the productivity of Users who work with files, including version control, alarming, annotations and much more.

Collaborate on Files: Users can easily collaborate on files with business partners, suppliers and anyone else outside of their Organization.

Deliver Files: PaperFly offers Users a versatile set of options for delivering files to people outside their Organization, including e-mail out, fax out, print to local printer, web delivery, courier delivery and more.

PaperFly's cutting-edge Informa-tion Management Solutions enable companies of any size to meet the challenge of managing their business critical information in a truly collaborative, universally accessible and secure environment. The company says it does this by offering its technology to its customers through the Application Service Provider model.

"PaperFly is changing the way companies—large and small—manage their information," says a company brochure. "We do this by delivering cutting-edge Information Management technology to our customers through the Application Service Provider model." Its major strong points, the company says, include:

An experienced management team with backgrounds from Oracle, DiviCom, Netscape, IKON Office Solutions, 3Com and Excite@Home.


Abundant technical resources which produce the best available Information Management technologies.


Strategic business alliances with best-in-class partners who offer tightly integrated complementary services.


An impressive customer base which includes some of the largest Fortune 500 companies.

Started in 1999 with $3 million funding led by Tira Capital, PaperFly's current top management is led by Ajay Narain, CEO, who was former COO and co-founder of Stratascape. Other officers include Tom Stacey, VP Sales; S.V. Vasudevan, VP Engineering; Rajiv Parikh, VP Corporate Marketing and Abha Singhvi, VP Finance and Administration.

Interested readers can visit the company's Web site at www.PaperFly.com.

Anjali Parekh is a freelance writer.
She lives in Atherton, Calif.

|TOP|
BUSINESS:

Dot-com's Shopping Spree
Rediff.com Acquires Three Firms – By Pardeep Legha

Rediff.com, the grand-daddy of Indian Web sites, has just bought U.S.-based India Abroad, ValuCom, and a financial Web site ApnaLoan in India, writes Pardeep Legha.

Rediff.com, one of India's leading portals focusing on India and the global Indian community, has made a major move in the U.S. market by acquiring two U.S.-based companies that serve the South Asian community: the communications company ValuCom and the oldest Indian American newspaper in the U.S. India Abroad. It has also acquired the Indian financial Web site ApnaLoan.

ValuCom

Rediff.com has announced the completion of its acquisition of a privately held, Illinois-based online communications company, Value Communications Corporation. ValuCom markets international communications services to Indians in the United States primarily through its Web site www.rediffvalucomonline.com

Rediff.com paid $3 million up front as part of a two-year "earn-out" deal to the shareholders of Value Communications and Value Communications became a wholly-owned subsidiary of Rediff.com India Limited. The "earn-out" refers to additional payments over a two-year period linked to the company's profit before tax. The transaction is being accounted for under the purchase method.

"We believe this acquisition complements our strategy to aggressively penetrate the U.S. market. Value Communications' market presence, among 45,000 Indians in the U.S., will add another growth engine to our business and supports our overall strategy of becoming the portal of choice for Indians in India and worldwide," said Ajit Balakrishnan, chairman and chief executive officer, Rediff.com India Limited.

Arvind J. Singh, CEO, Value Communications Corporation, said: "We recognize the increasing need for Indians living in or visiting the United States to have the ability to communicate overseas in a cost-efficient manner. The combination of Value Communications' strategic alliances, eCommerce platform and large customer base, nearly 70 percent of whom buy online, with Rediff.com's existing leadership position, will only further strengthen Rediff.com's capability to provide value-added services to its users."

India Abroad

To further strengthen its market share in the United States, Rediff.com has agreed to acquire New York-based India Abroad Publications — the oldest, largest and profitable South Asian weekly newspaper serving the U.S.-based South Asian community. Revenues for the year ended December 2000 were approximately $7.0 million for the newspaper from a circulation base of about 65,000 South Asians. Rediff.com intends to integrate this acquisition with its current leadership position in the U.S.-South Asian online space achieved through the Rediff USA offering.

ApnaLoan

Rediff.com has also entered into an agreement to increase its equity stake in a privately held Indian financial portal — Apnaloan.com, with an option to further increase its stake to 100 percent over a period of time. Apnaloan.com is a leader in India in helping Indians in India choose their consumer loans and credit card providers from among the many financial institutions who offer this service. Rediff.com believes the strength of the company lies in their management team who has many years experience running the consumer loans business of a prominent and prestigious Indian financial institution. Apnaloan.com's consumer focus is the young (25-35 years) Indian who is ready to acquire his first credit card, secure a home loan for his first apartment, two-wheeler or car and this is the exact constituency that Rediff.com serves in India. Rediff.com believes the investment will help it serve the Indian consumer better, add a new revenue line and strengthen its position in the online financial services segment.

Rediff

Founded in 1996, Rediff.com India Limited is one of the leading Internet portals, focusing on India and the global Indian community. Currently, Rediff.com's web site (www.rediff.com) consists of interest specific channels, extensive community features, local language editions, sophisticated search capabilities and online shopping. Rediff.com also provides users extensive Internet community offerings, which include e-mail, chat, instant messaging and personal homepages, all tailored to Indian interests. Rediff.com has developed its offerings based on the demands and the requirements of its users.

– Pardeep Legha is freelance writer based in Mumbai.

|TOP|
SOCIAL WORK:

Running for Hope
Asha's Marathon Program - By Shobana Narasimhan

Shobana Narasimhan urges volunteers to join a program to help basic education projects in India.

Chances are that if you've walked around the South Bay lately, you've noticed the splash of colorful Asha for Education flyers announcing the "Marathon 2001 Program." Perhaps you were intrigued enough to pick one up and read about the "Harbingers of Hope," a pioneering team of 25 runners who last year raised $100,000 for child literacy in India. And perhaps, reading about the program sparked off faraway thoughts of challenges and pushing your boundaries, and you thought "A marathon. I should really do that someday."

That day had arrived for me Dec 10, 2000, when I crossed the finisher's line at the Honolulu marathon. It was the culmination of an often punishing but uniquely gratifying five-month-long training program. My relationship with Asha continued after the marathon when I joined the Harbingers of Hope organizing team, a group of talented and dedicated individuals. For two months we single-mindedly publicized our 2001 program. This year, we decided to pick races in October, and to give runners the option of running in Victoria, B.C., or in Silicon Valley – two beginner-friendly marathons in ideal running weather.

On April 22, we had our kickoff event at the Santa Clara Marriott — our first opportunity to get together coaches, past team members, and this year's aspirants.

We had an impressive list of speakers for the evening. Abhijit Halder, the Indian consul for community affairs; Abhay Bhushan, prominent entrepreneur and activist; Tony Fong, first class runner and chief coach of the team for both last year and this one; and Mayank Chaudhary, coach of the team.

Jayashree Balasubramanian, who introduced the program to the audience, is head of Asha Silicon Valley, and she created the program last year amidst skepticism. With images of an Asha-funded school in the background, she spoke of the organization's work, putting the Harbingers of Hope initiative in the context of our larger battle against illiteracy in India. For my part, I encouraged the audience to still their doubts about doing a marathon, the way I had ten months ago.

Abhijit Halder, consul for community affairs at the Indian Consulate in San Francisco, urged the audience to work towards unity in the community, citing the work done for the Gujarat quake as a potent example of what could be collectively achieved.

Abhay Bhushan, chair of social entrepreneurship at The Indus Entrepreneurs, co-founder of several successful companies, and a long-time activist, spoke movingly of doing grassroots work in the villages of India. He encouraged the audience to think of running not just as a physical exercise, but a spiritual one: to notice the trees and flowers on the way, and to think of whose lives were being affected. Bhushan signed both himself and his wife up for the marathon program.

Later coach Tony Fong took the podium to cheers from an audience, which included many members of last year's marathon team. Fong is chairman of the Pacific Association of United States Track and Field and a passionate and accomplished runner.

Mayank Chaudhary, who will also coach the team this year, spoke about the mental and physical rewards of running, and of how central it becomes to your life when training. Mayank is known for his penchant for long distances, being the first Indian to complete the Marathon des Sables, a 150-mile, seven-day run in the Sahara.

There were several onsite registrations that day, and the number has continued to climb; the program now has over 45 people who have filled out a registration. The program's target is to recruit and retain at least 50 runners.

Asha is currently actively recruiting corporate sponsors as program partners. This is an excellent opportunity for companies to get ongoing publicity through the months of the training program and on race day, and to engender goodwill in the community through supporting this important cause.

For more information on the Asha Harbingers of Hope Program, or to know about corporate sponsorship opportunities, please e-mail: ashamarathon@yahoo.com.

Interested readers can register for the marathon program through the Harbingers of Hope Web site at: http://www.ashanet.org/siliconvalley/marathon/

The registration deadline is May 31, 2001.

- Shobana Narasimhan is a Bay Area-based
volunteer for Asha, a philanthropic organization.
Finance:

An Insecure Guarantee:
Social Security - By Ree Mitra

Once you could expect Social Security to support you in old age. Well, changing demographics and increased longevity makes it less likely. Financial analyst Ree Mitra explains.

People have traditionally seen Social Security benefits as the foundation of their retirement planning programs. The Social Security contributions deducted from your paycheck have, in effect, served as a government-enforced retirement savings plan.

However, the Social Security system is under increasing strain. Better health care and longer life spans have resulted in an increasing number of people drawing Social Security benefits. And as the baby boom generation (those born between 1946 and 1964) approaches retirement, even greater demands will be placed on the system.

In 1940, there were 40 active workers to support each person receiving Social Security benefits. In 2000, there were only 3.2 workers supporting each Social Security pensioner. And it is projected that by 2030, there will only be two active workers to support each Social Security pensioner.

You should consider that as your income gets higher, Social Security replaces a proportionally smaller percentage of retirement benefits. It used to be that you received full benefits only after you reached age 65. But in 2000, the age for qualifying for full benefits began increasing on a graduated scale. By 2027, the age for qualifying for full retirement benefits will increase to age 67, where it is scheduled to remain.

This means that in the future, you will probably have to wait longer to qualify for full Social Security benefits to start replacing a smaller percentage of your pre-retirement income.

Your long-term retirement planning program should recognize Social Security benefits as playing a more limited role when calculating required retirement income. Indeed, some financial professionals suggest ignoring Social Security altogether when developing a retirement income plan.

Note: The Social Security Administration will now assist you in calculating your projected retirement benefits. You can call (800)772-1213 and ask for Form SSA-7004, the "Personal Earnings and Benefit Estimate Statement," or you can access the form on the Internet at www.ssa.gov. Complete the form, return it to the Social Security Administration and you will receive an estimate of your benefits.

Ree Mitra can be reached at reeshava.mitra@lpl.com.

- Ree Mitra a financial planner with
LPL Financial Services based in Fremont, Calif.

Politics:
Minnesota State Senator Visits Bay Area

Only last year, Satveer Chaudhary had thrown his hat in the political race with the historic aim of becoming the top Indian American law maker in the U.S. His Senate chalo rallying cry must have resonated with his constituency, because he won.

Chaudhary visited the San Francisco Bay Area and addressed a gathering of Indian Americans April 15 in Newark, Calif. It was partly to thank the community for its support, but the articulate, personable politician also used the opportunity to exhort the community to actively participate in the nation's political process.

Chaudhary's speech was part of a monthly program for political awareness jointly hosted by Federation of Indo-American Associations of Bay Area and Federation of Indian-American Associations in Northern California.

|TOP|
Culture:

Miyan Tansen's Gift:
Raag Darbari Kanada - By Habib Khan

Deep, subtle and dignified, Raag Darbari Kanada was composed by Mughal court musician Miyan Tansen for Emperor Akbar. This raag exemplifies the essence of Hindustani music which cannot be explained through words, but has to be experienced, says sitarist Habib Khan.

Raag Darbari Kanada is a deep and subtle raag . Once one takes a close look at this raag, it becomes abundantly clear how profound Hindustani classical music is, and why this music must be transmitted not through books, but rather through the oral tradition.

Darbari is the foremost raag of the Kanada group. The word "kanada" comes from Karnataka, indicating that raags in this group have their origin in south India. Darbari Kanada was first adopted and named by the master musician Miyan Tansen in the mid-sixteenth century. Tansen, a great dhrupad singer and composer, was the principal court musician in the durbar of Emperor Akbar. To honor Akbar, Tansen named this raag "Darbari Kanada" or "Kanada of the court," and he composed many bandishes in this raag which are addressed to Emperor Akbar.

Darbari Kanada is a very serious, dignified and often slow-moving raag whose most appropriate time of play is around midnight. This may seem late to us, but in the court of Emperor Akbar, music programs often began around nine or ten o'clock at night and ended at sunrise, making midnight a perfect time to present an artist's most prized compositions. The vadi swara of this Asavari That raag is Rishab, and samvadi is Pancham. There is some debate about the Jati of Darbari Kanada. Renowned musicologist O. Thakur considers this raag to be SampoornalAudhav because of the avarohi vakra Dhaivat and Gandhar, while equally respected scholar of music Bhatkande classifies Darbari Kanada as Shadhav/Sampoorna. But it is perhaps most accurate to classify this raag as "Vakra-Sampoorna" because its vakra or oscillated swaras are not varjit (omitted) and because it is made up of more than one set of Aroha/Avaroha. Although some musicologists maintain that there are three distinct types of Darbari, it is simpler to consider Darbari as one raag with three different Aroha's. These are: Sampoorna with andolan and elongation on komal Gandhar and komal Dhaivat; broken Aroha which is vakra in poorvang and straight in uttarang, and occasional Shadhav Aroha, omitting gandhar.

The secret beauty of Raag Darbari Kanada is generated by its special use of microtones around komal Gandhar and komal Dhaivat. These notes are rendered with a very specific and special andolan. The andolan for Gandhar is approached in a meend from Rishab to a place near Madhyam, but not quite approaching it, and then moves into three or four slow oscillations around komal Gandhar, somewhere between very high Rishab and relatively high komal Gandhar. A similar andolan is taken around komal Dhaivat. These unique features of Darbari Kanda give this raag a sort of "imbalance" or tension, creating a feeling of longing or unsatisfied desire which is ultimately resolved by the use of Rishab and Pancham, vadi and samvadi These swaras re-establish a sense of peace and stability.

If all this seems rather vague and "wordy," it is not at all surprising. The difficulty we face in trying to describe or explain Raag Darbari Kanada demonstrates why the classical music of India cannot be learned successfully from books or even from recordings. This music must be passed down orally from guru to shishya in the parampara tradition, because it is so subtle that it must be heard, and then sung or played, and then corrected by the guru to be really understood. In the classicasl way of teaching, a guru very rarely explains anything. He or she simply sings or plays a phrase over and over, allowing the student to repeat the phrase until the student "gets it right." This kind of teaching generates learning that is not just intellectual understanding; it is knowledge of the body and learning of the heart. Music learned in this traditional way becomes part of the student's very being, and without this kind of knowledge, real Hindustani classical music is impossible. Performing raaga is not just mastering songs or compositions. It is learning and understanding raagas the way we learn and understand out first language, our mother tongue. The subtlety and complexity of Raag Darbari Kanada is an excellent demonstration of the importance of the oral tradition and the guru-shishya parampara in the classical music of India.

- Habib Khan is a well-known sitarist based in
the San Francisco Bay Area.

Auto Review: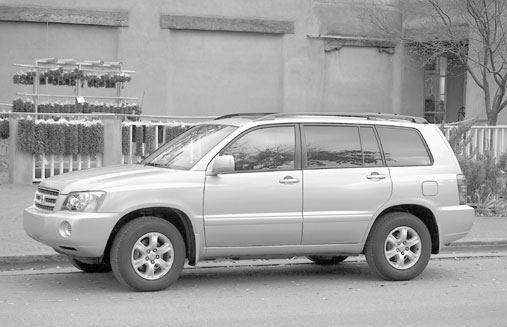 SUV with Style
2001 Toyota Highlander – By Al Auger

Our automotive editor Al Auger is an irritable curmudgeon when it comes to SUV excess, but the latest beauty from Toyota exerts a spell that even he cannot escape.

If it drives like a truck and handles like a truck and looks like a truck and the Feds say it's a truck, then it must be a truck.

Well, there are trucks and there are trucks. And then there is the 2001 Toyota Highlander SUV. So, while I drown myself in the curmudgeonry on the efficacy (or lack thereof) of the sport-ute mastodons taking over our highways and byways, people like Toyota spring these little surprises on us. You're going to see many more than "only one" of these Highlanders on the road.

Based on the Camry platform with unibody-based construction, the newest Toyota issue starts its life as an automobile and continues the evolution through the many facets that sum up sport utility vehicles. Taking the mechanical end a step further, both the standard aluminum 4-cylinder engine and the DOHC V6 are certified low emission powerplants. The mid-size Highlander is available in either front-wheel-drive or all-wheel-drive. So it was with a large sense of anticipation we took the Highlander on a journey to its "home" turf.

And what could be more fitting and comfortable to bring the Highlander to its official mountain home at Northstar-at-Tahoe outside Truckee. The snow was deep, the skies blue and the sun bright as we pointed the Highlander up Highway 267 and took some runs around Northstar's new Lookout Mountain. The next few days were going to be a tester's delight both on and off the road.

Getting back to my obsession with big is bad and bigger is badder, The Highlander is as close as you can get to a one-size fits all attitude. A five-passenger interior with room to stretch in firm, holding high-back seats and plenty of headroom. Behind the rear seat is a generous cargo area accessed through the rear lift- up door and low sill. The seats are split 60/40 or can be folded flat for more storage space.

The drive train is mated through a velvet-smooth 4-speed automatic transmission with alternative snow drive-mode. Pushing up circuitous Highway 80, the flexible transmission handled the climb and curves without a whimper or the hunt and pick for the right gearing. The 220-horsepower, DOHC, 24-valve, VVTi V6 is a gentle workhorse, the full-time AWD is definitely the way to go these days.

It was an interesting experience as we parked the shiny, Electric Green Mica in the village plaza of Northstar for some picture taking. The skiers heading to their various abodes were all taken by the machine and, although the Highlander has only been around a short time, most of the people knew right away what is was.

All the basics are standard equipment in the handsome and well-thought out interior. Graphics are visible and easy to read, controls big and accessible. Just a touch of chestnut grain trim for class and hardy, plush upholstery, power everything, 6 cupholders, 4 grocery retainers, four bottle holders, map pockets, deckbox and a lot more stuff space. There's even an eyeglass holder in the upper console. A pretty neat package of ergonomics and amenities.

Finally the usual misspoken hyperbole of "drives like a car and pulls like a truck" has a sense of validity to it. From Northstar we head south down the edge of Lake Tahoe on Highway 28 to Heavenly and all the lovely mechanics of the underpinnings made it a thoroughly enjoyable trip. The road curves, the road bends, the road goes up, the road goes down. We had fun.

All this physical exuberance enhanced by the standard 4-wheel independent suspension, 4-wheel disc brakes with ABS and fat stabilizer bars back and front. The factory added limited slip differential was just an added plus. My passenger couldn't help commenting on how, as we slithered through the curves at a nice clip, the ride was nearly flat and gripping.

The factory also added a host of options that substantially upped the price tag. But, if you're going to be cool, do it in style, I always say. Even so, the price is still far away from the usual Mastadon bloat. Beginning at the top is the roof rack system ($220), 8-way power driver's seat ($390), power tilt/slide moonroof ($815), 3500-lb. Towing package ($290), Appearance Pkg. ($890), Convenience Pkg. ($320) and Limited Slip ($390).

Today's Test Drive: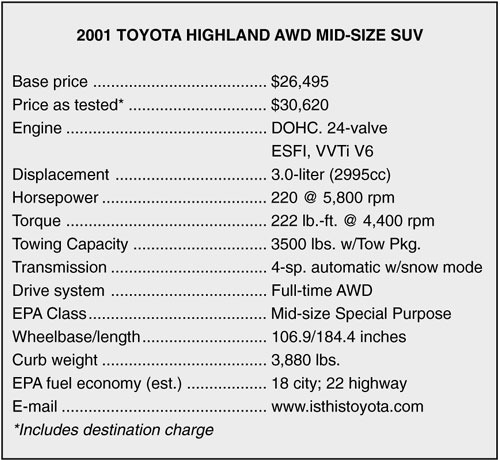 Al Auger, our automotive editor has been writing about cars for over 30 years.
He has spent 20 years as a race driver and public relations specialist.
|TOP|
Bollywood: | Guftugu | Hindi Film Review |

Guftugu

Fardeen, Tune Kya Kiya?

He is actually a nice kid, is Fardeen Khan. He is the son of the rich and flamboyant Feroz Khan, but he is not a spoiled brat. His previous films hadn't done awfully well, but his latest release, Pyar Tune Kya Kiya had really clicked. At last, Fardeen had hit the big time and it was a time for jubilation.

Alas, he found himself thrown in jail instead. The charge was serious, as he had been caught buying cocaine. It turned out that he was caught in a trap set out by law enforcement officials to nab drug dealers. Dad Feroz rushed to his rescue, and acted with good sense. If my son has committed the mistake, he must live with its consequences, he said. Fardeen also apparently impressed the cops with his upfront attitude, and so the upcoming star may not become a jail bird after all.

He is out on bail now, and it's not only his fans who are crossing their fingers. Joining them is a bunch of nervous producers whose schedules would go haywire if their star performer ends up doing time instead of shoots.
|Return to Bollywood Index| |TOP|

Ash in IMAX

Aishwarya fans, rejoice. Soon you are going to see your favorite star in a big screen. We are talking BIG here. Big as in IMAX. The world class beauty will play Mumtaz Mahal, the love of Mughal emperor Shah Jahan ,who built the wondrous Taj Mahal in her memory. Aptly enough, the film will also be called Taj Mahal.

The brain child of Bharat Bala, who produced marvelous music albums "Vande Mataram" and "Jana Gana Mana," the film will have an all-Indian cast and will be shot in North India. It will cost over $5 million to film.

Meanwhile, film makers are still looking for someone to play Shah Jahan. Anybody interested?
|Return to Bollywood Index| |TOP|

Revealing Role

There's never a dull moment with Manisha Koirala. The sultry Nepali siren has never been one to cow to convention, but this recent development may come as a surprise to even avid followers of her on-screen and off-screen activities.

Manisha is going to do a revealing role in Abhay, with Kamal Haasan. We mean that quite literally. Manisha Koirala in the buff, to put it bluntly.

Manisha is very open and frank about it. The role demands it, you see, as the character she plays is trying to seduce the character played by Kamal Haasan. So she has to go the extra mile, she says.
|Return to Bollywood Index| |TOP|

Evergreen Star

Stars may come and go, they may grow old and fade into oblivion, they may die, but one star defies this rule: The evergreen Dev Anand. So what if he is 70-plus? So what if his recent release Censor has fallen flat in the box office? The star has no time to brood or reflect, he has work to do.

Right now he is busy on his foreign film project, Love at Times Square – this is the famous Times Square of New York, where the New Year's bash takes place. Lucky Ali has been signed in to compose the music as well as play the lead role. And if the past is any guide, expect the irrepressible film maker to spring a pretty newcomer to play the heroine.
|Return to Bollywood Index| |TOP|

Not Just Beauty

At last, she is happy. Even with her great looks and figure, her career seemed to have stumbled, and Raveena Tandon was not a happy woman. To begin with, she believed that there was more to her than looks. And she wanted a chance to show the world that.

Kalpana Lajmi gave her the chance, and now Raveena Tandon is thrilled. So, it seems, are the jurors of the National Film Awards, who have given her the best actress award for her performance in Daman, Kalpana Lajmi's offbeat film about marital rape.

She has since been partying and having a great time but that's not all. Recently she went to Govinda's TV game show Jeeto Chhappad Phaad Ke, and that's exactly what she did. She came home with Rs. 2.5 million and a compact car. Things are looking up for the Bollywood beauty, and it's about time, too.
|Return to Bollywood Index| |TOP|

Film Family

Pooja Bhatt is nothing if not ambitious. Not content to be the unobtrusive daughter of her famous director dad Mahesh Bhatt, she has already produced Tamanna and Dushman. Now she is ready to rope in kid brother Rahul. She is all set to introduce Rahul in her next film along with Sanjay Dutt, whom Rahul admires a lot.

So how does Mahesh Bhatt feel about this? Ever the unconventional dad, he has none of the Raj Kapoor phobia, for instance, about family women going into films. As far as he is concerned, the more the merrier.
|Return to Bollywood Index| |TOP|

40,000 Diyas

It's not just karva chauth, it's the mother of all karva chauths. This traditional ritual, where wives honor their hubbies, will be shown in full glory in a song sequence in Rajesh Singh's Aanch, complete with 40,000 diyas – yes, you read that right.

The scene was shot recently on the banks of Raj Ghat in Varanasi, and it took 150 people to light the lamps and line them by the bank of the Ganga. The line ran nearly two miles, and the scene was filmed by a camera on a moving houseboat. Ayesha Jhulka, Sharbani Mukherji and Poonam were filmed for the song.
|Return to Bollywood Index| |TOP|

Dream Date

How would you like to spend an evening with Hrithik Roshan? Ah, it's one of those delicious dreams, isn't it? Well, not for 30 winners of a contest organized by Close-up toothpaste.

Winners were flown in from all over India for a "Sky Party with Hrithik" where the young Bollywood sensation was down-to-earth, much to the delight of his adoring fans. He danced with one questioner to show her a few dance steps, answered a slew of questions, after inviting fans to ask whatever they wanted to ask him. He sang a couple of songs from his smash hit Kaho Na Pyar Hai.

No wonder the teenage heartthrob's following remains as amazing as it is massive.
|Return to Bollywood Index| |TOP|

Release Jam

Aamir Khan is nothing if not a perfectionist. So his film Lagaan, a period film, is being awaited with great expectation. And that wait will be a bit longer than before, because the film will be released June 15 rather than June 1.

This has set off a flurry of activity. Gadar – Ek Prem Katha was supposed to be released June 15 after rescheduling, but now its owners are having to rethink that, because this is a period film as well. Bas Itna Sa Khwaab Tha was also scheduled for release on June 15. It may be moved a week or two ahead. Trouble is, that may clash with the release of Shararat. And both films star Abhishek Bachchan.

Shararat director Gurudev Bhalla, however, says he is not budging from his release date.
|Return to Bollywood Index| |TOP|

Beautiful Diya

She is more than a beauty queen. Miss Asia Pacific Diya Mirza, the Hyderabadi beauty queen, has created quite a wave in Bollywood, with a virtual who's who in tinseltown lining up to sign her. Vashu Bhagnani was so impressed with her performance in Om Jai Jagdish that he signed her for his film when Kareena Kapoor walked out. And word has it, she is a great, likeable person to boot. More power to you, Diya.
|Return to Bollywood Index| |TOP|


Hindi Film Review
Implausible, Contrived Story

ALBELA

Director: Deepak Sareen
Music: Jatin-Lalit
Starring: Govinda, Jackie Shroff, Aishwarya Rai, Namrata Shirodkar and Saeed Jaffrey

One thing you have to concede to Deepak Sareen: He has a sense of timing. No, we are not talking about the film per se, where timing is only one of a long, long list of things that are wrong.

Whatever skills he lacks as a film maker — and the viewer of his latest film will painfully discover that they are considerable — he has apparently balanced it with timing the release of this long-hatching disaster ever so sweetly.

As the world advances, India considers adding astrology to college courses. And here we have a film where an astrologer's prediction plays a key role in the hero's life.

Tony (Govinda) is a happy-go-lucky tourist guide in the fictitious town of Malaga in Goa. He is told by an astrologer that a beautiful blue-eyed princess will descend from the skies for him. And guess what, that's exactly what happens when Sonia (Aishwarya Rai) arrives all the way from Austria in search of her mother's grave. Tony figures this is the lady of his dreams, and ingratiates himself assiduously (given Govinda's loud antics, one is tempted to say excruciatingly).

All this is bad news for Tony's childhood friend Nina (Namrata Shirodkar) who nurses a tender affection for Tony. The poor woman has a lot of free moments in her hand now, which she uses to cook and clean for her wayward target of affection..

Sonia's mother had left her father years and years ago. The reason is a bit of a mystery, but one result of that is her Austrian father (played with dreadful hamming by Saeed Jaffrey) has an abiding hatred for India.

So here they are, Toni and Sonia, the man in love, the woman looking for her roots. The story is headed for an interesting turn, right?

Of course not. This is a Bollywood phillum, folks, so instead of looking for Sonia's mother, the two love-birds sing and dance. And sing and dance. And sing and dance . . . ad nauseum, and the world is their village. Literally. You would have thought they are in Goa, but come on, you don't expect a factual technicality like that to keep them from springing up all over the world, do you? So the result is Tony and Sonia go all over the world, but story seems to go nowhere.

So now Honey Irani, the script writer at the root of this disaster, springs another surprise. In the hallowed tradition of Bollywood coincidence, where given time, virtually everyone runs into one another, it turns out that Toni happens to know Prem, who surprise, surprise, is an old flame of Sonia's. Why exactly Sonia had left him earlier is another implausible story that would strain the patience of even the infinitely gullible Bollywood movie-goer. A complicated tangle of pathos follows, but not to worry.

Of course, from this mess of a story, all loose ends are tied up in the peremptory fashion that is standard fare in Bollywood, complete with a lachrymose (and implausible) story about why Sonia's mother had left her husband. Honey Irani leaves no implausible angle unexplored, and even the angry dad comes around in another unconvincing twist of the story.

Director Deepak Sareen apparently used up all his sense of timing in releasing the film, because the film is a jarring pastiche of mismatched shots taken over a period of years, where Aishwarya and Govinda have many avatars. There is Aishwarya the dilettante, unsure and a bit raw in skill (this in shots taken in the earlier years), there is a more svelte and suave Ash (shots taken in later years), there is the egregious Govinda of earlier years with his loud, hamming humor, and alas, only a slightly more bearable Govinda who sensibly decided to polish up his comic routine.

The real question for the viewer at the end of the movie is: What was the point? The cinematography is eye-catching in parts, and the music also passes muster occasionally, but it all adds up to a dead loss, because the vapid, illogical story makes very little sense even by the infinitely elastic standards of Bollywood. As for acting, what's to act? Aiswarya's main purpose appears to be to look pretty, which she does, Govinda varies between insufferable and utterly insufferable, Namrata Shirodkar has nothing much to do, and Saeed Jaffrey, truly, should be shot. To think that it took all of five years for Tips to create this monstrosity!

Hey, Bollywood, wake up! The writing is on the wall, fellas. Satellite TV is all over India, and viewers are not going to shell out the moolah for junk, no matter how gaudily you dress it up . The crippling failure rate of Hindi films in recent times is an omen — the viewers are clearly serving notice here. Get your act together and use some intelligence in crafting films, or your albela days are over.

|Return to Bollywood Index| |TOP|
Tamil Film Review:
Ho-hum Film, Poor Script

SEERI VARUM KAALAI

Director: Ramarajan
Starring: Ramarajan, Abita, Vichitra, Mansur Alikhan, Anandraj, Manorama and Damu

Kaalai (Ramarajan) is a do-gooder, always ready with a helping hand. This is true quite literally, because when women are pushed around and shoved, it is Kaalai who rushes with his arms readily extended to support them.

In the process, he falls for his sister's friend Kamakshi (Abita) who is tortured and harassed by her sister-in-law Nandini (Vichitra), and Kamakshi's mother (Manorama) and brother (Mansur) are helpless spectators. Once, when Kamakshi's son gives her a violent shove, it is Kaalai who rushes and supports her in his arms. He sternly warns people that if they harass "Amma," they would one day regret it. Even the politically naïve will catch on that Kaalai was not talking about Kamakshi's mother here. There are more gems of this type in the dialogue strewn throughout the film.

After the initial hesitation the timid Kamakshi reciprocates Kaalai's love. The duo elopes and gets married. But Nandini's men are not willing to leave them alone. She sends forth her henchmen who assault Kaalai and Kamakshi. They survive the violent assault, but athe doctors warn Kaalai that Kamakshi's health would be endangered if she were to bear a child. Kamakshi, however, has other ideas. She adrugs Kaalai and seduces him. She conceives, but there is nothing to worry for, as usual, the doctors are proved wrong and she delivers twins. The rest of the story is traces the vindication of Kaalai's stand.

It's not as if the film is all that bad. The early part is humorous, Ramarajan being quite comfortable in the lighter scenes. If only he had concentrated more on the script, rather than merely thrusting lines with political overtones, the movie would have been better. Mansur Alikhan plays the reluctant villain to the hilt.
|TOP|
Recipe:
Baked Vegetables – By Seema Gupta

Sufficient for 4 persons
Preparing time 1/2 hour

Add a little style and variety to your desi regular fare, suggest Seema Gupta, who offers this vegetarian recipe with a decidedly Western accent.

Ingredients

2 carrots

1 small cauliflower

2 potatoes

200 gm green peas

3/4 cup flour

3 cloves

2 cardomoms

1 tsp chilli powder

2 table spoon oil or butter

3 tbsp bread crumbs

3 tbsp grated cheese

Salt to taste

Method

Slice onions and vegetables into small pieces. Heat the oil or butter and fry onion till golden. Add cloves, cardamom, vegetables, green peas, salt, chilli powder and cover, cook on slow fire till the vegetables are cooked. Add 2 cups of water.

Mix the flour in one cup of water and add to the stew.

Cook for three minutes.

Grease a baking bowl and fill with stew mixture.

Spread bread crumbs and cover the top with grated cheese.

Bake in hot oven at 160 degrees or grill till the crust is brown.

Serve hot.

– Seema Gupta is a homemaker
based in Sunnyvale, Calif.
|TOP|
May - June Horoscope

ARIES (March 21 to April 20): Be careful in all financial deals. Slow progress may cause panic. You will plan a vacation. Government matters may remain unsolved. An old friend will visit.

TAURUS (April 21 to May 20): You will be working on a major project that will improve your income and give you strength. There will be an addition in the family soon. Stress about a child will subside. You will get results for efforts made long ago. Do not be nervous towards change.

GEMINI (May 21 to June 20): Slow progress may cause depression and lack of energy. It is better to focus on career and avoid useless arguments with spouse or a partner. Mail will bring some good news and a relative will confirm plans to visit. Expenses will reduce.

CANCER (June 21 to July 22): Another favorable month for all financial matters. Your request will be granted. Some of you may get an assured promotion. You may be distracted and religious activities will decrease. You may join hands with an interesting person who has been around for long.

LEO (July 23 to August 22): People who have a job will have serious concerns about career and may need to look for a change. A few lucrative opportunities may be lost. You may sell some assets or stock for a profit. Be careful with your eating habits as a stomach problem could develop.

VIRGO (August 23 to September 22): You will meet an old friend. Money will keep flowing in. You will be trying hard for a big business deal. You may get a big refund this month. Some of you may travel to a warmer area. Eligible bachelors could get a marriage proposal.

LIBRA (September 23 to October 22): It will be a comfortable time. You will change your financial strategy and cut down on your expenses. You will be in touch with some successful and ambitious people and get some ideas. Automobile will need minor repairs. Keep an eye on your valuables during the course of a pleasant trip.

SCORPIO (October 23 to November 22): Financial pressure will grow. You will get the loan without doing much effort. You may need to visit a dentist for some trouble recently developed. Visitors will confirm their arrival date. You will enjoy the company of new friends and a relationship will get stronger.

SAGITTARIUS (November 23 to December 22): It will be a hectic month. You will explore avenues to improve income. Negotiation with a multi-national company will continue. Car will need few minor repairs. You will make changes at home.

CAPRICORN (December 22 to January 19): You will focus on resolving some personal issues. Changes in career will end worries. You may be travelling. You will make a very good decision about investment. Fast money through stocks is indicated. You will handle some important paperwork.

AQUARIUS (January 20 to February 18): You will get to make some easy money. Some of you may buy a car. You will be planning a big trip with family. An on-going litigation will take a favorable course. Long awaited reply from government could come this month. You will spend quality time with children.

PISCES (February 19 to March 20): You should be just careful in all financial deals and especially anything to do with taxes and government. You will enjoy the company of a new friend. You may not be able to attend a religious event because of other commitments. Do not take any hasty decisions in career at this point.