Publisher's Note
:
This month, we take special pleasure in presenting a remarkable man who defies stereotypes. Dr. Veer Bhadra Mishra is the mahant of Varanasi's Sankat Mochan Temple, a long family tradition. He has founded a campaign to clean up the Ganga, a river for which he has enormous affection.
Much more remains to be done, to be sure, but Mishra's campaign is a heartening example of how the commitment to a cause can make a real difference in our lives.

It is common to imagine temple mahants or mosque imams as obscurant rabble-rousers, and God knows we have an ample share of them. But Mishra is not one of them. He is a trained hydrologist—he teaches at the Benares Hindu University—and his campaign to clean Ganga depends less on yagnas and mantras than on hard science and total dedication.

Roping in people of goodwill beyond the boundaries of India—from activists who helped clean up London's Thames to scientists at the University of California at Berkeley—he has developed programs to educate the general public who live by the Ganga, and his activism has already helped to reduce pollution in the Ganga by a third.

We also carry a very different kind of activist's take on the U.S.-led war against Iraq. Arundhati Roy's sharp-tongued critiques are famous by now; not everyone is comfortable with her wholesale castigation of the West in general and the U.S. in particular. Nevertheless, she raises important points, and you her articles are a bracing alternative to the vapid, jingoistic fare that has become the staple of the U.S. media.

|TOP|

Main Feature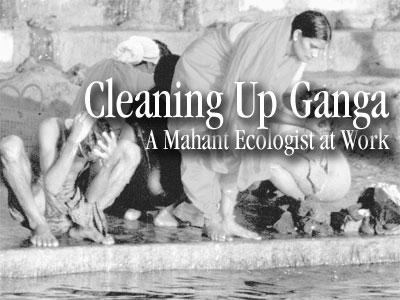 Cleaning Up Ganga:
A Mahant Ecologist at Work By Veer Bhadra Mishra

March 22 was World Water Day. Temple mahant and lifelong Varanasi resident Veer Bhadra Mishra is also a trained hydrologist, and he writes that the Ganga's very survival is threatened by pollution.

I was born 63 years ago along the banks of the Ganga in the holy city of Varanasi - the world's oldest continuous city. I have lived all my life in the same house overlooking the river and Tulsi Ghat, which is one of the 77 ghats or ritual bathing areas visited yearly by around 5 million pilgrims and others. And, the Gods willing, I will probably end my days at Tulsi Ghat.

Not everybody understands the importance of rivers. River systems like the Thames and Ganga support vast human communities while providing a major source of fresh water.

The availability of fresh water is the No.1 environmental issue in this new century. And in my country of one billion souls it is thought we will completely run out of fresh water in a few years unless - and I stress the word unless - present trends change.

Ganga is My Life

Our holy river is considered a divine Goddess by Hindus and other believers the world over. But she isn't feeling well. I know this, both as a professor of hydrology and also as mahant of a temple. And when I take my holy dip at sunrise every morning at Tulsi Ghat, my soul is sorely split. I want to do my holy dip and I know that the river is severely polluted.

So at some point I decided something must be done. Fecal coliform pollution is up to 3,000 times the safe level for human beings in some bathing areas. Fecal coliform is a measurement of animal and human waste in water.

So together with some friends we started the Sankat Mochan Foundation in 1982 whose main goal is cleanup of the Ganga. The Foundation in turn launched the Campaign for a Clean Ganga on behalf of the 400 million Indians living along the Ganga Basin.

Now, it's a fact that virtually every river in India is filthy, sometimes lethally. This is also true in most of the developing world. But we feel that a start must be made somewhere. And why not in the holiest of Indian cities where millions ritually bathe in the river to wash away their sins?

So our campaign in Varanasi has launched several programs. The most important is to make the causes of pollution better known both locally in Varanasi and throughout India. Without public awareness and pressure, nothing will happen for the better.

The main cause of pollution is untreated sewage, which in Varanasi and 113 other cities is dumped directly into the river. So we've put forward a proposal jointly collaborated with the University of California in Berkeley for a cost-effective and safe system for cleaning the Varanasi stretch.

This system does not rely on electric power, which can be erratic in northern India. Instead it moves sewage for the force of gravity, into ponds where it is treated biologically. Deadly coliforms, pesticides and heavy metals are removed forever.

It may take time to "persuade" the apathetic Powers that Be to build this system, even though the funds are available (about 40 million sterling). So other pollution issues are being tackled right now in Varanasi: issues such as open defecation, laundering activities, wallowing cattle and removal of human corpses and animal carcasses from the waterway.

We're trying to encourage pilgrims and citizens alike to alter those habits that contribute to pollution. Young workers responsible to us regularly remove plastic bags, flower garlands and assorted litter from the immediate waterfront. This debris is taken to a remote location across the river where we hope to soon launch sorting operations before final burial in lined pits.

We're also conducting seminars and workshops dealing with river pollution. These include awareness programs for schoolchildren and also programs for riverside Hindu priests who conduct rituals along the ghats. These influential priests can play a major role in raising environmental issues with the public.

Firewall of Indifference

The struggle to clean our river is ultimately a battle about information rather than technology. It's a battle to create a climate of public awareness to break through the firewall of official indifference in our country.

Millions of my fellow citizens suffer and die because of river pollution. Our politicians should beware the wrath of the masses! "One half of our nation guzzles aerated beverages, while the other half must make do with palmfuls of muddied water," as a past President of India once put it.

This is why we've launched the mission Web site www.cleanganga.com that is deliberately targeted to the Indian media. This Web site is unique in India, because it provides our media with environmental stories and pictures that they can use without charge.

Our ultimate goal is a national campaign in coalition with like-minded organizations and citizens. And to make it happen, we've now launched a new program in civil governance to help cities worst hit by Ganga pollution better understand what they can legally do about it. This is being done with generous assistance from the resources of the Asia Foundation in San Francisco.

Let's join hands with the goal of fresh water for each and every citizen on the planet.

This is not visionary. It is simply essential. To aim for less would not be worthy of us as human beings.

Interested readers can find more information about the Clean Ganga Campaign at their Web site at www.cleanganga.com

– Dr. Veer Bhadra Mishra is mahant of
Varanasi's Sankat Mochan Temple and
professor of hydrology at Benares Hindu University.
He helped start the Sankat Mochan Foundation
which has helped reduce Ganga pollution by a third.
|TOP|
Infotech India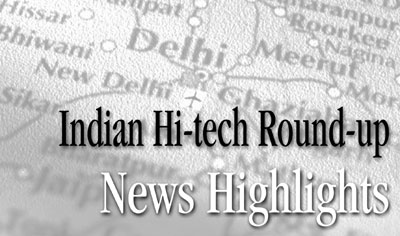 CEO Arrested … New IT Products … Cell Phone Freebies … Great Minds Challenge … GSLV Flights … Court Won't Interfere … Raising Phone Density … Indo-Canadian Moon Mission? … Hi-tech Surveillance — Here is the latest on information technology from India

CEO Arrested

The Indian High Commission in the United Kingdom got consular access March 28 to i-flex Solutions CEO Senthil Kumar, who was arrested in London following charges of visa violation by the Dutch authorities, and his case is being heard in court, an External Affairs Ministry spokesman said.

Two senior officials of the Indian High Commission met Kumar at Brixton Prison evening and assured him consular assistance.

With Kumar's bail application due to be heard, a report from London said British officials have told their Indian counterparts that they could do very little as the case is before the court.

British police had arrested Kumar following a complaint it received from the Netherlands charging him with "visa fraud and financial defalcation." The Dutch authorities had alerted the Interpol, and under the European Commission agreement, the British police was bound to act.

India had earlier lodged a strong protest with the Dutch government over the arrest of Kumar in London and detention of other i-flex employees in the Netherlands for alleged visa violations, terming it as "grossly unfortunate, objectionable and patently unwarranted."

To a question that Kumar's arrest comes close on the heels of harassment of IT professionals in Malaysia, the Foreign Ministry spokesman said they were two distinct issues, and Indian professional in Malaysia were mistreated.

Foreign Ministry sources said unlike the Netherlands Foreign Office, the Dutch public prosecutor was being rigid and adamant in the case.
|Back to Infotech Index| |TOP|

Samsung Electronics India Information and Telecommunication March 26 announced it would launch 11 new IT products in the country in the next few months.

"The products include PC monitors, hard disk drives, optical media solutions, laser printers and multi-functional devices among others," SEIIT country manager Sonal Anand told reporters in Bangalore.

SEIIT is a wholly-owned IT and telecom subsidiary of the $38.49 billion Korean consumer electronics giant Samsung Electronics Company Ltd.

Anand said the company had started a campaign for PC upgrade targeting the over three million PC market which was over three years old.

"The PC market is very amenable to upgrades this year. The established base of PC users in India has crossed the eight million mark of which three million PCs are more than three years old. We believe there is an opportunity here," Anand said.
|Back to Infotech Index| |TOP|

In view of the delay in implementation of new tariff order, Bharat Sanchar Nigam Ltd March 31 said its post-paid and pre-paid customers will continue to receive free incoming calls till the revised tariff comes into effect.

"In view of TRAI deferment of implementation of new tariffs, BSNL has decided to extend the existing landline and cellular tariffs," BSNL said in a statement here.

The cellular tariffs would include post-paid Plan 325, Plan 225 and pre-paid tariffs.

This means CellOne and Excel customers would continue to get free incoming calls as announced earlier, and these would continue till a revised tariff is published.

The move follows TRAI decision last week to postpone by a month to May 1, the implementation of the new tariff order as well as the contentious Interconnect Usage Charge regime.

TRAI said the re-scheduling was done to give adequate time for submission of revised tariff by various companies and also for making subscribers aware of the new rates.
|Back to Infotech Index| |TOP|

BITS Pilani has emerged national champions of the IBM Great Minds Challenge contest conducted for university and college students of higher technology across India.

Indian Institute of Technology-Delhi and Jaya College in Chennai have emerged as the first and second runners-up respectively, an IBM release said in Bangalore March 27.

"The competition gave the students a chance to exhibit their skills on IBM software technologies and win fabulous prizes, including a visit to one of IBM's research and development facility in India," the release said.

Encouraged by the tremendous response to the IBM university program running in the country for the past two years, IBM announced the Great Minds Challenge contest in November last year, it said.
|Back to Infotech Index| |TOP|

To make available end-to-end capability to launch communication satellites during the Tenth Plan, the Indian government has approved a project for three Geo-Synchronous Satellite Launch Vehicle operational flights at a cost of Rs. 94.5 billion.

The decision for approval of the GSLV project — three operational flights — along with advanced actions for three sets of material and one additional set of hardware as a rolling standby was taken at a meeting of the cabinet.

The foreign exchange component of the project would be Rs. 36.8 billion, official sources said April 1.

The decision was taken keeping in view aspects like servicing the operational launches of INSAT, maintaining a continuous production, lead time for realization of a launch vehicle, potential commercial opportunities and strategic reasons.

With the realisation of three GSLV operational flights, end-to-end capability to launch communication satellites will be available during the Tenth Plan.

The GSLV-FO1 is expected to be ready by June 2004, GSLV-FO2 by June 2005 and GSLV-FO3 by June 2006.

The cabinet also gave post-facto approval for ratification of the original agreement establishing the Asia Pacific Institute for Broadcasting Development in 1977, with the objective of assisting member countries to improve professional capability of their broadcasting system.

The government also approved the signing of the Instrument of Acceptance for Amendments to the Agreement Establishing AIBD.
|Back to Infotech Index| |TOP|

Declining to interfere with the investigation by the Kolkata Police into the Rs.120-million scam involving Chennai-based DSQ Software, the Madras High Court ruled that allegations exposed by the Kolkata Police and a Joint Parliamentary Committee required to be fully investigated.

The detective department of the Kolkata Police had carried out an investigation on a complaint lodged by the Calcutta Stock Exchange Sept. 9 last year, alleging that CSE had been cheated of Rs. 120 million by DSQ Software promoter, Dinesh Dalmia.

The CSE said it suffered the loss following malpractices by DSQ Software in the allotment of shares of Fortune Technologies, an overseas company purchased by DSQ Software in 2000, to New Vision India and manipulation of share prices on the stock exchange.

The police had filed a complaint against Dalmia.

Dismissing a writ petition filed by Dalmia to quash the complaint, Justice P. Sathasivam noted that DSQ was registered here and no cause of action had arisen within the jurisdiction of the Madras High Court but within the city limits of Kolkata.

It would not be proper to stall or interfere with the investigation at this stage, he said.

He observed that according to the complaint, Dalmia, in conspiracy with other accused, had also allegedly cheated gullible, small-time investors by indulging in circular trading
|Back to Infotech Index| |TOP|

The landline connections in the country, which were around 20 million in 1998, had doubled in the past five years of the NDA government. The cellular phone connections in the country had also gone up from 300,000 in 1998 to 13 million now, which also included the private sector, he said launching Cellone cellular service in Chennai by Bharat Sanchar Nigam Limited.

Thirunavukkarasar said only five months ago, Prime Minister Atal Behari Vajpayee launched BSNL's cellular service in the country and in the past five months, 220,000 BSNL cellphone connections had been given in the country, thanks to the technology now available with the BSNL workforce.

To mark the launch, the minister made the first call to his cabinet colleague A K Moorthy, seated next to him.

Speaking on the occasion, the chairman and managing director of BSNL, Prithipal Singh, said the BSNL's cellphone service would be launched in Jammu and Kashmir April 14 and in the north-east region by August 15.
|Back to Infotech Index| |TOP|

Indo-Canadian Moon Mission?

Indian and Canadian space agencies March 27 indicated the possibility of joining hands on a moon mission.

The Indian Space Research Organization and the Canadian Space Agency signed a letter of intent in Bangalore referring to several projects and activities in which both organizations have a joint interest.

A statement from Bangalore-headquartered ISRO said they could include the possible participation in a moon orbiter mission, and an agreement for providing mutual support for telemetry, tracking and command operations for satellites.

They could also include Canadian support for the United Nations Center for Space Science and Technology Education which has been set up by India at Dehra Dun, and collaboration in development of scientific instruments that could be flown on Indian satellites.

ISRO signed an MoU with CSA reaffirming mutual pursuit of international space cooperation for peaceful purposes while working towards economic and social development of both countries.

It was inked by ISRO chairman K. Kasturirangan and CSA president Marc Gameau.

"The MoU will foster the study of cooperative programs in satellite communications and satellite remote sensing as well as encouraging cooperation in the field of exploration and use of space by the private sector and academia in both countries," the statement said.
|Back to Infotech Index| |TOP|

Minister of State for Home I.D. Swami April 1 said a high-tech surveillance system using satellite technology to man the international border and the Line of Control would be installed very soon, to curb cross-border terrorism and intrusion from the neighboring country.

During a joint meeting of the center and the Jammu and Kashmir government at Delhi April 1, it was decided to install hyper sensitive gadgets along the international border and the LoC to keep tabs on the movement of militants, who were being pushed from across the border to spread terror in the Valley, Swami told reporters in Jalandhar.

The meeting was held to review the existing macro strategies in tackling militancy in Jammu and Kashmir. It was of the view that special efforts should be made to expedite complete fencing and flood lighting of the international border, as Pakistan was creating hurdles and fencing would severely hit its efforts to push terrorists into the state, Swami said.
|Back to Infotech Index| |TOP|

DISSENT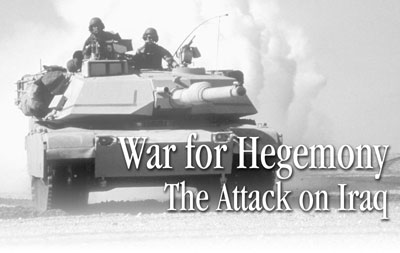 War for Hegemony:
The Attack on Iraq – By Arundhati Roy

Booker Prize-winning author activist Arundhati Roy offers a blistering critique of the U.S. rationale for its attack on Iraq.

On the steel torsos of their missiles, adolescent American soldiers scrawl colorful messages in childish handwriting: For Saddam, from the Fat Boy Posse. A building goes down. A marketplace. A home. A girl who loves a boy. A child who only ever wanted to play with his older brother's marbles.

On March 21, the day after American and British troops began their illegal invasion and occupation of Iraq, an "embedded" CNN correspondent interviewed an American soldier. "I wanna get in there and get my nose dirty," Private AJ said. "I wanna take revenge for 9/11."

To be fair to the correspondent, even though he was "embedded," he did sort of weakly suggest that so far there was no real evidence that linked the Iraqi government to the September 11 attacks. Private AJ stuck his teenage tongue out all the way down to the end of his chin. "Yeah, well that stuff's way over my head," he said.

According to a New York Times/CBS News survey, 42 percent of the American public believes that Saddam Hussein is directly responsible for the September 11 attacks on the World Trade Center and the Pentagon. And an ABC news poll says that 55 percent of Americans believe that Saddam Hussein directly supports al-Qaida. What percentage of America's armed forces believe these fabrications is anybody's guess.

It is unlikely that British and American troops fighting in Iraq are aware that their governments supported Saddam Hussein both politically and financially through his worst excesses.

President George W. Bush, commander in chief of the U.S. army, navy, air force and marines has issued clear instructions: "Iraq. Will. Be. Liberated." (Perhaps he means that even if Iraqi people's bodies are killed, their souls will be liberated.) American and British citizens owe it to the supreme commander to forsake thought and rally behind their troops. Their countries are at war. And what a war it is.

After using the "good offices" of UN diplomacy (economic sanctions and weapons inspections) to ensure that Iraq was brought to its knees, its people starved, half a million of its children killed, its infrastructure severely damaged, after making sure that most of its weapons have been destroyed, in an act of cowardice that must surely be unrivalled in history, the "Allies"/"Coalition of the Willing"(better known as the Coalition of the Bullied and Bought) — sent in an invading army!

Operation Iraqi Freedom? I don't think so. It's more like Operation Let's Run a Race, but First Let Me Break Your Knees.

So far the Iraqi army, with its hungry, ill-equipped soldiers, its old guns and aging tanks, has somehow managed to temporarily confound and occasionally even outmaneuver the "Allies." Faced with the richest, best-equipped, most powerful armed forces the world has ever seen, Iraq has shown spectacular courage and has even managed to put up what actually amounts to a defense. A defense which the Bush/Blair Pair have immediately denounced as deceitful and cowardly. (But then deceit is an old tradition with us natives. When we are invaded/ colonized/occupied and stripped of all dignity, we turn to guile and opportunism.)

Even allowing for the fact that Iraq and the "Allies" are at war, the extent to which the "Allies" and their media cohorts are prepared to go is astounding to the point of being counterproductive to their own objectives.

After dropping not hundreds, but thousands of bombs on Baghdad, when a marketplace was mistakenly blown up and civilians killed — a U.S. army spokesman implied that the Iraqis were blowing themselves up! "They're using very old stock. Their missiles go up and come down."

When the Arab TV station al-Jazeera shows civilian casualties it's denounced as "emotive" Arab propaganda aimed at orchestrating hostility towards the "Allies," as though Iraqis are dying only in order to make the "Allies" look bad. When invading American soldiers (from the army "that's only here to help") are taken prisoner and shown on Iraqi TV, George Bush says it violates the Geneva Convention and "exposes the evil at the heart of the regime." But it is entirely acceptable for U.S. television stations to show the hundreds of prisoners being held by the U.S. government in Guantanamo Bay, kneeling on the ground with their hands tied behind their backs, blinded with opaque goggles and with earphones clamped on their ears, to ensure complete visual and aural deprivation. When the "Allies" bombed the Iraqi television station (also, incidentally, a contravention of the Geneva convention), there was vulgar jubilation in the American media. In fact Fox TV had been lobbying for the attack for a while. It was seen as a righteous blow against Arab propaganda.

And now we have the siege of Basra. About a million and a half people, 40 percent of them children. Without clean water, and with very little food. We're still waiting for the legendary Shia "uprising," for the happy hordes to stream out of the city and rain roses and hosannahs on the "liberating" army. (It may well be that if Saddam's regime falls there will be dancing on the streets of Basra. But then, if the Bush regime were to fall, there would be dancing on the streets the world over.)

After days of enforcing hunger and thirst on the citizens of Basra, the "Allies" have brought in a few trucks of food and water and positioned them tantalizingly on the outskirts of the city. Desperate people flock to the trucks and fight each other for food. (The water we hear, is being sold. To revitalize the dying economy, you understand

As of July last year the delivery of $5.4 billion worth of supplies to Iraq was blocked by the Bush/Blair Pair. It didn't really make the news. But now under the loving caress of live TV, 450 metric tons of humanitarian aid — a minuscule fraction of what's actually needed (call it a script prop) — arrived on a British ship, the Sir Galahad. Its arrival in the port of Umm Qasr merited a whole day of live TV broadcasts. Barf bag, anyone?

Nick Guttmann, head of emergencies for Christian Aid, writing for the Independent on Sunday said that it would take 32 Sir Galahads a day to match the amount of food Iraq was receiving before the bombing began.

We oughtn't to be surprised though. It's old tactics. They've been at it for years. Consider this moderate proposal by John McNaughton from the Pentagon Papers, published during the Vietnam war: "Strikes at population targets (per se) are likely not only to create a counterproductive wave of revulsion abroad and at home, but greatly to increase the risk of enlarging the war with China or the Soviet Union. Destruction of locks and dams, however — if handled right — might ... offer promise. It should be studied. Such destruction does not kill or drown people. By shallow-flooding the rice, it leads after time to widespread starvation (more than a million?) unless food is provided — which we could offer to do 'at the conference table.'"

Times haven't changed very much. The technique has evolved into a doctrine. It's called "Winning Hearts and Minds".

So, here's the moral maths as it stands: 200,000 Iraqis estimated to have been killed in the first Gulf war. Hundreds of thousands dead because of the economic sanctions. (At least that lot has been saved from Saddam Hussein.) More being killed every day. Tens of thousands of US soldiers who fought the 1991 war officially declared "disabled" by a disease called the Gulf war syndrome, believed in part to be caused by exposure to depleted uranium. It hasn't stopped the "Allies" from continuing to use depleted uranium.

And now this talk of bringing the UN back into the picture. But that old UN girl - it turns out that she just ain't what she was cracked up to be. She's been demoted (although she retains her high salary). Now she's the world's janitor. She's the Philippino cleaning lady, the Indian jamadarni, the postal bride from Thailand, the Mexican household help, the Jamaican au pair. She's employed to clean other peoples' shit. She's used and abused at will.

Despite Blair's earnest submissions, and all his fawning, Bush has made it clear that the UN will play no independent part in the administration of postwar Iraq. The US will decide who gets those juicy "reconstruction" contracts. But Bush has appealed to the international community not to "politicise" the issue of humanitarian aid. On the March 28, after Bush called for the immediate resumption of the UN's oil for food programme, the UN security council voted unanimously for the resolution. This means that everybody agrees that Iraqi money (from the sale of Iraqi oil) should be used to feed Iraqi people who are starving because of US led sanctions and the illegal US-led war.

It's become clear that the war against terror is not really about terror, and the war on Iraq not only about oil. It's about a superpower's self-destructive impulse towards supremacy, stranglehold, global hegemony. The argument is being made that the people of Argentina and Iraq have both been decimated by the same process. Only the weapons used against them differ: In one case it's an IMF checkbook. In the other, cruise missiles.

Finally, there's the matter of Saddam's arsenal of weapons of mass destruction. (Oops, nearly forgot about those!)

In the fog of war we're forced to speculate: Either Saddam is an extremely responsible tyrant. Or — he simply does not possess weapons of mass destruction. Either way, regardless of what happens next, Iraq comes out of the argument smelling sweeter than the U.S. government.

In most parts of the world, the invasion of Iraq is being seen as a racist war. The real danger of a racist war unleashed by racist regimes is that it engenders racism in everybody — perpetrators, victims, spectators. It sets the parameters for the debate, it lays out a grid for a particular way of thinking. There is a tidal wave of hatred for the U.S. rising from the ancient heart of the world. In Africa, Latin America, Asia, Europe, Australia.

Suddenly, I, who have been vilified for being "anti-American" and "anti-West," find myself in the extraordinary position of defending the people of America. And Britain.

Those who descend so easily into the pit of racist abuse would do well to remember the hundreds of thousands of American and British citizens who protested against their country's stockpile of nuclear weapons. And the thousands of American war resisters who forced their government to withdraw from Vietnam. They should know that the most scholarly, scathing, hilarious critiques of the U.S. government and the "American way of life" comes from American citizens. And that the funniest, most bitter condemnation of their prime minister comes from the British media. Finally they should remember that right now, hundreds of thousands of British and American citizens are on the streets protesting the war. The Coalition of the Bullied and Bought consists of governments, not people. More than one third of America's citizens have survived the relentless propaganda they've been subjected to, and many thousands are actively fighting their own government. In the ultra-patriotic climate that prevails in the U.S., that's as brave as any Iraqi fighting for his or her homeland.

Most courageous of all, are the hundreds of thousands of American people on the streets of America's great cities — Washington, New York, Chicago, San Francisco. The fact is that the only institution in the world today that is more powerful than the American government, is American civil society. American citizens have a huge responsibility riding on their shoulders. How can we not salute and support those who not only acknowledge but act upon that responsibility? They are our allies, our friends.

At the end of it all, it remains to be said that dictators like Saddam Hussein, and all the other despots in the Middle East, in the central Asian republics, in Africa and Latin America, many of them installed, supported and financed by the U.S. government, are a menace to their own people. Other than strengthening the hand of civil society (instead of weakening it as has been done in the case of Iraq), there is no easy, pristine way of dealing with them. (It's odd how those who dismiss the peace movement as utopian, don't hesitate to proffer the most absurdly dreamy reasons for going to war: to stamp out terrorism, install democracy, eliminate fascism, and most entertainingly, to "rid the world of evil-doers.")

Despite the pall of gloom that hangs over U.S. today, I'd like to file a cautious plea for hope: in times of war, one wants one's weakest enemy at the helm of his forces. And President George W. Bush is certainly that. Any other even averagely intelligent U.S. president would have probably done the very same things, but would have managed to smoke-up the glass and confuse the opposition. Perhaps even carry the UN with him. Bush's tactless imprudence and his brazen belief that he can run the world with his riot squad, has done the opposite. He has achieved what writers, activists and scholars have striven to achieve for decades. He has exposed the ducts. He has placed on full public view the working parts, the nuts and bolts of the apocalyptic apparatus of the American empire.

(This is an abridged excerpt from an article that appeared in the London Guardian.)
Arundhati Roy won the Booker Prize
for her debut novel "The God of Small Things."
|TOP|
Networking: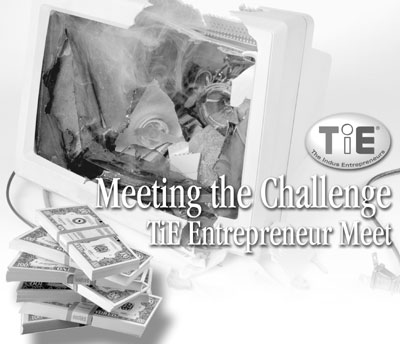 Meeting the Challenge
TiE Entrepreneur Meet – A Siliconeer Report

TiE, the mother of desi entrepreneur organizations, is hosting a conference to reflect and strategize during a challenging time. A Siliconeer report.

The Indus Entrepreneurs has announced its 10th annual flagship conference on entrepreneurship will be held at the Westin Hotel and Santa Clara Convention Center May 16 and 17, 2003. TiEcon (www.tiecon.org) brings together leading venture capitalists, academics, investment bankers, law firms, entrepreneurs and top technology executives from around the world to educate, challenge and inspire the business and technology leaders of tomorrow. Over 3,000 attendees are expected this year.

"In today's economic climate, new entrepreneurs need to work harder than ever before to get an investor's attention," said Vish Mishra, convener of TiEcon 2003 and partner in Clearstone Venture Partners. "TiEcon is the one place where over 100 venture capitalist firms will be all under the same roof with over 1,000 entrepreneurs in information technology, biotechnology and communications markets. The opportunity for successful partnerships and investment deals skyrocket under such excellent networking conditions."

To reflect the new economic climate, the theme of TiEcon 2003 is "Succeeding with New Realities." Despite considerable restructuring, most businesses face uphill battles in 2003 in order to thrive in the years ahead. The expertise and provocative thought leadership shared by the speakers and panelists at TiEcon 2003 will help entrepreneurs, leaders of large, mid-sized and small companies, as well as leaders from the investment and professional services communities, gain the insight and strategies they need to succeed in the new times.

Day 1 will set the framework of today's business environment and establish the success criteria for entrepreneurs at all stages of their corporate evolution.

Day 2 will provide a forum for intense sessions focused on ecosystems in bioinformatics, biotech, digital media, life sciences, networking, semiconductors, security, software, storage, and wireless/broadband communications.

TiE is a not-for-profit global network of entrepreneurs and business executives. TiE is now the world's largest organization of its type, with 40 Chapters in nine countries, with 800 charter members and 10,000 Members.

Interested readers can visit www.tiesv.org for more information.

|TOP|
Sports: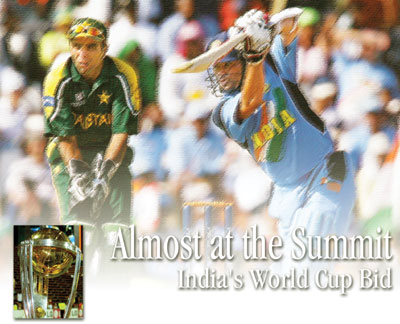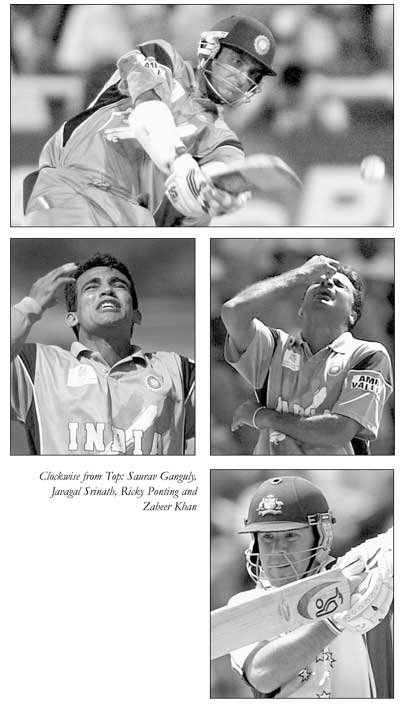 Almost at the Summit
India's World Cup Bid – By Deepak Goyal

Deepak Goyal relives the thrills and spills of India's World Cup foray in South Africa this year.

At the end of the ferocious Australian onslaught in this year's World Cup final in Johannesburg, Australia had amassed a massive 359. The hopes of millions of Indian fans lay in tatters. Even for those who hoped against hope, Glenn McGrath pretty much sealed it: Sachin Tendulkar was gone after surviving for four balls. The towering Aussies did it again, winning the World Cup the way that had won every match in the tournament—with total dominance.

For India fans it may have been disappointing, but the fact that the team was received with genuine warmth after returning home goes on to show that despite missing the trophy, fans were happy with the way the Indian team had performed.

And why not? There was definitely a gaping mismatch between the wild, passionate dreams of frenzied fans and the actual performance of the Indian cricket team when it began its World Cup bid in South Africa.

A bruising tour in New Zealand had left its much vaunted batting order cruelly exposed, and there was considerable trepidation as India attempted to repeat what Kapil Dev and its team had done in England way back in the '80s—win the coveted world cup.

The beginnings were not auspicious. After a shaky start, where India mustered a paltry 204 against nonentity Netherlands—it won handily, but that was not the point—India faced Australia.

The Aussies simply crushed India. A blistering spell from Jason Gillespie—he gave only 13 runs and snapped up three wickets in his 10-over spell—slashed through the Indian batting order, wrapping up the Indian innings in just 125, their third worst performance against Down Under.

Fans in India went on a rampage. Mohammad Kaif's house was attacked in Allahabad, angry demonstrations in Kolkata burned skipper Saurav Ganguly's effigy. India, it appeared, was a lost cause.

Things began to turn around in the next match. Okay, so the team it played is not exactly top-drawer stuff, but nonetheless, a solid 311 score against Namibia did India's confidence a world of good. Tendulkar hit 152 from 151 deliveries, and India lost just two wickets to amass the huge total. Then they followed it up with a disciplined bowling effort and wrapped up Namibia's innings at 130. Namibia admittedly isn't the strongest of teams, but a 181-run win is a 181-run win.

The going however, was going to get tougher. Nasser Hussain's England was fresh from a superb win over Pakistan, and the question for nervous Indian fans was: Was the new Indian form just a flash in the pan, or could they really perform well against a world-class team?

The answer, to the great delight of India fans, was a resounding yes. And what made it even sweeter was that it was Indian bowling that made it happen. Ashish Nehra put in a dazzling bowling display. In a record-breaking spell he took six England wickets to bring Nasser Hussain's team to its knees. India batted first and scored 250 thanks mainly to a Tendulkar half century and a last moment spurt by Rahul Dravid and Yuvraj Singh, and then demolished England 168 all out.

All well and good, but as far as fans were concerned, the real match came next: India v Pakistan. Pakistan's batting was shaky, but it boasted the world's most fearsome bowlers in Shoaib Akhtar, the gentler but wilier Wasim Akram and skipper Waqar Younis.

Pakistan batted first. Saeed Anwar was in good form, but was consistently frustrated as he kept losing partners. They were saved by a key 73-run partnership between Anwar and Yousuf Youhana, and a rapid-fire 29 by Rashid Latif at the end pushed their score the a quite respectable 273.

It was crunch time now. Would the revived Indian batting order be able to stand up to the formidable Pakistani pace attack? The proud answer came in the first few overs of India's innings in a dazzling display of batting fireworks.

Tendulkar was in murderous form. What Shoaib Akhtar? The Little Master hit Shoaib Akhtar's first over for 18 runs. India's 50 came in five overs, and although Tendulkar was gone after scoring a majestic 98, Yuvraj (50) and Dravid (45) pitched in and India won handily with six wickets and four overs to spare.

Maybe the rest of the cup didn't matter for India fans after the sweet victory over arch rival Pakistan. If that was the case, it was a good thing, too, because after Super Six victories over Kenya and a convincing defeat of New Zealand, India defeated upstarts Kenya and made it to the final only to meet its nemesis Australia.

The script, alas, remained the same. Ricky Ponting smashed 140 to bring Australia to an impregnable 359. India folded at 234, and the Aussies won a thumping 125-run victory.

– Deepak Goyal is a freelance writer. He lives in Kolkata.

|TOP|
Law: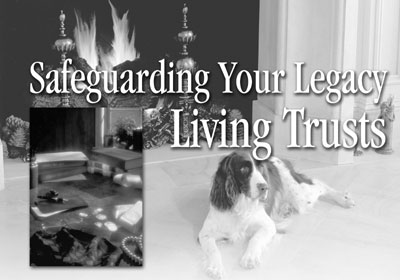 Safeguarding Your Legacy:
Living Trusts - By Raja Ahluwalia

A living trust is a good way to make sure your dependents are protected if tragedy strikes, writes attorney Raja Ahluwalia.

If you think wills and bequests are only for the likes of Bill Gates, think again. No matter what your assets, a little planning can ensure that your loved ones are protected from any unforeseen disaster. A living trust can be an important tool for that, and here are the key advantages that it offers:

It Eliminates Guardianship Proceedings. If you become disabled or are unable to manage your estate, your living trust avoids the need for a court mandated guardianship. The successor trustee you've named will step in and manage your affairs without government interference and expense.

It Avoids Probate. With a living trust your assets will go directly to your beneficiaries after your death. There will be no probate attorney's fees or court costs. There will be no court delay in distributing your assets, and all your estate planning wishes will be completely private.

It Can Reduce or Eliminate Federal Estate Taxes. With living trusts, a married couple can pass $2,000,000 absolutely state and federal estate tax free to their heirs. A single person can pass $1,000,000 estate tax free.

It Can Protect Children From Earlier Marriages. Both the surviving spouse and the children from a previous marriage can receive fair treatment and protection under the terms of your living trust.

It Can Insure That Your Wishes Are Carried Out and Are Not Subject To Attack. It is generally accepted that living trusts are more difficult to contest than wills. This prevents disgruntled heirs from successfully attacking your estate plan.

It Allows You to Restrict How Your Estate is Managed and Spent Even After Your Death. It can provide for the care, support and education of your children or grandchildren by turning over assets to them at an age chosen by you. Even insurance proceeds can be paid to the trust so your successor trustee can manage them for the benefit of your family.

It Gives You Peace of Mind. When your living trust is completed, you and your family will relax knowing that your estate will be managed and distributed by someone you have selected and trust.

- Raja Ahluwalia is an attorney based in San Mateo, Calif.
Culture: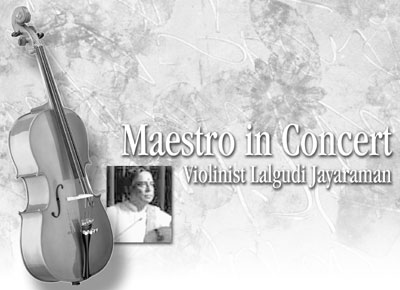 Maestro in Concert:
Violinist Lalgudi Jayaraman - By Zitin Bazaz Dhawan

Legendary Carnatic violinist Lalgudi G. Jayaraman will perform in the Bay Area to raise funds for Sankara Nethralaya. Zitin Bazaz Dhawan presents a preview.

An unmatched mastery of melody, rhythm, technique and style has brought for Lalgudi G. Jayaraman recognition as one of the most talented classical violinists of all time. Born into an illustrious musical family in Chennai, Lalgudi started performing as an accompanying musician at the age of 12. Fame and critical acclaim followed soon enough. In 1965, while performing at the Edinburgh Music Festival, famous violinist Yehudi Menuhin, overcome with emotion at the talent of this humble musician, presented Lalgudi with his own Italian violin. In 1994, Lalgudi presented a brilliant operatic concert in Cleveland, Ohio.

Lalgudi rarely accepts personal remuneration for his performances. Instead he diverts all funds into his trust which benefits laudable causes. His concert will benefit Sankara Nethralaya Eye Hospital in Chennai, India. This premier eye hospital offers free eye treatment and surgery for the poor and underprivileged in India. Acknowledged by Outlook magazine as the "Best Hospital for Eye Care," Sankara Nethralaya has served the very poor as well as the very prestigious, including heads of state. The Ophthalmic Mission Trust, a U.S.-based non-profit, raises funds for the treatment of patients free of cost at the Sankara Nethralaya Hospital. Lalgudi has agreed to donate his time and talent to the cause of the hospital and Ophthalmic Mission Trust.

Sankara Nethralaya's mission is to increase the number of free eye treatments that the hospital performs for the benefit of the poor and underprivileged.

For more information please visit the Sankara Nethralaya Web site at www.sankaranethralaya.org and www.omtrust.org

Lalgudi G. Jayaraman is performing in the Bay Area on Saturday, April 12 in San Jose. He will be accompanied by Lalgudi Krishnan and Lalgudi Vijaylakshmi on violin, Tiruvarur Bhaktavatsalam on mridangam and T. Radhakrishnan on ghatam. Interested readers can call Hema Parthasarathy for more information at (510) 793 4711.

- Zitin Bazaz Dhawan is director at inMedya Productions,
a Silicon Valley-based PR firm.

Festivities: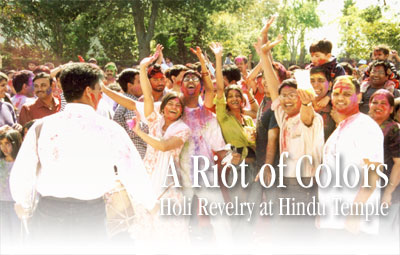 A Riot of Colors:
Holi Revelry at Hindu Temple - By Geeta Iyer

Desis let their hair down at the mammoth Holi festivities at Sunnyvale Hindu Temple, writes Geeta Iyer.

Color, songs, dance. Parents, kids, even grandparents. Desis and goras. It was one huge party at the Sunnyvale Hindu Temple March 15, and nearly 2,000 people joined in. Holi was celebrated traditional fervor here, and amid the gulal and frolic, Bollywood reigned supreme.

Amitabh Bachchan's "Rang barse," the unofficial anthem of festivities, resonated most with the crowd, but that wasn't the only song. Daubed in a variety of colors, participants danced with abandon to Bollywood hits, and mainstream American friends are beginning to catch on as well, it would seem.

As the Sunnyvale Hindu Temple celebrated its 10th year of Holi festivities, the event itself has grown from a small cozy affair to a huge, public event that now evokes holi festivities in India.

About 250 children participated in a special dance competition hosted by temple authorities that began at 3 p.m. Admission was a nominal $5, and it included food and colors.

"This year we have kids coming in from as far as San Francisco, Walnut Creek and Concord to Fremont and San Jose," Anita Gunsagar, temple committee secretary and cultural event organizer, told India-West newspaper. "We also have some mothers participating with their children this year," she added. For the first time this year the temple gave away gold jewelry to the four winning teams.

As for the adults, they danced away till the wee hours, and festivities ended at 2 a.m. Temple authorities were tired but pleased: They had hosted a mammoth event smoothly, and the community had participated with enthusiasm and joy.

- Geeta Iyer is a freelance writer.
She lives in Santa Clara, Calif.
Auto Review:




Sweet, Seductive Melange
2003 Audi A4 Cabriolet – By Al Auger

Top down, good sounds from the speakers, good vibes from the steering wheel, the Audi A4 Cabriolet is a great way to welcome summer, writes Al Auger.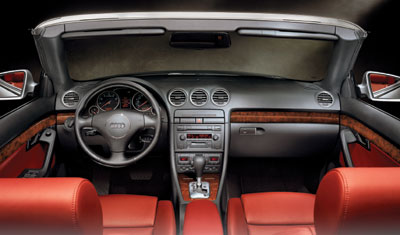 It's interesting the perception people have when discussing automobiles beyond their personal desires and/or pocketbook. My bagel store buddies, John and Ron, are representative of how most relate to this subject. The latest subject of our discussion was the seductive Audi A4 Cabriolet.

Once past the exterior package and the handsome alloy wheels, curvaceous front end, John and Ron checked out the fine points of the interior cosmetics. They pointed out the plush leather seating, the wood appointments, the Bose deep-throated 215-watt, 10-speaker sound system, etc. But, when you spend this kind of dollars for a special mode of transportation as the Cabriolet, it's really the "little" touches that make the difference.

Consider the fully automatic 4-window remote that adds a one-touch button for all windows. And there's the dual air-conditioning, storage trays under each front seat, retractable headlight washers, heated front seats, heated window washer nozzles, and so forth. Not exactly a cosmetic, but who would complain have a 4-year or 50,000 mile, no-charge scheduled maintenance or 24-hour roadside assistance by AAA — at no charge?

The true seduction begins when you settle into the driver's seat, crank up the 3.0-liter V6 and wrap yourself in the basso-profundo rumbling of the exhaust. Entertain the locals with the choreographed ballet of lowering the top. Lift the one-button and discover there are no clamps to release; the top lifts as the rear bulkhead opens and accepts the soft top and closes with a dramatic flair. The windows automatically close and you're ready to cruise.

You can pretty well measure the road-serious machines by the footprint they leave. The A4 Cabriolet leaves a very severe perception of intent with its 17-inch, 235/45 all-season rubber. Audi didn't grace us with the optional performance-tuned suspension, but the standard 4-wheel independent system is pretty impressive all by itself. Being a rather large ragtop, at 3,627 pounds the A4 is no lightweight yet it handles like a lithe athlete, quickly and with purpose.

The 220 horsepower, 3.0-liter V6 powers the A4 with the Tiptronic automatic transmission to 0-60 in 7.7 seconds; with the manual or standard automatic/manual multitronic with alternative manual shifter, the time drops to 6.9 seconds. Our chariot was equipped with the flexible multitronic shifter that is the latest iteration of the continuously variable transmissions taking over the drivetrains of many new cars today. To keep hotfoots cool the A4 is electronically limited to a top speed of 130 mph.

On the road, the A4 is a lovely addition to the verdant countryside as we two-step our way past old, rough-hewn barns, happy California cows in the fields of green grass and arthritically twisted and stately senior citizen oak trees. The road is a recent discovery that winds it way from Redding to the intriguing town of Platina, famous for being offered for sale on eBay. The A4, with its nicely balanced girth and flat stance, is one of the most comfortable back road performers at speed we've handled in some time. No matter the severity of the curves and bends the A4 ragtop traversed them like the proverbial butter on hot Teflon.

It may sound strange, even more so to myself, but the A4 Cabriolet, for the nonce, is not equipped with Audi's notorious Quattro all-wheel-drive system. This lack haunted me as we cruised silky-smooth through those lovingly intimidating road. An Audi spokesman did tell me this shortcoming would be rectified for the 2004 model year. Wunderbar!

The A4 Cabriolet truly represents the Audi signature of being one with the driver. This puts a large responsibility on that driver to live up to the Audi challenge. You either drive it or it drives you — take your choice. Top down, good sounds from the 10-speakers, good vibes from the steering wheel, an entrancing companion; what sweeter melange could you imagine?

Today's Test Drive: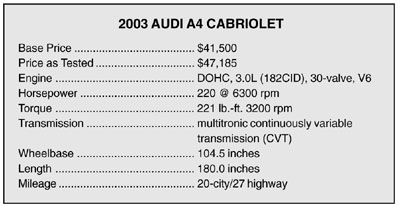 Al Auger, our automotive editor has been writing about cars for over 30 years.
He has spent 20 years as a race driver and public relations specialist.
|TOP|
Bollywood: | Guftugu | Hindi Film Review |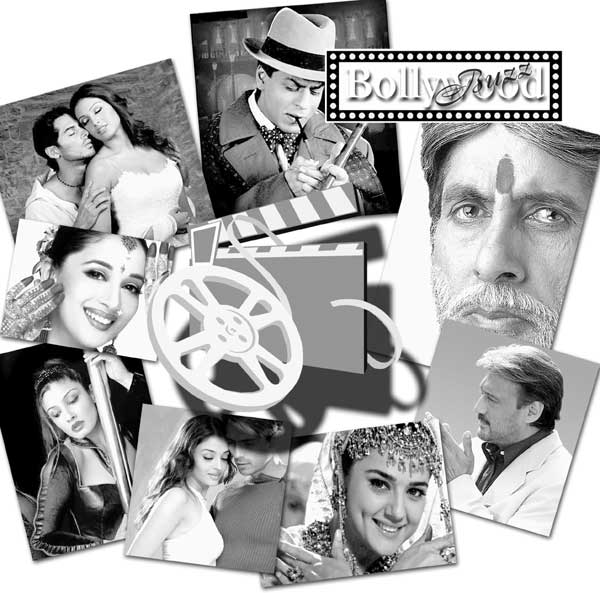 Guftugu

Broken Promises

Pious promises are like the morning dew in Bollywood. Now add Amisha Patel to the long list of Bollywood celebrities who have gone back on their own promises.

Remember the time when Amisha had hit the big time with teenage heartthrob Hrithik Roshan? She was different, she loftily announced. Not for her the petty rivalry and carping about rival film stars. She would die before sucking up to producers to get a plum role. Her highness found Bollywood too shallow, and rival Kareena Kapoor, with her tart observations about Amisha, a dreadful bore.

Well, that was then. Now Amisha seems to be doing exactly the things she said she didn't like. A little bird tells us she is fluttering her eyelids to get Akshaye to do more films with her, and when reporters interview her, the first thing she has to say is inevitably something about Kareena, and it's never anything nice.

Bollywood watchers tell us it all has to do with being hamstrung with a career that—surprisingly for somebody with so many hits—is going nowhere.
|Return to Bollywood Index| |TOP|

Beefcake Bazaar

Ladies, does Anil Sharma have great news for you. Big B and beefcake hero Akshay Kumar have signed a film with him, and for good measure, you are going to have Bobby Deol to stare at as well.

All of these hunks have been signed in for Ab Tumhare Hawale Watan Saathiyo. All three have signed the dotted line, says Sharma, though it's still not clear who will be the heroines beside them. Aishwarya Rai might be one of the two leading heroines, but nothing is final yet.

For those who like hunks with a heavy Jat flavor, Anil has another film up his sleeve: He has signed Sunny and Bobby Deol for another film, and the icing on the cake is the evergreen, ever-sexy Garam Dharam. Ahhh, do a I hear a few women swooning?

Now hold your applause, ladies. For the rest of us, let's also hope the film ends up being more than eye candy. Beautiful bodies only go so far, and if the film does not have a good story and high professional values, it's not going to work.
|Return to Bollywood Index| |TOP|

Brava! Preity

For all the gratuitous violence and choreographed fighting in Bollywood films, courage is a quality seen more on screen than off, a cynic might say. This, after all, is the land of make believe where if anything rules supreme, it's the almighty moolah.

Take the sordid saga of the Bollywood-underworld nexus. As the interminable case goes on forever with deep-pocket financier Bharat Shah trying to slip out of the prosecutor's grip, the case has had its share of drama, scandal and chicanery.

Dramatic audio-tapes revealed Bollywood hotshots having phone chats with Dubai-based thugs or their minions, then the court proceedings descended into farce as you had Bollywood celebrities denying their own confessions.

Well, not Preity Zinta. She went to court and actually did what she promised to do under oath: She spoke the truth. She stood by what she had said earlier about being contacted by an underworld goon.

Maharashtra Deputy Chief Minister Chhagan Bhujbal recently gave her a bravery award to mark his appreciation. Preity was endearingly modest: "Every man can be a policeman, I don't want to say big things; all I want to say is that I'm really happy, I'm here. It was a huge surprise to me."
|Return to Bollywood Index| |TOP|

Khan is Back

The Khan is back, although he has a huge collar round him now. Shah Rukh was in London for surgery to fix his back, and the operation has gone just fine. As he was returning to Mumbai he was a bit worried. The landing was bumpy, would that give his back trouble?

Happily for Shah Rukh, it didn't turn out that way. On reaching home, he called wife Gauri: "Don't sleep, I am coming." No place like home, and to top it all, he had returned right in time to attend the school event of his daughter.
|Return to Bollywood Index| |TOP|

Stumped Raveena

It wasn't too long ago when Raveena Tandon was in heaven. Okay, she wasn't the smash hit Bollywood heroine that she wanted to be, but she had managed to garner a degree of respect for her acting skills, and a bunch of awards proved it wasn't all hype.

Well, now she is going through a rough patch, it seems. Her production debut film Stumped, alas, describes her predicament exactly. A Kerala court has issued a notice to Raveena after a college student has filed a lawsuit against here. D. Sajeev, a student of Fatima Mata National College, has said Raveena's film is based on an article he wrote for a Malayalam daily in 1999.

Kollam Sessions Court Judge K. Chenthamarakshan has given Raveena, director Gaurab Pande and the production company 15 days to respond to the notice for alleged violation of the Copyright Act.

Let's hope Raveena doesn't get clean bowled.
|Return to Bollywood Index| |TOP|

Fickle Friends

Bye bye, friendship. Jackie has found out the hard way that Bollywood friendships can be as fickle as a moody mistress. Take his friendship with Nepali beauty Manisha Koirala. A beautiful friendship went down the tubes with Shashilaal Nair's Ek Chhotisi Love Story brouhaha.

Manisha took Nair to court for using a double to show more skin than she would like, and had expected old buddy Jackie to come to her support. But Jackie is a good friend of Nair, too.

Well, Manisha didn't get very far with her lawsuit, and some of her bitterness was redirected to Jackie.

Which is all very unfair, complains Jackie. After all, he says, he had once stood up for friend Manisha, saying she was much better that Aishwarya Rai. That got our Ash in a big huff, who said adieu to her friendship with Jackie.

With women, you simply can't win, it seems. Ah, frailty, thy name is friendship! (With women, of course).
|Return to Bollywood Index| |TOP|

Mom Madhuri

Bollywood superstar Madhuri Dixit has now a bigger star in her life than Devdas. It's a little boy, born to her in Denver. Her husband, as all Madhuri fans know by now, is U.S.-based NRI surgeon Shrikant Nene. The proud dad was present during delivery of the baby, who had a Caesarian birth because he came a few weeks early. Madhuri's parents have flown to Denver to see the new grandkid. Congratulations to the proud parents.
|Return to Bollywood Index| |TOP|

Bengal Beckons

Barely has our glamorous Ash finished taking her bows from her gorgeous performance as Paro— the unforgettable heroine of Sarat Chandra Chatyopadhyay's classic tragedy "Devdas,"—when she has an offer to play Binodini, a poor widow in Rabindranath Tagore's "Chokher Bali."

The filmmaker is the redoubtable Rituparno Ghosh who has an incorrigible habit of winning national awards for his films.

Binodini is one of Tagore's most complex characters. She is a widow and something of a rebel. A wealthy friend rescues her from loneliness and poverty, but the friend's husband ends up falling in love with Binodini.

Ghosh had once dabbled with the idea of casting Nandita Das for the movie. "After Devdas's mega success Aishwarya did seem out of reach for a small budget Bengali film," says the director.

But the actress was more than willing.
|Return to Bollywood Index| |TOP|

Hot Rumor

It's all a rumor folks. Director Vikram Bhatt said it simply isn't true that he was planning Ek Se Bhale Do with Dino Morea, John Abraham and Bipasha Basu. "Neither have I approached John Dino and Bipasha with such project nor is there such film in the offing. I don't know from where do these baseless rumors crop up," he said. Dino is back from Bangalore where he was with his family recuperating from the serious accident in Kulu Manali, recently. John and Bipasha are busy shooting for their respective films. It would have been quite a film. However, Vikram must have figured that the three together would have been too much to handle. After all, both Dino and John are ex-lovers of the busy Bipasha.
|Return to Bollywood Index| |TOP|

Be Yourself

Things are looking up for Sushmita. Remember the time when her career was headed south, ditto personal life, and she had taken recourse raising an adopted child?

Well, now she is in the big apple, shooting for It Rained That Night.

The film is Mahesh Manjrekar's English version of Astitva. Sen watched the film several times to do a perfect impression Tabu, but Mahesh put his foot down. Sushmita would be better off just being herself, said the director who plays her husband in the English version. Sushmita is pretty strong willed herself, and she argued at first. But ultimately she relented, and now the entire unit is raving about Sen's performance. Mahesh himself is ecstatic. One hopes, for Sushmita's sake, it's not all hype, because the poor woman need a break badly to salvage her career.
|Return to Bollywood Index| |TOP|


Hindi Film Review
Laughter-free Zone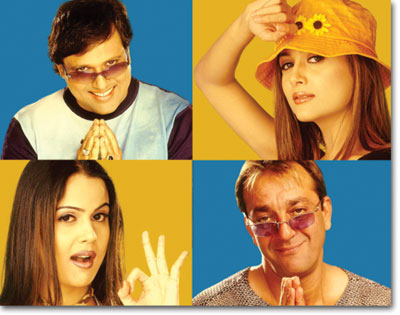 Mukta Arts'
EK AUR EK GYARAH

Directed by: David Dhawan
Music: Shanker-Ehsan-Loy
Starring: Govinda, Sanjay Dutt, Amrita Arora, Nandini Singh, Jackie Shroff, Ashish Vidyarthi and Gulshan Grover

Now how is that for a funny concept? A comedy without laughs. David Dhawan's Ek Aur Ek Gyarah, you have to say, is funny, but the filmmaker has no reason to smile. It's funny as in odd, not humorous.

Longtime Bollywood buffs will know that when David Dhawan, Govinda and Sanjay Dutt and get together, a comic romp about crooks cannot be far behind. They are indeed thick as thieves.

As Yogi Berra once said, "It's déjà vu all over again." It's probably more appropriate to say it's Jodi No. 1 and Haseena Maan Jaayegi all over again.

Only it isn't. It's much worse. The same basic formula is at work, but the freshness of the gags has been replaced by tired old slapstick routines that have long exhausted its humor quotient. Not that the original films were exactly Oscar material, but it sure feels like that when you see Dhawan's later stuff.

The cockamamie story is partly to blame. Here's how it goes: Tara (Sanjay Dutt) and Sitara (Govinda) are small-town thugs who like to fool around. One day, however, they get into serious trouble during a chase by police when they shoot a notorious criminal. This being Bollywood, this thug goes by the colorful name of Cobra (Ashish Vidyarthi).

Tara and Sitara give cops the slip, and the hapless Cobra gets caught in a police dragnet. Needless to say, Cobra is not pleased.

So now Tara and Sitara are caught between a rock and a hard place. On the one hand, the cops are after them, on the other hand, Cobra is sharpening his knife. They figure they will cross over to Nepal and live happily ever after.

Not so fast, buddy. Cobra's brother Panther (Gulshan Grover) gets into act. Apparently he has the code to a godawful weapon. He is in jail, however, so there isn't much he can do.

Meanwhile, Tara and Sitara figure the only guy who can bail them out and help them get to Nepal is BSF Major Ram Singh (Jackie Shroff), who incidentally, arrested Panther.

Adding to the tangle is Pinky (Amrita Arora), Ram Singh's sister. Tara falls in love with her, and her friend, of course, falls in love with Sitara.

It all becomes a huge, complicated mess when Panther arranges Pinky's mother to be kidnapped so that he can blackmail Tara and Sitara to somehow con Major Ram Singh in letting Panther go. Or something similar, I don't know. By this time, I was too confused and bored to care. Of course it all ends well, but it's a Bollywood comedy, so that's only expected.

An element of the absurd is the stock-in-trade of comedy, but there's a limit. The way the films characters keep bumping into each other in circumstances that get more implausible with each passing moment makes the whole film ridiculous rather than funny.

Shanker Ehsan Loy's jarring music doesn't help, and Govinda's comic contortions have an air of desperation that evokes more groans than guffaws. Jackie Shroff is jaded, and with this dumb porpoise of a script, who can blame him?

So David Dhawan has made another dumb comedy that isn't funny. What's new? The big deal is that Bollywood's big enchilada has put its stamp on the film. We are talking about the ebullient Subhash Ghai, no less.

On Ghai's ample shoulders rests a lot of responsibility. Bollywood is facing a crisis: the hit-flop ratio is nothing short of catastrophic. Bollywood never ever had pretensions of artistic values, but its reputation for entertaining the masses is well deserved.

At times of crisis, film producers like Ghai need to step up to the challenge to lead the industry out of the doldrums with films which are fun, wholesome and have good production values. Short cuts with yesteryear's hit comedy directors just won't do the trick. This is not old wine in an old bottle.

|Return to Bollywood Index| |TOP|
Tamil Film Review:
Pedestrian, Disappointing Fare

ANBU

Director: Dalapathiraj
Cast: Bala, Deepu, Vadivelu, Adithya, Abhinayasri, Vijayakumar, Rekha, Damu

Although the narration moves fairly smoothly in the first half of the film without a hitch, with few flaws, it appear to hit a roadblock in the second half after the story shifts to Ooty. Add to it the standard baggage: some loose ends, some contrived and clichéd scenes, and the expected ending.

The director's inspiration seems to be Bhagyaraj's Antha Ezhu Naatgal. Anbu, the son of an influential politician, falls for college student Veena. Helped by their friends, they manage to sneak in some sweet moments together. Anbu's caste-conscious father learns of his son's affair with a girl from a different caste and packs off his son abroad. His intimidation and threats force Veena's widowed mother to get Veena married elsewhere. Anbu returns, his heart broken, and in a bid to reclaim his beloved, rushes to Ooty where the newly weds have gone on their honeymoon.

Bala is a good find and essays his role with confidence. Two fight scenes have been forcibly thrust into the narration for the hero to help display his fighting prowess. Deepu had played the street singer in En Mana Vaanile and gets to play the heroine here. Better make-up and some more expressions would have helped, for Deepu looks pale and listless most of the time.

Adithya as her husband begins well, playing an understanding husband who wishes to share his past with his wife and vice versa. Only, after he confesses to her, he never bothers to ask her for her part of the story, and never attempts to get close to her either. The character fizzles out after the first few scenes, and the debutant hardly gets a chance to leave a mark. The scene stealer is undoubtedly Vadivelu. With his repartee and perfect timing, the comedian peps up the proceedings and plays a major part in keeping the narration interesting in the first half. But in the second half, even he couldn't do much to hold the film together.

Director Dalapathiraj had apprenticed with Thangar Bachan while the latter was shooting Azhagy. Udhayageetha Cine Creations, which produced Azhagy, has produced Anbu, too. But the producer-director duo has failed to live up to expectations, and Anbu has turned out to be disappointing fare.
|TOP|
Recipe: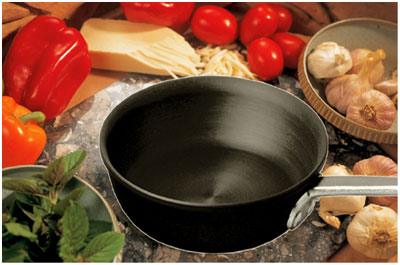 Quick, Spicy and Delicious:
Tawa Veg Platter – By Seema Gupta

It's a quick snack, and makes an excellent dish with warm rotis. Seema Gupta shows you how to make it.

Ingredients

1 medium size potato (boiled)

1 carrot

8 to 10 French beans

1 small bell pepper

1 small beet

1 cup cauliflower

2 green onions

6 green chili

1 cup green peas

1 medium tomato

1/2 lb paneer

1 tbsp garam masala

1 tsp tawa fry masala

1 lemon

2 table spoon margarine

salt to taste

finely sliced onions for garnishing

chopped coriander leaves (garnishing)

Method

Cut all vegetables. Do not chop finely. Wash them with water and drain.

Pour one table spoon margarine in a flat pan and heat.

Add all the cut vegetables and diced paneer to the pan.

Add garam masala, tawa fry masala, and salt.

Add finely chopped green chili. Stir well.

Add the second table spoon of margarine and stir to marinate the vegetables well.

Cook till vegetables are mild brown and dry. Let the margarine and masala paste dry out. Spread on a platter and garnish with coriander leaves, lemon pieces and onion rings. Serve sizzling hot.

– Seema Gupta is a homemaker
based in Sunnyvale, Calif.
|TOP|
April - May Horoscope

ARIES (March 21 to April 20): A major gamble will pay off. Major changes in life are foreseen. You may accept an assignment at a distant location. Issues related to property will be resolved to your satisfaction. You may develop some sort of a skin problem and lack of iron in the body.

TAURUS (April 21 to May 20): Stress will reduce all of a sudden. You may launch a new project in association with old colleagues. Sign all contracts after careful scrutiny. People in business should maintain strong vigil on subordinates.

GEMINI (May 21 to June 20): Do not let opportunity slip this time. Time is on your side. Expenses will stay under control and you may make money through stocks and bonds. You may have property refinanced. Spouse should be careful in the kitchen. Children will do well at school.

CANCER (June 21 to July 22): You will finalize a big, long term project. Chances of a new member being added to the family look bright. You will actively participate in religious work. A big check is seen coming, check your mail regularly.

LEO (July 23 to August 22): Financial strategies will start yielding profitable results. You will overcome a major obstacle in career. You will be signing important papers. A very interesting person will make an offer you possibly couldn't refuse.

VIRGO (August 23 to September 22): Sudden changes in career will upset plans and you may have to rethink your options. Expenses will drain you. Some one very close will move out of your life. Your car will need servicing or minor repairs.

LIBRA (September 23 to October 22): Job fears will diminish. Relocation plans will be finalized. You will benefit from some one much younger in age. Socially you will be in great demand. You could hit it big if try your hand at lotto or financial speculation of any kind.

SCORPIO (October 23 to November 22): Be extra cautious in all financial deals. One wrong move now could lead to huge debts. You will be hopeful and try to rebuild a dead relationship. You may sign a contract with a large corporation.

SAGITTARIUS (November 23 to December 22): Financially, things will improve in a big way. You will finalize plans to relocate. You might be restless because of very slow progress. You might make plans for an overseas trip.

CAPRICORN (December 22 to January 19): You will make good use of time. Pending jobs will be done without any hurdles. You will be working on a major project, which will make life more secured. You may get a big refund in a few days.

AQUARIUS (January 20 to February 18): Celebrations will keep you busy. You may plan a small vacation with family. A business or career-related offer from a distant location is on its way. Expenses will exceed your budget. You will meet a very influential person. You will be writing important letters.

PISCES (February 19 to March 20): Watch out for guerrilla enemies around you. It is better to compromise rather than getting into lengthy battle. You will sign an important business contract. Value of stocks recently purchased will appreciate and it will be better to dispose them quickly. Good news is on its way.