Publisher's Note
The Enron scandal made a horrified public realize just how far corporate greed can go. However, telecommunications is a somewhat esoteric field that does not lend itself easily to sexy news stories. Nor are the main players particularly well known.
Om Malik, a writer for Business 2.0, has been a close observer of the industry for many years. With his expertise in both the technology and financial markets, he is well placed to piece together the story of how the huge $750 billion telecommunications scam happened. It's a rollicking tale of corporate crooks, greedy financiers, millions of unsuspecting investors, clueless venture capitalists, crooked forecasters, self-proclaimed pundits and hapless entrepreneurs. He has written about it in a new book, "Broadbandits! Inside the $750 Billion Telecom Heist."
We made it our cover story for two reasons. Firstly, it's a cautionary tale about the perils of unbridled capitalism. The telecom debacle proves that the market is to economics what fire has been to the rise of civilization: a vital tool, perhaps, but a terrible master without effective checks and balances. The second, somewhat parochial reason for our choice is this: It's nice to see a South Asian writer venture into investigative business reporting.
Ashok Deo Bardhan's wry commentary on the U.S. media's role during the Iraq war should draw more than the occasional sardonic smile; it's a sobering reflection on how the powers that be continue to manipulate opinion, and how conscious vigilance is the real antidote.
In this issue we also carry an essay by Berkeley computer science graduate Ankur Luthra: It is his broad, humanist vision which impressed us as much as his formidable academic performance.
|
TOP
|
---
Main Feature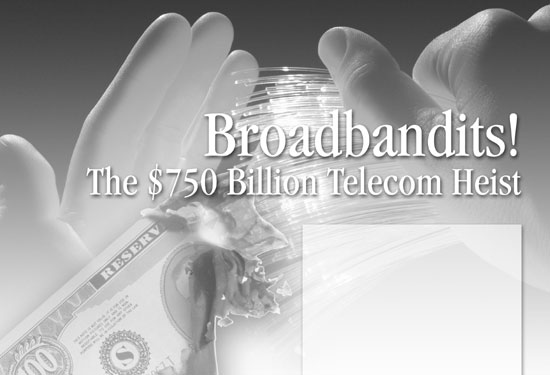 Broadbandits!:
The $750 Billion Telecom Heist
- By Deepak Goyal
Business and technology writer Om Malik has pieced together the sordid saga of how telecom mavericks made millions, greedy financiers fleeced unsuspecting millions, clueless venture capitalists, crooked forecasters, self-proclaimed pundits and hapless entrepreneurs, writes Deepak Goyal.

Business writer Om Malik, author of "Broadbandits"
Veteran business and technology reporter Om Malik was there when it all happened, and now he has written about the great telecom heist in his new book "Broadbandits! Inside the $750 Billion Telecom Heist."
A former writer for Forbes, Malik later moved to Red Herring and now writes for Business 2.0. His own interests changed and evolved as the industry around him changed. He started writing about PCs and the Internet, then moved on to telecommunications. In his book, he combines personal interviews, published reportage and his own knowledge of the financial markets and telecommunications technology to piece together a breathtaking story of how the shenanigans of a handful of men and a dozen companies left the telecom industry in a shambles and shareholders and investors broke while making the big players rich beyond their dreams.

"Poof! $750 Billion is Gone," says the Web site on the book, www.broadbandits.org. "Forget the dot-con; the biggest bubble in the history of the modern world was the telecom bubble. At its peak in February 2000, Wall Street valued the telecom companies at $2 trillion — that is more money than the entire Third World debt and change. Today the entire sector is worth less than a third of that."

The basic statistics are staggering. Over 15 companies have filed for bankruptcy, and that's just for starters. Several others are walking down the same path.

And don't think it's just rich investors and trust fund kids who are hurting. It's average Joe and his or her pension which has taken a beating. Not just one or two, either. Its estimated that while corporate fat cats squirreled away their own money into safer havens, they played fast and loose with employee funds, and after the telecom crash, 400,000 employees have been hit with a double whammy—they have lost both their jobs and retirement savings.

"'Broadbandits' is the story of the new gold rush," says the Web site. "It is an engaging behind- the-scenes look into the telecom bubble, with tales and anecdotes about mavericks who turned simple light and glass fibers into veins of gold, financiers who got greedy and fleeced unsuspecting millions, clueless venture capitalists who thought they'd tapped into the mother lode, crooked forecasters, self-proclaimed pundits and hapless entrepreneurs who believed that they were changing the world.

"The book introduces a colorful cast of characters — from the son of a former Brooklyn garbage man to the scion of a blueblood Yankee family — and tells how they got swept up in the mania. It gives the inside story of how many telecom upstarts and veterans alike became victims of what one chief executive calls 'high-yield heroin' and it also takes a critical look at how well-meaning government actions can sometimes have disastrous results."

Malik says that several factors led to the huge scam: The cult of the CEO, unrealistic growth expectations, the fact that CEOs completely lost sight of their fiduciary responsibilities to their shareholders, and the fact that most CEOs lacked the guts to tell Wall Street something all of them knew — that this bubble was going to burst.

Here's a quick look at the dramatis personae:

The Big Enchiladas

Gary Winnick, cofounder of Global Crossing who holds the record for becoming a billionaire faster than anyone in U.S. history. Meanwhile, his company blew through $15 billion in investors money in less than five years and has become the fourth largest bankruptcy case in U.S. history. His take from Global Crossing — $735 million.


Bernie Ebbers, the WorldCom chief executive who used the broadband hype to boost the WorldCom stock, and then built a private fortune, which includes ranches in Canada and the timberlands in the American South.


Jack Grubman, known as telecom's pied piper — a telecom analyst at Salomon Smith Barney. During the height of the mania in 1999 and 2000, he had buy recommendations on 30 telecommunications companies. More than a dozen are now bankrupt and others are on the verge. For his efforts, Jack pocketed a cool $100 million.


Joe Nacchio, a former AT&T executive who got his big chance when he became chief executive of Qwest Communications. He cleared around a quarter-of-a-billion dollars in the five years he has was been at Qwest, while the company's market value plummeted. He made bad decisions, shortchanged employees, ran the company into the ground and allow the fiber capacity swap fraud.


Ken Rice, the former chief executive of Enron Broadband Services was a former gas-pipeline executive, who was more interested in his collection of Ferraris and motorcycles than running Enron Broadband. For this, he made $70 million.

The Sidekicks

Scott Sullivan, WorldCom's chief financial officer, massaged numbers at WorldCom just so that stock wouldn't crash and founder Bernie Ebbers wouldn't go to jail.


Matt Bross, chief technology officer of Williams Communications, who pioneered a new kind of financial trick — the equity-for-customer-contract deal. Start-ups such as Corvis, Avici Systems, ONI and Sycamore Networks paid Bross millions in stock to use their equipment.


Richard McGinn, the former CEO of Lucent who was fired in October 2001, but given received a severance package worth $12.5 million. Incompetence paid-off handsomely — his total take for reducing Lucent to shambles: about $38 million.

"Unlike the dotcom bubble, those who helped create and nurture the telecom bubble are still a shadowy bunch, and their stories (with the exception of Global Crossing chairman Gary Winnick) remain largely undocumented," says the "Broadbandits" Web site. "There are some who became fabulously wealthy. 'Broadbandits' will tell you exactly who made off with how much and some who never even got to the million-dollar mark before crashing and burning. If all this sounds relentlessly gloomy, the book will end by taking a look at some of the bright spots the future may hold, and what broadband and telecommunications might look like ten years from now."

"Between 1996 and 2001, what went wrong was the execution of the broadband dream. The six-year-long broadband bubble was the result of a 'here-and-now' culture where all of us became obsessed with our 'net assets'" and forgot about our net worth," Malik writes in Forbes.com in an essay adapted from his book's epilogue. "From the very start, the deregulation of the telecom business was flawed; the Telecommunications Act of 1996 was drafted without taking into account the coming Internet tsunami. Baby Bells such as Verizon and SBC Communications, which are among the highest contributors to politicos, ensured that they have a home field advantage."

It's not all over yet. Up to $100 billion in fiber network investment could be written off in the next three years. Malik's book goes right behind the scenes and puts the spotlight on the slick operators who made a quick buck, the "experts" whose fall from grace has been as spectacular as the dizzy heights they had once ascended. Plenty of honest entrepreneurs lost out too, and in the resulting hangover, even good ideas are orphans — venture capitalists are just too risk-shy to entertain unconventional ideas.

Malik is harshly critical of what happened, but he says something good came out of it. Here's what his critique about what happened in Forbes.com: "Greedy chief executives undermined the American free market system by stuffing their coffers; Wall Street encouraged the management of broadband companies to adopt short-term metrics; and investors simply played along. And the little guys just got slaughtered. The greedy chief executives who failed upwards should be penalized, and I would not shed a single tear if any one of them is sent to the big house up the river. They deserve it."

But something good came from the bubble as well. "Baby Bells, which had been sitting on the DSL technology for almost a decade, were forced to roll out the service because Covad and NorthPoint put pressure on their T-1 business," he writes. "Sure the Bells won, but so did the consumers. @Home's early success prompted cable companies to make Internet access a priority. Comcast today has made high-speed Internet access its top priority. Long-distance phone prices are down into single digits. While these developments will not replace the lost dollars in the 401(k) of a telecom worker, they hold some hope for the population at large."

Quotes:

Om Malik's spread of blame for the Internet bubble shows there's plenty to go around. For my part, I am sorry and promise almost never to do it again. Malik holds a special place in hell for Solomon stock promoter Jack Grubman. But then Wall Street should have weeded him out way back when they caught him lying about going to MIT.

- Bob Metcalfe
Ethernet Inventor, 3Com Founder, InfoWorld pundit, and Polaris Partner
Om Malik has the courage to write that instead of reporting EBITDA — earnings before interest, taxes, depreciation, and amortization, the CEOs he calls broadbandits reported their own style of EBITDA —earnings before irregularities, tampering, and dubious accounting. His pen is as wicked as Mark Twain's.

- Blaise Zerega
Managing editor, Wired Magazine

Broadbandits weaves together a story of greed, money, power and crime to reveal to the millions of people who lost their investments in telecom stock where, and to whom, their hard-earned dollars went.
- Charles Dubow
Executive Editor, Forbes.com
Rare, for a book in its field, Broadbandits is an attractive, stodge-free read. Accessible, even mischievous, it should prove instructive not merely to geeks, (disgruntled) venture capitalists, and bankrupt telecom tycoons, but also to that species most neglected of all—the lay reader.
- Tunku Varadarajan
Editorial Features Editor: The Wall Street Journal

Broadbandits is a fast-paced tale of the key players responsible for inflating the telecom bubble. Many were fools, many others rogues, some managed to escape with riches, some were ruined. With an unforgettable cast, Broadbandits is a sobering account of monumental financial waste and the derailment of hundreds of thousands of lives.

- Andrew Odlyzko
Director, Digital Technology Center and
Assistant Vice President for Research, University of Minnesota

- Deepak Goyal is a freelance writer. He lives in Kolkata.
---
Infotech India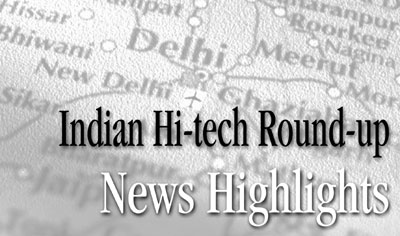 Smart Cards… Keep Govt. Out: Murthy… Hi-tech Crime… BSNL: Expanded Capacity… Cyber Cafes at Railway Stations... Huge U.S. Order... TICEL Biopark... Biotech in Kerala... India-China IT Ties... U.K. Likes Indian IT... Connect 2003... BEL Bags Order... NASA Woos Indian Guru... Itanium 2 Processors... MGB, Zenith Infotech — Here is the latest on information technology from India

Smart Cards

A national initiative, being launched this month, will let students to are insured for their health, and have their academic records embedded in a smart card.

The Nascent-Apollo Health Card initiative, beginning on a pilot basis in over 40 engineering colleges in Tamil Nadu, is expected to benefit thousands of students, who will get a card with their health and academic records.

"The students will have to pay a one-time nominal fee during their admissions. They can access medical facilities from Apollo group's network of hospitals during the four years they study engineering," Society for Integrated Circuit Technology and Applied Research CEO M.S. Vijayaraghavan said in Bangalore.

Nascent — National Smart Card Consortium of Enterprises — is a national body formed by government agencies like Electronic Corporation of India Ltd, Society for Electronic Transactions and Security and SITAR to establish indigenous development of chip-based smart card solutions to sensitive applications including the proposed national citizen's identity card.

Nascent has tied-up with the Chennai-based health services giant Apollo Hospitals group, which has a network of hospitals and health clinics in Tamil Nadu, and has a third party administrator unit to cover health insurance for the initial venture.
|Back to Infotech Index| |TOP|

Keep Govt. Out, Says Murthy

Blaming successive governments for the country's failure to attain a "developed" status, Infosys chairman N.R. Narayana Murthy June 28 favored the government exiting from economic activities in a phased manner and handing over all development initiatives to the private sector.

"The first step is to phase out the role of government in all economic activities. The inefficiency of our public sector reiterates the need of this," he said in Delhi while delivering the keynote address for G.B. Pant Memorial Lecture.

Citing the example of a government-controlled industry like sugar, he said the raw material prices have made exports unviable with operating profit last year falling by 18 percent and net loss reaching Rs. 95 crore.

On the other hand, in Delhi's power sector, where private companies have recently taken over the distribution, load-shedding has been reduced by 15.9 percent and consumption has increased.

All development activities for the common man — education, healthcare, shelter and food distribution — should be handled by reputed private sector institutions, Murthy said.

"We have failed because of a lack of management talent in the government," he said, while stating that the nation of a billion people is far off from achieving many of its goals.
|Back to Infotech Index| |TOP|

Hi-tech Crime

In an unprecedented development, CBI June 27 recorded the statement of a key American witness through video-conferencing in a case where an Indian engineer has been accused of trying to sell the software of a U.S.-based company.

The witness, Tom Vorgitch, a U.S. national, was examined by the metropolitan magistrate and his statement recorded through video-conferencing for which arrangements were made by the National Informatics Center, a CBI spokesman said in New Delhi.

In keeping with Supreme Court guidelines, Indian Consul at San Francisco Vinod Sharma was present with the witness to ensure that there was no other person in the room while evidence was being recorded. Sharma also ensured that the witness was not coached, tutored and prompted, the spokesman said, adding that the entire proceedings took three hours.

The case came to light in August last year when an IIT-graduate computer engineer, Shekhar Verma, was arrested by CBI for allegedly stealing the debug code of a software worth $60 million and trying to sell it to other companies for a fortune.

The case was registered against Verma by Manu Parpia, managing director of Mumbai-based Geometric Software Solutions Company, for whom the engineer had worked.
|Back to Infotech Index| |TOP|

Expanded Capacity

The BSNL Tamil Nadu circle had sent a proposal to add 200 more towns to its cellular phone network and also expand the capacity of the cellular phone services in 115 towns across the state.

Chief general manager of the circle K/ Mahadevan told reporters in Madurai that though BSNL's CellOne had started operation late in October, had integrated its pilot cellular phone project with the main project with equipment from Motorola and Siemens, and was No.1 in the circle with a market share of 34.63 percent.

He said BSNL continued to finetune its cell operations and very soon all its defects including billing problems would be rectified.

The Tamil Nadu circle had the capacity to give 60,000 more cell phone connections apart from 278,000 already existing connections. Indian Airlines had shown interest in taking BSNL cell phone for its officials.

Referring to the shortage of pre-paid cards of certain denominations, he said the pre-paid cards had arrived and the situation would ease soon.

The Tamil Nadu circle also proposed to give 100,000 Wireless Local Loop connections within two months. The WLL phone would replace 3,500 rural radio public phones as they were maintenance free.
|Back to Infotech Index| |TOP|

Cyber Cafes for Railway Stations

Railtel Corporation of India, the communication arm of Indian Railways, plans to set-up cyber cafes at over 200 major railway stations across the country by the year-end, Railway Minister Nitish Kumar said June 26.

"The first cyber cafe will be inaugurated tomorrow at New Delhi Railway Station. Based on the feedback of the users, we are intending to extend to over 200 important stations in the country in the first phase by the end of this year," Kumar told reporters at the commissioning of the optic fibber communication link on Bangalore-Secunderabad, Secunderabad-Vijayawada-Chennai and Chennai-Ooty-Bangalore in Bangalore.

He said the cyber cafes would be extended to all railway stations in the country, based on the initial success.

Stating that Railtel had set a target of laying optic fibber cable for over 40,000 km in the country, Kumar said nearly 21,000 km have already been laid.

The railways was experimenting with providing broadband Internet access on moving trains, the first such in the world, he said. The service would be launched on a train this year.
|Back to Infotech Index| |TOP|

Huge U.S. Order

Chennai-based Hexaware Technologies has received a multi-million dollar contract from a U.S.-based customer, whereby it will provide Human Resource solutions to the latter.

"The solutions will be deployed globally using PeopleSoft version and .Net technologies," Hexaware Technologies chief executive officer Rusi Brij said June 25 in Mumbai.

However, he did not divulge the contract amount or the name of the client, citing a non-disclosure agreement, but hinted that the customer was a major software and product development firm.

The project, to be completed by early next year, comprises upgradation, implementation, development and integration of PeopleSoft and .Net technology platforms, he said in a release.

The new system would support all HR functions including performance management and recruiting, he said. The project would be handled using onsite/offshore delivery methodology, he added.
|Back to Infotech Index| |TOP|

TICEL Biopark

TICEL Biopark, the ambitious multi-million rupee biotechnology park in Chennai being promoted by the Tamil Nadu Industrial Development Corporation, is fast nearing completion for opening by March next year, K.R. Viswanathan, managing director of the park, said June 26.

"Construction activities for the Rs. 620 million, 145,000 sq ft facility are going on in full swing while enquiries are pouring in from leading Indian and foreign biotech firms for acquiring space in the park," he told reporters at the sidelines of a function here.

He said agreements with the first list of clients were expected to be signed in the next two months.

One of the early birds was VIMTA Labs of Hyderabad, which would be setting up an exclusive facility in the park to address the quality testing requirements of biotech companies.

The proposed VIMTA biotech laboratory would be equipped with all requisite molecular biology equipment, including the latest mass spectrometers, Dr. S.P. Vasireddy, chairman and managing director of VIMTA Labs, said.
|Back to Infotech Index| |TOP|

Biotech in Kerala

The Kerala government has embarked on an ambitious scheme to tap the commercial potential of its biodiversity, especially that of herbs and spices, Industries Minister P.K. Kunhalikutty told the state assembly June 26.

As part of this, biotechnology parks would be set up in Thiruvananthapuram and Kochi to attract biotech-based industries in a big way, Kunhalikutty said in a reply.

The project would aim at increasing the investment and employment potential of Kerala's inherent strength in the area without harming biodiversity. A special officer had been appointed for follow-up action.

The project also envisaged mutually complementary roles for research institutions and the industry.

The state agency, Kinfra, had begun discussions with industrialists in the biotechnology field. Creation of a herbal village to conserve medicinal plants and spices was also on the anvil, he added.
|Back to Infotech Index| |TOP|

India-China IT Ties

Highlighting India's achievements in Information Technology, Prime Minister Atal Behari Vajpayee June 26 suggested an "effective alliance" between India-China IT sectors and said it could become a "potent force" with far wider applications in South-South co-operation.

Dwelling upon the progress made by India in the software field and China's leaps in the hardware sector, Vajpayee told an industry gathering in Shanghai that "our respective competence provides a natural ground for an effective alliance in the IT industry."

The strong international brand recognition of Indian IT firms was an asset that can enrich an India-China IT partnership, the prime minister said in a speech.

Observing that technological advantage could be sustained only with research and continuous innovation, he said if countries like India and China were to concentrate on specific areas of their technological advantage, they could benefit far more than by competing across the spectrum.

"In combination, rather than in competition, Indian and Chinese IT industries can be a potent force. This is a principle which has far wider application in South-South co-operation," Vajpayee said on the penultimate day of his six-day official visit to China.
|Back to Infotech Index| |TOP|

U.K. Likes Indian IT

Favoring Indian IT professionals getting work permits in Britain, British Minister for Foreign and Commonwealth Office Mike O'Brien said July 1 they would like to see the Indian response to offers for greater access to its professionals.

Addressing a one-day joint symposium on "International Business Perspectives of India: 2003 and Beyond," he said there had been skill shortages in the U.K. and Europe in the IT sector and many had been filled by highly-educated Indian professionals.

"It is in both our interests that they should be able to obtain work permits here," he said, adding that the latest Home Office figures indicated that of the more than 22,000 work permits issued to people of Indian nationality in 2001-2002, 60 percent were IT professionals. India topped the list of countries from where skilled manpower came to the U.K.

O'Brien said in the WTO context India has strong interests in obtaining secure long-term access for such professionals through the General Agreement on Trade and Services Mode 4 on the temporary movement of persons.

Stating that EC's recent GATS offer was good for countries like India, he said, "It covers intra-corporate transferees, business visitors and contractual service suppliers in no fewer than 22 service sectors."
|Back to Infotech Index| |TOP|

Connect 2003

Connect 2003, the third Tamil Nadu annual ICT show, will be organized jointly by the Confederation of Indian Industry and the Government of Tamil Nadu from Sept. 18 to 21 this year at the Chennai Trade Center in Nandambakkam.

Connect 2003 plans to focus on the opportunities in IT in domestic market, e-Governance in states of India, opportunities in value-added BPO in Tamil Nadu and on enterprise verticals including BFSI, transportation and healthcare sectors, Tamil Nadu IT Minister D. Jayakumar said in Chennai July 1.

Chief Minister Jayalalithaa is being invited to inaugurate the conference which would showcase Chennai as a major IT destination.

Connect 2003 will feature international delegations from Malaysia and Sri Lanka, besides delegations from the U.S., Europe, Middle East, Singapore and Asia Pacific region as well as IT ministers, IT secretaries from all over India.

Tamil Nadu IT secretary Vivek Harinarain said the conference would showcase Tamil Nadu's strengths as a value-added BPO destination. The conference would also highlight the state's capabilities in BPO especially its domain knowledge in accounting, automotive, engineering designs and healthcare.

The headquarters of the Society for Electronic Transactions is being set up in Chennai, he said, adding that this was a matter of pride for the state. The state government had agreed to provide three acres of land and also contribute Rs. 6 million towards membership fee.

The society was for the time being operating in a 5,000 sq ft complex in Nungambakkam here, he said.

The exhibition also features a product launch pad for exhibitors.

Connect 2002 witnessed 12 product launches, and more than 20 new products are expected to be launched at Connect 2003, CII Tamil Nadu's past chairman R. Parasuraman said.
|Back to Infotech Index| |TOP|

BEL Bags Order

Bharat Electronics Limited July 1 said it has received an order from the Tamil Nadu government for supply, installation and commissioning of 2 GHz 120 channel Digital Microwave Communication System on a turnkey basis to form a state-wide Digital Microwave Network for the Tamil Nadu police.

The Digital Microwave network, comprising 28 microwave links, would enable high quality transmission and networking of speech data and fax messages among all district headquarters and state HQ at Chennai, a BEL statement said.

BEL would carry out system design and manufacture, supply, install and commission the 2 GHz 8 MB microwave radios, antenna, multiplexers and exchanges along with towers and power supply system in seven months, it said.

The total value of the project is Rs. 80.2 million.
|Back to Infotech Index| |TOP|

NASA Woos Indian Guru

U.S. space agency NASA, baffled by new age guru 66-year-old Hira Rattan Manek's feat of living without solid food for a substantial period, has invited him for tests so that it could help them in their various programs, Manek's family said.

Manek, who has not had any solid food for the past eight years, as claimed by his wife, Vimlaben, has been surviving only on water and solar energy.

Manek, who is already in Orlando in the U.S. giving a series of lectures on solar energy, visited Kozhikode recently to participate in a felicitation function.

Vimblaben said from Kozhikode her husband required only two liters of water a day and had not taken a morsel of food since 1995, imbibing most of his energy from the sun. Manek gazes at the sun only during "safe periods" of an hour after sunrise and just before sunset.

It takes a person at least seven months to master this technique of gazing at the sun and imbibing energy through the eyes. As the body cells commence storing solar energy, gradually, the hunger pangs vanish, Vimlaben claims.

Manek has fasted for 211 days at Kozhikode in 1995, 411 days at Ahmedabad from January 2001 to February 12, 2002. Last year, in the U.S., he fasted for 130 days surviving only on water, she claims.
|Back to Infotech Index| |TOP|

Itanium 2 Processors

Global chip major Intel Corporation June 30 launched new Itanium 2 processors and Xeon processors MP with greater performance over its predecessors.

Senior company officials told a news conference in Bangalore the new server processors were built on the broad choice of software and operating systems and architectural strengths of Intel processors, extending the company's products for high-end enterprise computing.

They said the new Itanium 2 processor delivers up to 30 to 50 percent greater performance than the previous Itanium 2 processor (codenamed McKinley), while maintaining system compatibility with the previous Itanium 2 processor and two future Itanium processors (codenamed Madison 9M and Montecito).

According to the company, the 32-bit Xeon processor MP 2.80 GHz is compatible with existing Intel Xeon processor MP-based platforms and delivers up to ten per cent or greater performance over its predecessor and better transaction-processing performance than the RISC-based platforms at half the cost per transaction.

"The combination of our two enterprise architecture has addressed the diverse needs of enterprise computing from top to bottom," Intel India president Ketan Sampat said.
|Back to Infotech Index| |TOP|

MGB, Zenith Infotech

Canara Bank-sponsored South Malabar Gramin Bank, the largest regional rural bank in the country, tied up June 30 with Zenith Infotech for total computerization of the bank comprising 201 branches.

Addressing newsmen here, SMGB chairman T. Thomas Mathew said Zenith Infotech would supply hardware and software and give training to the bank's personnel. The entire process of computerization would be completed by 2005.

As a result of total computerization, the bank aimed to increase the banking hours, provide better customer services and utilize its manpower more effectively, Mathew said, adding in the first phase branches in Thrissur and Palakkad districts and a few major branches in Calicut and Malappuram would be computerized.

Stating that the project was a cost-effective one, he said while private banks spent about Rs. 350 million to Rs. 500 million to computerize branch, SMGB would spend an estimated Rs. 500,000 only per branch. "We will also not charge the customers for this," he said.

Akash Saraf, joint managing director, Zenith Infotech, who signed the contract for the project costing Rs 110 million, said the project was unique as banks usually undertook computerization only for accounting works.
|Back to Infotech Index| |TOP|

---
Opinion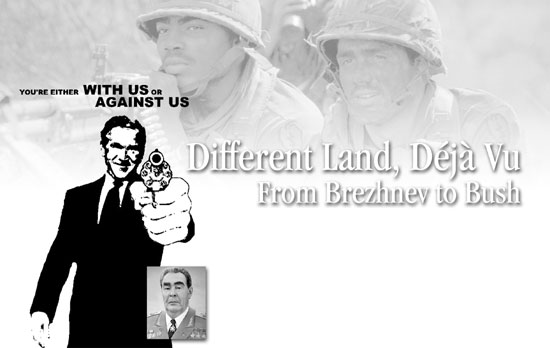 Different Land, Déjà Vu:
From Brezhnev to Bush
- By Ashok Deo Bardhan

The manufactured pro-war antics during the Iraq war in the "marketplace of ideas" in the nation that calls itself the leader of the free world brings back memories of Brezhnev's ossified Soviet Union, writes Ashok Deo Bardhan.

As one who spent his undergraduate days in Moscow during the twilight years of the Brezhnev era, and who now lives in the U.S., I must confess to an increasingly disturbing sense of déjà vu. Perhaps it started with the manipulation of the media in the run up to the Iraq war, the scripted press conferences, the dispatches of journalists "embedded" with the coalition forces — a masterly invention that would surely have made the apparatchiks of the old regime blush with pride; or maybe it is the environment of rising intolerance for dissent and disagreement with the "party" line during the war and indeed the post-war period. Or perhaps it is the proliferation of a whole new genre of jokes?

Of course, the Soviet Union in its stagnation phase was in many ways quite different from the triumphalism and in-your-face hubris of present day U.S., but many have noticed significant points of similarity. The major newspapers here have been nothing more than cheerleading mouthpieces, initially for the war effort, and now for the post-war agenda of the U.S. administration, although of course being certainly more entertaining and less sedate than the Soviet press of old. For the TV networks, on the other hand, the Iraq war represented nothing more than a unique opportunity to jointly showcase their servile deference to the state information machinery, their penchant for the graphic imagery of the "beauty of war," as they described it, and the presentation of news with the flair and detachment of a video game.

The high point in this entire journalistic farce was the absurd, "Animal Farm"-like atmospherics surrounding the president's pre-war press conference in early March. The entire White House press corps sat through the spectacle like timid and obedient school children, and submitted themselves to the process of going through a pre-planned, pre-approved charade. Nothing was left to chance. God forbid if the slightest whiff of spontaneity managed to insinuate itself into the proceedings! The questions were pre-selected, as were the journalists who were supposed to "ask" the questions with the right mix of sincerity and histrionics.

Suffice it to say the journalists were the better actors that day, with Bush slipping up and nearly giving the game away by blurting out to the CNN correspondent John King, who wanted to ask his question out of turn, "wait a minute, this is scripted." Sure enough, the major television networks and the newspapers continued with their good work the next day by air-brushing the embarrassing slip-up, and eliminating any hint of the extent to which the event had been pre-determined. In the post-war scenario the media has not yet managed to extricate itself from this feverish embrace. The collapse of the Iraqi regime is now being used to drive home to the anti-war protesters the supposed futility of their opposition to the war, and the word "propaganda," which used to be taboo in the U.S., is now openly bandied about, as in "the importance of winning the propaganda war" for the hearts and minds of the Iraqis.

While one does not wish to draw absurd parallels to the overtly state-controlled media of the former Soviet Union, one should be mindful of an important fact: in the Soviet Union it was common knowledge that the media was controlled and hence there was a kind of an equilibrium in terms of understanding misinformation or disinformation. In other words, people were adept at reading between the lines, at checking for the veracity of what was mentioned but also for the awkward news that was conveniently skipped, and were pro-active in their search for information. Paradoxically enough they frequently ended up being very well informed indeed. Here, the pretense of media independence has been carefully cultivated, although in wartime even that crumbles. This kind of "managed independence" can in fact be particularly insidious and can lull many people into a false sense of informed consent and a continued state of uninformed gullibility. Of course, in the present age of Internet and global communications the credibility of Western media can be particularly fragile and its loss potentially irreversible. While journalists "in bed" with the army rode pillion and acted as public relations officers for the coalition forces, those who attempted even a modicum of independence, such as Peter Arnett, who got fired from NBC for giving an interview to Iraqi TV, became a casualty of this tension between conformity and free speech.

Or perhaps, as I said, it's the jokes:

"President Bush spent the day calling names he couldn't pronounce in countries he never knew existed." — Jay Leno

"War continues in Iraq. They're calling it Operation Iraqi Freedom. They were going to call it Operation Iraqi Liberation until they realized that spells 'OIL.'" — Jay Leno

"President Bush has said that he does not need approval from the U.N. to wage war, and I'm thinking, well, hell, he didn't need the approval of the American voters to become president, either." — David Letterman

The international situation and the domestic political environment have given rise in America to that staple of Soviet life — the political joke. While Mr. Bush is, to put it mildly, a natural target of comedians and satirists, jokes embodying deep cynicism about the professed goals and objectives of the coalition forces, coupled with lack of respect for the political leadership have been doing the rounds, both on the late night TV shows, as in the ones above, and on the Internet, throughout the pre- and post-war period. Political jokes have always been more than just funny and entertaining: While exploiting the idiosyncrasies of the powerful, they can also be educational and analytical. Usually they reflect a deeper social and political reality, and portray a somewhat differently articulated unease. Often, they serve as an early warning indicator of alienation and powerlessness even in a modern democracy, not just in autocratic regimes where they might be the only way to let off steam. In the Brezhnev era, jokes were the only currency of political discourse and the only weapon ordinary citizens had for exacting some measure of psychological retribution and satisfaction. When the political leadership seemed to be saying: "Demonstrate for peace as much as you wish, but we will bomb as much as we want," and with elections and other such corrective political measures far away in the future, political jokes began filling the void of political action.

Another element in the similarity between the two regimes is the extent of dissent that is coming out into the open, and the nature of its participants. The period leading up to the war on Iraq saw the largest mobilization and manifestation of internal dissent in the U.S. in decades. Perhaps, never before had the dissonance between the governed and the leadership been so acute. But what was remarkable was the wide range of social and economic backgrounds of people expressing outrage at the machinations of the present administration. In addition to the usual shock troops of the San Francisco radical intelligentsia, anti-war rallies and events here in the San Francisco Bay Area attracted significant numbers of new entrants. The split in the establishment can be gauged from resignations of senior civil servants from the foreign policy establishment and in the arrest of people like Warren Langley, ex-president of the Pacific Stock Exchange. "People ask me who I'm representing," Langley said. "I'm representing the establishment. And there are a lot of other people out there who feel like I do."

To paraphrase that famous saying illustrating the value of history — sometimes when a farce in history repeats itself, it is repeated as a tragedy.

- Ashok Deo Bardhan is an economist in the San Francisco
Bay Area. He has studied in both the former Soviet Union and the U.S.

|TOP|
---
Report: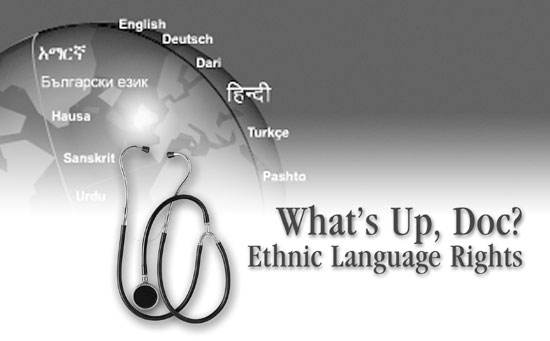 What's Up, Doc?
Ethnic Language Rights
– A Siliconeer Report

If you are sick, you may need more than a doctor. The New California Media has launced a campaign for ethnic minorities with poor or no English speaking skills to guarantee access to interpretation services is vital. A Siliconeer report.

Last month, the New California Media launched a two-year, $2.5 million social marketing campaign with ads placed in nearly 200 ethnic media organizations across California. The ad appears in 14 languages, reaching Arab, Cambodian, Ethiopian, Filipino, Iranian, Korean, Portuguese, Russian, Vietnamese, Japanese, Laotian, Thai, Hmong, Latino, Armenian, Asian Indian, Chinese, Japanese, Romanian and Pan-Asian audiences. Funding for the campaign was provided by a grant from The California Endowment, a private, statewide health foundation.

The ad informs ethnic communities that it is the right of every Californian who is not proficient in English to access interpreter services in hospitals, clinics and other health care settings.

"These ads are not only an effort to raise awareness about a basic civil right; they also represent the first time a major health foundation is investing in a partnership with ethnic media organizations as a way to communicate health care information with California's new majorities," adds Sandy Close, founder and executive director of NCM.

"It is essential that a culturally competent outreach effort include partner-ships with the state's ethnic media as that is where many within California's limited English proficient residents get their information," said Robert K. Ross, M.D., president and CEO of The Endowment.

The media range from well established in-language dailies like La Opinion, Sing Tao Daily, Philippine News and Rafu Shimpo to emerging media like Tadias, a new Ethiopian publication serving San Jose; KBIF, a local Central Valley radio station with Hmong programming; and Horizon TV, an Armenian station in Southern California.

Less than a week after the first ads began appearing, audiences are responding. On Al-Akhbar newspaper's Web site, the ad received more than 2,000 hits, and the publication's offices received numerous phone calls about the language access issue.
|TOP|
---
Honor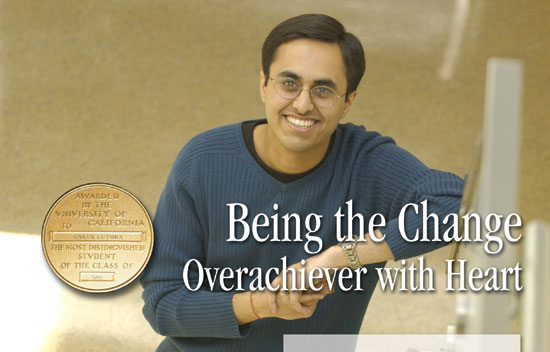 Ankur Luthra's photo by Bart Nagel
Being the Change
Overachiever with Heart
– By Ankur Luthra

Rhodes Scholar. Phi Beta Kappa. UC Berkeley's top medal. Ankur Luthra, who has won them all, was honored speaker at the commencement ceremonies. Here's what he told the new graduates.


I begin with a thank you to the paragon of selflessness: my parents and grandparents. To be concise, you are the reason for all my success and I love you more than anything. I stay true to the quote I told a close friend as a high school freshman: if, in my old age, I can say with confidence that I am half the person my parents and grandparents are, I will know my life has been a success.
Second, because we live in a time of troubling international situations, I would like to make a short comment. I am neither a foreign policy expert nor historian qualified to give a detailed vision on the future state of international relations. All I know is that all people all over the world are members of a bigger classification: humanity. And whether it be our troops and government who fight to defend our nation and rights every day, many thanks and may God bless them, or whether it be the Palestinian children who are often caught in the crossfire and lose their innocence before they can even explore it, I hope for the safety of the innocent all over the world and their Godspeed return to the love of their families and a future of freedom and peace.

And now I turn my attention to my fellow members of the Class of 2003 as well as present Cal Alumni.

You, fellow Cal friends, are blessed with the distinction of graduating from one of the world's finest institutions. Congratulations, and professors who made this possible, thank you. You have been able to bask in the aura of both academic radiance that is created by the amazing diverse students and brilliant professors here and the social radiance of Greek Life, Telegraph, and a BART ride to San Fran. And God Bless the football team, we Class of 2003 seniors are graduating with a long-awaited 30-7 Big Game thrashing. Go Bears! But more than anything else, you have graduated from a University, that aside from being an unparalleled undergraduate experience, is a symbol of standing up for positive change, often against popular opinion.

The University shares that symbolism with one of my inspirations: Mahatma Gandhi. One of his sayings is what I live by: be the change that you want to see in the world.

I ask you: what change do you want to see? To figure that out, I ask: what bothers you? Like me, the digital divide and general disparity in educational opportunity? Maybe the room for improving the support structure for battered women as with a fellow finalist? How about homelessness or the spread of AIDS in many undereducated Third World countries? If nothing bothers you, I am deeply saddened. Complacency and selfishness are the core ingredients to a fading soul. If something, anything, bothers you, I challenge you to do something about it. You ask "Can I make a difference?" With confidence, I say absolutely. You ask, "But how vast could that difference possibly be?" Good question; it reminds me of a surgeon in India I read about who works for free. After a morning bombing, he saw an afternoon waiting room of hundreds of dying men unable to afford care who turned to him to save their lives. When the doctor was told by an onlooker he cannot possibly make a significant difference considering he could only save a few of the hundred, the doctor replies, "Ask the last man I saved how significant my difference was." That's the beauty of making a difference, my friends. It is not judged on extensiveness; it is judged on heart, dedication, and patience. Be the change you want to see in the world.

Along the way, you may be called idealistic, even stupid. I have been given this classification at times as well when expressing my bold vision and acting on it. I smile, genuinely. Remember, those who have accomplished the most amazing feats were the ones not smart enough to know those very feats were impossible.

I can almost guarantee people will call you crazy. The self-satisfied tend to think impact-makers are crazy. I would take it as a compliment, actually. After all, those who were crazy enough to think they could change the world were the ones who did. And I'm next. And you're next. We, the Cal Class of 2003, are next.

And through it all, through life's rollercoasters that are sure to follow, remember to look back at that Cal degree hanging on the wall and smile. It certifies your dedication, your accomplishment, your intelligence. But don't just look at the degree; hear what it has to say. It's screaming at you, it's telling you, like Gandhi and like myself, to be the change you want to see in the world since you as a Berkeley grad are capable of such greatness. I hope you listen. I know you'll listen.
Ankur Luthra: Stellar Student Record

Last December, Ankur Luthra was awarded a coveted Rhodes Scholarship and then graduated from the University of California, Berkeley, with two bachelor's degrees. He ended his tenure at UC Berkeley as University Medalist, receiving the honor May 15 at the campus's Commencement Convocation.

The University Medal is awarded each year to an exemplary graduating senior with a minimum grade point average (GPA) of 3.96. It has been considered the top honor for a graduating senior since it was established in 1871.

Combining his interests in computer science and business, Luthra founded Computer Literacy 4 Kids (CL4K), a Berkeley-based non-profit, after noticing a troubling digital divide among low-income students.

"Because of CL4K, villages in Rajasthan, India, now have access to the latest computer technology," said Ravi Bhandari, a visiting assistant professor of economics who has known Luthra for years. "It is refreshing to see a business student be able to think critically and carefully about difficult world issues such as global poverty and economic development."

Luthra, who remains president of the 17-member non-profit organization, said he is battling an ongoing disparity in education resources. "I see people who are perfectly motivated, who are incredibly sharp, but who don't have adequate resources," he said. "I think education is the safest and surest route out of poverty. To me, it's depressing to find people who have the drive, diligence and intelligence to take that route, but who don't have the books and equipment. It's wasted potential, and that is a big deal."

Luthra said his core values were instilled in him through his parents, Ravi and Tripta Luthra, who immigrated to the United States from Punjab, India. "They would regularly do volunteer and charity work, like cook food for seniors and the homeless as part of going to temple," he said. "Their selflessness has been a big inspiration for me."

Among the numerous scholarships and awards Luthra has garnered over the past few years are the Regents, Barry M. Goldwater and Bechtel scholarships. He is also a member of several honor societies, including Phi Beta Kappa and Mensa.

He plans to pursue a master's degree in computer science when he attends Oxford University this fall as a Rhodes Scholar. After Oxford, he will study for his JD and MBA in a four-year joint program at Harvard Business School and Harvard Law School, where he has already been accepted.

In the future, Luthra plans to pursue projects in assistive robotics, such as improving prosthetics for the disabled. "I have much to be thankful for in my life," he said, "so it's important for me to give back to society."
(Excerpted from a U.C. Berkeley press release)

- Rhodes Scholar Ankur Luthra, who graduated with double major
in computer science and business, will get his MBA
and law degree from Harvard after a stint at Oxford.

|TOP|
---
Finance: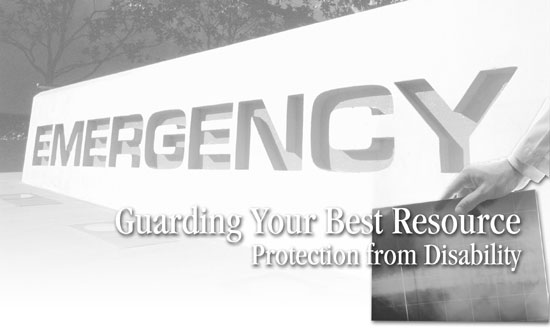 Guarding Your Best Resource:
Protection from Disability
– By Ashok Gupta

You are hale and hearty. Surely disability isn't your problem? You never can tell, writes Ashok Gupta, offering tips on how to be prepared if disaster strikes.


'It will Never Happen To Me'

That's what a lot of us think. But, disability could happen to anyone, anytime. If it happens to you, are you prepared?

What is disability? Definitions can get complicated, but basically, when you become too sick or hurt to work, you are disabled. Lots of disabilities are short-lived — a pulled muscle, a sprained ankle, or a bout with the flu — nothing that causes real problems in terms of your ability to continue working and providing for your family.

What if you suffered a heart attack? Or, had a serious car accident and had to spend a long time in a hospital, or worse yet, never fully recovered? What if you became gravely ill?

Dramatic scenarios perhaps, but they happen every day to people, and there's no guarantee it won't be you.

And if it is you, and you can't work, where will the money come from to make your house payment? Make the car payment? Would it come from friends? Relatives? Maybe. But that can be a difficult situation at best. If you're the owner of your business, you may think you can just continue to draw a salary. Do you have that kind of cash reserve? The IRS may question this tactic and attempt to tax the payments as dividends. Fortunately, planning ahead for disability can make the answers to these questions easier.

Almost everyone has a start on disability planning. Social Security provides a disability benefit, but the requirements for collecting benefits are stringent.

Income Replacement. Many people don't realize that beyond Social Security benefits, they have little protection from disability. Individually purchased disability income policies can provide coverage, and the policy can be tailored to meet individual needs. To evaluate your situation, here are a couple of things to think about:

How long could you wait before receiving benefits? If you have substantial savings, you can opt for a longer wait before benefits begin. This can reduce your premium.


How long will you want to receive benefits? Insurance companies offer a variety of benefit periods: for instance, payments for two years, five years and even to age 65 are common. When the insurance company is exposed to less risk, the shorter the benefit period, the lower the premium.

Business owners, pressed by the day-to-day demands on cash flow, think they are saving money by not buying disability insurance for themselves. Premiums are affordable, and could actually be less than the premium paid to insure the business' equipment from casualty losses. The problem is, most business owners don't think of themselves as business assets, when in fact they are probably the most valuable asset to keeping the business running.

Are You Protecting Your Most Valuable Asset?

Your ability to work and earn a living is your most valuable asset. Most of your income is earned income. When you stop working, your income stops. When protecting your most valuable asset, you should ask yourself, "How long could I live on my savings if my income stopped this very second?" It's shocking that people in the richest nation in the world are within six weeks of personal bankruptcy.

Your chances of becoming disabled are high. If you're currently between the ages of 25 and 45, your chances of becoming disabled for at least 90 days are greater than one in three.

Statistics show the longer a disability, the less likely the person will return to work.

The logical solution has been to buy some form of disability income protection coverage through your insurance agent. Like most forms of insurance, disability income has its own language. To make sure you choose the kind and amount of coverage you need, here are some suggestions to consider when shopping for disability income policies.

Guaranteed Renewable And Non-Cancelable: Consider buying a policy that is guaranteed to be renewable and can only be canceled if you fail to pay the premiums. You purchase insurance to make sure you get a specific result. Always buy quality coverage from a reputable carrier. Also, with a non-cancelable policy, premium rates can not be raised at anytime for as long as you own the policy. Your rates will never go up!

Definitions

When you buy disability coverage, you are actually buying the insurance company's definition of disability. There are three basic definitions:

Presumptive Disability: If your sickness or injury results in the loss of your eyesight, power of speech, hearing, use of both hands, both feet or one hand and one foot, then most insurance companies will consider you totally disabled. Not only that, but many companies will waive the elimination period and you could start receiving your benefits immediately.

Occupational Disability: You'll want to avoid insurance policies that have an "any occupation" definition. If the policy pays only if the insured is unable to perform any occupation that reasonably fits, then his/her chances of getting paid are small. You want a disability policy that considers you disabled if you can not do the substantial and material duties of your regular occupation.

Partial, Residual and Income Loss: You hurt your back because you fall off a chair changing a light bulb or you lose time from work for a stress-related illness. In these situations, it's likely you would not be totally disabled. Look for a policy that will pay a proportional benefit if you have a partial or residual loss of income. Many definitions of disability are concerned with your ability to work part-time and do all of your regular duties; or coming to work full-time and only being able to do part of your regular duties.

Does Your Lifestyle Depend on Your Income?

Your ability to work and earn a living may be your most valuable asset. When you stop working, so does your income. Would you be able to maintain your current standard of living if you were too sick or hurt to work? Most likely not. Few people have adequate savings to support themselves in the event their income stops for a prolonged period of time.

Your chances of becoming disabled prior to age 65 are higher than you'd expect. Just look at the statistics: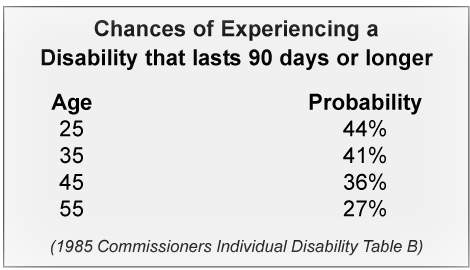 If you think Workers' Compensation or Social Security will take care of you when you're disabled, you may be in for a shock. Workers' Compensation only covers those diseases and injuries suffered on the job or related to your work. For Social Security to pay, you must be unable to perform any substantial gainful activity, with your disability expected to last at least a year or result in death.

A logical solution to this problem is to buy individual disability income insurance. Individual disability income insurance prepares you for the unexpected and protects your income when you're disabled and can't work.

- Ashok Gupta, CLTC, LUTCF, Principal Life Financial Representative,
Princor Registered Representative is based in San Jose, Calif.
---
Auto Review: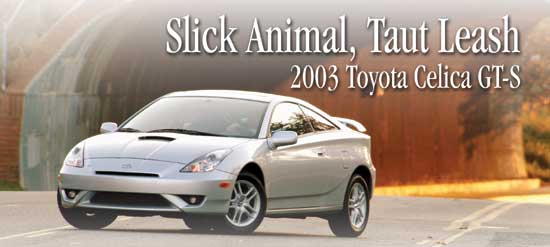 Slick Animal, Taut Leash
2003 Toyota Celica GT-S
– By Al Auger

Our automotive editor Al Auger had a minor attack of apoplexy when faced with a neon-bright yellow sports coupe, but soon recovered enough to fall in love with the Celica, which turned 33 this year.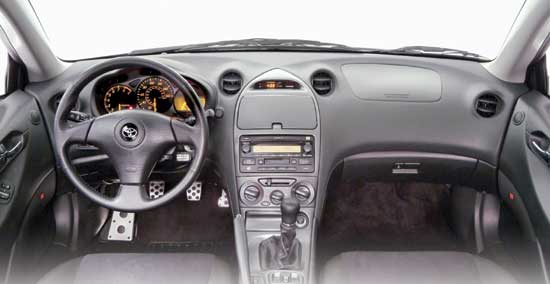 Ohmigod," I cried, " What's Cathy doing to me, trying to turn me into a senior citizen street racer?" The object of my minor attack of apoplexy was a neon-bright yellow sports coupe with a rear spoiler almost as tall as the car itself. The badges said Toyota and Celica GT-S and the snarling, slanted headlamps and edgy sheetmetal said don't tread on me, dude. After one hour in the GT-S, I was thanking my lovely Toyota lady fervently.
Apparently the motivating forces behind such a demonic machine had little trepidation in putting its attitude upfront with a no-apology architecture. The exterior is a series of long, sloping lines delineated by sharp edges that set off the air ramp in the low-slung hood. The fascia features an aggressive wraparound air dam within the bold bumper that seems to barely clear the ground. Most of this and the in-your-face rear treatment is part of the optional Action Package ($1,480) that includes side rocker panels and the extreme spoiler.

First, though, the word-doctors at Toyota will have to stop referring to this highway mongoose as a sports-compact. There's about as much connection between the GT-S and a compact as there is between Michael Schumacher and your local limo driver. The GT-S, which is also available in a more modest GT trim, is a fitting sibling to Toyota's pocket rocket MR2 Spyder. Two small-engined but high-powered butterflies that dance through twists and turns breathing easy at the nearly 8,000 redline on the tach. Are we having fun yet?

Inside, the performance attitude is continued with race car-like seats that bolster you in and hold the driver in the proper laid-out position. The optional seats are smartly designed with leather and vinyl arranged for looks and security. Naturally, the pedals and dead-pedal are drilled aluminum for panache and non-slip footwork. In this age of high-tech everything, the gurus of taste seem locked into a color scheme that was a definite no-no graphic design for years: blue or orange on black. Toyota has gone the latter route in its instrument cluster. Okay at night with the lights on, but in the daytime the numbers are almost nonexistent.

This problem is compounded by the tightly joined cluster of speedo, tach, fuel gauge, etc. Of course there are rear seats, perfect for bags of grocery, small toddlers and dogs. They do fold 50/50 for more cargo space. The leather-wrapped steering wheel holds the shift buttons for the Sportshift alternative to the 4-speed automatic transmission.

Speaking of which along with the MR2 Spyder, as I tap-danced the GT-S through the foothills and mountain terrain I couldn't help wishing I had the Spyder's clutchless sequential manual transmission. The GT-S has the alternative manual shift system in concert with the automatic, but the Spyder's SMT is the cat's meow of shifters. Still, the up-and-down buttons on the steering wheel added some spice to the driving experience.

While the GT-S need not apologize to being front-wheel-driven, the Spyder's rear-drive would be welcomed. The GT-S shares the same powerplant configuration with the MR2 Spyder, but has taken giant strides in the power department. Where the twin-cam, 16-valve, all-aluminum 4-cylinder engine of the Spyder cranks out 138 horsepower and demands a driver of manipulative skill and talent to draw out every ounce of performance, the GT-S boasts 180 horses that need a steroidal commanding hand. Add the slick handling of the GT-S and you have an animal with a taut leash.

Other options include anti-lock-brakes ($300) for the 4-wheel disc brakes, power moonroof ($900), 16-inch alloy wheels and w/205/50R16 radial tires ($300) and keyless entry ($230). It seems that Celica, who turns 33 years old this year, just gets younger and rastier each new generation.

Today's Test Drive: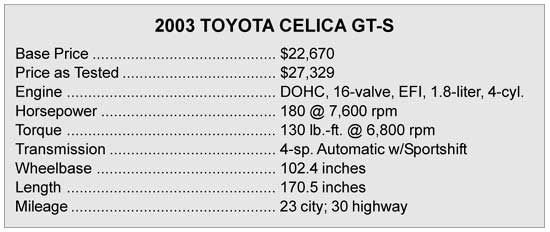 Al Auger, our automotive editor has been writing about cars for over 30 years.
He has spent 20 years as a race driver and public relations specialist.
|TOP|

---
Bollywood: | Guftugu | Hindi Film Review |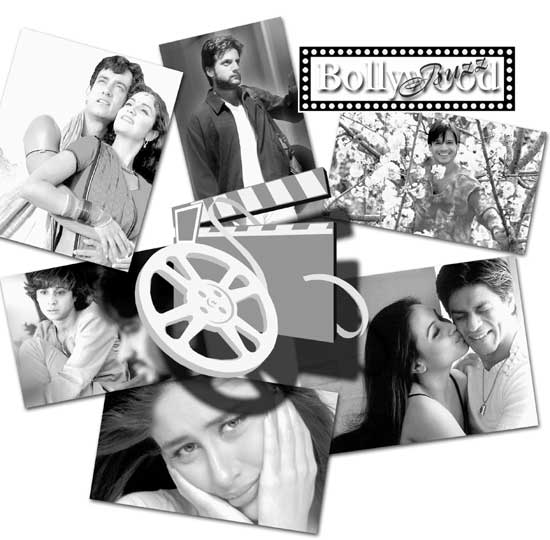 Guftugu

New Leaf for Poo

Her Poo performance in Kabhi Khushi Kabhie Gham was not a whole lot of acting, mean wags in Bollywood liked to say about Kareena Kapoor. She really was a rather uppity starlet, they said, and look at how she got her comeuppance.

Her Jeena Sirf Merre Liye, Khushi and Talaash sank like a stone in the box office, but now with Main Prem Ki Diwani Hoon, will things turn around for her. Kareena is banking that the magic of Sooraj Barjatya will work like a charm, and maybe she deserves it too. Because insiders say it's a different, much more mature Kareena these days. Not only has she mellowed, she is also more careful about her roles.

So maybe she will have the last laugh after all. Which would be doubly satisfying, because what's nicer than seeing meanspirited wags being proven wrong?
|Return to Bollywood Index| |TOP|

Vivek to Produce?

What's with the new hunk Vivek? He seems to be all over the place these days. Of course, there were that sizzling debut, then a juicy altercation with Bollywood bad boy Salman Khan, no less, and now, it seems, our Vivek is ready to produce.

Yes, you heard us right. Of course, it's hardly a new trend. Shah Rukh has his Dreamz Unlimited (all too often a nightmare, if you ask us), Aamir Khan, Sunny Deol and Ajay Devgan have also tried their hands at producing, so who's to stop Vivek?

There's something different here, though. All the other actors have had fairly long stints wearing the grease paint, but Vivek is ready to take the big plunge early on his career. Well, time will tell whether it's just a foolhardy whim or a wise career move, and everybody in Bollywood (with the possible exception of Sallu) must by hoping it is the latter rather than the former.
|Return to Bollywood Index| |TOP|

Rangeela No More

Okay, cross your hearts, how many of you thought the only thing Urmila was good at was shaking her booty? After Rangeela, she was consigned to being purely frontbench material. And now, she has proven everybody wrong.

In Ram Gopal Varma's Bhoot, Urmila has turned in a superb performance of a woman possessed by spirits. For those who had given up on her wooden acting skills, her sensitive, nuanced portrayal was a revelation.

Now she seems to like the idea. Urmila is going to do Khalid Mohammad's Tehzeeb, a movie about a complex mother-daughter relationship with Urmila playing the daughter.

Well, she certainly has her work cut out for her, because the mother is played by Shabana Azmi, one of the most talented actresses in India.
|Return to Bollywood Index| |TOP|

Taxing Lagaan

Was Lagaan a Trojan horse for Aamir? The film was the fastidious star's obsession, and it did seem to pay off. The film brought him name, fame and fortune. If even brought him an Oscar nomination.

Insiders say it also cost him his marriage. He agrees. "My break-up with Reena happened at the time when I was working on Lagaan," he says. "I literally ate, drank and slept the film. My deep involvement with the project, both as actor and producer, made me irritable and I often lost my temper at home. The flare-ups on both sides gradually led to a complete breakdown," he says.

"While one may occasionally feel attracted to co-stars, such feelings don't often last," he added. "The strain of constantly living in the public eye on the other hand, takes a heavy toll. It keeps star couples from spending quality time with each other and they just drift apart. By the time you realize what's happening, it's already too late."

So those of you who like conspiracy theories, get your minds out of the gutter. It wasn't because of Preity Zinta, okay?
|Return to Bollywood Index| |TOP|

Happy Rani

It's been a long, long wait for Rani Mukherjee, so success is doubly sweet. Critics are all talking about her performance in Chalte Chalte, and the film could just help Rani's career move a notch higher.

But you know what's the great thing about her? She has no airs about her at all. Instead she is complimenting costars. She is thanking Shah Rukh, saying she is a die-hard fan of Shah Rukh Khan and Aamir Khan.

Now isn't that refreshing in dog-eat-dog Bollywood?
|Return to Bollywood Index| |TOP|

---
Hindi Film Review
Stylish Horror Film
Dream Merchants Entertainment's
BHOOT
Director:
Ram Gopal Varma
Music:
Salim-Suleiman
Starring:
Tanuja, Rekha, Nana Patekar, Victor Banerjee, Ajay Devgan, Urmila, Seema Biswas and Fardeen Khan
There's hope for Bollywood yet. Oh, there's no question that the industry has painted itself in a corner with a long list of misdemeanors: corrupt business practices mean there's no control on video and cable piracy, the multiplex mania has taken movie-going out of the reach of the middle class, and Bollywood has tried to counter the bad box office run with stale story ideas and insipid, mediocre films. The public response has been brutal.
Well that's about to change, and maverick Ram Gopal Varma has hatched a pleasant surprise. One can almost forgive the past misdeeds of this essentially talented filmmaker who figured that wallowing in the slimy world of crime and gore was the ticket to cinematic success.

In Bhoot, what Varma does is what any good filmmaker should do: He chooses a really good story and tells it intelligently, with consummate cinematic skill.

The result is a paradox that is also an object lesson for Bollywood directors who have been running around like headless chickens: Here is a film that has no song (Yes, you heard me right, not even a title song); absolutely no phoren location shooting to add irrelevant glamour, no cheesy humor to leaven the horror, and yet, audiences are making a beeline to see this film.

Why? Through careful and skilled direction, Varma has created a middle class metropolitan environs so utterly believable that none of the masala add ons are needed. The audience feels as if it has walked into the life of a middle class couple, and the scary moments are caused by skillful building up of suspense without any flamboyant special effect gimmicks.

Here's how the story goes. Vishal (Ajay Devgan) and Swati (Urmila Matondkar) are a newly wed couple who have just moved into a 12th floor Mumbai apartment. Vishal knows that Manjeet, the previous tenant, had died after jumping from the balcony, but he doesn't tell his wife.

However, Swati begins to see visions of a ghost, and soon the ghost is pretty ubiquitous. Whether she's watching television, is in the kitchen or on the beach, Manjeet's ghost won't leave her alone.

Swati is terrified and soon develops the habit of walking in her sleep. A doctor is consulted, but there is no improvement. Things heat up after the watchman is murdered. Vishal wonders: It's true that Swati was gone at that time, but the watchman's head was almost screwed back! Surely Swati doesn't have that kind of strength?

Advice comes from many quarters: a psychiatrist (Victor Banerjee), the maidservant (Seema Biswas). Meanwhile hardboiled cop Liaquat Qureshi (Nana Patekar) is convinced the mentally unbalanced Swati has murdered the watchman.

The housing secretary's son (Fardeen Khan) and Manjeet's mother (Tanuja) pitch in, and the plot really thickens.

The climax, it must be said, is rather a letdown, and the story line strains credulity quite a bit. But hey, this is a Bollywood movie, so some slack from the audience is expected, and generously given.

To his credit, Varma extracts superb performances: Ajay Devgan, Victor Banerjee, Nana Patekar are all great, Seema Biswas is particularly good, but the film belongs to Urmila Matondkar.

She essays the change from ordinary housewife to being possessed by an evil spirit with great panache, and plays a pivotal role in building the gripping suspense in the film.

Salim-Suleiman's wonderfully spooky music, excellent sound effects and cinematography and overall Varma's superb taut narrative builds up the tension and creates many moments of horror when the audience shrieks in fear.

So what if the film is not perfect? It's still a long way from the stock horror stuff we are all used to: the Ramsay films with lurking ghosts and skulls hanging about and the ketchup flowing freely to simulate gore.

This is a film which is intelligent, gripping and realistic. And the audience is loving it. If Bollywood picks up the right lessons, this film can lead the way out of the deep hole the industry is in. However, don't hold your breath. There are signs that Bollywood is picking up the wrong message: In characteristic fashion, there is a feeding frenzy and the hapless Hindi movie buff must resign herself or himself to long summer of ghoulish films. One only hopes the quality of the filmmaking is not the scariest aspect of it all.

|Return to Bollywood Index| |TOP|
---
Tamil Film Review:
Engaging Entertainer

PAARAI

Director:
K.S. Ravikumar
Cast:
Sarath Kumar, Jayaram, Ramya Krishnan, Meena, Vijayan, Vinu Chakravarthy.
The Sarath Kumar-K.S. Ravikumar combination has earlier resulted in some engaging entertainers like Cheran Pandian and Nattamai, to name a few. In Paarai, their ninth film together, the duo have given a film that is once again absorbing and sensitively crafted. Based on an old Mammooty-Seema starrer, the director has made quite a few changes from the original Malayalam version, the seriousness and the comedy blending well.
Sarath plays Dorairaj, a truck driver, who behind his stern, forbidding exterior, hides a lot of angst, the result of a deprived childhood and a life spent in a juvenile home. Alienating himself from society, he however displays a soft corner for Jayaram, his cleaner and only friend in the world. Jayaram's death in an accident, Dorai's decision to stay back in the village after his friend's funeral (to help out Jayaram's family), his efforts to fulfil his friend's dream of building a house for his wife and daughter, and his taking up the family's fight for survival on his shouders, forms the rest of the story.

While Jayaram's mercenary mother tries to fix up an alliance between her widowed daughter-in-law Mallika and Dorairaj, there's the tea stall owner, the spit-fire Vasantha, who once publicly humiliated by Dorairaj, softens when she realizes his goodness of heart; suffers heartburns, unsure of the relationship between him and Mallika; and tries to woo him herself.

When Dorai finally puts a bloody end to the tormenters of his friend's family, the unscrupulous landlord Vijayan and his wayward son, the police come in promptly to take him away. But of course, they are nowhere around when Vijayan and his gang create havoc all around, severing the limbs of those refusing to toe their line.

From Sarath Kumar, it is a finely tuned performance, projecting credibly the angst of a man with a lost childhood, with a lot of suppressed fury within him. Jayaram makes much of his role, his over-enthusiasm in the scenes giving inkling that he won't last for long in the story. Meena as Mallika and Ramya Krishnan as Vasantha fit well in their roles. The humor is well brought out, and is generated mainly when the comedians encounter the villain Vijayan.

|TOP|
---
Recipe: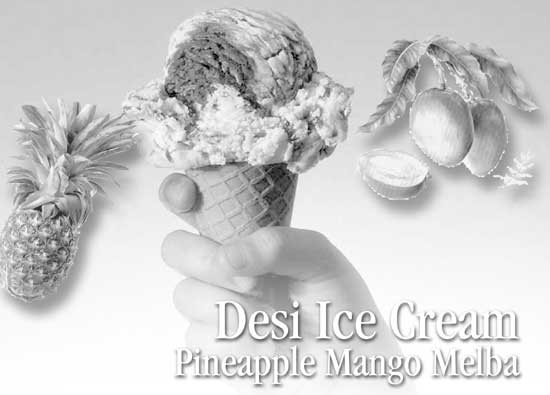 Desi Ice Cream:
Pineapple Mango Melba
–
By Seema Gupta
The summer heat is on, and nothing like ice cream with a desi touch to beat the heat, says Seema Gupta.
Ingredients
4 cups milk

1/2 cup sugar

1 1/2 tbsp custard powder

1/2 cup cream

1 cup chopped mangoes

1 cup chopped pineapples

Method

Boil milk till it is condensed to half. Add sugar, stir well and allow it to cool. Place liquid in the freezer for 10-15 minutes. Remove the liquid from freezer and mix in blender. Add cream and store the paste in freezer for 10-15 minutes. Remove from freezer and mix in blender for one minute. Add chopped mangoes and pineapples.

Freeze for 10-15 minutes and serve.

– Seema Gupta is a homemaker
based in Sunnyvale, Calif.
|TOP|
---
July-August Horoscope
ARIES (March 21 to April 20):
You will tired of being pushed around and take some bold decisions in life. You will successfully get the job done through a government agency. An important issue about a family member will take time to get resolved.
TAURUS (April 21 to May 20):
This should be the turning point in your life as you grab a golden opportunity. You will sign legal documents. Financial freedom is foreseen but you need to work hard. You are on your way to a short vacation at a beautiful place.
GEMINI (May 21 to June 20):
You will get a big jumpstart in life. Some of you may launch a new project in a different field of work. You will plan an interesting trip with family and will be very relaxed. You may make money through recently purchased stocks. You will sign papers related to a property.
CANCER (June 21 to July 22):
You should be careful for the next few weeks. Do not trust anyone or take any chances with the law. Stay away from speculations. Career-related worries will rise and you will switch jobs. You will drastically change your food habits.
LEO (July 23 to August 22):
Things change quickly as you head to achieve major milestones. A recent project will be well received and yield favorable response. Your senior at work will respond positively to your requests. Family members may go on a short trip without you. You will make important new contacts.
VIRGO (August 23 to September 22):
You will be assigned an important task. People in business will win a major contract. You will plan a short trip with family. An older family member may not keep well. Efforts for a competitive exam will finally payoff. Financially, things look great.
LIBRA (September 23 to October 22):
You will be excited as you look forward to a new career and adventures in life. Rest assured, these changes are for the better. Financial pressures will reduce. Do not exceed legal limits if consuming alcohol. You will go out of your way to help a needy person.
SCORPIO (October 23 to November 22):
Legal issues could cause depression. Help is around if you are willing to listen. A trip will bring relief and peace of mind. You will miss some one close. There will be some changes in current partnership setup as a partner may quit.
SAGITTARIUS (November 23 to December 22):
Past efforts will begin yielding positive results. You will come across a very conflicting character. You will take a short local vacation as you drop the idea of traveling overseas. Old dues will finally arrive in mail.
CAPRICORN (December 22 to January 19):
Career issues will be difficult. You will survive the big one but with impact. Expenses will be high, exceeding your earlier budget. It is a good idea to seek advice from friends. Business owners will cut down profits to stay ahead of competitors.
AQUARIUS (January 20 to February 18):
You will be juggling with your finances. Negotiations will be fruitful but a final word will take time to arrive. Watch for stomach-related troubles. Expecting moms should be very cautious for the next few weeks. Spouse may have to travel alone.
PISCES (February 19 to March 20):
It will be an expensive month, forcing you to borrow money for a short period. Spouse may disagree to your plans and this could lead to a serious argument. You will spend on vehicle and home repairs. A pleasure trip will not be as pleasing due to pre-occupying worries that might haunt you all along.