Publisher's Note
Thousands
of years ago, Tamil fishermen discovered that when they tied logs, hollowed them and made the logs pointed, they had at their disposal a vessel far more stable and nimble than an ordinary canoe: Thus was the catamaran born.
The fact that the word "catamaran" is derived from the Tamil kattumaran (tied-logs) is well known, but how many people are aware that the concept is a byword for fast, nimble and stable seaworthy vessels all over the world? Australian company Incat has taken it to new heights by building catamarans for the U.S. military that is drawing rave reviews.

Obviously, the credit for building today's high-end catamarans is entirely Incat's, but we carry the story in our issue to highlight the portability of ideas. Globalization, it would seem, transcends not only vast geographical distances but also centuries.


MIT neuroscientist Mriganka Sur has been elected a fellow to the American Academy of Arts and Sciences, America's oldest association of scholars. The fascinating thing about Sur is that all his degrees are in engineering; he brings his electrical engineering skills to explore and unlock the mysteries of the brain.


Porshi, a Bengali monthly magazine published in the Bay area, is about to complete two years. The magazine plans to celebrate with a gala concert by versatile singer Runa Laila. The editors are all busy Silicon Valley high tech professionals, but they have kept on publishing like clockwork, a heartwarming testament to their commitment to Bengali culture.

|TOP|

---
Main Feature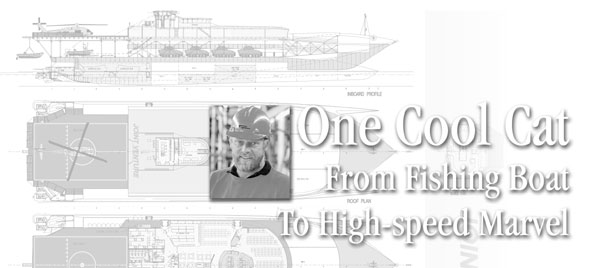 One Cool Cat:
From Fishing Boat to High-speed Marvel
- By Deepak Goyal
The principle of the catamaran has traveled around the world and over centuries—from Tamil Nadu to Australia to the U.S. and the Middle East, and a humble fishing boat has evolved into a state-of-the art vessel that's drawing rave reviews, writes Deepak Goyal.







---

KEY TO PHOTOS

Clockwise from top left: Spearhead, Incat's 98-meter Theater Support Vessel . This is the U.S. Army's first Theater Support Vessel and second Incat-built craft. (Photo: U.S. Army)
Incat chairman and founder Robert Clifford. (Graphic and photo: Incat)
Fishermen's rudimentary kattumarans on a Tamil Nadu sea beach.
Joint Venture, Incat's 96-meter Wave Piercing Sealift Catamaran. (Photo: U.S. Navy)
Drawings of Joint Venture, Incat's 96-metre Wave Piercing Sealift Catamaran.


---
The catamaran, or a double-hulled vessel, owes more to Tamil than a linguistic debt. Of course, the word itself comes from the Tamil kattu (tied) maran (logs), and in the eastern coast of Tamil Nadu, fishermen brave the seas with precisely that.
The traditional kattumaran is a bundle of logs. Some few thousand years ago, Tamil fishermen tied trees together to make a stable platform for fishing and soon found out that when the logs were pointed at the ends it went better and when the logs were hollowed out they went even more easily.

The hollowed logs are naturally buoyant and cannot be sunk despite any number of tumbles. The fisherman holds his catch in the fishing net and ties the net to the craft. Nearing the shore, he jumps off the craft and swims ashore while the following waves deliver his craft and catch soon after.

Today, if you look at kattumarans, you may find them crude and primitive. But consider this: all the attempts of modern technology have not fully succeeded in replacing these craft with more efficient ones. One of the reasons is that the eastern Indian sea coast for the most part, has steeply sloping beaches and tall breakers where attempting a beach landing with a conventional open boat of this size runs a high chance of being swamped.

Now quickly move on to Umm Qasr, the Iraqi port that made headlines during the war in Iraq. The principle discovered by Tamil fishermen thousands of years ago has been developed into a state-of-the-art U.S. naval vessel that is drawing awe. It's been developed by Incat, an Australian shipbuilding company in Tasmania.

New York Times reporter James Dao, who went aboard Joint Venture, one of Incat's double-hull vessels, near Umm Qasr recently, said it got into position by weaving through narrow waters, creeping over a sand bar at high tide and slipping under a bridge at low tide.

"Normally, you wouldn't take a sail boat up that channel," a commander said.

Incat has joined hands with a shipbuilding company in Lockport, Louisiana to build ships for the U.S. Army.

Tamil Nadu, Australia, Louisiana, Iraq: It's a small world. Ideas travel through centuries and great geographical stretches, and there's no telling where it can all lead.

To be sure, Incat, the plucky Aussie company, deserves all the credit for the technological marvel it has wrought from an ancient, rudimentary concept.

"Incat acknowledges that we did not invent the catamaran," Justin Merrigan, who works with Incat public relations, told Siliconeer. "But we doubt the ancient Tamils contemplated aluminum construction, efficient diesel engines and water jet propulsion."

Then he adds, tongue-in-cheek: "Perhaps it is just as well aluminum and water jets were not around in ancient times, otherwise we may have been beaten to the punch!"

But he is understandably proud of the catamarans. "The Australian-built Incat wave piercing catamarans used by the Americans are without doubt the most seaworthy and efficient of all high speed hull forms in the world," he said. "In fact, when describing the U.S. Army's 98-metre-long Theater Support Vessel Spearhead sustaining 48.7 knots running down the coast of Qatar during Operation Iraqi Freedom, her Commanding Officer, CW3 Patrick S. May, exclaimed 'Awesome!'"

And it's not just Incat that's thrilled.

"Two high-speed catamaran vessels Lockport-based Bollinger Shipyards hopes to mass-produce for the U.S. military received rave reviews from high-ranking personnel during Operation Iraqi Freedom," Gannett News Service reported recently.

"The vessels, the 313-foot Joint Venture and the 319-foot Spearhead, were built at Bollinger-Incat's facilities in Australia. Both boats participated in sea trials and military operations recently in the Persian Gulf in support of Operation Enduring Freedom and Operation Iraqi Freedom."

"The reception of the (vessel) is amazing, and all eyes are on the Spearhead in every port," Patrick May, the Army's commander of the Spearhead, told Gannett News Service.

May said the boat sailed more than 29,305 nautical miles, as operations and maneuvers spanned the coasts of Kuwait and Jordan.

"We have carried 751 troops and hauled more than 1,320 pieces of military cargo, just about everything in the inventory except for tracks, all of which were already on the battlefield when we arrived," May said.

"Unbelievable," he said. "The vessel is near perfect for the intended U.S. Army mission, and in 18-plus years of driving and working about boats, I've never had so much fun."

Tamil catamarans drew European interest a few centuries ago. In 1697, the English adventurer and pirate William Dampier wrote about vessels made with logs: "They call them Catamarans." Catamarans were also used by Polynesians to get from one island to another.

The two-hulled catamaran was developed by the Polynesians, particularly in Hawaii, and some large double canoes or catamarans were used for extensive ocean travel. Since those distant days little was done to modernize this type of craft. One or two attempts were made, noticeably by Sir William Petty in Charles II reign, to use catamarans in Britain but apparently without success.

Here's a European's impression of the Tamil kattumaran from the diary entry of Michael Pakenham Edgeworth, a British civil servant in India, dated August 20, 1831, the day he arrived in Chennai:

"At length a new object appears—a black speck in the water—through the telescope we see it is a catamaran, they approach nearer & we have our first view of the natives. I suppose you all know that the catamaran is a vehicle composed of 2 or 3 logs of wood joined together in the most rude and untidy manner conceivable & on this sits or stands one or more natives (according to the size of the boat) almost perfectly naked with the exception of the length of cloth tied around their middle. They row the boat with a bar alternately at each side and they wear either red or white turbands or light straw pointed caps - this afforded us great amusement."

Let alone the "almost perfectly naked" natives, even the worldly sahib had probably no idea that the principle behind "2 or 3 logs of wood joined together in the most rude and untidy manner conceivable" would some day be developed in distant Australia to carry troops and military cargo for a nation west of England to an Arab country equally far from both countries.

- Deepak Goyal is a freelance writer. He lives in Kolkata.
---
Infotech India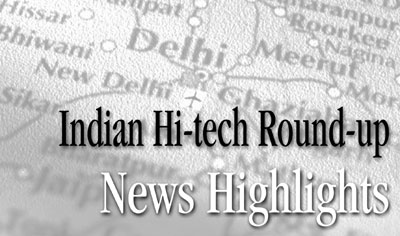 Germany to Invest More… Youth Program… VSNL Profit Down… Unique Offer… Toll-free Service... CareersIndia, NTTF... — Here is the latest on information technology from India

Germany to Invest More

Germany has assured India that it will take steps to reverse the trend of its declining investments in the country where there were opportunities for investment in areas like renewable energy and infrastructure such as national highways.

It has also assured a liberal visa regime for Indian information technology personnel wanting to come to Germany.

The assurance was given by German Minister for Economy and Labor Wofgang Clement to a high-level Indian business and trade delegation led by Commerce and Industry Minister Arun Jaitley when they met him in Munich.

Jaitley told reporters accompanying Prime Minister Atal Behari Vajpayee on his two-day German visit that the delegation expressed concern over the way German investments were going down in India over the last few years and wanted the situation to be set right.

The delegation felt Germany could look at investment in new areas like renewable energy like solar and wind and infrastructure like national highways.

At the same time, the delegation also conveyed the keenness of Indian investors to channel their investments in Germany in sectors like information technology, auto components, tractors and bicycles.

The Indo-German joint commission, which had not met for quite some time, would meet later this year-end, the delegation was told.
|Back to Infotech Index| |TOP|

Youth Program

Digital technology leader Samsung Electronics has announced the launch of its single-largest social program outside Korea—Samsung DigitAll Hope which would donate $600,000 to organizations supporting the use of technology to improve the lives of youth and helping to bridge the digital divide in eight Asian countries including India.

The theme for 2003 is "Live Your Dream," which would focus on fulfilling the dreams of young people.

"Ensuring that all young people have equal access to information technology is an increasingly important issue for the future development of the Asia-Pacific region. I understand that Samsung is one of the first companies to establish such a large-scale, unified regional social program in Asia-Pacific focusing on this issue," said Dr. Kim Hak-Su, executive secretary of the United Nations Economic and Social Commission for Asia and the Pacific, who is acting in his personal capacity as chairperson of the regional judging committee for Samsung DigitAll Hope 2003.

"What makes DigitAll Hope 2003 monumental is the size of the grant money; its regional focus on an area where using information technology to fill a development gap will remain a key issue; and the theme of youth, whose lives will be improved through the use of information technology," Dr. Kim added.

Samsung is launching the youth-themed program in eight Asian countries—India, Australia, Thailand, Vietnam, Indonesia, Philippines, Malaysia and Singapore.
|Back to Infotech Index| |TOP|


VSNL Profit Down

Internet service provider Videsh Sanchar Nigam Limited has posted a 44.57 percent decline in net profit at Rs. 7.8 billion in the financial year ended March 31, 2003, compared to Rs 14.1 billion recorded in the previous fiscal.

The board has recommended a dividend of Rs. 8.50 per share for the year, compared to Rs. 12.50 per share and a special dividend of Rs. 75 a share declared in FY '02, VSNL managing director S. K. Gupta said in a release in Mumbai May 29.

The ISP's total income also dropped substantially to Rs. 48.1 billion for the year under review, compared to Rs. 70.8 billion posted in FY '02, Gupta said.

The Tata group company has reported a massive fall in net profit at Rs. 1.9 billion in the fourth quarter ended March 31, as against Rs 3.1 billion recorded in Q4 of last year.

VSNL's total income dropped to Rs. 10.3 billion in the reporting quarter from Rs 17.7 billion posted during the same quarter in FY'02, he said.

Gupta said the income from operations is lower due to "significant reduction" in settlement rates, thanks to increase in competition.

However, VSNL maintained the International Long Distance traffic volume during the period and it is certain that the future growth will be offset by short-term impact on the industry, he added.
|Back to Infotech Index| |TOP|

Unique Offer

Sify, India's premier Internet, network and e-commerce services company, is offering a unique service to students in Tamil Nadu through its chain of branded cyber cafés—a Sify I-Ways.

All the 220 I-Ways in Tamil Nadu will offer all I-Way members free printouts of their mark sheets of their 10th grade results.

Students who wish to avail of this service can do so by simply going to any I-Way close to them. Students who are already members can get one free printout of their mark sheets, whilst others can become members and not only avail of this facility but also get Internet usage time too.

For further convenience, students can leave their roll nos. with the I-Way franchisee and can collect the printout.
|Back to Infotech Index| |TOP|

Toll-free Service

IBM India May 27 announced the launch of India Smart Center, a virtual toll-free service center to provide cutting-edge services and support to small and medium businesses in metros and small towns.

The center, the first of its kind, will provide easy-to-use repair and restoration services for IBM desktops and notebooks, an IBM statement said.

The India Smart Center provides a large infrastructure of toll-free telephonic support and is equipped with state-of-the-art facilities and highly-skilled "products specialists" to help resolve service and technical issues over phone, it said.

The center extends service support to customers through 170 service outlets across 64 locations for desktops in India, it added.
|Back to Infotech Index| |TOP|

CareersIndia, NTTF

Careersindia, specializing in IT enabled career management service to the academic and corporate worlds, has signed a contract with Nettur Technical Training Foundation to provide online admission systems and online sample admission test solutions.

With this NTTF is now poised to conduct its admissions online in their 15 centers across the four southern states simultaneously, a company release said May 30 in Bangalore.

Careersindia has also provided the online practice tests for all the students applying to NTTF courses this year to familiarize them with the format and process of NTTF entrance examination.
|Back to Infotech Index| |TOP|

---
Honor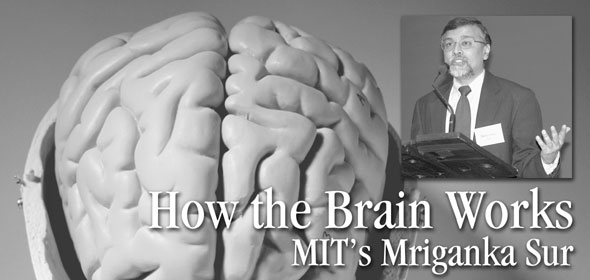 (Inset) MIT neurobiologist Mriganka Sur (Donna Coveney/MIT photo)

How the Brain Works:
MIT's Mriganka Sur
– A Siliconeer Report

What's an electrical engineer doing at the cutting edge of brain research? MIT neuroscientist Mriganka Sur's degrees are all in electrical engineering, but his pathbreaking research has earned him a rare accolade. He has just been elected a fellow to the American Academy of Arts of Sciences. A Siliconeer report.

Even when he was getting his engineering degree at IIT Kanpur, MIT scientist Mriganka Sur was interested in the brain. In school, he studied physics, chemistry and mathematics, but he was so interested in biology that he studied it on his own. He did the same at IIT. "All my degrees are in engineering, but all the questions lie in biology. And engineering helped ask these questions," Sur once told Rediff.com.

After a stint at Vanderbilt University where he studied the brain, the 49-year-old scientist has been at SUNY Stonybrook and Yale, and is today a named neuroscience professor at MIT who heads its department of brain and cognitive sciences. He is also the principal investigator of MIT's Sur Lab, named after him, which studies how the brain works.

"When scientists talk about the brain, they often lapse into the metaphor of the day," wrote Outlook magazine in a recent article. "We're hard-wired to do certain things; electrical impulses relay information within networks. Who, then, to better understand the circuitry of the brain than an electrical engineer?"

Sur has combined his love for biology and engineering by exploring the brain using electrical engineering principles, and now he is a leader of his field.

"There are many engineering principles you can use to study the brain," Sur says. "I tried to use communications theory to study how the spike trains of brain cells encode information. There are 10 billion cells in the brain and all of them send out electrical impulses. By recording the activity of brain cells, you can actually understand a lot of how the brain works."

The big question in biology is how an organism develops. "The interaction between nature and nurture is one of the foundational questions. I am privileged to have made a contribution to this question," Sur told Outlook.

Sur is famous for swinging the debate firmly into the nurture camp. The brain may be wired a certain way but environment and input are very important in making the brain what it is. To prove that, Sur and his team redirected visual stimuli to a part of the brain that normally deals with hearing. Subsequently, that part of the cortex developed like a visual network rather than an auditory network. In the jargon of neuroscience, this property is called "plasticity."

His pathbreaking work has now won him a rare accolade: fellowship in one of America's most distinguished associations.

Founded during the American revolution, the American Academy of Arts and Sciences is one of America's oldest organization scholars. New Fellows and Foreign Honorary Members are nominated and elected by current members of the Academy.

Only a handful of Indians – less than 30 – are among the academy's 3,700 fellows and 600 foreign honorary members. Among these are Nobel laureate biologist Har Gobind Khorana, Yale developmental economist T.N. Srinivasan and Stanford computer scientist Thomas Kailath. Foreign honorary members include Nobel laureate economist Amartya Sen, Cambridge economist Partha Dasgupta, Pennsylvania State statistician C.R. Rao, noted Indian scientist M.G.K. Menon and Trinidad-born author V.S. Naipaul.

The Academy was founded in 1780 by John Adams, James Bowdoin, John Hancock, and other scholar-patriots "to cultivate every art and science which may tend to advance the interest, honor, dignity, and happiness of a free, independent, and virtuous people." The Academy has elected as Fellows and Foreign Honorary Members the finest minds and most influential leaders from each generation, including George Washington and Ben Franklin in the eighteenth century, Daniel Webster and Ralph Waldo Emerson in the nineteenth, and Albert Einstein and Winston Churchill in the twentieth. The current membership includes more than 150 Nobel laureates and 50 Pulitzer Prize winners.

"It gives me great pleasure to welcome these outstanding and influential individuals to the nation's oldest and most illustrious learned society. Election to the American Academy is an honor that acknowledges the best of all scholarly fields and professions. Newly elected Fellows are selected through a highly competitive process that recognizes those who have made preeminent contributions to their disciplines," said academy president Patricia Meyer Spacks. Leslie C. Berlowitz, the academy's executive officer, added, "The American Academy is unique among academies for its breadth and scope. Throughout its history, the Academy has gathered individuals with diverse perspectives to participate in studies and projects focusing on advancing intellectual thought and constructive action."

Sur travels to India a few times each year—he's affiliated with the National Center for Biological Science in Bangalore and the National Brain Research Center in Delhi.

He is married to Abha, a historian of science who is active in the Alliance for a Secular and Democratic South Asia in Boston. They have a son, Samir.

|TOP|
---
Entrepreneurship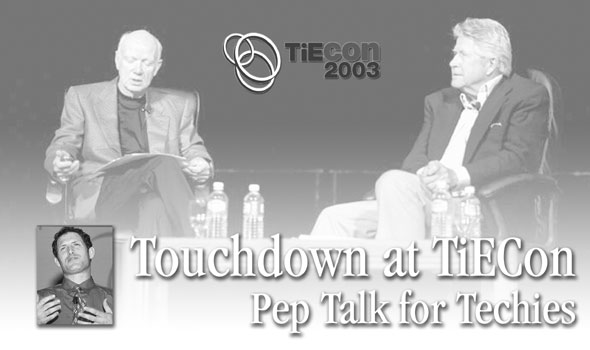 Background: Regis Mckenna and Donald Valentine at the Unplugged Session. (Inset) Steve Young comparing football to entrepreneurship. (Creations by Sam photos)
Touchdown at TiECon:
Pep Talk for Techies
– By Ashok Bhargava

The Indus Entrepreneurs, the mother of hi-tech desi entrepreneur organizations, hosted a business and tech conference attended by over 2,000 people, writes Ashok Bhargava.

When the going gets tough, the tough get going. God knows times are tough for techies in the Silicon Valley of Death as excesses of the speculative years have left the business reeling from a prolonged hangover.

So who better to give a pep talk than San Francisco 49ers quarterback Steve Young? You could be forgiven for wondering if you were in a football stadium when he got hold of some successful entrepreneurs and TiE honchos in a huddle May 16 at The IndUS Entrepreneurs conference.

With 2,000 people in attendance, it was still a pretty big event, though the slack participation in many panels was ample proof of how much sheen IT had lost.

But no matter, Steve Young drew lessons from the challenge of mano-a-mano football which impressed the audience. Himself an investor in a venture fund, he carried conviction when he gave a clarion call to the audience: "Take advantage of everyone else's downturn."

Young was joined by Qualcomm CEO and co-founder Irwin Mark Jacobs and other Silicon Valley big shots who turned the conference into a big bull session.

Jacobs talked about the launch of Qualcomm. Patience and persistence are key qualities, he said. He practiced what he preached; he told the audience about making Code Division Multiple Access the industry standard for third generation wireless communications, even when most people balked at the idea. Qualcomm now owns three of the top 10 most cited patents.

Chasm group chairman Geoffrey Moore urged people to take advantage of harsh times. The tech sector is maturing, and more infrastructure will come, but he suggested entrepreneurs to get back to basics. Stick to what you do well, and do it in an area that you know well, he said. Core competency was the key, he said, and dismissed ambitious dreams to go global. All business, like politics, is local, he said.

Regis McKenna, marketing author and lecturer with Regis Mckenna and Donald Valentine, founder of Sequoia Capital, vice chairman of Cisco and Network Appliance chairman were other keynote speakers.

Interested readers can go visit the TiE Web site www.tie.org for more information about the organization.

- Ashok Bhargava is an IT marketing and sales specialist.
He is based in Milpitas, Calif.

|TOP|
---
Conference

High Tech Telugus:
TANA Business Conference
– By Dilip Kondiparti

The 10,000-member Telugu Association of North America will mark its 25th anniversary with a high-powered business technology meeting, writes Dilip Kondiparti.

We all know too well about the dark clouds that hang over Silicon Valley today as too many dot-com companies have gone belly up, leaving behind a depressing mix of cynicism, despondency and fear.

But technology, especially IT technology, is not only here to stay, it has also changed forever the way we do business. It would be self-defeating for us to let a temporary economic downturn obscure the larger, long-term implications of the revolutionary changes wrought by IT.

The Telugu Association of North America is celebrating an important milestone: the 25th anniversary of TANA. The non-profit will mark the occasion with "TANA Business and Technology Conference" at the Fairmont Hotel in San Jose, Calif., July 3.

TANA brings professionals from various sectors. People from information technologies, bio-informatics, healthcare, venture capitalists and investment bankers, successful entrepreneurs and top technology executives from around the world will share their knowledge and experience and inspire the business and technology leaders of tomorrow.

"Changing business dynamics and uncertain economic conditions call for creativity in a crisis," said Bhaskar Rao Chadalavada, chairman, TANA Business and Technology Conference. "TANA Business Conference is a forum that brings Telugu people and other participants together in fostering a networked community of investors, entrepreneurs and business executives and establishes productive relationships among them."

"We are very gratified that the Government of Andhra Pradesh is recognizing the importance of Telugu's influence in North America" said Dr. Peraiah Sudanagunta, chairman, TANA 2003. "TANA business conference will stand as a good example that has a fine balance by showcasing its cultural roots while marching towards the progress through its business conference."

We have a great mix of VCs, investment bankers, and successful entrepreneurs who are delighted to share their experiences. Come prepared for an exciting day—listen to them, participate in the discussions, challenge the ideas, more importantly, become a part of it.

"TANA business conference is packed with an exciting array of events beginning with a keynote speech followed by panels and discussion groups of high-impact topics relevant to the current times" said Bhaskar. "Our goal is to make it an effective, better yet bringing us all together in leveraging each other strengths for a better tomorrow."

TANA was formed in 1977, to preserve and propagate the Telugu cultural heritage and maintain the identity of people of Telugu origin and to provide a forum for Telugu literary, cultural, educational, social, and charitable interactions among its members.

Interested readers can get more information about TANA at their Web site at www.tana2003.org. For information on the business and technology conference, readers can reach Kondiparti at by email at kondiparti@tana2003.org.

- Dilip Kondiparti is one of the organizers of the
2003 TANA Business Conference. He co-chairs the
events committee. Dilip is based in Sunnyvale, Calif.

|TOP|
---
Technology Center

(Background) At the inauguration of the Bangladesh IT Center in Silicon Valley ((l-r): AABEA president Mohammed Ibrahim, Bangladeshi software entrepreneur Habibullah Karim, Bangladesh commerce secretary Suhel Ahmed, AABEA Silicon Valley president Jahangir Dewan and Enayetur Rahman, who heads the new IT center. (Inset) Santa Clara County Board of Supervisors Pete McHugh.
Joining the IT Race:
Bangladesh ICT Center
– A Siliconeer Report

There's more to Bangladesh then floods, poverty and political turmoil. The South Asian nation has opened a new office in Silicon Valley to tap the global IT market. A Siliconeer report.

There's more to Bangladesh then natural calamities and poverty, Silicon Valley. Expatriate Bangladeshis and a visiting official delegation from made a robust statement May 11 when it announced to the world May 11 that the South Asian nation was going to stake its claim in the global IT market by opening an IT center in the heart of IT in Santa Clara here.

Enayetur Rahman, an expatriate Bangladeshi engineer with over 19 years experience in the Silicon Valley semiconductor industry under his belt, will lead the Bangladesh Information and Communications Technology Center, a 2,000-sq. ft. office with an annual budget of $400,000 supported by the World Bank and the country's commerce ministry.

Local officials and Silicon Valley IT heavyweights showed up at a celebratory event at the Santa Clara Convention Center which included a video presentation, brief speeches and a panel discussion which took questions from the audience.

Bangladesh Commerce Secretary Suhel Ahmed, who played a key role in snagging World Bank funding, sought help from expatriate Bangladeshis. Silicon Valley entrepreneur and philanthropist Kamran Elahian and The Indus Entrepreneur president Sridar Iyengar promised support, and local officials including Santa Clara County Board of Supervisors member Pete McHugh, Santa Clara Mayor Patricia M. Mahan and former Milpitas Mayor Henry Manayan were on hand to lend support.

There are about 200 software companies in Bangladesh, and at least 30-40 export abroad to the U.S. Europe, Japan and Australia. Its exports include software, medical transcription, contact center, pre-press graphics for Europe, cartoon animation for Canada and Australia. Over 20 companies have ISO 9002 certification, and the number is expected to rise to over 50 within the year. Internet is catching on: Bangladesh has around 2 million Internet users, and will have fiber optic Internet connectivity by the end of 2004. With 5,000 computer science graduates each year, is well poised to catch the next wave of IT boom, bullish Bangladeshi delegates said.

Enayetur Rahman, who heads the new IT center, said that the facility will function as a shared business office which will showcase the best Bangladeshi companies. TiE president Sridar Iyengar invited Rahman and Ahmed for a special dinner which was particularly fruitful, he said. TiE was keen to open a chapter in Dhaka, Iyengar said.

Interested readers can visit www.bitc-bd.com for more information.

|TOP|
The polls that pop up regularly in the U.S. on a variety of issues reflect a snap shot of public opinion, but how well do they represent the views of immigrants? New California decided to find out by conducting the first ever multilingual poll of immigrants in the U.S. of the Iraq war, and it found not only significant differences of opinion between immigrants and mainstream public opinion, but diverse opinions within various ethnic groups.

Immigrants living in the United States worry that the war in Iraq will heighten the threat of terrorism and lead to increased economic instability and government harassment, according to the only multilingual poll of immigrants conducted on the war and its aftermath.

As a whole, immigrants from the Middle East, Asia and Latin America are less supportive of the war than the general public, although this view varies significantly among specific immigrant groups. In contrast to mainstream public opinion, many more immigrants also worry that the war will have negative repercussions abroad.

"What's most striking to me is that immigrants in the United States have developed their own distinctive views about the war and that these views differ from immigrant community to immigrant community, for example between the Vietnamese and the Pakistanis, or between the Iranians and the Hispanics," says Sergio Bendixen, whose firm Bendixen & Associates conducted the poll. "What unites them is the fact that they tend to be less supportive of the war and much more concerned, even fearful, of its implications for the United States both at home and abroad."

The poll surveyed 1000 immigrants who reside in the United States and were born in Asia (China, Vietnam, Korea, the Philippines and India), the Middle East and Latin America. It was commissioned by New California Media, a national association of ethnic news organizations, in partnership with USC Annenberg School for Communication's Institute for Justice and Journalism and the Chinese American Voter Education Committee, and was conducted between April 16 and April 24, 2003.

"On an issue as pivotal for America's future as the war, we felt it was imperative to give all people—whether they speak English or not—a voice in shaping public opinion," says Sandy Close, executive director of New California Media. "Our media partners will disseminate the results, ensuring that their audiences feel they are participating in the public discourse."

People who speak languages other than English are generally excluded from public opinion surveys, prompting NCM and its partners to work with Sergio Bendixen, the country's leading Spanish-language pollster, to develop a growing multilingual polling capability.

Orville Schell, dean of UC Berkeley's School of Journalism, underscores the importance of the NCM poll. "As the growing diversity of minority immigrant groups alters the face of American society, the political sentiments of these newly coalescing groups needs to be fathomed and factored into the media's portrayal of America's new political consensus," Schell says. "The results of the NCM poll are in many ways surprising, but all the more essential to our understanding of how American society is reformatting itself."

Among the biggest surprises the poll revealed, Close notes, is that while immigrants differ from mainstream public opinion on key aspects of the war, they also differ from public sentiment as reported by the international media in their home countries. So, for example, Mexicans reportedly overwhelmingly disapprove of the war in Iraq, whereas Hispanics surveyed by the poll — most of whom come from Mexico — are more supportive, although less so than non immigrant Americans. Vietnamese and Filipinos in the United States support the war at higher percentages than mainstream Americans, in sharp variance with public sentiment in their home countries.

The variations between groups from the same region — like Iranians versus Pakistanis, or Vietnamese versus Koreans — challenge the tendency to create broad categories like "Asian" or "Middle Eastern," observes William O. Beeman, a linguistic anthropologist at Brown University who is also an expert on Iran. "Iranians endured a decade of bloody warfare with Iraq, which may help explain why higher numbers of Iranians in the U.S. support the war than do Pakistanis. Vietnamese in the United States Identify strongly with the government they see as rescuing them after the Communist victory in Vietnam, and endorse the U.S. war at numbers higher than mainstream Americans. Koreans are far less supportive, possibly reflecting concerns about current U.S foreign policy towards the Korean peninsula."

Despite their critical stance towards the war, many immigrants report they now feel "more patriotic" toward the United States and still believe the country is a positive force in the world. At the same time, they fear the United States will suffer a loss of international credibility if weapons of mass destruction are not found in Iraq — in contrast to most Americans surveyed in recent polls who say it is no longer important if such weapons are found.

"The poll shows most immigrants surveyed to be highly sophisticated in their opinions," says Close. "The variations in responses by themselves offer invaluable clues for anyone who cares about who we are becoming as a body politic."

New California Media is an association of over 400 print, broadcast, and online ethnic media organizations.

|TOP|
---
Culture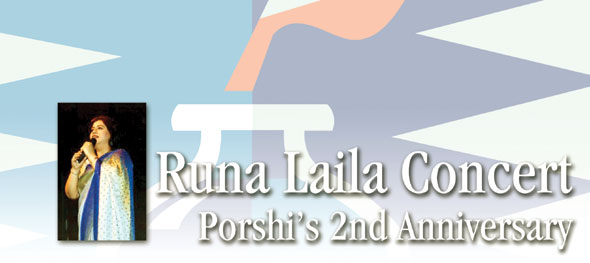 Runa Laila Concert:
Porshi's 2nd Anniversary
– By Mahmud Hassan

You gotta love a bunch of people who not only give up leisure time to run a magazine, month after month, but nurture it as it struggles to break even. Mahmud Hassan, one of the editors of the Bay Area-based Bengali monthly Porshi, writes about their anniversary gala and the magazine that's hosting it.


ENext month, as we celebrate two years of the launching of Bangla monthly Porshi (The word means neighbor in Bangla), we invite all Bengalis to join us at a cultural gala on July 18 at the Spangenberg Theatre of Gunn High School in Palo Alto.
Our evening will be headlined by Runa Laila, stage performer and singer, who will be joined by Mumbai-based Jolly Mukherjee and Kolkata-based singer Jojo.

Runa Laila needs little introduction to music aficionados of the sub-continent. She stormed into public fame way back in the 1960s when she was just in her teens. She brings prodigious talent with a breathtaking, effervescent stage presence that captivates the audience. Her versatile skills manifest in her ability to perform flawlessly in 17 languages, effortlessly moving between genres as diverse as Bengali folk, modern, classic Urdu ghazals, pop songs.

Porshi, our magazine, likes to call itself bishwo Bangalir mukhopatro, i.e., spokesperson for the global Bengali. In this globalized age, geographical distances have become much less significant, giving Bengalis all over the world a sense of community.

It's hard to think of a performer more appropriate to celebrate our magazine and our cause than Runa Laila. Her global reach and success epitomizes our global vision.

Raised in Pakistan, she stormed into the hearts of music lovers there when barely a teen, and became the indisputable queen of playback singing in a remarkably short time. Following Bangladesh liberation war in 1971, she left Pakistan for Bangladesh, and again, it didn't take her long to become the top playback singer in Bangladesh.

But there's more to Runa than her singing talent. She was decades ahead of her time in her stage performances, and stunned television audiences in Pakistan by her appearances in The Zia Mohyeddin Show. She brought a vivacious spontaneity and an élan that stood her in good stead when she went on later to India and charmed audiences there. Her "Superuna" pop album won her a platinum disc, while "Loves of Runa Laila" with Pakistani music director Nayyar made double platinum.

Runa has sung and recorded well over 5,000 songs to date. She was featured in the Guinness Book of Records for recording the largest number of songs in a single day. This happened in Mumbai, where she cut four albums recording 40 songs: 30 of these in three days.

Noted Mumbai-based composer and singer Jolly Mukherjee and Kolkata star Jo Jo will give our cultural evening an eclectic, cross-national character that is in keeping with the ethos of the global Bengali.

Porshi, the magazine that is sponsoring the event, came into being after many of us living in the Silicon Valley felt a strong need to preserve and nurture our cultural identity. We wanted to bring alive Bangla culture through the reading and writing in Bangla. A magazine, we thought, will promote that. People who read our magazine, we hope, would read other Bengali magazines; those who write for us would have to do more reading in Bengali.

Our target readership is the Bangla-speaking population around the world with initial focus in North America. As we say in our mission statement, we want to create a bridge amongst the Bangla-speaking communities spread around the world utilizing the common bond of Bangla language and culture. By publishing articles from writers in North America, Bangladesh and the rest of the world on issues touching the socio-cultural lives of Bangla-speaking population, Porshi hopes to promote fraternal ties amongst members of this group.

Our magazine includes articles on contemporary issues (important to Bangla-speaking people), arts and entertainment, culture, tourism, immigration, sports, evolving technologies, technology transfer, reports on events of Bangla-speaking communities in different parts of North America, short stories, poems, discussions.

Of course there is still a long way to go, but I think it is fair to say that there is cause for some satisfaction from a few things we have been able to achieve so far.

We have been able to put up an infrastructure and stick to a timely schedule. Now, writers and readers have come to expect Porshi to appear on time every month. Authors know they cannot procrastinate. If they do, we move on.

We have also managed to fashion a working system without a physical office. Through email, Internet and electronic media, our editors and writers keep in touch and now it's working out pretty well.

Currently our writers and readers are mainly Bangladeshi expatriates, but our long-term goal is to reach out to Bengalis from all over the world. When I talk of the global Bengali, what I mean is that expatriate Bengalis no longer feel the dislocation of being a cultural exile, we increasingly feel that no matter where we live, we are Bengalis at heart. This is the feeling we are trying to promote through our magazine, it's not a political slogan. It's more like a cultural connotation.

Do find out more about us at our Web site at www.porshi.com.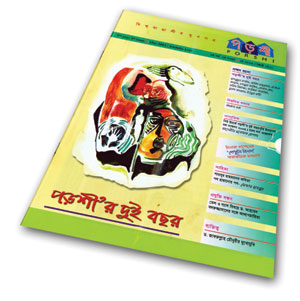 - Mahmud Hassan is a computer professional and the executive editor of Porshi, a Bangla monthly that comes out of the Bay Area. He lives in San Jose, Calif.

|TOP|
---
Event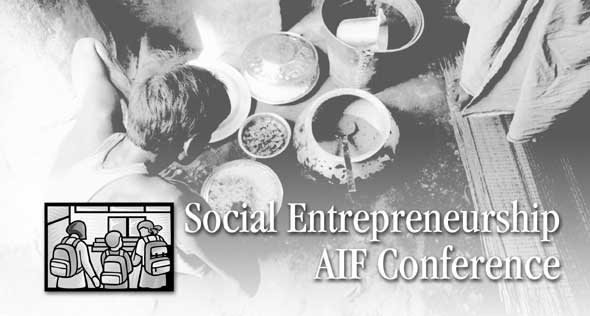 Social Entrepreneurship:
AIF Conference
– By Zitin Bazaz Dhawan

How can the magic of entrepreneurship be brought to bear on myriad social problems? American Indian Foundation will explore this in a conference, writes Zitin Bazaz.

Entrepreneurship is the buzzword today as the twin forces of the market and globalization envelop the world, and sitting right in the middle of Silicon Valley, it's not hard to see why. Venture capital and hi-tech innovation have pretty much launched an information technology revolution that has changed the world around us as well as the way we live and work.

Yet there is also a world of poverty, backwardness and bad governance that has kept a significant part of the world's population far behind.

Milpitas, Calif.-based American India Foundation has brought together an eclectic group of people to explore how to leverage resources in the U.S. – financial, intellectual, and technological – to spur change in India at a conference June 8 in Oakland, Calif.

Among the many well-known speakers joining the debate will be Kamran Elahian, a veteran entrepreneur and founder of ten high-tech companies including Cirrus Logic Inc., NeoMagic Corporation and Centillium Communications. Dr. Ashutosh Varshney, associate professor, department of political science, and director, Center for South Asian Studies, University of Michigan, Ann Arbor, Waheeda Rehman, former award-winning actress as well as philanthropist, currently the ambassador for achieving universal literacy in India and Vikram Akula, founder and CEO of SKS MicroFinance, one of the leading micro-finance institutions in India.

AIF is devoted to spearheading social and economic development in India. This is its first annual conference in the Bay area at the Scottish Rite Center in Oakland.

The conference will highlight the role of education and women's empowerment in preserving India's secular fabric, showcase individuals who have made significant contributions towards uplifting the underprivileged population of India.

Later AIF will present a fusion concert with Pandit Hari Prasad Chaurasia (flute), George Brooks (saxophone), Larry Coryell (guitar) and Vijay Ghate (tabla).

AIF is a non-profit organization dedicated to accelerating social and economic change in India through programs such as "Entrepreneurship for Peace" and "Investing in Social Development." The AIF board includes leaders such as former President Bill Clinton, Rajat Gupta (managing director, McKinsey and Company), Victor Menezes (senior vice chairman, Citigroup), Lata Krishnan (co-founder, Smart Modular) and Pradeep Kashyap.

For more details on the conference, interested readers can visit the AIF Web site at www.aifoundation.org.

Zitin Bazaz Dhawan is director of business
development with Sunnyvale, Calif.-based inMedya Productions.

|TOP|
---
Legal Issues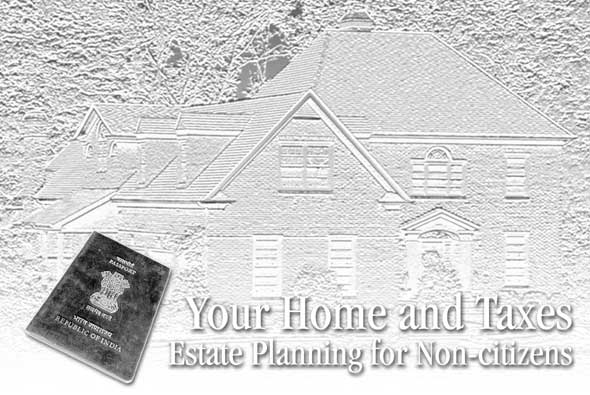 Your Home and Taxes:
Estate Planning for Non-citizens
– By Raja Ahluwalia
The American dream is manifested best by owning your own home. However, there are some tax rules that are different if you or your spouse is not a U.S. citizen, writes attorney Raja Ahluwalia.
By and large, while fed­eral estate and gift tax system treats U.S. citizens and resident aliens equally, there are some special rules for resi­dent aliens you should be aware of if either you or your spouse is not a U.S. citizen.
UNLIMITED MARITAL DEDUCTION
Federal tax law provides that a married person can leave an unlimited amount of property to his or her spouse at death free from federal estate tax. This deduction allows married couples to defer estate taxes until both spouses have died. The deduction is available for property passing outright to a surviving spouse or for property held in a trust for his or her benefit. This trust is commonly known as a Marital Trust.
If the surviving spouse is not a U.S. citizen, an outright bequest to him or her won't qualify for the marital deduction. To avoid estate taxes, the property must go into a special type of marital trust known as a qualified domestic trust ("QDOT"). These trusts operate like any other marital trust, but there are additional requirements. First, the trust must have at least one trustee who is a U.S. citizen or a domestic corporation. If the value of the property held in the QDOT exceeds $2 million, or if the trust owns a substantial amount of foreign real estate, one trustee must be a U.S. bank, or the trustee must obtain a bond or letter of credit to guarantee payment of federal estate taxes when the surviving spouse dies. Also, the trustee must have the right to withhold estate taxes on the distribution of trust assets to the surviving spouse. If the trustee doesn't withhold taxes, the surviving spouse must pay the taxes.

Distributions of trust income are not subject to estate tax, nor are "hardship" distributions—distributions made because the surviving spouse has an immediate and substan­tial need for funds.

For assets that can't be transferred to a QDOT, such as retire­ment plans and annuities, the surviving spouse must either agree to pay the estate taxes due on each distribution he or she receives from the plan or annuity, or transfer the amount received to a QDOT. If the deceased spouse's will or living trust doesn't properly establish a QDOT, the non-citizen spouse can establish one and transfer the assets he or she received from the deceased spouse to the trust to preserve the marital deduction.

The marital deduction also permits a married individual to give any amount to his or her spouse during life without paying any gift tax. This rule applies only if the spouse receiving the gift is a U.S. citizen. For lifetime gifts to a non-citizen spouse, a spouse may transfer up to certain year per year to his or her spouse free of gift tax. This figure is indexed for inflation each year.

JOINTLY OWNED PROPERTY

The Internal Revenue Code provides that if a married couple (both U.S. citizens) owns property jointly as joint tenants with rights of survivor-ship or as tenants by the entirety, when one spouse dies half of the joint property is includable in the deceased spouse's estate for estate tax purposes. A different rule may apply if one spouse is not a citizen. Depending on which spouse paid for the property and which spouse dies first, some amount other than one-half of the property s value may be subject to estate tax at the first spouse's death. Also if the surviving spouse is an alien, he or she must transfer the deceased spouse's interest in the joint property to a QDOT to qualify the property for the mari­tal deduction.

These rules may seem complex, but Congress was con­cerned that a surviving non-citizen spouse might leave the country with property that escaped estate taxes at a spouse's death through the unlimited marital deduction, thus preventing the government from collecting the full amount of estate taxes owed on the property. Remember, the marital deduction merely delays taxation until both spouses are deceased.

If either you or your spouse is not a U.S. citizen, be sure to tell your estate-planning advisor so he or she can prop­erly draft your estate plan. Also, keep detailed records showing how much each spouse contributed toward the purchase of joint property. All property owned by a resi­dent alien at death—even property located outside the United States—is subject to estate tax, so tell your attor­ney about any property you own outside the U.S.

Raja Ahluwalia is an attorney based in San Mateo, Calif.

---
Auto Review: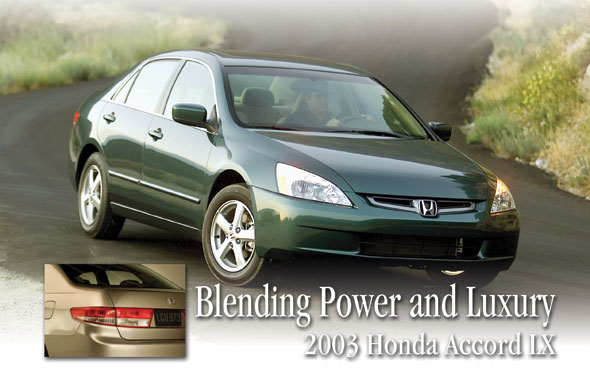 Blending Power and Luxury
2003 Honda Accord LX
– By Al Auger

In its Accord LX, Honda has put together a total package of power and luxury at an unexpectedly affordably price, writes our automotive editor Al Auger.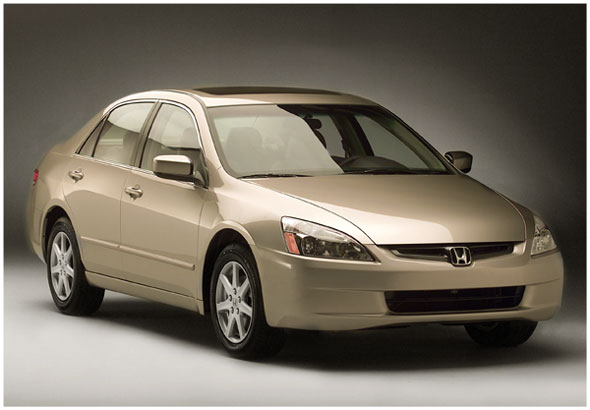 Honda Motor Company is not one to sit back and wallow in its past successes. Take the best selling car in America, for instance, the Honda Accord. Their offering for the 2003 model year is totally new front to back and there is a rather radical issue between its sedan and coupe models. The only family relationship, beyond the mechanicals, are the headlights. Each brings to the road their own look and personality.
Certainly, Honda has pushed the design envelope beyond the norm. It's so easy in this business to take the cookie cutter route knowing your name can carry the biggest message. The 2003 Accord 4-door LX is a beautiful example of not following this road. The word spinners claim the Accord has undergone the most dramatic change in its 27-year history. In comparing this seventh generation issue with its past brethren, that is an understatement.

They were always good looking, in a stolid, don't-rattle-the-cage mindset. The 2003 is silky and seductive, all soft curves and clean, uncluttered lines that slither in and out. It looks bigger, acts bigger. The wide rear window rolls into a stubby rear deck that hides a large trunk. In a tricky move, the overall length is only a tenth of an inch longer than the 2002 model, but the wheelbase has been stretched an inch putting the wheels further out in the corners.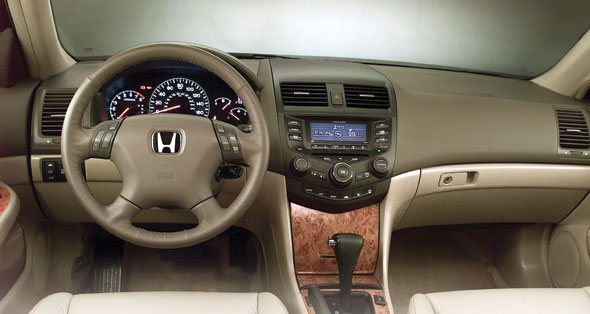 Finally, it seems, the industry pooh bahs of design are once again paying attention to the ergonomics of the control panel. The dash panels and consoles, that were more like the cockpit of a commercial airliner than a car with their tiny buttons and switches, are disappearing. The Accord sound system has been simplified and made more user friendly. The Accord carries this attention to detail to a higher limit with an LED display for the sound system and one-touch control of climate control. Both control units sit high on the center console with large graphics and readouts.

Accessibility to all the controls and the vision line for the readouts are exemplary. The seats are more confining, but still carry the feel of a comfortable couch; just a tad too much space for the derriere and hips. They also put special emphasis on the usually forgotten area for knees and feet. The Accord features generous room for the drivers' knees under the steering wheel and in the foot well. The rear passengers also enjoy more freedom. The whole region within the cab seems larger in both length and width.

Ah, but under the hood is where the real attributes lie. Two powerplants are offered for both the coupe and sedan: A new 2.4-liter 4-cylinder and a very reworked 3.0-liter V6. We lucked out with the V6 and an all-new 5-speed automatic transaxle that replaces the previous 4-speeds. Each engine has its own specially matched 5-speed or the base 5-speed manual transmission plus a 6-speed manual to fit the V6-powered "Ultimate Sport Accord Coupe."

The V6 cranks out an impressive 240 horsepower and 212 lb.-ft. of torque. The Accord so equipped is a bundle of muscle that responds with immediacy when the left foot is pressed. Cruising the autobahn is an exercise in quiet; just a slight burble to let you know the engine is cooperating. The ride, while not matched to the power, is a well-balanced blend of comfort and firmness. I would really like to try the Sport Coupe with the V6 and 6-speed manual coupled to a tuned suspension.

Honda has put together a total package of power and luxury for the upscale market at price well below what you might expect. The Accord LX is delivered fully loaded with only a short list of options to choose from.

Today's Test Drive: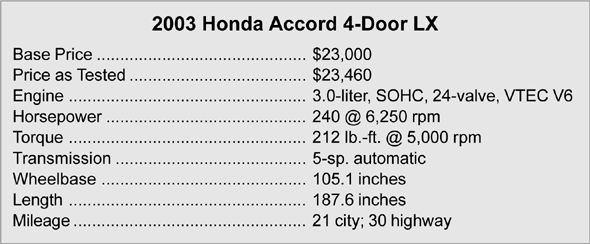 Al Auger, our automotive editor has been writing about cars for over 30 years.
He has spent 20 years as a race driver and public relations specialist.
|TOP|

---
Bollywood: | Guftugu | Hindi Film Review |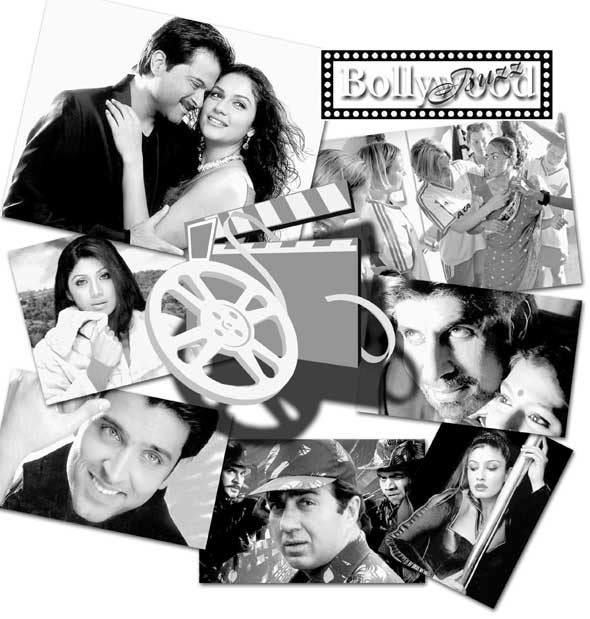 Guftugu

Comeback Kid

At the end of the day, good conduct counts, even in Bollywood. Take the case of Hrithik Roshan. His filmi career had taken a dizzying dip south after his film Kaho Na Pyaar Hai marked the mother of all debuts. The vultures were already circling, and the grapevine bristled with snide dismissive comments of another one-film wonder who had come and gone.

Old timers recalled the sad fate of Kumar Gaurav in Love Story. Hrithik didn't help matters by making terrible choices. It's hard to imagine anyone on earth salvaging films like Fiza, Yaadein or Mujhse Dosti Karoge. Aap Mujhe Acche Lagne Lage, Bollywood wags said, was a classic failure in truth in advertising.

Even the tepid Mission Kashmir shone in comparison. The only real hit was Kabhi Khushi Kabhie Gham, but Hrithik was lost in a dazzling array of stars like Amitabh, Shah Rukh, Kajol and Kareena.

But the kid was sincere and hardworking, and it's beginning to pay off. To top it all, he remained down-to-earth and professional, and now things may be looking up at least. Main Prem Ki Deewani Hoon is ready for release, as is his home production Koi Mil Gaya. He is working on Farhan Akhtar's Lakshya.

Fate can be fickle, our Hrithik has learned the hard way, and he has also become extremely choosy about what films he does. The time for a reward is ripe, and no one deserves it more.
|Return to Bollywood Index| |TOP|

Hollywood Here We Come

Gurinder Chadha is laughing all the way to the bank, and a lot of Indians all over the world are cheering. Her sunny comedy of culture clash and football Bend it Like Beckham is going from strength to strength.

After becoming England's top indigenously made grosser—the first time a non-Indian film maker has achieved this—it has gone up to reach the unbelievable heights of U.S. top ten. Since its March 12 opening, it has grossed $11 million—and still counting—easily overtaking Mira Nair's $6.2 million at the same time.

The U.S. market is particularly difficult for foreign, particularly non-European films. The movie's performance was even better than the figures show as it was playing only in 484 theaters while the remaining movies in the top ten list were being shown in 1,000 theaters each.

Indian-themed films rarely appear in the top 20, much less the top 10, but Bend It Like Beckham continues to steadily climb the charts. Only a small handful of motion pictures with Indian themes have ever hit the North American top 10 chart.

Gandhi had occupied the number two spot in 1983, A Passage to India reached third place in 1985. In 1992, both City of Joy and Mississippi Masala were among top 10.

The star-studded Bollywood hit Kabhi Khushi Kabhie Gham debuted in tenth place in December 2001.

Brava, Gurinder!
|Return to Bollywood Index| |TOP|

Shady Shetty

It's a story right out of a Ram Gopal Verma gangster film. While aspiring starlet shakes her booty in South Africa, cops swoop in to nail her parents who are trying to shake out a Surat businessman. Police even have taped conversations of an expat don threatening the Surat businessman to cough up a cool Rs. 20 million.

Sounds like a Bollywood potboiler, right? Unfortunately it's all true, if you believe the police. Shilpa Shetty's parents are in the middle of a big scandal involving Malaysia-based gangster Fazlur Rehman. According to a complaint by Shivnarayan Agarwal, Shilpa's parents Sunanda and Surendra paid the underworld don Rs. 2.5 million to extort Rs. 20 million from the Surat businessman who owns Prafful Sarees. While the nimble Surendra got off the hook by getting anticipatory bail, Gujarat police have put out a nationwide alert for mom Sunanda.

The Shetty version, which doesn't have too many takers, is that Prafful Sarees signed a Rs. 400,000 deal with Shilpa for an ad campaign, but as the campaign ran longer, they demanded the extra money.

Newspapers are having a field day, with the Mid-Day and Indian Express splashing transcripts of the alleged conversations all over the paper. And who can blame them? Some of this stuff seems plucked right out of a hot masala film. For example, in one taped conversation Sunanda asks Agarwal to pay up so that "phones (from the gangsters) apne aap band ho jayenge."

"Paisa to aapko dena hi padega," she apparently tells Agarwal.

Fazlur Rehman goes one better. "Game bajaa dega,"he threatens, adding with a Bollywood flourish. "Aapke poore khandaan ki janam patri hai hamare paas. Dekh lenge." There's no denying the fact that this guy has a future as a Bollywood baddie.
|Return to Bollywood Index| |TOP|

Hero Falters

Sunny Gadar Deol has his heart in the right place, but he figured the game all wrong. Take his latest attempt: The Hero. As Bollywood movies go, it was not a bad attempt at all. Sunny did a passable version of India's answer to 007, and had a thriller which spread all the way from Kashmir to Canada.

But at Rs. 550 million, it had a lot of ground to cover, and the producers compounded their mistake with a huge asking price. Distributors and theatre owners, caring folks that they are, promptly passed the buck—literally—to the hapless film buff.

Sunny's fans are not to be found in the hep yuppie crowd who find him too rustic anyway, and ordinary folks were unimpressed by his sophistication.

These are the folks who like their stories they way they look at life: just keep it simple. When his tapori fans were spoiling for a few choice Punjabi obscenities, Sunny chose to bemuse them with an edifying dose of nuclear physics 101.

High price tickets, high faluting stories. Result: Not enough takers. His fans, it would seem, are now edifying him with dose of reality check 101.
|Return to Bollywood Index| |TOP|

The Greatest

Things have come to a point when Amitabh winning international contests has become so common that it can a draw a yawn. But hey, isn't it worth celebrating if our Big B shares company with such international luminaries as Al Pacino, Tom Hanks, Harrison Ford, Anthony Hopkins and Sean Connery?

That's exactly where Britain's Channel Four television put him when it conducted a poll to find out the greatest 100 film stars of all time.

Yep, that 100 film stars of all time all over the world. Amitabh ranked 92nd in a list led by Hollywood star Al Pacino. The rest of the top 10 were Robert De Niro, Tom Hanks, Kevin Spacey, Harrison Ford, Jack Nicholson, Anthony Hopkins, Sean Connery, Ewan McGregor and Cary Grant.

And get this: Lord Lawrence Olivier, Sir Alec Guinness and Sir John Gielgud are among those missing.

Bachchan, who was voted as the star of the millennium in a poll conducted by BBC Online earlier, made his first appearance in Saat Hindustani which was a box office disaster. But he changed Hindi cinema with his films Zanjeer and Deewar with the introduction of the angry young man's persona. He has acted in over 70 films, many of them, particularly those from the mid-1970s to the mid-1980s, runaway successes.
|Return to Bollywood Index| |TOP|

Stumped Raveena

Poor Raveena! She wanted to make a splash with her production Stumped but it was sultry Bollywood star who got clean bowled. The film didn't really go anywhere in the box office and Raveena is blaming circumstances.

The film's intriguing theme focuses on what she considers an inordinate obsession with cricket when India's national interests are at stake in real wars like Kargil. The cricket World Cup provided the ideal setting, but ironically, that's also a time when Bollywood films perform miserably. Then came the producer's strike, she complains.

Film buffs say even the best circumstances in the world would not be able do much for her film. Many who have seen the film say the script is a mess, and this isn't the first time that she has shown poor judgement in choosing screenplays.

As if this weren't enough, now she has suffered a deep personal loss. The grapevine says Raveena's beau Samir Singh, a telecom executive, recently died in a auto accident.

It's clear that fate has bowled her a googly, again.
|Return to Bollywood Index| |TOP|

Dreams Unlimited

Okay, so their production debut three years back was a disaster. But although Phir Bhi Dil Hai Hindustani crashed at the box office, Shah Rukh Khan, Juhi Chawla and Aziz Mirza's dreams remain unlimited. Their company, Dreamz Unlimited, is ready to test the waters again with a marital romance, Chalte Chalte, starring Shah Rukh and Rani Mukherjee. Mirza directs the film while Juhi has been involved with the creative aspect this time. Mirza, who's made Yes Boss and Phir Bhi… with Juhi and Shah Rukh, did miss directing Juhi: "She'd have been the perfect choice for the heroine, Priya. Though we'll miss her bubbly presence, Rani's done a good job."

Whether it will be good enough to get the cash registers ringing is what counts.
|Return to Bollywood Index| |TOP|

Show Stealer

You've got to hand it to our Sallu. The guy may get into all sorts of trouble, but Bollywood's enfant terrible has what it takes to make the ladies swoon.

He proved it all over again May 17 when he literally descended from the air (this is a Bollywood show—whaddya expect?) and danced into the middle of the audience. The place: Johannesburg, no less. The occasion: IIFA Awards 2003)

Soon pandemonium reigned, as hysterical women gave security folks a run for their money. Salman didn't help matters with his standard shtick—he took off his T-shirt to the delighted shrieks of his fans.

(psst! Ex girlfriend Aishwarya Rai won the best actress award at the event. She wasn't actually there, because she had to go to Cannes to sit on its jury. Which is just as well, given the—um—less than cordial relations between the former lovers.)
|Return to Bollywood Index| |TOP|

---
Hindi Film Review
Old Wine in Old Bottle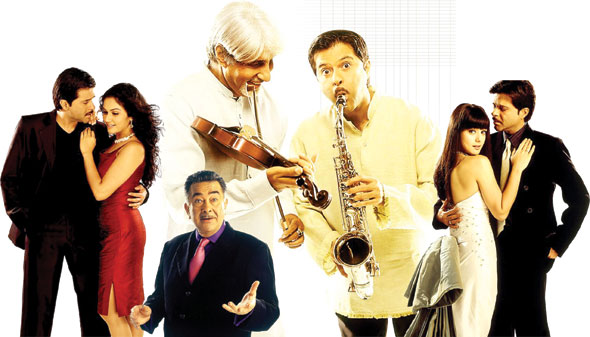 ARMAAN
Directed by:
Honey Irani
Music:
Shanker-Ehsaan-Loy
Starring:
Amitabh Bachchan, Randhir Kapoor, Anil Kapoor, Preity Zinta and Gracy Singh
The more things change, the more they remain the same. Just when you think Bollywood has come a long way, what with its hep new stars showing skin and talking about love rather than pyaar, and its love-struck heroine more apt to gush: "He's wonderful" rather than exult, "Mujhe kisise pyaar hogaya," Honey Irani drops this hoary old chestnut on our laps.
Bollywood films have come a long way in terms of technical sheen (when producers have the gumption to be attentive, that is), but as film after film crashes in the box office, film makers simply don't get it: It's the story and the script that is the backbone of a film.

But what's the point of belaboring the obvious? Dopey producers will try everything under the sun—sex, violence, cheap, tacky humor that make your toes curl in embarrassment—but the one thing they refuse to do is to go back to the drawing board and get down to the basics. Write—or borrow, or steal—a gripping story, get a smart writer to produce a taut, intelligent script, and package the whole thing with a modicum of technical values, and you are out of the woods.

What is Ms Irani's answer to Bollywood's crisis? She gives us the full retro treatment—in the worst sense of the word. Remember, yesteryear's Guru Dutt produced some gems which still captivate audiences. But this is retro without the intelligence, bearing the worst characteristics of that time. To wit, these are: using all kinds of implausible storytelling contrivances to create the most maudlin, melodramatic situations; instead of nuanced characterization (What's that? You think this is Cannes, or what?) the story is wrapped around simplistic archetypes (the spoiled brat, the selfless martyr and the sweet, devoted, jilted love) and follows a path so well traveled that you could walk along it blindfolded.

Here's the apology for a story: Dr. Siddharth Sinha (Amitabh Bachchan, now what's with that weird, spiky hair?) runs a well-respected hospital in a small town, but he has big dreams about it. He has remained a bachelor after a falling out with his lover for adopting an orphan, who grows up to be Dr. Akash (Anil Kapoor ) a neurosurgeon who shares his idealistic goals.

Neha Mathur (Gracy Singh) joins in as an anesthetist. The moment she picks up a fight with her, you know that in true pulp-romance fashion the two are going to be in love. After the predictable match happens, Sinha approves, and the loveboat sails merrily until it hits a storm in the form of Sonia Kapoor (Preity Zinta) a spoil brat who is another stock Bollywood character. Sonia is used to getting everything she wants, and she decides she wants Akash. She shakes her Dad's moolah at Dr. Sinha, but bless his heart, he asks the rich brat to go jump in the lake.

However, Sinha has a heart attack, and dies without being able to ask for help. Somehow, even with everyone carrying a cell phone, the Big B never got around to getting one. Some doctor.

Of course, this being a Bollywood film, Akash has no clue that his dad had summarily rejected Neha and her Dad's overtures, so he agrees to Sonia's proposal. What about Neha, the love of his life? Well, what about her? Ask Ms. Irani, who doubled as scriptwriter with hubby Javed Akhtar to concoct this ridiculous confection.

Sonia gets what she wants, but the trouble is it's still the same Sonia. She dislikes Neha with a passion, and makes life as unpleasant as possible until Akash finally has the sense to dump her. Sonia has a predictable accident, and you have a predictable melodramatic sequence where Akash and Neha have to operate on Sonia to save her life. Forget the cardinal rule that doctors follow of never treating or ministering to close relatives or friends.

The sad part is there are glimpses of talent in the film. For once, the medical ambiance is convincing, the dialogues are fairly good, and there are touching moments in the film. But it's all ruined by a tired, predictable story and stock characters. Anil Kapoor and Gracy Singh put in valiant efforts, but if the basic structure of a film is rotten, what can they do? This film simply doesn't cut it, and it is likely to join the big heap of duds that keeps growing as Bollywood continues to reel from its biggest economic crisis ever.

|Return to Bollywood Index| |TOP|
---
Tamil Film Review:
Clean Family Entertainer

LESA LESA

Director:
Priyadarshan
Cast:
Shaam, Trisha, Vivek, Srinivasan, Innocent, Hanifa, Madhavan.
It all begins with the arrival of Chandru's (Vivek) grandparents and half a dozen cousins for a vacation to his place. Chandru has squandered most of his wealth in risky business ventures, and now cajoles his friend Rakesh (Shaam) to agree to put them up, but at the same time wants to keep up the front that he's the boss and Rakesh his employee. Bala arrives, as does everyone's favorite cousin (Trisha), and after initial misgivings, Rakesh and Bala strike a fine rapport. Rakesh falls for her, her closeness with him leading him to believe that she, too, feels the same way. But Bala has her own past — her turbulent college days and its tragic consequence — which haunts her. The rest of the film revolves around Rakesh's attempts to get Bala to overcome her inhibition.
An engaging story well told, with the right dose of humor, sentiment and suspense weaved in — in a word, the film bears the trademark style expected of a Priyadarshan film. Harris Jairaj is back to form, composing some melodious, catchy numbers, like the title song, well-rendered (Anuradha Sriram) and aesthetically and sensuously picturized. In fact, all the songs are filmed tastefully in true Priyadarshan style. Thiru's camera captures the action well, the lighting of the interiors and the warm, golden hue giving the film a rich glossy look. A handsome star cast, well dressed, a colorful scenario, a deft blend of form and content, style and substance.

Based on a successful Malayalam film, the director has introduced some new situations and a more definite ending, which works well. It has quite a few talents from Malayalam cinema — Innocent and Hanifa appear in delightful cameos. Srinivasan (popular actor-director of Malayalam cinema) brings in his unique brand of comedy as the cocky servant, and it's one the audience is sure to enjoy.

Shaam's soft looks and demeanor are appealing, and goes well with his role. Madhavan's energetic appearance towards the end adds drama to the narration. Priyadarshan's knack of projecting his heroines favorably works to Trisha's advantage here. The actress, who was not well handled in her earlier films, has some suitable, trendy costumes to show her slim figure to advantage. She couldn't have been projected better.

A clean family entertainer from producer Vikram Singh, the film got bogged down by problems and took a while to hit the theaters. But fortunately, it does not look dated, and is worth the wait.

|TOP|
---
Recipe: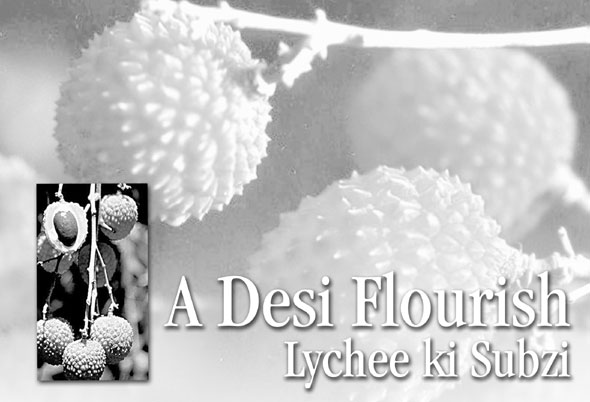 A Desi Flourish:
Lychee ki Subzi
–
By Seema Gupta
Add a desi flourish to lychees, and voila! You have a delicious dish rather than just a plate of lychees. Seema Gupta shows you how to make it.
Ingredients
1/2 lb lychees

8-10 medium-sized onions,

150 gm grated paneer

7-8 medium-sized tomatoes

1" piece of ginger

5-6 green chillies

1 tsp red chilli powder

Salt to taste

1 tbsp raisins

1 tbsp cashewnut (finely chopped)

2 tbsp cooking oil

Chopped cilantro for garnishing

Method

Peel lychees, slit longitudinally. Scoop out and remove seeds. Add finely chopped cashews and raisins to the grated paneer. Mix to make a paste. Stuff the lychees with the paneer paste.

Add cooking oil to frying pan in medium heat. Add onions, tomatoes, chilies, ginger, salt to taste. Sauté mixture to prepare thick, spicy and tangy gravy.

Pour gravy over lychees and garnish with chopped cilantro.

– Seema Gupta is a homemaker
based in Sunnyvale, Calif.
|TOP|
---
June-July Horoscope
ARIES (March 21 to April 20):
You will spend money on gifts. Life at work will be more peaceful. You might be looking to buy a new home. Solution for an important issue may lead to court as diplomacy and offers to compromise fail.
TAURUS (April 21 to May 20):
Second thoughts will delay decisions and you might miss a great opportunity. Try to resolve legal issues amicably. You will alter travel plans. Popularity will bring fame. You will attend an important meeting this month.
GEMINI (May 21 to June 20):
Beware. Do not take any chances in life for the next weeks. It will be an expensive month as family expenses rise. You may try, but will fail to curb expenses. People claiming to be friends will try to hurt your image in the social circles.
CANCER (June 21 to July 22):
Let go of the past, look ahead. Any knowledge gained at this point will be helpful for the rest of your life. Expect some shake up at work. You might make some money in unorthodox ways. It is time to sell those stocks and make some profit.
LEO (July 23 to August 22):
There will be hurdles in career but you will survive the turmoil. People in business will sign a major contract and the new venture will take-off very well. You will plan a short family vacation. Spouse may complain of pain in legs.
VIRGO (August 23 to September 22):
You will have visitors. You will benefit from overseas connections and may plan a short trip too. There will be interesting developments in career. You might buy electronic household goods. Enjoy time with family.
LIBRA (September 23 to October 22):
A government agency will cause stress. Expansion plans will be in trouble but don't give up. You might have to replace electrical gadgets at home or work. Spouse may start a cold war because of improper attention. Be content with what you have.
SCORPIO (October 23 to November 22):
Stress and anxiety are on the rise. You may have trouble deciding the right path in life. Some of you may be moving. A career change at this time is not a good idea. For once, you will be well in control of your expenses.
SAGITTARIUS (November 23 to December 22):
Unnecessary medications will hurt rather than heal. Lack of self-control will create strong enemies. Financially, you will do very well. You will attend a religious event and get to meet old friends.
CAPRICORN (December 22 to January 19):
Expenses will mount but you will enjoy time with family and close relatives. Siblings will get your undivided attention. You will slowly gain edge over big talkers. A nagging bodily pain will continue for some more time.
AQUARIUS (January 20 to February 18):
Last minute commitments will affect and alter travel plans. Financial progress will be slow but steady. An offer to settle a lawsuit may bring an opportunity to earn some extra cash. You will improve your knowledgebase and eventually your career.
PISCES (February 19 to March 20):
Career development efforts will yield positive results. You will be traveling to a hot, dry place as part of a vacation. You will be in good control of your finances. You will go out of your way to help someone close to you.