Publisher's Note
Time and again we have joined in the joyous chorus of India's information technology revolution. However, we have also cast a wider net in these pages, exploring the implications of technology in a land as sharply riven socially and economically as South Asia.
It's well and good that India's IT knowledge industry is galloping along, but one must also ask if there are any costs. The U.S., with its older marriage with technology, is a good place to take a look. Upwards of 30 million computers are dumped here, and the toxic pollution risks are considerable. The U.S. is trying to pass the buck to the Third World, India included. Early awareness and proper safeguards can guarantee India the benefits of the IT bonanza without too heavy an environmental price.

Last month marked a year of the U.S. attack on Iraq. Many of the premises and promises of the gung-ho U.S. administration face deep public skepticism today. We present a thoughtful essay by reputed U.S. analyst and journalist Jonathan Schell that reflects on the war, its aftermath and raises disturbing, cogent questions about both the rationale of the war and the new challenges it has brought in its wake.

We also take a moment to celebrate the launching of the simputer, the first computer designed and manufactured in India. What's special about it is that it has been created with a lofty ideal in mind—to cross the digital divide and bring the ease and even joy of technology within the reach of the millions whom India's IT revolution has passed by.
|TOP|

---
MAIN FEATURE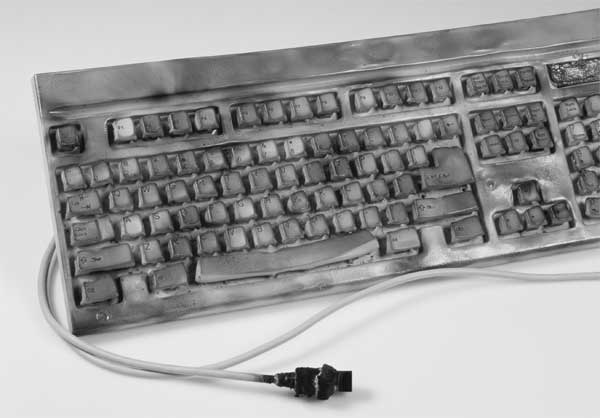 The E-Waste Hazard
IT's Dirty Secret -
By Deepak Goyal
Mountains of e-waste — discarded parts of computers, mobile phones and other consumer electronics equipment — are posing a new, silent environmental hazard in India. Computer "recycling" may be good business, but the health hazards it leaves in its wake are anything but. Deepak Goyal reports.


Talk about IT and India and what visions does the mind conjure? It's probably scenes of hardworking, upwardly mobile knowledge workers, working away in cities like Bangalore and Hyderabad, powering India's phenomenal engine of IT business that is making Western countries sit up and take notice.
Or if you are really current on the news, you may think of call centers of Goregaon near the Indian couple New Delhi, where droves of starry-eyed young men and women man call centers fielding customer queries from North America and Britain.

But the thought of IT surely doesn't bring up images of, say, Delhi's Turkman Gate, where discarded computers are dissected and cathode-ray tubes are broken in dingy workplaces. Or Shastri Park, where computers are dismantled, and CRTs recharged.

Unbeknownst to most Indians who are thrilled at the giant strides India has taken, a silent, hazardous menace, though small now, is beginning to grow—the toxic threat from junked electronics goods. The good news is that the problem of waste from dumped computers is relatively minor right now domestically—it's only 1 percent of the total waste generated in India. The problem is the traffic of junk computers from the West, especially the U.S.

However, that may begin to change soon. India now has nearly 8 million PCs, of which 2 million have an Intel 486 or older chip. A good number of them, then, are about to join the scrap heap.

According to a report of Delhi-based environmental watchdog group Toxics Link, Delhi-based scrap dealers dismantle around 15,000 computers each year.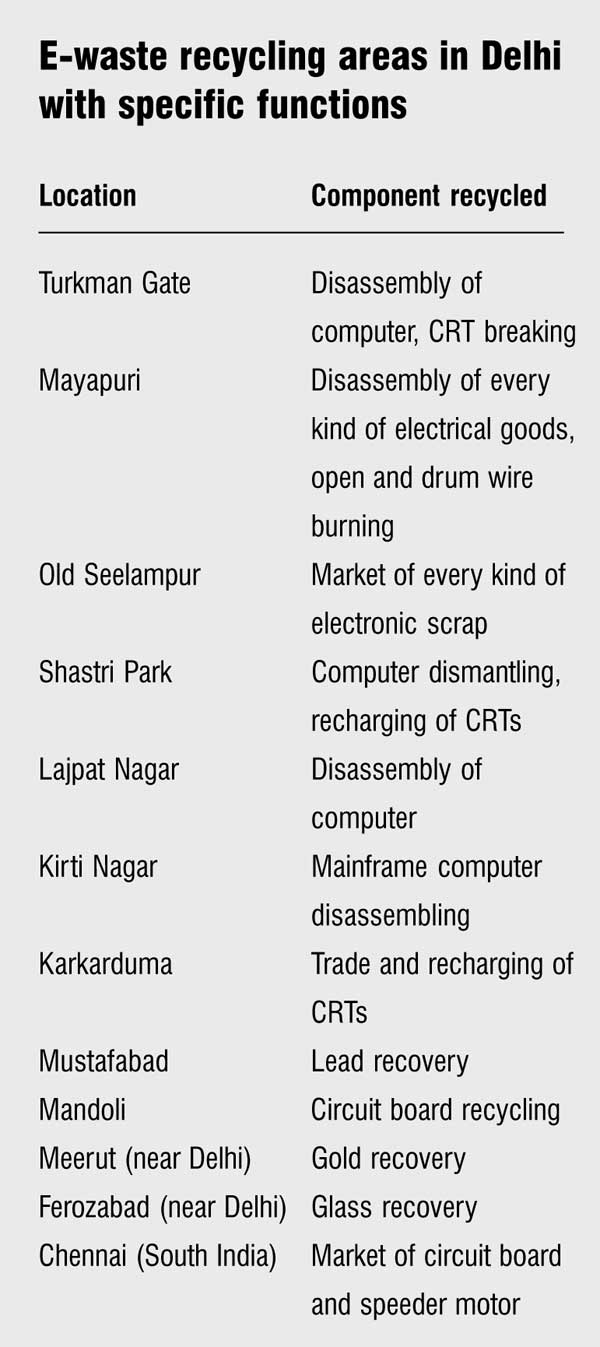 It's not just computers. "The rapid proliferation of computers and consumer electronics has resulted in a global mountain of hi-tech trash," writes Kishore Wankhede in his report for Toxics Link. "This trash consist of lead, mercury, arsenic, cadmium, Poly Vinyl Chloride (PVC), Brominated Flamer Retardants (BFRs) and dozens of other toxic and potentially hazardous compounds. The fruits of our hi-tech revolution are pure poison, if not properly managed at the end of their productive life."

E-waste comes from electronic goods ranging from PCs to household appliances like TVs, refrigerators, cellular phones, etc. The real problem in India is the way e-waste is recycled, the bulk of it imported, often illegally by well-organized business rings, in poorly monitored workplaces with virtually no environmental checks.



Computer recycling involves employing people to strip down the computers and extract parts that can be used again in machines to be sold on the high street.

The rest is then burned or dumped, both of which are potentially highly hazardous to the environment.

"When you burn things like PVC-covered copper wire, you have emissions of very toxic chemicals like dioxins, which get released into the local environment," Ravi Agraval of Toxics Link told the BBC.

The unregulated recycling process is also very harmful to the health of those employed to do it, environmental activists say..

This kind of work involves exposure to a number of toxic chemicals both as part of the recycling process and within the computers themselves.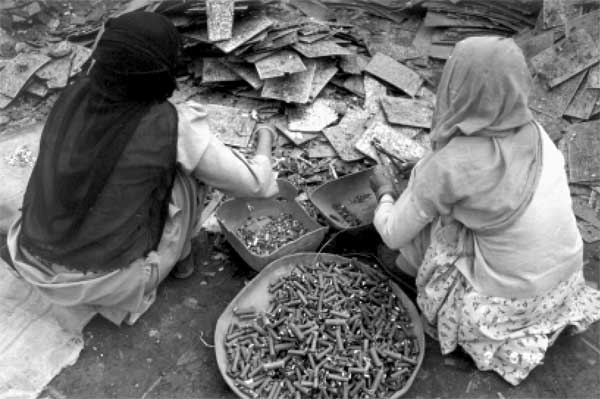 "The people actually doing the brunt of the recycling are people on less than half a dollar a day — women and children working in very shanty-like, disastrous, inhuman conditions," Agraval said. "For them, it's the difference between poison and a livelihood."

He said a health survey showed recyclers regularly suffered from respiratory diseases and skin rashes. "It's difficult to say when you're in that state of poverty what really affects what, but certainly they are people on the edge, and any such exposure can't be doing them any good."

Computer manufacturers, for obvious business reasons, have preferred to keep a hands-off policy. Yet one way out of this mess could be to change that. That's exactly what Europe is doing, laying down rules which involve getting the manufacturers involved in the solution.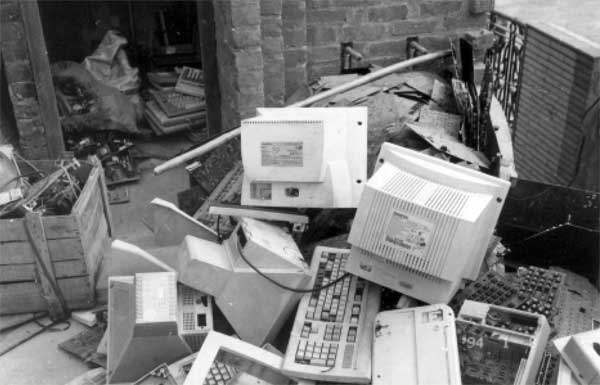 In Europe, manufacturers will have to eliminate harmful substances inside the machines by 2006. Some companies have already been offering to take back and recycle the computers themselves.

"Today, consumers are approaching us to take (the computer) in, but in the future with the new legislation, they will be able to dispose of it at the local municipality waste site," Klaus Hieronymi, from Hewlett Packard's European Environmental Program, told the BBC.

He said that Hewlett Packard was also attempting to reduce the levels of cadmium and mercury in its products in preparation for the legislation, which comes into force on Jan. 1, 2006.

"Despite the pace of advancements in consumer electronics, product designers have largely ignored the public health threats and environmental consequences of their products," says Toxics Link in its Web site. "Even though e-waste is still in an infant state in India. the rapid proliferation of computers and consumer electronics has resulted in a global mountain of hi-tech trash.

"It constitutes a small percentage (less than 1 per cent) of the waste generated in India. Recycling, or disposing off, e-waste does, however, represent a problem, as it contains components rich in many hazardous waste substances.

"Realizing the hazardous nature of e-waste, some countries have outlawed its trade. Several developed and developing countries have come up with a well organized process to manage their e-waste. The process is methodical and leaves no space for loopholes."

That is really the only way to go if India is to enjoy the fruits of the IT revolution without paying a steep price in terms of public health costs.

Interested readers can find more information about Toxics Links at their Web site at www.toxicslink.org.

- Deepak Goyal is a frelance writer. He lives in Kolkata.

---
INFOTECH INDIA





BJP, Cricket, SMS... Rivals Yet Partners... Biotech Takeover... Expansion Drive...
Huge Punjab Contract... Akash Test-flown... Jet Trainer Successful... Trishul Test-fired...
Tata Takes over Daewoo... BSNL Slashes Rates... Western Digital Eyes India... Radiation Proof — Here is the latest on information technology from India

BJP, Cricket, SMS

Notwithstanding public proclamations by its leaders about delinking the ongoing cricket series with Pakistan from politics, the BJP poll managers left no mobile phone "un-beeped" with surrogate SMS messages projecting Prime Minister Atal Behari Vajpayee as a "long-innings player" along with Sourav Ganguly and Irfan Pathan.

A day after India's historic win over Pakistan in the ODI series, cellular phone users across the country were bombarded with messages in Hindi which read, "Khelenge Ab Lambi Baari, Sourav, Sachin Aur Atal Behari" (Skipper Ganguly, Tendulkar and Vajpayee will now play a long innings).

In an apparent bid to project the party's newfound secular face, another message followed soon, which named Mohammad Kaif and Irfan Pathan in place of Tendulkar and Ganguly.

However, unlike at the time of India's first win at Karachi, the party did not directly associate itself with the messages and chose to identify the sender as "We Indians."

While asserting that the party did not intend to draw political mileage out of the victory, BJP spokesman Mukhtar Abbas Naqvi described the win as a "milestone" in the "peace journey" initiated by Vajpayee and said it has "strengthened the feel good factor" further.
|Back to Infotech Index| |TOP|

Rivals Yet Partners

Software giant Infosys and Wipro, vying with each other for global IT outsourcing contracts, have now joined hands to outsmart competitors and win domestic banking contracts.

The Bangalore-based firms have bagged a Rs. 900 million banking solution deal from public sector Vijaya Bank, in which Wipro will work on end-to-end implementation and integration of Infosys' Finacle banking solution, besides providing telebanking and anti-money laundering solutions.

"We compete in the morning and network in the afternoon," Wipro chairman Azim Premji said of rival Infosys, with whom it has already implemented core banking projects with Union Bank of India and Oriental Bank of Commerce.

Vijaya Bank is the third customer for whom the two IT firms are jointly implementing a core banking solution in the country and expect to continue the relationship both at home and abroad.

"We are very fierce competitors and do it in a humble way; we do it in an ethical way and we are proud of it," Infosys chief mentor N R Narayana Murthy said, adding that he used Wipro computers and lighting products at his office.

Premji, however, said there are markets like Africa where Infosys operates and where joining hands is difficult and ruled out partnerships in the BPO space between Wipro Spectramind and Progeon, the BPO unit of Infosys.
|Back to Infotech Index| |TOP|

Biotech Takeover

Chennai-based ABL Biotechnologies has taken over the administration of Shanta Marine Biotechnologies of Hyderabad to manufacture its products.

ABL Bio's founder-director K.O. Isaac told a press meet that both the companies had signed an agreement which envisaged the takeover either by ABL or by another investor nominated by ABL under a structured deal.

ABL would be responsible for piloting a restructuring plan to make Shanta Marine turn around, he said, adding that the agreement also envisaged enhancing the product portfolio and bringing additional investors through strategic partnership.

Shantha Marine Biotechnologies was a joint venture floated by ABL and Shanta Biotechnics, Hyderabad, for production of betacarotene products and is at present involved in 75 brands for the Indian market alone.

Isaac said Shantha Marine was also in discussions with Samudra Technologies, U.S.,, for introduction of new technologies and also for a strategic partnership.
|Back to Infotech Index| |TOP|

Expansion Drive

Chennai-based Cognizant Technology Solutions is to invest about Rs. 1.85 billion on expansion of its facilities in India this year, a top executive of the company said March 29.

The company would invest around Rs. 1.15 billion for setting up a second development facility in Chennai, R. Chandrasekaran, managing director and executive director of the company, told reporters in Chennai March 29.

Other plans on the cards include expansion of the facility in Pune and setting up an office in Bangalore, he said, adding the company plans to hire at least 4,000 new IT professionals this year.

He said the company hoped to have an overseas development centre in China by the end of this year. The project was slightly delayed due to some legal issues.

Chandrasekaran said the company had a turnover of $380 million in 2003, a 60 percent increase over the previous year. The turnover this year was projected to touch $520 million, he added.
|Back to Infotech Index| |TOP|

Huge Punjab Contract

The electronics division of the country's engineering major Bharat Heavy Electricals Limited here has bagged a prestigious contract for supply of solar powered water pumping systems to Punjab.

The contract, valued at Rs 190 million, is for supply, installation, commissioning and after sales service of 700 sets of SPV water pumping systems for the Punjab Energy Development Agency, a BHEL release said.

This is the single largest order for solar photovoltaics won by the BHEL, against stiff competition from leading players in the field, it said.

BHEL will supply and install the systems, totaling to 1.26 MW of solar power, during the next few months, the release said.

The SPV water pumping system consists of a 1,800 Wp solar photovoltaic array which is directly connected to a 2 HP DC surface pump. During sunshine hours, the PV array converts sunlight to electricity and provides this power to run the pump.

The pump will be used for providing drinking water as well as for irrigation purposes by individual farmers, it noted.
|Back to Infotech Index| |TOP|

Akash Test-flown

India March 29 test-fired medium range multi-target surface-to-air missile Akash twice from the Integrated Test Range at Chandipur, about 13 km from Balasore, Orissa, official sources said.

The indigenously built sophisticated Akash missiles were test-flown from separate mobile launchers at about 3:55 p.m. and 3:57 p.m. respectively.

With a range of 25 km, Akash is one of the five missiles currently under various stages of development by the Defense Research and Development Organization.

The DRDO is developing medium-range anti-aircraft missile Akash and the Rajendra Radar to build a reliable air defense shield with the help of two weapon system, sources said.

The state-of-the-art radar can keep track of 64 aircraft simultaneously with various ranges.

The 650 kg missile Akash is capable of carrying 50 kg payload and uses an integrated two-stage ramjet propulsion technology.
|Back to Infotech Index| |TOP|

Jet Trainer Successful

The maiden flight of the second prototype of the Intermediate Jet Trainer has been flown successfully at the Hindustan Aeronautics Ltd airport in Bangalore.

The test sortie, a year after the first prototype took off to the skies, was flown by Sqn Ldr Sapra and Sqn Ldr Baldev Singh March 26.

"The aircraft was successfully flown over the Bangalore skies for more than 30 minutes," HAL chairman N.R. Mohanty said in Bangalore March 27.

The flight assumes significance with the visit of the Chinese Defense Minister Cao Gangchuan to the HAL complex in Bangalore March 27, where the IJT has been designed and developed.

The aircraft, scheduled to fly first in January, was put off after the ejection seat was fired accidentally and HAL had to source the seat components from the Russian manufacturer.

IJT is a tandem seat sub-sonic trainer, powered by a French Larzac turbo engine with advance avionics to prepare a fighter pilot for stage two flying training.

IJT, designed and produced in a record 22 months, had its maiden test flight on March 7 last year and is expected to replace the ageing Kiran basic jet trainers of the Indian Air Force starting from the next two years.

The IAF, which needs over 200 such aircraft, has already placed orders for 16 IJTs to form its Surya Kiran aerobatic team that would be ready by 2005-06.
|Back to Infotech Index| |TOP|

Trishul Test-fired

For the second consecutive day, Trishul, India's most sophisticated surface-to-air missile, was test-fired March 26 from the integrated test range at Chandipur, about 13 km from Balasore, Orissa, defense sources said.

Indigenously developed by the Defense Research and Development Organization under the integrated guided missile development program, the short-range missile was test-fired from a mobile launcher at 11.02 a.m., the sources said.

The missile was successfully test-fired from the ITR at 2:52 p.m. March 25.

The three-meter-long missile having a diameter of 200 cm can fly at supersonic speed and has a sensitive radar altimeter and height lock-loop control on board which helps it to skim over the sea at very low altitude.

The solid fuel-propelled missile has a triple battlefield role for the army, air force and navy and has a range of nine km with the capacity to carry a payload of 15 kg, sources said.
|Back to Infotech Index| |TOP|

Tata Takes over Daewoo

India's biggest bus and truck maker Tata Motors on Monday completed the acquisition of Korea-based Daewoo Commercial Vehicle Co. for $102 million dollars as part of its strategy to become a global player.

"This was the largest acquisition by any Indian company in Korea and I look forward to increase Tata group's presence in the country," Tata Motors chairman Ratan Tata said.

With the formal acquisition, DWCV, Korea's second-largest truck maker, becomes a wholly-owned subsidiary of Tata Motors which aims to become one of the major truck manufacturers of the world.

Tata also received the newly allotted shares of DWCV, which has 25 percent market share, from official receiver Kwang Ok Chae.

DWCV will become a wholly owned subsidiary of Tata Motors with Kwang Ok Chae as president and representative director of the company once the court receivership is terminated.

Daewoo's commercial vehicles' Gunsan plant was put on the block following the collapse of Daewoo Motors in 2002.
|Back to Infotech Index| |TOP|

BSNL Slashes Rates

Having negotiated lower rates with Videsh Sanchar Nigam Ltd, state-owned Bharat Sanchar Nigam Ltd April 1 announced a whopping rate cut of up to 25 percent in ISD rates for calls to the U.S., Australia, South East Asia and Gulf countries.

BSNL also decided to reduce STD charges between two circles (Inter-circle) by 25 percent for distance beyond 200 km to Rs 3.60 per minute from Rs 4.80 for its fixed line customers. The reduced tariffs across various categories will be effective from April 10, 2004.

"For our fixed and mobile subscribers, the ISD rates have been reduced by average 25 percent as we have decided to route our ISD calls through VSNL till we sign agreements with international carriers," BSNL chairman and managing director V.P. Sinha told reporters here.

The ISD rate reduction has been made possible as VSNL has agreed to match the lowest settlement charges of Rs. 1.69 per minute to U.S. and U.K., from Rs. 2.20 quoted earlier.

According to the new tariffs, calls to the U.S. and Canada, which earlier cost Rs 9.60 per minute, would now cost Rs 7.20 per minute, translating into a cut of 25 per cent.
|Back to Infotech Index| |TOP|

Western Digital Eyes India

IT firm Western Digital Corp. said April 1 it would set up a network of service centers in India.

The focus would be on the Indian PC market as research showed that as the domestic IT market grew, PC sales were expected to touch three million units during the last fiscal, a company release said in New Delhi.

The research was conducted by the Manufacturers Association of Information Technology and Indian Market Research Bureau.
|Back to Infotech Index| |TOP|

Raditation Proof

The Koodankulam nuclear power plant coming up in the southern Indian state Tamil Nadu will be made "radiation proof" with the installation of Russian-designed "core-catcher," a facility being provided for the first time in the world, its project director said April 1.

The facility, weighing 110 metric tons, would make the plant radiation proof and prevent radiation totally. It would smell immediately even a slight leakage and defuse the radiation, he told reporters here.
|Back to Infotech Index| |TOP|

---
COMMENTARY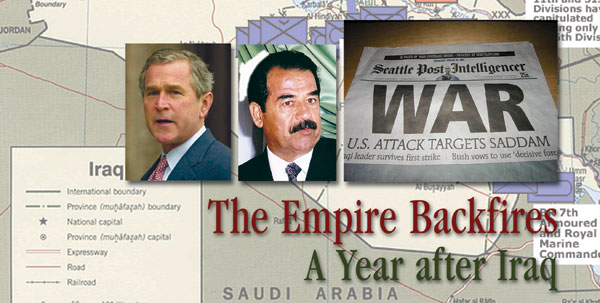 The Empire Backfires
A Year after Iraq
- By Jonathan Schell
This article was originally published in the March 29, 2004 issue of
The Nation
.

Why did the United States, standing in the midst of the Pakistani nuclear Wal-Mart, its shelves groaning with, among other things, centrifuge parts, uranium hexafluoride and helpful bomb-assembly manuals in a variety of languages, rush out of the premises to vainly ransack the empty warehouse of Iraq? Jonathan Schell offers a scathing critique to mark a year since the U.S. attacked Iraq.

The first anniversary of the American invasion of Iraq has arrived. By now, we were told by the Bush Administration before the war, the flower-throwing celebrations of our troops' arrival would have long ended; their numbers would have been reduced to the low tens of thousands, if not to zero; Iraq's large stores of weapons of mass destruction would have been found and dismantled; the institutions of democracy would be flourishing; Kurd and Shiite and Sunni would be working happily together in a federal system; the economy, now privatized, would be taking off; other peoples of the Middle East, thrilled and awed, so to speak, by the beautiful scenes in Iraq, would be dismantling their own tyrannical regimes.

Instead, 530 American soldiers and uncounted thousands of Iraqis, military and civilian, have died; some $149 billion has been expended; no weapons of mass destruction have been found; the economy is a disaster; electricity and water are sometime things; America's former well-wishers, the Shiites, are impatient with the occupation; terrorist bombs are taking a heavy toll; and Iraq as a whole, far from being a model for anything, is a cautionary lesson in the folly of imperial rule in the twenty-first century. And yet all this is only part of the cost of the decision to invade and occupy Iraq. To weigh the full cost, one must look not just at the war itself but away from it, at the progress of the larger policy it served, at things that have been done elsewhere-some far from Iraq or deep in the past-and, perhaps above all, at things that have been left undone.

Nuclear Fingerprints. While American troops were dying in Baghdad and Falluja and Samarra, Buhary Syed Abu Tahir, a Sri Lankan businessman, was busy making centrifuge parts in Malaysia and selling them to Libya and Iran and possibly other countries. The centrifuges are used for producing bomb-grade uranium. Tahir's project was part of a network set up by Abdul Qadeer Khan, the "father" of the Pakistani atomic bomb. This particular father stole most of the makings of his nuclear offspring from companies in Europe, where he worked during the 1980s. In the 1990s, the thief became a middleman — a fence — immensely enriching himself in the process. In fairness to Khan, we should add that almost everyone who has been involved in developing atomic bombs since 1945 has been either a thief or a borrower. Stalin purloined a bomb design from the United States, courtesy of the German scientist Klaus Fuchs, who worked on the Manhattan Project. China got help from Russia until the Sino-Soviet split put an end to it. Pakistan got secret help from China in the early 1980s. And now it turns out that Khan, among many, many other Pakistanis, almost certainly including the highest members of the government, has been helping Libya, Iran, North Korea and probably others obtain the bomb. That's apparently how Chinese designs-some still in Chinese-were found in Libya when its quixotic leader, Muammar Qaddafi, recently agreed to surrender his country's nuclear program to the International Atomic Energy Agency. The rest of the designs were in English. Were Klaus Fuchs's fingerprints on them? Only figuratively, because they were "copies of copies of copies," an official said. But such is the nature of proliferation. It is mainly a transfer of information from one mind to another. Copying is all there is to it.

Sometimes, a bit of hardware needs to be transferred, which is where Tahir came in. Indeed, at least seven countries are already known to have been involved in the Pakistani effort, which Mohamed ElBaradei, the head of the IAEA, called a "Wal-Mart" of nuclear technology and an American official called "one-stop shopping" for nuclear weapons. Khan even printed a brochure with his picture on it listing all the components of nuclear weapons that bomb-hungry customers could buy from him. "What Pakistan has done," the expert on nuclear proliferation George Perkovich, of the Carnegie Endowment for International Peace, has rightly said, "is the most threatening activity of nuclear proliferation in history. It's impossible to overstate how damaging this is."

Another word for this process of copying would be globalization. Proliferation is merely globalization of weapons of mass destruction. The kinship of the two is illustrated by other details of Tahir's story. The Sri Lankan first wanted to build his centrifuges in Turkey, but then decided that Malaysia had certain advantages. It had recently been seeking to make itself into a convenient place for Muslims from all over the world to do high-tech business. Controls were lax, as befits an export platform. "It's easy, quick, efficient. Do your business and disappear fast, in and out," Karim Raslan, a Malaysian columnist and social commentator, recently told Alan Sipress of the Washington Post. Probably that was why extreme Islamist organizations, including Al Qaeda operatives, had often chosen to meet there. Global terrorism is a kind of globalization, too. The linkup of such terrorism and the world market for nuclear weapons is a specter that haunts the world of the twenty-first century.

The War and Its Aims. But aren't we supposed to be talking about the Iraq war on this anniversary of its launch? We are, but wars have aims, and the declared aim of this one was to stop the proliferation of weapons of mass destruction. In his State of the Union address in January 2002, the president articulated the threat he would soon carry out in Iraq: "The United States of America will not permit the world's most dangerous regimes to threaten us with the world's most destructive weapons." Later, he said we didn't want the next warning to be "a mushroom cloud." Indeed, in testimony before the Senate Foreign Relations Committee, Secretary of State Colin Powell explicitly ruled out every other justification for the war. Asked about the other reasons, he said, "The president has not linked authority to go to war to any of those elements." When Senator John Kerry explained his vote for the resolution authorizing the war he cited the Powell testimony. Thus not only Bush but also the man likely to be his Democratic challenger in this year's election justified war solely in the name of nonproliferation.

Proliferation, however, is not, as the president seemed to think, just a rogue state or two seeking weapons of mass destruction; it is the entire half-century-long process of globalization that stretches from Klaus Fuchs's espionage to Tahir's nuclear arms bazaar and beyond. The war was a failure in its own terms because weapons of mass destruction were absent in Iraq; the war-policy failed because they were present and spreading in Pakistan. For Bush's warning of a mushroom cloud over an American city, though false with respect to Iraq, was indisputably well-founded in regard to Pakistan's nuclear one-stop-shopping: The next warning stemming from this kind of failure could indeed be a mushroom cloud.

The questions that now cry out to be answered are why did the United States, standing in the midst of the Pakistani nuclear Wal-Mart, its shelves groaning with, among other things, centrifuge parts, uranium hexafluoride (supplied, we now know, to Libya) and helpful bomb-assembly manuals in a variety of languages, rush out of the premises to vainly ransack the empty warehouse of Iraq? What sort of nonproliferation policy could lead to actions like these? How did the Bush Administration, in the name of protecting the country from nuclear danger, wind up leaving the country wide open to nuclear danger?

In answering these questions, it would be reassuring, in a way, to report that the basic facts were discovered only after the war, but the truth is otherwise. In the case of Iraq, it's now abundantly clear that some combination of deception, self-deception and outright fraud (the exact proportions of each are still under investigation) led to the manufacture of a gross and avoidable falsehood. In the months before the war, most of the governments of the world strenuously urged the United States not to go to war on the basis of the flimsy and unconvincing evidence it was offering. In the case of Pakistan, the question of how much the administration knew before the war has scarcely been asked, yet we know that the most serious breach-the proliferation to North Korea-was reported and publicized before the war.

It's important to recall the chronology of the Korean aspect of Pakistan's proliferation. In January 2003 Seymour Hersh reported in The New Yorker that Pakistan had given North Korea extensive help with its nuclear program, including its launch of a uranium enrichment process. In return, North Korea was sending guided missiles to Pakistan. In June 2002, Hersh revealed, the CIA had sent the White House a report on these developments. On October 3, 2002, Assistant Secretary of State for East Asia and Pacific Affairs James Kelly confronted the North Koreans with the CIA information, and, according to Kelly, North Korea's First Vice Foreign Minister, Kang Suk Ju, startled him by responding, "Of course we have a nuclear program." (Since then, the North Koreans have unconvincingly denied the existence of the uranium enrichment program.)

Bush of course had already named the Pyongyang government as a member of the "axis of evil." It had long been the policy of the United States that nuclearization of North Korea was intolerable. However, the administration said nothing of the North Korean events to the Congress or the public. North Korea, which now had openly embarked on nuclear armament, and was even threatening to use nuclear weapons, was more dangerous than Saddam's Iraq. Why tackle the lesser problem in Iraq, the members of Congress would have had to ask themselves, while ignoring the greater in North Korea? On October 10, a week after the Kelly visit, the House of Representatives passed the Iraq resolution, and the next day the Senate followed suit. Only five days later, on October 16, did Bush's National Security Adviser, Condoleezza Rice, reveal what was happening in North Korea.

In short, from June 2002, when the CIA delivered its report to the White House, until October 16-the period in which the nation's decision to go to war in Iraq was made-the administration knowingly withheld the news about Korea and its Pakistan connection from the public. Even after the vote, Secretary of State Colin Powell strangely insisted that the North Korean situation was "not a crisis" but only "a difficulty." Nevertheless, he extracted a pledge from Pakistan's president, Pervez Musharraf, that the nuclear technology shipments to North Korea would stop. (They did not.) In March, information was circulating that both Pakistan and North Korea were helping Iran to develop atomic weapons. (The North Korean and Iranian crises are of course still brewing.)

In sum, the glaring contradiction between the policy of "regime change" for already-disarmed Iraq and regime-support for proliferating Pakistan was not a postwar discovery; it was fully visible before the war. The Nation enjoys no access to intelligence files, yet in an article arguing the case against the war, this author was able to comment that an "objective ranking of nuclear proliferators in order of menace" would put "Pakistan first," North Korea second, Iran third, and Iraq only fourth-and to note the curiosity that "the Bush administration ranks them, of course, in exactly the reverse order, placing Iraq, which it plans to attack, first, and Pakistan, which it befriends and coddles, nowhere on the list." Was nonproliferation, then, as irrelevant to the administration's aims in Iraq as catching terrorists? Or was protecting the nation and the world against weapons of mass destruction merely deployed as a smokescreen to conceal other purposes? And if so, what were they?

A New Leviathan. The answers seem to lie in the larger architecture of the Bush foreign policy, or Bush Doctrine. Its aim, which many have properly called imperial, is to establish lasting American hegemony over the entire globe, and its ultimate means is to overthrow regimes of which the United States disapproves, pre-emptively if necessary. The Bush Doctrine indeed represents more than a revolution in American policy; if successful, it would amount to an overturn of the existing international order. In the new, imperial order, the United States would be first among nations, and force would be first among its means of domination. Other, weaker nations would be invited to take their place in shifting coalitions to support goals of America's choosing. The United States would be so strong, the president has suggested, that other countries would simply drop out of the business of military competition, "thereby making the destabilizing arms races of other eras pointless, and limiting rivalries to trade and other pursuits of peace." Much as, in the early modern period, when nation-states were being born, absolutist kings, the masters of overwhelming military force within their countries, in effect said, "There is now a new thing called a nation; a nation must be orderly; we kings, we sovereigns, will assert a monopoly over the use of force, and thus supply that order," so now the United States seemed to be saying, "There now is a thing called globalization; the global sphere must be orderly; we, the sole superpower, will monopolize force throughout the globe, and thus supply international order."

And so, even as the Bush Administration proclaimed US military superiority, it pulled the country out of the world's major peaceful initiatives to deal with global problems-withdrawing from the Kyoto Protocol to check global warming and from the International Criminal Court, and sabotaging a protocol that would have given teeth to the biological weapons convention. When the Security Council would not agree to American decisions on war and peace, it became "irrelevant"; when NATO allies balked, they became "old Europe." Admittedly, these existing international treaties and institutions were not a full-fledged cooperative system; rather, they were promising foundations for such a system. In any case, the administration wanted none of it.

Richard Perle, who until recently served on the Pentagon's Defense Policy Board, seemed to speak for the administration in an article he wrote for the London Guardian the day after the Iraq war was launched. He wrote, "The chatterbox on the Hudson [sic] will continue to bleat. What will die is the fantasy of the UN as the foundation of a new world order. As we sift the debris, it will be important to preserve, the better to understand, the intellectual wreckage of the liberal conceit of safety through international law administered by international institutions."

In this larger plan to establish American hegemony, the Iraq war had an indispensable role. If the world was to be orderly, then proliferation must be stopped; if force was the solution to proliferation, then pre-emption was necessary (to avoid that mushroom cloud); if pre-emption was necessary, then regime change was necessary (so the offending government could never build the banned weapons again); and if all this was necessary, then Iraq was the one country in the world where it all could be demonstrated. Neither North Korea nor Iran offered an opportunity to teach these lessons-the first because it was capable of responding with a major war, even nuclear war, and the second because even the administration could see that US invasion would be met with fierce popular resistance. It's thus no accident that the peril of weapons of mass destruction was the sole justification in the two legal documents by which the administration sought to legitimize the war-HJR 114 and Security Council Resolution 1441. Nor is it an accident that the proliferation threat played the same role in the domestic political campaign for the war —by forging the supposed link between the "war on terror" and nuclear danger. In short, absent the new idea that proliferation was best stopped by pre-emptive use of force, the new American empire would have been unsalable, to the American people or to Congress. Iraq was the foundation stone of the bid for global empire.

The reliance on force over cooperation that was writ large in the imperial plan was also writ small in the occupation of Iraq. How else to understand the astonishing failure to make any preparation for the political, military, policing and even technical challenges that would face American forces? If a problem, large or small, had no military solution, this Administration seemed incapable of even seeing it. The United States was as blind to the politics of Iraq as it was to the politics of the world.

Thus we don't have to suppose that the Bush officials were indifferent to the spectacular dangers that Khan's network posed to the safety of the United States and the world or that the Iraqi resistance would pose to American forces. We only have to suppose that they were simply unable to recognize facts they had failed to acknowledge in their overarching vision of a new imperial order. In both cases, ideology trumped reality.

The same pattern is manifest on an even larger scale. Just now, the peoples of the world are embarked, some willingly and some not, on an arduous, wrenching, perilous, mind-exhaustingly complicated process of learning how to live as one indivisibly connected species on our one small, endangered planet. Seen in a certain light, the administration's imperial bid, if successful, would amount to a kind of planetary coup d'état, in which the world's dominant power takes charge of this process by virtue of its almost freakishly superior military strength. Seen in another, less dramatic light, the American imperial solution has interposed a huge, unnecessary roadblock between the world and the Himalayan mountain range of urgent tasks that it must accomplish no matter who is in charge: saving the planet from overheating; inventing a humane, just, orderly, democratic, accountable global economy; redressing mounting global inequality and poverty; responding to human rights emergencies, including genocide; and, of course, stopping proliferation as well as rolling back the existing arsenals of nuclear arms. None of these exigencies can be met as long as the world and its greatest power are engaged in a wrestling match over how to proceed.

Does the world want to indict and prosecute crimes against humanity? First, it must decide whether the International Criminal Court will do the job or entrust it to unprosecutable American forces. Do we want to reverse global warming, and head off the extinction of the one-third of the world's species that, according to a report published in Nature magazine, are at risk in the next fifty years? First, the world's largest polluter has to be drawn into the global talks. Do we want to save the world from weapons of mass destruction? First, we have to decide whether we want to do it together peacefully or permit the world's only superpower to attempt it by force of arms.

No wonder, then, that the administration, as reported by Robert F. Kennedy Jr. in The Nation, has mounted an assault on the scientific findings that confirm these dangers to the world [see "The Junk Science of George W. Bush," March 8, The Nation]. The United States' destructive hyperactivity in Iraq cannot be disentangled from its neglect of global warming. Here, too, ideology is the enemy of fact, and empire is the nemesis of progress.

If the engine of a train suddenly goes off the rails, a wreck ensues. Such is the war in Iraq, now one year old. At the same time, the train's journey forward is canceled. Such is the current paralysis of the international community. Only when the engine is back on the tracks and starts in the right direction can either disaster be overcome. Only then will everyone be able to even begin the return to the world's unfinished business.

-
Jonathan Schell is the Harold Willens Peace Fellow at the Nation Institute and the author of the recently published "The Unconquerable World: Power, Nonviolence, and the Will of the People."



|TOP|
---
COMMENTARY
No Easy Answers
The Politics of Outsourcing
– By Chander Mehra

In an election year, outsourcing has become a political hot potato in the U.S. However, there is no magic bullet, writes Chandra Mehra.


The outsourcing flap has now moved to the political centre stage in the United States and will not go away any time soon, at least not till the November election. If anything, it is getting louder and shriller, because as the election campaign heats up, there isn't a more explosive or exploitable word than "jobs." And unfortunately for the developing world, particularly India, it has become the catch-all caricature for a giant vacuum that is sucking jobs out of the United States.
Of course, no one is really paying attention to the fact that high-end service jobs in the United States constitute just a fraction of the country's 138 million payroll jobs. Or that India has gotten just a fraction of that fraction — less than 500,000 jobs so far. The figure for Africa is much lower.

Helped by some needless self-flagellation by the Indian media, which chronicled and glorified the shift of every 100-200 jobs as if manna had descended on the country, Indians have quickly arrived at a scenario where gullible Americans are ready to stick pins and needles into little brown voodoo dolls. Indian officials who once moaned about how negative the U.S. media was about India are suddenly wincing at all the rah-rah stories about a booming market, surging middle-class, and the plenitude of jobs.

It has taken Infosys' Narayana Murthy to remind rapturous India that with less than 2 percent share of the global IT market, India is still a toddler, not a superpower; that potential should not be mistaken for performance. Too late. India is set to reap the harvest of its bragging. The knives are already out here.

The number of states weighing laws to stop government outsourcing has gone up from five to a dozen. This isn't such a big deal given how little India gets out of US government outsourcing. But more worrying is the fact that major political players are taking a broader stand against outsourcing in the heat of electoral battle. Some voters are bound to hold them to their promise later on. And this goes for even John Kerry, the Democratic frontrunner who till recently was a votary of free trade.

In fact, I have a wonderful example to show how complex and many-layered this outsourcing issue is. A good Indian-American friend who is in the outsourcing business and is based in the US, joined the Kerry bandwagon some time back. At a fund-raiser he asked Kerry for his views on outsourcing, expressing his own fears that at the rate at which the US was losing jobs (not just service jobs and necessarily just to India as in being projected), his (my friend's) US-born children might face a difficult future. It's true; many Americans of Indian origin are worried about outsourcing because they too are losing jobs in America. At a congressional hearing on the subject in February one of the victims the anti-outsourcing brigade produced was a tech worker of Indian origin.

Anyway, Kerry's response at that time was outsourcing in a globalizing world was inevitable. Since then, he has joined the anti-outsourcing brigade. He has moved legislation that requires mandatory identification of outsourced locations. (The move has invited sniggers and spoofs asking what else the Kerry law might force call centers to disclose. "Hello! I'm Pappoo Yadav, son of Mangal Yadav, age 24, BA pass, single, no halitosis. How can I help you?"). Now Kerry gone one step ahead and called companies and CEOs supporting outsourcing "Benedict Arnolds,' a reference to a traitor during the American War of Independence.

The whole issue has become embroiled in electoral politics. Not to be outdone by the Kerry campaign, Mary Edwards, wife of Democratic nominee John Edwards, has been going around talking about how when she called a helpline to have her cable television hooked up, she found she was talking to someone in India. A Dean supporter popped up in Michigan to recount his story about how when he called to fix some hardware problem on his computer, the call landed in India. So it's an open season on India. And don't expect it to end soon.

Yet if only fuming Americans would stop to reflect, they would realize that there are no easy answers to the understandable anguish and concern at the loss of well-paying jobs. They only need to look at their manufacturing industry.

A few weeks back, Levi's closed its last manufacturing unit in the United States. If it had kept the plant going paying its American workers $ 15 an hour and benefits, it would be selling its jeans at $80 a pair. Would Mr Average Joe buy it? Nope. He will head for Wal-Mart to pick up his $12-a-pair jeans, Made in Anywhere-but-USA, where they pay the locals (Chinese, Indians or Thai) what seems like slave wages to Americans but puts food on the table.

Service jobs too work pretty much like that, my friend suggested, including mid-level and high-end jobs. The trouble with Mr Average Joe was that he came out of college and made $100,000-plus on his first programming job when he was in his 20s, when a more realistic annual salary for the job was $50,000. America can keep its jobs, but will Americans pay the price if the work is all done in the US? Would a "Everything Made in America" store survive against a Wal-Mart or Sam's Club or Costco?

But you can't go around saying that to the Average Joe who has just lost his $100,000 job and is behind on the mortgage for his over-priced house and over-sized car. Especially not when politicians are fanning the flames. So for now, my friend has a suggestion: Lie low. This too shall pass.

- Chander Mehra is a veteran Indian journalist and author of several books.
He travels often to the U.S.

|TOP|
---
REPORT
Indo-Pak Relations
Peace Extends to Internet

By Siddharth Srivastava

The thaw in Indo-Pak ties has extended to the Internet, writes Siddharth Srivastava, who looks back at the recent, bitter virtual warfare on cyberspace.


For many in India, Internet is one abiding indicator of the way India and Pakistan relations are progressing. For most part of the history of interactions between the two neighbors, the virtual forces (since they came into existence in the late nineties) in the two countries have been ranged at opposite ends. They take the form of spamming, abusive graffiti, hacking key sites as well as defacing others. For example, during the height of the Kargil conflict in 1999, hate mail from India inundated then Prime Minister Nawaz Sharief's official e-mail ID nawazsharief@pakgov.pk.
That was then, it is a different story now. Several reports here have highlighted that the Indo-Pak bonhomie that reached a peak early January when President Pervez Musharraf met Prime Minister Atal Behari Vajpayee, has extended to the Internet. And for many the newfound love between the citizens of the two countries has passed the ultimate test of truth — in the subcontinent, it is either war or cricket.

The Indian cricket team has embarked on a historic month long tour to Pakistan, the first in 14 years, which is a result of the peace process in place between the two countries. With emotions reaching maniacal proportions during such a contest, the least one would have expected were a bout of virtual mudslinging between the people of the two countries. Yet the mood could not have been further from such encounters. Chat sites are inundated with netizens on both sides sharing peace messages. Topics of discussion include the prospects of a combined India and Pakistan cricket team to take on a world eleven, a possible Noble peace prize for Vajpayee and Musharraf, travel prospects with restrictions removed, business, cuisine, weather…. Everything but war, this when a cricket series between the countries is often considered the closest approximation.

This seems every bit as surreal as the sight of the Pakistani audience rising in ovation to congratulate the Indian team after it won the first one-day match in Karachi.

Consider the recent past. The Internet has been a virtual war zone between the two countries over the past few years. Some organized Pakistani hackers have made several attempts to hack into Indian sites — especially those containing data on sensitive information relating to nuclear test management — to access sensitive information related to the country's security. Indian netizens have never resisted pummeling the Internet with anti-Pakistan messages at the slightest instigation.

The first high-profile instance of Pakistani hackers breaking into an Indian network happened when the Bhabha Atomic Research Centre (BARC) computers were defaced with anti-bomb graffiti shortly after the Pokhran II nuclear tests in 1998. The BARC site was hacked by three members of Milworm, a Pakistan-based hacker group. Ever since, BARC servers have been favorite targets of Pakistani hackers. Intelligence officials say that several spy programs have been detected in the BARC server, from time to time.

Other sites targeted include those of Indira Gandhi Centre for Atomic Research, the Nuclear Science Centre, with attempts to access crucial data secured under severely fire walled servers. The Intelligence Bureau has been handed the responsibility to track the new breed of equipped and trained hackers. Reports suggested that there were at least a couple of successful attempts to break the codes of the sites.

The first intrusion into IGCAR was reported in January 2001 when G-Force, a Pakistani hacker group, defaced its main server. Subsequently, other servers in IGCAR have been repeatedly hacked by G-Force. Indian officials have identified one hacker as Rsnake, who is said to have copied the master database from IGCAR and provided some data to Pakistani intelligence as proof of his access. Officials say that Pakistan's Inter-Services Intelligence Agency realized the importance of hackers after BARC was hacked in 1998.

The first Pakistani hacker group — Pakistani Hackers Club — was formed by two "hacktivists" who used the pseudonyms DoctorNuker and Mr Sweet. DoctorNuker took to hacking when he was a computer science student at Karachi University. Along with fellow hacker Dizasta (real name: Fahad Shamshek Khan), he started hacking into critical Indian and US servers. DoctorNuker, say IB officials, was the first hacker whose skills were recognized by the ISI and under the latter's directives, focused on critical Indian government servers (especially those relating to nuclear and atomic establishments).

The most active Pakistani hacker in the recent past has been a person impersonating as Rsnake, who started hacking from the Netherlands where he was working with a group of portals. Inspired by DoctorNuker, he started the hacker group G-Force from Holland.

Interestingly, there are no known Indian hackers or virus writers, worldwide.

A study by Symantec, the world's largest anti-virus company says, "The Indian mindset is far too advanced, and more productively employed to participate in the seamier side of the IT revolution."

But, this has not prevented the people of India and Pakistan engaging in bitter text and verbal wars over the Internet whenever the occasion arises — war or cricket. Intelligence sources here say that India has not let its guard down in maintaining a strict vigil over possible hacking from across the border. At the same time, it is also likely that organized hacker groups that mushroomed in Pakistan will decline, say the officials.

Symantec has drawn up a clear profile of the typical hacker: someone in the age group 14-23 years who derives diabolical pleasure out of breaking secret codes. The contour has emerged from Symantec's research into attacks recorded by its software. There has been an emergence of virtual communities of people of similar mindsets who share knowledge in pursuit of a common intent. There has also been a rise in female virus writers.

Happily, with the doves of peace now invading even cyberspace, hackers increasingly appear to be rebels without a cause.

- Siddharth Srivastava is a journalist based in New Delhi.

|TOP|
---
INNOVATION: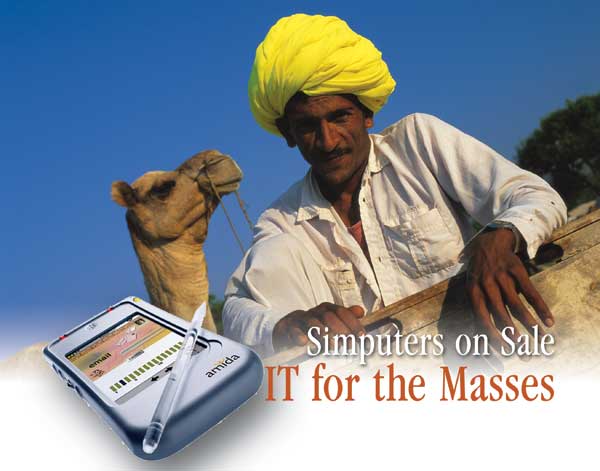 Simputers on Sale
IT for the Masses
– A Siliconeer Report

History was made when the first simputer, a cheap handheld computer, went on sale. The first computer designed and manufactured in India has been created to bridge the digital divide. A Siliconeer report

After years of being mired in funding problems and industry apathy, a simputer (short for Simple Inexpensive Multi-lingual computer) is finally available at stores. History has been made, because this is the first computer designed, developed and manufactured in India.

Christened the Amida Simputer, this is not just another fancy gizmo, another hi-tech toy for the yuppie crowd, though the canny manufacturers are targeting the upscale buyer with a souped-up version. The cheapest version, available for a little less than Rs. 10,000, is targeted at the masses in India's hinterland whom the much-ballyhooed digital revolution has passed by. These folks are intimidated by both the language and technological challenge posed by the regular computer, not to mention the price, with the cheapest computer costing about Rs. 10,000 a pop.

The fact of the matter is that only nine in every 1,000 Indians own a computer, mainly because the machines are simply too expensive. The simputer was designed to provide cheap and accessible computing on the go.

But do not for a moment think that the simputer is a clunky little gizmo with yesterday's technology. What makes this product so attractive is it incorporates some cutting edge technology that makes it a fun product to use, with some stunning innovations that no PDA offers today. Call it a PDA with attitude.

"Amida (simputer) was built on the principle that a computer need not be a boring tool without any personality," the makers say. "The flip flop motion sensor is an example: Amida is the world's first and only computer that responds to your gestures — e.g. you can turn the pages of an e-book with a flick of your wrist, and can close a program by pulling Amida towards you."

Amida allows a user to send email in his/ her own handwriting, in addition to typed text. Which means you can write mails in any language - Hindi, Tamil, Chinese.

There are some distinctly desi touches—there's a khatha that looks just like an Indian grocers thin ledger for accounts; the calendar comes with a panchanga for the more astrology-minded.

"With 64MB of RAM and a 206 MHz processor, it is one of the most advanced handheld computers in the world," the manufacturers proudly say. "At just 206 grams and with a (rechargeable) battery back-up of up to 8 hours, Amida allows you to be Digital Wherever. Additionally, it is simple enough to be used by anyone anywhere."

In addition to Internet, Email and MP3 Player, it works with a range of devices - PCs (Windows & Linux), printers, digital cameras, finger print scanners etc., making data transfer easy.

The Amida Simputer, which looks similar to a PDA, comes in three models. The cheapest, the Amida 1200, has 32MB of RAM, a 206-MHz processor, a limited amount of bundled software, and a touch-sensitive 240 pixel by 320 pixel grayscale screen. It costs $240 plus shipping to buyers outside India.

The Amida 1600 and 4200 both have 64MB of RAM, the same 206-MHz processor, plus an infrared port and built in microphone and speakers.

The Amida 1600, at $300, has a grayscale screen and the same chocolate brown shell as the basic model, while the Amida 4200, at $480, has a black shell and a color screen.

The device features a 206Mhz processor, 64Mb of memory and has an internal microphone, speakers and a lithium-ion battery that lasts for six to eight hours under normal usage. The device also comes with two USB ports, an infrared port and it has a 3.8-inch backlit touch screen.

On the software side, the device runs on a scaled down version of Linux and it has an Internet browser and supports e-mail. It can connect to the Net via a standard landline, or the machine can be hooked up to a mobile phone to connect wirelessly. Both the browser and the e-mail software were developed specifically for the Simputer.

Other features include an MP3 player, a photo album, a movie player, some games, an address book and simple finance management software. The device can also be connected to a special keyboard, or users can write on the touch screen, which will convert script into text with proprietary software. Simputer supports English, Hindi and Kannada.

Simputer's software was developed by volunteers to keep development costs low, according to Swami Manohar, chief executive of Picopeta Simputers, which is one of two companies licensed to make the devices.

The launch of the Simputer came after a three-year delay caused by a lack of investment and a poor response to the concept from large-scale distributors, Manohar said.

However, the government-owned Bharat Electronics agreed to manufacture the Simputer, which was developed in 2001 by scientists at the Bangalore-based Indian Institute of Science in response to low levels of computer use in India.

Picopeta hopes to sell 50,000 units in the fiscal year ending March 2005, Manohar said.

The Simputer doesn't have a keyboard, although it can be attached to one. Instead it has a stylus that allows the user to "write" on the screen.

To keep costs down, it uses the Linux operating system, which does not require a license.

"We have taken the first steps of an Indian product company building a global brand," added Prof. V. Vinay, chairman of PicoPeta.

Interested readers can find more information on simputers at www.amidasimputer.com

|TOP|
---
FINANCE: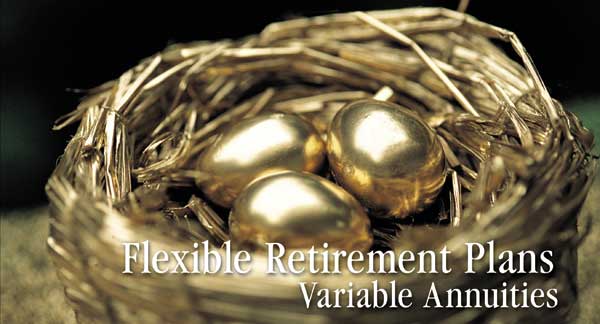 Flexible Retirement Plans
Variable Annuities
- By Ashok Gupta

For someone who needs financial flexibility, the tax-deferred variable annuity offers an array of options, writes financial adviser Ashok Gupta.

Did you know you may need 80 percent of your pre-retirement income to support yourself comfortably during retirement? You need to act now to be ready for this reality. There are many choices available to you. A relatively new but very popular tax-deferred investment is the variable annuity. This investment product comes at a time when most Americans need financial flexibility in planning for their future.
The variable annuity crosses traditional life insurance and investment lines by offering tax-deferred investment divisions and insurance benefits. This includes a guaranteed income which cannot be outlived. Such guarantees are backed by the claims-paying ability of the underwriting insurance company.

Whether you're a novice or seasoned investor, the variable annuity can meet a variety of needs. An array of options lets you choose among different divisions which invest in mutual funds. Each division has a unique investment objective. Select those which match your own needs and investment attitudes. Plus, you can transfer your money among these divisions without tax consequences.

Any plan for retirement must include the ability to put large and small contributions to work for you. Variable annuities accommodate both large payments of money and smaller systematic contributions.

With the chance of higher taxes on the horizon, variable annuities can help by funding both a qualified retirement plan (meaning the amount invested is usually tax deductible the year it is invested, and its earnings grow tax-deferred) and a nonqualified retirement plan. Nonqualified plans allow investment earnings to grow tax-deferred until withdrawn. Examples of qualified plans are an Individual Retirement Account (IRA), a Simplified Employee Pension (SEP) Plan and a Savings Incentive Match Plan for Employees (SIMPLE IRA).

Before you look into the different options offered by a variable annuity, it's best to seek a strong company and an investment manager with a solid track record and experience. With respect to product features that are guaranteed, you want the insurer offering the annuity to have reliable claims paying ability with a history of strong financial ratings from agencies like A.M. Best, Standard & Poor's, Moody's, or Duff & Phelps.

As you consider variable annuity options, be sure to choose investment divisions based on your own risk tolerance. Conservative to aggressive investment divisions are available, including a variety of stock and bond portfolios, and minimum-guaranteed return accounts often are an option. Any variable annuity investor should heed this advice, however: variable annuities are not for the short-term investor. This product is designed for the long-term. Values in the separate account divisions are not guaranteed and will vary from day to day.

Even though it is a long-term investment, a variable annuity can offer you control of your assets. As your needs and financial objectives change, you can transfer assets among the various investment divisions (subject to some limitations), without charges or tax consequences. Many variable annuities contain a feature that allows you to automatically rebalance amounts among investment divisions to maintain the investment allocation with which you are most comfortable. With several payout options available, you can receive retirement income in a form that meets your personal needs.

A variable annuity is a contract for life. Conventional wisdom suggests that young investors should invest a higher percent of their assets in risk-oriented accounts and transition to fixed accounts as they near retirement. This is called "life-cycle investing." Another attractive option for investors is the ability to allocate assets based on the investment environment. Dollar cost averaging enables investors to take advantage of market fluctuations. Dollar cost averaging does not assure a profit nor protect against loss in declining markets. Such plans involve continuous investment regardless of fluctuating prices, so investors should consider their ability to continue purchases through periods of low price levels.

Portions of your invested dollars can be withdrawn, before selecting an income option, within certain guidelines as described in the annuity's contract or prospectus. These legal documents and your financial adviser can answer any questions you may have concerning the many features and benefits of a variable annuity. Withdrawals made prior to age 59 1/2 may be subject to a 10 percent IRS tax penalty and/or surrender charges.

Variable annuities offer you an affordable, flexible way to save money for retirement. Because of heightened awareness of the advantages of saving today for tomorrow's retirement needs, investors of all ages choose variable annuities as attractive investment options. Consult a financial professional for more details about this flexible, tax-advantaged financial product.

|TOP|

---
SURVEY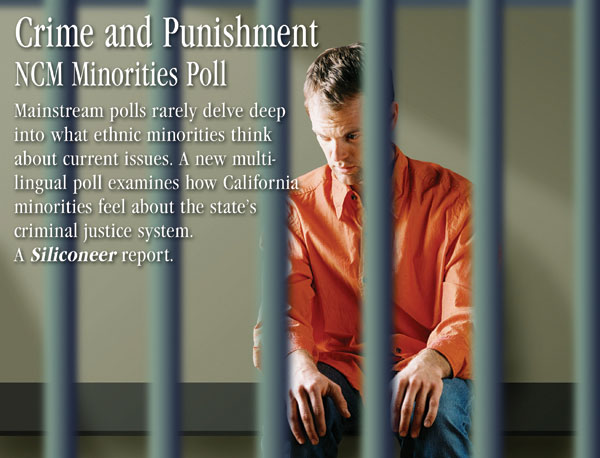 Crime and Punishment:
NCM Minorities Poll - A Siliconeer Report

Mainstream polls rarely delve deep into what ethnic minorities think about current issues. A new multilingual poll examines how California minorities feel about the state's criminal justice system. A Siliconeer report.

Mainstream polls are geared towards mainstream Americans (read mostly white and all English-speaking), but what do ethnic minorities think about the major issues of the day? Are their opinions similar to their mainstream neighbors? New California Media did a poll on California minorities to find out their take on crime and punishment recently to find out.

Ethnic groups in California want to see more treatment and rehabilitation programs in the state's penal system and less reliance on jail time in sentencing, according to the new poll of ethnic Californians on the state's criminal justice policies.

The multilingual poll shows that there is a vacuum of faith in the penal system among some of the populations most affected by the policies that have put California on the map as having some of the nation's toughest criminal justice laws.

Commissioned by San Francisco-based NCM and conducted by Miami-based polling firm Bendixen & Associates, the poll interviewed 1,854 Californians in 12 languages. The groups polled were Latinos, Asians, Middle Easterners, African Americans, American Indians and non-Latino whites. Between 200-450 people were questioned from each of these groups.

Overall, the responses show a great deal of support for alternative means of sentencing.

For all the groups polled, large majorities–ranging from 83 to 91 percent–believed that people with drug problems convicted for minor crimes should be sent to drug treatment programs rather than prison. Clear majorities in all the groups also thought that community service was a preferable punishment for petty crimes by strong majorities.

A majority of respondents in all but one of the groups thought that ex-convicts should be eligible for government education loans and also keep their right to vote. Less than half, or 48 percent of American Indians, thought that this was a good idea.

Helena Huang, senior program manager for the JEHT Foundation, a new national foundation dedicated to promoting fair criminal justice policies, says their aim was to get a more inclusive view than what was available in mainstream opinion polls.

"So many advocates make problematic assumptions about the views of people of color when it comes to criminal justice reform," says Huang.

Huang says that California is often a bellwether state for criminal justice policies. "What Californians think about who goes to prison and how to treat them impacts criminal justice policies across the country."

The poll reports mixed opinions on the controversial Three Strikes law, which requires a term of 25 years to life for any felony committed by a defendant with two previous serious or violent felony convictions.

Most groups expressed mixed opinions on the Three Strikes Law with no clear majorities expressing themselves either way. The exceptions were 76 percent of African-American respondents who said they opposed the law and 61 percent of Latinos who said they supported the law.

But when told that many defendants sentenced under Three Strikes had committed nonviolent crimes, "like stealing a pair of sneakers or forging a check," Asians and Latinos shifted their answers. Latinos changed from being 61 percent in favor of the law to 64 percent opposed. Asian Americans, meanwhile, went from being 48 percent in favor of the law to 56 percent against Three Strikes.

The poll also revealed a contradiction between how communities feel about their neighborhood cop and how they feel about the criminal justice system as a whole.

Majorities in all the groups polled — Latinos, Asians and Middle Easterners, African Americans, American Indians and non-Latinos — feel their neighborhood cops are doing a satisfactory job. Still, majorities in all the groups ranging from 54 percent for Asians and 88 percent for African Americans also said that the system favors the rich and powerful.

Three-fourths of African Americans and a significant proportion of Latinos (48 percent) feel police harass and detain people with darker skin or foreign accents more than others.

Opinions diverged on capital punishment. The poll asked respondents whether they were in favor of the death penalty for a person convicted of murder. African Americans and Latinos showed the most disapproval. Among African Americans, 55 percent said they are against the death penalty and 34 percent said they were in favor; among Latinos, 47 percent were against the death penalty and 41 percent were in favor.

Roughly two-thirds of American Indians, non-Latino whites, Asians and Middle Easterners said they supported the death penalty in these cases.

As the cash-strapped state decides which services to cut, a majority of respondents in all groups said they would rather see prison funding cut over social services or education funds. In proportions that ranged from 82 to 98 percent, respondents in all groups support spending more money on educating youth and less on building more prisons.

Responses suggested that many ethnic Californians favor more lenient policies toward youth offenders. When asked if they supported the death penalty for 16 and 17-year-old juveniles convicted of murder all the groups polled showed major opposition, from 52 percent of non-Latino whites to 74 percent of Latinos. Respondents were asked about voter-approved law Proposition 21 passed in 2000 that allows juveniles as young as 16 to be tried as adults. Clear majorities of African Americans, Latinos, and Middle Easterners and significant portions of other groups showed opposition to Proposition 21.

For more detailed information on how Asian subgroups — Chinese, Filipino, Korean, Vietnamese, Japanese and Indians — responded as well as for the results from specific Middle Eastern populations—Armenia, Iran and several Arab nations — interested readers can view the detailed poll results and analyses at the following Web address: www.ncmonline.com/polls.

|TOP|

COMMUNITY:
ICC Sunnyvale Center

Seen outside the new ICC Sunnyvale facility are ICC Sunnyvale director
Pradeep Joshi (l) with ICC executive director Datta Nadkarni. (ICC photo)
Milpitas, Calif.-based India Community Center will celebrate its expansion to Sunnyvale with an open house and ribbon-cutting ceremony on April 18. ICC Sunnyvale is located at 285 North Wolfe Road, Suite 102, Sunnyvale, Calif.
Mayor Howe of Sunnyvale will preside over the ribbon-cutting ceremony followed by tours of the center, a cultural program, complimentary lunch and children's activities. The public is invited to attend the free open house.

The Indo-American Community Service Center's programs, formerly held in Santa Clara, will continue at ICC Sunnyvale. Mangala Kumar, India Community Center's senior director said, "The Santa Clara Center offered an intellectually stimulating and creative environment for our vibrant senior community. Given how the center's programs have grown in popularity, we are excited to continue to support the community at a larger facility in Sunnyvale." The Sunnyvale Center will also house some of India Community Center's most popular events and classes including yoga, Bollywood dance, Hindi language and tabla.

"In one year, India Community Center has become the nation's largest Indian-American center, touching the lives of over 3000 members and the local community," said Datta Nadkarni, India Community Center's executive director. "We are pleased to expand beyond Milpitas and bring some of our enriching programs to residential Indian communities in Sunnyvale, Saratoga, Mountain View and Cupertino."

ICC is the largest facility in the nation dedicated to promoting Indian culture and values through cultural, recreational, educational and community programs. Kids, teens, adults and seniors can also take advantage of ICC's library, kids learning center, café, lounge and recreation area. ICC is funded through private contributions, membership dues, fees and some grants. Activities are conducted by highly-trained instructors, staff and a large number of volunteers.

Interested readers can visit the ICC Web site for more information at www.indiacc.org or call (408) 934-1130.

|TOP|

AUTO REVIEW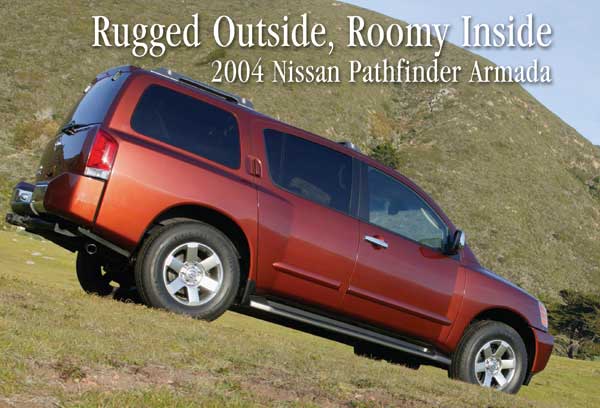 Rugged Outside, Roomy Inside:
2004 Nissan Pathfinder Armada
– By Sally Miller Wyatt

Nissan's rugged behemoth gets a thumbs up from Sally Miller Wyatt for its armored exterior and roomy interior.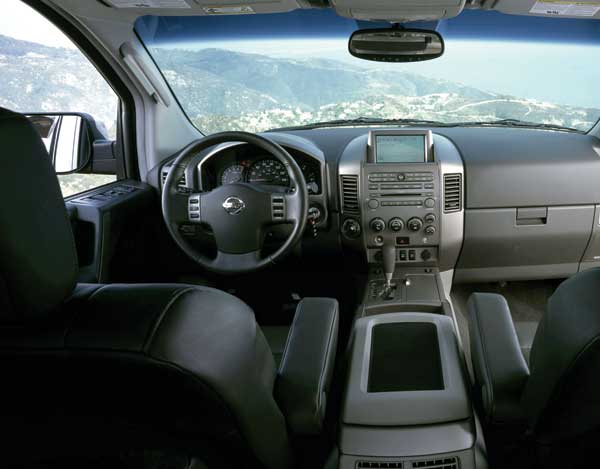 It's fun to watch the faces of those who have never had an opportunity to ride in a full-sized sport utility vehicle, with their wide eyes and open mouths. They just can't believe the interior dimensions on some of these models.
Although I've test-driven many super-sized sport utility vehicles over the past few years, I have to admit to the same amazed reaction when I saw the 2004 Nissan Pathfinder Armada for the first time. Even before you can check out the interior, you're gaping at the Armada's exterior. Its armored look, that tall and wide stance and those chiseled lines definitely give you a "no-nonsense" visual impression.

Crawling up into the driver's seat, I start imagining how it must feel to be a Brinks driver, as I gazed at those dinner-plate-sized rear view mirrors. Will you take on a bullet-proof mentality once you hit the road?

Checking out the interior of the Armada, with its all-round roomy dimensions, made me chuckle. Any parent of feuding siblings could really appreciate all the space there is between seats in this vehicle. No one is going to complain about a brother leaning too close or taking up window space in here.

The 2004 Nissan Pathfinder Armada is all-new and has only been available since last fall. According to Nissan, it was designed for owners "with active lifestyles, for families that need all the traditional full-sized SUV strengths but are looking for a higher level of style." Okay, that probably explains the standard leather interior seating, and a boat-load of conveniences, such as a Bose in-dash audio system with CD changer, independent front and rear audio and climate controls, two large lockable center consoles big enough to hold a purse or more, power adjustable pedals, power driver's seat that adjusts eight ways, and keyless remote entry, among many other standard features.

Optional creature comforts on the test car included a navigation system with seven-inch screen, sun roof, dual zone automatic air conditioning, a microfilter, a six-way adjustable front passenger seat and power lift rear gate, which were all part of a $3,600 Technology Package. That power lift gate is a true convenience, especially when you have an arm-load of packages. A DVD entertainment package is also available.

There are many other standard features on board the Armada, but two stand out for this parent. The running boards — which are a must-have for us shorter drivers and our short passengers — and the second row captain's chairs. Children and adults of all sizes seem to like this seating solution, because it does give you extra elbow room. In the Armada, the space between the front seat and second row is overly generous, and is very good between the second and third row of seats. If you want an extra seat, you can have it in the Armada, which offers seating for either seven or eight passengers.

The second and third row of seats — no matter which configuration chosen — can fold flat, which opens up a huge amount of cargo carrying space. Even with the third row of seats in the "up" position, there is a good amount of cargo space in the rear. Thirsty families will appreciate the 14 cup holders placed here and there throughout the vehicle.

As for safety features, the Armada offers roof-mounted side curtain air bags with side impact and rollover protection for all three rows, side impact bags for front seat passengers, a tire pressuring monitoring system, a Vehicle Dynamic Control System for stability and handling, and rear "proximity sensors" that alert you to hazards that are too close.

2004 NISSAN PATHFINDER ARMADA LE 4x4


Base Price: $40,600

Price as Tested: $45,150

Engine: 5.6-liter, 32 valve V8

Horsepower: 305@4,900

Torque: 385@3,600

Width: 78.8

Wheelbase: 123.2

Overall length: 206.9

Transmission: Five-speed automatic

Mileage: 13/city, 18/highway

Of course, you're going to need a powerful engine for this large vehicle, and the Armada's engine is the most powerful Nissan has built. It is an all-new 5.6-liter, DOHC, 32-valve V8 and it delivers hesitation-free acceleration in a heart beat. Once on the road, you'll find the Armada handles well for its large size, and there is minimal road noise. Towing packages are available.
As for visibility, views are unobstructed to the side and rear, but I found the Armada had a blind spot for me below the front right hood. When pulling up the curb or into the driveway, it was difficult for me to get a complete sense of how close I was to objects. As an on-the-small-side driver, I found that a bit intimidating at times.

Overall, the children and we parents gave the Armada a big thumbs up for its rugged stance and extremely roomy interior.

- Sally Miller Wyatt is a freelance writer
who writes family-oriented auto reviews for
newspapers, magazines and the Web.
|TOP|
---
Bollywood: | Guftugu | Hindi Film Review |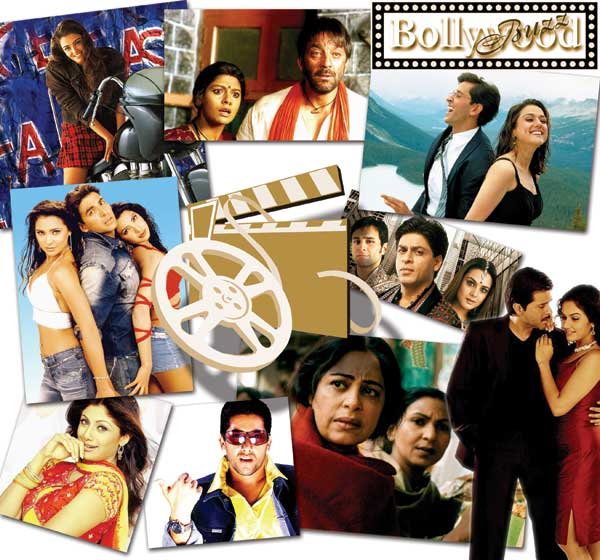 Guftugu

Preity in Love?

The latest gossip making the rounds in Bollywood is that Preity Zinta and Abhishek Bachchan have a good thing going. A little bird tells us that the two have been spotted sharing cozy corners, drinks and dinners at a number of night clubs.

The funny thing is that the two are yet to romance in front of the arc lights.

Well that's going to change soon. A.B. Corporation's Ranveer will pair the lovebirds, and doubtless audiences will be looking forward to gawping at the duo. The fact that ace filmmaker Raj Kumar Santoshi will be directing the film will do their careers a world of good.

Funny how things turn out. Preity was rumored to be keen on Dil Chahta Hai co-star Aamir, while Abhishek was engaged to Karisma, who is now happily married. Sometimes relationships in Bollywood can beat a game of musical chairs.
|Return to Bollywood Index| |TOP|

New Love

Aftab Shivdasani is in love. But no, we aren't talking about some sultry siren here. Shamita Shetty is history. The new beauty which makes Aftab writhes with desire has four wheels.

Yes, you heard that right. The Muskaan hero's latest love maybe high maintenance, but it had the decided advantage that it doesn't—and cannot— talk back.

The purring beauty is a jet black Mercedes, now his proud possession thanks to his parents. Aftab was in Britain for over a month shooting for Shukriya, and he talked his doting parents to buy it for him in Mumbai.

Here's to a smooth ride for a long time to come!
|Return to Bollywood Index| |TOP|

Aish in War Movie

It's not just looks anymore for our Aish. The Devdas beauty these days is looking at roles with more than glamour, and so offbeat director Tanuja Chandra suggested the role of a war victim to Aishwarya, the beautiful heroine apparently agreed.

"I liked the story idea and suggested Aishwarya Rai's name for the protagonist's role," Chandra said. "Her name came to my mind first for the simple reason that she has not done anything like this before," says the director.

Chandra is working on the screenplay. The male lead has not been decided.

So Aishwarya will now play Kashiben, a woman who lived near the Gujarat border during the 1971 war. The film will be shot in Gujarat and will be released next year. And don't expect to ogle Aish when you go to see this film, Chandra warns.

It's an anti-war film, and Aish will not have her standard urban svelte look.
|Return to Bollywood Index| |TOP|

Thaw Threatens Director

Somebody tell me I am not imagining this. Remember the good old days — or bad old days, depending on your viewpoint — when Pakistan-bashing was a sure route to box office success? It was the macho Jat Sunny Deol's fiery anti-Pakistan tirades on which his Gadar roared to success.

Well, times have changed, my friend, and pity poor filmmaker Raman Kumar, who is now feeling like he's been caught with his hand in the cookie jar.

You see, his film Sarhad Paar is feeling the heat of the improving Indo-Pak relations.

The Sanjay Dutt-Mahima Chaudhary film shows Sunju being taken as a POW who is traumatized in Pakistan. You can bet the original script had more than a few patriotic dialogues and more than a few choice epithets reserved for Sunju's ruthless captors, but all that will have to be jettisoned, with peace and love in the air.

Trouble is, the film is almost complete. Producer Akash Khurana says, "We can't change the film as it is complete except for a song."

So what is to be done? Never underestimate the cunning of a Bollywood filmmaker, particularly if a whole lot of moolah is at stake. The filmmakers are quickly trying to set the film in the right mood.

"There is nothing to change in the story, you can't," Khurana says. "We have shot the entire film including the climax. But we can definitely create an environment that is actually a collaboration bet-ween the two countries."

So the producers are looking for a Pakistani actor in the film who "will be taken if someone from there suits the role. A Pakistani singer may be brought in also.
|Return to Bollywood Index| |TOP|

Unhappy Gracy

Poor Gracy Singh. She hasn't been happy recently. Her films Lagaan, Gangaajal and Munnabhai MBBS scored at the box office, but the actress is unhappy about the fact that nobody seems to have noticed her contribution.

Yet her acting skills played more than a marginal role, she fumes. Well, her future releases will set the record straight, she says with a dash of defiance.

"At least I can show that there was much more to me than just playing a gaon ki chori," Gracy says. "I'm looking forward to the release of Muskaan and Shart. The latter has me in a different role. I had a wonderful time working with Tushar Kapoor."

Cheer up, Gracy. Your role in Munnabhai MBBS was first offered to Aishwarya and later Rani Mukherjee. You seemed to have done the role credit, so that says something, doesn't it?
|Return to Bollywood Index| |TOP|

French Prize

If you saw Karan Johar recently, you would have thought he was in heaven. Maybe this is as close as it gets, because the snooty French seem to have taken a liking for his Shah Rukh-Preity starrer Kal Ho Na Ho, which has just won the Prix du Public for the best film at the Valenciennes film festival in France.

An excited Johar told the press, "The experience has been wonderful for me and my father. You should see the kind of response the film got here. I'm moved! The ladies found Shah Rukh Khan to be God. And they just went ga-ga over the pretty woman song. I think they just loved the idea of all the characters singing, dancing and crying. They loved the idea about us being open about our emotions."

Now I know sneering Bollywood wags will want to dismiss this phoren award as a flash in the pan. Sorry to disappoint you folks, but Johar's last film Kabhi Khushi Kabhie Gham also won the jury award at the same film festival, some years ago.
|Return to Bollywood Index| |TOP|

Luscious Lara

Sizzling Lara Dutta is not content to make men squirm strutting her stuff on screen, it would seem. She has recently given a frank—and we mean really frank—interview to Stardust magazine on, you guessed it, sex. It's the sort of interview which will make parents hide the issue from their impressionable youngsters..

Some of her juicy quotes: "The most important thing when you're having sexual intercourse is: 'Are you making your partner happy?'"

How about this one: "I honestly believe that one of the main reasons we were put on earth was to procreate and to keep a species alive."

Then she has a rather intriguing take: "I definitely think the female form is fare more attractive than the male body. If I had to see a nude body of a woman or a man, I'd any day pick a woman... I myself dress for other woman because the women are going to check me out more than the men are."

She recognizes that sex sells, clearly.
|Return to Bollywood Index| |TOP|

Kiss of Friendship

Cricket diplomacy has brought in its wake an outpouring of fraternal affection from both Pakistanis and Indians and Bollywood stars are joining in.

Akshay Kumar and Shilpa Shetty were in Lahore, and the atmosphere of camaraderie and warmth was infectious.

Shilpa got carried away, it must be said, as she dramatically swayed the Indian and Pakistani flags together after ending her first dance and—get this—she kissed the Pakistani flag.

Thank goodness we seem to living in marginally more civilized times. In the bad old days, and not that long ago either, all hell would have broken loose, and you would have Bal Thackeray issuing a vituperative fatwa before you could say Jai Hind.

What's the big deal anyway? As Shilpa has said, it was simply an innocent gesture symbolizing the current state of peace and friendship between India and Pakistan.

"It was neither planned nor choreographed. I'm looking forward to a time when we will be able to come together without fearing consequences." Now that's well said.
|Return to Bollywood Index| |TOP|

Shining Kiron

Honors seem to keep coming Kiron Kher's way, and why not, given the fact that the lady has distinguished herself in a handful of very special films. This year's Indian Film Festival of Los Angeles will feature a tribute to the award-winning actress.

Kher has won the best actress award at Locarno for her performance in Pakis-tani filmmaker Sabiha Sumar's Khamosh Paani and India's National Award for her performance in Rituparno Ghosh's Bariwali

She will be felicitated at this year's IFFLA on April 15.

IFFLA has also organized an on-stage discussion as well as a QA session with Kiron Kher about her outstanding career, which has included landmark films such as Pestonjee starring Shabana Azmi and Naseeruddin Shah, Shyam Benegal's Sardari Begum and more recently Sanjay Leela Bhansali's Devdas.

Khamosh Paani will be premiered at the fete as well.

The five-day fest, whose aim ever since its inception has been to pave way for a greater appreciation of Indian cinema by providing the public with a selection of films from and about India by Indian and international directors, will this year open on April 14 with Rituparno Ghosh's Chokher Bali.
|Return to Bollywood Index| |TOP|

Chi Chi, MP?

Happy go-lucky Govinda is now getting dead serious. No more tapori antics, this time around he is running for Parliament from Mumbai north. This is a deadly serious matter, because on the other side is Petroleum Minister Ram Naik.

Govinda figured among 16 poll candidates named by the Congress in New Delhi and the actor, who joined the Congress March 15, met Maharashtra Chief Minister Sushilkumar Shinde to discuss the development.

So people, get ready for the Govinda-rath. Congress is preparing an air-conditioned van for the actor's poll campaign, The van will be done up with trimmings like the party insignia.

Naik is no slouch, either. He is getting ready with his Ram-rath, and he is already doing the rounds of the sprawling constituency that is spread from suburban Mumbai to Palghar in Thane district.

As the war of the chariots begin, it's too early to say who will win. Naik is an old veteran, it's true, but even during his heyday of Bollywood fame, Chi Chi retained contacts with his area and has helped out residents in lower-middle class neighborhoods.
|Return to Bollywood Index| |TOP|

King Khan

Bollywood heroes come and go, but there is only one Badshaah, and that's the one and only Shah Rukh Khan. So you can dismiss all the gossip making the rounds about Karan Johar signing Ajay Devgan for his next film.

Karan's favorite is always the Khan, and it when you take into account the shrieks of delirious pleasure the Khan still manages to produce in millions of women.

Karan is planning an epic period film with the Khan, and Shah Rukh has reserved his dates for November. Right now he is completing a film by Yash Chopra. And don't forget Ashutosh Gowariker's Swades.

Interesting triptych here—if you get my drift—the period Devdas, Yash Chopra's film, and now Karan Johar's film, reminds you of the baddie-at-large days of Baazigar-Darr-Anjaam in the '90s, doesn't it?

As for the rumor of Ajay Devgan, don't waste your breath cursing rumor mongerers. It's not totally a figment of someone's imagination. Devgan will indeed sign a film, and the Johars did approach him, but the project is a songless thriller to be directed by Karan's assistant Soham Shah.
|Return to Bollywood Index| |TOP|

Kareena Back Home

Kareena Kapoor is back in India after a long stint of shooting of Ken Ghosh's Fida, first in Dubai and then in Cape Town.

She has a lot on her hands. Kareena will complete Fida and Bewafa in the coming weeks, and then she is set to start a whole new set.

She will start shooting is Priyadarsan's Hulchul. The Venus production is now hot property after news that his last film, Hungama did good business all over.

Hulchul pairs Kareena and Akshaye Khanna (who was in Hungama as well) together for the first time.
|Return to Bollywood Index| |TOP|
---
Hindi Film Review
Whodunnit? The Director. Book Him!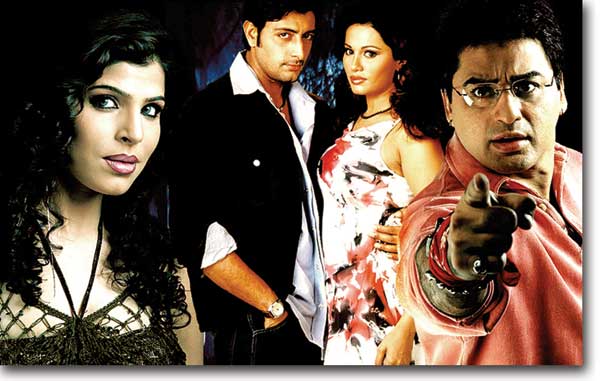 WOH
Directed by:
Raj Sippy
Music:
Anand Raj Anand
Starring:
Priyanshu Chatterjee, Cleo Isaacs, Nawab Shah, Shahbaz Khan, Ravi Kissen, Ayub Khan, Laila Patel
I suppose you could call it a whodunit, but not in the sense of the conventional mystery thriller. The murder victim here is cinema itself, and the guy who dun it is Raj Sippy. To think they have the cheek to name their main character Shekhar Kapur!
Let me first give you the cockamamie story, and you be the judge.

Shekhar Kapur is roaming around in search of a job. (It's actually Priyanshu Chatterjee. The real Shekhar Kapur is more apt to be roaming around with an unsheathed knife in search of director Raj Sippy, if you ask me.) Following a friend's failed attempt to get a job, Shekhar gets a tip from a gas station attendant and heads to Mahabaleshwar.

He ends up at the Laila Bar, owned by the eponymous Laila (Laila Patel), who seems to have stepped out from a girlie mag centerfold (more about this later). Laila's boyfriend Pratap (Nawab Shah) mistakenly thinks Shekhar is the hit man he has hired. He slaps a photo and a 100 grand on him, and sends Shekhar off to kill his niece Sonali (Cleo Isaacs), before Shekhar realizes what hit him.

This being a Bollywood movie, Shekhar, instead falls in love with Sonali, and spills the beans. Sonali insists that Pratap should leave town. Pratap takes her advice, and just when things are about to go smoothly, fate (read wacky Bollywood scriptwriter) throws a spanner in the works.

During a spot of drunken revelry, Shekhar runs over a person. He takes the injured person to the nearest hospital, which is in—what do you know—Mahabaleshwar.

The cops nab the hapless Shekhar and to his utter horror, he discovers that the superintendent of police is no other than Laila's loverboy, Pratap. Small world, huh?

Shekhar makes a narrow escape and runs into Shekhar #2, the real hit man.

If your head is beginning to reel at these implausible set of events, get a hold of yourself: the ride gets wackier. Predictable, clichéd twists, and wholly implausible events fall over each other as the film careens along from one crazy corner to another.

Sonali and Shekhar escape to a friend's house, plotting to take on Pratap. But nothing is as it seems. Pratap and Laila are running a huge scam.

By this time, no one in the audience cares what the heck is happening in the film, so I will not bore the reader with the rest of the story.

Very simply put, this monstrosity is the result of a very basic problem. Filmmaker Raj Sippy had enough ideas worth about 15 minutes of film time, but you know masala films

need to be your regulation three-hours, so what happened was this: Sippy ran out of ideas and the film ran out of steam.

Sometimes, it takes just one cook to spoil the broth. Trouble is, not only is the broth lousy, the ingredients stink as well. Anand Raj Anand's music sucks, and the acting, barring the brave attempts of Priyanshu to do the impossible—i.e., attach a modest cover of plausibility, however threadbare—the acting is often quite bad.

Take Cleo Isaacs. What does she think she is doing here? The woman couldn't act even if her life depended on it, nor does she have earth-shaking looks to make the guys forget it. This is 100 percent "item song" material. She makes the audience laugh at the wrong points, for the wrong reasons.

Ayub Khan is often over the top as an inspector, and Nawab's Pratap has only occasional, rare moments of competence.

Then there is Laila Patel, who gets enough exposure to last her—and libidinous viewers—a lifetime. Bollywood filmmakers have vivid imaginations—let's grant the devil its due—but seldom has it manifested in as cheesy a confection as this. Laila's scene of car-washing is the closest thing you will ever see to a woman making love to an inanimate object (her penchant for using her admittedly ample derriere to rub off dirt is enough to make any adolescent squirm).

So at the end of the day, you have a ridiculous apology of a story, tied together by absolutely implausible story sequences, backed by little acting worth the name. This from a director who, although not quite ever the toast of Cannes, at least had given us serviceable entertainment—by Bollywood standards, that is, which is extremely generous—in previous films like Koshish, Satte Pe Satta and Andar Bahar and Thanedar.

One has to say, sometimes the filmmakers behind these insipid thrillers are even a greater mystery. Just what was going through what he is pleased to call his mind? Doesn't he see the writing on the wall? All he has to do is to take a look around himself and the evidence is there for all to see—India is strewn with the rotting carcasses of dreadful potboilers churned out by directors whose arrogance far outreached their skills.

Do your homework, man, and get serious. If you don't give a toss what the audience wants (which is intelligent, relatively clean entertainment), chances are the audience will return the compliment. Which is exactly what Raj Sippy deserves.

|Return to Bollywood Index| |TOP|
---
Tamil Film Review:
Love Triangle with Difference

NEE MATTUM

Director:
Mathi Natesh.
Cast:
Jana, Deepu, Preethi, Vadivelu, Vijaykumar, Thalaivasal Vijay, Satyapriya
The effervescent Jyoti has her way with everyone in her college. Except freshman Prashant, that is. Prashant is a recluse given to much brooding, who resists every attempt of Jyoti's — jibes, taunts and friendly overtures — to gain his attention. His aloofness draws Jyoti all the more closer to him. During one of the college excursions to a hill station Jyoti discovers the reason for his strange behavior. Prashant has an unhappy past, which included Radhika, the girl he had loved, and the relationship didn't have a happy ending. The tragedy had shattered their dreams.
Jyoti decides to set matters right for Prashant, and goes to the extraordinary length of even meeting Radhika, but fails to convince Radhika to pick up where she had left before and begin a new life with Prashant. Radhika, on the other hand, has a counter proposal, which takes the duo by surprise.

For a debutant, Jana (his home production) shows promise. Adequate in the dance numbers, expressive in the more intense scenes, he could be a little more relaxed in front of the camera, and should improve on his fight scenes. Debutant Preethi is vivacious and lively, while Deepu (of Anbu) as Radhika gets some good emotional scenes which she performs with credibility.

It's the eternal love triangle, to be sure, but the debutant director deserves credit for trying to make it a little different through the characterization of the three protagonists, and the etching of the scenes towards the latter half. Sensibly thought-out dialogue, a well thought-out conclusion and eye-catching locations (the director is the film's cinematographer too) are the plus points of the film.

|TOP|
---
RECIPE: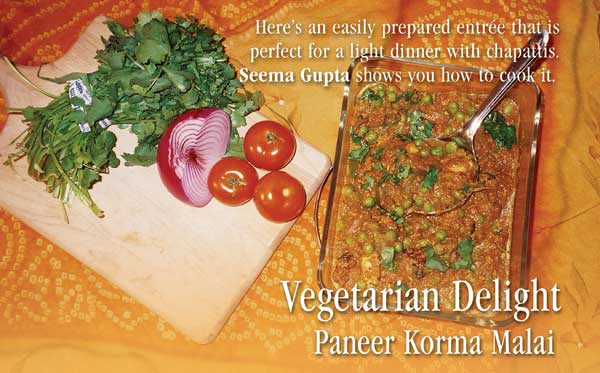 Vegetarian Delight:
Paneer Korma Malai
– By Seema Gupta
Here's an easily prepared entree that is perfect for a light dinner with chapatis. Seema Gupta shows you how to cook it.

Ingredients

100 gm paneer

500 gm boiled peas

500 gm tomato

1 green bell pepper (cut lengthwise)

2 onions finely chopped

2 tbsp ghee or oil

100 gm khoya

1 tbsp coriander leaves

1 tsp red chilli powder

1 tsp coriander powder

salt to taste

For the paste

3 sticks cinnamon

6 cloves

6 large cardamom

1/2 tsp mace

Method:

Grind cinnamon, cloves, carda-mom and mace in a blender, and add water to make a paste.
Heat the oil in pan. Fry onion and capsicum, add khoya and fry for 5 min.
Add tomato juice and cinnamon paste, stir well. Add peas, paneer and spices, then fry for 5 min.
Garnish with coriander leaves and serve hot with chapattis.

– Seema Gupta is a homemaker
based in Sunnyvale, Calif.
---
April-May Horoscope By Pandit Parashar

ARIES (March 21 to April 20): A diplomatic approach in dealing with issues is called for. A meeting will go well and you will be assured an assignment. You will do well in stocks. Your efforts will be recognized. Relocation will be fruitful as it provides for peace and better luck.

TAURUS (April 21 to May 20): You will come across many money-making opportunities. You will make interesting friends. Play your cards right and legal battles will turn in your favor. A big move will require some more time. It is a good idea to sell your recently purchased stocks, you might make a small profit doing so.

GEMINI (May 21 to June 20): Life will be exciting as you enter a new relationship. Your hard work will pay off as you see immediate improvement. A business trip will be encouraging and financially rewarding. A long awaited check will finally arrive in mail. You will receive a lead from an unexpected source.

CANCER (June 21 to July 22): Do not stretch your limits and avoid buying property for investment purposes. A future trip will finally take shape. Someone very close in the past will be missed badly. You will go several family outings. Dealing in stocks will be profitable.

LEO (July 23 to August 22): A major career breakthrough is possible. Positive energy will fill your life and you will take a daring step to get out of the rat race. You will visit a holy place. It is a good time to launch a major venture. Relatives trying to compete will finally give up.

VIRGO (August 23 to September 22): Expect no immediate results for the efforts you are making. People will make big promises but may not be available to fulfill them. You will be making some big payments. Your seniors at work will be extremely demanding and the pressure of meeting deadlines will aggravate stress levels.

LIBRA (September 23 to October 22): Health issues should be given top priority. You will be selected to do the job amongst major competitors. Spouse will fondly spend money on unnecessary stuff. You may drop the idea about a big investment for the time being. Restrict caffeine intake.

SCORPIO (October 23 to November 22): You will be under financial pressure following recent commitments. Investments you make now will yield profits at a later stage. Spouse will jump to conclusions, which will eventually make your life miserable. You will make progress in negotiating a job contract.

SAGITTARIUS (November 23 to December 22): Quest for a solution to a major issue will make you restless. You may be give final shape to a travel plan. Cash flow is seen coming at snail's pace. A learned person can help with useful advice.

CAPRICORN (December 22 to January 19): Mounting competition will reduce profit margin. Issues with a government agency will clear without any penalty. You may buy furniture. You will be traveling to a distant place. Someone living overseas will cause concern.

AQUARIUS (January 20 to February 18): Financial improvements will finally occur as you successfully reduce unnecessary expenses. You will be invited to an exciting party. You will file important papers as you eagerly await response on them. A business offer will come from an influential person.

PISCES (February 19 to March 20): You will be writing some big checks including one to a government agency. An upcoming trip will be extremely beneficial. Your family may go on a trip this summer, but you will not make it with them. You will sign important business documents.

---