Publisher's Note
This magazine has often celebrated India's growing scientific and technological prowess. However, we have also taken a look at the broader, socio-economic relevance of science and technology, and we haven't been reticent about corporate malfeasance, either. This month's cover story on Andhra Pradesh, though not directly about information technology or science—our usual focus—presents an area that has always intrigued this magazine—the crossroads of science, technology and politics.
Andhra Pradesh did make strides in information technology, but the hype and hoopla surrounding it masked a dark secret of how its rural millions were deliberately sunk into poverty. George Monbiot's remarkable article is an eye-opener which should be required reading for the many analysts and journalists—both Indian and Western—who were acting more like PR flacks than independent investigators of the truth.

The recent election has not only brought a sea-change in Indian politics, it also has pundits, pollsters and analysts with eggs all over their face. In addition to fostering a salutary skepticism of armchair pundits, what else does it say about the polity of the world's largest democracy? Our current issue presents a bracing analysis.


Outsourcing is the big rage in the U.S.—literally. But while lawmakers are dancing to the tune of angry constituents seething at the loss of white collar jobs to India, do you know which industry is going to get hit by outsourcing? With World Trade Organization curbs set to expire, textile could be the next area where India becomes a huge global player, as an article in this issue explains.

|TOP|

---
MAIN FEATURE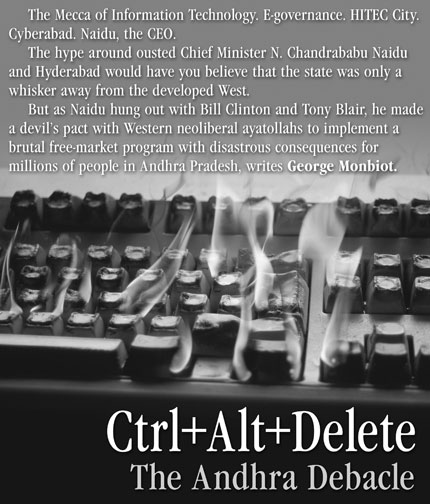 Ctrl+Alt+Delete:
The Andhra Debacle

By George Monbiot
The Mecca of Information Technology. E-governance. HITEC City . Cyberabad. Naidu, the CEO.
The hype and hoopla around ousted Chief Minister N. Chandrababu Naidu and Hyderabad would have you believe that the state was only a whisker away from the developed West.
But as Naidu wined and dined with the likes of Bill Clinton and Tony Blair, he made a devil's pact with Western neoliberal ayatollahs to implement a brutal free-market program with disastrous consequences for millions of people in Andhra Pradesh, writes George Monbiot.

The voters of the Indian state of Andhra Pradesh may have destroyed the world's most dangerous economic experiment. Tony Blair has lost the election. It's true he wasn't standing, but we won't split hairs. His policies have just been put to the test by an electorate blessed with a viable opposition, and crushed.

Chandrababu Naidu, the state's chief minister, was the West's favorite Indian. Tony Blair and Bill Clinton both visited him in Hyderabad, the state capital. Time magazine named him South Asian of the year; the governor of Illinois created a Naidu day in his honor; and the British government and the World Bank flooded his state with money. They loved him because he did what he was told.

Naidu realized that to sustain power he must surrender it. He knew that as long as he gave the global powers what they wanted, he would get the money and stature that count for so much in Indian politics. So instead of devising his own program, he handed the job to the U.S. consultancy McKinsey.

McKinsey's scheme, Vision 2020, is one of those documents whose summary says one thing and whose contents quite another. It begins, for example, by insisting that education and healthcare must be made available to everyone. Only later do you discover that the state's hospitals and universities are to be privatized and funded by "user charges." It extols small businesses but, way beyond the point at which most people stop reading, reveals that it intends to "eliminate" the laws that defend them, and replace small investors, who "lack motivation," with "large corporations." It claims it will "generate employment" in the countryside, and goes on to insist that more than 20 million people should be thrown off the land.

Put all these — and the other proposals for privatization, deregulation and the shrinking of the state — together, and you see that McKinsey has unwittingly developed a blueprint for mass starvation. You dispossess 20 million farmers just as the state is reducing the number of its employees and foreign corporations are "rationalizing" the rest of the workforce, and you end up with millions without work or state support. "The state's people," McKinsey warns, "will need to be enlightened about the benefits of change."

McKinsey's vision was not confined to Naidu's government. Once he had implemented these policies, Andhra Pradesh "should seize opportunities to lead other states in such reform, becoming, in the process, the benchmark state." Foreign donors would pay for the experiment, then seek to persuade other parts of the developing world to follow Naidu's example.

There is something familiar about all this, and McKinsey has been kind enough to jog our memories. Vision 2020 contains 11 glowing references to Chile's experiment in the 1980s. General Pinochet handed the economic management of his country to a group of neoliberal economists known as the Chicago Boys. They privatized social provision, tore up laws protecting workers and the environment, and left the economy to multinational companies. The result was a bonanza for big business, and a staggering growth in debt, unemployment, homelessness and malnutrition. The plan was funded by the U.S. in the hope that it could be rolled out around the world.

Pinochet's economic understudy was bankrolled by Britain. In July 2001 Clare Short, then secretary of state for international development, finally admitted to Parliament that, despite numerous official denials, Britain was funding Vision 2020. Blair's government has financed the state's economic reform program, its privatization of the power sector and its "Centre for Good Governance" (which means as little governance as possible). British taxes also fund the "implementation secretariat" for its privatization program. The secretariat is run, at Britain's insistence, by the Adam Smith Institute, a far-right business lobby group. The money for all this comes out of Britain's foreign aid budget.

It is not hard to see why Blair's government is doing this. As Stephen Byers revealed when secretary of state for trade and industry, "The U.K. government has designated India as one of the U.K.'s 15 campaign markets." The campaign is to expand opportunities for British capital. The people of Andhra Pradesh know what this means: they call it "the return of the East India Company."

This isn't the only aspect of British history being repeated in Andhra Pradesh. There's something uncanny about the way in which the scandals that surrounded Blair during his first term in office are recurring there. Bernie Ecclestone, the formula one boss who gave Labor £1m and whose sport later received an exemption from the ban on tobacco advertising, was negotiating with Naidu to bring his sport to Hyderabad. I have been shown the leaked minutes of a state cabinet meeting on Jan. 10. McKinsey, they reveal, instructed the cabinet that Hyderabad should be a "world-class futuristic city with formula one as a core component." To make it viable, however, there would be a "state support requirement of Rs. 400-600 crores" (4bn-6bn rupees). This means a state subsidy for formula one of £50m-£75m a year. It is worth noting that in Andhra Pradesh thousands now die of malnutrition-related diseases because Naidu had previously cut the food subsidy.

Then the minutes become even more interesting. Ecclestone's formula one, they noted, should be exempted from the Indian ban on tobacco advertising. Naidu had already "addressed the PM as well as the health minister in this regard," and was hoping to enact "legislation creating an exemption to the act."

The Hinduja brothers, the businessmen facing criminal charges in India who were given British passports after Peter Mandelson intervened on their behalf, have also been sniffing round Vision 2020. Another set of leaked minutes shows that in 1999 their representatives held a secret meeting in London with the Indian attorney general and the British export credit guarantee department, to help them get the backing required to build a power station under Naidu's privatization program. When the attorney general began lobbying the Indian government on their behalf, this caused another Hinduja scandal.

The results of the program the British have been funding are plain to see. During the hungry season, hundreds of thousands of people in Andhra Pradesh are now kept alive on gruel supplied by charities. Last year, hundreds of children died in an encephalitis outbreak because of the shortage of state-run hospitals. The state government's own figures suggest that 77 percent of the population have fallen below the poverty line. The measurement criteria are not consistent, but this appears to be a massive rise. In 1993 there was one bus a week taking migrant workers from a depot in Andhra Pradesh to Mumbai. Today there are 34. The dispossessed must reduce themselves to the transplanted coolies of Blair's new empire.

Luckily, democracy still functions in India. In 1999, Naidu's party won 29 seats, leaving Congress with five. Last week those results were precisely reversed. The British can't yet vote Blair out of office in Britain, but in Andhra Pradesh they have done the job on behalf of the British people.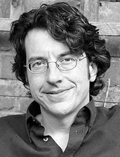 George Monbiot is a columnist for the London Guardian. He has taught at the
universities of Oxford (environmental policy), Bristol (philosophy), Keele
(politics) and East London (environmental science).
His Web site is www.monbiot.com.


|TOP|

---
INFOTECH INDIA

U.S. Firms to Sell ISRO Images... Covansys to Hire 1,800... IIIT, IIT Join PlanetLab...
Cryogenic Engine Explodes... Unisys to Open Development Center... Polaris Profit Up...
BMC Signs Wipro... Tata, China Unicom Accord... SAP to Add 500 Jobs... BSNL Plans for Madurai... Pak to Test-fire Missile — Here is the latest on information technology from India

US Firm to Sell ISRO Images
American imaging firm Space Imaging will market to the world spatial images captured by the indigenous remote sensing satellites RESOURCESAT-1 and CARTOSAT-1.
Antrix Corporation, the commercial arm of the Indian Space Research Organization, signed an agreement with U.S.-based Space Imaging early this year which gives the American firm rights to market worldwide the data from RESOURCESAT-1, that was put into orbit in October 2003, and CARTOSAT-1, which ISRO plans to launch later this year.

India has emerged as one of the world leaders in remote sensing capabilities with ISRO having over 30 percent global market share in spatial images.

"ISRO, Antrix and Space Imaging have worked as partners to fulfill India's vision of a global commercial earth observation program and I am happy that the Indian Remote Sensing satellite system has emerged as one of the most high-profile programs of the imaging industry," ISRO chairman G. Madhavan Nair has said in the latest issue of Space India.

The Indian Remote Sensing satellite program primarily began with the objective of meeting diverse needs of natural resource management and environment-related needs of India and also for supporting advanced research in earth sciences.

"In the past eight years, 19 ground stations have been installed to access data from Indian satellites IRS-1C and IRS-1D, and, hence, the success of these satellites is without question," Space Imaging CEO Robert Dalal said.
|Back to Infotech Index| |TOP|

Covansys to Hire 1,800

U.S.-based software services and solutions firm Covansys Corporation is investing $6-8 million to expand its India presence and aims to ramp up its workforce here by another 1,800 people.

"We are investing six million to eight million dollars as part of our expansion," Covansys India president and CEO K. Subrahmaniam told reporters in Bangalore May 18.

The $378 million Covansys, one of the first American firms to have an offshore delivery centre in India, has development centers in Chennai, Bangalore and Mumbai employing a total of 3,200 people.

The growth, besides at the U.S. development centers over the next one year, would be even at both Chennai, which has 2,500 people and the Bangalore centre with about 600 people.

Driving NASDAQ-listed Covansys's India center's growth has been the recent deal with Fidelity National Financial which has picked up a 29 percent stake and assured a $150 million five-year deal.

"We are adding new clients and also seeing growth from our existing clients like Peoplesoft," Subrahmaniam said.
|Back to Infotech Index| |TOP|

IIIT, IIT Join PlanetLab

Intel has expanded its PlanetLab project to include two technology institutes in India.

The chipmaker said that the groups, the Bangalore-based Indian Institute of Information Technology and the Roorkee-based Indian Institute of Technology, will test the performance of networking and distributed-computing protocols being developed as part of the PlanetLab program.

PlanetLab is an open, distributed network being used to try out new technologies in areas like distributed storage, network mapping, peer-to-peer systems, distributed hash tables and distributed query processing. The program operates at 156 sites worldwide. It is one of several research initiatives that Intel is working on in conjunction with universities and other academic groups.

The company said researchers from the two centers will work closely with those from Intel India. Additionally, workers at the Indian PlanetLab institutes will collaborate with those from other countries to solve technical and non-technical problems.
|Back to Infotech Index| |TOP|

Cryogenic Engine Explodes

A motor at the Liquid Propulsion Systems Centre in Mahendragiri on the Kanyakumari district border exploded while testing a cryogenic engine May 17.

None was injured in the incident, officials told reporters in Nagercoil, Tamil Nadu.

The cryogenic engine is formulated at Mahendragiri adopting indigenous technology and tests are being held at various places.

General manager of the centre Muthu said the accident was due to technical flaw.
|Back to Infotech Index| |TOP|

Unisys to Open Development Center

IT services company Unisys plans to set up a development center in Bangalore. The company will employ about 2,000 people there and invest $180 million in the center during the next five years, executives said recently. The facility will be operational within one year, and employees there will work on software development and handle tasks such as maintenance and technical help desk services, Unisys said

A growing number of U.S. technology companies are opting to open development and engineering centers in India, taking advantage of the cheap, skilled labor there. The trend is causing concern among technology professionals in the United States. Last month, for example, the U.S. wing of the Institute of Electrical and Electronics Engineers expressed fears that offshore outsourcing poses threats to the nation's tech leadership.

Unisys said it plans to hire software engineers and data-processing workers directly and also through its local partners. The company has been operating in India through its offices in Mumbai and New Delhi. Unisys said it would continue to use third-party vendors in India for some software development and business process outsourcing work, even after the new center is set up.

"For more than 20 years, our strategy has been to source globally in order to meet client demands. This new Indian operation will add capacity to Unisys global capabilities," Cal Killen, vice president of solution development, said in a statement. "This expansion of global sourcing options supports our commitment to meeting clients' needs while consistently managing costs."
|Back to Infotech Index| |TOP|

Polaris Profit Up

Polaris software has registered revenue of Rs. 646.42 crore for the year ended March 31 this year, against Rs. 428.28 crore during the previous year.

The profit after tax for the same period stood at Rs. 72.20 crore, compared to Rs. 68.77 crore during the previous year, a company release said after a day-long board meeting in Chennai May 19.

For the quarter ended March 31, the revenue stood at Rs. 170.30 crore, compared to Rs. 165.03 crore during the sequential quarter ended December 31, 2003.

The company has recommended a dividend of 35 percent.

The company launched this year Intellect Suite, a modern enterprise platform for financial service institutions, which seek to break through boundaries that shackle bankers. Intellect Suite is the new global version of Polaris' highly successful OrbiOne suite of banking products.

Quoting its chairman and managing director, Arun Jain, the release said the past year had been a remarkable journey of learning and discovery. "We spent a considerable amount of energy bringing in a phenomenal focus on building trust, empowering leadership and integrating the organization. This created a strong foundation for us now to build the new Polaris," he said.
|Back to Infotech Index| |TOP|

BMC Signs Wipro

Houston-based enterprise software maker BMC May 17 signed on Wipro Technologies as its latest system integrator and reseller for its security software, Control-SA.

Through the new global partnership, Wipro will offer BMC's Control-SA, which includes asset management, workflow automation and password management applications. Wipro, headquartered in Bangalore, India, will also help customers design and implement security solutions.
|Back to Infotech Index| |TOP|

Tata, China Unicom Accord

In the first-of-its-kind landmark agreement between two leading Asian telecom operators, Tata Teleservices and China Unicom May 19 signed a Memorandum of Understanding for co-operation in the Code Division Multiple Access space.

The MoU was signed by F.A. Vandrevala, chairman, Tata Teleservices, and Wang Jianzhou, chairman of China Unicom, in Mumbai.

The understanding between Tata Teleservices and China Unicom to jointly develop applications on the CDMA platform aims at offering more and more value-added services to the subscribers of both the telecom operators and to come out with innovative offerings from time to time.

The Memorandum of Understanding will immediately translate into Tata Teleservices and China Unicom offering international-roaming services to their subscribers on each other's CDMA network.

Tata Teleservices is India's leading private telecom service provider. The company offers integrated telecom solutions to its customers under the Tata Indicom brand, and uses the latest CDMA 3G1X technology for its wireless network.

Currently operating in eight circles — Delhi, Maharashtra, Mumbai, Karnataka, Andhra Pradesh, Tamil Nadu, Chennai and Gujarat — the company has a customer base of about 1.6 million. With a planned nationwide footprint across the country, Tata Teleservices has acquired licenses to operate in 11 more circles, which include Bihar, M.P., Haryana, Himachal Pradesh, Kerala, Kolkata, Orissa, Punjab, Rajasthan, Uttar Pradesh (East), Uttar Pradesh (West) and West Bengal.

China United Telecommunications Corporation was established on July 19, 1994. The birth of China Unicom brought competition into China's telecom market and has been instrumental to the reform and development of the country's telecom industry. The company offers integrated telecom service to its customers, which includes both GSM and CDMA mobile phone, long-distance call, local call, data communications, Internet service, IP phone, value-added service, wireless paging and a variety of relevant services. It is also the only Chinese telecom operator simultaneously listed at New York, Hong Kong and Shanghai Stock Exchanges.
|Back to Infotech Index| |TOP|

SAP to Add 500 Jobs

Software maker SAP plans to hire 500 programmers in India this year, expanding its development staff in that country to 1,500 people.

SAP spokesman Bill Wohl confirmed the German company's hiring plans May 7, after a report about it appeared in a German newspaper.

The company, which employs close to 30,000 people worldwide, will hire 1,500 more people this year, with India absorbing a third of the new positions, Wohl said. SAP also plans to add 500 jobs in the United States, where the company recently reported a 45 percent jump in first-quarter software sales. The new U.S. positions will be concentrated in the area of sales and customer support.

SAP opened its research and development center in Bangalore, India, in 1998 and said last year that it would spend $120 million on expanding there. It is also adding staff at a new development lab in Shanghai, China.

The vast majority of SAP's software engineers still work out of the company's headquarters in Walldorf, Germany. SAP hasn't reduced its staff there as a result of the expansion into Asia — and doesn't plan to, Wohl said.

Wohl said the growth in India "makes good business sense," because the salaries of computer programmers are lower there, and India is an emerging market for the company, which makes application software to automate corporate accounting, human resources and manufacturing.

According to its Web site, SAP's Bangalore lab develops Web portal software, Web services technology and applications for customer service and sales.
|Back to Infotech Index| |TOP|

BSNL Plans for Madurai

BSNL Madurai May 17 introduced two new plans — namely Plan 360 and Plan-975 — for the benefit of urban basic phone subscribers.

As per the new plans, subscribers will be entitled to 300 free calls for a monthly rent of Rs. 360 and 1,025 free calls a month for a monthly rent of Rs. 975 respectively.

Those booking basic phone services in the Madurai urban area under the new schemes will have to pay a one-time deposit of Rs. 1,000 for local calls/STD. No installation charges will be collected.
|Back to Infotech Index| |TOP|

Pak to Test-fire Missile

Pakistan is all set to test-fire on June 3 its new long-range ballistic missile Ghauri-III, which is capable of carrying a nuclear warhead and having a range of 3,500 km covering all major cities in India.

The missile, which has a range of 3,500 km compared to the 2,000-km Shaheen missile test-fired in March, would be launched from the firing range near Nowshehra into the Arabian Sea, official sources were quoted as saying May 21.

Prime Minister Mir Zafarullah Khan Jamali was informed of the details of the test when he visited the country's premier nuclear installation Khan Research Laboratories yesterday, English daily The Nation reported.
|Back to Infotech Index| |TOP|

---
POLITICS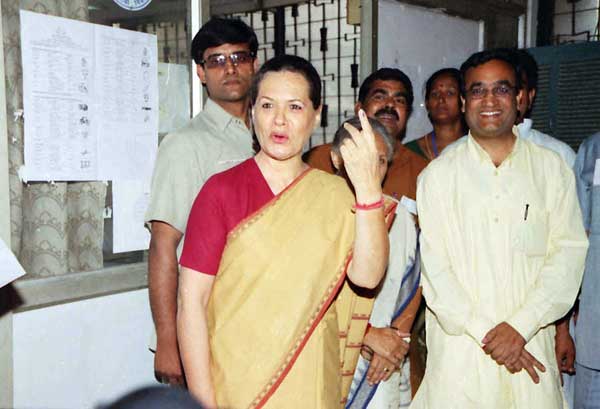 The leader of the victorious Congress party, Sonia Gandhi showing the ink mark on her finger after casting her vote at a polling booth in New Delhi May 10. (PIB photo)

A Defining Moment:
Indian Elections 2004 - By Praful Bidwai

Like the Garibi Hatao elections of 1971 or the post-Emergency elections of 1977, this election marks a defining moment in Indian politics, writes Praful Bidwai.

This election marks a defining moment in our politics, of the same significance as, say, the post-bank nationalization Garibi Hatao elections of 1971 or the post-Emergency elections of 1977. It opens up more possibilities for a politics of transformation and popular empowerment.

The changes of the Seventies, although momentous, were largely directed from above, by parties, leaders and slogans. In the latest verdict, people's gut-level concerns and choices from below have played a decisive role. Political parties have acted as their instruments.

The single-most important message is that the Indian people comprehensively reject the Bharatiya Janata Party's politics with its characteristic combination of communalism, parochialism, divisiveness, deception and unabashed economic elitism. Let's put the issue bluntly. The BJP set out not just to rule for another five years, but to firmly establish a middle class-driven system, an Indian version of "property-owning democracy" based on the "India Shining" myth, in which the underprivileged would be effectively disenfranchised, the ethnic-religious minorities would submit to Hindutva's majoritarian dictates, and where rapacious corporations would rule unhampered by democratic control.

This project, and the entire set of social and economic policies that came with it, has been voted out. The significance of the verdict goes infinitely deeper than shifts in vote-shares, striking of alliances, the burdens or advantages of incumbency, appeals of different "brands" (like "Atal" or "Sonia"), or various strategies of election "micro-management."

Three very dissimilar states capture the essence: Gujarat, Andhra and U.P. In Gujarat, the electorate finally punished the BJP for its viciously right-wing, oppressively dualistic economic policies, its years of misgovernance and India's worst state-sponsored communal carnage.

The anti-BJP undercurrent, evident in all local elections two years before February 2002, was temporarily, artificially, suppressed by the polarization following the carnage, and the absence of a political alternative. (The Congress was then playing as Hindutva's 'B' team.)

The BJP received its worst drubbing in the very areas (central and northern Gujarat) where the violence was the fiercest. Gujarat Chief Minister Narendra Modi's politics — crudely communal, blatantly imperious, and using language bordering on the obscene — has become a huge liability. So has the neo-liberal legacy in which capital thrives only by virtue of deindustrialization and casualization of production, and through rapacious labor exploitation (witness Alang's ship-breaking yards).

Andhra's results are an unambiguous rejection of Chandrababu Naidu's corporate-CEO-style politics. Naidu's Andhra was turning into Chile-under-Pinochet, with massive transfers of public assets into private hands, starving of social sector spending and big tax-breaks for corporates. For Naidu, attending the Davos forum and blowing up huge sums on PR to impress potential investors was always a higher priority than redressing acute hunger or indebtedness (which drove over 3,000 farmers to suicide). Naidu stood exposed as a communally compromised politician when he refused to criticize the BJP's outrageous conduct and its defense of the Gujarat pogrom.

As agrarian distress grew, Andhra Pradesh citizens readily compared his tall claims about information technology with reality — IT's measly 2 per cent share in state GDP and the state's falling software-export rank. The people couldn't take deception anymore. One more reason for Naidu's rout is that Andhra was the only state where the opposition mobilized people in a sustained way.

In Uttar Pradesh, the BJP has not only suffered a halving of its seats and substantial decrease in votes in all regions. Its social base has shrunk: even Brahmins are deserting it and the OBCs aren't returning despite Kalyan Singh. The party's defeat in Faizabad-Ayodhya, Kashi and Mathura only confirms what's known: the temple issue is dead.

The principal reason for the BJP's growing unpopularity is agrarian distress, unemployment, and popular exhaustion with Machiavellian politics, reflected for example, in Vajpayee's pitiable attempt first to get, and then divide, the Muslim vote by twisting facts to present Mulayam Singh as an ally.

The BJP may soon be out of UP's reckoning even as the Congress revitalizes itself through the projection of youth, dynamism and transparent earnestness. (That's Rahul's image, at least today). The BJP could shrink into what it was before the mid-Eighties — a relatively minor western India party, with 30 (or 50?) Lok Sabha seats.

The Congress's performance has outstripped the most optimistic projections, including its own. The credit must go to the party's projection of a left-of-centre identity, based on pluralism and inclusivism, willingness to forge alliances, and Sonia Gandhi's tireless, focused campaigning. She consistently drew vastly larger crowds than Vajpayee when she stressed gut-level livelihood issues and unsparingly attacked communalism. She has grown in acceptance and stature — as a serious, dignified and yet accessible leader, who is tough on the BJP but who never descended to its gutter-level personal attacks.

Vajpayee's manufactured image no longer sells. It has shriveled badly in the past three weeks. In any case, he's unlikely to lead the BJP into the next election. The Congress did well where it was combative and unabashedly left-of-centre. It fared poorly where plagued by despair, drift and confusion about what agendas to emphasize. It must now rediscover the worth of good "populism" — a much-maligned word, once used to kill the best program designed for Indian children, namely mid-day meals. The future lies in ordinary people's sensibilities, not the Sensex, leave alone global finance.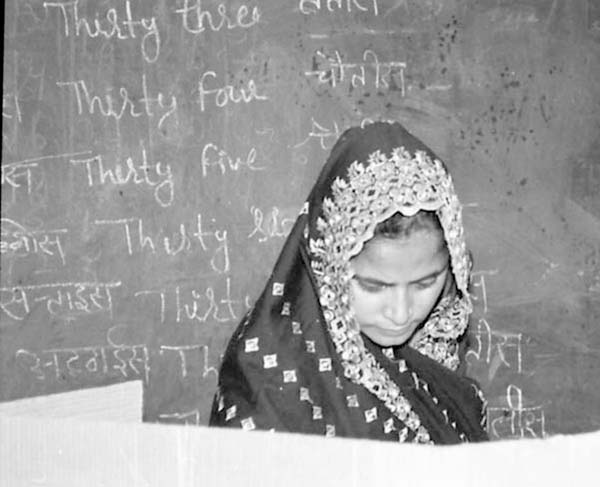 A lady casting her vote at a polling booth in Delhi, May 10. (PIB photo)

The Left has put up its best-ever performance and assured for itself a moral-political stature far higher than its 62 seats. This derives from its fundamental commitment to popular sovereignty, secularism, its leaders' intellectual qualities, and its clean politics. A Congress-Left alliance must form the core of the next government. To be inclusive, representative and durable, it should draw in Deve Gowda's JD(S), Mulayam's SP, and Ajit Singh's RLD, besides the Tamil parties.

However, it would be a huge mistake to rush into alliances without negotiating a proper, comprehensive common agenda, which reflects popular aspirations as well as rational priorities. This will be important in four areas: economics, social policy, institutional structures, and foreign and security policy.

The economic priorities include major employment programs, quantum-jumps in social spending, macro-economic correction through progressive taxation and democratization and reform of the public sector, not its privatization. Crucial here is reversal of past policies which have added to inequalities and regional disparities and which generated nominal growth while impoverishing people.

It's vital to reaffirm secularism and pluralism actively by exemplarily bringing the Gujarat pogrom's villains to justice, by resolving the Ayodhya dispute through a formula such as V.P. Singh's temple-plus-mosque, banning and penalizing Togadia-style hate-speech, and extensively revising communal textbooks. Our public discourse must change towards genuine tolerance and respect for difference. Structures and institutions corrupted by the BJP — the PMO, the Akademis, the ICSSR-ICHR, Prasar Bharati, numerous official and advisory committees — must be thoroughly cleansed and reformed.

Our foreign policy has become unbalanced as regards the U.S., Israel and the Iraq crisis. It's basically disengaged from the neighbors, barring Pakistan. India must return to its broad-range policy orientation, which emphasizes non-alignment and a multipolar, non-hegemonic, multilateral, peaceful and rule-based world order. Similarly, our security policy must be freed of the jingoism the BJP has imposed on it. The nuclear policy must be turned upside-down, with disarmament as the top priority.

This is a big agenda — but the minimum the new government will need to command credibility and authority and launch a politics of transformation.



- Praful Bidwai, a noted author, analyst and editorial writer, was formerly an
editor of The Times of India. He lives in New Delhi.
This article originally appeared in the Hindustan Times.





|TOP|
---
REPORT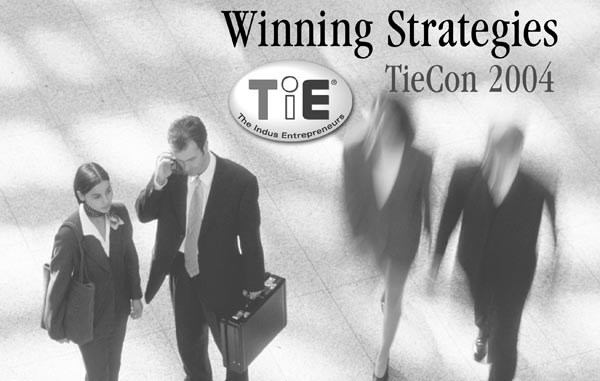 Winning Strategies
TiECon2004
– A Siliconeer Report

The World's largest entrepreneurs' brought top experts to provide candid advice for winning strategies for surviving and succeeding in todays challenging business world. A Siliconeer report.


Media tycoon Ted Turner. Siebel Systems founder Tom Siebel. Bollywood's most successful export to Hollywood Shekhar Kapur. Juniper Networks co-founder Scott Kriens. Motorola CTO Padmasree Warrior.
Clearly, when The IndUS Entrepreneurs give out the call, the big boys come out to play. So it was May 14-15, when some of the top names in information technology and beyond (Ted Turner and Shekhar Kapur) headlined TiE's 11th annual conference, "One Step Ahead – Harnessing the Optimism," at the Westin Hotel and Conference Center at Santa Clara, Calif.

TiE seems to have a good thing going. Despite the lean and mean days in Silicon Valley, organizers say their conference, billed by TiE as "the world's largest entrepreneurs' conference" has seen attendance climb 20 percent each year to well over 3,000 this year.

TiE itself is well past its infancy, too. According to TiE president Sridar Iyengar, charter members at TiE have shot up 50 percent in the last 18 months. There are also now 42 TiE chapters in nine countries.

And it wasn't a boring conference full of back-to-back series of droning speeches either. It had drama. Literally. On the first day, a one-act play, "Insights into the Entrepreneurial Soul," complete with actors playing a venture capitalist, a mentor and new entrepreneur, portrayed the inner voices of the entrepreneur and VC, using a stream-of-consciousness technique. With candor, wit and savvy, it provided tips to would-be entrepreneurs who have a big idea on how to make a convincing pitch to a venture capitalist. It turns out that what matters are the same old assets that have always mattered in business—honesty, experience, confidence and passion. Provided, of course, the idea itself is not a dud.

Filmmaker Shekhar Kapur quipped that it was all "rather like the way I sell scripts" to Hollywood studios, with one exception. When Tom Cruise says "yes" to a project all the funding problems disappear.

Since 1992, people associated with TiE have founded businesses with a combined market value of more than $200 billion, creating thousands of new jobs. This year's conference focused on issues surrounding macro-level trends in job diversification. Breakout sessions featured a multi-faceted examination of global sourcing—more commonly referred to as outsourcing—with an emphasis on job creation, and advice on how to manage global operations.

In the panel "Global Talent – the New Reality – The Big Picture of Offshore Services: Real Worry or Misplaced Fear," Pillsbury Winthrop managing partner Mark Riady gave an overview of the rising hysteria in the U.S. against outsourcing. It was not a pretty picture at all. Anti-outsourcing legislation is pending or has been passed in a multitude of states and by the federal government. A law in the Tennessee legislature may be enacted soon, while a measure in Colorado has been thrown out by the courts.

Panelists said that courts are likely to put an end to most of these laws. Businesses which heavily depend on state and federal contracts, though, may face a long-term problem. However, hotshot Silicon Valley entrepreneurs don't seem terribly worried. Folks like Kanwal Rekhi and William Carr maintain that this is all election season hoopla, and economic imperatives are simply too compelling. After all, populist patriotism is apt to take a backseat when more people realize that the ban-outsourcing-and-keep-the-jobs-home policy comes with a pretty steep price tag at a time when states and the federal government are scrambling to cut spending amid harsh times and a poor public appetite for taxes.

Meanwhile, 65-year-old media pioneer Ted Turner, who stunned the world once by donating $1 billion to the United Nations, presided over a private reception to announce the launch of an initiative bringing together his Turner Foundation with the American India Foundation and the United Nations Foundation.

Turner is the founder of CNN, the first 24-hour all-news television channel in the U.S.

A believer of non-violence who keeps a bust of Mahatma Gandhi on his desk, Turner spearheaded the Goodwill Games to foster understanding and peace during the Cold War.

He is one of the nation's largest holders of ecologically sustainable ranch land and has founded the Turner Endangered Species Fund.

The UN Foundation has committed $28 million to a variety of UN projects within India. It has also chosen five natural UN World Heritage sites in India to promote sustainable preservation of wildlife and employment options for its communities, which are some of the poorest in India.

For more information visit www.tie.org.

|TOP|
---
GLOBALIZATION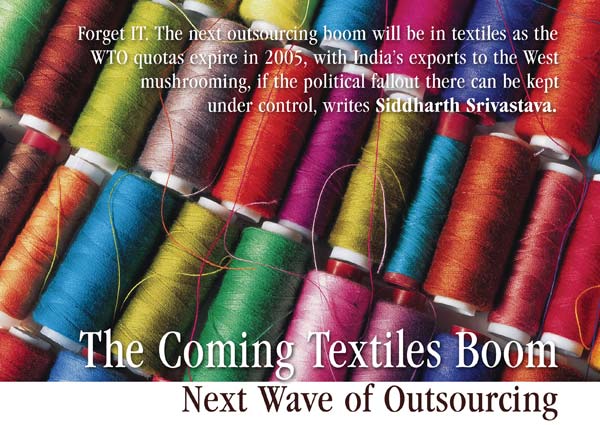 The Coming Textiles Boom:
Next Wave of Outsourcing -
By Siddharth Srivastava

Forget IT. The next outsourcing boom will be in textiles as the WTO quotas expire in 2005, with India 's exports to the West mushrooming, if the political fallout there can be kept under control, writes Siddharth Srivastava.


Indian industry is bracing for the next wave of outsourcing from the U.S. For a change, this has nothing to do with business processing, information technology or call centers. It's actually an entirely different sector — manufacturing textiles and garments. And as it happens this shift will be at the cost of jobs, mainly in the U.S. and European Union. There are also fears here that outsourcing textiles is the next political hot potato that might hit the U.S. in an election year, resulting in non-tariff barriers.
Textiles and garments have been one of one of India's biggest export items, raking in $14 billion last year (compared to $10 billion in software.) Now, the sector is poised for a complete change. On Jan. 1, 2005, the 10-year-old Agreement on Textile and Clothing will come to an end in accordance with World Trade Organization rules. This will mark the beginning of a new regime where quotas that determined how much countries could sell each other will no longer exist. Till now low-cost countries like India, China, Pakistan and Indonesia could not increase their exports to lucrative markets such as U.S. and the EU due to the quotas.

India is going to be a major beneficiary after Jan. 1 next year when competition opens up. According to estimates by industry consultants KSA Technical, Indian textile exports could jump from $14 billion to $50 billion by 2010. High-cost destinations such as Mexico, the Caribbean and Central American countries apart from others in the Indian sub-continent such as Sri Lanka and Bangladesh are likely to lose out. The potential of the industry is also evident from the expected growth of the global textile trade, which is estimated to increase from $400 billion to $700 billion by the year 2010. The Indian government's new textile policy has set a target of textile and apparel exports of $50 billion by 2010, which in terms of world share could mean a rise of 2 percentage points to 5.6 per cent. It is worthwhile to note that India's information technology sector accounts for 0.5 per cent of world share and is considered the crown jewel of India's success story.

The impact on the U.S. textile industry could be significant. According to a study by the Washington. D.C.-based American Textile Manufacturing Institute, more than 630,000 textile jobs could be lost in the U.S. and 1,300 plants could shut down due to the shift of manufacturing units to low-cost destinations, a killer blow to an already moribund industry. The study predicts that U.S. textile mills will lose billions of dollars in orders of yarns and fabrics. The two largest home textile companies in the U.S. — Pillowtex (shedding 6,500 jobs in North Carolina, the largest mass lay-off last year) and Westpoint Stevens shut shop and filed for bankruptcy last year resulting in substantial flight of manufacturing capacity to India.

In India, there is significant brewing of activity in preparation of the new regime, with several U.S. firms pitching for new business. Wal-mart, J C Penney Company, Target. Federated group, Russell Corporation, Sears Roebuck are among the major U.S. retail chains and apparel companies that are entering into new deals to step up outsourcing of textiles from India. According to a report in Business Today, during the three-day KSA Technical annual summit in February, Wal-Mart placed orders worth $500 million; J C Penney $300 million and French retail giant Carrefour $100 million. Executives from these companies have been flying into India looking for new suppliers ready to sign big contracts. JC Penney's president (purchase), for instance, visited India recently and held discussions with key apparel-makers including the Aditya Birla Group Company Madura Garments. Reports suggest that JC Penney plans to source $700-800 million worth of apparel from India over the next few years. The three biggest retailers Wal-Mart, JC Penney and Target have buying offices in India.

Indian textile companies, on their part, have already embarked on a major capacity expansion to meet the manifold increase in demand. All textile majors, including Raymond, Zodiac, Welspun, Arvind and even some medium and small companies are expanding capacities. Arvind Mills has already doubled its garment capacity at Bangalore. Raymond, one of India's largest fabric makers, is setting up a suit and trouser plant in Bangalore. Zodiac Clothing has recently expanded its shirt manufacturing capacity from 5– 6 million shirts per annum. Leading garment producers like OrientCraft and Creative Garments are building substantial additional capacities.

Currently, India is focused more on low-value fabric exports than high-value apparel/clothing exports due to quota restrictions and government policies. The key lies in moving up the value chain by increasing garment exports, removing technological obsolescence and improving quality. It is expected that the removal of quotas will provide the necessary fillip to building scale, upgrading resources and productivity.

India has several advantages over other countries with similar conditions and lower costs except China. There is a vertical integration of the complete production process — from growing of raw material cotton to in-betweens such as yarn, fabrics and garments. India is the third largest producer of cotton with highest area under cotton cultivation in the world. It is the second-largest textile producer in the world with a rooted tradition in textile production. Combined with cheap labor and skilled manpower at low cost, most competitors around the world (except China) do not hold too much of a threat. Also, several buyers from the U.S. and EU want to develop India as an alternative source to China in order to prevent the growth of a monopolistic player in the market. China is subject to quota restrictions till 2008 because of its late entry into the WTO. Hence, analysts believe that post-Jan 1, 2005 will result in a disproportionate gain in market share for Indian exports.

However, the main fear yet is the fall-out in the U.S. consequent to the outsourcing of textile. Two years ago when cheap steel imports rocked the country, it culminated in the controversial anti-dumping duty (since thrown out by WTO). If textile turns into a political issue, there is likelihood of non-quantitative barriers. Unlike the software industry, India's textile sector is largely disorganized and may be open to such attacks as lack of minimum working conditions, wages, child labor and environmental concerns. But, with a bit of luck and diplomacy, it is quite likely that after software, textiles will be the next big outsourcing story with billion-dollar deals the order of the day.

- Siddharth Srivastava is a journalist based in New Delhi.
|TOP|

---
REPORT

Scientists Honored: National Academy of Sciences

A Siliconeer Report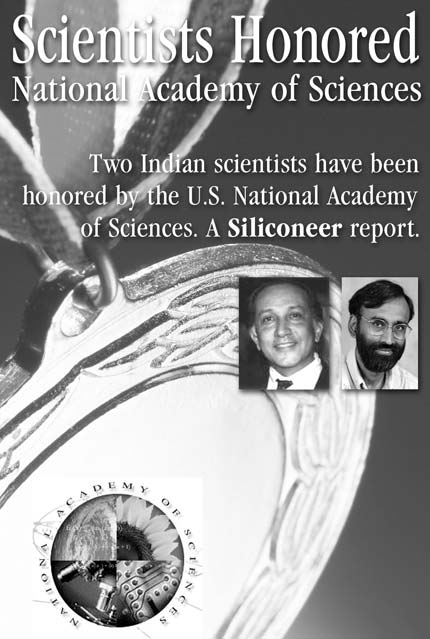 Two Indian scientists have been honored by the U.S. National Academy of Sciences. A Siliconeer report.
Molecular biologist Venkatraman Ramakrishnan (inset, r) and astrophysicist Ramanath Cowsik (inset, l) have been honored by the U.S. National Academy of Sciences "in recognition of their distinguished and continuing achievements in original research," the NAS has said in a press release.
Ramakrishnan has been elected a member and Cowsik has been elected foreign associate. They are among 72 new members and 18 foreign associates elected this year by NAS.

Election to membership in the Academy is considered one of the highest honors that can be accorded a U.S. scientist or engineer. Foreign associates are nonvoting members of the Academy, with citizenship outside the United States.

NAS, a private organization of scientists and engineers dedicated to the furtherance of science and its use for the general welfare, was established in 1863 by a congressional act of incorporation, signed by Abraham Lincoln, which calls on the Academy to act as an official adviser to the federal government, upon request, in any matter of science or technology.

Molecular biologist Venkatraman Ramakrishnan is currently with the Medical Research Council, Cambridge, U.K. Ramakrishnan, a fellow of the Royal Society of U.K., has previously been awarded a Guggenheim fellowship.

Starting out as a theoretical physicist, he made a two-year transition from physics to biology. At Yale University, he worked on a on ribosome structure. Ribosomes are the cellular components that manufacture enzymes, hormones, antibodies, and all other proteins in every organism from bacteria to humans.

For more than 30 years, scientists have tried to uncover the ribosome's molecular secrets by deciphering its three-dimensional structure. Ramakrishnan is internationally recognized for mapping the arrangement of proteins, helping determine the atomic structure and deriving fundamental insights.

Ramakrishnan got his B.Sc. in physics (1971) from Baroda University and his Ph.D. in physics (1976) from Ohio University. He moved into biology at the University of California, San Diego.

Ramanath Cowsik, director of Bangalore's Indian Institute of Astrophysics is a Padmashri award-winning scientist. He has been educated entirely in India and is one of the world's pre-eminent astrophysicists.

Cowsik's scientific contributions have been published in 175 research papers over several decades. His work spans the fields of astronomy, astrophysics, cosmology and non-accelerator particle physics. He established the highest observatory in the world in Hanle, Ladakh, in the Himalayas, at an altitude of 15,000 ft, for astronomy in the optical and infrared wavelength bands. He has contributed significantly to the understanding of highly energetic phenomena in astrophysics such as cosmic rays, pulsars, supernova remnants, gamma ray bursts, active- galactic nuclei and other such sources powered by accretion flows.

|TOP|

---
REPORT: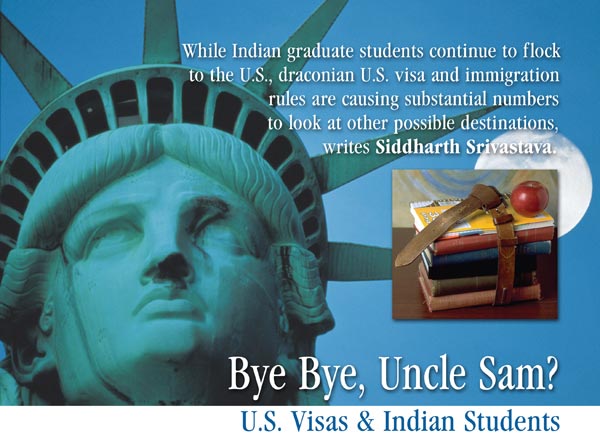 Bye Bye, Uncle Sam?
U.S. Visas & Indian Students
- By Siddharth Srivastava

While Indian graduate students continue to flock to the U.S. , draconian U.S. visa and immigration rules are causing substantial numbers to look at other possible destinations, writes Siddharth Srivastava.

A country racked by fears of terrorism, a people worried by fears of outsourcing of jobs to low-cost developing countries, a feeling that natives from other countries are not really wanted — while the image of the U.S. as the land of opportunity remains, there are definite signs that the world's most powerful country may no longer be the first choice for increasing number of Indians heading to the developed nations for better living, jobs and further studies.
In the past few months, the pressures of an election year as well as perceived terrorist threats have led to a series of measures by the U.S. federal and state governments which makes it a less attractive destination for non-immigrant visitors to the country.

Consider the following:

— Due to fears of Indians eating into American jobs as well as an all-round recession, especially in the tech sector, the cap on H1-B visas has been reduced from 195,000 last-year to 65,000 this year. H1-B visas are provided to workers with college diplomas in the fields of education, technology and health care. Out-of-work tech workers have been returning to India by the hordes.


— There is widespread apprehension about the U.S. making it compulsory for all visitors to pass through US-VISIT — United States Visitor and Immigrant Status Indicator Technology — the new electronic entry-exit system that will collect and share information, including biometric identifiers. The Indian government recently sought a clarification from the U.S. against the fingerprinting of diplomatic passport-holders, a move that has seen China and Brazil retaliate against U.S. visitors.


— It has not been good news on the outsourcing front either, with India facing the brunt of U.S. public ire, including state and federal bills against offshore jobs, including government contracts prevented from being outsourced.

The anti-immigrant fallout has cast a dark shadow on the Indian student community, which is reaching out to other countries such as Britain, Canada, Australia and Germany as possible destinations for further studies. Education remains a prime export and foreign exchange earner, with nations in the lower spectrum such as India, Malaysia and Singapore also looking to make strides in this area.

Though U.S. remains by far the most popular destination of students from across the world, including India (over 70,000 students currently studying), a slow and definite change may be in the offing due to the tightening visa norms. Indian students, who form the single largest group of international students on U.S. campuses, are looking at more friendly destinations.

According to the Council of Graduate Schools, a U.S. organization of institutes of higher education, which has been tracking application numbers at 132 graduate institutes, there has been a decrease in applications from international students in 90 percent of these schools this year. The master's and Ph.D.-level schools enroll nearly half of all international students in the U.S. The biggest decline has been in student applications from China and India — the two largest sending countries.

An indication of a shift away from the U.S. becomes more apparent when compared to an almost exponential growth of Indian students heading for other destinations. Affordable education, permanent residency, a more conducive environment as well as employment opportunities are the main attractions for these alternative destinations.

The number of Indian students heading to Australia doubled from 2,800 in 2001-02 to 5,700 in 2002-3 and expected to rise to 9,000 students this year. Canada hopes to double the students to over 5,000 this year. A study conducted by the British Council and Universities of U.K. has indicated that Indian students will be the third largest overseas students in the UK by 2020, outnumbering those from the U.S., Germany and France. The study said as many as 29,800 Indians are expected to study in the U.K. by 2020 compared to 8,600 in 2005. A separate government-funded study has calculated that education has become one of Britain's most important export industries, earning 11 billion pounds annually, placing education in the same league as exports of oil and financial services.

A recent study by the U.S. Government Accounting Office identifies risks inherent in the US-VISIT program.

The program, the GAO report, maintains is inherently risky, both because of its nature and the manner in which it is being managed. According to the report, the system is "inherently risky" because its mission is critical and multifaceted, the scope of which is large and complex.

As the program was designed to prevent the entry of persons who pose a threat to the United States, it aims to control the pre-entry, entry, status, and exit of millions of travelers. The situation becomes more acute as by Congressional mandate, the system must be fully implemented by December 31, 2005.

There are also enough reports to suggest that Indian information technology workers are now seeking work permits to European countries such as Britain, Germany and even Finland, where Nokia is headquartered. Indian companies such as Siemens and Tata Consultancy Services are ramping up operations in Europe. In many countries now, IT visas are very flexible and quick and a statement from big employers puts job seekers on a fast track.

However, despite the concerns, the number of non-immigrant visas issued to Indians has gone up compared to the same period last year. According to U.S. embassy figures all the categories of visas — B-1/B-2 business and pleasure visitor visas have gone up compared to last year. With the H1-B cap, it is expected that the L-1 or intra-company transfer visas that showed a decline last year is likely to go up this year.

The business visitors have increased due to more executives of the booming Business and Processing area heading to the U.S. The U.S. consular offices have also been active in making the process of issuance of visas less time consuming and onerous for the visitors.

However, with a clampdown of sorts pegged to elections and terrorism, the days of the U.S. as the No. 1 student and job destination may soon be challenged by several other countries. While the U.S. actions may be a temporary attempt to stave off domestic concerns, the impact could be more permanent.

- Siddharth Srivastava is a journalist based in New Delhi.

|TOP|

---
INNOVATION

Smart Labeling:
RFID Tags

A Siliconeer Report
Radio Frequency Identification, or RFID, is the latest cutting-edge technology for tracking inventory and merchandise. It holds great potential for business and consumers, but privacy issues are a concern. A Siliconeer report.

If you are waiting with a week's shopping of groceries in a snaking line at the counter, think of the poor soul who has to blip his/ her scanner over each and every article of produce for each customer.
Here's a different scenario: An automatic shopping cart that not only tallies the cost of every item you put in, it also makes sure the produce is fresh, contacts your bank account for payment, and even gives you the exact location of that brand of extra-virgin olive oil you remembered to buy at the last moment.

Sounds like a Steven Spielberg science fiction movie? It could be reality in the not-too-distant future, thanks to a new technology called RFID, an acronym for radio frequency identification, which could make the bar code obsolete. The technology was developed at the Auto-ID Center of the Massachusetts Institute of Technology.

Instead of the bar code, a special tag or "smart label" on the merchandise stores all kinds of information including an EPC—an Electronic Product Code—the unique product identification number that detects, tracks and manages products. Handheld and stationary readers collect information from the smart labels and passes this information to the ONS—Object Name Service—network which forwards this information to the databases of the manufacturers and retailers.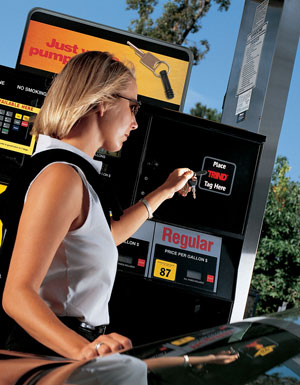 A woman buys gas by pointing her specially designed RFID chip key chain shows the application of RFID tags.
---
It's not just about convenience at the grocery store. By keeping a closer eye on inventory with greater ease and less effort and expense, businesses could make substantial savings. And in the cut-throat competitive world of the grocery business, for instance, some of that savings are likely to be passed on to the consumer.
There are myriad varieties in which RFID tags can be used. Fast lanes on toll freeways already use it to check the smart tag on your vehicle and deduct the toll from your account.

The technology could be a lifesaver for large-scale manufacturers and shipping companies, which currently track shipments by manually scanning the bar code on each individual package or crate.

With RFID, the whole tedious exercise becomes a breeze, because all you need to do is move the entire shipment through the antenna of a transceiver.

The U.S. government has recently asked its top 500 suppliers to incorporate RFID technology by 2005, and the rest of its suppliers by 2006. Low-cost store chain Wal-Mart has put a deadline of 2006 on its suppliers.

RFID is going global, too. EPCglobal is a joint venture company set up by EAN International—the global supply chain information management standards body—and the Uniform Code Council to launch efforts to drive global, multi-industry adoption of the Electronic Product Code Network, a linking of RFID and Internet technologies that will enable companies to track their supply chains in real time, in any industry, anywhere in the world.

However, while businesses are embracing the new technology, consumer activists are worried about privacy.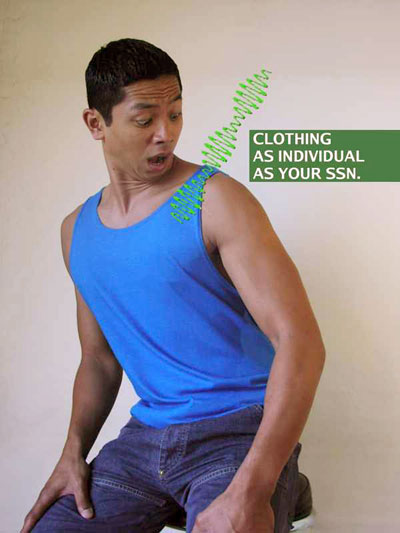 A consumer activist poster warning about the possible breach of privacy by RFID tags.
---
"Is Big Brother in your grocery cart?" is the sinister question posed by the Web site of CASPIAN (
www.nocards.org
), the acronym for Consumers Against Supermarket Privacy Invasion and Numbering.
"RFID chips, tiny tracking devices the size of a grain of dust, can be used to secretly identify you and the things you're carrying—right through your clothes, wallet, backpack, or purse," it warns.

CASPIAN has been founded by Harvard student Katherine Albrecht who is working on her doctoral dissertation on consumer psychology. She has already won some victories. Wal-Mart stores last year said it had decided against trying RFID tags after Albrecht discovered embarrassing documents. German chain store Metro was forced to recall thousands of loyalty cards after Albrecht revealed it had RFID tags that could track every item a shopper buys.

CASPIAN's aim: To prevent retailers and marketers from using RFID tags on products to track consumers, or disclose them when they do so, or disable them before they leave the stores.

Pointing to studies from the 1960s to the 1990s which show business majors scoring the lowest in academic ethics and marketing majors scoring lowest even within the business disciplines, she tartly asks: "Are these really the people we want to entrust with our personal data?"

|TOP|

---
FINANCE:
Early Planning and Saving:
A Secure Retirement
- By Ashok Gupta

Early Planning and saving provides a critical advantage towards building a financially secure retirement, writes Ashok Gupta.

You may not know how to retire, but that's not surprising. You've never done it before. Although many things change in your lifestyle when you retire, one thing remains constant — you still need income. Where will the money come from?

Social Security. Government programs, like Social Security, provide regular income for as long as you live.

However, Social Security simply creates a base income, and was never designed to be your sole retirement income source. Economists predict that in the not-too-distant future, there will be more Social Security benefit recipients than contributors to support the system. Most likely, you'll receive some money from this government program, but benefit amounts and requirements change frequently. This is why it is so crucial for you to take responsibility now for your own financial independence tomorrow.

It's amazing how many people never achieve true financial independence. According to Principal Life Insurance Company actuarial tables and a study of 1994 Department of Health and Human Services data, for every 100 people born, at age 65, 15 are dead, 15 have incomes below the poverty level (under $8,000 per year), 56 have incomes between $8,000 and $45,000 (with the median income of $19,500) and only 14 have incomes over $45,000.

Your financial independence later depends on your actions now. You must consider everything — Social Security, pensions, annuities, life insurance and investments. A careful analysis of these and other areas will help you determine whether you have adequate reserves to retire comfortably.

Employer-Sponsored Retirement Plans. Employer-sponsored retirement plans are a good source of income. If you've moved or changed jobs, there may be confusion about how much you'll actually receive. The benefit booklet provided by your employer should tell you what requirements must be met, and what benefits you can expect. Don't forget to keep in touch with former employers. You may be eligible to receive benefits; however, they can't pay you if they can't find you.

Personal Savings and Investments. Personal savings and investments such as annuities, stocks, certificates of deposit, life insurance policies, savings bonds, mutual funds, money market accounts, real estate, and personal property often define the difference between financial hardship and financial comfort in your retirement years. A financial counselor can help you make sound decisions about how to handle your assets and investments before and after you reach retirement age.

Additional Income. You may still be earning income when you retire. Many people who retire go right back to work, and some even pursue new careers. If you decide to work after you retire, it's a good idea to check how it may affect your Social Security benefits. Planning for your retirement is more important now than ever before. We tend to live longer and lead more active lives; therefore, retirement benefits may need to stretch over longer periods of time. With the future availability of Social Security benefits in question and related tax laws constantly changing, having your own nest egg may be a necessity rather than a luxury. Knowing your sources of income, what to expect from them, and how they work together will help you toward a financially secure retirement.

Find Time to Plan for Retirement. Every time you turn around, there are immediate financial needs. Things that just can not wait — paying your mortgage, meeting car payments and funding your child's education all take priority. With all of these day-to-day needs competing for your limited funds, it is hard to find the resources — and the motivation — to plan for retirement.

But if nothing else, the cost of waiting to plan for your retirement is a strong motivator. Consider this example:

Deepak is 45 years old and plans to contribute $500 monthly to his retirement plans. Deepak wants to explore a couple of options. Plan A will begin saving today, assuming a 7 percent rate of return, and continue for 8 years. The account balance will then continue to grow to retirement from investment yields only. Plan B, on the other hand, will defer the start of saving for 6 years and continue to save until he has sufficient savings to grow to the same amount of money at age 65 as Plan A.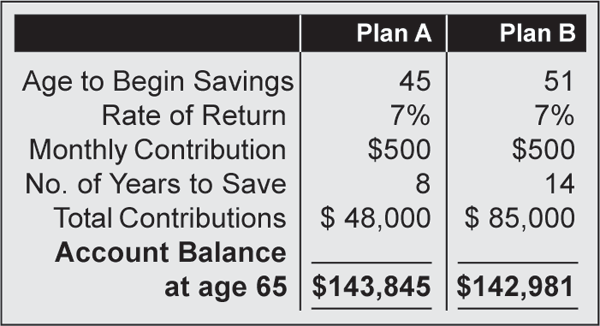 Compare how many years and extra savings dollars are needed in Plan B to accumulate the same amount as Plan A potentially could accumulate in only eight years, simply by starting early.

Yasmin and Santosh each plan to make a $5,000 annual retirement contribution for the next 20 years.

However, Yasmin starts at age 25, while Santosh starts at age 45. Each of these $5,000 contributions earns a 7% annual interest rate and income taxes on the earnings are subtracted at the end of each year (assuming a 28% tax bracket).

Because of the impact of compound interest over time, the difference between what Yasmin and Santosh have for retirement at age 65 is significant: In fact, Yasmin would have an accumulated value of $446,268, while Santosh would accumulate $174,398.

The results are even more dramatic if Yasmin also chooses a tax-deferred retirement funding vehicle earning a 7 percent annual interest rate (taxes on the earnings are subtracted at age 65 assuming a 28 percent tax bracket). Taxable contributions from age 25-45 would accumulate $466,268 at age 65, while tax-deferred contributions would result in $639,080 (subject to tax when withdrawn).

You really can't afford to wait for the right time to start planning for your retirement. If you plan early and take advantage of tax-deferred products, you'll have a better chance of making your retirement goals a reality.

Penury, early retirement and lucrative salaries dangled by private firms fronting for the U.S. led occupation are drawing retired Indian soldiers to Iraq, writes Siddharth Srivastava.

The first reports about the incident appeared in the month of January 2004. Now, it is a phenomenon that has spread across the country, involving possibly thousands of people. In a very discreet operation, U.S. and British security sub-contractors are seeking out Indian ex-servicemen known for their professionalism and discipline for deployment in Iraq.

The coalition forces' attempt to outsource security is a result of the alarming increase in casualties with indications of the war in Iraq dragging on for some time. Furthermore, there is a lesser likelihood of an attack on an Indian, who mingles easily with the general population, and is considered friendly by Iraqis. For the retired lowly paid retired Indian soldier the money being doled out is quite attractive and difficult to refuse.

Indian personnel are working under the direct command of the U.S. and British forces. Most have been deployed to perform security duties responsible to guard key installations such as oil wells, refineries, food convoys, ports as well as normal day-to-day duties around military camps. Though there is no involvement in direct combat, the situation in Iraq is fraught with risk, with recent reports indicate that a few Indians might have been injured.

It may be recalled that the Indian government had turned down a U.S. request to send an Indian peace-keeping force to Iraq. In a statement released in June last year, the Ministry of External Affairs said: "The government of India has given careful thought to the question of sending troops to Iraq. Were there to be an explicit UN mandate, the government would consider the deployment of troops to Iraq." The stand of the Indian government has remained the same since having resisted all pressure from the U.S. to deploy Indian troops.

The first indication of transfer of Indian personnel to Iraq was from the south Indian state of Kerala, which is the hub of Indians heading for the Middle East as engineers, construction workers and other skilled jobs. The reports said that around 500 ex-servicemen, who had served in various fighting units of the Indian Army (artillery, infantry armored core), had been recruited from the central districts of Kerala for deployment in Iraq. The contingent was termed as the first ever "Indian regiment" to work as a mercenary force for the U.S. with the recruitment done by a Kuwaiti company working for the US Army. The entire process was done without the knowledge of the central government and bodies responsible for the welfare of ex-servicemen.

Reports have since emerged that similar recruitment attempts have been conducted in the north Indian states of Rajasthan, Punjab and Haryana where the maximum number of retired soldiers reside. These ex-servicemen are approached by Indian private security agencies that front for the sub-contractors appointed by the U.S. and British forces in Iraq. The money by Indian standards is very good due to which many ex-soldiers, who have to make do with low pensions, are willing to take the risk. A sepoy is being offered as much as $750 a month, captain $1250, major/ lieutenant colonel $1,750, colonel $2500 and brigadier $3500. This can be a substantial amount in Indian rupees where a serving brigadier earns much less than $1000 a month. Most of the ex-servicemen chosen are below the age of 55 and medically fit. Preference is being given to those who have been involved in counter-insurgency operations, fighting guerrilla attacks in northeast India or experience of war.

However, as everyone knows, life is not all that easy in Iraq. In an interview that has appeared in the weekly Outlook magazine, Col. T. Kapoor, among the first to serve in Iraq, spoke about his experience. Kapoor returned to India recently after being injured in a guerilla attack. "It's good money but it's not all hunky dory. You never know what you may encounter because it's a very volatile situation. Besides, the guerrillas have superior weapons like rifle-fired grenades, while security-personnel like us are given inadequate weapons like AK-47 rifles. Ordinary Iraqis are generally nice to Indians, but when you are working with the occupying forces, you get targeted by the resistance fighters,'' says Kapoor.

However, unlike illegal trafficking of humans, the transfer of ex-Army personnel is an organized process with care taken to ensure that interests are well protected. Executives (mostly former Army men) of some of the security agencies such as Mumbai-based Trig Guardforce and New Delhi-based Gemini Veteran Global Placements have spoken to the media detailing the organization. The sub-contractors pass on the Indian resumes to the U.S. general office for screening and selection. Insurance cover ranges from $10,000 to $50,000, while the valid visas-holders are usually routed through Kuwait into U.S. bases in Iraq.

The Indian government has gotten wind of these developments but there has been no overt clampdown as yet. There have been murmurs of protest within the Indian Army establishment with some serving officers feeling that it is wrong to indulge in mercenary activities when the Indian government has taken a strong stand against sending troops to Iraq. Others have voiced concern about ex-serviceman being privy to sensitive information related to national security.

But there are others within the Army who are not averse to the idea and see it as an opportunity for ex-servicemen to find employment.

More importantly, the Sainik (soldier) Welfare Boards that are quite active in the north Indian states have come out in support of the deployment given the abysmal state of the retired Indian soldier who has to struggle to make two ends meet.

Retired officers, too, are not averse. The Indian armed forces follow a steep hierarchical structure resulting in premature retirement of several officers. Though young, the best years are behind them, and the experience and training of these officers are often underutilized and they find employment in relatively lower skilled jobs involving personnel management. Heading to Iraq is harking back to the earlier days when life was a risk in any case as well as another chance to utilize their skills as well as make money.

As the war in Iraq turns bloodier by the day, there are going to be winners and losers, as economic compulsions may override other risks. But a life lost, whether American, Iraqi or Indian, will always be a tragedy.

"I am impressed with ICC's track record of signature programs, services and events and their overall impact on the community," said Kumar Malavalli. "I not only want to make a financial donation, but I am looking forward to making a personal contribution to the growth and success of ICC."

"We are honored to have such a prestigious and influential leader in the community join our team," said Anil Godhwani, ICC co-founder and co-president. "Kumar's commitment is significant because it raises the bar for future giving and will go a long way in fulfilling ICC's long-term vision," said Kailash Joshi, ICC co-president. He added, "This is significant because in one day, ICC raised $1.5 million, an amount almost as much as we have raised in the first 2 years of existence."

Malavalli is the co-founder and former CTO of Brocade Communications, founded in 1995. He is currently strategic advisor to Brocade and also CEO of Abhai Systems. Kumar earned degrees in both Electrical Engineering and Physics from the University of Mysore, India. In February 2003, Kumar was inducted into the Silicon Valley Engineering Council Hall of Fame for his technology contributions.

India Community Center has over 2500 members, 500 annual programs and 3 locations. This organization is dedicated to enriching lives through Indian cultural, recreational, educational and community programs. ICC is a non-profit, non-political, non-religious organization funded by private contributions, membership dues, fees and grants and run by a small staff plus more than 200 volunteers. Interested readers can visit www.indiacc.org or call (408) 934-1130 for information.
|Return to Community News Index| |TOP|

Sister Organization Program



India Community Center, the nation's largest Indian-American Community Center, initiated the Sister Organization Program in June last year. This initiative was designed to help fulfill ICC's overarching goal of bringing the Indian community together while promoting the Indian culture. In less than one year, 28 diverse cultural, professional, educational, and humanitarian organizations have joined ICC's Sister Organization Program, and the number is expected to grow to 50 by year-end, according to an ICC press release.

This innovative program brings the Indian community together by providing a venue for the Sister Organizations to physically showcase their unique cultures. The program also provides these associations with other benefits, such as free use of ICC conference facilities, membership discounts, and joint marketing opportunities.

"The Sister Organization Program has far exceeded our expectations," noted ICC Sister Organization Co-Chairs Deepka Lalwani and Anu Sethuram. "In such a short time, we have successfully partnered with numerous Indian associations and now we are reaching out to the mainstream community organizations to expand and integrate ICC throughout the Bay Area."

A key element to the overall success of this program has been the celebration of Indian State Months. This dynamic concept, launched in November 2003, is the brainchild of the sister organization leaders in which each state of India has an opportunity to share their unique culture with the Indian and mainstream community.
|Return to Community News Index| |TOP|

Race for Literacy

The 6th Annual Edition of the Race for Literacy presented by U.S.-based non-profit India Literacy Project, dedicated to spreading the cause of literacy in India was held May 2 at the Shoreline Park in Mountain View, Calif., according to a press release.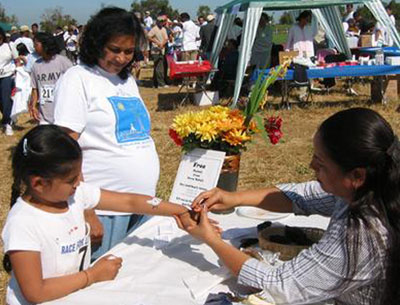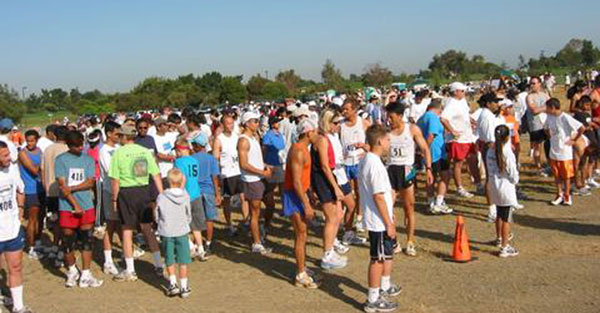 A henna booth (top) and the start of of the 6th Annual Race for Literacy (bottom) presented by India Literacy Project held on May 2 in Mountain View, Calif.
---
The Race for Literacy is ILP's flagship summer event. The event started at 9:00 a.m. A large group of ILP volunteers supported by volunteers from sister bay area organizations such as CRY-US, Vibha, and NetIP assembled at the start area as early as 6:00 a.m. to prepare for the smooth running of the race.
Improved focus on family fun activities and special team helped achieve an event record of 450 registered participants, organizers said, adding that the race was flagged off on-time in keeping with the tradition of on-time start of all ILP events.

This year the 5K winning time of 17:42 by Matthew Tompkins of Los Altos Hills was a new record for the race. The overall winner in the 5K race female category was Michelle Cline of San Jose with a time of 21:32. Brian Savitz of Mountain View and Bean Wrenn of Palo Alto won the 10K Men and Women categories with times of 33:45 and 45:44 respectively. Chief guest at the prize distribution ceremony was Talat Hasan, Silicon Valley entrepreneur and philanthropist.

The event also included a 5K fun walk and kid's activities including a 50m race for tots, face painting and henna-painting. A very energetic clown kept kids involved and entertained through the morning.

India Literacy Project came into existence over 12 years ago. ILP acts as a catalyst for 100 percent literacy by forming meaningful partnerships with non-government organizations in India, who are working towards the goals of total literacy and the universal right to primary education.

In the U.S., ILP has chapters in the Bay Area and Washington D.C. ILP is a completely volunteer-based organization, concentrating its efforts on building awareness for the importance of education and raising funds for projects. ILP has extended its reach to the most rural and remote parts of India. Children that once worked in cotton fields for less than 25 cents a day are now enrolled in schools. Once illiterate women, after completing literacy and vocational training programs, have started their own small businesses.

For more information on India Literacy Project, visit www.ilpnet.org
|Return to Community News Index| |TOP|

APIA Vote

Dozens of Asian Pacific Islander American community leaders joined Congressional Asian Pacific American Caucus chair Rep. Mike Honda (Calif.), CAPAC Vice-Chair Rep. Eni Faleomavaega (Amer. Samoa), CAPAC executive committee member Rep. David Wu (Oregon), and CAPAC member Rep. Danny Davis (Illinois) and to launch a major non-partisan initiative to turn out millions of Asian Pacific Islander voters in the 2004 elections, according to a press release from APIA Vote.

The announcement kicked-off the Asian Pacific Islander American Heritage Month. The Los Angeles Times has recently reported that the number of Asians and Pacific Islanders in the United States will triple over the next half-century as an aging white population slips from its traditional majority perch.

Rep. Honda said, "As chair of the Congressional American Pacific American Caucus, I expect the APIA community to turn out in force this election and make its voice heard. In the sixties, President Kennedy won by just over 3,000 votes. Today, there are over 5.4 million APIAs eligible to vote. In an election as close as this one, the APIA community will make a large difference."

South Asian American Voting Youth director Tanzila Ahmed said, "Now is the time to tap into the younger APIA community and invigorate their interest in civic participation. APIA youth are ripe with passion and new ideas, and SAAVY intends to work closely with APIA Vote to bring our skills and resources to the younger APIA communities nation-wide."

National Asian Pacific American Women's Forum executive director Kiran Ahuja said, "APIA women vote because they care about their community; they care about the issues that affect their community, like access to healthcare and benefits, educational access, ending violence against women, language barriers, and much more. NAPAWF and other women's organizations are spearheading get-out-the-vote campaigns all over the country. The importance of the female vote cannot be underestimated."

Sikh Mediawatch and Resource Task Force national director Preetmohan Singh said, "We are pleased to be working with APIAVote to collectively send candidates and parties the message that the APIA community will be coming out in record numbers during this November's election. The Sikh American community has become more politically active in the last few years, and we know they are going to hold candidates accountable on many issues that effect our community, including hate crimes, racial profiling and immigration reform."

APIAVote has begun implementing the ambitious strategic plan to organize, educate and mobilize APIA voters across the country. Representing a wide coalition of Asian Pacific Islander American groups, APIAVote will conduct voter registration trainings and link voter education with mobilization efforts.

Interested readers can find more information at the organization's Web site at www.apiavote.org.
|Return to Community News Index| |TOP|

Jagjit Singh Performs in Bay Area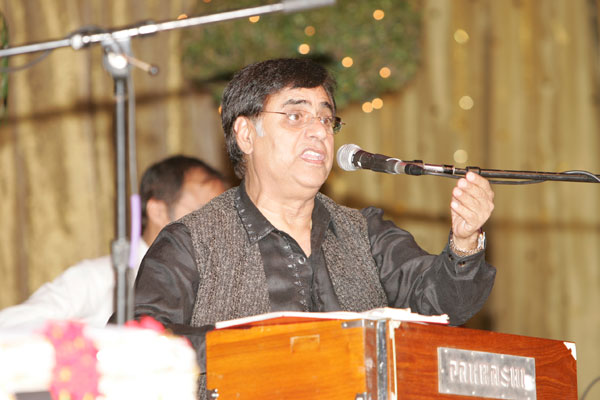 BERKELEY, Calif. — Noted ghazal singer Jagjit Singh performed at the Berkeley Community Theater, May 8. The sold-out event was presented by Mehta Brothers Entertainment. (Som Sharma/Digital iVision photo)
|Return to Community News Index| |TOP|

FICCI Delegation in Boston

The US-India Chamber of Commerce May 6 announced that a high-level Indian business delegation will visit Boston June 1-2, to explore bilateral trade and investment opportunities between Indian and Massachusetts companies, according to a USIC press release.

The delegation will also participate in a conference on "Trade & Investment Opportunities in India" at 4at the Hyatt Regency Cambridge hotel in Cambridge, Mass. Representatives of major New England companies will participate in the conference, which will be followed by a networking and cocktail reception and a banquet.

Yogendra K. Mody and Amit Mitra, president and secretary general of the Federation of Indian Chambers of Commerce and Industry will lead the Indian delegation. Other members of the delegation include executives and representatives of cross sections of Indian industry. The FICCI represents more than 500 Indian chambers of commerce, trade associations, industry organizations and about 250,000 businesses throughout India. The Indian delegation plans to visit a number of technology and financial services firms in Greater Boston area.

"This is the first major visit by an Indian business delegation to Boston in many years," said Karun Rishi, president of the USIC. "We're very excited to host this top-tier delegation and plan to invite more such delegations to New England. This is an exciting time for enhancing bilateral trade and investment opportunities between India and New England companies."

Interested readers can get more information about the event by calling Karun Rishi at (781) 586-1212 or emailing him at Krishi@InfluenceTech.net.
|Return to Community News Index| |TOP|

New Showroom in Artesia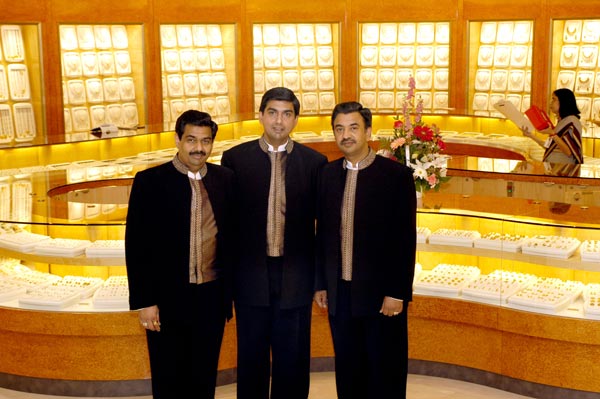 ARTESIA, Calif. — Jayant (l), Dhanesh and Vinod Bhindi (r), owners of Bhindi Jewelers inside their showroom. Completely renovated, the showroom has three Rodeo Drive-style light boxes featuring models draped in the store's fashions; a set of gallery-style windows; and the facade is trimmed in anodized gold aluminum. (Som Sharma/Digital iVision photo)
|Return to Community News Index| |TOP|

Free Immigration Fair

An immigration fair was held at the Hindu Temple in Sunnyvale, Calif. May 16. The event was organized by India Development Relief Fund and Sunnyvale Hindu Temple together with INSZoom, a company specializing in immigration software for law offices, according to an IDRF press release.

The following attorneys provided free advice to bout 300 people who attended: Rami Fakhouri, Dana Michael, Virender Goswami, Sardar Durrani, Josh Surowitz, Michael Epstein and Mary Carmen R. Madrid-Crost

Attorneys also held seminars on various immigration issues. Topics discussed included the employment-based visa process, paperwork required for family visa and various ways of getting a non-immigrant visa. They answered in details many questions from the audience.

Immigration laws, under constant modification since 9/11, and the current challenging economic situation have created a host of immigration issues affecting the local community, said Umesh, president of INS Zoom. "We are always thinking of ways to be of service to the community and we hope to continue to do so," said Nagaraj Patil in his opening remarks. Over 20 IDRF volunteers with the help of INSZOOM staff managed the schedule and helped put together the event.
|Return to Community News Index| |TOP|

18th. Grocery Store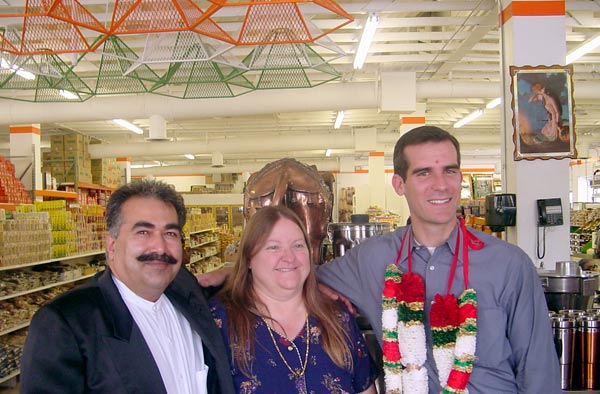 GLENDALE, Calif. — India Sweets and Spices owner Kumar Jawa (l) and wife Debra Lynn with Los Angeles councilman Eric Garcetti at the opening of their 18th. grocery store May 15. The store includes a 7,500 sq.ft. market area and a separate 4,000 sq.ft. restaurant and mini video store.
|Return to Community News Index| |TOP|

AUTO REVIEW

More Fun Than a Minivan:
2004 Chrysler Pacifica
– By Sally Miller Wyatt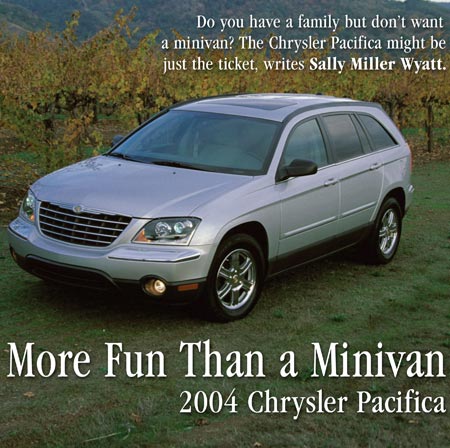 Do you have a family but don't want a minivan? The Chrysler Pacifica might be just the ticket, writes Sally Miller Wyatt.
If you have a family, but just can't bear the thought of driving a minivan, don't despair. There are choices.
The all-new Chrysler Pacifica is one. It's not a minivan, although it has seating for six spread across three rows. It is also not your boring, everyday sedan. In fact, Chrysler's press materials suggest they may have created a new vehicle segment with the Pacifica, dubbing the car a "sports tourer."

Yes, the Pacifica is unique. That is because you'll find, within its confines, an assemblage of some of the nicest attributes of minivans, high-end sedans and utilitarian SUVs.

Take those three rows of seats, for example. Not only do the second and third rows fold flat, but the second row of seats are heated, and all three rows are protected by side curtain air bags. Getting into and out of both the second and third rows of seats is also easy and does not require a gymnast's flexibility.

Loading things into and out of the rear — especially if your arms are full of children and packages — is made more convenient thanks to an optional power lift gate and a lower stance.

Nice-to-have standard features also include a driver's seat that is adjustable 10 ways, power-adjustable pedals with a memory feature, arm rests on the first and second row of seats, cruise control, and dual-zone automatic temperature control so everyone is happy, no matter where they sit.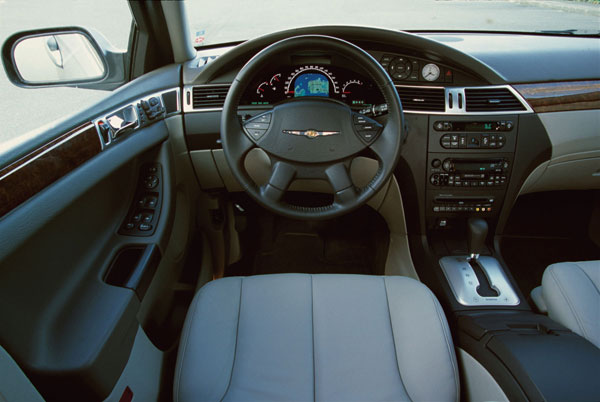 Optional features include leather seating, those heated seats, a DVD rear seat entertainment system with seven-inch screen to keep the kids happy, and Sirius satellite radio to keep the driver happy. If you want quality sound, the Pacifica has an Infinity Intermezzo theater-style surround sound system available as an option.

Another unique option onboard the Pacifica is a navigation system. While navigation systems are not unique, the placement here is. The screen itself is located directly in front of the driver, within the instrument cluster, and I found this placement much less distracting.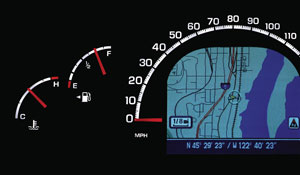 The Pacifica's engine is the same as the Chrysler 300 — a 3.5-liter SOHC V-6 — that is powerful without being too aggressive. The car handles very well and offers minimal road noise at freeway speed.

Parents — and all passengers — will also appreciate the fact that the car earned a five-star safety rating from the National Highway Traffic Safety Administration, for both their front- and side-impact crash tests.

Base Price : $28,845

Price as Tested: $34,910

Engine: 3.5 liter V6

Transmission: Four-speed automatic

Mileage: 17/city, 23/highway

Chrysler made a mark when they introduced the minivan almost 20 years ago; they created a stir with the introduction of the PT Cruiser in 2001. Now the Pacifica is sure to attract attention in its own right, especially for those families who need a lot of seatbelts and cargo space, but just can't make the move to a minivan.

- Sally Miller Wyatt is a freelance writer
who writes family-oriented auto reviews for newspapers, magazines and the Web.
|TOP|
---
Bollywood: | Guftugu | Hindi Film Review |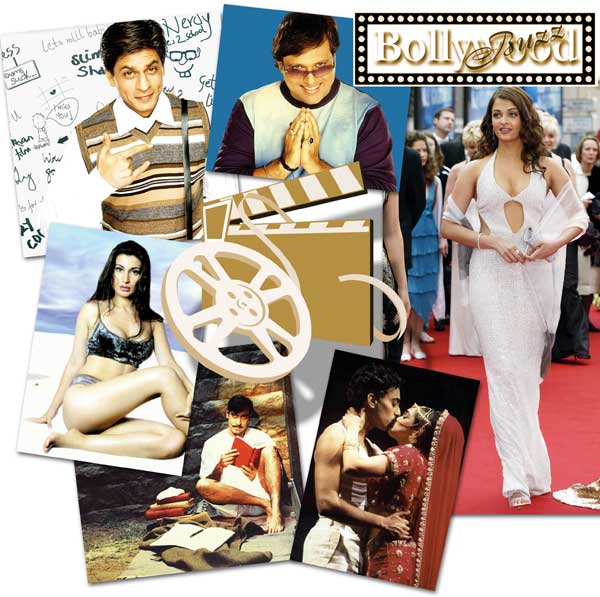 Guftugu

Govinda Aala Re!

Now who would have thought? On one hand, you have a Bollywood star who has lost his sheen and now doubles as a part-time shayar, on the other hand heavyweight Petroleum Minister Ram Naik. It's a no-brainer who is gonna win the Lok Sabha seat, right?

Well, think again. Chi Chi's grin is wider than ever as he got a Congress ticket and trounced the veteran politician, and our tapori king now has the Election Commission's certificate to prove that he officially is a people's representative

Bollywood has had a ball at the recent Lok Sabha polls, what with Garam Dharam winning in Rajasthan's Bikaner on a BJP ticket. What was his election manifesto?

What manifesto? Dharam simply said he was going to protect the good people the way he had protected Basanti in Sholay, and that's good enough for the good folks of Bikaner.

In addition to old veterans Sunil Dutt (Congress), Vinod Khanna (BJP) and Raj Babbar (Samajwadi Party), this year's Lok Sabha will sparkle with incoming stars like Jayaprada (Samajwadi Party). The Rajya Sabha, of course, still has Hema Malini, Shabana Azmi and Shatrughna Sinha.

Only filmmaker Prakash Jha lost in Bihar, as did Moushumi Chaterjee in Kolkata, but otherwise, many a abhineta has become abhi neta. Kamaal hai.
|Return to Bollywood Index| |TOP|

Something about M

What's in a name, Shakespeare had once asked derisively. What would the bard make of Bollywood, which seems to have a love affair with the letter "M?" All the latest hits seem to begin with an "M," point out superstitious, numerology-obsessed Bollywood-wallahs in reply.

They have a point, to a degree: The latest runaway hits are Munnabhai M.B.B.S., Murder, Masti and now Main Hoon Na. Some are even pointing out that even India's prime minister's name begins with an "M."

Ever so politely, will somebody point out to these folks that the reason Manmohan Singh is prime minister has a whole lot to do with his brilliant career as an economist, bureaucrat and finance minister, and it matters little what letter his name begins with.

In Bollywood too, Hindi movie buffs have developed super-sensitive antennae to whether a film is worth a dekko, and it's uncanny how even before a film hits the cinemas word spreads out like wildfire one way or the other and a film's fate is decided.

The dismal opening day for the recently released Charas and Sheen says it all. Both medium-budget film tanked horribly, despite being keenly awaited and the directors having a good reputation. Aha, Bollywood folks are going to say, did you note that none had an "M?" To which we answer, listen mister, if a film sucks you can call it MMMMMM Charas and it will still tank. Get real, folks.
|Return to Bollywood Index| |TOP|

Chadti Jawani, Dhalti Kapde?

Not so fast, fumes "item" girl Negar Khan who has given many male viewers sleepless nights with her sizzling performances—if you can call it that—in films like Rudraksh and Shaadi Ka Laddoo. What if her gyrating pelvis or jello-like quivering bust has kept many a film buff awake at night? Even she draws the line somewhere, she angrily claims, and the she puts her foot down when it comes to actually being photographed in the buff.

Facts would suggest otherwise, though. The Norwegian men's magazine VI Menn has shown her as the topless cover girl in an issue and explicit photos of Negar in various states of undress are racing through the Internet, to the delight of millions of voyeuristic Web surfers.

Negar says she never posed for the photos, it's all doctored. The editors of VI Menn beg to differ: They say they do not publish manipulated photos.

Negar, who grew up in Oslo, continues to insist that the photos are fake. ''I have done bikini and water shots in Australia during a swimsuit competition. How difficult is it to take the bikini top away? They've done it with Britney Spears and other Hollywood actresses," says the item star whose delectable derriere arguably plays a heavy part in her talent.
|Return to Bollywood Index| |TOP|

Bombay Dreaming

Theatre lovers of the Big Apple got a chance to taste some asli masala, and many of their tongues got burned, if reviews are anything to go by. We ain't talking of chicken tikka masala here, people, we are talking about the masala churned out by good old Bollywood.

Bombay Dreams, the spicy musical cooked up by Andrew Lloyd Webber and A.R. Rahman which has had a successful run in London for over two years, debuted in Broadway. Most reviewers have panned the musical, and who can blame them? The fools were looking for logic in the wrong place!

Meanwhile, desi viewers are thrilled, and the show got an extra boost when ABC television featured Ayesha Dharker's hip swaying song-and-dance "Shakalaka baby" on its Good Morning America show. Ayesha was helpful enough to explain to co-host Diane Sawyer how the "golden globes" (her name for her bosom, honest) are jiggled.

The show has garnered a few Tony award nominations, but not where it counts, but its financiers are unlikely to be terribly worried. After all, the show has grossed an impressive $776,000 in a week, and given the desi love of anything to do with Bollywood—and the fact that there are an awful lot of them out here—the show can be expected to do well in Broadway as well, critics be damned.
|Return to Bollywood Index| |TOP|

Angry Ajay

The dour, sullen visage of Bollywood star Ajay Devgan has graced cinema screens for years, but now it's for real, as the film star has taken Kolkata company ATN International Limited to court for breach of contract.

Here's the story: Ajay's company, Devgan Entertainment and Software Limited, had got into a joint venture to produce Mukhosh, a Bengali serial. However, after making 100 episodes, ATN has refused to pay its due of Rs. 5 million to Devgan Entertainment, according to Ajay. So now the two companies are going to thrash it out in court. The case has been filed in the Andheri court and police are investigating the matter.

What does ATN have to say about all this? A poker-faced spokesperson from ATN had this to say: "The recording and quality of the production was not up to the mark and we have also canceled the contract of further 400 episodes."

It appears there are going to be many more days of a dour, sullen Ajay Devgan ahead, and we aren't talking about his on-screen performance.
|Return to Bollywood Index| |TOP|

Ash Creates Splash

Maybe it was because she was in France, otherwise how does one explain the curious fact that Bollywood beauty Aishwarya Rai was in the Cannes Film Festival dressed in a revealing costume that showed more of her bosom than her fans are accustomed to. Though few male fans will complain, we are sure.

This is Ash's third year at Cannes. She joined filmmaker Sanjay Leela Bhansali and film star Shah Rukh Khan when their film Devdas screened in Cannes in 2002. Last year, she was a member of the Cannes jury, and her strange choice of attire bemused even the generally blasé French.

This year, she has decided to drive men mad with a Neeta Lulla gown which doesn't leave a whole lot to the imagination.

While Ash has created a splash, India's presence was less well noticed. The Chamber of Commerce did open a booth, but the buzz isn't simply there. Bollywood, it appears, needs something more substantial than the beautiful Ash to make a more serious impression.

After just a day at Cannes, meanwhile, Ash flew back to the United States where she performed in a concert along with Hrithik Roshan and Lara Dutta at the Nassau Coliseum on Long Island, near New York City, May 15.
|Return to Bollywood Index| |TOP|

---
Hindi Film Review
Debacle of A Wayward Talent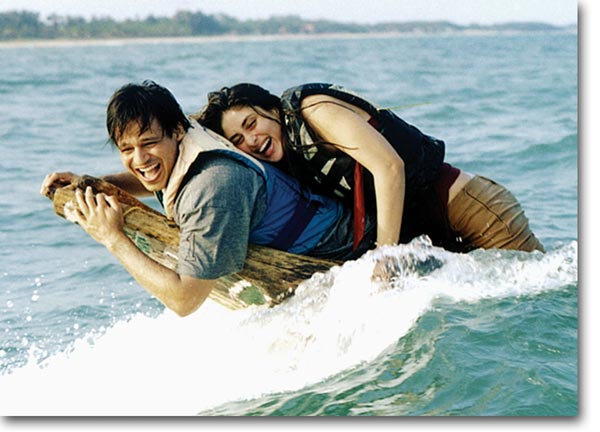 Madras Talkies'
YUVA
Screenplay & direction:
Mani Ratnam
Music:
A.R. Rahman
Starring:
Ajay Devgan, Rani Mukerji, Abhishek Bachchan, Kareena Kapoor, Esha Deol, Vivek Oberoi, Vijay Raaz, Om Puri, Anant Nag, Saurabh Shukla and Sonu Sood
Mani Ratnam, although not originally from Bollywood, in some ways epitomizes the maddeningly frustrating paradox of Bollywood. There is no question that the Tamil blockbustermeister has the panache and talent to tell a story in the idiom of cinema. The question is always about his wayward tendency and his willingness to submit to what he perceives to be commercial compulsions.
In Bombay, his lusciously made film—its sets and riot scenes, in particular, could give Hollywood a run for its money—he made an artful film that ultimately didn't have the moral gumption to actually address the poignant reality of the day. His Roja, likewise, brought an indubitably fresh, stylish approach to masala Hindi cinema, but he was content not to push the envelope too far.

His obeisance to commercial sensibility, if not laudable, is perhaps pardonable. What cannot be forgiven, though, is when he goes off on a wayward tangent, as he did in the disastrous Dil Se, and produces a film that is a disgrace to his filmmaking skills. This was true also for the bewildering Saathiya, which did inexplicably well in the box office. Yuva, it has to be said, is another dud from the master filmmaker who has proven before he can do much, much better.

Mani tries to add some stylish flair by a play on the concept of time: A split-second brings together three people who never knew each other, then the film steps back and dwells on the lives of these three characters. Michael Mukherjee (Ajay Devgan) is a child prodigy who passes up an opportunity to go to the U.S. to study under a Nobel laureate, preferring to stay back in Kolkata to fight the system's corruption and injustice. He has a relationship with a French language teacher (Esha Deol), who isn't all too pleased about the fact that settling down with a wife is the least of Michael's priorities.

Arjun Balakrishnan (Vivek Oberoi) is an engineer who is eyeing a future in the U.S. His girlfriend Mira (Kareena Kapoor), however, wants to get married and live in Kanpur.

Lallan (Abhishek Bachchan), on the other hand is an unpredictable, angry, uncouth Bihari student hoodlum who is completely amoral and focused only on what his own needs are. He is the ruthless henchman of the crooked politician Bandopadhyay (Om Puri), and his lack of scruples and in particular, his horrible treatment of his wife Sasi (Rani Mukerji), is nothing short of revolting.

The film focuses on student politics, and Michael's crusade to clean up the corruption and arrogance that Lallan represents. The fact of the matter is that Mani's skills as a filmmaker are not matched by his ability of political analysis. Elections aren't as laughably easy to win as his film would have us believe, and the implausible nature of his didactic message will pain even the most jaded Bollywood buff. Now that's saying something, because you're average Bollywood buff is used to seeing pretty much every manner of illogical situation on screen.

Mani's attempts at realism, therefore, fail for the very reason that the assumptions are unrealistic and childishly simplistic. There is more than an offensive whiff of patronizing condescension in the way the film would have you believe that jeans-and-T-shirt sporting young folks are going to be the salvation of the poor village folks who are incapable of fighting for their rights themselves. And who the heck is going to believe it anyway? From Medha Patkar to Arundhati Roy, India has a distinguished army of educated folks who have left the cities to fight for the rights of the oppressed, but they are more likely to wear khadi sarees rather than tank tops and culottes.

Not only is the script abysmal, it isn't even original. (So what's new? This is Bollywood, folks.) The rumor mill in Mumbai has it that the film's story is loosely based on Alejandro Gonzalez Inarritu's Oscar-nominated Spanish film Amorres Perres. Mani himself would have you believe that the story is based on a real-life incident in Osmania University in Hyderabad. Whatever may be the case, Mani has really made a pig's breakfast of the story. The asinine and implausible script, in the end, proves to be the undoing of Yuva.

The film's minor and major flaws add up. What on earth, for instance, was Mani thinking when he cast Ajay Devgan as a student and Esha Deol as a teacher? Their roles ought to be reversed, if realism is supposed to have any meaning. A.R. Rahman's music has little esthetic value, and Mehboob's lyrics are shockingly inane.

Which is not to say the film is entirely devoid of Mani's flashes of brilliance. The sets are breathtakingly realistic, some of the technical flourishes are quite impressive, and Ravi Chandran's camera captures some captivating images of Kolkata.

Ajay Devgan's performance is too film star-like to be convincing as an idealistic student leader, but Vivek Oberoi brings an easy charm to his performance, and Abhishek is quite compelling as the angry Bihari (some shades of his papa's Zanjeer). Even Kareena does a pretty good job.

But to what end? In the end, the finer points of the film only emphasize its rotten core. It's like a beautifully bound book with execrable content.

|Return to Bollywood Index| |TOP|
---
Tamil Film Review:
Unclear, Hotchpotch of a Film

JANA

Director:
Shaji Kailas
Cast:
Ajit Kumar, Sneha, Raghuvaran, Delhi Ganesh, Manoj K Jayan, Siddique.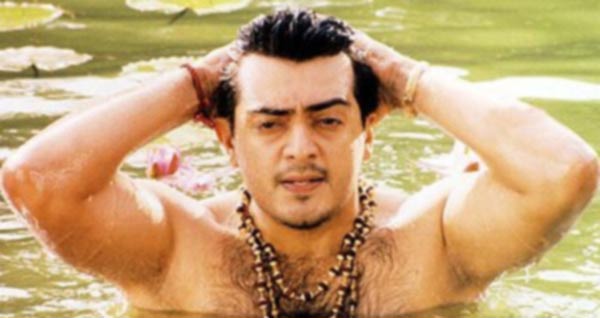 It's Baashah rehashed all over again, the director making no attempt to camouflage his source of inspiration. Shaji Kailas, a competent filmmaker when it comes to Malayalam films, seems to lose his footing when it comes to Tamil films (like in Vanchinathan, the Vijaykant -starrer). In Jana, too, he's clearly out of depth, with hardly any idea.
Jana lives in a village in Tamil Nadu, leading life without any particular goal or aim, taking up the cause of the villagers, making enemies all around. And then comes the twist in the tale, the caption in the interval reading "Interval...Wait just see other face." And when the film re-opens we do get to see the other face of Jana.

Here's a different Jana, a terror to the Mumbai underworld, corrupt politicians and their ilk, killing, maiming and teaching a lesson to them. Both the faces of Jana merge finally, when his bete noir Bhandari, out of jail, comes to the village to have his final round with Jana.

It's performance-oriented roles like in Vaali and Mugavari that brought out the best in Ajit. Jana isn't the best vehicle for his skills. Here, the actor's soft vulnerable looks doesn't quite bring out the violent aggressiveness of the character. Sneha, as the girl holding a torch for Jana, cuts a lovely figure, but the screen rapport between the duo doesn't come through. Manoj K. Jayan as Rajasekhar, the hero's brother and a duty-conscious cop, presents an elegantly performed cameo. There is adequate support from Siddique (Malayalam films) as the bald toughie Bhandari, and Delhi Ganesh as Jana's loyal employee.

After seeing the movie one comes out of the theatre with an unclear picture of what it was all about. We carry only the memory of some hotchpotch situations, and a handsome if completely miscast protagonist caught in the midst of it all.

|TOP|
---
RECIPE: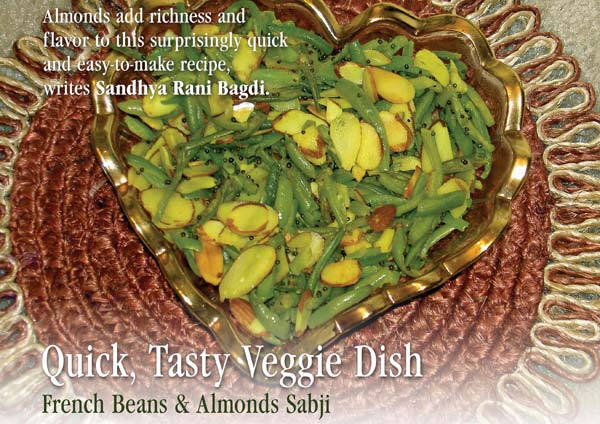 Quick, Tasty Veggie Dish:
French Beans & Almonds Sabji -
By Sandhya Rani Bagdi
Almonds add richness and flavor to this surprisingly quick and easy-to-make recipe, writes Sandhya Rani Bagdi.


Making time: 10 minutes
Makes: 5-6 servings
Ingredients:
3 cup frozen French beans, cut thinly

1 cup slivered almonds (available at Trader Joes/Safeway)

2 green chilies slit

1/4 tsp. mustard seeds

1/4 tsp. red chili powder

1/3 tsp. turmeric powder

1/3 inch ginger grated

salt to taste

1/2 tbsp. coriander chopped fine (optional)

2 tsp. oil

Method:

Heat oil in a pan.

Add mustard seeds, allow to splutter.

Add chillies and ginger.

Stir and add French beans.

Add turmeric, red chilli powder and salt.

Stir gently, cover and cook for 3-4 minutes or until half cooked.

Add slivered almonds, stir for 2 minutes.

Garnish with coriander before serving.

Serve with phulkas or rotis..

– Sandhya Rani Bagdi is a software professional. She lives in Sunnyvale, Calif.
---
June Horoscope By Pandit Parashar

ARIES (March 21 to April 20): Children will plan an exciting evening for you. You may be liberated from some past restrictions. You will be relaxed as negotiations for a big investment continue. You will get good advice from a trustworthy person.

TAURUS (April 21 to May 20): You will be stressed due to heavy workload and rushing deadlines. Take it easy, rewards for the efforts you make will beat your expectations. Keep an eye on unreliable friends who have misled you previously. You may apply for a loan. Parties will be very entertaining and relaxing.

GEMINI (May 21 to June 20): Opponents and rising competition might shake your confidence. Hang in there, do it right, success is well within reach. You will travel to a distant place on a very short notice. Spouse will be very supportive and help boost your morale. You will receive a refund in mail.

CANCER (June 21 to July 22): Career issues will cause grave concerns and a lot of uncertainty could suddenly engulf you. You will try and successfully control your expenses. You will start planning for a long distance trip. Do not speculate and avoid making any major investment.

LEO (July 23 to August 22): Money will pour from all directions. It will be a profitable month specially for brokers. Health will improve and you will lose some extra weight. You will be assigned to an important job or contract. Your advice will transform someone's life. You will start a wonderful friendship.

VIRGO (August 23 to September 22): You will make slow but steady progress in life. Affairs at work will be in a state of confusion for a while, but eventually clear up after final changes take place. A close relative will need your technical expertise. You will be invited to several parties. Spouse will suffer a short nervous breakdown.

LIBRA (September 23 to October 22): Investing in property is a great idea. Meetings will go well and business trip will start to show results quickly. You will build close ties with a famous personality. You may buy some high tech gadgets for yourself. Long due payments will finally show up.

SCORPIO (October 23 to November 22): Take it easy and focus on life's more relevant issues. Work environment will ease as you work with new colleagues. Do not make any major investment at this point and do not lend money to anyone. A person who had been trying to make things tough for you in the past will give up.

SAGITTARIUS (November 23 to December 22): Most of your plans will be executed as planned. A big contract is seen within reach. There will be last minute changes in travel plans. You will have many reasons to celebrate. Value of stocks will appreciate, now's the time to sell it and relish the profits.

CAPRICORN (December 22 to January 19): You will beat major competitors. Some of you may start a new job this month and also finalize relocation plans. You will attend an interesting party. You will also make charitable contributions. Bank balance will grow.

AQUARIUS (January 20 to February 18): You will hear a lot of encouraging news. Someone will guide you to the right direction. Long awaited career developments will finally happen and help you scale new heights. You will visit a government agency for a small favor.

PISCES (February 19 to March 20): Money will come easy and go easy. Advertising bills will mount. Opportunities will keep coming but from distant places. You will be working on a family travel plan. Be diplomatic and avoid passing on too much information to a close relative.