Publisher's Note
This month we take a brief break from our passion for high tech and science and reflect on the dangerous world we live in. Our cover story celebrates the remarkable triumph of two unassuming homemakers from Bhopal who have made the whole world sit up and notice with their refusal to sit down and accept the massive corporate malfeasance in the wake of the world's greatest industrial disaster in Bhopal's Union Carbide plant almost 20 years ago.
Rashida Bee and Champa Devi Shukla have won the 2004 Goldman Environmental Prize, considered the Nobel Prize for environmentalists. While their recognition is welcome news, the fact remains that their struggle continues as Dow Chemical, the multinational which acquired Union Carbide, still refuses to accept responsibility for the mess it has left.

Raju Rajagopal is a soft-spoken activist who lives in the San Francisco Bay Area who has a simple wish: Indians should be able to live in harmony and dignity regardless of caste or creed. Alas, in Gujarat, this is no longer a simple wish, it would seem. Rajagopalan has visited Gujarat recently to find out exactly how things are two years after the terrible riots in February and March, and he has a story that is at once poignant and disturbing.

Meanwhile, in Iraq, murder, mayhem and growing chaos continue to prolong the suffering of its hapless people who have suffered under Saddam Hussein, suffered even more grievously under brutal U.N. sanctions and continue to suffer under the U.S.-led occupation with little relief in sight. Activist Rahul Mahajan visited Fallujah, a flash point where Iraqi resistance fighters are under siege by U.S. Marines, and is sharply critical of U.S. policies.
|TOP|

---
MAIN FEATURE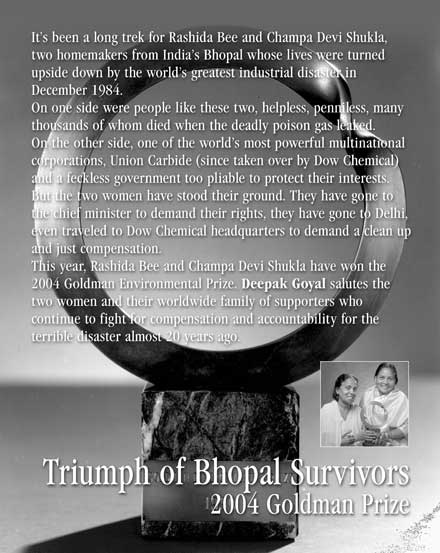 Triumph for Bhopal Survivors
2004 Goldman Prize

By Deepak Goyal
It's been a long trek for Rashida Bee and Champa Devi Shukla, two homemakers from India 's Bhopal whose lives were turned upside down by the world's greatest industrial disaster in December 1984.
On one side were people like these two, helpless, penniless, many thousands of whom died when the deadly poison gas leaked. On the other side, one of the world's most powerful multinational corporations, Union Carbide (since taken over by Dow Chemical) and a feckless government too pliable to protect their interests.
But the two women have stood their ground. They have gone to the chief minister to demand their rights, they have gone to Delhi , even traveled to Dow Chemical headquarters to demand a clean up and just compensation.
This year, Rashida Bee and Champa Devi Shukla have won the 200 Goldman Environmental Prize. Deepak Goyal salutes the two women and their worldwide family of supporters who continue to fight for compensation and accountability for the terrible disaster almost 20 years ago.

(Inset) Champa Devi Shukla (l) and Rashida Bee with the 2004 Goldman Environmental Prize. (Goldman Environmental Foundation photo).

Key Demands of Bhopal Survivors

The extradition of Union Carbide Corporation officials and its former Chairman CEO Warren Anderson on criminal charges to face trial in Bhopal;

Long-term health care and monitoring for survivors and their children as well as the release of information on the health impact of the gases that were leaked;

The clean up of the former Union Carbide site and the surrounding area;

Economic and social support to survivors who can no longer pursue their trade because of illness or to families widowed by the disaster.

Rashida Bee and Champa Devi Shukla. Two Bhopal homemakers who decided they wouldn't take crap anymore. Not from Union Carbide. Not from Dow. Not from their chief minister.

Now the world has recognized their indomitable spirit. The duo have won the Goldman Environmental Prize, considered the "Nobel Prize for the Environment," which is given annually to grassroots environmental heroes from six geographic areas: Africa, Asia, Europe, Islands and Island Nations, North America, and South and Central America. The prize includes a no-strings-attached award of $125,000, the largest of its kind. The Goldman Environmental Prize is celebrating its 15th anni-versary this year, and the combined work of past recipients has positively affected an estimated 102 million people worldwide.

The Goldman Foundation said in a press release: "Despite their poverty and poor health due to toxic gas exposure, Bee and Shukla have emerged as leaders in the international fight to hold Dow Chemical accountable for the infamous 1984 Union Carbide gas leak in Bhopal, India that killed 20,000 and left more than 150,000 seriously injured. (Union Carbide became a wholly owned subsidiary of Dow in 1999).

They organized the first global hunger strike to draw international attention to Dow's deadly legacy and traveled the world to protest at Dow shareholder meetings.

Now on the 20th anniversary of the disaster, Bee and Shukla are plaintiffs in a class action suit demanding a clean up of the noxious factory site and damages to cover medical monitoring and costs incurred from years of soil and water contamination."

These two physically frail and diminutive women have lit a fire under the International Campaign for Justice in Bhopal and catapulted the issue onto the global stage with their deeply affective personal story of struggle. In their journey from disaster victims to grassroots acti-vists, Bee and Shukla have had to overcome the enormous stigma of their poverty, their status as women in a male-dominated society, and, in Bee's case, illiteracy. They have also had to struggle with chronic health problems that can intensify on the campaign trail. During their 2003 hunger strike in the U.S., both women had to be rushed to the emergency room.

They've drawn strength from each other's skills and talents. Bee's vision and oratory passion make her a natural campaigner while Shukla's quiet diligence and strength make her a formidable organizing powerhouse. The women's partnership is all the more remarkable because Shukla is Hindu and Bee is Muslim, religious factions with a long history of conflict in India. Together, they have made the struggle for justice for survivors of Bhopal a powerful validation of women's role on the frontline of India's civil society.

"A woman's life involves discarding relationships that she has known from infancy and adopting strangers as her own," says the ever-articulate Bee, referring to the tradition of brides leaving their families to marry into those of their husbands. "If she can face the world outside at such a fundamental level, then why should any other struggle for empowerment scare her?"

Today, two generations of victims continue to suffer the consequences, but they've found new hope in Rashida Bee, 48, and Champa Devi Shukla, 52. Bee and Shukla's courage and tenacity have galvanized the grassroots in their own country and abroad. In the process, they've drawn low-income, illiterate women like themselves from the margins of society to the center of a closely watched showdown whose endgame is to hold chemical companies accountable for the gas leak and its deadly legacy.

The $125,000 Goldman Prize doesn't mean the two women are ready to sit on their laurels. They have continued to travel in the U.S., meeting activists and lawmakers, trying to raise awareness.

"Twenty years after the Bhopal tragedy, the survivors and people of Bhopal are amazed and appalled we are still dealing with the same problem the world over," they said during a trip to Washington, D.C. in April. "America must recognize that thousands of Bhopals are waiting to happen within its borders, and should take steps to ensure that a similar disaster does not happen here."

Bee and Shukla were joined by elected officials, including U.S. Sen. Jon Corzine, D-N.J., and Washington, D.C. Councilmember Kathy Patterson, as well as environmental and public interest advocates at the event.

"It is unacceptable that Dow Chemical and other companies' facilities continue to threaten so many lives across the country," said U.S. Public Interest Research Group legislative director Anna Aurilio. "We should act now by requiring chemical facilities to use safer chemicals and processes wherever possible to prevent a tragedy like Bhopal here in the U.S."

Dow Chemical Company, which acquired Union Carbide's Bhopal site in 2001 but has taken no responsibility for cleanup of the remaining toxic contaminants.

On Dec. 3, 1984, more than 27 tons of poisonous gases leaked from a storage tank at a Union Carbide pesticide factory into the heart of Bhopal city, immediately killing 8,000 people. Since then, more than 20,000 deaths have been attributed to the disaster. Survivors and their children continue to suffer long-term health effects ranging from cancer and tuberculosis to birth defects and chronic fevers. Multiple studies have found mercury, nickel and other toxins in the local groundwater and dangerous levels of toxins including lead in the breast milk of women who live near the factory zone.

"We are still finding children being born without lips, noses or ears. Sometimes complete hands are missing, and women have severe reproductive problems," according to Bee, who suffers from respiratory and vision problems from gas exposure.

Bee and Shukla first met as employees at a stationery factory in 1986 where they founded an independent union to fight for better labor conditions and wages. In 1989 the labor battle culminated in a 469-mile march to New Delhi. More than 100 women, many of whom had sold their jewelry and other valuables to be part of the march, presented a petition with their demands to the prime minister. The campaign eventually won them a wage raise and other important concessions.

Bee and Shukla then went on to press their demand for justice from the chemical giants responsible for the gas leak disaster. Since 1984 Bee lost six family members to cancer. Shukla, who has one grandchild born with congenital deformities, lost her husband and her health. Ten years after the incident, most survivors had received less than $500 of Union Carbide's $470 million compensation payout, which has been mired in Indian bureaucracy and other delays.

In 2002 Bee and Shukla fought back by organizing a 19-day hunger strike in New Delhi to underscore their demands:

The extradition of Union Carbide Corporation officials and its former Chairman CEO Warren Anderson on criminal charges to face trial in Bhopal;

Long-term health care and monitoring for survivors and their children as well as the release of information on the health impact of the gases that were leaked;

The clean up of the former Union Carbide site and the surrounding area;

Economic and social support to survivors who can no longer pursue their trade because of illness or to families widowed by the disaster.

The women stepped up their efforts later that year by presenting brooms to Dow officials as part of their Jhadoo Maaro Dow Ko ("Beat Dow With a Broomstick") campaign. In 2003 Bee and Shukla confronted Dow officials at their offices in Mumbai and the Netherlands with hand-delivered samples of toxic waste. A tour of more than 10 cities across the U.S. led to a passionate protest at Dow's shareholder meeting in Michigan and a 12-day hunger strike and rally on New York's Wall Street. Students from 25 colleges and universities organized nationwide rallies and thousands of people joined protests in the United Kingdom, China, Spain, Thailand and Canada.

Two years after purchasing Union Carbide, Dow stock prices dropped 13 percent. While the company has faulted the general economic slump, Forbes magazine has credited the "Indian-bred tort litigation" and "ruckus" raised by the series of demonstrations over the past two years as contributing factors in the decline of Dow shares.

Bee and Shukla have also taken their battle to court. In 1999 they joined other disaster victims and advocacy organizations in a class action lawsuit against Union Carbide seeking a clean up of the factory site and damages to cover medical monitoring and costs incurred from years of soil and water contamination. (Earlier, an appeals court judge rejected the plaintiffs' request for damages stemming from the 1984 disaster but ruled that they could pursue damages unrelated to the disaster). In March the plaintiffs won a significant victory when a U.S. Second Circuit Court of Appeals judge ruled in their favor and against Union Carbide's motion to dismiss. Eight U.S. members of Congress, including Reps. Frank Pallone, D-N.J., Dennis Kucinich, D-Ohio, Sheila Jackson-Lee, D-Texas, Janice Schakowsky, D-Ill, and Pete Stark, D-Calif. filed an amicus brief supporting the suit; 18 other members of Congress have publicly called on Dow to provide reparations to Bhopal disaster victims.

- Deepak Goyal is a frelance writer. He lives in Kolkata.

---
INFOTECH INDIA





IT Scam in U.S. ... Infosys, China Bank Tie Up ... EDUSAT launch in July ...
VSNL, Bharti Televentures ... Pre-paid Mobile Cards ... Eonour Sales Rise...
Outsourcing No Threat: PM... Voter Data Through Mobile ... AirTel RPG Chennai Fave ...
Cognizant Surging — Here is the latest on information technology from India

IT Scam in U.S.

Sanjay Kumar resigned today as chairman and chief executive of Computer Associates International Inc., as the software company's long-simmering accounting scandal finally reached the top.

After running the company for four years, Computer Associates said Kumar had stepped down from his executive positions and the board of directors. He will take a new position of chief software architect.

The CEO position is temporarily remaining open.

Computer Associates, a $3 billion maker of software for corporate computing systems, is being investigated by federal prosecutors and the Securities and Exchange Commission for misrepresenting the timing of contracts in order to meet Wall Street's quarterly expectations.

Four former finance executives have pleaded guilty to fraud or obstruction of justice charges, including Ira Zar, the former chief financial officer.

Zar implicated two other high-ranking executives; though their names were not disclosed, prosecutors noted that Zar reported to Kumar. And in January, a former senior vice-president who pleaded guilty said Islandia, New York-based Computer Associates, had a "widespread practice" of inflating revenue by closing the books on a quarter a few days late.
|Back to Infotech Index| |TOP|

Infosys, China Bank Tie Up

Infosys Technologies April 27 announced in Bangalore that it has signed up with the China Banking Corporation, the Philippines, to deploy Finacle, its banking solution for Internet banking initiative.

The solution will power the bank's e-initiatives in consumer e-banking cash management and alerts, an Infosys release said.

Finacle is being delivered by Infosys in partnership with Total Information Management, a leading solution provider in Philippines, and an authorized business partner of Infosys, it said.

China Bank, among the top commercial banks in Philippines, would deploy the integrated solution as a way of leveraging new generation cutting edge technology in the e-space.

It will enable the bank to create a unified e-banking portal, the release said.
|Back to Infotech Index| |TOP|

EDUSAT Launch in July

The Indian Space Research Organization's exclusive polar satellite launch vehicle EDUSAT will be launched in July for educational purposes, an ISRO official said in Thrissur April 24.

ISRO's director for publications and public relations S. Krishnamurthy told reporters here that another remote sensing satellite, CARTOSAT-I, exclusively for mapping applications, would be launched in November. Both would be launched from Sriharikota, he added.

A Nagercoil report said, Vedachalam, director, ISRO Liquid Propulsion Systems, said experiments were being carried out at the liquid propulsion systems centre at Mahendragiri for developing alternative liquid oxygen fuel using purified kerosene.

He told reporters that liquid hydrogen was being utilized for rocket launches which was not only hazardous but also expensive and hence the experiment.
|Back to Infotech Index| |TOP|

VSNL, Bharti Televentures

Internet gateway and services provider Videsh Sanchar Nigam Limited has signed a right-to-use (RoU) agreement to deploy mobile telephony major Bharti Televentures Limited's existing national long-distance backbone.

Under the RoU, the Tata company would use 23,000 km route or one lakh km optical fiber capacity over BTUL's NLD network and would pay Rs. 500 crore, VSNL said in a statement in Mumbai April 25.

VSNL is in the process of starting its STD operations across the country and sharing of infrastructure with Bharti would help VSNL to save huge investments for building infrastructure. The agreement is for a period of 15 years.
|Back to Infotech Index| |TOP|

Pre-paid Mobile Cards

With a view to consolidate and expand its market in Tamil Nadu, Tata Teleservices April 27 said it proposed to introduce a number of new products, including providing pre-paid cards for its mobile phone services.

Briefing reporters in Chennai on its expansion plans for 2004-05, deputy chief operating officer, Tamil Nadu, Madhusudan, said the pre-paid cards would be launched soon across the country. The telecom service provider already has post-paid service.

Madhusudan said all over the country, his organization proposed to expand to 11 circles from the present eight and by the end of the current fiscal, it hoped to cover a total of 17 circles.

Besides, as part of this expansion, new services like seamless roaming, enhancement of SMS, infotainment and Push-to-Talk services were all on the anvil.

As far as Tamil Nadu is concerned, by the end of the current fiscal, the company had already invested Rs. 820 crore and would be investing Rs. 280 crore more to cover 137 more towns, taking the total number of towns covered to 145.

In the first phase, which would be completed within the next three months, 80 towns in the state would be covered.
|Back to Infotech Index| |TOP|

Eonour Sales Rise

Eonour Technologies Limited, an ISO 9001:2001 certified technology solutions provider, has posted an impressive quarter. For the quarter ending March 2004, the turnover was Rs. 2,840 lakh as against Rs 2,605.55 lakh for the same quarter last year — a nine percent increase. The net profit was up by 3.07 percent from Rs 592.71 lakh in the quarter ended March 2003 to Rs 610.89 lakh in the quarter ended March 2004.

Eonour is a Chennai-based total solutions provider a with focus on enterprise application integration (EAI) arena. With core expertise in Supply Chain Management, Eonour's suite of products addresses each aspect in the chain: the supplier, logistics, manufacturer, distributor and customer.

Eonour, by virtue of its performance and quality deliveries, has garnered prestigious clients including Hyundai Motors, Hero Honda, Kinetic Engineering, L&T (LTM Business Unit), UPS Singapore and JBM Sungwoo.

Over the last one-and-a-half years, Eonour has been focusing on consolidating its position in the technology solutions market. This has seen the acquisition of four technology entities, who have now been merged into a single entity called STADS Limited.

STADS addresses the networking business sphere including LAN WAN design which is complementary to Eonour's software application solutions.

This acquisition has strengthened Eonour's position which can address a wider business segment by offering system integration solutions. Further streamlining is in process.

STADS World Limited, ETL's subsidiary, will take over the export and deemed export business of ETL. This will help in a greater focus on the company operations in order to capitalize on the growing business. It will also attract strategic investors.
|Back to Infotech Index| |TOP|

Outsourcing No Threat: PM

Prime Minister Atal Behari Vajpayee April 25 said outsourcing from India should not be seen as a threat by anybody and those countries favoring free trade cannot object to it.

"Outsourcing from India should not be seen as a threat by anybody.....Those who have been preaching the philosophy of free trade cannot possibly object to outsourcing," he told in an interview to newspersons.

Vajpayee said after initial concerns in Western countries, there was now greater appreciation of the inevitability as well as the benefits of outsourcing.

He said outsourcing was beneficial to both the country that receives these services and the country that provides them.
|Back to Infotech Index| |TOP|

Voter Data Through Mobile

Thanks to Escotel, a leading cellular operator in the country, electoral roll data can for the first time be accessed by the public on their mobile phone through SMS.

The new service, launched by Escotel in association with the Election Commission, marks a major step in improving the efficiency of the public information system.

Launching the new service, Election Commissioner B.B. Tandon said contributions from the private sector in terms of electoral information updates through SMS would help build an efficient public information system and make it convenient for the public to access the information they require and exercise their right to vote.

Chief operating officer, Escotel, Kerala, B. Ramakrishnan, said SMS was proving to be a very powerful tool, facilitating a whole array of value-added services and is useful in providing a wide variety of information to customers.

Escotel Mobile Communications Ltd is a fully-owned subsidiary of IDEA Cellular, a joint venture between the Aditya Birla Group, the TATA group and AT&T Wireless, and provides cellular services in Andhra Pradesh, Delhi, Gujarat, Maharashtra, Madhya Pradesh, besides Kerala.
|Back to Infotech Index| |TOP|

AirTel RPG Chennai Fave

Cellular players AirTel and RPG in Chennai topped the list of metro operators with 93 percent of subscribers saying they were satisfied with the overall services offered by the two operators.

Hutch in Chennai and AirTel in Delhi got 91 percent rating in terms of subscriber satisfaction followed by Bharat Sanchar Nigam Ltd) in Chennai with 90 percent rating.

BSNL's services in Kolkata were rated the least satisfactory with 61 percent rating, as per TRAI's quality of services assessment for cellular operators.

In the basic telecom services, Sunil Mittal's Bharti Group topped the list for its services in Delhi under the brand name TouchTel attracting 90 percent rating followed by BSNL in Chennai at 89 percent and MTNL in Mumbai at 84 percent.

In 'A' category circle comprising Maharashtra, Andhra Pradesh, Gujarat and Tamil Nadu among others, Tata Teleservices in Maharashtra bagged 92 percent rating for its basic services followed by Bharti in Andhra Pradesh.

In case of cellular operations in 'A' category circles, 93 percent of Hutch subscribers in Gujarat expressed satisfaction over the quality of services while 91 percent subscribers voted for AirTel's services in Gujarat.
|Back to Infotech Index| |TOP|

Cognizant Surging

Cognizant Technology Solutions Corporation, a leading provider of IT services, has posted a revenue of $ 119.7 million, for the first quarter ended March 31 this year, a company release said in Chennai April 20.

This was 11 percent more than the fourth quarter revenue of $ 108.2 million in 2003.

The net income for the first quarter increased to $ 19.8 million, compared to $ 17.7 million in the fourth quarter of 2003, the release said.

Quoting the president and CEO, Lakshmi Narayanan, the release said the company continued to deliver strong operating and financial performance as demand for high value offshore services continued to grow, with particularly strong interest in core application development and management services.

"We have maintained our position as the fastest growing company among the major offshore IT services firms through our strong focus and commitment to the superior execution of our onsite/offshore business strategy," he said.
|Back to Infotech Index| |TOP|

---
SOCIETY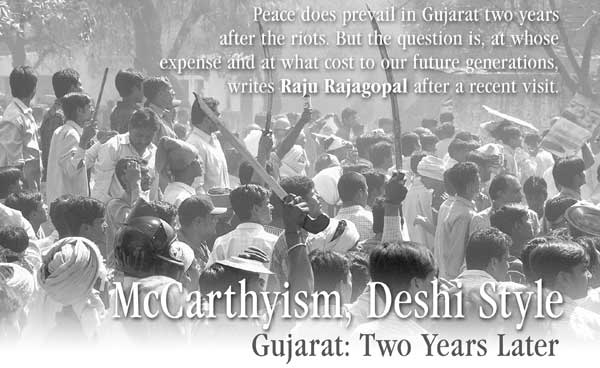 A mob of Hindu militants armed with swords in the streets of Ahmed-abad during the riots in Gujarat in February 2002. Although peace has return-ed, all is not well, according to activist Raju Rajagopal.


McCarthyism, Deshi Style
Gujarat: Two Years Later
- By Raju Rajagopal

Peace does prevail in Gujarat two years after the riots. But the question is, at whose expense and at what cost to our future generations, writes Raju Rajagopal.


Those who rule Gujarat would very much like the world to believe that everything is normal here. As they try to shore up investor confidence in the state, anyone who dares to challenge their rosy rendition — by exposing their sectarian agenda — is quickly accused of defaming the state.
True, Gujarat has been relatively peaceful in recent months, and the tragic events of 2002 has been fading from our memories, but does the mere absence of everyday violence mean that normalcy has returned to its citizens? If Gujarat's image has been tarnished internationally, who is actually responsible for it?

I am seeking my own answers to these questions as I travel here nearly two years after the state-condoned pogroms against its Muslim citizens, which followed the Godhra train carnage. I plan to visit with people directly affected by the violence and others who have been giving them succor despite numerous obstacles strewn in their path by a vindictive system. As long as I am here, I also hope to meet some of the brave individuals who have taken a public stand against the demonization and dehumanization of their fellow citizens, at great risk to themselves and to the institutions they represent.

May We Go Home…Please? My first stop is Kalol, about 50 km from Vadodara, where I get a chance to speak to some of the Muslim villagers whose lives were devastated by the 2002 violence. The second anniversary of their nightmare has come and gone, but these families still can't return to their own homes. Instead, they live in this recently completed housing project funded by several local organizations and NRI groups (The KEDS housing project is partially funded by EKTA and Coalition Against Communalism from the United States, with matching funds from American India Foundation. Janvikas, SAATH, and Jamiat Ulama-i-Hind are the local partners in this project).

Why can't they go home? The answer, unfortunately, is the same as it was last year…and the year before: their erstwhile Hindu neighbors continue to threaten them with dire consequences should they dare. "Any time outsiders accost them, they say that we're welcome to go back," explains Yasminben (name changed), "but when we ask, the answer is always no." Two women have just returned from a day trip to the village of Dailol, trailed by a TV crew filming their plight. "Did your neighbors invite you back?" I ask curiously. "No, they only offered us water," they respond, as they nervously relate how they were shaking with fear whilst in the village. (Our NRI Sadbhavna Mission had to beat a hasty retreat from Dailol in September 2002 after being physically threatened and chased out by an angry mob — the sarpanch, who has been accused of participating in the violence, hadn't taken kindly to our intervention on behalf of his neighbors who were then languishing in a relief camp.)

Mohammedbhai (name changed) and his family used to live in their own three-bedroom home in Dailol, where they also own a piece of land. He lost a close relative among the 38 people burnt alive by their own neighbors and "people from the outside" on March 1, 2002. Now they live in a one-room house in this new colony, in 300 square feet of living space. They aren't complaining, though. "This is the best housing project around," remarks his wife, Yasminben. KEDS, the community-based organization in charge here, seems to have paid extra attention to the needs of the residents, as evidenced by a computer training center, a dispensary, and several stores being built along the highway, soon to be let out to the residents. The credit goes in large measure to Muktharsaab, a community leader from Kalol, who was operating the relief camps here, months after the state had "shut them down," and who seems to have since invested considerable personal resources to care for this beleaguered community.

What about Mohammedbhai's land? Their newly acquired Hindu "partner" is supposed to be tending to it on their behalf. But they haven't seen any produce or income from it yet...and I suspect they don't really expect to see any.

What about their burnt-out home? "It's being used as a latrine," laments Yasminben.

'Ethnic Cleansing' at a World Heritage Site. A man from Pavagadh, who now lives in another newly-built housing project in Halol, managed by Jagruti Trust, used to drive a jeep up and down this popular hill station, one of the top 100 endangered heritage sites in the world. He explains how the tourist business, which used to be shared by Hindus and Muslims alike, is now entirely in Hindu hands. "Why would they want us back," he rationalizes. "It's true that the poojari at the Kalika Mata temple saved the mazar (memorial for a Sufi peer, located atop the temple) from destruction," he continues, "but today I can only go there during the day as just another tourist." Rakesh Sharma's documentary, Final Solution, reportedly features a VHP man from Pavagadh boasting that the town had been made completely free of Muslims. Even the Archeological Survey of India, I was told last year, had suddenly "discovered" that many poor Muslim families had been encroaching on its properties here, and it had decided to dust off its rules book to fence them out — even as other communities continue to encroach.

This experiment in "ethnic cleansing" was apparently of no concern to the organizers of last September's "Vibrant Gujarat-Global Investment Summit," designed to woo NRI investments to the state. They had showcased the development of Champaner-Pavagadh area as one of their ambitious tourism projects, soliciting NRI funds to the tune of $24 million to create an upscale vacation destination and to preserve the many Indo-Islamic monuments here. The U.S. State Department seems to have obliged with a visit to the area as well as a $20,619 grant (see http://mumbai.usconsulate.gov/wwwhindpr56.html). It is ironic that the state of Gujarat, which would like us to believe that it cares for its Islamic heritage, should condone the continuing exclusion of its Muslim citizens from their own hometown. It's even more ironic that the US Ambassador's Fund, designed to "demonstrate U.S. respect for other cultures," should have unwittingly become complicit in Gujarat's sectarian experiment.

Similar stories, albeit with some variations, are playing out in many parts of Gujarat. Many villagers have indeed welcomed their Muslim neighbors back, while in other places they are "welcome" to come during the day to tend to their businesses or land, but they may not stay overnight—reminiscent of the Bantustans of South Africa. I was told during my last visit that many Hindus and Muslims living in mixed neighborhoods in the larger cities were moving out of their long-time homes to the "safety" of their own communities. Such ghettoization, I am told, is now near total (like Beirut of the '80s?). "No one will sell or rent me a home in a Hindu neighborhood anymore," bemoans a Muslim professional from Vadodara.

McCarthyism, Deshi Style? Some of the professors at a local university are distraught over the state of affairs here. Targeting members of the faculty who have had the courage to speak out against the Gujarat pogroms seems to be fair game on this campus. I am told that any classroom discussion by some of the faculty, even if within the prescribed syllabus, requires prior permission—presumably, a way to censor and control discussion about human rights, communal harmony, or even gender issues. One faculty member tells me that he/she had recently received a note from the dean seeking an explanation on why a certain topic had been discussed in the class "without permission." Classes are apparently regularly monitored and reported on by ABVP students who hold sway here. (ABVP, Akhil Bharatiya Vidyarthi Parishad, is an RSS-inspired national student organization.) Legitimate seminars on contemporary issues, organized with grants from reputable institutions, are being turned out of the campus, forcing the organizers to rent venues elsewhere. Even so, they say that disruptions by ABVP and other Sangh Parivar outfits are to be expected, if either the topic or the speakers aren't to their liking. To me, this smacks of an Indian reincarnation of McCarthyism, but a majority of the faculty here apparently doesn't care or is too intimidated to protest.

(This reminds me of my own encounter with the Sangh Parivar in Vadodara last year, during an Asghar Ali Engineer talk titled, "History of Communalism." RSS, VHP and ABVP folks had gate-crashed the seminar in full force, determined to stop it even though it was being held under private auspices, after being forced out of a campus locale by ABVP. Among this rowdy gang was a senior RSS pracharak who was on the university syndicate, as well as the campus leader of ABVP. I saw them ordering the organizers around on what they may or may not distribute at the seminar, constantly interrupting the speaker and filibustering the proceedings with long speeches, and frequently hinting that violence could ensue if they didn't get their way. They had also confronted me in a threatening manner, questioning my presence there and wanting to know why I was taking pictures. Subsequent to this unpleasant encounter, I happened to come across detailed instructions provided by the fledgling Nazi party's propaganda machinery in 1927 on how to disrupt an opponent's meeting: "discussion period is used unfruitfully if it focuses on what the opponent's speaker said. The best use…is usually to make strong attacks against the speaker's party….it is best to ask…very precise and painful questions…and demand that the speaker answer them. If the speaker does not…he must be forced to by heckling. This should be done even at the risk of 'serious differences of opinion' [i.e., physical violence]." The behavior of RSS/VHP/ABVP gate-crashers at the Vadodara seminar that I had personally witnessed left little doubt in my mind that this is the exact methodology that they must have been schooled in.)

Targeting Faces of Moderation. As she joins me after her dance classes, Mallika Sarabhai's face betrays none of the recent turmoil in her life, and the months of harassment and humiliation that this prominent citizen of Gujarat has had to endure at the hands of a spiteful state, which has instigated lawsuits against her accusing her of defrauding her students and of illegally trafficking in human beings. (The state makes no secret of the fact that it resents her public interest litigation in the Supreme Court challenging its handling of the post-Godhra violence.) In spite of all of this, Mallika not only goes on with her passion (dance) with equanimity, but finds time to produce several television shows on the theme of social harmony. She has recently gotten her passport back, thanks to the intervention of the Supreme Court, but a slew of frivolous cases are still arrayed against her, and open threats from the corridors of power apparently continue. As I read about her ex-cook suing her for a few missing pots and pans, and about a three-year old girl listed in a complaint against her, I don't know whether to laugh or cry. Where is the outcry from Gujarat's civil society? At a very personal level, it's hard for me to accept that this is the same society that I had come to admire so much and wrote so much about during my travels here following the 2001 earthquake.

I'm speaking to Dr. Bandukwala, professor of physics at M.S. University and an intellectual, who had barely escaped being burnt alive in the 2002 pogroms. Personal safety is no more on his mind, as he continues to write and speak out strongly against the communalization of his state. He says that he is flooded with hate mail these days and there is a systematic attack on him by the Gujarati press. "They're trying to shut me up," he says, "but my miraculous escape from the throes of death has given me a second lease on life, and I intend to use it to the fullest to promote peace and harmony." He relates how he is being bombarded by letters from a certain Sangh Parivar "historian" who claims that the Taj Mahal, the Humayun's Tomb, and even the Kaaba in Mecca, are of Hindu origin. (In one book, this aging author claims that all the West Asian monuments were designed and built by Indian — read Hindu — architects "driven across Indian borders at sword-point!" Hindutva organizations in the U.S. eagerly publicize his works, and have even published one of his more virulent anti-Muslim "history" books out of Texas.) What exactly is this man's purpose in targeting a moderate Muslim leader of Gujarat with his inane theories is hard for me to fathom. I can only surmise that fanatics often feel more secure in attacking voices of moderation than in directly confronting their comrades-in-arms from the "other" side. The brutal killing of former Congress MP, Ehsan Jafri, during the 2002 pogroms — a crime for which no one has yet been punished — is a poignant reminder of such cowardice.

Ramdas Pillai of Kisanwadi, Vadodara, a construction contractor, has just returned from a court hearing for his brother, Krishnamurthy Swaminathan, who has been charged with murder. Swaminathan's fault: responding to a desperate call from a Muslim family who were under attack by Bajrang Dal goons during the 2002 violence. The local police had booked him for murder even though the complainant (the slain man's relative) had identified the real killers, and had told them that Swaminathan was a friend who had actually come to their aid, and he may have saved lives. Pillai had told me last year that the entire episode was in apparent retaliation for his well publicized effort to prevent the massacre of his Muslim neighbors in this slum area. Pillai and his wife, Lakshmiben, had always looked out for the underprivileged, whatever their faith or caste. Knowing their reputation for opening up their doors and hearts, over 500 Muslim neighbors had knocked at their gates on the night of February 28, 2002, as rioters marauded through their neighborhood. The Pillais had protected them throughout the night as angry mobs lay siege to their home — and the police refused to help — and had whisked them all to the safety of relief camps in the wee hours of the following morning, at great risk to themselves. As Pillai's notoriety as the "Man who had helped those Muslims" spread, his Hindu friends and business colleagues gradually started to abandon him, pushing his family to the edge of financial ruin.

Had anything changed since last year? Pillai smiles wryly as he admits that his first effort to get back on his feet — a housing project — had to be shelved, ironically, as his Muslim contractor had fled upon hearing about what had occurred in this neighborhood. As a huge portrait of Shirdi Sai Baba stares down the Pillai family, their daughter Kinnary, a 10th grader, is very clear about her goal in life: she wants to enter the Indian Police Service.

Gujarat's Gaurav and its 'Busload of Secularists.' I leave Gujarat with a heavy heart, but I am encouraged by the selfless work by a small number of determined individuals and organizations here, supported by others from outside Gujarat, who have put their lives and livelihood at risk to stand up for justice — recent assaults by VHP and Bajrang Dal upon activists like Teesta Setalvad and Shabnam Hashmi underscore the continuing danger faced by those who refuse to be silenced. It seems puerile to hold this "busload of secularists" responsible for sullying Gujarat's gaurav. As far as I can see, they are far too busy doing what the state and the broader civil society ought to be doing: rehabilitating the victims, providing legal assistance, and doing grass roots work to promote inter-communal harmony — e.g. a recent cricket tournament among mixed Hindu-Muslim youth teams, organized by Jagruti Trust and other NGOs, had brought Kapil Dev and 30,000 spectators to Halol, demonstrating the power of sports as a healer even at the grassroots level. Many of the so-called secular NGOs have also been looking at themselves in the mirror to see how they could bring more diversity among their own rank and file, and how they could build bridges with faith-based organizations — e.g. some of the secular groups are exploring the possibility of sponsoring science and math teachers to help improve teaching quality at maktabs; and Muslim groups are looking for ways to engage the adivasis, who had been used against them during the 2002 violence, in the field of education.

If Gujarat's gaurav has been tarnished, it seems to me that the rulers of Gujarat and their supporters overseas know exactly what it takes to restore the sheen: Instead of issuing vague expressions of contrition from U.K. and elsewhere, national leaders could appear at Naroda Patia, or Gulbarg Society, or any other site of the 2002 violence, and apologize to the victims for the unpardonable excesses committed by their supporters; or the state could ensure, with police protection if necessary, that every citizen of Gujarat, including the people of Dailol and Pavagadh, are able to return safely to their own homes; or the state's judiciary could stop its cruel charade by bringing to book all the perpetrators of the violence, without any further delay or prodding by the Supreme Court; or the powerful NRI Gujarati community could stop acquiescing in the state's unconscionable behavior by sending a powerful signal to its leaders that they have had enough of their sectarian agenda; to end it before their bigotry and hate infects the rest of our great nation. Hurling more invectives at the secularists, I am afraid, will simply not do at this late hour.

Yes, peace does prevail here in Gujarat. But the question is, at whose expense and at what cost to our future generations?

Interested readers can find out more about the Coalition against Coalition at their Web site at www.cac.ektaonline.org. Raju Rajagopal may be reached at communal_harmony@yahoo.com

-
Raju Rajagopal is an activist member of the San Francisco Bay Area-based organization Coalition against Communalism.




|TOP|
---
CONFERENCE
Hi-Tech Brainstorming
TiE Conference 2004
– A Siliconeer Report

Top Silicon Valley executives discuss globalization, technology trends, and the improving economy at TiEcon 2004, the world's largest entrepreneurs conference. A Siliconeer report.


The Indus Entrepreneurs, the top organization of Silicon Valley South Asian high tech entrepreneurs, said in an announcement that TiEcon 2004, the organization's annual conference, will include a series of panel discussions on globalization issues and anticipating new business opportunities in the improving economy, led by top technology and business gurus including television tycoon Ted Turner.
Speakers include a "who's who" of Silicon Valley and high technology executives from Hewlett Packard, Juniper Networks, McKinsey and Co., Siebel Systems, Sun, and Yahoo.

Over 3,000 people are expected to attend TiEcon 2004 May 14 and 15 at the Westin Hotel and Convention Center in Santa Clara.

Since 1992, people associated with TiE have founded businesses with a combined market value of more than $200 billion, creating thousands of new jobs. This year's conference will focus on issues surrounding macro-level trends in job diversification. Breakout sessions will feature a multi-faceted examination of global sourcing — more commonly referred to as outsourcing — with an emphasis on job creation, and advice on how to manage global operations.

"Our organization embraces the American dream of generating new opportunities, encouraging innovation, and adapting to changing paradigms," said Vish Mishra, TiE director and senior venture partner at Clearstone Venture Partners. "TiE is dedicated to promoting entrepreneurism that results in wealth creation for both the local and global economies."

TiEcon will also present previews of the latest high tech products and introductions to the newest Silicon Valley companies. The conference provides networking opportunities for attendees to meet with venture capitalists, professional service providers and other entrepreneurs to discuss topics including ways in which they can give back to their communities.

"Social entrepreneurship is the key to creating welfare in local and global economies," said Vinod Khosla, TiE charter member and general partner at venture capital firm, Kleiner Perkins Caulfield & Byers. "TiE's entrepreneurial ecosystem equips current and future business leaders with the managerial foresight to foster a successful and ethical global business strategy."

Themed "One Step Ahead, Harnessing the Optimism," TiEcon 2004 provides an ideal forum for industry professionals and business visionaries to discuss emerging trends, explore best practices, and learn how to profit in a surging world economy.

A few of the featured TiEcon 2004 panels on global sourcing include:

Partnering, Positioning and Playing Your Cards with Global Companies. This panel will look at linking business strategy and needs to have effective CXO level selling in the global enterprise marketplace. There is pressure for CXO level executives to understand the precarious link between a successful business and the IT strategies. This session features Peter Blackmore, EVP, Enterprise Systems Group, Hewlett Packard.

Global Conversation: The Global Mindset: Succeeding In today's World. How does a company develop, grow and sustain a vision globally and at the same time cater to the needs of the local markets? In today's world, companies have to think globally and act locally whilst leveraging global resources. This panel features a group of international thought leaders and discusses how they have taken their global vision and company to address market demands and customers around the world. Panelists include Alistair Cox, CEO, Xansa and Robert Young, EVP, Sun Microsystems.

Global Talent - The new reality - The Big Picture of Offshore Services: Real Worry or Misplaced Fear? Offshoring has generated significant media controversy. This panel will review media coverage, legal developments, political discussion, and macro trends of offshore services. Moderated by Quentin Hardy, Silicon Valley bureau chief of Forbes, with panelists Diane Farrell from McKinsey and Mark Riedy, managing partner at Pillsbury Winthrop.

Going Global Leveraging Global Talent - Why, When and How of Going Offshore Time. Going offshore is not only about cost advantage, but also about competitive factors such as accessing worldwide talent, time-to-market, flexibility, and sometimes survival. Many notable large companies are outsourcing non-core services, generating record profits and beating the competition. This panel is about how to best leverage global talent for maximum benefit to your business. Moderated by Atul Vashistha, CEO, NeoIT with panelists Sharat Israni, SVP, Yahoo; Fabio Rosati, CEO, Elance; and Manoj Srivastava, VP, Verisign.

Updated information about TiEcon 2004 is available at its Web site at www.tiecon.org.
|TOP|
---
COMMENTARY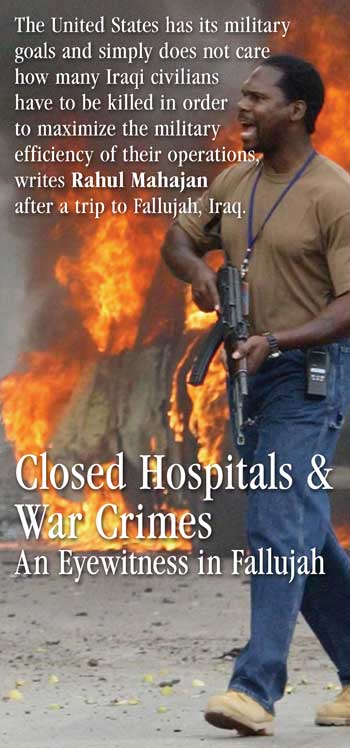 Closed Hospitals & War Crimes:
An Eyewitness in Fallujah

By Rahul Mahajan

The United States has its military goals and simply does not care how many Iraqi civilians have to be killed in order to maximize the military efficiency of their operations, writes Rahul Mahajan after a trip to Fallujah , Iraq .


Why do you keep asking about the closing of the Fallujah hospital?" my Iraqi translator asks in exasperation. I explain that this is big news, and it hasn't really been reported in English. He looks at me, incredulous; all Iraqis know about it.
When the United States began the siege of Fallujah, it targeted civilians in several ways. The power station was bombed; perhaps even more important, the bridge across the Euphrates was closed. Fallujah's main hospital stands on the western bank of the river; almost the entirety of the town is on the east side. Although the hospital was not technically closed, no doctor who actually believes in the Hippocratic oath is going to sit in an empty hospital while people are dying in droves on the other bank of the river. So the doctors shut down the hospital, took the limited supplies and equipment they could carry, and started working at a small three-room outpatient clinic, doing operations on the ground and losing patients because of the inadequacy of the setup. This event was not reported in English until April 14, when the bridge was reopened.

In Najaf, the Spanish-language Plus Ultra garrison closed the al-Sadr Teaching Hospital roughly a week ago. With 200 doctors, the hospital (formerly the Saddam Hussein Teaching Hospital) is one of the most important in Iraq. Troops entered and gave the doctors two hours to leave, allowing them to take only personal items — no medical equipment. The reason given was that the hospital overlooks the Plus Ultra's base, and that the roof could be used by resistance snipers. Al-Arabiya has also reported that in Qaim, a small town near the Syrian border where fighting recently broke out, that the hospital had been closed, with American snipers positioned atop nearby buildings.

The United States has also impeded the operation of hospitals in other ways. Although the first Western reports of U.S. snipers shooting at ambulances (See http://www.empirenotes.org/fallujah.html) caused something of a furor, two days ago at a press conference Iraqi Minister of Health Khudair Abbas confirmed that U.S. forces had shot at ambulances not just in Fallujah but also in Sadr City, the sprawling slum in East Baghdad. He condemned the acts and said he had asked for an explanation from his superiors, the Governing Council and Paul Bremer.

There are also persistent claims that after an outbreak of hostilities American soldiers visit hospitals asking for information about the wounded, with the intent of removing potential resistance members and interrogating them. Nomaan Hospital in Aadhamiyah and Yarmouk Hospital in Yarmouk (both areas of Baghdad) got visits from U.S. forces in the first days after the fighting in Fallujah started — the lion's share of evacuated wounded from Fallujah were taken to those two hospitals. Doctors generally resist being turned into informants for the occupation; one doctor actually told me that he has many times discharged people straight from the emergency room, with inadequate time to recuperate, just to keep them out of military custody. As he said, "They are my countrymen. How can I hold them for the Americans?"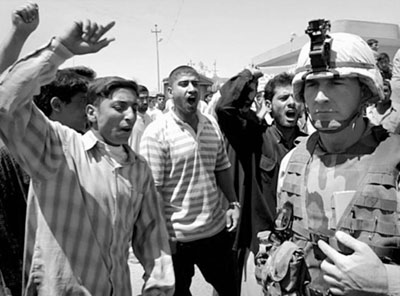 While the American media talks of the great restraint and "pinpoint precision" of the American attack, over 700 people, at least half of them civilians, have been killed in Fallujah. And, according to the Ministry of Health, in the last two weeks, at least 290 were killed in other cities, over 30 of them children. Many of those who died because of the hospital closures will never be added in to the final tally of the "liberation."

By any reasonable standard, these hospital closings (and, of course, the shooting at ambulances) are war crimes. However afraid the Plus Ultra garrison may have been of attack from the rooftops, they didn't have to close the hospital; they could simply have screened entrants. In the case of Fallujah, it's clear that one of the reasons the mujahideen were willing to talk about ceasefire was to get the hospital open again; in effect, the United States was holding civilians (indirectly) hostage for military ends.

After an earlier article about attacks on ambulances, many people wrote to ask why U.S. forces would do this — it conflicted with the image they wanted to have of the U.S. military. Were they just trying to massacre civilians? And, if so, why?

In fact, it's fairly simple: the United States has its military goals and simply does not care how many Iraqi civilians have to be killed in order to maximize the military efficiency of their operations. A senior British army commander recently criticized the Americans for viewing the Iraqis as Untermenschen — a lower order of human being. He also said the average soldier views all Iraqis as enemies or potential enemies. That is precisely the case. I have heard the same thing from dozens of people here — "They don't care what happens to Iraqis."

Although this relatively indiscriminate killing of civilians may serve American military ends — keeping the ratio of enemy dead to American soldiers dead as high as possible — in terms of political ends, it is a disaster. It is very difficult to explain to an Iraqi that a man fighting from his own town with a Kalashnikov or RPG launcher is a "coward" and a "war criminal" (because, apparently, he should go out into the desert and wait to be annihilated from the sky) but that someone dropping 2,000-pound bombs on residential areas or shooting at ambulances because they may have guns in them (even though they usually don't) is a hero and is following the laws of war.

When I was here in January, there was a pervasive atmosphere of discontent, frustration, and anger with the occupation. But most people were still just trying to ride it out, stay patient, and hope that things improved. The wanton brutality of the occupation has at long last put an end to that patience.

Before, the occupation might have succeeded — not in building real democracy, which was never the goal, but in cementing U.S. control of Iraq. It cannot succeed now. The resistance in Fallujah will be beaten down, with the commission of more war crimes; if the United States invades Najaf, it will be able to win militarily there as well. But from now on, no military victory will make Iraqis stop resisting.

NOTE: Doctors from four hospitals in Baghdad were interviewed in compiling this report; all asked that their names be left out.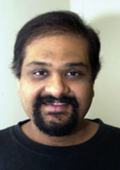 - Rahul Mahajan was recently the Green Party candidate for governor in Texas. He is the publisher of the Web log Empire Notes (www.empirenotes.org) and wrote and blogged from Baghdad. His latest book is "Full Spectrum Dominance: U.S. Power in Iraq and Beyond."



|TOP|
---
A Durable Peace:
Improving Indo-Pak Ties

By Siddharth Srivastava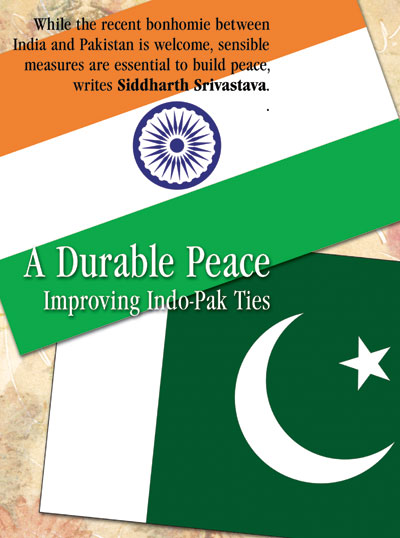 While the recent bonhomie and warmth between nuclear rivals India and Pakistan is more than welcome, sensible and astute measures are essential to build a durable peace, writes Siddharth Srivastava.
After years of being mired in funding problems and industry apathy, a simputer (short for Simple Inexpensive Multi-lingual computer) is finally available at stores. History has been made, because this is the first computer designed, developed and manufactured in India.
CPakistan President Pervez Musharraf has warned that India and Pakistan must make progress on resolving the dispute over Kashmir in the next few months or he would withdraw from the tentative peace process between them. While it is true that there are internal pressures within Pakistan that force Musharraf to turn belligerent on Kashmir from time to time, it is also instructive to remind ourselves that the cost of stalling peace can be enormous.

The first round of composite dialogue happened in February and the Indian cricket team went on a tour to Pakistan, the first in 15 years. Every correspondent who covered the ongoing cricket series has written about the warm hospitality that has been extended by average Pakistanis — taxi drivers refusing to charge money, impromptu invitations to meals, hotels going the extra mile. Images of Indian and Pakistan fans embracing even after a closely fought cricket match will endure.

All of this follows the historic agreement between Indian Prime Minister Atal Behari Vajpayee and Pakistan President Pervez Musharraf during the South Asian Association of Regional Co-operation summit in Islamabad in January.

Over the past few months analysts have attempted to devise a future roadmap for progress in bilateral ties, including a solution to Kashmir and cross-border terrorism.

Here's a series dos and don'ts to avoid the obvious pitfalls that can befall peace between the two nations:

A Win-Win Attitude. The basis of talks should be mutual benefit with both the countries on the same winning side. India and Pakistan are fighting a common enemy — the jehadi terrorist, even if after a lot of prodding by the U.S. At the same time the two nations aspire for higher economic growth through increased trade. If the common aims are thrashed out, the course can be well set.

Any Talk Better Than No Talk. The history of conflict is long and cannot be brushed away in a matter of months. There will be differences on both sides, opinions steeped in years of diplomatic and military warfare. No solution will emerge overnight, but it is important to continue to talk even if no results emerge. It has been a long and tortuous trek to the current situation that should not be allowed to slip away. Both sides should approach talks as a beginning, not the start of the end. There should be no going back.

Leap of Faith. There is plenty of suspicion between the leadership of the two countries. It is far less among the people of the two nations. Abroad, Indians and Pakistanis are best of friends. When they do meet either in India or Pakistan, the bonhomie is infectious. This is to do with the fact that essentially we are the same people. Bollywood film stars and songs are staple in Pakistan. Indians, too, are enthralled by Pakistani singers and TV soaps. If there have been doubts, they have been at the highest levels of establishment. Pakistan's military has thrived on a bleed India policy. And Indian politicians often care more about Indian votes than Indo-Pak relations. Both sides have to begin by trusting each other. No marriage can work without faith. In this Vajpayee and Musharraf play crucial roles.

Uncle Sam's Silence. Everybody knows that U.S. has a role to play, but nobody wants to admit it. One impression that the leaders of the two countries do not want their people to carry is that the U.S. is prodding both parties to sue for peace. It is, but it's just the kind of words that nobody in the two countries want to hear. It's an occupation hazard of being big brother. Even Collin Powell needs to understand this.

Patience of Job. As the talks progress, there will be days of highs and lows that can distract from the mission in hand. There will be pressure to wind up and go home. The main enemy is the vast terrorist infrastructure that will do its best to sabotage the talks. Indians and Pakistanis will require the patience of Job to remain focused on the task at hand rather than be distracted by explosions all around. This will be tough on India.

Big Issues, Other Issues. There should be a clear demarcation of issues that will require a drawn-out negotiation process and those that can be implemented right away. Jammu & Kashmir and cross-border terrorism are the bugbears that will need the maximum thrashing out. Maybe there is no immediate solution to the two problems, given past prejudices, vested interests and political ramifications. But, this should not prevent solution seeking in areas that can be more easily handled at the ground level — the confidence-building measures such as rail, road and air links, health and economic co-operation, and improving people-to-people contacts.

Bad News is No News. No talks can be conducted through the media. In the past representatives of the two countries have chosen to convey their points of view through television, given its powerful impact. With a structural process in place, all interactions and points of discussion should be tackled at the official level. There has been plenty of media grandstanding in the past that has only worsened matters. Rabble-rousers and publicity seekers are always ready with their take on the subject of talks, given the intense media glare. As talks progress, there will be lots of exchanges that can be bad news. There should be no washing of dirty linen in the public domain. It only vitiates an already vicious atmosphere.

Vajpayee and Musharraf. They are the key players. One is more certain about Vajpayee's credentials — he is 80 years old and has already declared that this is his third and last attempt at peace after the failure of the Lahore and Agra efforts. It is more difficult to be sure about Musharraf. His past has been dubious. If he can rise to the occasion, who knows? A lasting peace would be his lasting legacy.

- Siddharth Srivastava is a journalist based in New Delhi.

---
REPORT: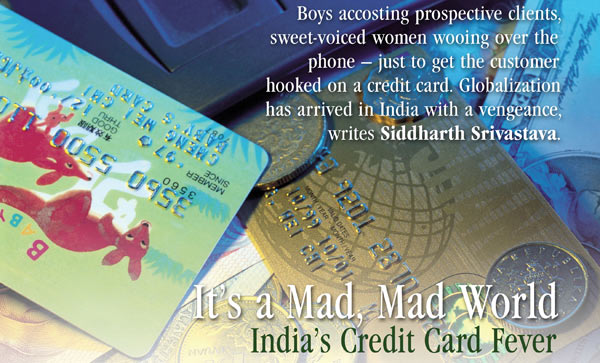 It's a Mad, Mad World
India's Credit Card Fever
- By Siddharth Srivastava

Boys accosting prospective clients, sweet-voiced women wooing over the phone—just to get the customer hooked on a credit card. Globalization has arrived in India with a vengeance, writes Siddharth Srivastava.

The rapid growth of the private sector over the last decade in this country has brought a flurry of changes in many areas — banks, automobiles, airlines, retail, real estate.
One big change is the spawning of credit cards. India, usually a land of scarcities (water, electricity, health care), is now faced with a deluge of plastic money.

The choice is unlimited and the players are innumerable — HDFC, Citibank, ABN Amro, American Express, State Bank of India, HSBC, Standard Chartered, ICICI to name a few.

With direct sales to the customer the chief aim, each card provider has an army of boys parked anywhere in the Capital. They can be found perched just about everywhere. At marketplaces these agents approach the prospective customer and promise that buying their card could fetch huge shopping discounts, at gas stations they offer to fill up without surcharge, outside cinema halls they dangle movie discounts, outside hospitals it's free life insurance with the card, at busy roads accident coverage, at restaurants pizza discounts, outside homes anti-burglary devices, at five-star hotels room discounts; some even hang around public toilets to catch relieved customers in a good mood.

Some add a personal innovative touch. Outside hospitals, for instance, credit card promoters begin by quoting the Gita or some such religious text to remind about the uncertainty of life and the need to plug it with the card. One can catch their polite whispers all the time. "Excuse me sir," they gently butt in. The tone is familiar.

At one time the paan waala existed round every corner of the country, now it is the credit card sellers. They stand out dressed like corporate executives, a bit sweaty, as they don't perform inside air-conditioned conference halls. They are almost a cultural artifact now.

Such is the array of choice that it sometimes becomes difficult to decide on a credit card. After a little study one discovers that the cards are same for similar credit range, give and take a few tie-ups. It also becomes apparent that the discounts are covered by the high rates of interest on the credit. Over the past few years millions of Indians have got credit cards, and many have been irresponsible, which in turn has spawned an institution of burly men who try to track down the huge number of defaulters and give the term "movers and shakers" new meaning.

I wanted a credit card to replace the more risky debit cards I own, but made the mistake of giving my phone number to five boys out in the sun, just to check out the details. The credit card companies are smart, I soon found out. For telemarketing they employ young and sweet-voiced girls who are difficult to refuse. The poor boys rough it out in the open, passing on the telephone numbers they collect, to their female counterparts who can cast their wiles from decidedly more comfortable environs..

The girls are all persistent. After a couple of calls, they act more familiar. One beseeched every morning, "Sir, pleeease, pleeease, you have to buy our card." Another called a few moments later, "Sir, if you don't take my card I will not talk to you anymore." The other three also made it a point to regularly call to make similar difficult-to-refuse requests. Soon, I was on a first-name basis — Renu, Anu are two of my frequent callers.

The cloud had a silver lining, it turned out. My wife thought I was having a swinging time. It is not often that so many women treat you with so much importance. Some friends tell me that their wives even changed their views about them after so many girls calling and started behaving better.

The problem was I couldn't decide. The girls do matter, but how does one choose from products that do not differ — pick one from five black identical trousers with five similar sounding girls pleading to take theirs. Ideally I should have taken all five, but I didn't require more than one card to begin with and more than one annual fee.

I was getting desperate. I thought of changing my cell number to avoid the girls as well as the credit card. But, that would be running away form a situation and not solve my need for a credit card.

The second was akin to a swayamwar (marriage selection) wherein I meet the five girls one by one and eliminate them on other criteria, as they sounded similar. This didn't work, as I soon realized that that the ones who talk do not necessarily meet. If there is a request for meeting, it is again the guys who are out in the field who take over. I told one of the girls that I would like to meet her to solve my dilemma. She took my address and sent across a person from the army of boys. As per some unstated rule, the boys do the running around while the girls only talk on the phone. I did feel a little cheated.

The boy came on a bike, smelling of sweat, given the hours spent on the road. He spoke by rote and recited the same paragraph he knew by heart again and again for every query. He asked me for my bank statement and whether I own a car and house. I signed at three spaces and he shook my hand and left saying that the credit card will be on its way.

Soon I was the owner of a credit card but the other four girls continued to call. I had to get my wife in the picture. Women have a way with each other. She asked them to stop calling and they stopped. "You aren't what I was beginning to think you were," my wife remarked.

- Siddharth Srivastava is a journalist based in New Delhi.

|TOP|

---
REPORT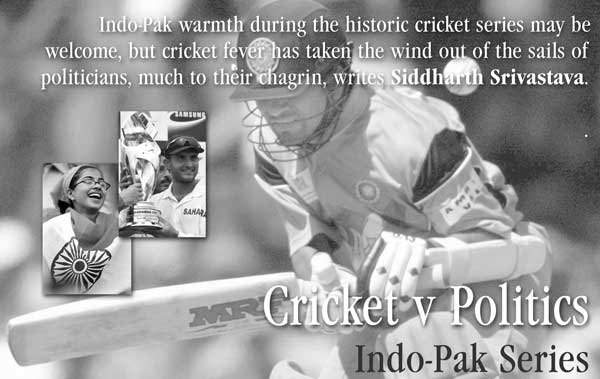 Cricket v Politics:
Indo-Pak Series - By Siddharth Srivastava

Indo-Pak warmth during the historic cricket series may be welcome, but cricket fever has robbed the wind out of the sails of politicians, much to their chagrin, writes Siddharth Srivastava.

The past month has been a bit of a unique mix for this country. Two subjects, cricket and politics, that grip the nation most passionately have been at the forefront of public minds. The Indian cricket team is back from a historic trip to Pakistan, with the two neighbors playing each other in either country for the first time in 15 years, a period that has witnessed the Kargil conflict and near-war like situations with troops amassed along the border. The month of April-May will witness the nation electing a new government at the center, with the Bharatiya Janata Party and the Congress, the two main parties vying for votes.

When it comes to a choice between cricket and politics, the country is universal in its preference — it is cricket. To start with, many politicians, including stalwarts such as Andhra Pradesh Chief Minister Chandrababu Naidu expressed dissatisfaction with the fact that cricket was being made to overlap with the run-up to the elections. The complaint was that people would simply not vote if a match were to be played on voting days, which will be in phases over two months. The other problem was that it would be difficult to draw crowds at election rallies during match days that extended to five one-day internationals and three test matches (a total of 20 days of actual play apart from the pre and post-match hype). The overlap did not happen as the Election Commission played it safe by ensuring that the voting days fall after the series is over.

The other predicament making matters worse politically was that the series turned out to be a closely fought one. Facing the brunt of cricket was Deputy Prime Minister L.K. Advani who was on a country wide Rath Yatra across the country proclaiming the BJP message. People simply did not turn up to listen to Advani when a match is on. Advani resorted to fitting wide television screens either side of his caravan bus, telecasting the matches live to draw the crowds. He peppered his speech with the latest score in order to keep the crowds updated and humored.

Advani's is not the only dilemma. News reports from across the country told the same story — sparse crowds at election rallies whether India is batting or fielding. Such is the interest that even film stars, the one perennial weapon used in politics to draw the crowds failed. Major political parties assigned staff to monitor the match days so that no big announcements such as release of manifesto or a press conference by any leader of standing happened if India is doing well. This was to prevent being relegated to inside pages of newspapers or the post-commercial slots in television news, as cricket took the front slots. Regular party briefings were postponed during match days to prevent journalists being inconvenienced.

Election speeches with cricket lingo were the order of the day for maximum response from the crowds. In a recent speech Prime Minister Atal Behari Vajpayee said that the number three is lucky for the country as well as him. This is the third time that he would be prime minister if the BJP won, the Indo-Pak peace process was a result of his third attempt after Lahore and Agra and Virendra Sehwag has become the first Indian ever to score a triple century during the ongoing series. Sehwag drew the biggest cheers.

Others have also joined the cricket bandwagon. Gujarat Chief Minister Narendra Modi sought to make amends to his personal attack on Congress president Sonia Gandhi and her son Rahul by saying that in such a big electoral match-up no-balls and wide-balls are bound to be delivered. There was a perpetual race to send congratulatory messages across the border each time India performed well. Vajpayee, Sonia Gandhi as well as sundry other politicians wired instant missives to individual players as well as the team for every victory or milestone. The Indian team, performing quite well over the past couple of years, has perhaps never received so many posts for one series.

The BJP and the Congress have also been at pains to put each other down on where the credit for cricket should lie. Each time India wins, the BJP makes it a point to club "India winning" with its election campaign of "India Shining" while at the same time reiterating that the matches are being played due to the initiative of Vajpayee, in the first place. The Congress, on the other hand, uses every public relations tool it can marshal to convey that the achievements of the cricketers should be seen as such and not as a victory of the BJP, which the party is trying to portray.

It is true that cricket is the one opium that unites the country like none else. While politics is about vote-banks whether based on caste, creed, religion or the rich and poor, cricket cuts across all social barriers. Top corporate offices as well as roadside vendors, people in well-heeled suits and ragged clothes are all glued onto televisions sets. One of the best performers during the one-day series was Mohammed Kaif, a Muslim who has the whole-hearted support and wishes of every Hindu in this country. Sehwag, the toast of Indian cricket, belongs to a lower middle-class family, driving a scooter to work, until he made it big. Other stars such as Rahul Dravid and V.V.S. Laxman belong to middle-class erudite families of professionals. The captain Saurav Ganguly comes from a well-settled business family. Indian icon Sachin Tendulkar grew up playing local cricket in the maidans of Shivaji Park in Mumbai.

All the big names from diverse backgrounds above are linked by one parameter — performance, a microcosm for the entire nation striving for the ideal of unity in diversity. It is no wonder that when the Indian team performs well one billion people celebrate. It is also apparent why the people of India prefer cricket to politics — no sectarianism, no religious fanaticism, no pseudo-secularism. Cricket is all about hitting a six or taking a good catch. It cannot get simpler and straighter.

- Siddharth Srivastava is a journalist based in New Delhi.

FINANCE: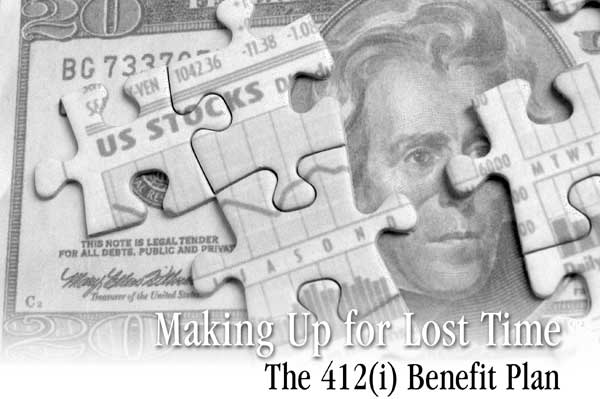 Making Up for Lost Time:
The 412(i) Benefit Plan - By Ashok Gupta

The 412(i) plan offers a chance to dramatically raise tax-deferred retirement savings for high cash-flow professionals and entrepreneurs like doctors, attorneys and CPAs or software entrepreneurs, writes Ashok Gupta.

Most business owners spend their early years putting everything back into their business. They invest their time, blood, sweat, tears, and yes, even their profits. Now that your business is moving in the right direction, what about the future?

When it comes to "making up for lost time," there are a number of options that business owners can take advantage of for their retirement. Many business owners in this situation have chosen the fully-insured 412(i) qualified defined benefit plan guaranteed by the claims paying ability of the issuing insurance company.

This plan is particularly helpful for professionals with high cash flow like doctors, attorneys and CPAs, small businesses with high cash inflow and low inventory costs like software entrepreneurs, who can dramatically maximize tax-deferred savings, with their benefits guaranteed.


| | | | |
| --- | --- | --- | --- |
| Owner age: 55 Retire age: 62 | 401(k) Profit Sharing Plan | Traditional Defined Benefit | Fully Insured 412(i) Defined Benefit |
| Maximum annual contribution | $42,000 | $156,941 | $350,255 |
The example shown here compares the difference in deductible contributions between a fully funded defined contribution plan, a traditional qualified defined benefit plan, and fully insured 412(i) defined benefit plan.
Assumptions:
2003 tax year

401(k) profit sharing plan contribution includes $2,000 salary deferral make-up provision.

Traditional defined benefit plan based on 5.5 percent reasonable interest rate.

412(i) defined benefit plan contribution based on 3 percent minimum guarantee rate.

Salary $200,000

Tax bracket = 40% state and federal

As the chart illustrates, if you have consistent cash flow and a short timeline, a 412(i) plan can be a preferred tool to maximize current tax deductions while at the same time allowing you to secure guaranteed retirement benefits and make up for lost time.

New Tax Law. The new tax law signed by President George Bush put "benefits" back into defined benefit plans for small business. Defined benefit plans, popular from 1974 through 1987, have made a comeback with the new tax law. The 412(i) plan is the defined benefit plan counterpart to the 401(k) plan. The 401(k) plan limits the amount of contribution to $13,000 per person. The 412(i) plan limits deductions based on an actuarial calculation and can guarantee you and your spouse a lifetime income up to $165,000 per year. You may contribute and deduct $13,000, $40,000, $100,000, $300,000 — or more.

The 412(i) defined benefit plan is best suited for older highly compensated employees. It allows the business owner to accumulate substantial retirement funds in a short period of time. The benefits are guaranteed by an insurance company and by the PBGC — Pension Benefit Guaranty Corporation. The assets must be invested in guaranteed insurance products — either life insurance policies or annuity contracts or both.

Larger Contributions Now Possible. Compared to a traditional defined benefit plan, the 412(i) defined benefit plan allows larger contributions in the early years. The 412(i) plan is a defined benefit plan that is exempt from the minimum funding standards under section 412 of the Internal Revenue Code. Contributions are determined based on the insurance product guaranteed interest rate as opposed to an actuarial assumed interest rate. The 412(i) plan is funded with products that guarantee a minimum fixed rate of return. Above the long-term guaranteed interest, the products yield current interest based on market rates of return.

A 412(i) plan accommodates groups of one to 500 or more employees if designed by an enrolled actuary. Most plans covering five or fewer employees are designed on a prototype basis. The 412(i) plan is an ERISA plan, which means the assets are exempt from the claims of creditors.

Custom designed cross-tested 412(i) plans combined with 401(k) plans have also become popular. This means you may be able to have both plans in place at the same time. Custom designed plans may require the services of an enrolled actuary. However, the savings on groups of five or more employees can more than make up for the cost of setting up and administering two plans instead of one.

The 412(i) program provides significant benefits to an individual owner, his/her company and employees including:

Avoid market risk — The 412(i) plan is a fully insured qualified defined benefit plan with benefits that are guaranteed by the claims paying ability of the carrier issuing the products that finance the plan. This shifts the market risk from you and your business to the insurance carrier providing the products.

Tax advantaged — The tax-deductible contributions potential for these plans are the largest qualified plan contributions available in the market today — for the right client profile. In addition, assets grow tax deferred.

Credit protection — These plans provide credit protection for the underlying plan assets because they are designed to comply with the requirements of Internal Revenue Code sections 401(a) and 412(i) as well as ERISA (Employee Retirement Income Security Act 1974).

412(i) Defined Benefit plans have been around for over 25 years. They have been authorized the Internal Revenue Code. However, these plans are not for everyone. They are ideally suited to growing, profitable businesses with strong cash flow, which is expected to remain constant over at least a 5 – 7 year period. These plans offer guarantees and predictability — to help ensure you have adequate replacement income during your retirement years.

Base Price: $36,425

Price as Tested: $47,245

Engine: 3.3-liter V6

Horsepower: 230@5,600

Torque: 242@3,600

Wheelbase: 106.9

Overall Length: 186.2

Overall Width: 72.6

Transmission: Five-speed automatic

Mileage: 18/city, 24/highway

- Sally Miller Wyatt is a freelance writer
who writes family-oriented auto reviews for
newspapers, magazines and the Web.
|TOP|
---
Bollywood: | Guftugu | Hindi Film Review |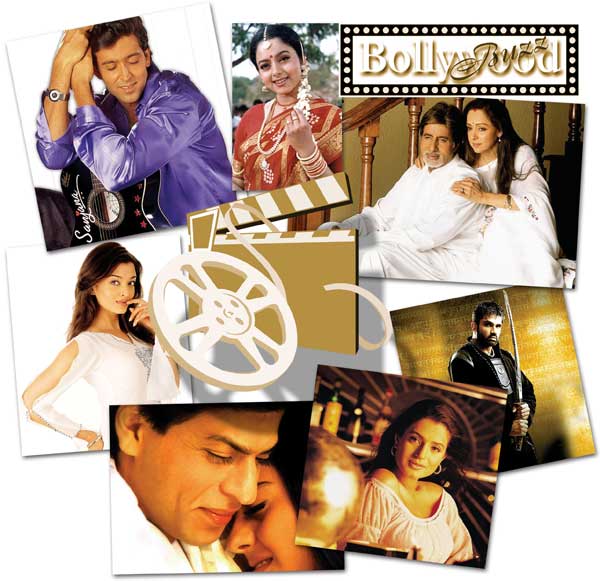 Guftugu

Bizarre Rumor

Filmmaker Vikram Bhatt's mother recently filed a police complaint against Amisha Patel's parents alleging that they had threatened the director with dire consequences if he and Amisha kept meeting. Well, now comes the bizarre rumor that Amisha (who was shooting in Singapore for Vashu Bhagnani's new film) had shifted bag and baggage to Vikram's house. What are Amisha's parents going to do now?
|Return to Bollywood Index| |TOP|

Hema Puzzles

Everybody knows how this year's elections have drawn pretty much everyone from tinseltown. The effect Bollywood stars are having is something else again. Take the case of Hema Malini. The other day she was campaigning like her fave co-stars and persons Jeetendra, Manoj Kumar and above all Dharmendra for the Bharatiya Janata Party in Gujarat.

She promises the audience that she will keep a tanga following the elections. The audience is bemused. The region is affluent, brimming with NRI bucks, who cares about a tanga. Then Hema praises the Amul cooperative movement. Now this is even a bigger faux pas, because the cooperative movement is controlled by the Congress Party. Praising it in a BJP rally is not unlike praising a good quality whiskey at an Alcoholics Anonymous meeting.

Perhaps everybody would be better off if film stars returned to where they belong—Bollywood.
|Return to Bollywood Index| |TOP|

Crossover Star

Despite all this hype about crossover films and film stars, no one from Bollywood has really made a mark in Hollywood with the possible exception of Shekhar Kapur. Could Bollywood beauty Aishwarya Rai be the next?

Rai is already starring Bride and Prejudice , based on Jane Austen's novel "Pride and Prejudice," produced by Kintop Pictures. The film is directed by Gurinder Chadha, who has rocked box offices around the world with the crossover film Bend it Like Beckham.

Now she has been lined up for another crossover film being produced by Chadha.

The film, Mistress of Spices , will be produced jointly by Chadha and Kintop Pictures of Los Angeles, but will be directed by Chadha's husband Paul Mayeda Berges, who makes his debut as a director.

"Gurinder and I will produce this film and we are talking to Aishwarya to do a role in this film too but so far there has been no commitment from her side," said Kintop Pictures president Deepak Nayar.

Hollywood trade magazine Variety quoted Chadha as saying talks are ongoing with the star. "There's no deal yet," Chadha said, "but she wants to do it and she wants to continue the relationship with us."

Mistress of Spices is a story of an Indian woman who runs a spice shop in San Francisco. She has mysterious powers to cure problems of her customers but when she falls in love with a lonely man who visits her store, she starts losing her magic. It's based on a novel by Chitra Divakaruni Bannerjee.
|Return to Bollywood Index| |TOP|

Bollywood and Polls

The Mumbai North-West Lok Sabha constituency houses the who's who of Bollywood, and now stars are being pulled in every direction by politicians keen to cash in on their celebrity status.

Sanjay Dutt made his star presence for his father and Congress nominee Sunil Dutt. That unnerved Sunil's rival Shiv Sena candidate Sanjay Nirupam, who paraded a host of movie and television artists in his support, trying desperately to offset the ripples caused by the Munnabhai MBBS star.

Ironically, Bollywood strongman Suniel Shetty turns up to root for Nirupam. This guy is a buddy of Sanjay, but he couldn't avoid Nirupam's frantic calls. He hit the road to campaign for Nirupam.

A Rajya Sabha member, Nirupam is ill at ease, despite the fact that he has already had one round of star campaigning in his constituency. The film and television personalities, who joined him in the first round of electioneering were Hema Malini, Jumping Jack Jeetendra, yesteryear actress Bhagyashree, Siti Irani alias Tulsi, Amar Upadhyay alias Mihir and music composer Ravindra Jain.
|Return to Bollywood Index| |TOP|

New 'Deewar'

Tourists reveling in the natural beauty of Rajasthan's desert city of Jaisalmer got a pleasant surprise April 16. Guess who had come to town? Big B, that's who!

Amitabh Bachchan was here for the shooting of his new film Deewar. Now that made more than a few old-timers misty-eyed. The 1070s blockbuster had established Bachchan's angry young man image on silver screen, changing Bollywood forever.

The new Deewar was being filmed in the backdrop of sand dunes at the heritage village of Khaba, about 30 km from Jaisalmer.

Actors Sanjay Dutt and Akshay Khanna also participated in the week-long schedule of the movie being produced by veteran director Tinu Anand.

Fort city residents were enthralled to see Bachchan, who visited this city after a gap of three decades. He had come here in the early 70s for the shooting for Reshma aur Shera, in which he portrayed the role of a mute boy.
|Return to Bollywood Index| |TOP|

Karan's Appeal

Whiz kid filmmaker Karan Johar is smiling at last. Some troublemaker had taken him to court because his blockbuster Kabhi Khushi Kabhie Gham had a scene where the Indian national anthem was sung. The plaintiff argued that pretty much everybody was sitting through the scene instead of standing in respect of the national anthem, and thus disrespecting the national anthem.

A Division Bench of Chief Justice V.N. Khare, Justice S.B. Sinha and Justice S.H. Kapadia allowed the appeal by the producer and the director against a Madhya Pradesh High Court order asking them to delete the National Anthem part from the movie or withdraw it from cinema halls across the country.

Agreeing with the central government's clarification in this regard issued subsequently, the bench said there was no need for the audience to stand up if the National Anthem was sung as part of a movie, documentary or newsreel.
|Return to Bollywood Index| |TOP|

Angry Hrithik

Apparently Hrithik Roshan has turned down a film with the Chopras. It seems that the Chopras had approached Hrithik with a film to be directed by Shaad Ali and was handed a script in which the actor demanded a few changes. But insiders had it that Roshan was not interested in working with an inexperienced director like Shaad, so what if he had Saathiya to his credit.

The Roshans are pretty upset with the Chopras for not giving Hrithik the same importance as Shah Rukh. Whenever an outside director is to make a film for their banner they approach Hrihtik. But when it comes to Yash or Aditya Chopra, they cast Shah Rukh, say the Roshans between gritted teeth. Rakesh Roshan said, "Hrithik has not taken any decision as yet. Things will be known only after he comes back," he said. Meanwhile it is Abhishek Bachchan who is being considered for the role. Rakesh Roshan currently is busy planning a sequel to Koi Mil Gaya
|Return to Bollywood Index| |TOP|

Tax Man Cometh

The I-T guys are now after Amitabh Bachchan, Aishwarya Rai, Akshay Kumar, Fardeen Khan, Shah Rukh Khan and nine others who endorse brands. Apparently, the rules state that these services come under the category of "business auxiliary services" and are taxable to the tune of eight percent. Shah Rukh and Aishwarya have already paid Rs 4 million and Rs 2.2 million respectively.
|Return to Bollywood Index| |TOP|

Tributes for Star

A large number of Kannada artists, writers and academicians April 18 in New Delhi paid tributes to south Indian actress Soundarya who died in a plane crash a day earlier.

In a condolence meeting here, M.B. Samaga, editor of Dehali Kannadiga, a Kannada monthly, said Soundarya brought glory to Kannada cinema with her acting in Dweepa, which won her the national Best Actress Award last year, a release of the monthly said.
|Return to Bollywood Index| |TOP|
---
Hindi Film Review
Comic Sexcapade Caper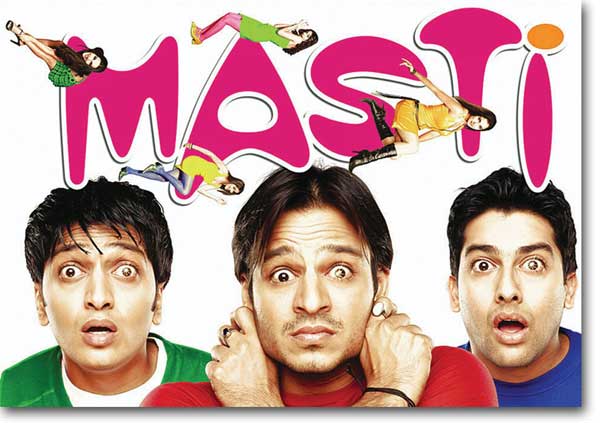 MASTI
Directed by:
Indra Kumar
Music:
Anand Raaj Anand
Starring:
Ajay Devgan, Aftab, Amrita Rao, Tara Sharma, Vivek Oberoi, Riteish Deshmukh, Genelia D'souza, Lara Dutta, Satish Shah, Shahbaaz Khan and Archana Puran Singh
Bollywood seems to having a ball with extramarital shenanigans—on reel, I mean—with films like Hawas and Murder desperately aping the Hollywood film Unfaithful. Such are the times we live in. What with the sizzling Bipasha opening the floodgates with the aptly titled Jism and television soaps immersed in extramarital sexcapades, marital fidelity is now rarer than hen's teeth in the imaginary world of Bollywood.
Masti has joined the crowd, but to its credit, it manages to get more than a few laughs along the way. Indra Kumar had it in him, as he had shown in Dil and Ishq before.

Of course, this being Bollywood, ribald allusions are not quite nonexistent, and some slapstick is also inevitable, but it's a pleasant surprise to find both kept to a minimum as agile scriptwriters Tushar Hiranandani and Milap Zaveri throw in enough surprises in their incident-packed script to keep the audience guessing and laughing.

The story revolves around three friends, the jeweler Meet (Vivek Oberoi), the banker Amar (Riteish) and another banker Prem (Aftab) all of whom are beginning to tire of their wives. Meet's wife (Amrita Rao) is uncharitably dubbed satellite because she keeps an eagle eye on hubby. Amar's wife keeps him on a tight financial leash. Prem's wife is so involved in pooja path that poor hubby is starved for sex.

Frustrated at home, the three decide to go for a fling, imagining this will be as delicious as restaurant biryani compared to the boring daal-chawal at home. After a few hilarious false starts, it turns out that all three are taken for a ride by the sultry siren Monica (Lara Dutta), and they discover to their chagrin that her intention was never to have a good time with them, but to nail them all for blackmail. The biryani, it seems, is poisoned.

Things start going downhill for them from now. Monica turns up dead, and the investigative cop (Ajay Devgan), takes an extremely jaundiced view of these three people.

A whodunit in the middle of a comedy sounds outlandish, but Indra Kumar makes it work rather well with a nifty trick: he keeps popping surprises till the very end.

Several other factors help make the film fairly entertaining, and good performances from most of the performers is one. Aftab plays his hyperkinetic Jim Carrey-esque with abandon; Riteish is a good foil with his deadpan act; Vivek Oberoi, interestingly enough, isn't able to really hold his own. Ajay Devgan, not for the first time, is a scream as the dour, surly cop—his understated humor is a joy. Lara Dutta is superb, and even Archana Puran Singh and Satish Shah also do their part. The music works well, and technical values are quite satisfactory, but most importantly, the director has a good idea of where he is taking the story.

Of course, it's not cerebral wit, nor would this make critics at Cannes swoon. But who cares? Bollywood buffs are a tolerant bunch, and give them an entertaining film made with intelligence and care, and they will forgive a thousand sins.

The great thing about Masti is that like Munnabhai MBBS, it makes the audience laugh. This is no mean achievement in Bollywood where lack of intelligence or simple good taste is apt to the sort of filmi humor that more often makes the audience cringe.

If the audience can laugh, who on earth would grudge director Indra Kumar laughing all the way to the bank. He deserves it.

|Return to Bollywood Index| |TOP|
---
Tamil Film Review:
Laudable, Socially Conscious Film

KANAVU MEIPADA VENDUM

Director:
Janaki Viswanathan
Cast:
Ramya Krishnan, Asim Sharma, Thanu Vidhyarthi, Lakshmi Gopalaswamy, Ganesh Babu, Uma Riaz, Bijay Menon, Hans Kaushik, Sudharani Raghupathy.
After her award-winning Kutti which showed the plight of a little girl working as domestic help, director Janaki Viswanathan returns with her second film, which is about a youth who manages to rise above the modest circumstances of his parents and community, educates himself, and becomes a crusader for his people.
Unlike Kutti's depressing ending, the director has ended this film with hope. The message is that parentage and upbringing can never stand in the way of one's achievements and goal.

The film begins with a flashback. Spanning 50 years in the life of a man, it is set in the late '50s and early '60s and moves to the present time. It follows the life of Mohana Sundaram, born in a Devadasi community. When his mother Varalakshmi (Ramya Krishnan) goes off to Mumbai to try her luck in films, the neglected, lonely boy ends up in a juvenile home.

But the encouragement of warden Sundarapandyan (Kaushik) and his own determination sends him high up the ladder of academics, helping him become a doctor of repute. His marriage to a colleague ends in the parting of ways when his pregnant wife (Lakshmi Gopalaswamy) finds herself unable to reconcile herself to the return of his mother into his life.

A disturbed Mohan returns with his mother to his village with haunting memories of his past. Determined to work for his people, he finds strength to hold his own against a harsh world.

Ramya Krishnan exudes a certain dignity and charm as Varalakshmi, a Devadasi reconciled to her fate. Debutant Asim Sharma, after a hesitant start, gets comfortable with his role. There is adequate support from Lakshmi Gopalaswamy (from Malayalam films), Hans Kaushik, Ganesh Babu as Saravanan and danseuse Sudharani Raghupathy as Ranganayaki, the ageing Devadasi and mother of Varalakshmi. C.J. Rajkumar's camera creates the right mood, and the late Mahesh's songs blend well with the narration.

Some scenes touch a chord, like the scene where Mohan encounters his mother at a hospital after a 20-year gap. Equally compelling is a scene where mother and son spend time at the beach, their favorite haunt once.

There is no cinematic heroism to make the protagonist larger than life, no melodrama and no attempt to sensationalize. It's a matter-of-fact narration and the style is documentary. The opening scenes are a bit jerky and the dialogues stilted, and a couple of scenes clichéd (the post-marital scenes). But it's a commendable effort from the director whose persistence in making meaningful films on social issues should be appreciated.

|TOP|
---
RECIPE: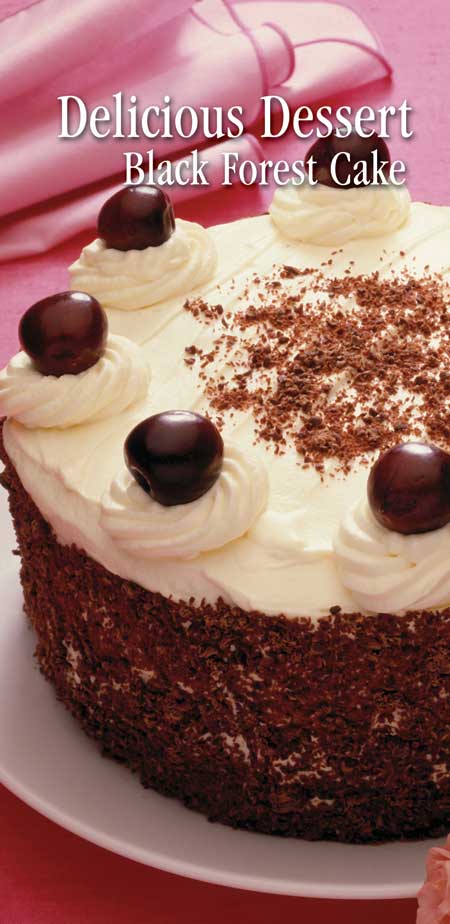 Delicious Dessert:
Black Forest Cake

By Seema Gupta
You can be a proud
desi
and still enjoy an occasional Western treat. Seema Gupta shows you how to make a delicious Western dessert.


Ingredients

A. For cake
• 1 ¾ cup flour (maida)
• 1 ½ tsp baking powder
• A pinch of salt
• 4 tbsp cocoa powder
• 2 large eggs
• 1 cup plain yogurt
• ½ cup cooking oil
• ½ cup powdered sugar
• 2 drops vanilla essence

B. For Icing

• 1 cup of cherries in syrup
• ½ lb fresh cream
• 5 tsp powdered sugar
• ½ cup cherry juice syrup

Method

A. Baking the cake

Mix oil and sugar very well. Add egg, one after another, beating continuously and briskly. Add a bit of yogurt and the flour, mix briskly. Repeat procedure with some more yogurt and cocoa, baking powder. Add and mix salt and vanilla essence.

Pour mixture in a baking dish and bake at 190 degrees Celsius for 20-25 minutes.

Cool and turn on wire rack.

B. Icing the cake

Cut cake into two equal parts horizontally. Take one part and pour syrup on it.

Mix cream, sugar, vanilla essence and cover cake with mixture and cherries. Put pan holding cake in a bed of crushed ice to prevent cream from melting.

Repeat process with second part. Put second part on first part and then cover top with cream and decorate with cherries. Make sure cream covers cake on every corner.

– Seema Gupta is a homemaker
based in Sunnyvale, Calif.
---
May Horoscope By Pandit Parashar

ARIES (March 21 to April 20): Children will plan an exciting evening for you. You are very close to being relieved of past restrictions. You will be more relaxed and negotiations for a big investment will continue. You will get valuable advice from a trustworthy person.


TAURUS (April 21 to May 20): You will feel stressed because of extra work load and fast approaching deadlines. Rewards will be greater than your expectations. Keep and eye for people who have not been reliable in the past. You may be in the process of applying for a loan. Parties will be very entertaining.

GEMINI (May 21 to June 20): Opponents and growing competition will shake up your confidence. Just do your part, success is within reach. You will travel to a distant place on a very short notice. Spouse will be very supportive and try to boost your morale. You will receive a refund in mail.

CANCER (June 21 to July 22): Career related issues will cause major concerns and uncertainty. You will try and succeed in reducing your expenses. You will plan a long distance trip. Do not speculate and avoid making any major investments.

LEO (July 23 to August 22): Money will pour from all directions. It will be a profitable month, specially for brokers. Health will improve as you shed some of those extra pounds. You will be assigned to an important job or contract. Your advice could change some one's life. You will start a wonderful friendship.

VIRGO (August 23 to September 22): You will make slow yet steady progress. Things at work will be in a state of confusion for a while but that will change as things settle down. A close relative will seek your technical expertise. You will be invited to several parties. Spouse will be nervous and edgy.

LIBRA (September 23 to October 22): Investing in property will be a great idea. Meetings will go well and a business trip will show results quickly. You will be in touch with a well-known personality. You may buy some high tech equipment for yourself. Payments stuck for a while will finally arrive.

SCORPIO (October 23 to November 22): Take it easy and focus on real life issues. Work environment will ease as you start working with new faces. Do not make any heavy investments at this point and do not lend money to anyone. An opponent from the past will finally drift away.

SAGITTARIUS (November 23 to December 22): Most of your plans will fall into place without any difficulty. A big contract is within your reach. There will be last minute change in travel plans. You will have many reasons to celebrate. Value of your stocks will appreciate and it will be a good idea to cash in on the profit.

CAPRICORN (December 22 to January 19): You will beat fierce competition. Some of you may start a new job this month and also finalize relocation plans. You will attend an interesting party at an old friend's place. You will contribute to charity.

AQUARIUS (January 20 to February 18): You will hear encouraging news. Some one will guide you to choose the right path. Long awaited career developments will finally take place taking you towards new heights. You will visit a government agency for a small favor.

PISCES (February 19 to March 20): Money will come easy and go easy. Advertising bills will be high. Opportunities will keep coming but only from distant places. You will plan for a family vacation. Be diplomatic and avoid divulging information to a close relative at the party.

---