Publisher's Note
As we have noted in these pages before, there are vast swathes of India that are virtually untouched by the digital revolution that has put the country on the world map. So our attention was piqued when we heard that government officials in Uttar Pradesh were planning to introduce village kids to computers. Quite honestly, India's digital divide is widest here, and we couldn't think of a better place to start.
Alas, predictably, the plan ran into difficulties. It is a sorry commentary on the state's backwardness that at a time when nimble programmers in Bangalore and Pune are matching wits with the best in the world, about 80 percent houses of this sprawling state does not even have access to power. Even those who do have power do not have sustained access.

Here's another lofty goal that's going to crash in India's challenging reality, we thought. Well, we had to think again. Plucky government officials came up with the innovative idea of using solar power to ensure village kids got to be introduced to the most potent tool of today's information revolution. Our cover story has more details.


Stanford University, along with the University of California at Berkeley, has played a pivotal role in the digital revolution in the San Francisco Bay Area and helped launch Silicon Valley. Now it's beginning to take a close look at Asia's hot spots because that's where a lot of the action is. Along with Shanghai in China and Singapore, Stanford is looking at Bangalore and Mumbai as well. Six bright young students spent their summers in India and attended a Global Entrepreneurship Conference attended by many of the captains of India's cutting edge industries. This issue has a report.


Now, on to a different subject. Rakesh Sharma's searing, probing documentary on the Godhra riots and its horrible aftermath in Gujarat, Final Solution, has won a slew of international awards including the Berlin Film Festival. Yet the irony of it all is this: The film cannot be shown in India because the censor board, in its infinite wisdom, feels the film will create misunderstanding among various communities.

Talk about shooting the messenger. Community activist Raju Rajagopal, a member of the Bay Area-based Coalition Against Communalism, writes a scathing critique in this issue which takes the government to task for its bizarre sense of priorities.

|TOP|
---
MAIN FEATURE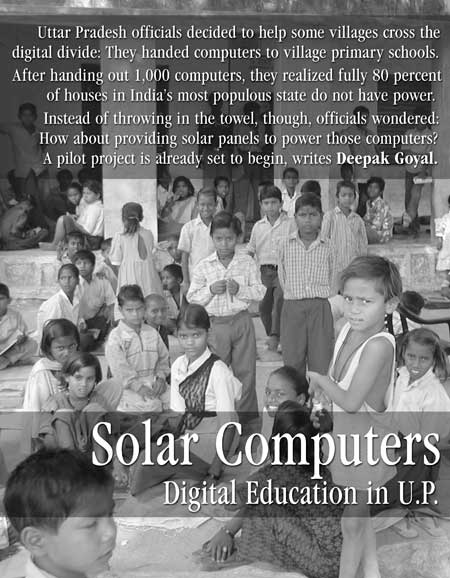 Solar Computers:
Digital Education in U.P.

Deepak Goyal
Uttar Pradesh officials decided to help some villages cross the digital divide: They handed computers to village primary schools.

After handing out 1,000 computers, they realized fully 80 percent of houses in India's most populous state do not have power.

Instead of throwing in the towel, though, officials wondered: How about providing solar panels to power those computers? A pilot project is already set to begin, writes Deepak Goyal.

The Uttar Pradesh Education for All Project Board had a great idea last year. It decided to take a big step to bridge the digital divide where the gap was most acute, so it thought it would teach village kids computer skills. It bought 1,000 computers for selected primary schools in all 70 districts.
Teachers were given special training for computer-aided education, but it turned out the villages where the schools were selected had no power lines. Another 1,000 computers are to be purchased this year for village schools this year, but most of these will not work because there is no power available.

This should not come as a surprise in a state where four out of five houses have no power, and many villages suffer frequent power cuts. Many villagers use kerosene lamps for light and most government-run primary schools have no power at all.

So the computers sat idle in the primary schools, essentially unusable show pieces.

This Kafkaesque scenario could easily have gone down as another instance where good intentions had come to naught in the harsh realities of rural India.

Instead, a government agency has come up with an innovative solution: Why not power the computers with solar power?

Uttar Pradesh's Non-Conventional Energy Development Agency, setup in the year 1983 as a nodal agency for promotion and development of non-conventional energy sources in Uttar Pradesh, has come forward with the idea of providing solar power for computers NEDA director G. Patnaik, who is principal secretary of the state's non-conventional energy source department, said, "We have developed the idea of solar powered PCs primarily targeting rural academia where power shortage and power cuts are rampant. The solar powered panel would provide four hours of non-stop power supply in a day."

A solar panel costs between Rs.40,000 to 50,000. Two state government departments have joined hands to run computers on solar energy with an aim to empower the rural students in computer education and extend the e-facility even to remote areas, yet to be electrified by the state utility.

"NEDA installs the whole system for rural schools in UP where this project has been started as a pilot," Patnaik said. "This is equally useful for commercial use by corporates as well as home PC users. Thus more and more commercial organizations need to come forward to give the much needed fillip to this idea."

U.P.'s Education for All Project

The Uttar Pradesh Education for All Project is located in the most populous state of India, which has a mind-boggling 34.86 million children in the elementary sector (age 6-14), 14.11 million in the secondary sector (age 15-18) and 11.78 million children (age19-22) in the area of higher education.


The Education for All Project specifically targets the 6-14 age group.


A World Bank-assisted Basic Education Project had been undertaken since 1993 for expansion of quality basic education in the state.


For smooth running of this project, the Uttar Pradesh Sabhee Ke Liye Shiksha Pariyojana Parishad (U.P. Education for All Project Board) was established in May, 1993.


The Parishad aims to implement the Uttar Pradesh Education for All Project. Its aim is the universalization of primary education, viewed as a composite program of (i) access to primary education for all children up to 14 years of age; (ii) universal participation till they complete the primary stage through formal or non-formal education programs; and (iii) universal achievement at least of the minimum levels of learning.

The Parishad's agenda include:

Ensuring continuing education and skill development programs for youth.

Making suggestions for greater gender equality in education and female empowerment.

Making necessary intervention to provide equal educational opportunity to children belonging to the scheduled castes, scheduled tribes and the poorest sections of society.

Laying special emphasis on all educational activities on culture and communication; science and environment and inculcation of a sense of social justice.

The District Primary Education Program began towards end of 1994 as a modest effort for providing financial and technical assistance to selected states in the country towards achieving the objectives of universal primary education. The DPEP started with 42 districts spread over seven states. It now covers 271 districts spread over eighteen states and is perhaps the largest ever program of primary education development in the world.
Initially, the state's primary education department has selected Lakhimpur Kheri where the joint venture will take off on a cost-sharing basis. "If the Kheri experiment succeeds in reducing the conventional power dependence, the same would be extended to 1,050 rural schools all over the state," Kirpal Singh, basic education minister, told the Times of India.
Encouraged by NEDA's gesture, the department is now offering training to teachers in computer education through the government-approved information technology institutes. Developed by a leading U.S.-based software giant, the department has borrowed specially-designed software from the Madhya Pradesh government. The software was developed by the M.P. government in accordance with the needs of the primary-level students.

Already a year late, the basic education department now hopes to begin computer education in rural schools to fulfill the goals of the Education for All Project. "Once the program begins successfully, we plan to extend e-facility in these schools to empower rural folks on the pattern of Andhra Pradesh," a senior officer of basic education department said.

Parthsarathi Sen Sharma, director for the Education for All project, said funds for the solar panels would be arranged on a 50-50 basis by his department and NEDA, and though initially expensive, the expenditure will be cost effective in the long run.

As authorities in the education and alternative energy departments try to arrange funds, some farmers who have solar pumps for irrigation are making finding innovative ways to use this natural and clean energy source for other purposes, the BBC reports.

Solar energy is generally used for cooking, heating water, light and running tube wells.

But Gyaneshwar Varma, who lives in the village of Tikara Patti nearly 50 km east of the state capital Lucknow, bought a computer 15 years ago, primarily to play card and chess games.

A civil engineer by training, he later bought another computer for his school, but it ended up being a show piece because there was no electricity supply.

Varma had to take his children into the village to learn about computers, but here, too, the power supply was very erratic and there was no fixed schedule for power.

So Varma installed a solar pump in his school campus to irrigate his farms.

Now he wants to convert the solar energy into 220-volt AC electricity, and has hired a mechanic from the Kanpur to make a power inverter for $124.

"When my solar AC converter is ready it will be very convenient. I will run computers as well as fans in my school," Varma told the BBC.

Although government regulations say solar pumps should be used only for irrigation, farmers and youths are devising all kinds of new uses of solar energy, generating employment and additional income.

One villager in Umari, Barabanki district, is charging batteries to run televisions, making $3.50 a day.

Sharmail Singh has dug a pond near his solar pump in his farmhouse, which is used for fisheries and drinking water for buffalos. Solar pumps provide light in the night via a battery.

"It is almost a power house," said his son Ranjit Singh.

To be sure, solar energy is still a small part of the state's energy source. Last year, 109 solar pumps were installed in Uttar Pradesh. It's nothing compared to 2.7 million diesel engine tube wells and 600,000 electric motor tube wells in the state.

The government, however, is keen to promote solar energy, and it aims to install 400 solar pumps in 2004.

As an incentive to farmers, a heavy government subsidy allows them to only have to pay a fourth of the cost. Banks are also lending farmers the money they need to pay out.

If Varma succeeds in developing the technology to run fans and computers from solar pumps, it may encourage other farmers to do the same, giving them a more reliable and cleaner source of power. And kids in remote villages in U.P. won't have to worry about erratic power supply as they join the computer revolution.

- Deepak Goyal is a freelance writer. He lives in Kolkata, India.
---
INFOTECH INDIA

First Test Tube Goat ... Ramanna Dies ... Six Sigma Concept ... Computers for Villages ... Indian Bank's Online Remittance ... Contracts for Rural Phones ... Calsoft Acquires Kochi Firm ... Tamil Nadu Bullish ... EDUSAT Orbit Raised ... iGATE Growing in Chennai ... Cryogenic Engine Test — Here is the latest on information technology from India

First Test Tube Goat
The National Dairy Research Institute Sept. 24 claimed in Karnal to have produced a test tube goat for the first time in the country. Nagendra Sharma, director, NDRI, said the work was carried out to develop in-house capabilities in establishing pregnancies in goats using in vitro fertilization through laparoscopy technique.
He said a team of scientists comprising Dr. Dhruba Malakar, Dr. S.K. Das and Dr. S.I. Goswami of Animal Biotechnology Centre, NDRI, Karnal, had been working on the project for the last three years and their efforts bore fruits early this year when the first test tube goat was born in the country.

Outlining the technique, the team of scientists said the ovaries were collected from slaughter house and oocytes were isolated from them.

These oocytes were cultured in the laboratory for 24 hours in suitable media and fertilized using sperm from selected bucks.

The embryos were allowed to grow for a few days in the laboratory and transferred to surrogate goats using laparoscopy technique.

The scientists said the results have been confirmed through the process of DNA finger printing of the surrogate parents.
|Back to Infotech Index| |TOP|

Ramanna Dies

Eminent scientist and doyen of India's nuclear program, Dr. Raja Ramanna, died of an intestinal problem in a hospital in Mumbai Sept. 24 at the age of 79.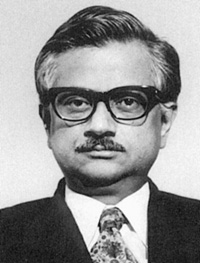 Ramanna, who played a key role in the country's first Pokhran nuclear test in 1974, breathed his last at the Bombay Hospital, Dr. B.K. Goyal, dean of the Hospital, said.

On Sept., 22 night, Ramanna's daughter-in-law and his personal assistant Ramakrishna said the scientist had passed away at around 7:30 p.m. However, a little later, Goyal said the scientist was alive but his condition was "very, very critical." He breathed his last in the wee hours of Sept. 23, Goyal said.

Ramanna, who is survived by his wife, two daughters and a son, was admitted to the Hospital Sept. 20 after he complained of giddiness and sweating.

A multi-faceted personality, Ramanna was chairman of the Atomic Energy Commission, director of Bhabha Atomic Research Center, a former union minister and a member of the Rajya Sabha.

A recipient of Padmashri, Padma Bhushan and Padma Vibhushan awards, Ramanna was the director emeritus of the Bangalore-based National Institute of Advanced Studies.

He had served as scientific adviser to the defense minister.

Ramanna was also closely associated with the Bharatiya Vidya Bhavan and was a lover of music. He was as much at ease playing the piano as he was with discussing nuclear physics.
|Back to Infotech Index| |TOP|

Six Sigma Concept

Highlighting the Six Sigma concept, a top official of Motorola in U.S. Sept. 24 said successful business was all about providing customers pleasurable experience and bringing innovation.



"If you care for your customers, your business will be taken care of by itself. Customers want pleasurable experience and innovation. Six Sigma will help in making the customers come to you," Motorola U.S. executive director of technology, planning and development Noshir Khory said here while addressing "Smartman," a conference on emerging integrated e-solutions the for manufacturing sector, organized as part of the four-day Enterprise ICT Summit, Connect 2004.

He said many companies around the world had misunderstood the Six Sigma concept. "It has been defined as conglomeration of statistical methods involving a lot of calculations. But it is not so. In simple terms it is defined as elimination or reduction of non-value-added costs and offering high quality products at low prices."

He also said that the best kept secret in the West was that "customers will pay more for quality, service and value." Federal Express was the first company to offer overnight delivery and changed the mail delivery system into an enjoyable experience, he pointed out. Customers now wanted pleasurable experience and innovation, he said.
|Back to Infotech Index| |TOP|

Computers for Villages

In a bid to make computers easily accessible for the rural masses, Wipro Corporation is developing low-cost computers that can provide standby power for two hours, its chairman Azim Premji said in Chennai Sept. 23.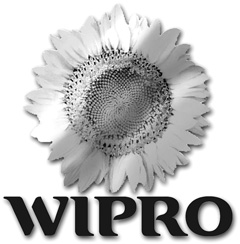 "We are working on a computer that can run with low power requirement," Premji told delegates at the IT conference Connect 2004, organized jointly by the Tamil Nadu government and the CII.

The low-cost computers would be able to provide standby power for two hours to address the issue of frequent power disruptions in villages, he said, speaking on 'Connecting the rural India - a legendary vision'.

Over 700 million people live in villages in the country and the effort was to give a low-cost computer that can withstand infrastructure shortcomings, Premji said.

"Computer penetration is still minimal in Indian villages," he pointed out.

Explaining the initiatives taken by Wipro to connect rural India, Premji said 11 villages in Pondicherry were selected by the company in 1998 to help them in gaining computer skills.

A major area that could benefit from the increased IT adoption was e-governance. "E-governance initiatives by various state governments will be a major driver for improving efficiency in government transactions," he said.

Computers can also attract more students to schools in rural areas, Premji added.
|Back to Infotech Index| |TOP|

Online Remittance

Public sector Indian Bank Sept. 21 launched IndRemit, an online money transfer service that allows NRIs in the U.S. to make online money remittance to India.



Online remittance service provider Times Online Money is the technology partner of Indian Bank for the Web-based remittance product.

"IndRemit allows NRIs in the U.S. to send money to their relatives in India from their offices or homes without even visiting their banks in the U.S.," M.B.N. Rao, chairman and managing director, Indian Bank, told reporters here, after launching the service.

The bank, along with Times Online Money, will extend the service to Europe, including the U.K. and other countries in a phased manner, he said.

For doing the transaction, NRI customers have to visit the Indian Bank Web site www.indianbank.com and click on "IndRemit," which allows the user to register for service of his or her bank account in the U.S. and the recipient's Indian address, Rao said.

Indian Bank's overseas branch in Mumbai converts the foreign currency funds at the U.S. dollar-rupee exchange rate and prepares drafts in favor of the beneficiary.

The drafts are couriered by Times Online Money to the beneficiary or to the beneficiaries bank and the entire process will take a maximum of four days.

The charges for the service are pegged at three dollars for remittance of $51 to $200, six dollars for transfer of $201 to $500 and nine dollars for remittance of $501 to $5,000.
|Back to Infotech Index| |TOP|

Contracts for Rural Phones

State-run telecom major BSNL and Reliance Infocomm have bagged the bulk of the contract for setting up rural community phones under the Universal Services Obligation fund.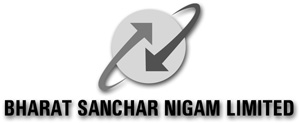 Out of a total 300 Secondary Switching Areas, BSNL bagged contracts for 184 while Reliance won for 97, an official statement said Sept. 20 in New Delhi.

The rural community phones would be provided under the USO fund in 48,310 villages, each with a population of more than 2,000 and with no other public telephone facility.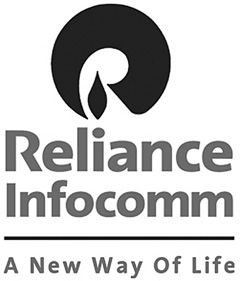 The competitive bidding brought down the cost of the project by about 17 percent from the reserve price.

The USO Fund Administration would cover all the 570,000 villages with public phones. It has already signed agreements for disbursal of subsidy from the fund to more than 520,000 village public telephones.

Bids for the remaining 57,000 such villages have also been invited and the agreements are likely to be signed by November this year, the statement said.
|Back to Infotech Index| |TOP|

Calsoft Acquires Kochi Firm

Chennai-based California Software Company has taken a 50 percent equity stake in the Kochi-based computer hardware company Team Frontline.

The two companies signed an accord Sept. 24.

Announcing the partnership, Calsoft managing director S. Santosh said this strategic investment will not only facilitate the enterprise division of Calsoft to provide its customers a total solution, but also give it an initial operating base in Kerala.

The Middle East market of Calsoft was also growing very fast, which can henceforth be catered from Kerala, he said.

TFL managing director S.R. Nair said Calsoft's participation would provide his company with a vital financial boost, management support and a global reach for its products and services.

Refusing to accept that it was a sell-out, Nair described it as a "strategic partnership." The company, with an authorized capital of Rs. 5 million, was so far confined to only Kerala, and the partnership would allow it to spread its wings, he added.
|Back to Infotech Index| |TOP|

Tamil Nadu Bullish

The Tamil Nadu government is determined to capture the leadership position in information technology sector in the country, state Law and IT Minister D. Jayakumar said Sept. 22 in Chennai.

Inaugurating the four-day ICT event Connect 2004, he said, "The strength of Tamil Nadu lies in its varied base of manufacturing, agricultural and industrial sectors that are effectively deploying IT to increase their competitiveness."

The conference-cum-exhibition, an information, communication and technology event, is being organized jointly by the Confederation of Indian Industry and the state government.

"The state government is determined to capture the leadership position in India in the IT sector and we are taking steps to promote places such as Coimbatore, Madurai, Tiruchirappalli and Hosur as other destinations for IT and ITES services," Jayakumar said.

The state was aiming at getting branded as the "intellectual capital of India," he said, and highlighted the various steps taken by the government in implementing e-governance.

He said a state-wide area network would be set up at a cost of Rs. 100 crore.

Speaking on the occasion, state IT secretary Vivek Harinarain said, "Political stability, proactive government policies and infrastructure facilities" were among the key factors that attracted several IT companies to set up their operations in Tamil Nadu.
|Back to Infotech Index| |TOP|

EDUSAT Orbit Raised

In the second such maneuver in the last two days, the orbit of India's dedicated educational satellite, EDUSAT, was raised further Sept. 22 by commanding it from the Master Control Facility at Hassan in Karnataka.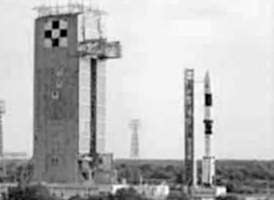 Firing the liquid apogee motor on board the satellite for 42 minutes, the space scientists raised EDUSAT perigee, closest point to the earth, from 8,000 km to 32,800 km, the Indian Space Research Organization said.

The apogee height, farthest point to the earth, remains at 36,000 km, it said in a statement in Bangalore. The first orbit-raising maneuver was carried out a day earlier.

All systems on board the satellite are functioning normally.

EDUSAT came within the radio visibility of MCF Sept. 22 morning and all the necessary operations like earth acquisition and gyro calibration were carried out before the second orbit-raising maneuver was started, the statement said.

EDUSAT was launched by India's Geosynchronous Satellite Launch Vehicle Sept. 20 from the Satish Dhawan Space Centre at Sriharikota in Andhra Pradesh.
|Back to Infotech Index| |TOP|

iGATE Growing in Chennai

Integrated technology and operations company, iGATE Global Solutions, Sept. 21 said it would be investing Rs. 530 million in expansion of Bangalore and Chennai operations and would hire 500 professionals in Chennai to double its capacity in the city.



Bangalore-headquartered iGATE has a 65,000 sq ft facility in Chennai and plans to add a further 35,000 sq ft in the next three months to make it iGATE's second largest facility in the country.

"We have identified the space. The additional space will have a capacity for 350 people. Our Chennai facility currently employs 500 for IT services and we will be hiring over 500 people in the next six-12 months to double our employee base in Chennai," iGATE Global Solutions chief financial officer N. Ramachandran told a press conference in Chennai.

Talking about long-term plan, he said iGATE would have its own building in Chennai. "We have acquired a five-acre space on the IT corridor of Chennai. Though we have not planned anything about the capacity and other facilities, we may commence our construction activities some time during next year," he added.

iGATE is currently in the process of completing its phase 2, 14-acre integrated technology and operations campus in Bangalore. "The phase 2 in Bangalore will have a seating capacity for 1,700 people and we have planned an investment of Rs .450 million for this expansion," he said.
|Back to Infotech Index| |TOP|

Cryogenic Engine Test

India's indigenously developed cryogenic engine will be tested within one year, Indian Space Research Organization chairman Madhavan Nair said Sept. 20 in Sriharikota.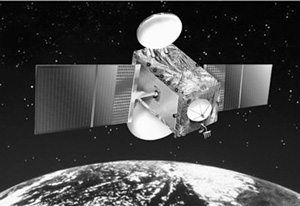 Addressing reporters after the successful launch of 1,950-kg EDUSAT, the country's first exclusive satellite for the educational sector, Nair said the cryogenic engine transfer was stopped in 1994 but the development of it was started recently.

"ISRO has signed agreements with many organizations for the EDUSAT program. Agreements were also signed with IGNOU and AICTE and in another three months 20 more major institutions would sign MoUs with ISRO," he said.

Replying to a question about the advantages of EDUSAT, Nair pointed out that a virtual classroom environment can be created and two-way communication between the teacher and the student can be achieved. Multi-media and multi-cast system with good speed can be provided.

Madhavan Nair said India had once again proved that it can undertake satellite projects with "perfection and thoroughness" to meet any global standards.

Other officials present at the press meet included T.K. Nair, principal secretary to the government of India, Ravindranath, mission director, GSLV-F-01, and Neelakandan, project director, EDUSAT.
|Back to Infotech Index| |TOP|

---
REPORT:

Must-do Checklist:
Indo-U.S. Ties

A
Siliconeer
Report

U.S. ambassador to India David Mulford lists "must-do" items critical to better U.S.-Indian economic partnership. A Siliconeer report.

The U.S. envoy to India is bullish on future ties between two of the world's largest democracies, but he has a check list of items that India needs to take care of. He enumerated the list at a recent lecture in Mumbai hosted by alumni of Boston University.
"I have no doubt that close and collaborative relations between America and India will flourish in the next few years," said U.S. Ambassador to India and Boston University alumnus Dr. David C. Mulford at the recent alumni lecture.

"Prime Minister (Manmohan) Singh and other Indian leaders have clearly projected their intention to undertake a new generation of economic reforms," said Mulford, "(and) there are significant efforts underway to revitalize the U.S.-India economic dialogue."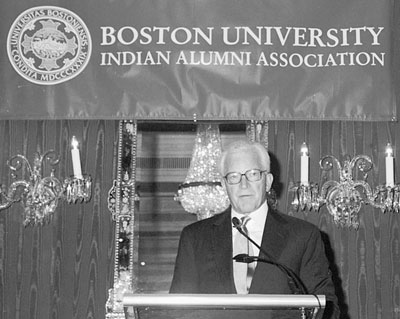 David C. Mulford speaking in Mumbai
---
Among these efforts, said Mulford, are four "must-do" items he sees as critical to a stronger U.S.-India economic partnership: building a world-class infrastructure in India, liberalizing its financial markets, advancing its intellectual property rights and biotechnology efforts, and investing in and deregulating its agribusiness, food processing, and retailing sectors.
Mulford delivered his speech, "U.S.–Indo Relations: From a Strategic to a Comprehensive Relationship," at the event held at the Taj Mahal Hotel. He was introduced by Milind Deora, a recently elected member of the Indian Parliament, a Boston University alumnus, and entrepreneur. Nearly 200 guests, mostly university alumni, attended the event.

Mulford also noted that common interests between the U.S. and India are growing, and include the commitment to defeating terrorism, the search for a freer and more equitable international trading system, military and expansion of defense cooperation, and the search for an equitable peace in the Middle East.

One of the Indian and American partnerships cited by Mulford is the Next Steps in Strategic Partnership initiative, or NSSP, that President George W. Bush and former Prime Minister Atal Behari Vajpayee launched in January. This initiative includes expanded engagement on nuclear regulatory and safety issues and missile defense.

Mulford became United States ambassador to India in January 2004. Prior to being nominated as the U.S. ambassador to India, he served as chairman international of Credit Suisse First Boston in London, England (1992 – 2003). From 1984 to 1992, Mulford served in the U.S. Treasury, first as assistant secretary then as undersecretary for international affairs. He earned a doctorate from Oxford University (1966), a master's degree in political science from Boston University (1962), and a bachelor's degree in economics from Lawrence University in Appleton, Wis.

The 29,000-student Boston University is the fourth-largest independent university in the United States.

|TOP|
---
PHOTO ESSAY

NCM Expo 2004:
Fresno, Calif. -
By Som Sharma
Over 50 media outlets gathered at the Fresno Convention Center, Sept. 24 as part of NCM's showcase for California's ethnic media. A photo essay by Som Sharma.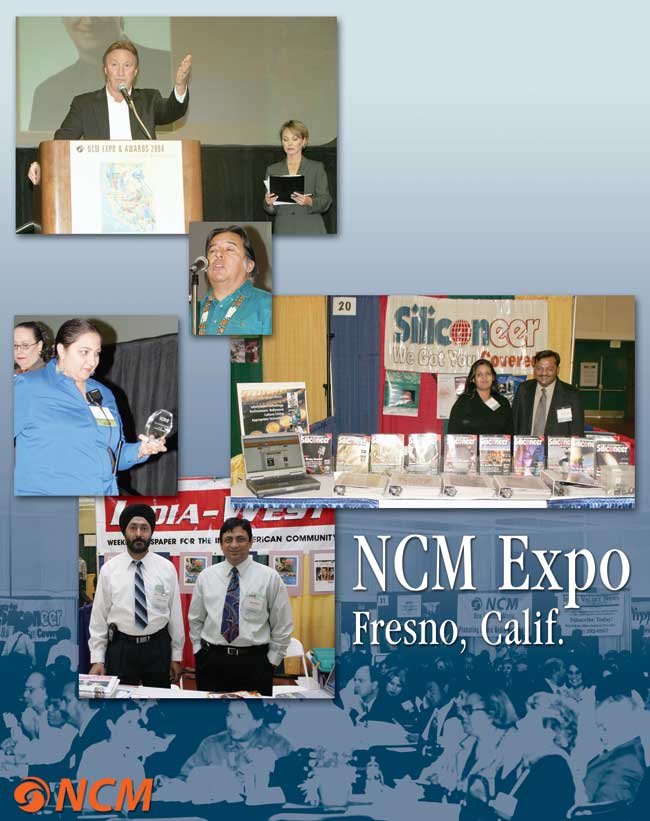 Clockwise from top left:
Alan Autry, Mayor of Fresno during his keynote speech. Also seen is emcee Sydnie Kohara, news anchor with KPIX Channel 5.
Joseph Orozco, manager of KIDE-FM, the first tribal-owned and solar-powered community radio station in Calfornia.

Seema and Amardeep Gupta at The SILICONEER booth at the expo.

Jaskaran Singh and Som Sharma (r) at the INDIA WEST Booth at the Expo.

Rama Mehra, NCM's coordinator for the Expo..

Interested readers can find more information on New California Media at www.ncmonline.com

|TOP|
---
REPORT: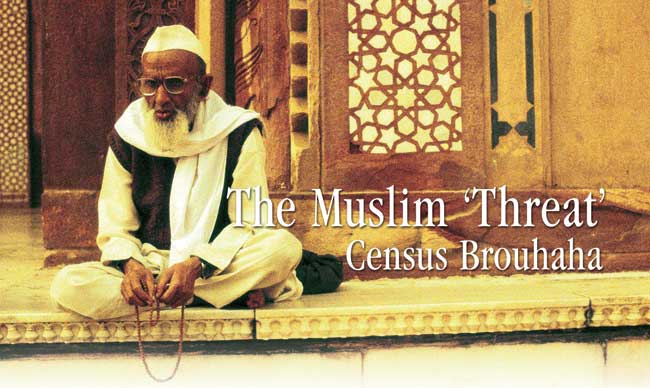 The Muslim 'Threat':
Census Brouhaha
- By Siddharth Srivastava

India's first census based on religion proved too hot to handle as the BJP cried murder without carefully looking at the numbers, writes Siddharth Srivastava.


An incorrect reading of India's first population census based on religion attributing a high growth of Muslims in the country reveals the fractured nature of progress of the Indian polity. Jumping the gun rather than reading the fine print, India's right-wing parties led by the Bharatiya Janata Party (wedded to the ideology of majority Hindu rule, termed the situation "grave," "disturbing," "alarming," with "long-term implications for India's unity and integrity."
However, the fears have turned out to be unfounded as the rise in population of Muslims, though high, is much lower and have been wrongly read by the BJP and its affiliate parties. Experts say the reason for the growth of Indian Muslim population is poverty and illiteracy of Muslim women in particular rather than any sinister design attributed to an entire community.

According to the initial reading of the census report, Hindus continue to comprise an overwhelming majority of the country — 80.5% (out of 1.2 billion) — although their growth rate has declined by 4.8% in the period 1981-91 to 1991-2001, from 25.1% to 20.3%. Muslims account for 13.4% of the population, but their growth rate has nudged up by 1.5%, from 34.5% to 36%. Thus, for every Muslim there are six Hindus in the country.

It is these figures that drew the attention of the Hindu nationalist parties.

Rashtriya Swayamsewak Sangh spokesman Ram Madhav claimed in an interview to The Indian Express that the figures were not surprising "because our people have been studying demographic patterns and profiles and have been giving us reports from time to time." The official census report has "only confirmed what we have been saying for a long time — that there is a continuous fall in the population of Hindus since 1961, and a corresponding rise in the Muslim population."

Echoing the sentiments, BJP president Venkaiah Naidu said the demographic trends were "a cause of grave concern for all those who think of India's unity and integrity in the long run."

The Vishwa Hindu Parishad was a lot more strident. VHP leader Chinubhai Patel has said, "The situation is alarming going by the 36 per cent growth in the number of Muslims in the country. The community is conspiring to convert Hindu rajya (rule) into a Muslim country." He appealed to Hindus to unite and "defeat" the purpose of the Muslims.

In their zeal to score a political point with their dwindling upper caste Hindu constituency, the leaders of the BJP and its affiliates overlooked the fine print that the census includes the Muslims of Jammu & Kashmir and Assam in the 2001 figures, which were excluded in the 1991 census due to security reasons involved in collecting data. Adjusting for this means that both Muslims and Hindus have seen a significant fall in population growth rates. According to the census commissioner, the adjusted Muslim growth rate comes down to 29.3% than the much higher 33% and the Hindu growth rate will decline to 19.9%. This suggests a completely different picture. Not only has Muslim population growth slowed down by 3.5%, it has fallen faster than the Hindu population growth rate which lost 2.9% points in the same time.

Significantly, while discussing the reasons (that turned out to be untrue) for the imbalance between the Hindu and Muslim rates of growth, Madhav said one reason for the declining rate among Hindus, "especially middle-class" Hindus was the adoption of the one or two-child norm. Madhav blamed both "infiltration (from neighboring Bangladesh)" and "the role of Muslim leaders" for the high rate of growth among Muslims.

Madhav said he wanted the entire country to take the implications of the census seriously and not see it as a "communal or secular" issue. "We are not saying that Hindus should have more children or Muslims should not be here. We are only asking for balance and stability." Population stability was in the overall interest of the country, and all communities should practice family planning uniformly, he said. `"It is not about poverty levels but it is about educating the people. If the (Muslim) leadership encourages you to produce more, it results in higher fertility rates."

However, demographer Ashis Bose says that the problem is much more involved which needs to be understood properly. "It is clearly the result of several complex factors including the dismal status of the community in general and Muslim women, more specifically. A recent baseline study indicated that 59 percent of Muslim women have never attended school and that 60 percent of them were married by the age of 17 — as compared to 55 percent Hindu women. Muslim women had also registered a pathetic work participation level of 14 percent in that study. All three parameters — literacy, age of marriage and employment levels — are known to have a crucial bearing on family size and contraceptive practices within a community."

Indeed, the issue is not the census report. The bigger picture concerns the direction of divisive politics towards which the nation seems to be heading, with the BJP now clearing wanting to align itself with upper caste Hindus and not letting any opportunity, whether true or untrue, to malign a minority community go by. Ironically, the results of the census were available to the previous BJP government under Atal Behari Vajpayee, which did not make the figures public at that time as it was looking to woo Indian Muslims as an electoral support base. However, consequent to the defeat of the BJP in the elections earlier this year and the re-emergence of the Congress party, the hardliners in the BJP as well as its affiliates such as the VHP and the RSS are calling the shots, with communal politics being the order of the day.

Not that the ruling Congress party and its coalition partners want to leave any stone unturned in appeasing Indian Muslims as a constituency. Prime Minister Manmohan Singh has mooted quotas in education and employment for Muslims; the Congress-led Andhra Pradesh government is seeking to implement job reservations for Muslims while a key coalition partner of the Congress party in the center is showing more than keen interest in re-opening the cases related to the anti-Muslim Gujarat riots under the Vajpayee government.

The brouhaha has sadly meant that important issues raised by the census has been lost in the shuffle: one such scary statistic is an alarming decline in the sex ratio (number of women every 1,000 men) that speaks volumes about the ill-fate of the girl-child, mercilessly killed even before being born. What do the rabble-rousers have to say about this? The answer, unsurprisingly, is a deafening silence.

- Siddharth Srivastava is India correspodent for Siliconeer. He is based in New Delhi.

|TOP|
Just do three simple things, and you can save up to 15 percent in your gas bill. A Siliconeer report.

Did you know that you can easily save money on gasoline by making smart choices in how you drive and maintain your car or truck? You can save up to 15 percent with only three no-cost steps. And, there are ways to save even more.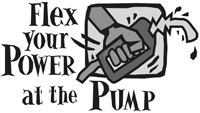 Here's more good news: While you are saving money on gas, you are also helping to reduce air pollution because cars and trucks are a major cause of air pollution.

California Governor Arnold Schwarzenegger is encouraging all California residents, businesses and government employees to use gas wisely in their cars, trucks and other vehicles. He announced the Flex Your Power at the Pump program this summer, and more than 200 companies, cities and community organizations have joined the effort.

Here are the three things to do to save up to 15 percent on gas costs:

Keep your tires inflated to the recommended air pressure. Usually, this number is written on the outside of the tire and is followed by the letters PSI (which stands for pounds per square inch).

Use your air conditioning as little as possible. Most car air conditioners have an "economy" setting that works like a fan.

Drive sensibly. Drive only as fast as the posted speed limits and try to accelerate and brake gradually. Plan for enough time to reach your destination at the proper speed. This is much safer and it saves gasoline.

Here are a few more ideas for saving money on gasoline:

Maintain your vehicle properly. For example, replace your air and oil filters regularly.

Lighten your load. Try not to carry a lot of heavy equipment or cargo. It takes more gasoline to move a heavier vehicle.

Minimize the amount of time your vehicle idles (when the engine is running but the car is not moving). Start up your car only when you and all your passengers are ready to go, and remember it is not necessary to warm up the engine before driving. If you are waiting in the car for more than a few minutes, turn off the engine. Consider parking the car instead of using drive-through windows at restaurants. And, try to avoid traffic jams where you are stopped for long periods of time — instead, try another route or another time to travel.

Combine trips and errands, and plan the shortest route. If you can find one neighborhood or shopping area where you can take care of several errands, park and walk from place to place.

Share rides. You can enjoy time with family, friends, neighbors and co-workers when you travel together. And, on some freeways, there are separate carpool lanes.

Travel by bus, train, bicycle or walking whenever you can.

"Together, we can 'flex our power at the pump' to conserve gasoline, save money, help the economy and the environment," said Schwarzenegger. For more information, interested readers can visit www.fypower.org.

Initiated in 2001, Flex Your Power is a partnership of California's utilities, residents, businesses, institutions, government agencies and nonprofit organizations working to save energy. The campaign includes retail promotions, a comprehensive website, an electronic newsletter, educational materials and advertising.

|TOP|
---
LEFT PHOTO: Bollywood Stars Preity Zinta (l) and Saif Ali Khan seen here with Sahara India Pariwar's Abhijit Sarkar (r) at the inauguration of the film fest at Loews Theatre in New York.

---
Indian business conglo-merate Sahara India Pariwar celebrated Bharat Parva in Britain and the United States with a film festival of Bollywood classics in London, San Francisco and New York.
"The festival is a tribute to Indian emotions, through the screening of blockbuster films like Mother India, Mughal-e-Azam, Chalti Ka Naam Gadi, Lagaan, Dilwale Dulhaniya Le Jayenge and of course, Sholay," said a Sahara press release.

"Sahara India Pariwar strongly believes that as Hindus, Muslims, Sikhs and Christians, we have our religions, our scriptures, our festivals, but as Indians, we have no other religion except 'Bharatiyata' – our national religion and this non-commercial event is to celebrate this very spirit in the supreme benediction of 'Bharat Parva,'" the release added.

The celebrations in New York began with a red carpet gala opening of the International Indian Film Festival attended by over 1,000 people at Loews Theatre, Lincoln Square. Attendees included Bollywood stars Saif Ali Khan and Preity Zinta and noted local NRIs including Sant Chatwal, Gautam Chopra (son of Deepak Chopra), TV Asia chairman H.R. Shah.

Sahara India Parivar chief Subrata Roy Sahara was presented with a certificate of recognition on behalf of the Indian American community. This recognition was received by. Abhijit Sarkar of Sahara India Pariwar on behalf of Subrata Roy.

In addition Sahara was recognized by a number of U.S. officials and institutions, including New Jersey Gov.. James E. McGreevey, U.S. Sen. Jon S. Corzine, D-N.J., the Township Committee of the Union, N.J., the N.J. General Assembly, U.S. Rep. Frank Pallone, Jr., D-N.J., Rep. Joe Wilson, R-S.C., (on behalf of the U.S. House of Representatives) and John C. Liu, from the New York City Council.

The press release added: "It was an emotional decision of Sahara India Pariwar to uphold the spirit of Indian nationalism globally and propagate the spirit of this festival across fellow Indians residing in different parts of the world."

|TOP|
---
REPORT:

Western Union to Reward Loyal Customers

NEWARK, Calif. — Western Union, the world's leading money transfer company has announced a special incentive program that would benefit it's loyal customers.
Speaking at the launch event in Bombay Garden restaurant here, Sept. 29, Western Union official Arthur Castillo unveiled the Western Union Gold Card.

"We are always looking for ways to show our gratitude to our loyal customers," said Echo Huang, Western Union's assitant marketing manager for international marketing, as she highlighted the benefits and features of the card.

Left: Western Union's Echo Huang and Arthur Castillo. Right: Sunit Shah, Western Union's business development manager for South Asian markets. (Som Sharma/Digital iVision photos)
With this card, customers can reap exciting rewards including instant phone time, service fee reductions, gift cards from major retailers such as Blockbuster, Toys R Us and Sears, as well as merchandise such as cameras and watches. In addition to reward benefits, Gold Card customers can use shorter money transfer send form, which saves valuable time.
A special feature provides customers with five minutes of free international calling and about twenty minutes of domestic calling with every qualifying transaction. Using this feature, customers can inform the recipient about the transfer as soon as it goes through.

Sunit Shah, business development manager for South Asia, welcomed the attendees and Western Union agents with a warm desi "kem cho" (how is every one) and spoke about Western Union's strong ties and committment to the South Asian community.

Customers can enroll in the WU Gold Card program at a Western Union location, or by calling 1-800-435-2226. Enrollment for the program is free. Those who enroll before Oct. 31 will earn 5 bonus points when they mention the code: PRESS CONFERENCE.
---
REPORT: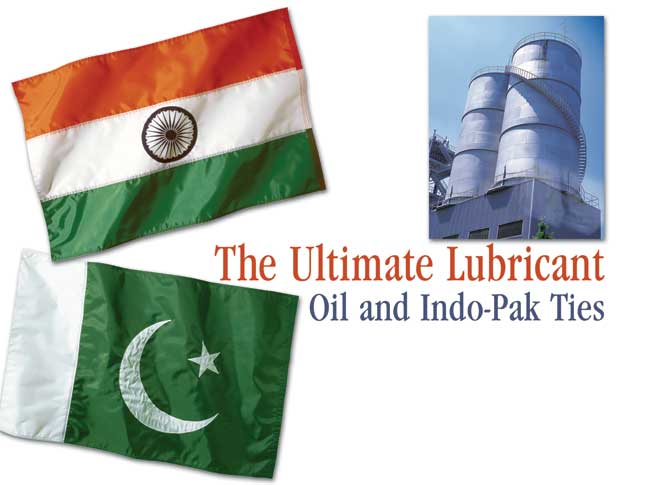 The Ultimate Lubricant:
Oil and Indo-Pak Ties

By Siddharth Srivastava
Despite harsh rhetoric, the economic benefits of cooperation on an Iran-Pakistan-India gas pipeline could open the door to warmer India-Pakistan ties, writes Siddharth Srivastava.


The just concluded first round of the composite dialogue process between India and Pakistan witnessed a war of words stretched to the limits of inimical diplomatic exchange. The foreign ministers of India Natwar Singh and Pakistan Khurshid Mehmood Kasuri said everything that one hoped would not be said, in a public platform. Both the sides highlighted the two issues that the other does not want to hear much about — while Pakistan talked about "human rights violations" in the Indian portion of Jammu & Kashmir, India expressed "serious concerns" over Pakistan promoting cross-border terrorism. Yet, there is a silver lining to the exchange which could form the future bedrock against relations turning awry — a decision has been taken to involve for the first time the petroleum ministers of the countries to discuss the Iran-Pakistan-India gas line, which many observers here feel could set the course for a sustained and long-term peace between the two countries which almost went to war a couple of years ago and were involved in a low-intensity conflict at Kargil in 1999.
In the couple of days that Kasuri had been here, he covered almost every aspect of the Kashmir issue that generally does not go down well with India. For most part of his visit he was closeted with separatist Hurriyat leaders of the state to convince them to sink their differences and form a united front once more, while the Indian stand is that free, fair and popular elections have been held in the state which the Hurriyat boycotted and hence other political parties should be given equal importance; Kasuri insisted that any talks with India should involve representatives of Kashmir as well, making the discussions "tripartite," while India's stand is that the Indian portion of J&K is an inalienable part of India with the Indian government vested with full authority to discuss any issue concerning the state; Kasuri also mooted the proposal of a separate appointment of "high representatives" to discuss Kashmir, which India feels is not necessary given the high-level official exchanges that are already in place as part of the peace process.

In short, Kasuri ensured the centrality of Kashmir despite his later re-iteration that Kashmir is not the "unifocal" area of interest between the two countries. Natwar Singh, on his part, also did not leave any stone unturned to appeal to the hardliners in India, by concentrating quite a bit of his talk on the issue of Pakistan's promotion of cross border terrorism and the human rights violations in the Pakistan portion of Kashmir during the joint press conference that the two ministers addressed. The one fall out of the exchange has been that the bus service from Indian Kashmir to Pakistan, which the local population is in much favor of, seems to be mired in technical difficulties.

Indeed, analysts here believe that any short-term diplomatic breakthroughs have reached a cul-de-sac, with Kashmir and terrorism as the main stumbling blocks that show no immediate sign of resolution. The fundamentalist and jihadi elements in Pakistan are deep-rooted within the Army and sections of Pakistani society that will make it difficult for Pakistan President Pervez Musharraf to take on militants head-on even if he wants to. The clear indicators are the assassinations attempts that the general narrowly escaped around the time that former Indian prime minister Atal Behari Vajpayee and Musharraf were trying to break the ice in January this year. And as long as the militant view exists, no Pakistan leader can be seen going soft on Kashmir.

Though both the countries are committed to continue the peace talks with a meeting of Indian Prime Minister Manmohan Singh and Musharraf slated in New York, observers here are looking at economics creating the necessary momentum to propel the two nations forward. Thus, many here are attaching as much, if not more, importance to the luncheon meeting between Kasuri and India's Petroleum Minister Mani Shankar Aiyer, who wants to push through the Iran-Pakistan-India oil pipeline, a $3.5 billion project designed to transfer gas from Iran to India through Pakistan.

Negotiations on the 1,600-kilometre pipeline began in 1994, but no headway has been made until now because of tensions between Pakistan and India and the project's massive cost. Officials said warming ties between India and Pakistan despite the known prejudices augurs well for the project. For Iran, which holds the world's largest gas reserves after Russia, India is as important as the European market that it hopes access through a pipeline across Turkey. India, which imports nearly 70 percent of its annual energy needs, has been using ships to ferry liquefied natural gas from Iran because it fears a gas pipeline running through Pakistan could be targeted by militants.

There is a visible change in the approach now. "India and Pakistan have recognized the importance of available energy resources in the region," Kasuri told reporters after meeting Aiyar. "Officials from our ministries of petroleum and gas will meet later this year to discuss issues of multifarious dimensions," he added.

"If our security concerns are adequately addressed, this project could turn out to be the economic bedrock which could buttress many more economic cooperation proposals," a spokesperson for the foreign ministry said. "The economic gains for Pakistan, estimated at between $600 million and $800 million annually in transit fee alone, are a reasonable guarantee against sabotage," the official added.

In order to make the proposal viable India has offered that it could meet the entire diesel requirements of Pakistan by laying a pipeline from Jalandhar (in Punjab) to Lahore. In turn, Pakistan could help in laying the gas pipeline from Iran to the Indian state of Gujarat. Pakistan currently imports 4.5 million tons of diesel every year from Kuwait and other Middle Eastern countries. Pakistan has said that it may review its ban on imports of diesel from India to try to reduce its dependence on Middle Eastern supplies. India's largest refiner, Indian Oil Corporation, which has pipelines running close to the Pakistan border, has submitted a proposal to export surplus diesel to Pakistan.

The oil pipeline, accompanied by revenues, will create a constituency within the Pakistan establishment as well as in India that will root for normal relations and could over time and more economic co-operation. This could be a powerful deterrent to two major institutional stumbling blocks — the vested interests in the Pakistani Army which clamors for funds and importance in order to promote anti-India militants, and the Hindu nationalist hardliners in India.

Indeed, observers detect a strong element of realpolitik even if couched by the harsh Kashmir language, among Pakistani leaders, the beginning of which was made during the South Asian Association for Regional Cooperation summit in Islamabad this year. The summit led to significant breakthroughs on the economic front, primarily in crafting the framework agreement on South Asian Free Trade Area. This will sharply boost economic cooperation over the next decade in the region, primarily between India and Pakistan. Pakistan had blocked SAFTA for as long as it could, but its economic woes have compelled it to change tack.

The most pressing factor in changing Pakistani diplomacy is the rising demand of its citizens for economic progress. Television images of an economically promising India have made an impact on the masses. Industry leaders of Karachi and Lahore, as well as people in Federally Administrated Tribal areas and the North West Frontier Province are also asking for their share of progress. Pakistan's economy is growing at a sluggish 4 percent; India's growth rate is double the figure. Twenty-five percent of Indians live in poverty; in Pakistan the figure is 35 percent.

From India's point of view the Manmohan Singh government is now showing signs that it is serious about taking forward the peace process initiated by Vajpayee. The last thing it wants is to be labeled as having failed to make progress in what is considered to be Vajpayee's biggest achievement when he was in power. Before the Kasuri visit Manmohan met Vajpayee over breakfast to glean his mind. Vajpayee advised Manmohan not to pursue the beaten path. Is oil and gas, then, the road not taken?

- Siddharth Srivastava is India correspondent for Siliconeer. He is based in New Delhi.
|TOP|

---
REPORT: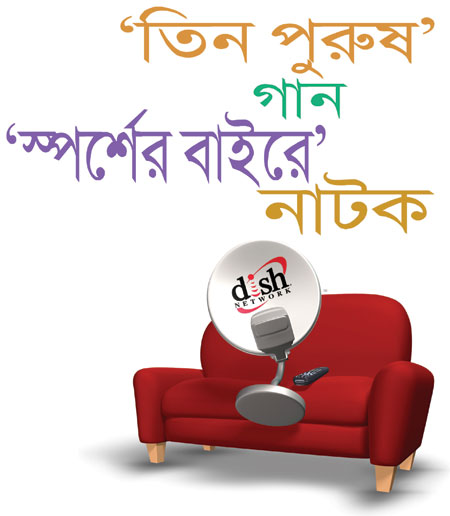 Bangla TV in U.S.:
Satellite Offering
Dish Network will offer NTV Bangla, a Bangladeshi television channel which offers hit Bangla soaps, music and cultural shows. A Siliconeer report.


EchoStar Communications Corporation announced Sept. 1 that its Dish Network satellite television services has added NTV Bangla, a Bangladeshi television network channel, to its international programming schedule. The addition of NTV Bangla continues Dish Network's leadership role in broadcasting international programming and specifically South Asian broadcast television. Dish Network offers more than 70 international channels in more than 20 languages, including Arabic, Farsi, Hindi, Portuguese, Mandarin, Japanese and Russian.
"DISH Network is committed to providing our international customers with the best value and a wide variety of channels to choose from when it comes to international programming," said Tracy Thompson, EchoStar's vice president of international programming. "The addition of NTV Bangla gives Dish Network customers access to programming from Bangladesh including immediate access to top drama series like Sporsher Baire and Tin Purush."

The programming on NTV Bangla includes shows for all viewers, including news, entertainment, documentaries and movies. It will also feature Bangladeshi musical programs and cultural programs, as well as popular Bangladeshi cartoons for children.

"SoundView Broadcasting is pleased to announce the launch of NTV Bangla, the first Bangladeshi TV Channel on Dish Network, our preferred platform for international channels in the United States," said Shafquat Choudhury, president and CEO of SoundView Broadcasting. "Dish Network truly understands the importance and significance of ethnic programming and what it means to their subscribers."

Customers can add NTV Bangla on an a la carte basis for $14.99 a month, or pay $164.89 annually. Interested readers can find more information at the Dish Network Web site at www.dishnetwork.com.
|TOP|
---
HEALTHCARE: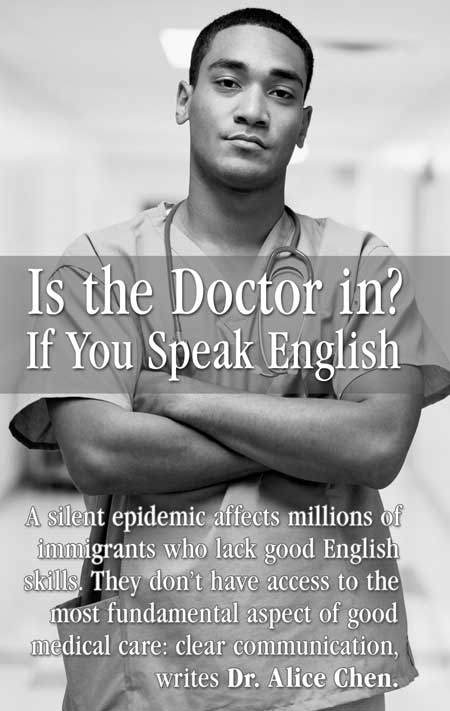 Is the Doctor in?
Only If You Speak English

By Dr. Alice Chen
A silent epidemic affects millions of
immigrants who lack good English
skills. They don't have access to the
most fundamental aspect of good
medical care: clear communication,
writes Dr. Alice Chen.

Thirteen-year-old Gricelda Zamora was like many children whose parents speak limited English: she served as her family's interpreter. When she developed severe abdominal pain, her parents took her to the hospital. Unfortunately, Gricelda was too sick to interpret for herself, and the hospital did not provide an interpreter. After a night of observation, her Spanish-speaking parents were told, without the aid of an interpreter, to bring her back immediately if her symptoms worsened, and otherwise to follow up with a doctor in three days. However, what her parents understood from the conversation was that they should wait three days to see the doctor. After two days, with Gricelda's condition deteriorating, they felt they could no longer wait, and rushed her back to the emergency department. Doctors discovered she had a ruptured appendix. She was airlifted to a nearby medical center in Phoenix, where she died a few hours later.

The story of Gricelda Zamora is not unique. Moon Chul Sun, a Korean immigrant, recently died after a month of futile attempts to seek care at three separate New York hospitals.

Fortunately, stories like theirs are few and far between. But they are the tip of an iceberg, the most visible manifestation of a silent epidemic that affects millions of immigrants who don't have access to the most fundamental aspect of good medical care: clear communication.

Businesses like Lowe's Home Improvement advertise the availability of professional telephone interpreters to make shopping easier for its non-English-speaking customers. Meanwhile, most hospitals across the United States still rely on untrained interpreters such as janitors and patients' friends and family members, who have been shown in study after study to provide inaccurate — sometimes dangerously inaccurate — interpretations.

Little attention has been paid to language barriers in healthcare, because they affect the most marginalized sector in our communities: recent immigrants, many poor. With enormous obstacles to accessing health services, these families have no voice in their own healthcare. In an influential study, language barriers only receive a one-sentence mention as a possible cause of medical errors.

But changing demographics suggest that this silent epidemic demands our attention, as it affects more and more families. According to the U.S. Census, between 1990 and 2000, the number of people who spoke English less than "very well" increased by 50 percent to 21 million people. Although two thirds of these are Spanish-speakers, there are more than 300 other languages and dialects spoken across the country. And while certain states (such as California, Texas, New York and Florida) have well-established immigrant populations, limited English speakers can be now found in every state, and in urban, suburban, and rural settings.

Presidential candidates have recognized the importance of these profound demographic shifts. President Bush has attempted to broaden his appeal to Latinos by campaigning in Spanish — but over the past four years, his administration has reduced federal requirements to provide interpreter services in medical settings. In contrast, John Kerry's platform explicitly addresses the need to break down language barriers in healthcare as a priority. In fact, during the presidential primary, John Edwards proposed creating a national 24-hour medical interpreting telephone hotline for smaller hospitals and rural communities, and providing additional resources for large urban hospitals.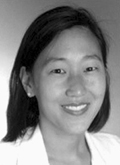 In the coming months, it will make a huge difference who occupies the White House come January. For people like Gricelda Zamora and Moon Chul Sun, it may be even the difference between life and death.

- Dr. Alice Chen is Soros advocacy physician fellow with the
Asian and Pacific Islander American Health Forum
|TOP|
---
REPORT: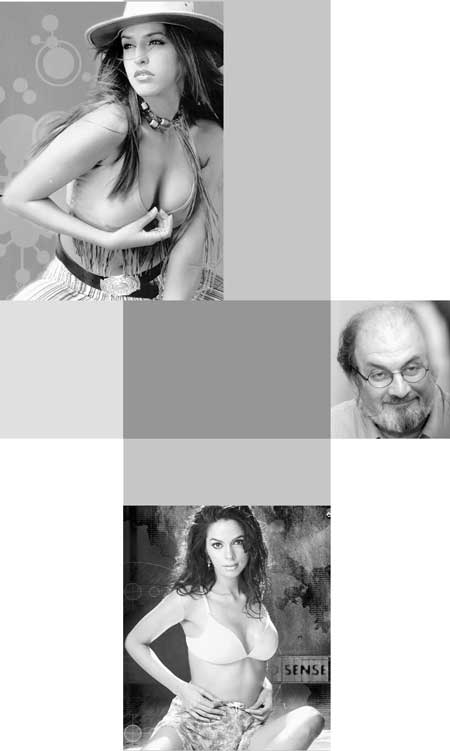 The Naked Truth:
Rushdie and the Porn Debate
Salman Rushdie still makes the news even if his books no longer do. His recent championing of pornography has renewed debate in India, writes Siddharth Srivastava.

From top, left: Neha Dhupia, Salman Rushdie, Mallika Sherawat.

These days, Salman Rushdie makes more news than his books.. After a death sentence for insulting the Prophet, a couple more novels that lacked his earlier brilliance, and after marriage to a model two and a half decades younger, with whom he canoodles the party circuit around the world, and Rushdie has hit the headlines with his take on porn, which has set off a debate in India.
This time Rushdie has again risked the fury of conservatives by arguing that a free society should be judged by its willingness to accept pornography. In his essay "The East is Blue," in praise of pornography, to be published alongside images of U.S. porn stars in a book called "XXX:30 Porn Star," he implies that Muslims are avid consumers of pornography because of the segregation of the sexes they have to endure. In an interview, Timothy Greenfield-Sanders, the book's photographer, has said that Rushdie supports his argument with statistics about the volume of porn traffic on the Internet in Pakistan. He has asserted that pornography exists everywhere but when it comes to societies in which it is difficult for young men and women to get together and do what young men and women often like doing, pornography satisfies a more general need. Gore Vidal, the grand old man of American letters, has written in the foreword where he says that America is a puritanical society fettered with unnecessary constraints.

In India, views on porn take every hue. In a recent article in the Hindustan Times, following the Rushdie generated debate, Bollywood filmmaker Mahesh Bhatt, known for his free-spirited movies, life and views, says: "I have always maintained that there's nothing degrading in the displaying of any part of the human body. This amazing creation of Mother Nature is also considered by Hinduism as a gift so special that you are only worthy of it after several rebirths as other lowly creatures. And those who are embarrassed or offended by the display of it are those whose minds have been damaged by ideology — religious or feminist…. Just because we have pornography in movies today does not mean it did not exist earlier. Remember the toilet graffiti we used to snigger about in school, the charcoal drawings of breasts and vulvas on rocks and tree trunks? Let me assure the alarmists that pornography is nothing new. It's just that today, with the communication revolution, it has become a business, a big business, which grosses billions of dollars a year, as much as spectator sports and movies combined…... Far from poisoning the mind, pornography shows the deepest truth about sexuality stripped of all romantic veneer. The stark images in porn are shock devices to break down middle-class norms of decorum, reserve and tidiness. Pornography is now evolving towards becoming high art. It's high time we take a fresh look at this phenomenon which is rooted in the human biological impulse."

A slightly less liberal take that tries to balance the two extremes comes from Jug Suraiya, writer and associate editor with The Times of India. Suraiya differentiates pornography from erotica: "The bare truth about pornography is that far from being a liberating influence — as Rushdie and others claim — it is an instrument of exploitation and imprisonment. It represents an impoverishment of our sexual imagination. Let's not confuse as Rushdie has done — pornography with erotica. Erotica represents the complex cartography of desire, full of hazard and mystery, inviting endless exploration. Pornography is a dumbed-down diagram leading to a cul-de-sac whose only destination is libidinal claustrophobia. Contrast the nude with the naked. The nude is always cloaked in the mystique of the model's inviolate autonomy; flesh transformed into living spirit.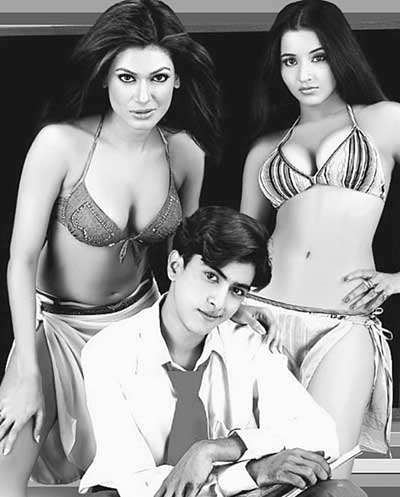 A scene from "Tauba Tauba"
---
The naked — whether in those grainy documentaries of Nazi death factories, or in the voyeuristic footage of sub-Saharan refugee camps, or in the flickering images of a blue movie — are stripped of all self-possession, made into robotic zombies; flesh turned to dead meat, to be sold by the kilo as off a butcher's hook. The erotic is life-affirming, pornography is life-negating. But what finally divides erotica and pornography is the test of time. We all remember the 'Kamasutra,' 'Lady Chatterley's Lover' and James Joyce's 'Ulysses.' But can you honestly say you remember the last pondy you read or blue film you watched, or the name of the cover girl on the latest issue of your favorite hag-mag?"
The third view is represented by the Indian government and often the right wing "culture brigade," in their quest to cleanse the minds of Indian society by preventing any show of flesh, whether art or commerce, porn or erotic. The right wingers prefer action to words — often manifested in bracing forms of justice such as breaking cinema halls, assaulting directors and writers. In its limited sphere of activity that comprises the censor board, with Internet porn all pervasive and uncontrolled, government appointed nominees snip and snap at anything that does not pass muster in their definition of delivering social good. The results can be bizarre — until quite recently these included love making scenes in Bollywood movies involving clothed protagonists, or rain-drenched heroines (Bollywood's answer to the wet T-shirt) and the traditional kisses were represented by the prim camera panning to the skies or two birds on a branch.

In the latest crackdown on porn, the Indian government has decided to constitute a committee to take a fresh look into the guidelines for direct-to-television technology to check its misuse. Recent media reports have highlighted that DTH enables viewers to access 24-hour adult programming from around the world. Officials have said that one pornographic channel being accessed through the DTH technology had shown disrespect to the national flag.

Bhatt, in his long career, has had several run-ins with censor officials and describes one such instance: "I still recall the day when the stern-looking censor board official chided me for subverting the sacred institution of marriage (the subject of the movie directed by Bhatt). And I also recall what I told him. 'If sex is right inside marriage, then it's right outside marriage. And if it's right after marriage, then it's also right before marriage.' The gentleman was livid. He was a product of our so-called puritan heritage — which means that he was repressed, anti-sexual, anti-play and anti-pleasure.'''

The fact of the matter is, despite government efforts, intellectual arguments, porn exists and given the varied routes of access — television, internet, CDs, videos — and the vast public appetite for it, cannot be curtailed. Today, estimates of the annual revenue for adult entertainment film sales and rentals and Web site subscription fees range from $8-10 billion. Celebrity soft porn sells everywhere — whether it is oral talk from Britney Spears' husband for 55 hours who dished out all that happened when they went about their business as a married couple; a not-too-happy Cameron Diaz trying to erase She's No Angel, a 30-minute soft porn video selling like hot cake on the Internet; Paris Hilton's One Night in Paris; Baywatch star Gena Lee Nolin in a mattress romp.

Indians want to join the party, and boldness and obviously bareness is fast becoming the credo. Angela Devi and Sunny Leone are two Indian girls who have hit the big time in the U.S. porn industry. Indian girls feature regularly in international porn sites, but never have any carried the tag of being stars, meriting a front-page display in a national newspaper here. Angela, 25, was born to Delhi migrants in New Delhi and has been living in Phoenix, Arizona for the past 17 years. Her credits include regular appearances in hardcore magazine Hustler since 2002 and voyeuristic videos. Sunny, 23, came of her own when she was named Penthouse's Pet of the Year a few months back. Both Angela and Sunny also run successful Web sites.

Bollywood is catching up too. Mallika Sherawat, an upcoming starlet, has set scorching standards in her bare-dare movies — two till now, the first Khwaish which broke the Indian record of maximum 19 kisses and the second Murder which was an equal encore. She has also been offered to pose for the center spread of the venerable Playboy magazine that has catapulted so many to stardom. The success of Khwaish and Murder and by extension Mallika has sent the rest of Bollywood actresses in a tizzy, with several now shaking off their traditional Indian mores along with their clothing. The first off the block is starlet Neha Dhupia who in her second movie release called Julie has let the janta get a view of her derriere, the first such instance in a mainstream Bollywood movie. A former Miss India, Dhupia's uncut nude and love making scenes from the movie are doing the rounds on the Internet. Not to be undone, top actress Kareena Kapoor has added spice to the powerful Govind Nihalani film Dev on the Gujarat riots of 1992, by passionately kissing co-star Fardeen Khan. Another star Mahima Chowdhury, who famously spurned top director Subhash Ghai who wanted her to show just a little flesh a few years back, will be featuring in a series of lip-clinchers with much older co-star Anupam Kher, who — get this — also heads the puritan Indian censor board, in the movie Chess.

Which brings us back to the original Rushdie argument on the relation between the existence of porn and free society. Going by empirical evidence he seems to have a point, but he is only half right.

While his point of sexual denial in conservative countries — Muslim or otherwise — is well taken, it is difficult to laud the seedy fare that serves the repressed libidos of men. Divorced from the reality of actual, real-life sex between a consenting male and female, the porn industry caters to the fevered adolescent fantasies of lonely men of all ages, where sex is just a bestial quickie to provide male release.

Then there is the darker saga of the people involved in the porn industry, especially the women. Do they do it out of their own free will and choice for money, pleasure or under duress, threat or sheer desperation? Can they get out of it when they want to?

Also, sexually repressed societies also tend to be venomously sexist; its Puritanism tends to go hand-in-hand with denial of a woman's sexuality: pornography is as often a denial of a woman's autonomy as it is a titillating aphrodisiac for the male who lacks the emotional wherewithal to woo a real woman.
- Siddharth Srivastava is India correspondent for Siliconeer. He is based in New Delhi.
|TOP|
---
COMMUNITY NEWS IN BRIEF:
Mallika Sarabhai to Lecture, Perform
...
SAWLF Hosts Comedienne Shazia
...
South Asian Youth Mobilize
...
Crossover Charity Concert for AIDS
...
Book on Mothers and Daughters
...
ICC Honored
Mallika Sarabhai to Lecture, Perform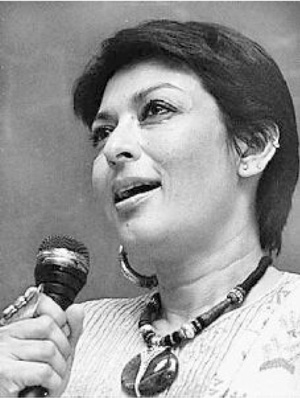 Mallika Sarabhai
---
Renowned danseuse, actress, TV anchor and social activist Mallika Sarabhai will discuss "Communal Harmony and the Role of Civil Society" with Prof. Linda Hess of Stanford University Oct. 10 at 10:00 a.m. at Stanford University. Sarabhai will talk about "her passion for the performing arts; the role of civil society in reestablishing peace and harmony among communities; and her interventions on behalf of the victims of the 2002 Gujarat violence—and the consequences of taking a principled stand," according to an announcement from the organizers. The event is free and open to the public and is presented by Promise of India and Stanford University Asian Religions and Cultures Initiative. Event co-sponsors are Asha for Education-Bay Area Chapters; Association for India's Development-Bay Area Chapter; Coalition Against Communalism; India Community Center; India Literacy Project; Indian Muslim Council and Indians for Collective Action. Interested readers can call Raju Rajagopal at (510) 559-1049 or (510) 734-5338 for more information.
In a separate event on the same day, Sarabhai will present a multimedia dance, "An Idea Named Meera," at 5 p.m. at the Smithwick theater at Foothill College in Los Altos Hills, Calif. Interested readers can call Bhupen Mehta of Indians for Collective Action for more information at (408) 466-3982
|Return to Community News Index| |TOP|

SAWLF Hosts Comedienne Shazia

South Asian Women's Leadership Forum hosted comedienne Shazia Mirza on Sept. 19 in New York's Baruch Performing Arts Center as part of its Women Trailblazers Series, according to a SAWLF press release. Mirza joined SAWLF members for a dialogue and reception following her uncensored, no holds barred one-woman-show The Last Temptation of Shazia at the Baruch Performing Arts Center.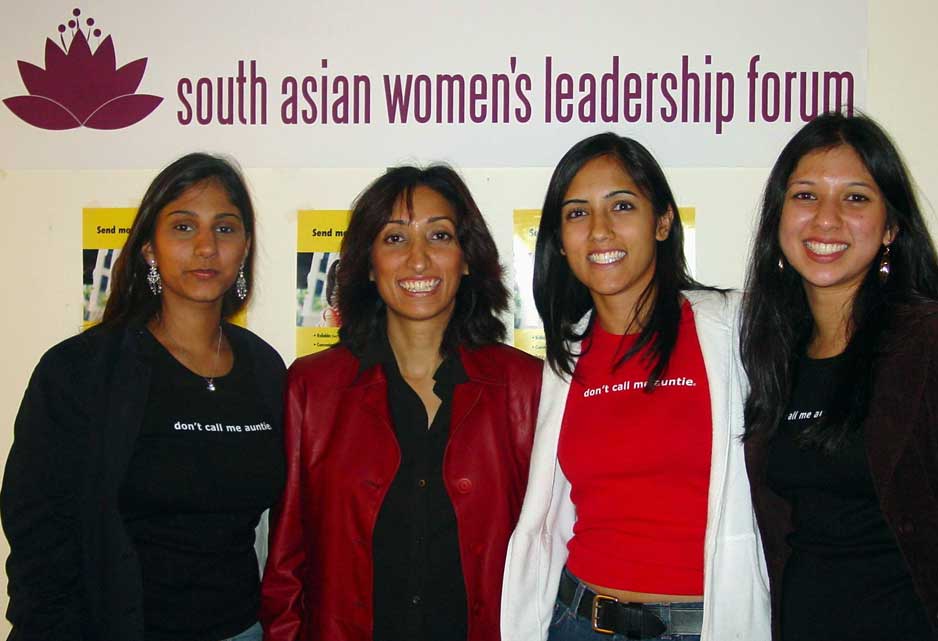 Shazia Mirza (2nd from l), with SAWLF student members at reception
sponsored by Western Union

---
Trained at the Rose Bruford College of Speech and Drama in London, Mirza is a full-time writer, actor and stand up comedian. U.S. awareness of her grew after she was featured in CBS' 60 Minutes for her groundbreaking work as Britain's first female Muslim comic. In her stand-up routine, Mirza openly presents some of the challenges faced by the Muslim community as a whole and women in particular.
Mirza has won the 2001 Hackney Empire Best New Act competition at the London Comedy Festival and Metro magazine's People's Choice Best Comic Award at the London Comedy Festival 2002.

The SAWLF reception, hosted by Western Union, followed Mirza's sell-out performance to an audience of over 200.

SAWLF is a not-for-profit organization dedicated to the advancement of South Asian women professionals. Established in New York in February 2003, SAWLF has grown to a community of over 1,000 women professionals across the U.S.
|Return to Community News Index| |TOP|

South Asian Youth Mobilize

South Asian American students arrived at college campuses across the country recently to kick-off an initiative to mobilize hundreds of Indians, Pakistanis and Bangladeshis to vote this November, said a press release from South Asian American Voting Youth. "These students are fellows of the South Asian American Voting Youth VOTE SAAVY Fellowship," the release added. "Working with SAAVY's leaders and political experts, they ran a ten-week campaign on their campuses to register and mobilize local South Asian voters."

The VOTE SAAVY Campaign aims to increase South Asian political participation by registering thousands of youth to vote at college campuses and cities with large South Asian populations. Target campuses include the University of Michigan, Ann Arbor and the University of Florida, Gainesville and target geographies include Atlanta, Ga. and New York City.

SAAVY Fellows are using new methods to reach out to the youth community, registering voters at South Asian clubs, working with the South Asian fraternity Sigma Beta Rho, coordinating with National Gandhi Day efforts, and working with local mosques, gurdwaras and temples.

SAAVY executive director Tanzila "Taz" Ahmed, 25, founded the organization last fall to build her community's power. Ahmed noted that in only one year, SAAVY has grown from an idea to a registered organization with a national network of trainers, hundreds of members and trained more than 300 South Asian students in political organizing.

More information is available at www.saavy.org
|Return to Community News Index| |TOP|

Crossover Charity Concert for AIDS

From top, left:
Nitin Sawhney, Anil Soni, Kimberly Locke, Karsh Kale, and Tina Sugandh performing at crossover charity concert - "One Night for India."

Top Indian music artists including Karsh Kale, Nitin Sawhney, DJ Ravidrums, Tina Sugandh, DJ DK and Amrita Sen and music artists from the West Kimberley Locke, Matt Malley of Counting Crows and Lili Haydn performed to a crowd of over 2,000 people Aug. 21 at the Wiltern Theater for a crossover charity concert benefiting the fight against the HIV/AIDS crisis in India.
Also on hand were additional presenters Anil Soni, executive director of the Global Fund to Fight AIDS, TB and Malaria, Edwin Bayrd, executive director for the UCLA AIDS Institute, David Gere representing Make Art-Stop AIDS, Gotham Chopra, and Marla Maples introducing the fashion show from designer Anand Jon.

"It's staggering how shadowed the AIDS crisis in India has been by infection rates in Africa and other global diseases," said executive producer Lindsay Hurtt.

"One Night for India represents the first time that major musical acts from India and the West shared a single stage for a social cause that addressed the most challenging public health crisis in India," the press release added. One Night for India's second annual show is scheduled for Spring 2005 in London.

A recent report by the United Nations states that there are 5.1 million people with HIV infection in India. The World Health Organization predicts a steady surge of new infection, resulting in nearly 20 million new cases of AIDS in India over the next 10 years.
|Return to Community News Index| |TOP|

Book on Mothers and Daughters

Mothers & Daughters — a 156-page, lavishly illustrated coffee-table book to promote pre-cancer screening awareness among women in India.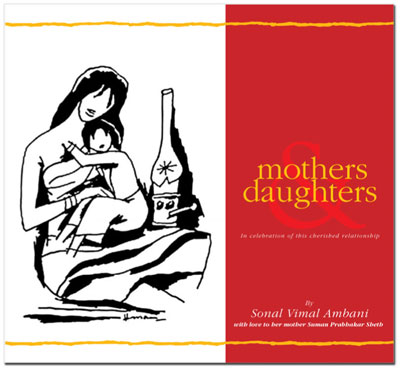 "The format of the book is of a photographic journal with a classic mother and daughter photograph on one side and quotations of special moments they have shared with each other on the other side," said a press release from the publisher.

The book showcases over 101 Indian women personalities and has personal quotes from Shabana Azmi, Arundhati Roy, Sheila Dikshit, Shobhaa De, Sullaja Firodia Motwani, Simone Tata, Sushmita Sen, Hema Malini, Kiran Mazumdar Shaw, Gurinder Chadha and Mallika Sarabhai. The book also provides information on cancer and cancer screening centers in India.

The author, Sonal Vimal Ambani, lost her mother Suman Prabhakar Sheth to cancer and the book is dedicated to her mother's indomitable spirit. Her objective is to make cancer a less dangerous disease, a disease that women no longer die from.

Interested readers can find more information at www.boydprinting.com
|Return to Community News Index| |TOP|

ICC Honored

The National Council on Aging, Inc. Sept. 21 recognized Milpitas, Calif.-based India Community Center as an outstanding older worker employer/training site for its support and training for current workers, according to an ICC press release. ICC was chosen as one of two top employers from 59 at an award ceremony at NCOA's Campbell, Calif., office during Older Workers Week (September 19 - 25), in recognition of aging workers who produce goods and human services in Silicon Valley.

NCOA, a private non-profit organization established in 1950, serves as a national resource of information, training, technical assistance, advocacy, and research on every aspect of aging. Its membership includes individuals, voluntary agencies, associations, business organizations, labor unions and others united by commitment to the principle that the nation's older people are entitled to lives of dignity, security, physical and mental well-being, and to full participation in society.

At 20,000 square feet and more than 2500 members, ICC Milpitas is the nation's largest Indian-American community facility, dedicated to promoting Indian culture and enriching lives through cultural, recreational, educational and community programs.
|Return to Community News Index| |TOP|

AUTO REVIEW

Affordable Luxury:
2004 Kia Amanti
– By Sally Miller Wyatt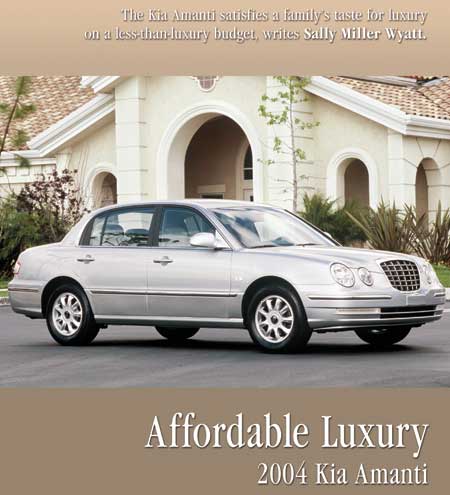 The Kia Amanti satisfies a family's taste for luxury
on a less-than-luxury budget, writes Sally Miller Wyatt.
Hey, who doesn't like a surprise? No, I'm not talking about lottery-sized surprises, just the every- day pleasantly unexpected kind of surprise. Those are true gifts.
I did enjoy the pleasant surprise that arrived recently in a package dressed as the Kia Amanti. From the inside out, this vehicle is unexpected, in a nice way.

The Amanti is a new-for-2004 addition to the Kia line, and it is packed with lots of luxury features. It is also a large-sized family sedan without a super-inflated sticker to match. Now, isn't that pleasantly unexpected?

At first glance, you'll think the Amanti is a big-ticket European car, with its halogen headlamps and stylish front grille. Peek inside and the leather accents and wood grain trim are even more convincing. Look at the sticker and you'll see a long list of standard and luxury-sized safety features, on a car that starts at $24,995.

Among those standard features is dual zone climate control, so everyone in the car can choose their comfort factor. Power windows, door locks, an eight-way power driver's seat and keyless remote entry, cruise control, the wood grain accents and CD player with eight speakers are also standard.

As for standard safety features, the Amanti has front and rear seat side airbags to complement the dual front air bags, active head rests to further protect heads and necks, anti-pinch windows to protect little fingers, front seat belt pre-tensioners and force limiters. Also, the side mirrors are heated, the steering column is energy-absorbing, and it is equipped with anti-lock brakes and four-wheel brake distribution, for enhanced braking safety.

It's not often in a car of this price range that you'll find such niceties as one-touch up and down power windows, cruise control, or the previously mentioned dual zone climate control. There are also two 12-volt power outlets — one in front and one in the rear.


Inside you'll find comfortable seating for five, with plenty of hip, head and leg room, although the rear middle passenger has a compromised amount of foot room. Visibility for all is good, particularly the driver.

On the road, we found the car offered a quiet ride, although steering felt loose and a bit too pliable for my tastes. The Amanti's turning radius was tight, which makes U-turns easy to accomplish.

The trunk is family-sized, and the opening is wide and deep. The lid opens back enough so that it is not in your way when loading and unloading items.

The Amanti also has a standard 3.5-liter, six-cylinder engine, which produced no hesitation at acceleration. Its mileage — rated at 17/city and 25/highway — isn't bad, which is good news for commuters.

The test car came with some extras — heated front seats and auto-dimming rear view mirror — for an additional $900, and a leather package that also included a memory function for the driver's seat and outside mirrors, a four-inch monitor with trip computer and an Infinity AM/FM/cassette with CD system for an additional $1,805. Now, that is intelligent packaging, as far as I'm concerned. Some manufacturers put together the desirables — such as cruise control — with some curious pairings — such as floor mats. Go figure that one out.

Overall, we found the Kia Amanti to be a fine family sedan. It should satisfy a family's taste for luxury on a less-than-luxury budget.

Base Price: $24,995

As Tested: $28,260

Engine: 3.5-liter, 24-valve, V6

Horsepower: 200@5,500

Torque: 220@3,500

Transmission: Five-speed Sportmatic

Wheelbase: 110.2

Length: 196.0

Height: 58.5

Width: 72.8

Mileage: 17/city, 25/highway
- Sally Miller Wyatt is a freelance writer
who writes family-oriented auto reviews for newspapers, magazines and the Web.
|TOP|
---
Bollywood: | Guftugu | Hindi Film Review |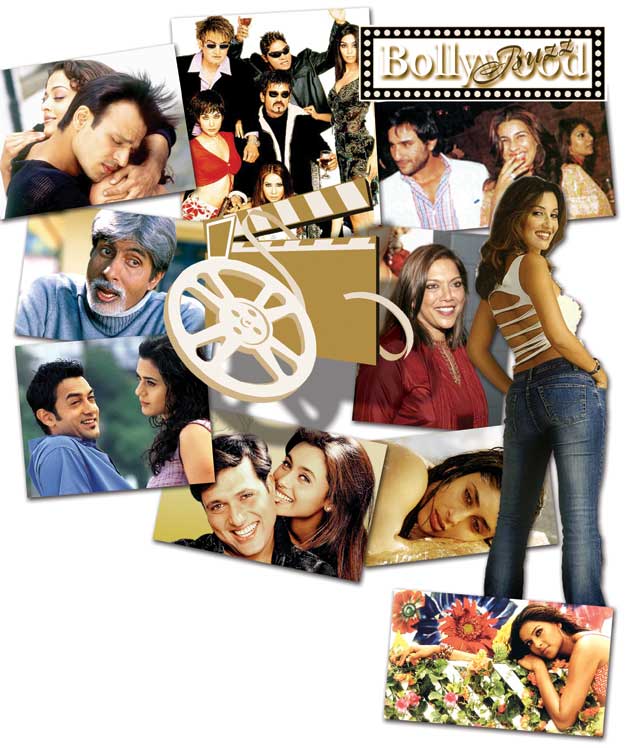 Guftugu

An Affair? Chi Chi!

Who would have thought? Here's a story that even puts Bollywood's zany plots to shame: Govinda, the squeaky clean tapori-star-turned MP, and cool-as-cucumber Rani Mukerjee, are apparently having an affair.

I kid you not. Unbelievable though it seems—both have such a wholesome image and it seems like the other day that Govinda was writing love poems about his wife—Bollywood nosey parkers are ready to bet their lives on it.

"The two have been seeing one another for several years now," says a leading actress. "In between, they tried to keep away from each other for the sake of his wife and children. But recently they were again spotted together on sporadic occasions. And though both of them have been linked with other people, their relationship is certainly for keeps."

In hallowed Bollywood tradition, both publicly claim it's not true. Govinda claims it's a conspiracy by his political opponents to tarnish his image during election time.

It isn't as if this would be a novel situation in Bollywood. Starting from the notorious romance of Raj Kapoor and Nargis to Garam Dharam and Hema Malini in the '70s, extramarital romances and liaisons are as common off screen as they are on screen.

Earlier, producer Boney Kapoor left his wife and childhood sweetheart Mona to marry Sridevi. Boney and Sridevi now have a very happy and successful marriage. Friends of Govinda and Rani say they can also make marriage work if it happens.

Says an actress: "Both Govinda and Rani are very simple, basic people. Give them daal-chawal, and a gossip session with friends and they're happy. They're very likeminded. They get along very well."

Govinda also has two children—a son and a daughter. But it seems improbable that Govinda will take away a father's presence from his children's life.

Now the question in Bollywood is: Will they marry or won't they? Will they become a couple or will they never legitimize their relationship, like Uttam Kumar and Supriya Devi in Kolkata, and Shobhana Samarth and Motilal in Mumbai?

|Return to Bollywood Index| |TOP|

Sultry Temptress

Remember the talented, attractive Parsi beauty in Jogger's Park? She wasn't just a pretty face, either. Her performance left critics in awe, but little has been heard about her since. She has been applauded for her cameo in Dhoom, but that's about it.

Well, that's about to change. While the buzz is all about Aishwarya Rai and her cross-cultural exploits, Perizaad may yet make the world sit up and take notice in a British thriller, Mind Gamez.

She is cast as a sultry angelic temptress opposite the famous Sir Malcolm MacDowell (Clockwork Orange) in a film directed by Laurence Postman for U.K.-based Inspired Movies.

Perizaad is giddy as a star-struck adolescent. "For God's sake, it's a huge assignment. I am numb with shock. This one is a biggie...lead opposite. . . Malcolm MacDowell ... I am nervous and scared and very, very worried...let's see how things go."

Does that mean Perizaad is dumping Bollywood? Perish the thought.

"I would love to do jhatkas and everything else, but not shed clothes. It's a battle that I am sure I will win. Right now I am madly trying to get into shape as a Miss India. I haven't met any of the real ones, but I guess they selected a Miss India character rather than a, say, Miss Venezuela because of the combination of intellect and sensuality that our winners have shown."

Meanwhile apparently it's Bollywood that's been treating her like a stepdaughter. Well, she might have the last laugh, like Cinderella.
|Return to Bollywood Index| |TOP|

Mira's Magic

Mira Nair has been going places since Monsoon Wedding, which won the Best Film award in Venice. Her recent adaptation of William Makepeace Thackeray's novel, the lavish costume drama Vanity Fair, has opened to critical acclaim.

Now comes the icing in the cake—she has been offered to direct the fifth movie in the Harry Potter series, Harry Potter and the Order of the Phoenix.

The 47- year-old filmmaker told reporters that the studio had approached her with a script. "I read it over the weekend. I'm still deciding," she said.

A little bird tells us that Nair, the director of films like Salaam Bombay and Mississippi Masala, has been offered more than two million pounds to direct the Potter film.

It doesn't get any sweeter, does it?

If she chooses to direct the film (which we think she will eventually, because we think she is just playing hard to get), she will be in good company: The first two Potter films were directed by Chris Columbus while this year's Harry Potter and the Prisoner of Azkaban was made by Mexican film maker Alfonso Cuaron. The fourth film in the series, Harry Potter and the Goblet of Fire, is currently being shot by British director Mike Newell.
|Return to Bollywood Index| |TOP|

Look Who's with Aamir

A hot Portuguese singer dancing and getting cozy with Aamir Khan—just picture the scene. We are talking about Nelly Furtado, the Canadian Portuguese folk singer who was in a relationship with ColdPlay's Chris Martin before he married Gwyneth Paltrow.

Now, now, don't jump into conclusions, gentle reader. We are not talking about another affair here—lord knows the impeccable Aamir has raised eyebrows after straying—but we're talking about a Bollywood masala movie here.

Fertado is all set to take the big splash and debut in Bollywood. The bilingual film, called Rang De Basanti in Hindi, has a more boring name in English, Paint it Yellow.

Directed by Rakesh Mehra (Aks), the film revolves around four friends played by Aamir, Arjun Rampal, Atul Kulkarni and Kunal Kapoor (Meenaxi)

Before you begin to wonder if this will be a rehash of Farhan Akhtar's delectable Dil Chahta Hai, Kunal hastens to dismiss the idea. "This film is more dark," he says. "It's definitely not a comedy."

The music will be scored by A.R. Rahman, and the film will be shot in Delhi, Jaipur, Punjab and a foreign location.

Since Aamir has wrapped up the shooting for his period film, The Rising, rehearsals for Rang De Basanti will start in October and shooting in November.
|Return to Bollywood Index| |TOP|

Laloo in Phillum

Trust filmmaker Mahesh Manjrekar to come up with a zany idea and then get even zanier. He is making a comedy and named it Padamshree Laloo Prasad Yadav. Yes, you heard it right. So what does the eponymous union Railway Minister Laloo Prasad Yadav have to say about this? Surprise, surprise, Laloo is a good sport about it and says its okay.

But Manjrekar doesn't stop there. He invites the maverick politician from Bihar to do a cameo!

So it happened that Anne Marg, the official residence of Bihar Chief Minister Rabri Devi, Laloo's better half, was one day crawling with filmi types as the union railway minister got ready to deliver his lines.

Now the film has nothing to do with Lalooji. Padamshree Laloo Prasad Yadav is the story of three small-time crooks, Laloo (Suneil Shetty), Prasad (the director himself) and Yadav (comedian Johny Lever). Padamshree is played by Mausumi.

Laloo, of course, is India's most mimicked politician. At the director's cue, he thundered at Manjrekar, Lever and Mausumi for ruining his reputation: "Tumhi log South Africa mein ja kar udham machaya tha mera naam le kar (you are the people who created ruckus in South Africa by misusing my name).... Aisa kam nahin karo nahin to ham lathi se marenge (Don't do such things otherwise I will hit you with lathi)."

Not exactly Shakespeare, but Laloo delivered them with his classic deadpan, rustic style.

Manjrekar was all praise for the politician's acting ability.

Not that we are surprised—after all actors and politicians have one thing in common: Both are trying to con the public.
|Return to Bollywood Index| |TOP|

Love for Everybody

It's great to be in love, but it's not so great when there's little time. Aish-warya Rai is busy with Gurinder Chadha's Bride and Prejudice, Vivek Oberoi is shooting for Kisna, so where's the time for love?

Well, not only do the two find time for love, they are also not averse to sharing it. Aish and Vivek recently visited cancer patients in a slew of hospitals, making the day for the patients. Vivek even gave a teddy bear to a toy bank. Vivek says he was inspired by his mother's dedication to the cause and decided to spread love in a similar fashion, starting three years ago.

Now that's what I call sweet. So when news keeps pouring in of how Aishwarya is winning laurel after laurel abroad, one is inclined to say: She deserves it.

Did you know our Ash is looking at a 1 million pounds-a-year contract in England with cosmetics giant Lancôme? What makes it remarkable is that she beat Lizzie Jagger to get the offer. Supermodel Jerry Hall, meanwhile, has been warned that if she doesn't plump up, the L'Oreal contract could go to Aish as well.

At last the gora log are realizing what Bollywood buffs (especially the whistling frontbenchers) have always know—to be sexy, you gotta have curves.
|Return to Bollywood Index| |TOP|

Rough Patch

Pity poor Kareena. Desis abroad adore her—her turn as the spoilt Westernized brat in Kabhi Khushi Kabhie Gham won many hearts. But lately she is going through a terrible box office run.

Her recent films—Fida, Dev, Yuva, Chameli—have sunk like lead balloons.

So should Kareena be worried? Not yet. Critics have praised her performances in those films, and her standing in Bollywood remains undiminished. Producers are still lining up to sign her for their films. However, in England, with its substantial desi community, her popularity is not what it used to be.

Time to pull up your socks and do what you do best, Kareena. As the Americans like to say: When the going gets tough, the tough get going.
|Return to Bollywood Index| |TOP|

Splittsville for Saif

You would think it's a daytime soap right out of Balaji Telefilm, only it's all too real. Saif Ali Khan and Amrita Singh are breaking up, and apparently the relationship is as impossible to put together as Humpty Dumpty.

Amrita's saas and sasur are in the act now, with both Sharmila Tagore and Mansur Ali Khan Pataudi backing the bahu. In fact Sharmila, who went to stay with her daughter-in-law and grandchildren after the marital crisis blew up, is maha gussa with her son's antics.

So what? Things aren't changing where it needs to—Saif is on a world concert tour with Shah Rukh, Rani Mukerjee, Preity Zinta, Arjun Rampal and Priyanka Chopra, with Amrita left to fend for herself with two children. Things are so bad that Saif has frozen all bank accounts.

This is no picnic for Amrita. Old co-star Sanjay Dutt called her up to offer financial assistance, but Amrita has turned him down.

An inside source says: "It's very sad what Saif has done. We're no one to judge his behavior. And I'm sure there must have been some provocation for it. But still to leave your family all of a sudden is so cruel."

Amrita wants to return to work, but given Bollywood's notorious sexist culture, things don't look so good there, either.
|Return to Bollywood Index| |TOP|

Big B Debacles

For all the talent in the world, Big B's judgment in choosing roles leaves a lot to be desired. And the audiences are beginning to vote with their feet.

For starters, people come to the theatre to see him, and he doesn't show up long enough. The Mumbai newspaper Mid-Day did a study of recent films which had Amitabh Bachchan and here's what they found:

Lakshya — Running time 185 minutes. (Bachchan's appearance: 30 min).

Kyun ! Ho Gaya Na… — Running time 172 min. (Bachchan's appearance: 50 min).

Hum Kaun Hai? — 120 min. (Bachchan's appearance: 45 min.)

Needless to say, the films' run in the box office has been correspondingly short.

Big B's cameo in Farhan Akhtar's labor of love Lakshya was not bad, but the film was a box-office dud. Milan Luthria's Deewaar left many audiences feeling cheated.

His act in the puerile Kyun Ho Gaya Na, which starred Aishwarya Rai and Vivek Oberoi, had many fans hoping this would be the last time audiences see him wasting his talent.

Only Rajkumar Santoshi's Khakee and Govind Nilhani's Dev did justice to him, but even these films failed to excite viewers.

Other short roles for Bachchan include last year's flop Armaan (2003).

Bachchan's short roles in the past have a better record. Roti Kapada Aur Makaan (1974), Chupke Chupke (1975) and Andhaa Kaanoon (1983) were hits, while Geraftaar (1985) did average business. Insaniyat (1994), though was a flop.

The only hopeful note in this sorry tale is that Bachchan seems to have realized he is doing something wrong. In a recent statement, Bachchan has agreed that his fans have been extremely disappointed with such roles that he accepted out of various sentimental or emotional reasons. He will ensure that it will not happen again.
|Return to Bollywood Index| |TOP|

---
Hindi Film Review
Flawed, Passable Thriller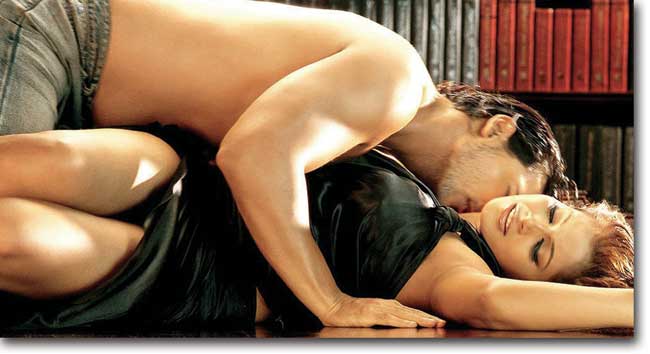 Madhoshi
Written and directed by:
Tanveer Khan
Music:
Roop Kumar Rathod
Starring:
Bipasha Basu, Priyanshu, John Abraham, Rajiv Verma, Shweta Tiwari and Anang Desai
The perennially tolerant Bollywood buff doesn't mind old wine in a new bottle if the wine is good and the bottle is pretty; he/she knows all too well that if you are a shade too choosy you may not get any wine at all in Bollywood, metaphorically speaking.
By Bollywood's lax standards, then, Madhoshi isn't an bad attempt even if it's not entirely original. So what if it has a whiff of Face Off here, a dash of A Beautiful Mind there, or a dollop of Yeh Vaada Raha somewhere else? What matters is how well the film is made.

Now it must be said the answer to the question is not simple. To the credit of writer and director Tanveer Khan, the film is technically competent, with unusually realistic and sharp dialogue and superb photography by Damodar Naidu. However, it is in conceiving the story that Tanveer is less successful, with the perennial affliction of Bollywood films—absurd plot twists that is too much of a strain on credulity.

That said, the film has an intriguing theme—it is a thriller overshadowed by the terrible terror attacks in Sept. 11, 2001.

Here's how the story goes: art student Anupama (Bipasha Basu) lives happily with her affluent parents (Rajiv Verma, Smita Jaykar) who are celebrating their silver wedding anniversary.

However, disaster strikes with the terror attack on New York's World Trade Center. Anupama's sister and brother-in-law, who works at the WTC, perish in the carnage of 9/11. For Anupama the news comes as a staggering shock, because she is on the phone with her sis when the attacks actually happen and she and her husband die. She loses her mental balance, though outwardly she seems fine.

Her parents are concerned, and they get her engaged to a Arpit (Priyanshu Chatterjee), an established ad filmmaker, who is the son of her father's best friend. After the obligatory song-and-dance routine, Arpit is off to the U.S. on an assignment.

Meanwhile, Anupama goes on an art-related trip, and she gets into trouble. As she returns to her train compartment to retrieve her drawing board, which she had forgotten to take with her, she becomes embroiled in a skirmish between a youth and a group of pursuers. The youth, Aman (John Abraham), shoots all his pursuers dead. Then he flees, but slips his gun into her hand before leaving.

Anupama is aghast. She hides the gun when she returns home. Aman, however, traces her. (How on earth does he do this, you ask? Hey, this is a Bollywood movie, not a forensic science lesson.) Aman meets Anupama in Mumbai and demands his gun back. (Maybe he has a few more bozos to kill.) As she goes to return the gun, she gets to know him better. Aman, it turns out, is a member of an anti-terrorist squad.

As the two of them meet, they fall in love, and things start getting complicated. Soon, Anupama is besotted to Aman, to the degree that she is ready to dump Arpit.

When the time comes for Arpit and Anupama to get married, she balks. So obsessed is Anupama with Aman that she attempts suicide by slashing her wrist to avoid marrying Arpit. Anupama survives, but a bigger problem emerges. Aman, it turns out, does not really exist; he is a figment of Anupama's schizophrenic personality.

The shock of losing her sister and brother-in-law has unsettled Anupama so much that she has created Aman in her imagination to fulfill a subconscious yearning to see an end to terrorism.

The challenge is clear as it is daunting: The medical team that is treating her, Anupama's family, and Arpit, who loves her dearly enough to giving up the biggest deal of his career, have to figure out a way to bring her back to normalcy if they are to keep her out of the loony bin.

Not only does the climax strain logic, the film also has a sillier pre-climax where Anu and Arpit's parents are willing to marry her off to a complete stranger, an actor who is hired because he resembles Anu's sketches of Aman. I am still trying to figure out the rationale of that one.

If you can ignore the sheer silliness of the climax and the preclimax (I know, that's asking for a lot), it's not really a bad film as Hindi films go. To give credit where credit is due, filmmaker Tanveer is unusually scrupulous in presenting medical facts accurately, an unexpectedly pleasant surprise.

Tanveer's greatest achievement as a director is in bringing out the most outstanding performance ever out of Bipasha Basu—once and for all, Bipasha makes the point that there is more to her than Jism (pun intended). Bipasha pulls out all the stops for this film—instead of a clichéd, limited emotional portrayal, she is superb, etching brilliantly the metamorphosis of a bubbly, young woman into a virtually unrecognizable mental patient. She is backed well by John Abraham in a solid performance, and by goody-two-shoes Priyanshu Chatterjee.

Both the unobtrusive background music (Raju Rao) and the songs are very good (Roop Kumar Rathod), both in lyrics, music and relevance.

All told, had there not been those gaping logical holes, this could have an excellent film. Like Revathy's Phir Milenge, which had a social message in its focus on the horror of AIDS, Tanveer does take an intelligent look at the horror caused by 9/11. Even as it stands, warts and all, the film is a passable thriller. The poor box office run is a pity but , that says more about the lousy marketing of the film than its intrinsic quality.

|Return to Bollywood Index| |TOP|
---
Tamil Film Review: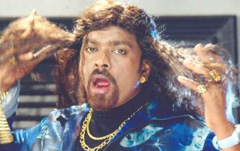 Novel, But Not Flawless
Kudaikul Mazhai
Director:
R. Partibhan
Cast:
R. Partibhan, Madhumita
It's a novel experiment in scripting and narrative style as far as Tamil cinema is concerned. Partibhan as producer, script-writer-director-hero makes a daring attempt to experiment with an unusual, hitherto untouched concept by filmmakers here: To make the script revolve around just two characters, and have just two artists in the frames for the most part. And to plan the scenes in just two main locations.
There's Venkat, a simple-minded auto driver. Then there's Madhumita, a perky pretty young thing, whose unexpected and ardent wooing of him elates Venkat no end. He is putty in her hands and does her every bidding, even tonsuring his head so that she be cured of some illness.

Then comes the denouement, the shattered dreams. He kidnaps her, holds her captive in his den and manages to win her heart through his sincerity and devotion. Meanwhile, there are the various calls he makes to his mother and a friend. And then the appearance of his twin.

The girl's marriage to another person is finalized and she's reluctant to leave him, despite her family threats. But this time it's he who forces her to leave. How much of it is real, and how much the delusion of a disturbed mind?

While one appreciates Partibhan's pers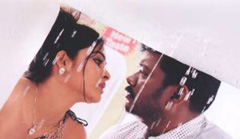 istence in trying to bring freshness and novelty into Tamil cinema, there are some factors that merit comment. For one, while we appreciate Partibhan's solo act on-screen, his monologues and his continuing conversations with characters not in the frame, revealing himself as an actor who has good emoting prowess, the old Parthiban of earlier films pops up with the appearance of his twin Krishna, with his loud dressing and accented dialogues.

He sounds cocky, trying to push in unwanted punch lines, playing with words and is totally out of character. The film drags at many such sequences , and could have used some drastic trimming.

A promising find is Madhumita from Andhra Pradesh. Fitting in well with the character, her cute expressions and body language are a delight to watch.

Finally, Partibhan always loves to be different from the crowd, trying out new ideas and concepts. Even the film name is novel and catchy: his invite for the show was an umbrella on which some publicity blurbs were written. One wishes he had thought of an original concept for his film too, instead of depending on a rehashed subject. Those who've seen Johny Depp as the schizophrenic in Secret Window, the celluloid version of the Stephen King novel, will surely feel a sense of deja vu throughout.

|TOP|
---
RECIPE:


Sandesh Cake:
East-West Combo -
By Shanti Tijoriwal
Shanti Tijoriwal blends a delectable mix of Indian and Western traditions to make this delicious dessert.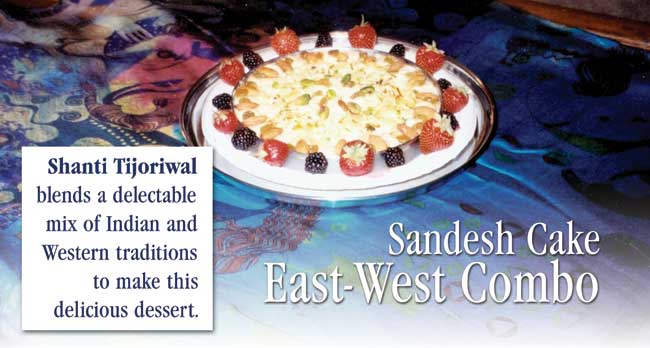 Ingredients:
1 gallon milk

½ cup lemon juice

¾ cup sugar

¼ tsp saffron

1 tsp cardamom powder

10-15 pcs strawberries

10-15 pcs black berries

15-20 pcs sliced almonds

10-15 pcs currant (kishmish)

15-20 pcs sliced cashews

10-15 pcs sliced pistachios

Method: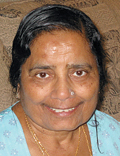 Shanti Tijoriwal is a homemaker. She lives in San Bruno, Calif.
Boil milk and add lemon juice gradually to make it into cottage cheese or chhena.
Drain extra water in a sieve and pour the cheese on a thin cotton cloth.
Hang the cheese in the cloth for about 10-15 min to drain out any remaining water.

Add sugar and stir well, either by hand or in a blender.

Add cardamom and saffron, cook the cheese in low heat for about 1-2 min and then stir well in high heat for about 4-5 min till the color changes to cream.

Spread the paste in a tray and decorate with remaining ingredients as shown.

Refrigerate the cake and serve when mildly cold.
|
TOP
|
---
October Horoscope
By Pandit Parashar
ARIES (March 21 to April 20):
Though you will achieve success after long time, you will still be nervous. You will spend money for a child. You will touch base with old friends. You have some unexpected money coming your way in mail. You will finalize an important deal.
TAURUS (April 21 to May 20):
Financial pressures will ease. A legal battle may dramatically turn in your favor. People will notice your improving health and personality. You may make a big property investment. Spouse will have great ideas and develop a winning strategy.
GEMINI (May 21 to June 20):
Prompt actions can lead you towards safer grounds and long-term financial goals. Money will come from different areas and long due payments will finally show up in mail. You will gain fame in social circle. A pending issue with a government agency will finally get resolved.
CANCER (June 21 to July 22):
Keep your emotions under controls, as some one will try to take undue advantage of your generosity. Your pursuit for a better career will start bearing fruit. You may make a property investment. You will be in the market for another car. Value of stocks will rise.
LEO (July 23 to August 22):
Thanks to your lucky stars, you will bag a major deal. Income will shoot up rapidly. You may start new venture with someone who is tall and has a background in engineering. You will make drastic changes in your diet on your doctor's advice.
VIRGO (August 23 to September 22):
Mercury causes temporary concern about career. You may survive big changes at work. You will call overseas more often. Some of you may move to another place soon. Spouse will work hard to shed those extra pounds, and may even go on a diet.
LIBRA (September 23 to October 22):
A property deal will be profitable. Some one will send valuable gifts. You will easily crush a strong opponent who has been trying to create big hurdles. Important documents will take final shape and will be mailed out. Visitors will confirm their date of arrival.
SCORPIO (October 23 to November 22):
Investments on a project will exceed earlier budget. An offer will come from a well-known company and you might accept it. Spouse will be asked to exercise and make changes in dietary habits. Your child will be accepted at the desired university. People will benefit from your expertise.
SAGITTARIUS (November 23 to December 22):
You may finally get over a haunting issue that has been around for a while. A new relationship will go a long way. Expenses will drop and you will finally see some reserves in your bank. You will finalize an overseas family trip.
CAPRICORN (December 22 to January 19):
Weakness on financial front will cause concerns. Competition will grow and it will be difficult to deal with them. You may think about a major career move, retail business might be a good option. You will devote a lot of your time to kids.
AQUARIUS (January 20 to February 18):
Speculation and lottery will be profitable. You may purchase another car for yourself. Financially you will stay strong and have enough reserves. You might enter into a serious argument with a friend at the party. A refund from a government agency is on its way.
PISCES (February 19 to March 20): You might start a lucrative business. You will make money but your expenses will rise as well. You will make a charitable contribution during a visit to a religious place. An old friend will revive contact. Your car will need minor repairs.