Publisher's Note
The prowess of India in software is old news, but a relatively underreported yet exciting story in recent years has been the growing savvy of India's drug companies. Some companies today are doing cutting-edge biotech research on their own, and one of those, Wockhardt, is the first company in Asia to develop and manufacture human recombinant insulin.
After 10 years of research Wockhardt has passed through the regulatory hoops and is manufacturing Wosulin—its brand name for the insulin—at its Rs. 150-crore biotechnology park in Aurangabad, Maharashtra.
The benefits are immediate: the company's foreign competitors are slashing prices as they scramble to position themselves against the new kid on the block.
As activists never tire of telling us, the advantages of mastering technology is not some esoteric game. If the circumstances are right, it can make a real difference in the quality of life of the masses. Wockhardt's development is one such happy incident.
Veteran Marxist leader Biman Bose was in the U.S. recently to make a pitch for a laudable project: The Vidyasagar Foundation. The foundation plans to build over 50 schools all over West Bengal to promote female education. What's refreshing about the foundation is that it's not just all talk. A school is already under construction in Purulia, and it will take in 200 live-in students in 2004.
We mark India's Independence Day Aug. 15 with a poignant reflective essay by poet and folklorist Ved Prakash Vatuk, who witnessed India's freedom struggle as a teenager. Greetings to all our Pakistani and Indian readers on Pakistan and India's independence day.
|
TOP
|
---
Main Feature

Insulin from Yeast:
Indian Innovation
- By Deepak Goyal
India's Wockhardt has become the fourth drug company in the world — and the first Asian — to make human recombinant insulin, and what's more, it can sell it at dramatically lower prices, too, writes Deepak Goyal.

Indian drug company Wockhardt became the first company in Asia to develop and manufacture human recombinant insulin, company chairman Habil Khorakiwala told reporters in Mumbai Aug. 4.
"In India nearly 90 percent of insulin used are derived from pigs or cows but we have used the latest yeast-based technology," Khorakiwala said.

Wockhardt says this is Asia's first vegetarian insulin, and it will avoid viral infections such as BSE and CJD associated with insulin derived from animals.

The insulin available on the Indian market now is derived from pigs or cows which are proscribed respectively in the Muslim and Hindu communities.

"This is a technology breakthrough not for Wockhardt, but for India." Khorakiwala said.

India has 30 million diabetes sufferers, a figure expected to rise to 57 million, or a fifth of the world total, by 2025, according to the World Health Organization.

"I am happy to know that Wockhardt is set to launch India's recombinant human insulin," President A.P.J. Abdul Kalam said in a message to the company. "I am also delighted to hear that you have used yeast as the host cell. Please ensure that it is cost-effective and affordable."

"Wockhardt has truly done us proud," Dr. R.A. Mashelkar, director general, Council for Scientific & Industrial Research, said in a message to the company. "This is a feather in the cap of Indian biotechnology research, which is now poised for positioning our industry globally," he said.

Wockhardt says it the first in Asia and fourth in the world to develop, manufacture and market its human recombinant insulin, which it calls Wosulin.

In addition to health benefits as well as cultural compatibility, the development has another vital advantage: the pocketbooks of insulin users.

"In a pre-emptive move this year, foreign drugs companies that dominate India's insulin market cut prices by 30-40 percent from $5 per unit," London's Financial Times reported. "Wockhardt's drug costs less than $3, compared with $6-$9 in other developing markets, and about $20 in mature markets."

The newspaper acknowledges the scientific achievement of the company. "Wockhardt's drug represents a long-awaited breakthrough for the country's fledgling biotechnology industry, which has been looking for a follow-up to the hepatitis B vaccine in the late 1990s," the newspaper said.

The breakthrough couldn't come a day too soon. India is staring in the face of a diabetes public health disaster.

Recently the BBC reported that the world's largest diabetes epidemic was threatening India, which was ill-equipped to cope.

According to health data the amount of type II or adult-onset diabetes in Indian cities is high and rising.

Indians appear prone to developing diabetes later in life, and seem more vulnerable to its complications such as high blood pressure leading to coronary heart disease.

A more Western lifestyle, involving fatty food and too little exercise, have been blamed.

Obesity is a known risk factor for the development of diabetes.

Dr. Vikram Seshaiah, medical director of the diabetes unit with the Apollo Hospitals in Chennai, told the annual conference of the Association of Physicians of India: "By 2005, we will have 30 to 35 million diabetics in India, and every fifth diabetic in the world will be Indian."

A study of complications in more than 3,000 diabetics by the Diabetes Research Center in Chennai showed that many had suffered eye, nerve or other tissue damage by the time diagnosis was made.

More than a third of patients had high blood pressure, while 11.4 percent had developed coronary heart disease.

Dr. Seshaiah told Reuters: "Our hospitals cannot manage this magnitude of complications.

"In Government Royapettah Hospital in Chennai, the patients attending the diabetic clinic have increased from 6,190 in 1993 to a staggering figure of 19,991 by 1999."

Insulin-dependent diabetes patients have to use the drug for life and for that reason a vegetarian variety is welcome in India, which has the world's largest population of diabetics.

Wockhardt says it has launched the yeast-based insulin after 10 years of research. "Worldwide, there are only three manufacturers of recombinant human insulin," Khorakiwala said. "Wockhardt is proud to have put India on the global map."

The company says three companies, one in the United States and two in Europe, control the global market for human recombinant insulin valued at over $3 billion. Wockhardt has now become the fourth company in the world to manufacture and market the product.

Wockhardt is manufacturing Wosulin at its Rs. 150-crore biotechnology park in Aurangabad, Maharashtra. The facility, designed according to U.S. FDA standards, will also house new biotechnology products that are currently under various stages of development.

"For Wockhardt and for me personally, Wosulin is a 10-year-old dream come true and a vindication of our decision to venture into pharmaceutical biotechnology in the early 1990s," Khorakiwala said.

Nearly 90 percent of insulin sold in India is derived from slaughtered pigs and cows. Most insulin consumers are unaware of the animal origin. All insulin sold in India today is imported either as finished vials or as concentrates which are converted into vials through third parties. The Indian market is valued at around Rs. 250 crores.

Eyeing international markets, Khorakiwala says the company would first approach those markets where regulation processes were easier but the ultimate aim is to tap the U.S. and U.K.- Andrew Odlyzko
Director, Digital Technology Center and
Assistant Vice President for Research, University of Minnesota

- Deepak Goyal is a freelance writer. He lives in Kolkata.
---
Infotech India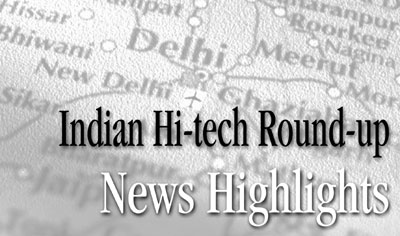 Growth of Indian IT… Stanford in Bangalore… Deep-sea Oil Hunt… Infosys Sponsored ADS… IT kiosks in 1,000 Villages… ICICI OneSource Acquires FirstRing… Internet Rail Tickets… Agri-portal Kiosk… I-Flex Q1 Net Drops… ITI, China Ties… SMS on Basic, WLL Phones… Arcot R&D Center — Here is the latest on information technology from India

Growth of Indian IT

India's information technology market (both domestic and exports) is projected to grow by a compounded annual growth rate of 27.9 percent to reach Rs. 196,105 crore in 2006, according to IDC, a market research and consulting firm.

The firm said it saw continued growth performance for the sector over the next four years.

According to IDC, the total Indian IT market grew by 21 percent to reach Rs. 73,219 crore in 2002. The total domestic IT spending reached Rs. 25,931 crore in 2002, a growth of six percent over the previous year.

IDC expected the domestic sector to display a significantly enhanced growth performance of 16 percent in the current year.

Domestic IT spending was expected to show growth with stability over the next four years displaying a growth of 21 percent with total IT spending expected to reach Rs. 55,925 crore in 2006, the firm said.

Noting that exports (hardware, IT services and ITeS) continued to be the main drivers of growth for the Indian IT industry, it said the share of exports in the total IT market was expected to increase to 71 percent in 2006 from the current level of 65 percent.
|Back to Infotech Index| |TOP|

Stanford in Bangalore

India's Silicon Valley played host to the first-ever alumni meet of Stanford University, in which Indian alumni came together to network with their peers.

Infotech czar Wipro chairman Azim Premji, set the agenda for the two days in which several of the over 1,000-strong alumni shared their views at a conference on "Leading the world: Building a technology tiger."

"It is basically an opportunity to network with our alumni," Stanford Asia Technology Initiative business development director Nishant Vijay Berlia said.

Indian alumni include Reliance chairman Mukesh Ambani, Forbes Marshall director Dr. Naushad Forbes, Member of Parliament Jyotiraditya Scindia and Nadir Godrej.

"Bound by a common factor and each being an achiever in their own field, the meet would serve as an ideal platform for them to gain a perspective of trends and new ideas, which is what Stanford is all about," Berlia said before the conference.

Infosys chairman and chief mentor N.R. Narayana Murthy, Stanford provost for under-graduation education Dr. John Bravman, Biocon India chairman Dr. Kiran Mazumdar Shaw, IITB director Sadagopan and Mckinsey managing director Ranjit Pandit addressed an ATI Global entrepreneurship conference August 7.
|Back to Infotech Index| |TOP|

Deep-sea Oil Hunt

The Oil and Natural Gas Corporation Aug. 3 announced the launch of a multi-billion dollar deep sea oil and gas hunt, aiming to search Rs.. 644,000 crore worth of hydrocarbons lying unexplored in the Arabian Sea and the Bay of Bengal.

Code-named Sagar Samriddhi, the project involves investing $2.6 million per day in search of one-third of estimated 11 billion metric tons of oil and oil equivalent gas reserves lying unexplored in deep waters, ONGC chairman and managing director Subir Raha told a news conference here.

"We are targeting to add 4 billion metric tons of reserves from the deep sea exploration campaign. If we can produce one fourth of these reserves, we will have one billion metric tons of oil and oil equivalent gas over 25-30 years. At 20 dollars a barrel, the revenues from this kind of production would be Rs. 644,000 crore," he said.

ONGC, which plans to drill 47 exploratory wells in its blocks spread across the Arabian Sea and Bay of Bengal, has hired Discoverer Seven Seas rig from Transocean Inc of US and the Belford Dolphin from Dolphin Drilling of U.K. besides its in-house Sagar Vijay rig for the deepwater campaign.

ONGC director Y.B. Sinha said the firm's current crude oil production of 26 million metric tons can go up to 49 million metric tons by 2011-12 and 62 million metric tons by 2016-17 for the discoveries anticipated from the campaign.

Similarly, gas production can almost double from the present 65 million standard cubic meters per day over that period.
|Back to Infotech Index| |TOP|

Infosys Sponsored ADS

Software giant Infosys Technologies July 31 announced its sponsored secondary offering of 5,218,000 American Depositary Shares, representing 2,609,000 equity shares at a price of $49 per ADS.

The underwriters have a seven-day option to purchase up to 782,000 additional ADSs, representing 391,000 equity shares, a company statement said.

Infosys would not receive any proceeds of the offering and the net proceeds after the issue expenses would be returned to all the selling shareholders within 30 days of the closing of the offering, it said.

On July 25, 2003, the Indian invitation to offer concluded with 10,164 offers for 14,863,802 equity shares being offered for sale in the sponsored ADS offering.

The unallocated shares would be returned to all the selling shareholders by August 16, it said.

The maximum offer size of the Indian invitation to offer is 3,000,000 equity shares.

The offering was lead-managed by Citigroup, Goldman Sachs (Asia) and Merrill Lynch and co-managed by Deutsche Bank Securities and UBS Investment Bank, the statement said.
|Back to Infotech Index| |TOP|

IT Kiosks in 1,000 Villages

Karnataka will launch IT kiosks in over 1,000 villages in six months under Rural Digital Service, extending its land records and utility services scheme with private sector participation, E-governance secretary Rajeev Chawla said Aug. 4.

"Once it is operational, the villager need not go to the taluk for his land records or any citizen services. With this, the Bhoomi program, which is up to the taluk-level, would be extended to the villages," Chawla said at the inaugural of the Confederation of Indian Industries-sponsored Singapore-India seminar on e-governance here.

Asserting that the franchisee model by private players, levying a fee for services provided to villagers, would be a viable option through the kiosks, he said, the government would use the kiosks as a delivery platform for a host of services.

"The farmer would pay a nominal fee for the service provided by the kiosk as he would save money and time for traveling to the taluk headquarters and the kiosk would be self-sustaining from day one," Chawla said.

However, he said, there was need for better and rugged equipment to withstand power fluctuations of the vendors.

Stating that "Karnataka could learn from the experiences" of Singapore government in implementing e-governance, Chawla said the delivery mechanism in India would vary with a human element in an operator who would assist the citizens in the rural areas for accessing the services.
|Back to Infotech Index| |TOP|

ICICI OneSource Acquires FirstRing

ICICI OneSource (I-OneSource), one of India's leading business process outsourcing providers, has announced that it had entered into an agreement to acquire FirstRing, a Banglore-based contact centre.

Details of the transaction were not disclosed.

FirstRing, established in May 1999 as one of the earliest entrants into the third party BPO space in India, has over 800 employees and a 650-seat facility located at Information Technology Park Limited, an I-OneSource release said.

FirstRing services more than ten U.S.-based clients and its investors include WestBridge Capital Partners, the Hero Group and Ravi Sethi, a Silicon Vally entrepreneur. The company focuses on voice-based services and has a strong presence in the financial services industry, the release said.

ICICI OneSource, founded in December 2001, is one of the largest and fastest growing Indian BPO providers, with 2,700 employees and 1,350 seats across three operational centers.

Post acquisition, ICICI OneSource will have over 3,500 employees and 2,000 seats across four delivery centers in Bangalore and Mumbai, with a fifth centre being built out in Mumbai, making it among the top few independent BPO players in India.

Under the terms of the agreement, ICICI OneSource will acquire FirstRing's India and US operations as well as the clients and workforce of FirstRing.
|Back to Infotech Index| |TOP|

Internet Rail Tickets

The facility of booking of rail tickets on the Internet was introduced in Madurai July 31.

Tickets can be booked on the Internet at the site www.irctc.co.in.

Normal service charges at the rate of Rs. 40 per ticket for sleeper class and Rs. 60 per ticket for upper class tickets will be collected, a Southern Railway press release said.
|Back to Infotech Index| |TOP|

Agri-portal Kiosk

The Indian Farmers Fertilizer Co-operative, the fertilizer firm in the cooperative sector, launched its "agri-portal kiosk" Aug. 4 on a pilot basis in Karnataka to provide information on agricultural practices for crops and their prices to farmers.

The first interactive kiosk was inaugurated by Karnataka Chief Minister S.M. Krishna at a function in Bangalore.

The kiosks, which will have audio and text mode in Kannada to provide information on land preparation, seeding operations, agricultural inputs, irrigation facility, plant protection and harvesting would be installed in all the 176 taluks of the state, IFFCO chairman K. Srinivasa Gowda said.

The farmers can access the information at the kiosk without any charge and if they need a print out, a nominal fee would be levied, IFFCO managing director U.S. Awasthi said.

He said the manned kiosk would also provide prices of cash crops and plantation commodities.

"We have so far developed the software in English, Gujarati, Hindi and Kannada. We are planning to set up similar kiosks in other states too," Awasthi said.
|Back to Infotech Index| |TOP|

I-Flex Q1 Net Drops

IT solutions provider i-flex solutions has reported a 5 percent drop in net profit for the quarter ended June 30, 2003, at Rs. 38.11 crore compared with the corresponding period of the last fiscal (Rs. 40.07 crore).

Revenues, however, jumped by 32 percent at Rs. 183.43 crore from Rs. 138.82 crore, according to a company statement here.

The company said it added nine new Flexcube customers during the Q1, with the Flexcube cumulative customer count crossing 150. Flexcube, it said, was an end-to-end product suite for consumer, corporate, investment and Internet banking, asset management, and investor servicing.

It reported acquiring six new customers for the PrimeSourcing Line of Business during April-June 2003.

PrimeSourcing, the company said, offers customized application development, re-engineering and maintenance; testing and product support and system integration services through various onsite/off-shore delivery models.
|Back to Infotech Index| |TOP|

ITI, China Ties

Public sector telecom equipment major ITI Limited Aug. 5 signed a license agreement with ZTE Corporation of China, a global leader in mobile communications, for the manufacture of CDMA 2000 1X technology.

Under the pact, ITI would pay ZTE Corporation a technology transfer fee of $1 million in the third phase when it takes up total manufacturing, expectedly next year. In addition, it would pay a five percent royalty on value additions, ITI chairman and managing director Y.K. Pandey told reporters here.

ZTE' vice-president marketing Joe F. Zhou was also present.

In the first phase, ITI would take up fabrication of the equipment and in the second, the company would take up manufacture of ten printer circuit boards of the whole equipment, Pandey said.

In August last year, ITI entered into an MoU with ZTE for supply of this equipment and so far its has supplied 150 KL to BSNL this year, which works out sales to the tune of Rs. 78 crore, he said, adding, ITI now expected to supply 200 KL to 250 KL each year depending upon the market conditions.

According to ITI, the manufacturing agreement was a sequel to the long-term co-operation between the two companies envisaged for network upgradation and expansion of mobile facilities in India and SAARC countries.
|Back to Infotech Index| |TOP|

SMS on Basic, WLL Phones

In a bonanza to WLL mobile phone users, the Telecom Regulatory Authority of India July 31 allowed all basic phone service providers to offer the facility of Short Messaging Service to their subscribers.

"The authority, after considering the background information, license terms and conditions, has decided that basic service licensees could provide SMS," TRAI said in a letter sent to the basic service operators.

Since WLL mobile service is a part of basic telecom services, the basic operators would be allowed to offer the SMS facility to its customers.

The issue of allowing basic service operators to offer SMS facility was under TRAI's consideration for more than a year and after various rounds of deliberations and discussion the regulator has given a go-ahead for this.

With SMS facility, WLL mobile service will become more competitive vis-à-vis cellular mobile services.

With this decision major beneficiaries would be Tata Indicom, Reliance Infocomm, Shyam Telecom besides two state owned organizations — MTNL and BSNL.
|Back to Infotech Index| |TOP|

Arcot R&D Centre

U.S.-based Arcot Systems July 31 launched its Research and Development Centre in Bangalore to create leading edge and mission-critical software solutions to its clients across the globe.

The tech centre here has started off with 30 engineers, president and CEO of the California-based firm, a leading provider of secure e-payment and identity solutions for financial services, healthcare and security-conscious enterprise environments, Ram Varadarajan, told reporters in Bangalore.

"Arcot is augmenting its R and D activities, and by addition of this facility in Bangalore it hopes to achieve a 100 percent growth in the coming year," a company release said.

He said the company was in talks with many banks in India regarding deployment of its Internet-based software, adding, an announcement regarding tie-up with one of them was expected in the next few weeks.

Arcot focused on developing original solutions to address the challenges of securing e-business applications in Internet-scale and transactional environments, he explained.

It provides authentication and access control solutions to secure the integrity of e-business in Internet-scale and wireless environments, company officials said.
|Back to Infotech Index| |TOP|

---
Ishwarchandra Vidyasagar is a Bengali cultural icon, revered across borders in West Bengal and Bangladesh as the father of modern Bengali prose, as well as an indefatigable and fearless social reformer.

While he is most widely known in Bengal for his Barnoporichoy, a Bengali primer through which almost every Bengali learns to read, he was particularly keen to promote women's rights.

It is this particular cause that has been taken up by a foundation in West Bengal named in his honor, and the Vidyasagar Foundation is not letting the grass grow under its feet.

The foundation has an ambitious plan of building day schools for girls in every district in West Bengal; right now a central residential model school is already coming up in Purulia, West Bengal under the foundation's auspices.

Construction of the Rs. 30 million school is going on in a 15-acre area, and the school is expected to be ready to accept 200 students in 2004. Ultimately the school will have 600 live-in students.

Veteran Marxist leader and chairman of the ruling West Bengal Left Front Biman Basu, the secretary of the foundation, has been a long-time champion of literacy movement in West Bengal, being closely involved with the Bangiya Sakkharata Prasar Samiti, a voluntary organization that works to promote literacy at the grassroots level.

Basu recently visited Los Angeles to make a pitch to the thousands of Bengalis who had gathered at the North American Bengali Convention, where the Vidyasagar Foundation had set up a stall. He said the initial response had been encouraging, and many people had stopped by and taken brochures and had promised to help.

The 64-year-old political activist said that the Vidyasagar Foundation was not a political organization, nor was it affiliated with the state or central government. It was not even seeking government funds.

Basu said the Purulia was chosen for setting up the residential school because the Ramkrishna Mission had a school for boys, and parents who sent their boys to the Ramkrishna school would find it more convenient to send their girls to this school.

"Society cannot be changed unless women are empowered," he said, adding that Vidyasagar believed this in his day, and the statement was just as true today. The effort of the foundation draws considerable inspiration from Vidyasagar, who has been described by poet Michael Madhusudan Dutt as a social reformer with the "genius and wisdom of an ancient sage, energy of an Englishman and heart of a Bengali mother."

This remarkable19th century reformer was educated to be a Hindu pundit steeped in Sanskrit traditions, but he was absolutely fearless and uncompromising against obscurant practices, fighting caste discrimination and suppression of women all his life.

He fought for making widow remarriage legal for Hindus, and established the first girl's school in Barasat.

In 1857 he founded the Juvenile Female Calcutta School, and later founded 35 other schools for girls. When the British slashed the budget for schools, he kept 11 girls' schools open with his personal funds and assistance from compassionate friends like the Raja of Burdwan.

For most Bengali speakers, however, his most durable contribution is his "Barnaparichoy," the book of Bengali alphabet that is widely available and used for beginning readers in every village in West Bengal and Bangladesh. Rabindranath Tagore called him the father of modern Bengali prose.

He was passionate throughout his life in trying to promote female literacy. "Vidyasagar's great saying was that a literate mother's child can never be illiterate," Basu said.

Basu said that the foundation had just been set up officially in 1999, but he was delighted with the enormous grassroots enthusiasm it was generating. A famous mime artist had offered to perform free of charge to raise money, he said, while people were collecting rice in villages to help the foundation.

The school in Purulia will aim to give a well-rounded education to the students. In addition to the academic curriculum, vocational skills ranging from stitching to poultry will be taught. Students will take phonetical class to enable them to speak in English. Computers will be taught at an early age. Extra-curricular skills like recitation, dance and music will be taught and there will also be facilities for indoor and outdoor games. Later on, the Vidyasagar Foundation plans to build schools for girls in all of West Bengal's 19 districts. "In phases we plan to build 53 schools," Basu said.

Basu made an appeal to expatriates in the U.S. to help the foundation's effort.

"We are trying to walk down a new path," he said. "In the spread of education, a great man like Vidyasagar spent the last day of his life. Keeping his ideals as our guide, we are trying to promote women's education, to cleanse society of its darkness. We could really benefit if your readers help our efforts."

Interested readers can reach Vidyasagar Foundation by email at vidyasagarfoundation@yahoo.com.

- Sukanta Bhattacharya is a bio-tech professional.
He lives in Foster City, Calif.

|TOP|
---
Conference: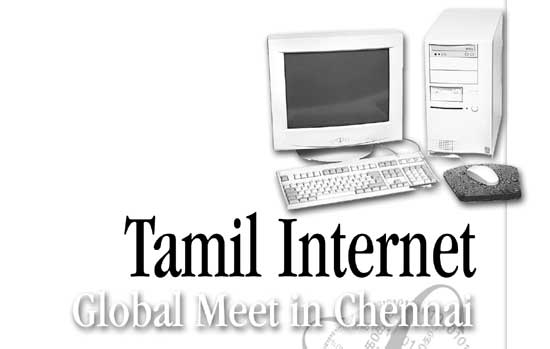 Tamil Internet
Global Meet in Chennai
– R. Rangaraj

The sixth conference on Tamil Internet will address issues like e-governance in Tamil, Web-based education in Tamil, under the theme "IT for Education in Tamil," writes R. Rangaraj.

The sixth in the series of Tamil Internet conferences, Tamil Internet 2003, is scheduled to be held in Chennai Aug. 22 to 24, Information Technology, Law and Electricity Minister D. Jayakumar said Aug. 4..

The conference will be inaugurated by Chief Minister J. Jayalalithaa on Aug. 22.

The first conference of this series was held in Singapore (1997), the second in Chennai (1999), the third in Singapore (2000), the fourth in Kuala Lumpur, Malaysia, (2001) and the fifth in Foster City, Calif. (2002).

The sixth conference is being organized in Chennai with the help of the Government of Tamil Nadu, steered by the Tamil Virtual University and Anna University, and supported by the International Forum for Information Technology in Tamil and Kanithamizh Sangam.

Jayakumar said the chief minister had sanctioned Rs. 2 million for the conference and has assured full support from the government..

The IT Minister will chair the reception committee while Anna University Vice Chancellor Dr. E. Balagurusamy, and Tamil Virtual University director Dr. M. Ponnavaikko , are the co-chairpersons of the Tamil Nadu Organizing Committee.

The inaugural session will be held in the Vivekananda Auditorium at Anna University. President A.P.J. Abdul Kalam will deliver an address through videoconferencing. The conference and exhibition are scheduled to be held at Hotel Taj Coromandel Aug. 22-24. The exhibition will be inaugurated by Jayakumar.

It is expected that the Tamil software, keyboards and other devices developed by various computer industries, institutions and developers around the world would be displayed at the exhibition.

IT secretary Vivek Harinarain said the exhibition being organized to attract a large population from in and around Tamil Nadu.

In each of the Tamil Internet Conferences, problems faced by Tamil software developers and service providers in the world are discussed and suitable solutions derived. In the first few conferences, basic issues like standardization of encoding and keyboard development of editors, drives, etc., were discussed.

In the later conferences, the technologies required for Tamil computing, language analysis, searching and sorting Tamil text, Tamil OCR, Tamil text to voice synthesizing, machine translation, Tamil search engine, etc., were discussed.

The sixth conference will address issues related to e-governance in Tamil, Web-based education in Tamil, etc., with the theme "IT for Education in Tamil," Harinarain said.

Dr Balagurusamy said the main aims of the conference are:

To create an awareness in the minds of the public on the developments of Tamil software and their applications;

To involve the school students in the use of Tamil software.

To encourage college students in the development of Tamil software and their applications;

To discuss the technological developments for Tamil computing;

To popularize the use of Tamil encoding and keyboard standards;

To discuss the methodologies to promote the TNU programs to the world community;

To discuss the problems related to the Unicode standard for Tamil;

To discuss the issues related to script reformation for Tamil;

To discuss the means and methods for the vigorous implementation of the IT policies of the Tamil Nadu government related to Tamil in IT.

Over 45 technical research papers have been accepted for presentation at the conference. The contributions are from India, Sri Lanka, Singapore, Malaysia, the U.K., Germany, France, the U.S., Canada, Australia, Switzerland.

Harinarain said in the exhibition, over 40 Tamil software development tools among the school and college students would be demonstrated. They would be encouraged to acquire skills in Tamil computing, community-hub and educational-hub. Tamil software development competitions have been organized for the students.

Tamil Virtual University director Dr. Ponnavaikko said more information was available at the following Web sites: www.tamilvu.org or www.infitt.org. There is no entrance free for the exhibition, but there is a fee for participating in the conference. Information on registration fee can also be obtained from the Web site.

- R. Rangaraj is a reporter with Chennai Online.
|TOP|
---
Review:

Bernie's Bad Idea:
Book Excerpt
– By Om Malik

Former
Forbes
reporter Om Malik charts the bizarre tale of telecom tycoon Bernie Ebbers, who was responsible for America's biggest corporate con, according to his recently released book "Broadbandits."


(The following essay is excerpted from "Broadbandits," published by Wiley. We featured an article on the book in our previous month's issue. Readers can read it by visiting our Web site at www.siliconeer.com and clicking on "archives" to reach our July 2003 issue.)
Bernie Ebbers, the founder of WorldCom, had made a very bad bet and lost. The broadband business he had so ruthlessly built with other people's money was being billed as the biggest corporate con in the history of America—even bigger than Enron. Ebbers had made the fatal mistake of believing his own hype, even as he bilked investors of their money.

It was March 2002 when it all started to unravel. The Securities and Exchange Commission had finally caught on to the shenanigans at WorldCom and started an investigation. In a month, Ebbers would resign.

Ebbers' coconspirators, WorldCom Chief Financial Officer Scott D. Sullivan and Controller David Myers, had been grilled by the Internal Audit Committee and would ultimately be fired from the company. On August 1, they would surrender to the police, knowing they faced at least five years in prison, hefty fines of $250,000 and several counts including securities fraud, conspiracy to commit securities fraud, and filing false statements with the SEC.

Bernie Ebbers, king of bandwidth, telecom titan, and corporate conqueror like none before, could be next. Every step that Sullivan and Myers would take to the police car waiting for them outside New York's posh Hotel Elysee would take Ebbers farther away from his empire.

"Fifteen unbelievable years and two very challenging years" is how Bernie Ebbers would describe his tenure at WorldCom on his 17th anniversary at the company on April 30, 2002.1 That would also be his last day at the company he had started in a Mississippi coffee shop in 1983.


Ebbers' story is classic American fare: an immigrant from a tiny town who made it big but in the end became the victim of his own success. Had he been manipulated by Wall Street shysters, or had the money been corrupting his soul one step at a time?

Ebbers' life began 60 years ago in a working-class neighborhood in Edmonton, Alberta, in western Canada. He attended Victoria Composite High School in Edmonton and supported himself through high school by working as a milkman and as a bouncer at a bar. It seemed like he was going to have an average working-class life, when his luck turned. Mississippi College, a small Baptist college in Jackson, Mississippi, offered the six-foot-four Canadian a basketball scholarship. He accepted, went to Jackson, got an undergraduate degree in physical education, and settled down in nearby Brookhaven. He worked as a basketball coach first, and then invested in a motel in Colonel, Mississippi, in 1974, which, after some hard work and savvy deal making, grew into a collection of Best Westerns in Mississippi and Texas. Along the way, he also acquired a car dealership in Columbia, Mississippi. By 1983, nine motels in the two states were controlled by his company, the Master Corporation.

At that time AT&T, then the largest phone company on the planet, was in the process of breaking up into AT&T and seven local phone companies. The breakup was the result of a federal action prompted by lobbying and efforts of MCI, then a small long distance provider. Now anyone, however small, was free to compete for the phone dollars. Recognizing the winds of change, in 1983, Ebbers got together with four investors to fund a long distance reseller. WorldCom folklore has it that Ebbers and the three other investors, Bill Fields, David Singleton, and Murray Waldron, hatched the blueprint of the company at a Hattiesburg coffee shop. The company's original name was apparently suggested by a waitress who inquired about what kind of company they were planning.

According to WorldCom's 1998 annual report, "[the] waitress walked away for a few minutes and came back with a napkin on which she had scribbled the letters "LDDC"—Long Distance Discount Calling. Later the name was changed to Long Distance Discount Service (LDDS).

"We got in as passive investors, saw the gold at the end of the rainbow, and thought it was going to happen the next day. It didn't work out that way," Ebbers later told the Jackson Journal of Business. Instead, the company lost large sums of money in the first two years. The investor group decided to put Ebbers in charge. He was the perfect choice: A pennypincher, he got the company to focus on small business customers who spent less than $20,000 a year on long-distance phone calls. The big guns like AT&T and even MCI ignored this segment of the market, focusing instead on Fortune 500–type companies that ran up huge phone bills. Ebbers figured it was easier to nibble at the long distance market in untapped segments than to take on AT&T and MCI from the word go. By employing this strategy, his company was able to stay just below the radar and survive on telecom crumbs for the next decade. But soon mere crumbs would not be enough to feed Ebbers' increasing appetite.

After the AT&T breakup, several long distance discounters had the same idea as LDDS; they, too, had set out their shingles and gotten into the telecom business. But, like LDDS, most of them were struggling because they either lacked hardware expertise or were run by telecom engineers with no marketing and sales savvy.

Ebbers quickly figured out that his company, which had both of these shortcomings, needed to get outside help. He found engineers and outsourced the hardware side of the business, but he still needed a marketing whiz. At a trade conference, Ebbers happened to met Diana Day, a former copywriter for a local television station who had once also done public relations for the Mississippi Republican Party. Day was working for a telecom reseller and was bored out of her mind when she met Ebbers, who decided to give her a shot at marketing. Turns out it wasn't a bad bet. Day turned things around for WorldCom: Sales skyrocketed from less than $1.5 million in 1984 to $3.3 million in 1985 and $8.6 million in 1986.

Around this time, Ebbers came up with another idea—growth through acquisition. It was a fairly simple strategy: Buy a company, keep its sales team, absorb its customers, and use LDDS's cheap infrastructure. By 1987, Ebbers' LDDS had bought five companies, mostly in the South. It was a perfect way to boost sales and become a big fish in, admittedly, a small pond, while staying away from AT&T, MCI, and Sprint.

Bernie focused on customer service. He knew that if LDDS paid attention to its customers, it wouldn't be long before more business would flow his way. While large companies typically ignored the small customers and treated them with scorn, customer service was his company's hallmark in the beginning, with the company providing affordable long distance to everyone. It soon seemed that Bernie Ebbers was on his way to becoming the Sam Walton of the telecommunications industry.

In 1989 LDDS acquired the publicly traded long distance reseller Advantage Companies of Atlanta, Georgia, and through the acquisition, LDDS became a public company. Also as a result of this acquisition, a key partner in future shenanigans, Stiles A. Kellet Jr., came into Ebbers' supernova. Kellet was the chairman of the board of Advantage and became an LDDS board member after the merger. In later years at World-Com he would play a vital role in the great worldcon.

Ebbers was now in contact with Wall Street and its financial analysts. One of them was Jack Grubman, then an analyst at the New York investment bank Paine Webber, who was eventually to play a major part in the rise and fall of Bernie Ebbers. "We both come from the wrong side of the tracks vis-a-vis the financial community. And I can relate to him far better than most people I deal with. Bernie and I would have a strategic session in Jackson, and it usually was while shooting pool and drinking beer," Grubman would later say.

Then, in December 1992, LDDS acquired another long distance reseller, Texas-based Advanced Telecommunications, for about $850 million.

Ebbers' life was about to get complicated. This acquisition brought with it a man called Scott Sullivan. When LDDS bought Advanced, Sullivan signed on as assistant treasurer for LDDS and was promoted to chief financial officer of the company by 1994. At about the same time, Jack Grubman quit Paine Webber and joined Salomon Brothers.

If Grubman became the one who encouraged Bernie to grow bigger through acquisitions, then Sullivan was the one who massaged the balance sheets to make it happen. The unholy troika was complete. Ebbers soon went on an acquisition tear, and the "Bernie and Scott show," as Wall Street dubbed it, had begun. Bernie would become the face of the company, Scott would bleed the acquisitions dry, and Jack would be the shill who would tout the company's stock. LDDS shares started to go through the roof, giving Ebbers more currency to continue his shopping spree.

To the outside world, Ebbers was becoming the monster with the insatiable appetite for telecoms, but in reality it was Sullivan who did the grunt work and was the real force behind all those deals. While Ebbers pranced around like a cowboy, Sullivan was busy explaining the various mergers to Wall Street. A former General Electric executive and Klynveld PeatMarwick Goerdeler (KPMG) accountant, he was quiet, had a way with numbers, and was the exact opposite of Ebbers' aggressive, in-your-face personality. Had it not been for Sullivan, Ebbers would not have had the gumption, or the knowledge, to sell the complicated mergers to Wall Street.

Surprisingly, the two men got along famously despite their contrasting personalities. They had adjoining offices and were often seen having lunch at the company cafeteria. Ebbers was a very suspicious man and a bit of a control freak. He never hired a chief operating officer and instead relied on a mere accountant to help run his business—perhaps because he didn't want anyone to know the real facts. No one dared question Bernie and his ways. But he trusted Sullivan.

In December 1994, Ebbers bought IDB WorldCom, an independent long distance phone company, for $936 million, and changed his company's name to WorldCom—a more grandiose moniker befitting its new stature. A year later WorldCom bought Williams Technology Group, also known as WilTel, a network carrier, for $2.5 billion. By the end of 1995, WorldCom had sales of $3.9 billion and debt of $3.4 billion—the debt-to-revenue ratio was perilously high, and would remain so for the entire history of the company. But even then, no one on Wall Street dared question Bernie. He would stride into meetings with investors, his chief financial officer Sullivan at his side, put up a graph showing World-Com's share price headed up, and smugly ask: "Any questions?" Ebbers got more audacious with every acquisition. For a while, it seemed there was no price he couldn't afford.


St. Bernie Rises

Ebbers' rise to the top and his newfound riches made him the new savior of Mississippi, one of the most underprivileged states in the country. He raised funds for local colleges, donated to charities, and employed thousands. He taught Sunday school at his Baptist church, served meals to the homeless, and helped get an economic revival going in Mississippi. In his adopted hometown, he became St. Bernie!

The company built a shiny new office in Clinton, a town of 24,000 quite close to Jackson, the state capital. Ebbers' company hired interns from local colleges and became a major sponsor of civic activities such as arts and crafts fairs and street festivals. He may have been a billionaire, but to the people of Mississippi he was one of them. Once he vowed that he would leave the state "only in a box." He drove an old, dented Ford truck that had a loose fender, wore blue denims and boots to work, and even wore a pair of jeans with a tuxedo jacket to his second wedding in 1999.

People would often see him walking about town chomping on a cigar. He would play pool, drink beer, and chat with locals as Willie Nelson music played in the background. Ebbers became so popular in the Jackson-Clinton area that people mentioned him as a possible gubernatorial candidate. But his long, flowing hair and homilies made him

seem more like a country-and-western singer than a top chief executive or a possible governor. Ebbers' act worked especially well with investors. They quickly developed a cultlike following for their hero, who would say things like "I'm no technology dude."

But behind the folksy façade, Bernie cultivated a taste for the good life. He was so caught up in his image as a takeover tycoon that he bought a $60 million yacht and named it Aquasition. He got other trappings of success as well, such as a stake in a minor league ice-hockey

team, the Bandits, and a 900-acre farm that included a 100-acre lake. He built a million dollar mansion and a stone-cedar lodge. In 1998, he acquired a 164,000-acre ranch north of Vancouver, British Columbia, for $68 million. The ranch had 11 lakes, 22,000 head of cattle, some 300 horses, and sundry businesses.5 It was almost the size of the state of Rhode Island. According to published reports, Ebbers not only bought the ranch, but he also bought timberland in the American South and a yacht-building company in Savannah, Georgia.

Along with the wealth came arrogance. He threw out a local reporter at a stockholders' meeting because he didn't like what the scribe had written.

While he publicly preached Christian values, it is said he would stay up late drinking with executives at WorldCom. He left Linda, his wife of three decades, and openly courted a WorldCom saleswoman, Kristie, who was also married at the time. "It's so inappropriate the way he wears his Christian banner. The people down here refuse to accept the hypocrisy," said a local Jackson real estate agent of Bernie's antics.

Increasingly, it seemed like Bernie's once folksy aspirations were taking a sharply more ambitious turn. With the advent of the technology boom in the mid-1990s, Bernie saw his chance to trade up from mere telecom crumbs to the meat and potatoes of the next telecom revolution: broadband.

With all the hype surrounding the Internet's potential, the fact was that most people were stuck in a world of dial-up modems. The vision was that this narrow, slow channel would soon be replaced by a much bigger pipeline over which one could get blazing fast access to CNN.com, listen to music, or even watch movies. This high-speed connection, 50 times the speed of a slow modem, is called a broadband connection.

Broadband connections need big infrastructure, the kind Ebbers was slowly acquiring.

In fact, WorldCom had stealthily become the quintessential example of an old-style phone company that got a broadband makeover. Gone was the company's customer-centric focus of yore. In a full-scale about face, Ebbers baldly admitted that his customers were now his investors.

He told Business Week, "Our goal is not to capture market share. . . . Our goal is to be the No. 1 stock on Wall Street." WorldCom shareholders loved Ebbers, and he became the king of takeovers. By the time Ebbers got the boot in 2002, he had bought about 70 companies and pushed the stock up 7,000 percent, (before it became worthless paper), making many people very rich, including himself.

- Om Malik, a writer for Business 2.0,
has previously worked for Forbes and Red Herring.
He lives in Palo Alto, Calif.

|TOP|
---
Report:


The Travails of Mrs Wong:
Healthcare and Language
– By Dr. Alice Chen

Language barriers can be a crippling impediment in providing proper health care, says Dr. Alice Chen, as she relates the disturbing story of Mrs. Wong, one of her patients.

Several months ago, Mrs. Wong came to see me because her left wrist was swollen and uncomfortable. I ordered blood tests and X-rays, which came back normal. Over the next few months, despite treatment, her wrist swelled so much she could barely bend it. An MRI showed a mass that surrounded the tendons and blood vessels in her wrist. We were both worried – was it a cancer? An infection? Bad arthritis? I sent her for a biopsy, to find out exactly what it was.
When Mrs. Wong came back, she showed me a scar on her wrist. She had had surgery, but didn't know what the doctors had found. She also showed me four new bottles of medicine the doctors had given her after the surgery. She had stopped taking them after a few days because she didn't know why she was taking them and felt they were giving her a headache.

One look at her medicine bottles, and I knew her diagnosis: Mrs. Wong had tuberculosis. Because she only speaks a little English, and her doctors didn't speak any Chinese, Mrs. Wong didn't know that she wouldn't be cured unless she took all her medications as prescribed.

When I explained to Mrs. Wong that she had tuberculosis, she was puzzled. "But I don't have anything wrong with my lungs," she protested. It is true that most people with tuberculosis have lung infections. They often have fever and cough, and may even cough up blood. But almost one out of every five people with tuberculosis has it outside the lungs. Any part of the body can be involved, including the wrist joint.

"But where did I get tuberculosis?" Mrs. Wong was probably infected when she was much younger. Most people who become infected with tuberculosis don't get sick right away. These people have the tuberculosis bacteria inside their bodies, but don't have symptoms, and can't give tuberculosis to other people. However, over time, the tuberculosis bacteria can "activate," either in the lungs or in other parts of the body. When that happens, the infected person requires many months of treatment with many different medications in order to be cured.

Was there anything that could have been done to prevent Mrs. Wong's infection? There is a simple skin test that shows whether or not a person has the tuberculosis bacteria in their body. If Mrs. Wong had had the skin test earlier, before she developed symptoms, she could have been treated with a preventive medication that would have decreased her risk of active infection by almost ninety percent. Unfortunately, Mrs. Wong was never tested, never took this medication, and developed active tuberculosis infection.

The good news is, despite the initial miscommunication, Mrs. Wong's infection seems to be improving, and as long as she takes all her medicines, she will probably be cured. Clear communication between patients and doctors is critical to good medical care. As a patient, if you don't understand your diagnosis or treatment, you should ask your doctor to explain. And if you don't speak the same language as your doctor, you should ask for a medical interpreter – after all, it's your health.

- Dr. Alice Chen is Soros advocacy physician fellow
with the Asian and Pacific Islander American Health Forum.
---
Finance: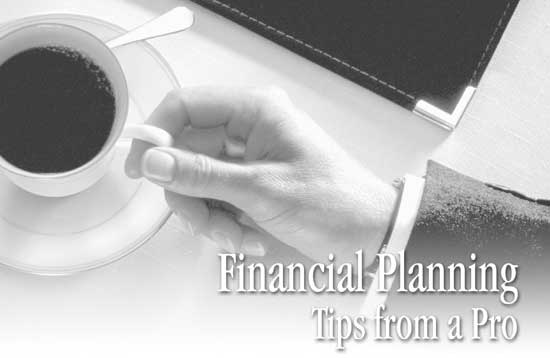 Financial Planning:
Tips from a Pro
– A Siliconeer Report

In these troubling economic times, Ashok Gupta, an insurance professional with years of experience assisting Indian Americans of diverse age groups plan and manage their finances, says planning for the future is crucial. A Siliconeer report.

Ashok Gupta came to California from Kolkata, India with his wife Sudha in 1995 followed by his son, Amardeep, in 1996. An active member of the Bay Area Indian American community, he has been charter vice-president of the Federation of Indo-American Associations of the Bay Area and has also helped to make the new state-of-the-art India Community Center in Milpitas, Calif., a reality.
Gupta works with other financial professionals to provide clients with additional services such as covering families' personal assets with property and liability insurances. He also works with an attorney and tax consultant to help his clients find solutions to complicated estate and tax issues. Excerpts from an interview follow.


Q. How do you help your clients manage financial risk?

A. I use a six-step process including a specialized program, called financial strategies, to uncover my clients' needs and to understand their dreams. To help protect the accumulated assets and earning power of individuals and their families, I provide a variety of insurance solutions including group and individual life, disability income, and health insurance, as well as annuities.

Q. How is managing financial risk different for your business clients?

A. Business priorities are different than individual needs. Although in small to medium sized companies, the individual needs of the owner are often intertwined with his business. I work to with owners and key employees to uncover and address the personal and business needs and to find ways to solve those problems with business dollars. I use financial products to provide for employee benefits, business continuation, succession planning, and executive compensation. As often as possible, I like to use tax-advantaged products in these situations.

Q. How important is it to consider managing portfolio risk in the current investment climate?

A. In the 1990s, many people made money without trying. It is different today. You have to review your portfolio on a regular basis. It is very important to strive and maintain a balance between income, stability, and growth in each of my clients' portfolios. I do this by determining my client's risk tolerance and then utilize a variety of fixed and variable investment products to get them going on the right path.

Q. What in your opinion is the most important issue young families should plan for?

A. Retirement, because by saving early and regularly, a family will probably avoid financial insecurity in retirement. Many people, who did not plan ahead, may be faced with the unpleasant situation of deciding what to do when the money runs out. My team and I work very hard with our clients to save for dignified retirements without having to lower their current standards of living.

Q. What is your method of helping someone seeking financial advice?

A. My mission is to help my clients benefit from their life's work, be it enjoying a secure retirement, providing their children with the finest education or positioning a company for continued growth and profitability.

Each person enters my office with his own dreams and goals. I partner with people and help them navigate through the often confusing and time-consuming array of financial options. My success is measured by how many goals and dreams my clients realize.

Ashok Gupta can be reached by email at gupta.ashok@principal.com.

|TOP|

---
Report: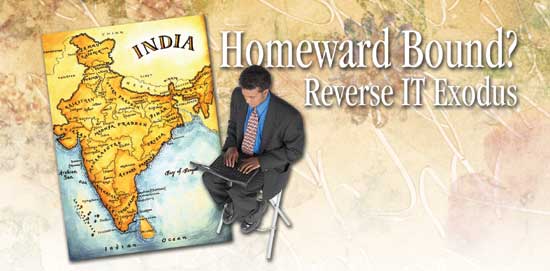 Homeward Bound?
Reverse IT Exodus
– By Raj Jayadev

The nation's recession-stricken high tech capital is seeing a new phenomenon, writes Raj Jayadev, who follows several Silicon Valley Indian IT engineers as they're recruited for jobs "back home."

In a reversal of fortune, Silicon Valley, which drew thousands of Indian tech workers in the 1990s, may be turning from hi-tech epicenter to hiring hall for developing information technology industries in India.
On a day in late July in Santa Clara, Calif., the heart of Silicon Valley, some 2,000 tech workers of Indian origin jockeyed for positions and anxiously handed resumes to recruiters from American companies starting operations in India. Industry lions such as Intel, Microsoft and National Semiconductor Company topped the list of the 28 employers participating in "Career Factory 2003," hosted by SiliconIndia magazine, which is sponsoring these job fairs across the country.

Already, companies like Oracle have started what some are calling "reverse brain-drain." Ten percent of the 4,000 new positions in Oracle's expanded India location are filled by Indians formerly based in the United States, according to the Mumbai news site rediff.com.

The cover of the brochure for Career Factory shows a road sign reading, "India Is Hiring." Every pitch about relocating to India is punctuated with the sentimental phrase, "back home." But economics rather than sentiment brought most of the people to the job fair.

"Life here is not stable, nothing is certain, and even those working may get laid off at any moment," said 26-year-old Jinal Shah. A recent graduate from Arizona State University's electrical engineering masters program, he has been unable to find work.

Shah came to the United States from Ahmedabad as a student hoping to work here for at least five years before considering a return home. But now relatives in India tell him that employers are hiring straight from Indian campuses.

"No one here wants to hire freshies anymore," he said. Freshies are recent engineering graduates, and the Career Factory is filled with them. Shah stood in the corner of the Hilton lobby looking a bit overwhelmed. Two thousand anxious and ambitious techies and 30 potential employers did not make for a good ratio. Everyone saw the 500 resumes on top of the recruiter's desk and battled to be number 501.

Kumar, a middle aged man originally from Tamil Nadu, came here on a H1-B visa — a temporary work visa granted for specialized fields — two years ago. Though he is currently employed, he is nervous about possible layoffs. "You have to worry all the time. I came here to work. If I am not working, why should I stay in the U.S.?"

For this father of a 1-year-old daughter, India has advantages for a young family that San Jose does not. "Here we are alone, so I have to set up things like day care myself, but in India we have relatives we can call on."

Workers like Kumar are exactly what Sonia Mathai, recruiter for Synopsys, is looking for. The company is expanding its Bangalore office and could use American-trained workers interested in returning to India. The jobs she is hiring for — physical design engineer, senior applications engineer, R&D engineer — pay a third of what they command in the United States, though of course the cost of living is lower in India.

Though she was bombarded with questions, Mathai said few were about income. People were more worried about H1-B visas expiring, or said they do not see any upward mobility here. "Everyone here seems title-savvy. They don't want to know what the job pays, they want to know what they will be called."

The Indian IT industry itself is seeking respect, too. American companies have been outsourcing to India for some time, but the jobs have mainly been support positions — call-center operators answering confused American costumers' questions about their credit cards, or code writers doing software assembly work. Until now, India has only been seen as a cost-cutting, cheap labor pool for what SiliconIndia called the "less desirable" jobs of the U.S.-based IT industry. "If India is to become a software powerhouse, it is important that IT work in India include core software product development," SiliconIndia's Web site reads. Such jobs were the ones being listed at the Career Fair.

Some industry leaders in the Valley see the reverse brain-drain as a temporary phenomenon prompted more by the growing number of unemployed H1-Bs rather than greener pastures in India. Raj Desai, executive director of The Indus Entrepreneurs, a network of mostly Indian American professionals and entrepreneurs, said that despite anecdotal stories of Indians going back, Silicon Valley remains the international tech Mecca.

"Of course with a 9 percent unemployment rate people are exploring options, but everyone serious in this field knows we are just going through a cycle. Silicon Valley is absolutely going to come back," Desai predicted.

But already, other countries are cashing in on hard times in the Valley. An advertisement in the Career Factory program features Canada as another option for U.S.-based Indian tech workers. "Too hard to get a USA green card?" the ad asks. "Worrying about being laid off? Why not get a Canadian green card as a back up?"

— Pacific News Service

- Raj Jayadev is a contributor to Pacific News Service

---
Event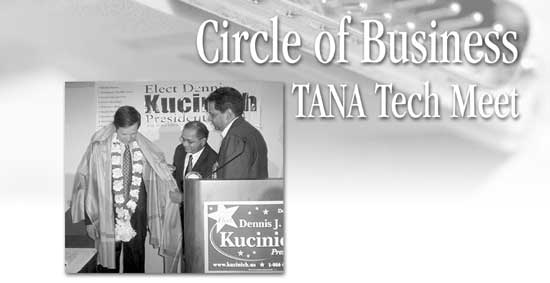 (L-r) Rep. Dennis Kucinich, Dilip Kondiparti (co-chairman) and Bhaskar Rao Chadalavada (chairman)

Circle of Business:
TANA Tech Meet – By Shanti Ayyagari

Rep. Dennis Kucinich headlined a high tech meet hosted by the Telugu Association of North America, writes Shanti Ayyagari.

Democratic Congressman and 2004 U.S. presidential candidate Dennis J. Kucinich headlined the TANA technology and business conference at the Hilton Hotel in San Jose, Calif., July 5. The conference was part of TANA's Silver Jubilee celebrations.

Business forum chairman Bhaskar Rao Chadalavada spoke about the circle of business: the circular relationship between information technology, business acumen, generating wealth, plowing the wealth back into the community service and enabling people to become Information Technology savvy.

Kucinich delivered the keynote speech on "This land is your land, this land is my land."

The Ohio lawmaker reiterated his support for the cause of peace. He discussed the idea of setting up the Department of Peace if elected president. He called for a nuclear free world and promised to reduce defense spending if elected. He said he would abrogate the document of pre-emption and unilateralism in attacking other countries.

Business presentations and panel discussions included speeches on stem cell research by Prof. B.V. Madhukar and Dr. Ram Kumar Mandalam, while Dr. Mir Imran spoke on advances in therapeutic and diagnostic medical devices and Dr. Narayan Raju spoke on preclinical trials in medical device industry, animal modeling and surgeons' training.

The afternoon sessions were particularly well attended. S.A. Ibrahim moderated a discussion on new frontiers in outsourcing with panelists Sumir Chadda, Bala Manian and Krishna Yarlagadda. Sridar Iyengar coordinated a discussion on entrepreneurship. Panelists Sam Mathan, Ashok Rao, Vani Kola and Sateesh Andra pitched in with their views. Entrepreneurs Venkat Puvvada and Satya Akula spoke about the federal opportunities, while moderator Mahesh Kanumury led panelists Ravi Chiruvolu, Chittaranjan Mallipeddi, Venkat Vankayalapati and Rao Cherukuri in a discussion on technology trends. Conference co-chair made closing remarks.

- Shanti Ayyagari is a freelance writer
based in the San Francisco Bay Area.

|TOP|

---
What Have They Done to the Dream?


Remembering the Freedom Movement - By Ved Prakash Vatuk

Award-winning poet and folklorist
Ved Prakash Vatuk reflects on the surge of idealism and sacrifice that characterized India's freedom movement which he witnessed as a teenager.


---

All the freedom fighters, be it the Gadari Babas, the revolutionaries like Bhagat Singh, the Gandhians, who sacrificed their lives for India's freedom dreamt of a casteless, classless democratic secular India based on equality and social, cultural, economic and religious freedom free from all exploitation and bigotry.

---
During the freedom movement my brother Shri Sunder Lal was jailed by the British many times. In 1931 at the age of 24 he was serving his jail sentence in Bareily Central Jail. It so happened that Pandit Jawaharlal Nehru was also in the same jail in "A" class. This jail was considered to be more oppressive than others. Prisoners in "C" class were tortured everyday. They were routinely beaten, put in a solitary cell and their privileges taken away at the whim of the jailer. The aim was to force them to ask for pardon.

But the result was always the opposite. The more the torture, the more the firmness on the part of the prisoners. One day my brother met Mr. Nehru when he was taking his morning walk in the prison compound. My brother asked if he knew about ill treatment of the satygrahis in 'C' class. Mr. Nehru, who was so pained when an old mother was lathicharged during a protest march, became angry and he said, "If they can't bear the torture they should apply for pardon and go home." My brother politely replied, "Yes Panditji, we can apply for pardon and go home, but don't forget your leadership depends on us. We are your power."

When the history of freedom movement is written today, the authors forget the contribution of the masses and concentrate on the life of the few leaders. We forget that the power that Nehruji and Gandhiji enjoyed came from the thousand of little Nehrus and Gandhis spread all over in the villages and towns of India, many of whom have sacrificed much more than their leaders. It was the band of these selfless patriots who took the message of freedom their leaders were expounding to every little village. They included thousands of folk artists who composed and sang patriotic songs in their dialects and took the message to the people. Their lyrics resounded throughout the land and were recited even by the children who were just beginning to speak. Sitting in the lap of my brother and father I sang these songs at the age of three. It was this kind of atmosphere which inspired me to walk eight miles alone to a town to hear a speech by Netaji Subhash Chandra Bose, when I was seven.

The 15 years that I spent in the British colonial rule in India before we gained our freedom were very unique. The movement for freedom was in full swing on many levels of the society. In village schools, in gurukuls, in homes and in markets, people were fighting for their economic, social, religious and political freedom. The workers, the peasants, the women – all sectors of society wanted equality in every field, cultural, educational and social. There was not a single fair, where camps were not organized to propagate the cause of social and political change. During a yearly religious fair in Garhmukteshawar I myself witnessed my brother and Chaudhri Charan Singh seated on an elephants going around with a sound system and singing songs to inspire peasants and workers to rise anf fight. In a song they sang: "You have the power to bring down the world to its knees if you only rise."

Every week we rose early in the morning and took prabhat pheris — the morning walk around the village — and sang patriotic songs. Our school began with prayers in which we promised to sacrifice all we had for the nation. Our ritualistic songs were changing their words. The sisters, no longer satisfied with the token gifts they received on various festivals like Raksha Bandhan, were demanding their rights to be educated. Dalits were demanding the end of centuries-old oppression. Peasants were demanding the abolition of the horrible zamindari system. Thousands of these folk singer gave up their normal family life for the cause of their choice. The country seemed to be a continuous movement to bring total revolution. The people came forward to help the families of the freedom fighters when they were in jail. When in 1931 the government auctioned everything we had, to collect the fine imposed on my brother. we had a crisis. Our sister was engaged and was supposed to be married. The villagers came to help with the slogan, she is the daughter of the village. She was married with better gifts and parties than was planned before.

In 1941 when my father died while my brother was in jail and my mother was left with two sons to raise. My other brother was 13 and I was 9 at that time. Friends came from far and near walking on foot to inquire about our welfare and help. This continued during the Quit India Movement of 1942 also. It seemed that we were free then and felt that no one could subjugate us by arresting our leaders and torture. It was so different in 1977 when Indira Gandhi imposed emergency. People were afraid even to be seen near the houses of the detainees.

The dedication and the mood of the nation at that time can be described by another event. In 1942 the government closed down all branches of the Gandhi Ashram — an institution producing and selling khadi and other swadeshi products. Most of the branches were operated from little mud huts. Their cash was kept in little wooden boxes. The workers took clothes, money boxes and other properties home and when the ban was lifted they brought every thing back. Today, the ashram is a billion-rupee industry occupying huge buildings with security systems where embezzlement has become a routine.

What was the dream of these folks who sacrificed so much? Building a united India without any exploitation based on equality and social justice. From the youngest martyr of the Gadar movement Kartar Singh Sarabha, who was hanged by the British at the age of 19 to the folk singer Prakash Ajmeri they were identifying themselves as INDIAN. "I am nothing but Indian, my blood, my caste, my religion, my clan, this is the only identity I have," sang Sarabha in his jail cell. "Let's all sing the glory of mother India together, whose sons we all are," sang Prakash Ajmeri in the village meetings. The British Raj was viewed as oppressive, where all officers — little or big — simply robbed the peasant. And that had to go. But with it the system of oppression had to go too totally. In one song they dreamed of the day when India would be free and with it "all the courts will be closed, the lawyers, the judges selling peanuts for living/ the district magistrates, the police chiefs, will sell fruits on the streets." There would be a kisan-mazdoor raj, When I was five years old I heard Chaudhari Charan Singh, then the president of the district Congress committee, telling a gathering of the villagers what freedom would bring: a house for everyone, enough clothing to cover one's body, free education, free medical care, and a self- dependent village. The villagers who lost their land in the 1857 revolution would get it back.

All the freedom fighters, be it the Gadari Babas, the revolutionaries like Bhagat Singh, the Gandhians, who sacrificed their lives for India's freedom dreamt of a casteless, classless democratic secular India based on equality and social, cultural, economic and religious freedom free from all exploitation and bigotry. It was a dream dreamt across the board — by a simple uneducated villager to the sophisticated urban elite. Needless to say we are far from the fulfillment of that dream, and there appears to be little reason to believe we are getting any closer.
- Ved Prakash Vatuk is a poet, activist and
folklorist whose poetry has won an award
from the U.P. government. He has taught and
researched at Harvard, University of Chicago and
the University of California at Berkeley.

|TOP|

---
Community: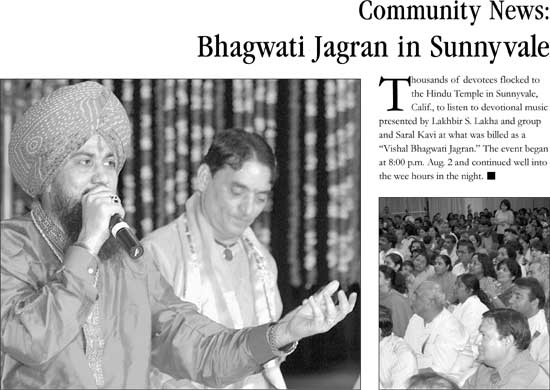 Community News:
Bhagwati Jagran in Sunnyvale


Thousands of devotees flocked to the Hindu Temple in Sunnyvale, Calif., to listen to devotional music presented by Lakhbir S. Lakha and group and Saral Kavi at what was billed as a "Vishal Bhagwati Jagran." The event began at 8:00 p.m. Aug. 2 and continued well into the wee hours in the night.
|
TOP
|
---
Auto Review: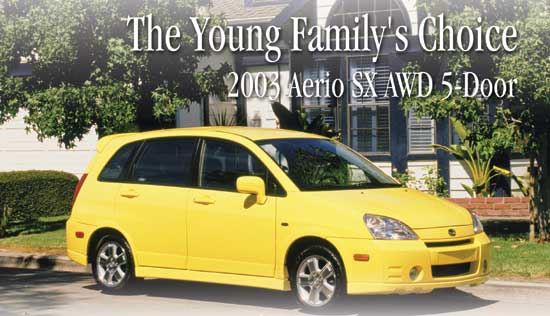 The Young Family's Choice:
2003 Suzuki Aerio SX AWD 5-Door – By Al Auger

The bright yellow sprite-like Suzuki Aerio is a multi-faceted fun machine, writes our automotive editor Al Auger.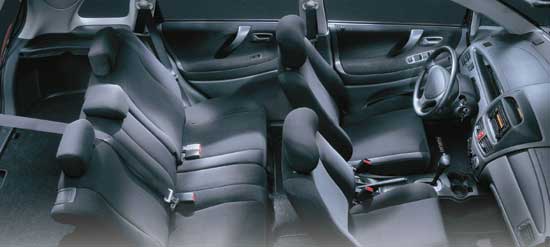 Are we having fun yet?," it seemed to say. Bright yellow and sprite-like, the 2003 Suzuki Aerio SX AWD 5-door answered its own question. It is the latest in the latest genre of sport utility crossover vehicles, but is more like an MFFM (Multi-Faceted Fun Machine). Styled in Turin, Italy, the Aerio represents a fully realized Euro-hatchback that has been a mainstay on the continent for many years.

This is the first year for Suzuki's QuadGrip all-wheel-drive system and is available on both the flavor of the week — the Aerio SX — and the GS sedan. The Aerio SX combines all the aspects of a sedan, hatchback and sport utility, thus offering a lot as a solid family machine with a multitude of uses. Plus, of course, a budget-happy price and fuel numbers. My eye (and foot) was on the performance attitude and handling setup.

The European posture is found in just about every level, from the puckish exterior to the large and useful interior to the solid handling. Inside, the people space is impressive with plenty of headroom for anyone of more than average height. The tall person will appreciate the legroom, as well. Another good point is the full load of standard equipment at the base figure of $15,999. There are only three options offered in the SX: QuadGrip AWD ($1,000), anti-lock brakes (ABS) ($500), and SX carpets ($75). An unseen gift is no-charge destination and handling usually in the $500-600 range and a 7-year, 100-mile warranty.

The ergonomics are excellent including a six-speaker audio system with in-dash, 6-CD changer. The two-tone black and gray interior is well balanced between vinyl and cloth. The audio fascia is set high on the center console for easy access and all the gauges and dials are big for quick reads and the controls large.

If there is one complaint it will have to be the rear passenger seats. While the space for two adults is more than generous with plenty of leg and head room, unlike the comfortable front seats the rear seatbacks are straight as an Amish highback chair. With all the cargo space allowed behind the seats, a slight slope would not impinge very much. The split seatbacks do fold flat for added storage area.

Under the sloping hood is ensconced a rather robust powerplant when you compare it with the competition. The 2.0-liter, DOHC, multi-valve, in-line 4-cylinder engine cranks out 145 horsepower and 136 lb-ft of torque. A slight push with the left foot and the punch is evident as the torque kicks in hard at a low 3,000 rpm. Add this to the QuadGrip AWD and the Aerio SX is a ball to drive. Quick and lithe, the suspension is right in the European sense of stiff but comfortable. Another big, but unseen, feature is the new unibody architecture that provides less body roll and road chatter. The 4-speed automatic is a well-behaving partner with no lag between shift points and accepts hard acceleration with glee.

There are other features that are not always looked at by the consumer, but can be a real money-saver and fun-kicker. The Aerio engine sports a zero-maintenance timing chain. Just ask someone who forgot to have their timing chain checked and one-day dropped the innards all over the road. The rear-window wiper/washer can be a Godsend in a big storm or in snow country. One of the most important safety factors that is now a standard on just about all marquees is remote controls. No more winding windows up or down while driving. How nice it is to just push a button with an armful of groceries to gain access.

The 2003 Suzuki Aerio is just the ticket for the young family who appreciates the added gift of smallness with big attributes. A fun traveling companion.

Today's Test Drive: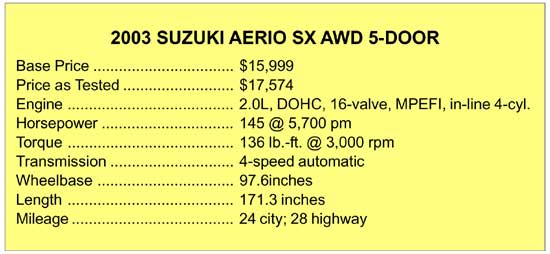 Al Auger, our automotive editor has been writing about cars for over 30 years.
He has spent 20 years as a race driver and public relations specialist.
|TOP|

---
Bollywood: | Guftugu | Hindi Film Review |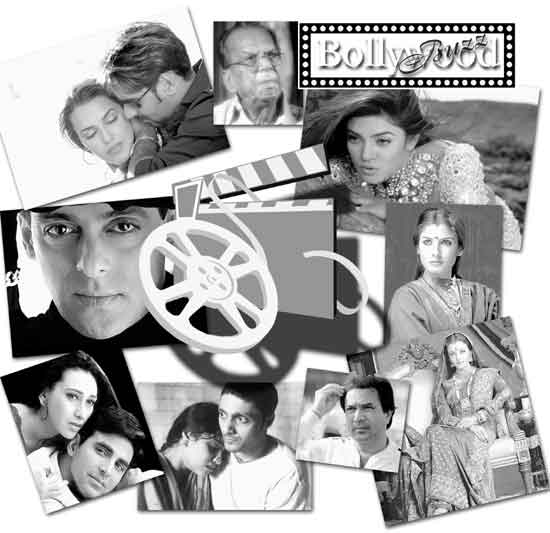 Guftugu

Khullam Khulla Pyar

Bollywood heroes are such a brash lot. If the films are to be believed, they dance around trees, publicly declare their love for their mehbooba to anybody who will listen, and are willing to make a public nuisance of themselves to make their feelings known.

Reality, however, can be quite different. Take the little matter of Vivek Oberoi and his lovebird Aishwarya. This hot stud may not miss a beat before getting into a shouting match with Bollywood enfant terrible Salman Khan, but when it comes to planning a rendezvous with the beautiful Ash, he seeks refuge in a burqa.

I kid you not. A little bird tells us that our handsome stud muffin hid under a burqa to meet Aish at her hotel when she was shooting for Rajkumar Santoshi's Khakhee.

Maybe he can learn a thing or two from Aish. When Vivek was hospital-bound during a recent accident in Kolkata, the Devdas beauty flew in from London where she was shooting for Gurinder Chadha's Bride and Prejudice. She came flying in to see her loverboy, and if that meant walking down the gauntlet of satellite TV crews, so be it. Reminds us fondly of the Rishi Kapoor song: "Khullam khulla pyar karenge hum dono." So, Vivek, my friend, lose that burqa.
|Return to Bollywood Index| |TOP|

Bong Invasion

Oh dear. Oh dear. Those snooty Bongs are going to have a field day now. You now how Bengalis love to pride themselves on their artistic caliber (never mind that their commercial regional cinema industry appears to be in terminal distress), and now the National Awards seem to be proving them right, too.

Not only has the Best Film award gone to Bangali babu Buddhadeb Bhattacharya for Mondo Meyer Upakhyan, Aparna Sen has won the Best Director Award for Mr and Mrs Iyer, and her daughter Konkona Sen Sharma has beaten Aishwarya Rai of Devdas for her performance in Sen's film.

There's more. The Indira Gandhi National Award for the First Film of a Director was shared by Abhijit Chaudhuri and Subhadro Chaudhury for the Bengali films Patal Ghar and Prohor respectively. Singer Shreya Goshal bagged the award for the song "Dola re dola" from Devdas.

And Sanjay Leela Bhansali's Devdas may have won the prize for the best popular film, but any self-respecting Bong will tell you that the film is based (rather loosely, according to some disgruntled Bongs) on the peerless Bengali novelist Saratchandra Chattopadhyay. Amar sonar Bangla, ami tomai bhalobashi.
|Return to Bollywood Index| |TOP|

Peacenik Akshay

Akshay Kumar may be quick to sock villains in films, but don't think he enjoys gratuitous violence. In fact the Bollywood star took a surprisingly courageous stand when he decided point blank to mouth anti-Pakistani dialogues in Anil Sharma's Ab Tumhare Hawaale Watan Saathiyon.

The film also has Amitabh Bachchan and Bobby Deol, and Sharma has contradicted Akshay, saying the actor had no problem with the script.

Not true, says Akshay.

"I did have a problem with the script's rabid dialogues. I winced when I read some of the strong words used for our neighbors. I volunteered to leave the film, and in fact did so," he told the Indo-Asian News Service's Subhash K. Jha.

"But Anil, who's a friend, promised to clean out objectionable dialogues. Only then did I agree to be in the film. I think I'll ask for a clause in my contract stating I won't make abusive remarks about Pakistan.

"Terrorists must not be equated with civilians. Let's all condemn terrorism. But please, let's not look at all Pakistanis with hostility suspicious and hatred.

"We in Bollywood have so many fans from across the border. We cannot disregard their feelings just for a few cheap thrills on screen. I don't think being a patriotic Indian means we should abuse another nation.

"At a time when we're trying to build bridges between the two countries, when bus services have been resumed and (Pakistani child) Noor's heart was mended by Indian doctors, why can't we speak a language of love in our movies?"

We sincerely hope Bal Thackeray hasn't been eavesdropping.
|Return to Bollywood Index| |TOP|

Stumped Raveena

Pity poor Raveena Tandon. Her production venture Stumped, it turned out, was aptly named, if you go by its dreadful run in the box office. Her special appearance in Qayamat was unceremoniously snipped off.

And now it turns, her bachpan ki saheli Priti Sinha has also bid her adieu.

Can you believe the two-decade-long friendship has foundered on money matters? Yet insiders say that's exactly the case. Raveena and Priti were partners in producing Stumped, and they have also produced another unreleased film for Sahara titled Pehchaan.

Well, the partnership is history now. But what must surely hurt Raveena more is that the friendship is gone too.
|Return to Bollywood Index| |TOP|

Seriously Funny

Comedy and class seldom go together in Bollywood films. In fact, the opposite is often the case. Johny Lever's overwrought antics, or Govinda's tapori shenanigans seldom aspire to great heights. And then there's the execrable toilet humor. (Remember Dada Kondke's dreadful double entendres? "Andheri raat mein, diya tere haath mein")

This makes yesteryear's comedian Johnny Walker all the more remarkable. Badruddin Jamaluddin Kazi (known on screen as Johnny Walker) who died recently was off films in the last 20-odd years till Kamal Haasan gave him his swan song in a drunken cameo in Chachi 420 in 1997.

The son of a mill-worker in Indore came to Mumbai with his father. Johnny himself worked as a bus conductor before dazzling film buffs with his trademark clean humor with his sharp wit, shrugs, a long grin and even a frown that drew guffaws.

He became a compulsory presence in Guru Dutt's films. He also acted in several films of Bimal Roy, B.R.Chopra and many other top grade filmmakers. His famous films include C.I.D., Aar Paar, Jaal, Taxi Driver, Kaagaz Ke Phool, Chaudhvin Ka Chand, Naya Daur, and Mr & Mrs 55.

He considered himself the luckiest man because he had made people laugh for thirty years, and was proud of the fact that not a single word he uttered on screen was ever deleted by censors. What a sad descent to today's Bollywood, where comic lines are sometimes so bad that one wishes it was censored.
|Return to Bollywood Index| |TOP|

Salutary Salman

Come again? Okay, we readily confess that the blackbuck-shooting, SUV-crashing, lover-bashing (sometimes literally, if dark rumors are to be believed) Khan would hardly appear to be a role model for probity, but that's exactly what seems to have happened since he slammed his SUV in a Bandra bakery late at night.

Mumbai police say there has been a 70 percent reduction in drunk driving since Salman hit the headlines. (Which headlines, you ask? Okay, well taken point, that. The headlines following his automobile crash, incarceration and the inordinately drawn-out court case.

Apparently all the music faced by the Bollywood star has had quite a sobering effect (pun intended) for Mumbai motorists. Last year, police collected Rs. 3 million from drunk drivers. The takings this year? Only Rs. 450,000. Talk about unintended consequences.
|Return to Bollywood Index| |TOP|

Sullen Sushmita

You wouldn't know what the heck's up from seeing Sushmita, who has been tightlipped about the whole painful episode, but nasty rumors have been flying about why Sushmita and Coke have had a fall out.

In February this year, Sushmita was supposed to have done Coke's Thums Up Grow Up Challenge ad campaign.

However, Coke said she was dropped. Now it turns out that she has left. So what's going on here? Both Coke and Sushmita are being coy. Coke cites "contractual problems," while Sushmita's manager says there were "serious issues" that led to a parting of ways.

There, does that make you any wiser? Me, neither.

The real juicy secret, a Bollywood insider says (where would we be without these public spirited busybodies), is that a senior Coke official tried to get fresh with Sushmita,and the Bollywood starlet is waiting for him to apologize publicly before she considers doing the campaign again.
|Return to Bollywood Index| |TOP|

Double Trouble

A dubious double of a Rajesh Khanna double is ripping of people and the Rajesh Khanna double is fuming.

Sounds confusing? Here's the story. Vijay Thakur played Rakesh Khanna, a Rajesh Khanna look-alike in Five Rifles and Nasbandi.

Imagine his chagrin when he discovered that an extra named Chandrashekhar pretended to be Rakesh Khanna and has been making heartrending pleas to Bollywood celebrities to get money. Thakur found this out as he was watching the news in Ghaziabad. He was aghast. He runs a prosperous real estate business, and wouldn't dream of asking for money from anyone.

"He has raised lakhs of rupees just by carrying a placard 'I am Rakesh Khanna' and has given the film industry and me a bad name," Thakur fumes.

Chandrashekhar was identified by two Bollywood actresses at a police station as someone who could not possibly be the man they worked in those films and the beggar has been remanded to the Beggars' Home.

Meanwhile, what does yesteryear's matinee idol have to say about all this? If anything, he is amused.

"I am fascinated, and as always wish the best for anyone imitating me," was his tongue-in-cheek reaction. "It takes talent to play someone else!"
|Return to Bollywood Index| |TOP|

Salman Aish Together?

It sounds as impossible like an India-Pakistan lovefest or a George W. Bush-Osama bin Laden summit meeting. But it might just happen.

Pritish Nandy has commissioned Deepa Mehta to direct a remake of the yesteryear classic Sahib Bibi Aur Ghulam. When he was planning all this, Salman and Aishwarya were in love, and both had agreed to act in his film.

Things are rather different now, but Nandy is confident that Aish will honor a verbal comment made to him earlier. Aish concurs, saying: "Yes, I am doing the film if that's what Nandy and Deepa have said!"

But insiders say Ash would rather drop dead than act beside Salman.

So what exactly is going to happen. Too early to tell. Nandy has probably decided he will cross the bridge when he comes to it.
|Return to Bollywood Index| |TOP|

Shady Secretary?

Rikku Rakesh Nath, one well known as the secretary of Bollywood queen Madhuri Dixit, has gone from strength to strength. Now he represents Madhuri Dixit, Adnan Sami, Namrata Shirodkar and Amisha Patel.

But he finds his name in the headlines for the wrong reasons. He has been whisked to the special cell office at Delhi's Lodhi Colony, where police questioned him over his possible links with the underworld.

Delhi police say they have questioned him over possible hawala links with Dubai-based Dawood Ibrahim and his gang.

Rikku categorically denies he was questioned by the police. He even denies he had been to Delhi in recent weeks, even as a senior Delhi police official has confirmed that he has been questioned. Go figure.
|Return to Bollywood Index| |TOP|

---
Hindi Film Review
Campy, Over-the-top Thriller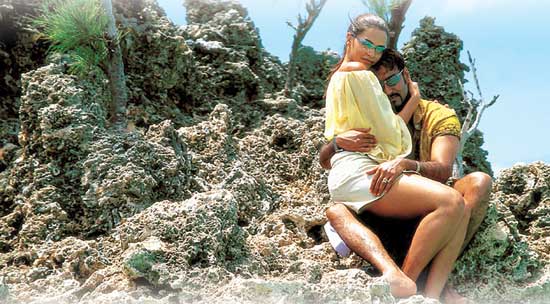 QAYAMAT
Directed by:
Harry Baweja
Music:
Nadeem-Shravan
Starring:
Ajay Devgan, Suniel Shetty, Chunky Pandey, Ayub Khan, Arbaaz Khan, Sanjay Kapoor, Ishaa Koppikar, Riya Sen Verma, Kulbhushan Kharbanda, Anjan Srivastava, Achyut Poddar, Govind Namdeo and introducing Aashish Chowdhry and Neha Dhupia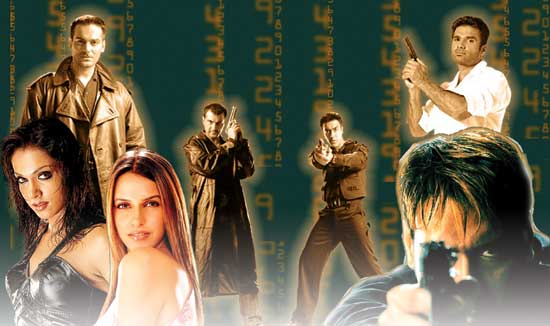 Forget Sean Connery. Nicholas Cage, eat your heart out. Who need's Hollywood when we have the likes of Harry Baweja who can clone Hollywood's The Rock with verve into a campy thriller that is so deliciously bad that it will definitely attract audiences?
The film shares the slick technical values and sound patriotic basis with much better films like Sarfarosh or 16 December, but where it parts company with the other two critically acclaimed films is that it is unwilling to sacrifice box office moolah in the cause of good taste.

The result is a film that freely panders to the lowest common denominator in terms of audience likes and dislikes. Pack in a lot of action and gore, and the public won't notice the dodgy underpinnings of the plot, the canny filmmaker must have thought. It's like stuffing red chilli and spice in a curry, so you can't tell how badly it's cooked.

For instance, the main characters, in hallowed (or hackneyed, if you want to be unduly harsh) Bollywood tradition, each have a cheesy love story that provides the impetus to battle a looming terrorist threat against Mumbai. After the battle lines are drawn, the film hurtles non-stop with action sequences that give audience little pause, and then rushes headlong to its conclusion, which again in Bollywood fashion, is utterly predictable.

The unfolding absurdity is not the only thing that's over-the-top. The action in the film adheres to the Bollywood dictum: in cases of excess, add more. From rocket launchers to Matrix-inspired kung fu, the film's heroes use it all.

Then you have the three sexy sirens, who make yesteryear's Hollywood vamps look positively staid. Isha Koppikar, Riya Sen, and Neha Dhupia mix lethal intent with unabashed sensuous oomph. (Koppikar takes what she has and runs with it –her exaggerated campy performance is actually pretty good.)

For some obscure reason, poor Raveena Tandon's special appearance is axed, and lost in the shuffle is a good song ("Mujhe tumse mohabbat hai").

Here's how the story goes: A group of terrorists — Abbas (Sanjay Kapoor), Ali (Arbaaz Khan) and Laila (Isha Koppikar), take over a maximum-security prison near Mumbai. (Things get a bit bizarre here—Abbas and Ali are brothers, and Laila is the lover they share.) Abbas is a computer engineer, and Ali is a chemical engineer. With the help of government scientist Gopal (Chunky Pandey), the terrible trio smuggle a deadly virus into the jail.

Holding over 200 hostages, they give an ultimatum to the government: Give us Rs. 15 billion and safe passage to Pakistan, or we will launch a missile laden with a deadly virus.

The government sends CBI officer Akram Sheikh (Suneil Shetty) to tackle the thugs. However, Sheikh figures the best way to deal with a tough, dicey situation is to infiltrate the prison. A law enforcement officer like him is apt to stick out like a sore thumb, so he decides to join hands with ex-con Rachit (Ajay Devgan). Meanwhile, a scientist (Aashish Chowdhry) is working on a vaccine to disarm the virus strain. All of this leads to the inevitable—and unduly prolonged—climax, where unsurprisingly, good triumphs over evil. Mera Bharat mahaan.

It's all quite preposterous, but then, whenever was reason Bollywood's strongest suit? Yet one has to give credit where credit is due: The film is slickly made, the action sequences, with their slow-motion shots a la Matrix by Sanjay Gupta have a phoren feel, so Hindi film buffs will likely be quite satisfied with the paisa vasool entertainment, provided they are willing not to unduly exercise their logical faculties. No worries there, suspension of logic is a skill Bollywood fans have long mastered; in fact it may be said that it's almost a prerequisite to savor the joys of this wacky genre of phillum.

As for individual acting, Ajay Devgan is remarkably effective in a characteristically understated but compelling performance. He oozes a dark, menacing quality—this is where his dour, taciturn persona comes in handy—and provides an interesting contrast with Suniel Shetty, who as usual is his loud and intense self. With a minimum of histrionics, Devgan does the "ex-con with a golden heart" role convincingly.

The film itself, to belabor a point, is much less convincing. To be fair to Baweja, though, given the precarious box office run of recent Bollywood films, he probably wasn't in a particularly adventurous mood, artistically speaking.

The result is a film not unlike your B-grade Bollywood starlet—great looks, but not a whole lot between the ears. At least Baweja proves that Bollywood has the technical skills to get the audience into a cinema, now all it needs is a little more gumption and guts to go that extra mile—so that at the end of the day we have more than mindless fluff.

To be fair to Bollywood, even Hollywood isn't free from the lure of the siren call of moolah. This summer season has been particularly silly, and the likes of Lara Croft: Cradle of Life and The League of Extraordinary Gentlemen are inane enough to even make Bollywood blush. And Gigli, of course, is simply beyond the pale.

|Return to Bollywood Index| |TOP|
---
Tamil Film Review:
Feel-good Entertainer

THITHIKUDHEY

Director:
Brinda Sarathy
Cast:
Jeeva, Sridevi, Shrutika, Vivek, Nasser, Devan
There is not much that is new in this film by way of story; the tale of childhood friends getting separated and then being reunited at the end has been told so many times that avid Tamil movie buffs will doubtless find the story not like an old friend.
Very briefly, here's how it goes. Adverse circumstances lead to the separation of childhood playmates Venu and Anu. Many years later, they run into each other, but they are not aware that each was the bosom friend of the other in childhood.

Venu is wooed by the spirited Shruti, while Anu's scheming father has finalized her marriage to the wayward son of his business partner.

Debutant director Brinda Sarathy, who had penned the dialogue for Anandam, steers the narration smoothly, with the scenes falling into place nicely. Vivek's comic capers are an integral part of the film, and his antics bring color and entertainment.

Jeeva made a promising debut in Aasai Aasaiyay. He appears to have improved since then, his acting skills have also been honed substantially. He gives a more mature performance these days. His buff physique, toned up, doesn't hurt, either.

Sridevi brings to her screen presence a fetching combination of looks and talent. Clearly, she is an artist to watch out for. However, she needs to guard against being stereotyped. One more of these soft-heroine kind of roles, and she may find herself locked into the deathly vise of a locked niche. Shrutika is vivacious. Seasoned artists Nasser and Devan provide good support to the leading roles.

Like many of the recent films from the Supergood banner, this film is a soft, romantic feel-good entertainer. However, the producers should be told that the genre is getting increasingly jaded. One reason for this is that during the gap between its Telugu original (Manasantha Nuvve) and its Tamil remake, a number of Tamil films have been released which essentially follow the same plot formula. So, one cannot but have a sense of deja vu throughout the film.

|TOP|
---
Recipe: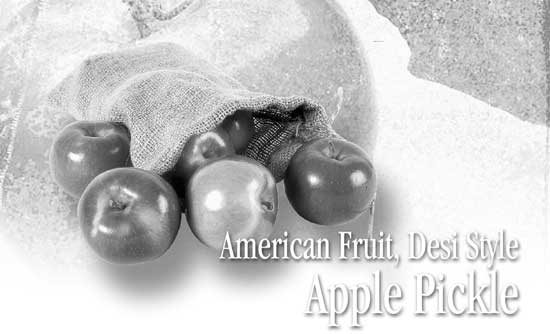 American Fruit, Desi Style:
Apple Pickle
–
By Seema Gupta
Apples are as American as it gets, but why not add a desi touch to it? Seema Gupta offers a recipe where East and West meet.
Ingredients
4 lbs apples (diced)

2 lbs sugar

1 tsp salt

2 lemons (juice)

½ cup oil

2 tsp cumin seeds

6-7 cloves

3-4 piece cinnamon stick

2 tsp red chilli powder

Method

Take diced apples in a pan. Add sugar, salt and lemon juice. Mix well and keep aside.

Heat oil to a boil. Add cumin seeds, cloves, cinnamon, apple mix and red chili. Mix it well and cook for 10 minutes. Then switch off stove and allow mix to cool.

– Seema Gupta is a homemaker
based in Sunnyvale, Calif.
|TOP|
---
August-September Horoscope
ARIES (March 21 to April 20):
Jupiter in fifth will help overcome obstacles and solutions will be available to past problems. Saturn in third can help win or be acquitted in a lawsuit. You will shop for quality household goods.
TAURUS (April 21 to May 20):
Saturn will help in prosperity though at a slow pace. You will be rewarded well for your hard work. You may have to face a legal battle. A property deal will bother you. Making spontaneous decisions in career will help.
GEMINI (May 21 to June 20):
You will write a check to the government. You will aim high and plan for achieving long term goals. You will also spend on buying quality items for yourself. People in business will experience better sales.
CANCER (June 21 to July 22):
Be careful, avoid confrontations and stay away from taking major financial risks. A close associate may try to trick you into investing in a unrealistically profitable venture. There will be a major change in career and you will get to work according to your wishes.
LEO (July 23 to August 22):
Somebody may unsuccessfully try to spoil your image. You will have quite a few learning experiences. It is a good time to start a new partnership. You will go on an important and very fruitful business trip.
VIRGO (August 23 to September 22):
New commitments will increase your liability. You may not be successful in achieving your professional goals at this time. You will meet influential people at the party.
LIBRA (September 23 to October 22):
Raja yoga karaka planet Saturn's transit in house of luck will bring an end to life's many obstacles. You will feel peaceful. You may ultimately switch jobs. You may finally get a large chunk of money out of a property deal.
SCORPIO (October 23 to November 22):
You will face sudden disturbance in career. Working conditions will get tough and you will have to start looking for a new job. You will travel. Do not take any financial risk for the next few months.
SAGITTARIUS (November 23 to December 22):
Confidence once lost, will return. A property deal may finally go through. You will work for charitable causes. Bank balance will grow slowly. You may take up a short course to update your skills.
CAPRICORN (December 22 to January 19):
You may refrain from starting a new venture and protect your savings for now. Competition will grow. You will become very health conscious. You may end up spending on unnecessary items and electronics.
AQUARIUS (January 20 to February 18):
You might have serious concerns about a partner or relationship. Finances will improve slowly. Professional worries will have a negative impact on health. You will be looking for another place to move.
PISCES (February 19 to March 20):
Onslaught of enemies will increase and people in business will see new competition growing up fast. You will spend on replacing electrical gadgets at business or at home. You will be extremely restless.