CINEMA:
Tagore on Screen: Filming 'Chaturanga'


In an exclusive chat with Siliconeer, filmmaker Suman Mukhopadhyay talks about why he made Chaturanga, a novel by Rabindranath Tagore that looks at a troubled time when the Indian nation, still under colonial rule, was seeking its voice.

---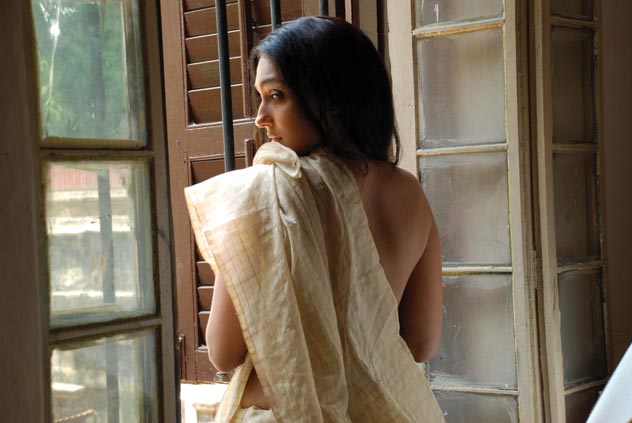 (Above): Rituparna Sengupta in "Chaturanga."
---
What is it about Chaturanga that attracted you as a filmmaker?

Chaturanga is an attraction from my university days. The characters really attracted me — Sachish and his contradictions, his swings; Sribilash and his observant nature; Damini and her great sexual enigma; Jyathamasai (elder uncle) and his staunch radicalism.

Yes, the characters really intrigued me from the beginning.

So you were toying with the idea of making a film in your university days?

Exactly, when I was encountering with my own problems of youth, my political life, my love life, my contradictions and my wish to be an artist. And of course, my sexuality.

Fascinating. Do you think it's fair to say that in a broader sense all creative work is to some degree autobiographical in that it reflects some sensitive aspect of the creative artist's own experience (in this case, you the filmmaker)?

Yes, I believe that all creative works are reflection of personal life, the chemical reaction and interaction of the soul with the outer world.

Most of our readers are non Bengali, with at best a passing familiarity with Tagore and his times. Give our readers the socio-cultural context which provides the backdrop of your film.

The socio-cultural context is that of a nation under colonial rule that is trying to find its own voice. That search is still on even in post-colonial India. Sachish is the epitome of that search.

---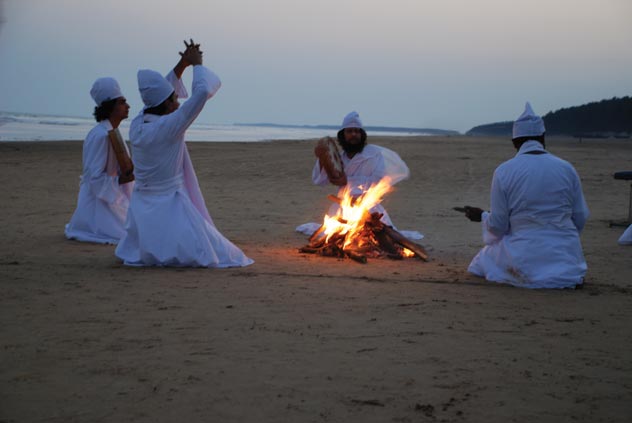 (Above): A scene featuring Sufi singers in "Chaturanga."
---
You will remember the bitter debate between filmmaker Satyajit Ray and economist and critic Ashok Rudra over Ray's Charulata based on Tagore's "Nastaneer." Bengalis have a habit of deifying their literary heroes. Yet filmmaking is an entirely different medium as opposed to fiction.

How did you resolve this issue when making Chaturanga? How much liberty did you feel free to take?

Tagore is always a difficult phenomenon to explore in the Bengal milieu. People are oversensitive about him.

Firstly, all Bengalis think that they understand Tagore. And they have their preset images of the characters. And that creates lots of trouble for a contemporary artist who wishes to reexplore Tagore.

If you notice how Shakespeare is reinvented in the West — It is a revolution.

But Tagore has just been out of the copyright a few years back. It is difficult for Bengalis to accept any new intervention regarding Tagore.

Consequently, Chaturanga, the film, is both hated and loved, about 50:50, I would say.

It is Tagore's genius that he unified and integrated the social dilemmas that a nation was facing through the novel. I don't agree with those who say that Chaturanga is a novel of ideas. It is a very living text and the work of a genius and a visionary.

I have taken liberties as much as I needed to take for the film. It is a film and film has its own language. One cannot go back to the literary text and blame the filmmaker for his detours and interventions.

---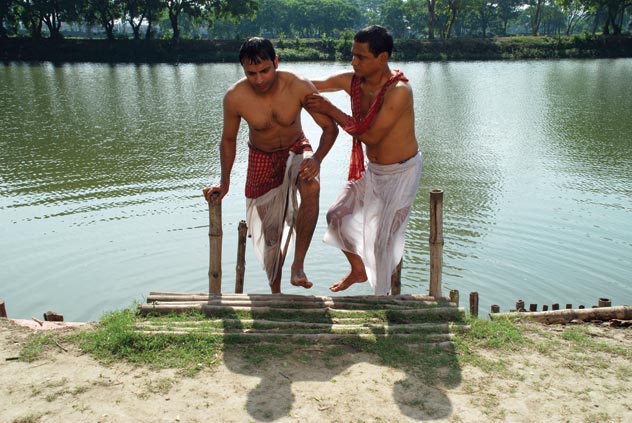 (Above): Subrata Datta and Joy Sengupta in "Chaturanga."
---
I am trying to gauge your artistic likes and dislikes here — let me give you a brief list of Tagore works made into films — Satyajit Ray's Charulata, Teen Kanya, Ghare Baire, Tapan Sinha's Kabuliwalla, Atithi, Purnendu Patri's Strir Patra, and the more recent Rituparno's Naukadubi — now tell us, which of these treatments do you like the most?

The best two films I have seen made on Tagore are of course Charulata and Teen Kanya (specially Post Master in Teen Kanya)

A simple yet very complex question, so bear with me. Who do you make films for? I ask this partly because filmmaking is such an expensive undertaking. After seeing your Herbert I realized that filmmaking to you is a serious artistic undertaking. Yet oftentimes the general audience demand is more commercial, bland even mindless stuff — do you struggle reconciling the two? How to you go about working to resolve this dilemma?

It is always a struggle for the filmmaker to communicate his ideas to the people. I try my best to communicate through the vocabulary that I can. It can reach millions, and it might not. But I try to reach as many as I can. In my experience, I have seen deeply complex cinema touching millions and an apparently easy narrative not touch people.

There is nothing called general audience. And all kinds of cinema are meant for business. All the commercial movies, that are supposed to and are made to reach millions, but do they always succeed? For most of the cases, the answer is no. Only in a few cases do they succeed. But see the amount of money that goes into the industry in the name of "commercial" cinema. Sheer waste.

---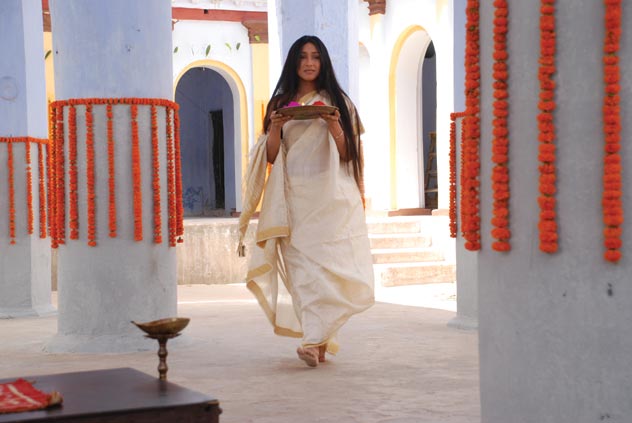 (Above): Rituparna Sengupta in "Chaturanga."
---
Now a more general question about Bengali cinema (Kolkata based). There was a time when there was a healthy Bengali commercial cinema. I am thinking of filmmakers like Tapan Sinha, Tarun Majumdar. Correct me if I am wrong — but now the generic commercial stuff that's coming out of Kolkata is, in a word, appalling — extremely cheesy copies of Bollywood, but lacking the latter's technical polish and basic production values. How is Tollygunge doing? Do you see any hope? How much difference have filmmakers like Buddhadev Dasgupta, Rituparno, Aparna Sen, Raja Sen made in terms of contributing to the viability of Bengali cinema? What are your thoughts on this?
Because if you don't have a Bengali film industry, you will have a hard time making films, right?

I think Bengalis are unfortunate in this case. In the so-called commercial or mainstream area the scene is really bad.

Bengal always is different. We miss directors like Tarun Majumdar and Tapan Sinha, who created wonderful movies which were stories of Bengal, narratives of Bengal.

The contemporary filmmakers couldn't bridge that gap. So the Bengalis are left with limited options: either they have watch a gross copy of a Hindi or a Telugu film or watch an "art" movie. The latter are very few in number in comparison to the mainstream films.

But, of course, a healthy industry is important for filmmakers like us to survive. The recent hit like Chirodini Tumi Je Amar, a teenager love story, is welcome. (Though it is admittedly a copy of a film from the South). If the money doesn't flow in the industry, how do we make films? Our films (i.e. those out of mainstream commercial cinema) don't make any difference to the economics of the industry.

---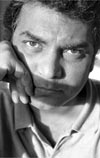 Suman Mukhopadhyay is a filmmaker and theater director. He lives in Kolkata.
---