HINDI FILM REVIEW:
Insipid Potboiler: 'Jai Veeru'

Rating: * (Awful)
'Jai Veeru'

Directed by: Punit Sira
Music: Bappa Lahiri
Cast: Fardeen Khan, Kunal Khemu, Dia Mirza, Arbaaz Khan.
---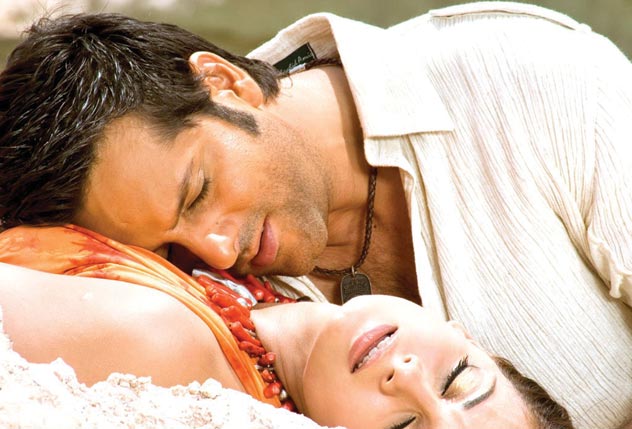 (Above): Dia Mirza and Fardeen Khan in "Jai Veeru."

---
Let's call them the Katrina brigade. They come, pick up golden music from yesteryear, or a blockbuster or two, and after they are through, they leave in their wake a trail of artistic destruction that is reminiscent of the hapless misery of New Orleans citizens after the terrible hurricane.

There is no getting around the fact any more: There should be a law again remakes.

The slaughter of all time favorite entertainment icons has reached such bloody proportions that somebody needs to put a stop to it.

This scandalous disgrace of a film is the latest example of a trend that has been afflicting Bollywood for a time.

It's bad enough that this sort of cannibalization is used as a copout for cheapskate dullards who do not have the artistic or intellectual wherewithal to do what they should be doing on their own — whether it is making music or films or what have you — what's so awful is the destruction they leave in its wake.

Take Jai-Veeru, the not-so-thinly veiled allusion to the much beloved protagonists of Ramesh Sippy's legendary blockbuster Sholay. It manages to insult the film to such an appalling extent that one wonders what poor Ramesh Sippy, who directed Sholay, is going through.

I mean, it's like seeing your son slaughtered twice. First, it was gore-master Ram Gopal Verma's god-awful Aag, befittingly bearing the name of the culprit responsible — the full name of the film, you will recall, was Ram Gopal Verma Ki Aag. In a bit of delicious irony, Verma was ordered by the court to name his film thus — and anybody who had the terrible misfortune of actually watching that disaster would remember who made it because it said so in the title.

If that wasn't bad enough, now we have poor Ramesh Sippy having to countenance a second slaughtering by Punit Sira.

Punit bhaiya, you should learn what make politicians know: You can't make the same soufflé rise twice. One is almost tempted to quote Karl Marx: "History repeats itself, first as tragedy, second as farce." If you make junk, it doesn't matter if you call it Jai-Veeru, because the Sholay magic will not bail you out. As they say in this country, even if you put lipstick on a pig, it's still a pig.

---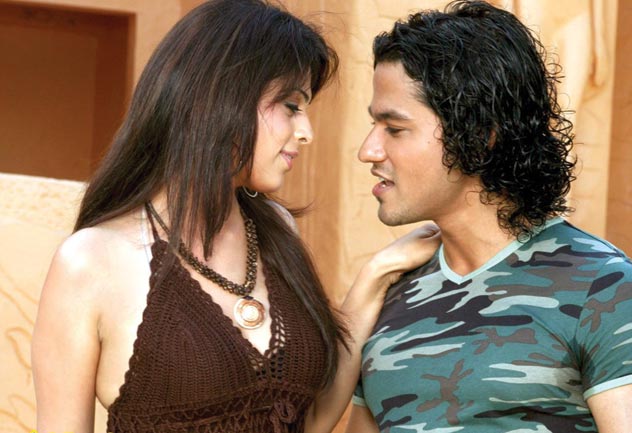 (Above): Kunal Khemu (r) with a co-star in "Jai Veeru."

---
When small-time crook Veeru (Kunal) meets auto mechanic Jai (Fardeen) in a pub, Jai saves him from getting beaten up by hoodlums. Veeru is a whiz in stealing cars. He convinces Jai to join and the two are on a merry journey of crime. However, unbeknownst to Veeru, Jai is an undercover investigator who is laying out plans to nail underworld don Tejpal (Arbaaz). It's a small world, because it turns out that Veeru works for Tejpal, and is none too pleased when he comes to know about what Jai is up to.

They end up fighting over it, and Veeru accidentally shoots Jai.

Veeru manages to escape the country. While Jai thinks Veeru shot him on purpose, Veeru has a whole bunch of other problems. Tejpal is gunning for him because he has in his possession a diary that can expose Tejpal. That's not all. The Mumbai Police are after him, too.

On paper it doesn't sound half bad, but the problem is Punit bhaiya is utterly, utterly out of his depth as a filmmaker. The guy belongs to the frontbench rather than on the director's seat. The guy is completely locked in a 1970s time warp, and trots out all the old filmmaking gimmicks and clichés so that at no point does the story engage the viewer, it's just one long array of gore, fighting, violence beach babes — he clearly is besotted to the idea of mindless entertainment. Trouble is, he got only the mindless part right.

Readers may already have guessed that originality is not Punit's strong suit—not how the title is filched from a Bollywood classic. So it will come as no surprise that the story is also borrowed from the 1996 Hollywood potboiler Bulletproof.

But give credit where credit is due—Punit does one better than the original, he makes a version that's even cheesier than the original version, and that's no mean achievement.

The sad fact is the lousy, jarring background score doesn't help, and neither does the awful performances.

Fardeen is so lackluster that one wonders if the guy is doing drugs again. Arbaaz must be the only mafia don who seems to be on automatic pilot. Kunal Khemu shines only because the others are so bad, but to his credit it must be said that as long as he is on screen we are spared the agony of watching the listless Fardeen.

Anjana Sukhani, who plays Veeru's girlfriend, and Dia Mirza as Jai's live-in girlfriend are hardly seen for long enough to make an impression, which is not an entirely bad thing. Neither the director nor the actors seemed to hold much promise to deliver a compelling presence.

On a broader issue, after the smash hits Ghajini and Rab Ne Bana Di Jodi, Bollywood is already back on its usual trend of back-to-back flops. Films are disappearing without a trace in the box office, and one peek at Jai-Veeru confirms that this is happening for good reason.

In this age of 24-7 satellite television and multiple channels, and cricket, you can no longer shove drivel down the throat of the hapless Bollywood buff. People, you better get your act together, or the result is not going to be pretty.