CULTURE
The Day That Shook India: Jallianwala Bagh Massacre


Ninety years ago British colonial forces opened fire on an unarmed crowd at Jallianwala Bagh in Amritsar galvanizing a colonized nation against British oppression. Ved Prakash Vatuk reflects on its lessons.
---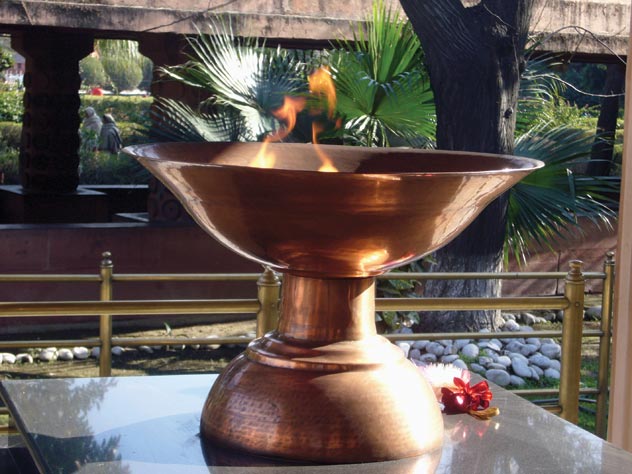 (Above): The eternal flame in memory of the martyrs of the 1919 Jallianwala Bagh massacre.
---
The first decades of the twentieth century were the decades of turmoil in Indian history. Agitations against the British rule were intense. The Partition of Bengal resulted in a mass movement engulfing the whole country. Boycott of British goods and swadeshi movement spread everywhere. Indian émigrés who went to Canada and the U.S. during that period found that they were treated not worse than animals by their host countries and they felt it was due to the fact that India was a colony of a foreign country which never cared for its people except robbing them. They founded the Gadar Party whose aim was to free India by revolutionary means. So when World War I broke out in June 1914 the Gadar Party felt that it was a golden chance to wage a war against the British to free India. Thousands of Indians returned to India just to do that. But they were arrested, shot, tried, hanged or were given long prison sentences. Still a fear of their infiltration in Indian army resulting in a mutiny remained. The British government was always on alert.

But by and large, Indian leaders at that time were sympathetic to the plight of the British. They whole heartedly supported the war effort in the hope that the British would give India if not independence at least some kind of self-government. They encouraged recruitment in the army. Folk poets wrote and broadcasted from All India Radio songs like bhartee holo re thaare baar khade rangroot ( enlist in the army, recruiters are knocking at your doors.) They lured young men by telling them about all the benefits they were going to get by serving in the army. The result was that about 1.3 million Indians were deployed in the army. About 140,000 men fought on the western front, while 700,000 were fighting in Middle east.

By the time the World War I ended at 11 am on the 11th date of the 11th month in 1918, 47,746 Indians were killed and 65,126 Indians were wounded in the battles they fought. After the war Indian soldiers thought they would return to a comfortable life, but they found nothing was changed. The British treated them like dogs again. The country was in a mess due to high inflation rate, heavy taxation, poor trade, various diseases and other bad conditions. And as far as granting freedom to India was concerned, that just remained a dream, empty talk. Instead of giving any hint at establishing self-government, the British set up a Sedition Committee chaired by the British judge Sydney Rowlatt, which was to recommend the steps British government should take to cope with an explosive situation in India.

The ghost of the Gadar Party, activities of Indians living abroad, the Soviet revolution made the government nervous. The Rowlatt Committee recommended passage of a new law which was an extension of the Defense of India Act of 1915 which gave the government power to arrest anyone suspected of sedition without warrant, and to have a trial before a special tribunal in camera, hold him in jail with no appeal to be allowed. In common language this act was dubbed as a law of no vakil, no dalil, no appeal — no lawyers, no pleading, no appeal..

The passage of the Rowlatt Act sparked massive outrage in India. Mahatma Gandhi, who supported the war effort relentlessly, was very disappointed like other leaders. He gave a call to protest the law throughout the country. His call had an unprecedented response. Furious unrest and protests followed. The situation in Punjab was getting worse than anywhere else. Railway, telegraph and other communication systems were disrupted. In the first week of April, the movement was its peak.

---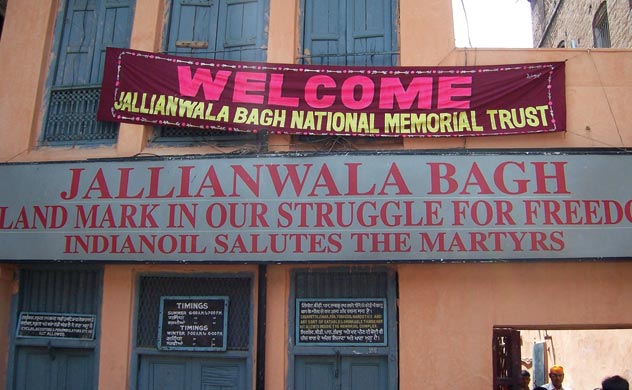 (Above): Entrance to the memorial grounds commemorating the martyrs of the 1919 Jallianwala Bagh massacre.
---
A great mass protest march filled roads in Lahore. On April 10, 1919 a protest was held near the residence of Deputy Commissioner of Amritsar to demand the release of two prominent leaders of India, Satya Pal and Saifuddin Kichlu, who had been arrested earlier on account of their protest. Protesters were fired on by an army unit. This made situation worse. The crowd attacked several banks, a railway station, the Town Hall and other government buildings. The violence continued, resulting in the deaths of five European government employees and civilians. The military firing in return killed about 20 Indians. After that Amritsar was quiet for the next two days.

But unrest continued in other parts of Punjab where railway lines were cut, telephone wires were disrupted, government buildings were burnt and three British persons were killed.

The government responded by placing Punjab under martial law. Civil liberties were suspended. Gatherings of more than four people in public places were banned. In some streets people were forced to crawl like animals on their four legs and hands.

Then came the April 13. The Baisakhi Day — New Year of the Sikhs. In 1699 the tenth Sikh Guru, Guru Govind Singh created the Khalsa — the purest — dharma this day, when he abolished all caste names and gave all Sikh males new name Singh — lion — and every female Sikh was given the new name Kaur. People have been celebrating this event ever since. This year was no different. They gathered in a place called Jalliianwala Bagh (garden) near the Golden Temple in Amritsar. People traveled for days to attend this festival.

Jallianwala Bagh is a place surrounded by houses and buildings all around. It has few narrow entrances, which were mostly kept locked. On April 13, 1919, about ten thousand persons gathered there. They had no knowledge of the martial law. Brigadier-General Reginald Dyer, who had come to Amritsar only a few days before there knew that a gathering was taking place there, but he did not take any steps to prevent it. He deliberately went there to teach the natives a lesson. He went there with a group of 90 Indian army soldiers mostly from Gurkha, Punjab Rifles, Pathans Infantry, Dogra and Baluchi regiments and two armored cars. The narrow entrance was not big enough for the armored cars to enter. As Dyer later told the Hunter Committee, which investigated the event of that fateful day, he thought it was possible that he could have dispersed the crowd, but he chose not to. "They would have come back again and laughed, and I would have made a fool of myself."

---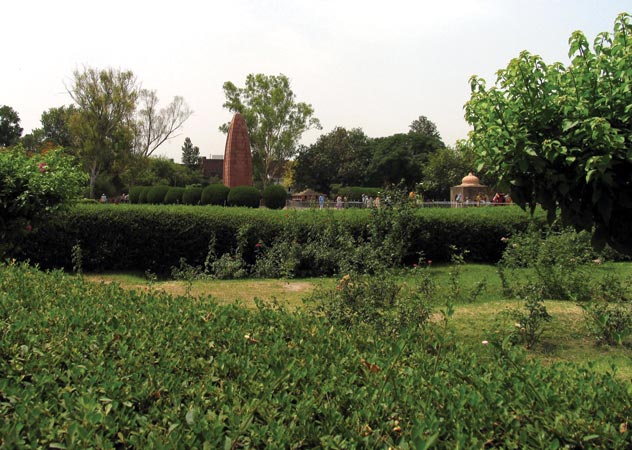 (Above): The memorial grounds commemorating the martyrs of the 1919 Jallianwala Bagh massacre.
---
So, without giving any warning, Dyer ordered to fire at the unarmed crowd which included women and children. The firing continued unstopped for ten minutes. According to Dyer himself he would have used his machine guns if he could have got them into the bagh, but those were mounted on armored cars and he did not stop firing until the crowd began to disperse. "A little firing would be no good," he said. The firing continued until every bullet was used, more than 1,600 rounds.

As a result of the firing, hundreds of people were killed and thousands were injured. The actual figures of the casualties are still disputed, but the official records put the number of persons being killed at 379. The popular belief is that there were at least a thousand persons killed and twice as many injured. Many people jumped in the well to save their lives, but they were not successful in doing so.

General Dyer confessed that after the firing he did not take any steps to take care of the wounded. "It was not my job. Hospitals were open and they could have gone there." Dyer was proud of his achievement, joyful that the whole city was at his mercy. He felt like reducing the rebellious city to a heap of ashes, but he took pity and refrained. His soldiers felt that the actions taken were a good thing, because they would teach the bloody browns a lesson.

The British Lieutenant-Governor of Punjab, Sir Michael O'Dwyer, called the action taken by Dyer correct, and congratulated him. Many senior officers applauded Dyer's action. They felt he had suppressed another Indian Mutiny. The House of Lords passed a resolution commending him. Several conservative British newspapers also praised him and a fund for Dyer was raised. He was also awarded a golden sword by the House of Lords.

Even Golden Temple authorities honored him with a saropa.

Nonetheless, Dyer's massacre of innocent persons shocked the world. The House of Commons censured him. He was stripped of his position and was never to serve in India again. His action was called 'un-English' by a member of British Parliament. Winston Churchill, who was the Secretary of State for War at this time taking part in the debate in House of Commons said,

"This was an episode which appears to me to be without modern precedent or parallel in the modern history of the British Empire....It is an extraordinary event, a monstrous event, an event which stands in singular and sinister isolation." Mr. Churchill added: "Pinned up in a narrow place considerably smaller than Trafalgar Square, with hardly any exits, and packed together so that one bullet would drive through three or four bodies, the people ran madly this way and the other. When the fire was directed upon the center, they ran to the sides. The fire was then directed upon the sides. Many threw themselves down on the ground and the fire then was directed on the ground. ...It stopped only at the point of exhaustion....If more troops were available, says this officer, the casualties would have been greater in proportion."

Writing in 2006 a modern writer of the biography of "Reginald Dyer, the Butcher of Amritsar," Nigel Collet, said, "As an Englishman, I cannot help but feel sorrow and shame at what he did. .. The massacre was the worst atrocity by a British officer ever recorded."

As for the reaction in India, there was nothing the British could have done that would have changed India so much. This changed the attitude of Indian masses toward the British completely. Whatever trust one had in the British government was totally gone for ever. The atrocity united Indians more than ever against them. And the biggest change took place in Mahatma Gandhi, who was deeply shocked. However, he held to his faith in the victory of the truth over evil, and declared, "The impossible men of India shall rise and liberate their motherland." Among Indian youth this event ignited a burning fire to fight for India's freedom. It produced people like Udham Singh, who on March 13, 1940, assassinated Michael O'Dwyer, the Lieutenant-Governor of Punjab at the time of the massacre whom he considered the chief architect of Amritsar massacre.

The Amritsar massacre became part of the freedom songs of India. When I was a child I began to sing these songs. In one of the songs that we sang, we recited:

Yah jaalim sarkaar bhaaiyo naheen rakhnee
Jaliyanwale bagh mein jaake
Gaurepan ke jaum mein aake
Maare ka-yee hajaar, bhaaiyo naheen rakhnee
(We will not tolerate this cruel (British) Government
In their arrogance of being white
They went to Jallianwala Bagh
And murdered thousands of people
Brothers, we will not tolerate this government)
And in other song we said:
Shaheedon ke khoon kee nadee jismein ravaan hai
Vo jaliyanwala bagh mere hride zubaam hai
(That Jaliyanwala Bagh through which
the river of martyrs' blood flows
resides in my heart and tongue.)

But more than that, Jallianwala Bagh proved once again that one can not keep people subjugated by force for ever. After the suppression of the 1857 revolt the British hanged many murdered Indians from trees to show them their power. They thought the natives would never rise again. By blowing up rebellious Kookas after tying them to canons' mouth in 1870's, the British thought the same thing again. But Indians never gave up their fight for their inherent right to be free. Today, on the 90th anniversary of the Amritsar massacre we can learn the lesson that even the super-powers cannot solve the world problems by blowing people up — be it in Vietnam or in Iraq. In this atomic age we have to find an alternative to force.