They played their part even as a fasting but furiously-paced Modi delivered his demand, demographic dividend, democracy message to his delirious, diehard Non-resident Indian (NRI), Indian American, Person of Indian Origin (PIO), Overseas Indian fans and followers that like to keep their India connection alive by watching Karan Johar movies, Zee TV serials, consuming Kadhi or Rajma Chawal and lately, watching Modi at Times Square.
Post-listening to so many Modi speeches do pardon my use of alliterations. It is becoming a hopeful habit. There must be a well paid Modi speech writer tasked with the job, somewhere, someplace. Maybe, I am heard and hired. The NRIs lustily cheered Modi at Madison Square Garden or MSG that my computer autocorrects as MSD as I begin to key in MS. For ladies who do not follow cricket but have been watching Imran Khan's sit in against Nawaz Sharif in Pakistan, MSD stands for M.S. Dhoni, India's cricket captain.
At MSG, the audience clapped when Modi walked in, spoke and paused. It did not matter what he said, whether it was Mohanlal or Mohandas or took a water break between other strict only water breaks due to a nine day Navratra fast, which is a considerable achievement, given the abundance of gourmet cuisine all around. Modi attended banquets in his honor. Anybody could have cheated big time whether the Gods above cursed or not. Try skipping one meal.
My voice begins to echo inside my head. Witnessing Modi's endless energy without food, I believe even President Obama is convinced it maybe be a better idea to do Yoga than play basketball, exercise with dumbbells or brisk walk to a Starbucks close to White House to keep fit. Hugh Jackman was there at MSG. For what, I don't know.
Even Modi or his speech writers thought he was a Star Wars hero – May the Force be with you is what Modi said with Jackman by his side and the crowd clapped even more. Maybe Hugh has an Indian connection that I do not know about or maybe he had not heard of Modi till a day before, just like Maria Sharapova still does not know who Sachin Tendukar is, even though the great cricketer has probably broken another world record of continuing to endorse the highest number of brands as a retired sportsman. The other day I bought Luminous Inverter batteries.
---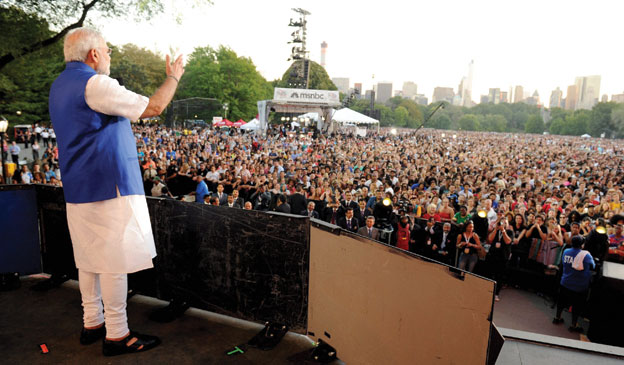 (Above): Prime Minister Modi delivers a speech at Central Park in New York, Sep. 27. [PTI]

---
They have Sachin's pictures on the sides. Modi was treated like a rock star wherever he went. Over the recent past I have witnessed such extreme adulation only from an audience watching a script-less Salman Khan film. The viewers laugh at a non-funny joke as Salman has cracked it. The heroine is already in love with Salman before she falls in love with him. The villain dies happily as he is in the same frame as Salman.
Modi may not have ushered in a new era in Indo-U.S. relations, which is an ongoing process of collaboration, conflict and consensus — in defense, renewable energy, shale gas or conversely sparring at the WTO or on intellectual property rights.
The visit certainly is a benchmark on how future visits of an Indian PM to America will need to be handled. The new PM has to make sure the economically and patriotically significant Indians abroad are energized, entertained and evoked. Small changes such as the easing of visa norms for PIOs can make a big difference. The official trip needs to happen within a few months of the new PM coming to power so that the MSG address is an extension of a victory rally in Benaras or any other location in India within the state of Uttar Pradesh. U.P. is important.
The new PM needs to command a majority in Parliament which cannot be achieved without winning U.P. with 80 seats in Parliament and beating Mayawati.
Anybody who can whip any one of the three grand ladies of Indian politics – Mamata, Mayawati and the jailed, yet still powerful, Jayalalithaa, deserves to be PM of India. The new PM cannot be a compromise coalition head like I.K. Gujral, Deve Gowda or a proxy candidate of the Gandhi family such as Manmohan Singh.
It is unlikely that a feverish India flag waving audience would turn up to listen to an Indian PM who is not an outright winner, barring few officials from both counties and beat correspondents, as part of their daily duty. I do hope the media is treated better though.
It was disappointing to witness the strong Indian media contingent struggle for some form of official recognition. They operated from hotel balconies, pizza corners, Indian eateries, Central Park, entrances, exits and sidewalks.
Rajdeep Sardesai got roughed up. Right wing fringe Indians believe in violence, rich or poor, whether in India or the USA. With Modi's final victory lap over in USA, hopefully his government will settle down to the tough task of re-building India, heralding "achche din" for one and all.