There have generally been two views about Prime Minister Narendra Modi's 100 days in office. There is a third category that weighs any government's performance only by the way the stock market is headed. Helped by encouraging GDP figures, they are obviously very happy due to the massive capital gains since Modi took over. Going by their assessment Modi is the biggest bull since Harshad Mehta caused the sensex to skyrocket albeit by subterfuge.
The Modi-baiters see undeniable evidence their forebodings and fears are turning out to be true – that he is a despot, a majoritarian, worse a fascist who will destroy institutions and usurp all power to himself and his band of loyal followers. For them "bure din" under Modi is imminent.
Like suspicious lovers, they see signals of Modi government's deceit and divisive politics everywhere – tinkering with independence of judiciary, isolating media, disbanding Planning Commission, dubious role of BJP in reviving communal tensions in Uttar Pradesh, playing up "Love Jihad" to malign Muslims, replacing governors, among other moves.
The Modi-doubters say the truly evil and communally polarized politics of Modi will be starkly visible when (not if) his government fails to deliver on the twin empty promises that secured him the massive electoral mandate this summer — governance and economic growth.
And, the latest move that cements distrust is the diktat to schools that made it mandatory for students to listen to "Masterji Modi's" address on Teacher's Day, though most agree it was an apolitical and healthy interaction. The skeptics, however, see gloom – possibility of military conscription, disbanding of English medium schools and sprouting of more RSS shakhas to misguide the youth. To be honest, why Modi chose to address children on Teacher's Day, especially after the riveting Independence Day speech, still remains a mystery to me? What's going to happen on Children's Day in November, I don't know? Will he address the teachers?
---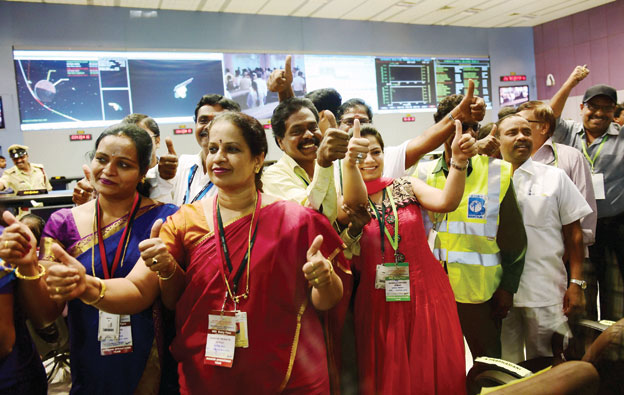 (Above): ISRO scientists and other officials celebrate the success of Mars Orbiter Mission at MARS Orbiter Command Network complex in Bengaluru. [Photo: Shailendra Bhojak | PTI]

---
Moving on from the doubters, are those that believe the Modi government is laying a stable foundation for the good days or "acche din," as promised. The Prime Minister himself leads by example as the hardest working member in the establishment, unlike part time politician Rahul Gandhi and not-permitted-to-work previous incumbent Manmohan Singh.
Most agree election campaigns, including Modi's, like Bollywood movies, did sell a dream, that is impossible to achieve overnight. Only Salman Khan in the North and Rajnikant in the South can be super heroes both in real and reel life. Only Hrithik Roshan can make men stare at his body instead of Katrina Kaif's, in their latest movie together.
Change in a diverse and huge country such as India cannot happen overnight and 100-days are too short for an overhaul, unless we incorporate the Chinese growth model of acquire, uproot and build. This is not possible in a democracy such as India where no government can afford to ignore social and financial inclusion efforts such as the Jan Dhan Yojna.
In cricket parlance, Modi's first hundred days as PM has been compared to sedate, yet solid start to a Test innings fabricated ball by ball which would ultimately lead to a climax more exciting than any T-20 game. Modi and India will ultimately emerge victorious, despite Virat Kohli walking back to the pavilion before reaching the pitch.
There have been firm attempts to put the economy back on track. Rather than big ticket policy changes, the focus is on implementing and clearing projects valued billions of dollars that have been on hold due to lack of government clearances. Foreign policy has been a big plus.
It was the correct decision to cancel the foreign secretary level talks with Pakistan. Islamabad has no business talking to Kashmiri separatist leaders who are not part of the political mainstream in the state and stoke up anti-India passions. There have been efforts to streamline official processes. For a change the unwieldy and unyielding bureaucracy is under pressure to deliver.
---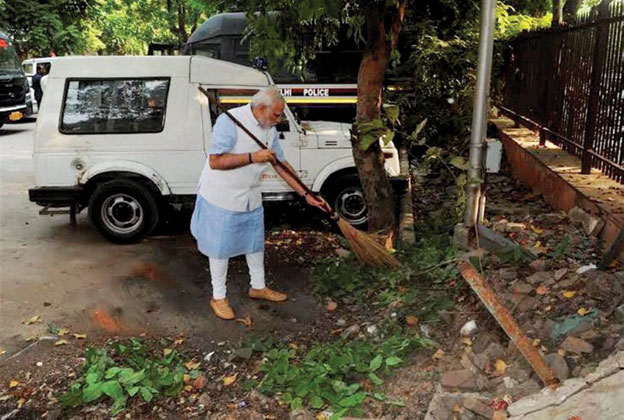 (Above): Prime Minister Narendra Modi wields the broom during a surprise visit to the Mandir Marg Police Station after launch of 'Swachh Bharat Abhiyan' in New Delhi, Oct. 2. The nationwide campaign aims to clean up India in five years. [Photo: Press Trust of India]

---
Officials are expected to be on time for work and keep their office clean. This is an achievement, which also underscores the rot that the Modi government needs to set right. No wonder, the "acche din" is going to take some time coming, but it will. In balance, I would say that the country has been well served by Modi so far.
For a change, the government does give the impression of working hard for the betterment of the people cutting across the social and economic spectrums. For the country overall, Modi has been a risk worth taking, given the incompetence, corruption, crony capitalism, indecision, listlessness of the previous Manmohan government.
There are going to be right, wrong, debatable decisions. But, at least well intentioned decisions are being taken, for a change. Perhaps, India does need a dose of an efficient autocrat, a no nonsense CEO working within a democratic framework to get things moving. Modi has played the role well so far.
It couldn't be more evident. Be it his interaction with the Chinese President or the success of Mangalyaan Mars Orbiter Mission (though it was initiated much before Modi took office), or the huge response to his "Make in India" proposition, or the latest trip to U.S. Modi has managed to strike a chord with the common man and the world leaders at the same time.
The people of India have huge expectations with all of his recent exercise to bring out a renewed India to the world.