Yes, I am a man. I like to look at breasts and cleavage! You got a problem!!?? I am also a gentleman. I do not stare at women in real life, though I do appreciate beauty when she passes by. I do not pass lewd comments. I do not misbehave. I am not rude, but do not mind a conversation should there be such an occasion – anywhere, coffee shop, beach, or the airport.
I do try and open the door for a lady, though I often forget, that annoys my wife the most. However, in the privacy of my computer at home I do like to look at women, the way any man sometimes likes to gaze at a woman, Deepika Padukone included.
I like to glare at others too. High on my current hot list are Sunny Leone. "Baby Doll" continues to top the charts of my most played videos. I like Shraddha Kapoor and Anushka Sharma. I have liked Kareena Kapoor and Aishwarya Rai in the past; Pamela Anderson and Cameron Diaz.
I believe this is normal as any number of scientific studies and research has proven, just as it is routine to watch cricket clips involving cricketers such as Sachin Tendulkar taking on top bowlers around the world. Both are pleasurable experiences, appealing to different sensory parts of the body and mind.
When I was a lot younger, my mother used to worry that I had too many friends who were guys. I think she was relieved when she discovered some smutty magazines in my room though she did pretend to be angry when she found them.
Later on in life, my father worried that I had too many friends who were girls. Currently, my wife believes I love gadgets and TV news more than her. That's the cycle of life.
---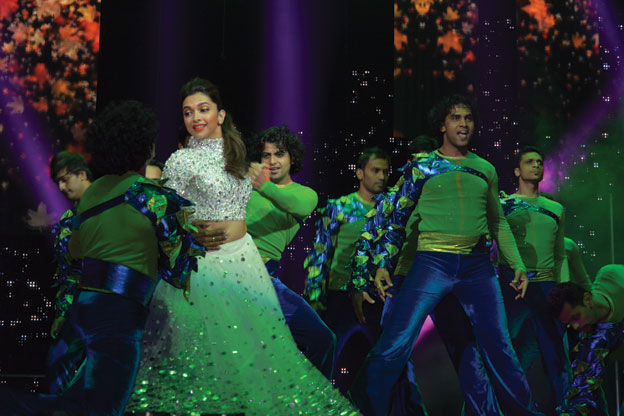 (Above): Deepika Padukone (in white) performing at the SLAM show in San Jose, Calif., Sep. 28. [Photo: Amar D. Gupta | Siliconeer].

---
I do sympathize with Deepika. The last time I felt sorry for her was when she chose Siddharth Mallya as her boyfriend after she broke up with Ranbir Kapoor. Relationships on the rebound are always tricky. Thankfully, Mallya is history though I wish Kingfisher Airlines was not. Their service on the domestic circuit, including the airhostesses, was unmatched.
Playing up DP's breasts and cleavage by a leading media house was in bad taste, a violation, like a lewd comment. It is always the prerogative of the woman to say that she feels violated and for others to have the sense to back off. For most of us so inclined, there is plenty of DP on display in Finding Fanny that she has been promoting and prompted the latest unwanted attention on her.
She looks simple and ethereal. Goa's lush landscape and her low cut short dress form part of the natural setting. As a matter of fact, the cat that dies and her cleavage are the two constants in the movie, from beginning to end. The film is average and has been highly overrated.
It is not in the league of Queen or The Lunchbox, despite the best efforts of the strong cast, the two Cs and a kiss. Following the latest controversy, should we expect that the cameras and larger media, including mainstream publications with powerful online presence, focusing on the contours of Padukone's body and other gorgeous actresses like her, are going to step back? It is unlikely.
The paparazzi in India and other parts of the world know too well privacy laws and how to circumvent it. Capturing DP's cleavage or Kate Middleton's bums or underwear, are always going fetch a premium price. There is a real market out there, not overhyped valuations like that of e-commerce companies, of perfectly normal men and unfortunately some abnormal men too, who like to observe women closely from their private confines.
There is no problem with this. However, it is important for any society to ruthlessly act against perpetrators of crime such as acid attacks, rape or domestic violence, against women.
It is also important for enabled women such as Padukone to remind us about boundaries and dividing lines, not strictly defined in the legal sense that should not be crossed. The show, however, must go on. It will be a bigger catastrophe if it does not.
This can only happen when women are forced to cover up. This happens tragically in many countries and often in India also due to threats and abuse by right wing fringe elements and some politicians espousing distorted views about the way women should behave, dress, talk and work.
That is none of their business.