PHOTO ESSAY:
India's Republic Day in Washington, DC and San Francisco, CA

The Indian Embassy in Washington marked India's Republic Day with Ambassador Meera Shankar reading out the Indian president's address to the nation. Later, the envoy hosted a special reception in the evening. Indians in San Francisco marked India's 62nd Republic Day with traditional fervor and joy.
A Siliconeer photo essay offers some glimpses of those festivities.
---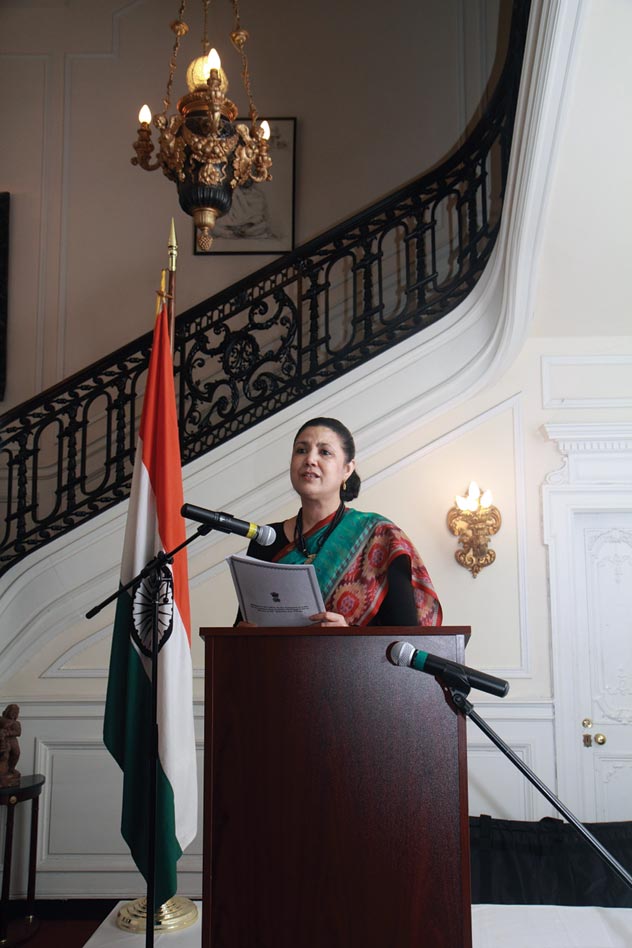 (Above): Ambassador Meera Shankar reading out the Indian president's address to the nation at the Republic Day function at the Indian embassy in Washington, D.C. [Photo: INDIAN EMBASSY WASHINGTON]

---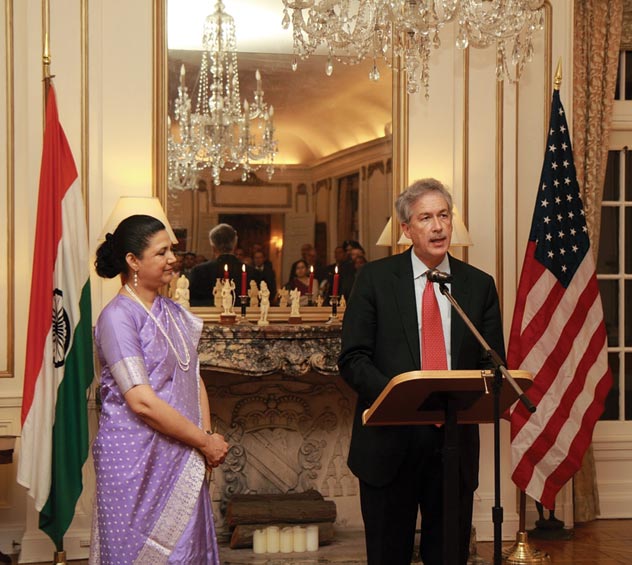 (Above): Ambassador Meera Shankar with U.S. Under Secretary of State William Burns at the Republic Day 2011 Reception at the Embassy Residence in Washington, D.C. in the evening of Jan. 26. [Photo: INDIAN EMBASSY WASHINGTON]

---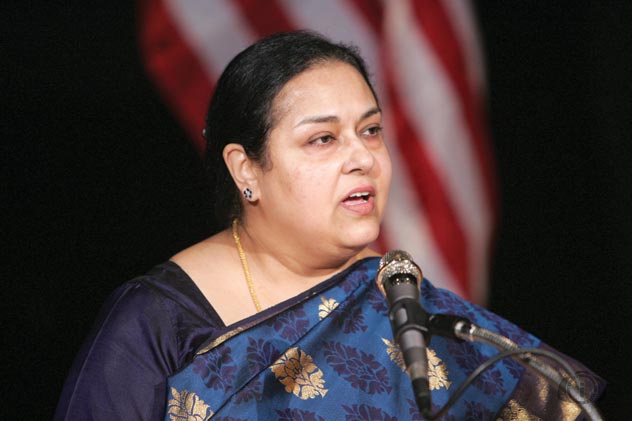 (Above): Consul General Thomas speaks to the Indian American community and guests at the reception hosted by her office at the Palace of Fine Arts in San Francisco to celebrate India's 62nd Republic Day, Jan. 26. [Photo: SOM SHARMA | DIGITAL IVISION]

---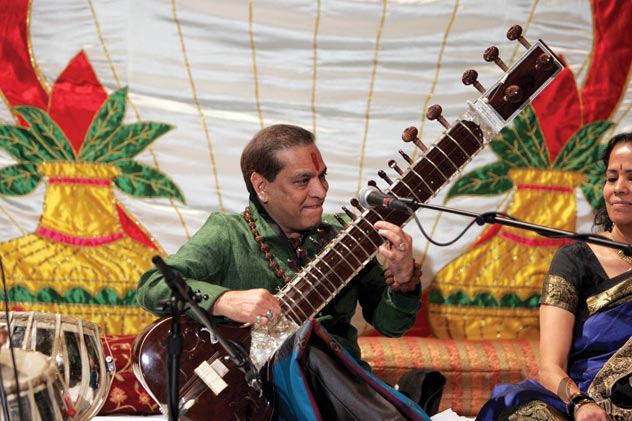 (Above): Noted Bay Area sitar maestro Pandit Habib Khan performed at the Palace of Fine Arts in San Francisco celebrating India's 62nd Republic Day, Jan. 26. [Photo: SOM SHARMA | DIGITAL IVISION]
---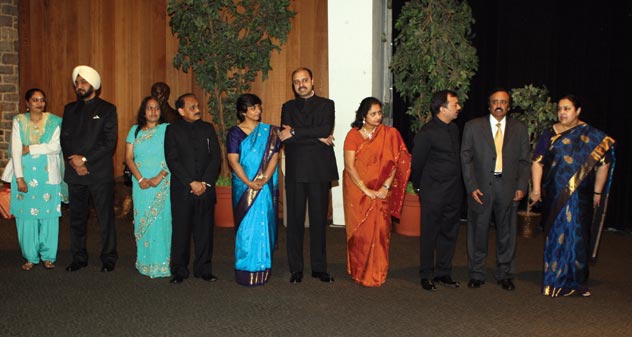 (Above): Staff members of the Indian Consulate in San Francisco seen here with Consul General Thomas (r) welcoming guests at the reception hosted by her office at the Palace of Fine Arts in San Francisco to celebrate India's 62nd Republic Day, Jan. 26. [Photo: SOM SHARMA | DIGITAL IVISION]

---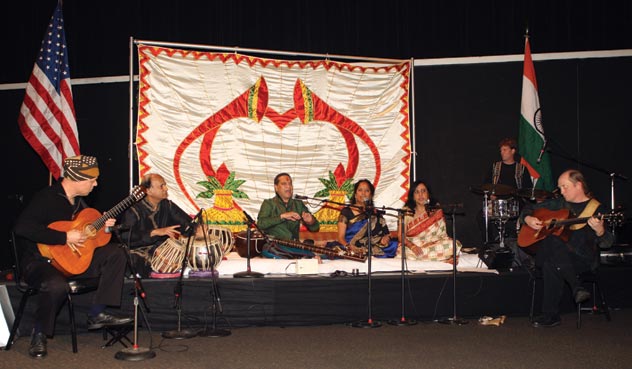 (Above): The Consulate General of India at San Francisco hosted a reception at the Palace of Fine Arts to mark India's 62nd Republic Day. Sitar maestro Pandit Habib Khan (3rd from l) and guitar maestro Freddy Clarke (far left) presented a fusion music concert, Jan. 26. [SOM SHARMA | DIGITAL IVISION]

---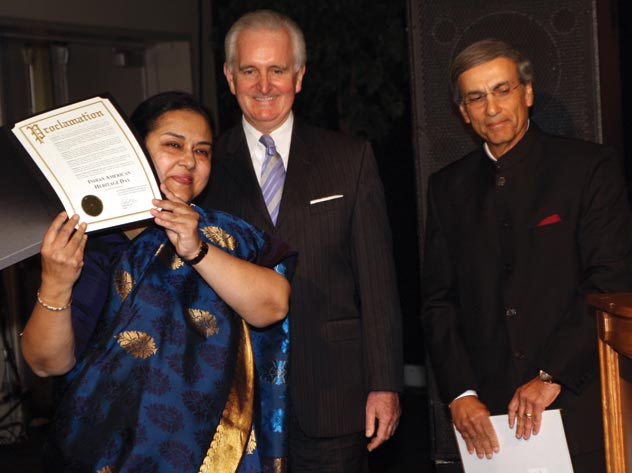 (Above): San Francisco's Consul General of India Susmita G. Thomas holding a proclamation from the San Francisco Mayor's office marking January 26 as 'Indian American Heritage Day' as officials look on. [Photo: SOM SHARMA | DIGITAL IVISION]

---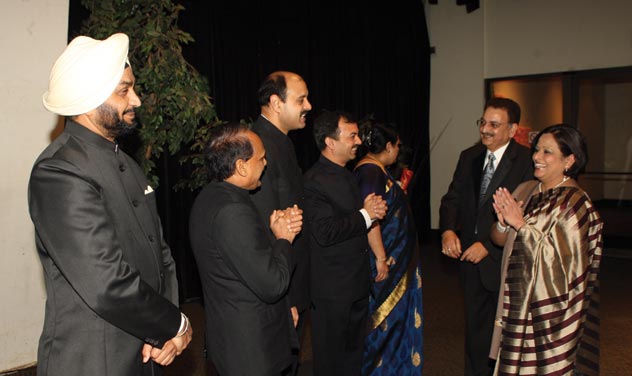 (Above): Indian Consulate officials greeting colleagues at the Palace of Fine Arts. [Photo: SOM SHARMA | DIGITAL IVISION]

---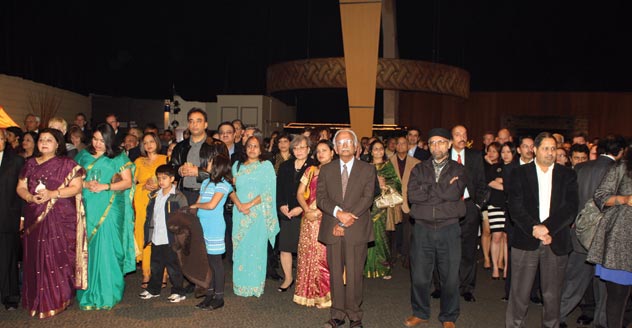 (Above): Indian Americans at the reception hosted by San Francisco's Consulate General of India Susmita G. Thomas at the Palace of Fine Arts in San Francisco to celebrate India's 62nd Republic Day, Jan. 26. The event was also attended eminent city officials and community leaders.
The evening was made special by noted Bay Area sitar maestro Pandit Habib Khan and guitar maestro Freddy Clarke who presented a fusion concert 'East Meets West' at the event.
Mountain View, Calif.-based Sakoon Restaurant presented a grand buffet of Indian delicacies. [Photo: SOM SHARMA | DIGITAL IVISION]