EDITORIAL: Pravasi Divas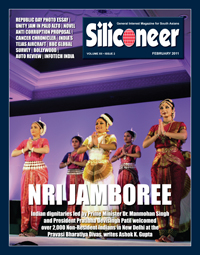 There was a time not too long ago when the relationship between India and its millions of expatriate children who lived in the far-flung corners of the world was less than perfect. There was a degree of disdain (not unmixed with envy, some critics might say) in India about its expatriates — and the lack of goodwill was sometimes heartily reciprocated by many a Non-Resident Indian.

To be sure, this was all quite superficial — there was always a very deep vein of affection and love between the expatriate Indian and the old country.

In the recent past, the mood has changed. The Indian government has rolled out the red carpet for its millions of expatriates spread out all over the world.

A centerpiece of this effort has been the Pravasi Bharatiya Divas, a three-day extravaganza that celebrates the ties and success of NRIs. NRIs have responded warmly to the goodwill gesture.

This year, the Indian government put out the red carpet for NRIs. Led by Indian Prime Minister Manmohan Singh and President Pratibha Devisingh Patil, the hosts that greeted the over 2,000 strong NRIs this year represented a virtual who's who of Indian government. On hand were Finance Minister Pranab Mukherjee, erstwhile Minister of Road Transport and Highways Kamal Nath, Overseas Indian Affairs secretary A. Didar Singh, Gujarat Chief Minister Narendra Modi, Deputy Bihar Chief Minister Sushil Modi, Punjab Deputy Chief Minister Sukhbir Singh Badal, Haryana Chief Minister Bhupinder Singh Hooda, Deputy Chairman of Planning Commission Montek Singh Ahluwalia, Advisor to the Prime Minister Sam Pitroda, besides a battery of state political representatives.



In Sanskrit culture, 12 years is considered a yuga or era. By that reckoning, Siliconeer has entered a new era, because with this issue, Siliconeer has begun its 12th year of publication.

We would like to take this opportunity to warmly thank our readers, advertisers, patrons and friends for supporting our endeavors, particularly during some really challenging times. Truly, your support and love keeps us going.

Here's to another 12 years! Yuga yuga jiyo, Siliconeer.


Siliconeer president Ashok K. Gupta was there in New Delhi, and has a detailed report in this month's issue.

If there is one thing that strikes the fear of death—literally—in the modern educated man, it must be cancer. With all the wondrous developments of science and technology, this fierce, protean monster appears to be too canny to be mastered.

Who better to tell the tale of this fearsome disease than a top quality oncologist? India-born oncologist Siddhartha Mukherjee, an assistant professor of medicine at Columbia University, has formidable credentials. He was born in New Delhi and went to Roman Catholic school there, then later went to Stanford, Oxford (he is a Rhodes Scholar), and Harvard Medical School.

Add to that impressive pedigree the talent of a writer. Now he has written a marvelous new book: "The Emperor of All Maladies: A Biography of Cancer." This is his debut book, but you wouldn't be able to tell from the rave reviews his book is getting.

"Mukherjee, an oncologist and assistant professor of medicine at Columbia, . . . looks less like a scientist than like the leading man in a Bollywood musical. He belongs to that breed of physicians, rapidly multiplying these days, who also have literary DNA in their genome," wrote The New York Times in a recent profile.

The current issue has more details on this remarkable author and his work.

One truth that gets lost in all the bitterness and strife in the world is this: At the end of the day, people are people, animated by similar joys, sorrows, aspirations and concerns.

This fact was brought home beautifully in a concert headlined by the Sufi rock musician Salman Ahmad held recently in Palo Alto, Calif.

Abraham's Vision and the Samina and Salman Global Wellness Initiative presented "Unity Jam 2011" to bring together people of all faiths. Abraham's Vision seeks to transform conflict and promote better understanding between Jews, Christians and Muslims. It has done great work within the Israeli and Palestinian communities. The Samina and Salman Global Wellness Initiative supports war-displaced victims in Pakistan. It is led by Dr. Samina Ahmad and her husband Salman, the musician who founded Junoon, one of south Asia's most successful Sufi rock bands ever.

In the end, it was a fun music event as well a profound affirmation of the transcendent ties of human kinship. Our correspondent Ras H. Siddiqui was at the concert and presents a detailed report in this month's issue.