RECIPE:
Healthy and Delicious: Veggie Thai Crunch Salad


A zesty desi favorite at local Thai restaurants, this salad has it all. It's healthy, delicious and vegetarian — and you can make it quickly. Sadhana Agarwal shows you how.
---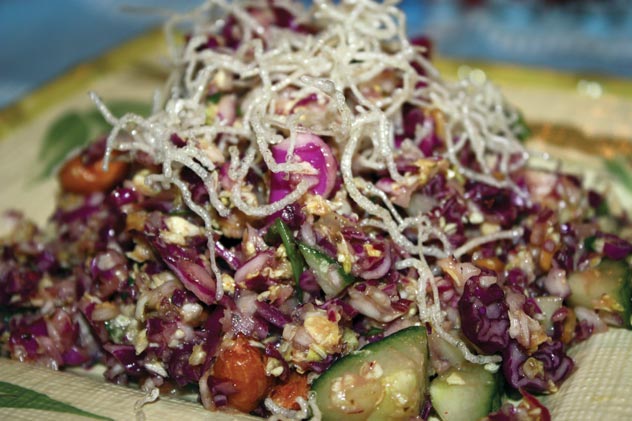 (Above): Veggie Thai Crunch Salad [Photo: SILICONEER]

---
Ingredients

1 Napa cabbage, cut into 1/4-inch strips

1 small red cabbage, cored and chopped

2 large carrots, peeled and grated

2 bunches green onions thinly sliced (white and pale green parts only)

1 large English cucumber, peeled, chopped

1 large bunch cilantro, chopped

2 cups cooked shelled edamame (soybeans)

2 cups roasted peanuts

2 cups fried wonton strips

2 cups crisp rice sticks fried

2 ripe Hass (Haas) avocados, peeled, pitted, cut into 1/2-inch dice (optional)

1/2 cup Thai peanut dressing

1/2 cup lime cilantro dressing

1/2 cup lime juice (if lime cilantro dressing is unavailable, use this instead)

Method:

Place cabbage, carrots, green onions, cucumber, cilantro, edamame and peanuts in very large mixing bowl and toss to mix.

Pour lime cilantro dressing (or if dressing is not available, use lime juice)into bowl and toss to mix thoroughly. Gently toss in fried wonton strips.

Sprinkle crisp rice sticks over top of salad, add small amount (according to taste) of Thai peanut dressing over rice sticks.

If serving with avocado, distribute over the salad. Serve immediately.