HINDI FILM REVIEW:
Many Splendored Mumbai: Dhobi Ghat

Review by: Priyanka Bhardwaj
Rating: **** (Superior)
Directed by: Kiran Rao
Music composed by: Gustavo Santaolalla
Starring: Aamir Khan, Prateik Babbar, Monica Dogra, and Kriti Malhotra.

---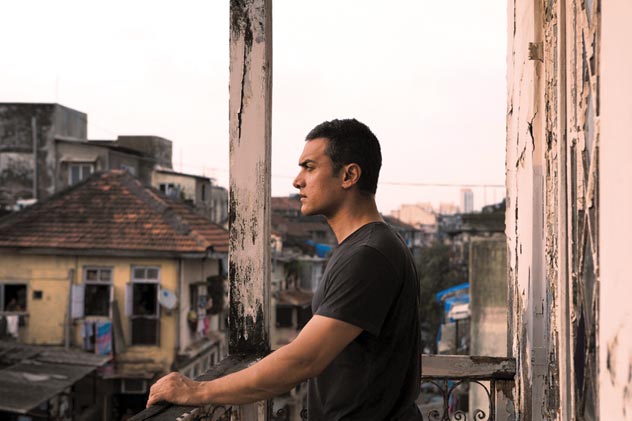 (Above): Aamir Khan in "Dhobi Ghat."

---
Looks like 2011 bodes well for Bollywood as the New Year opened to four much anticipated films.

The fourth in this line up to the box office battle grounds is Dhobi Ghat, directed by Kiran Rao (Aamir Khan's wife).

Reigning Bollywood Czar and "Mr. Perfectionist" Aamir lends his skills by producing the movie and essaying the role of painter Arun in it.

Besides the superstar, the cast comprises Prateik Babbar as Munna the washer-man or dhobi, Kriti Malhotra as a young married Muslim girl, Yasmin, and Monica Dogra as an Indian American investment banker named Shai.

The locale is Mumbai where the four disparate individuals live their lives that intersect and crisscross at various points.

While on a sabbatical Shai runs into Arun at his exhibition and ends up in a one-night stand with him. The morning after, Arun suffering guilt pangs for his actions, blames it on drinking too much. A hurt Shai leaves abruptly only to run into Munna.

For Munna his world view is all about aspirations and dreams to become a Bollywood actor even when washing clothes consumes his existence. He strikes a bargain with Shai to show her the real city in return for an impressive portfolio that would help him venture on his Bollywood dream.

---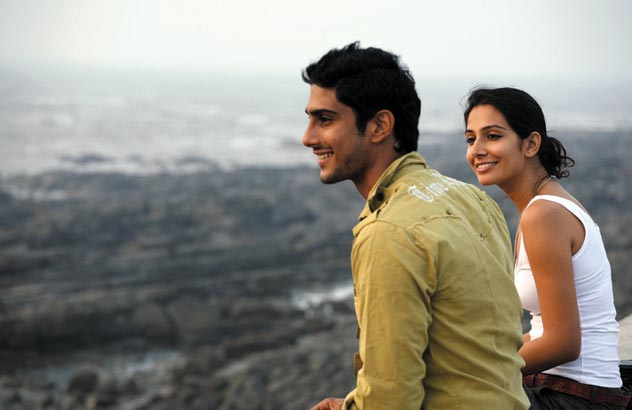 (Above): A scene from "Dhobi Ghat."

---
In the ensuing excursions their togetherness imbues feelings of the heart in naïve Munna who also mistakes Shai's respectful nature and 'equal' treatment of him as a sort of a romantic affirmation.

Kiran manages to brilliantly capture the nature of the city with all its poverty and strife that goes on to expose frailties of human differentiation and status and the possibility of love and romance.

And then there is Arun, a reclusive painter who settles in a not so upscale neighborhood to escape recurring annual house-lease expirations. On shifting to the new abode his attention gets riveted to a fascinating set of old videotapes left behind by an ex-tenant called Yasmin.

Coming from a small-town in Uttar Pradesh, she had recorded her Mumbai experiences in the form of "letters" for her brother Imraan. The tapes transport Arun to his initial connect with the city which had got covered under layers of self confinement.

What is commendable is that Kiran's debut project borrows Aamir's talent, mind, body, soul and charisma and yet retains the essence that her slice of Mumbai's life is ought to have. It is remarkable that even Aamir was selected post an audition that is a rarity in Hindi tinsel town when it comes to a superstar.

---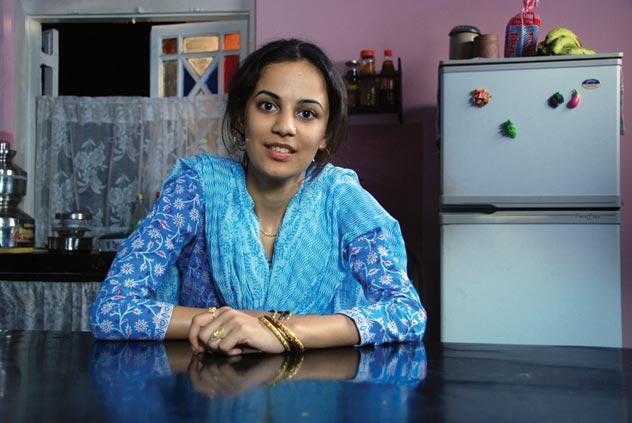 (Above): A scene from "Dhobi Ghat."

---
All the four characters appear to be co-passengers in Mumbai passing through their journeys to discovering themselves.

An intelligent storyteller who self assuredly moves ahead to make a mark with her uniquely styled film on the Bollywood canvas, Kiran's Mumbai is a real take on the city's characteristic of being a melting pot of people from varied backgrounds, aspirations and lifestyles, energetically filling every nook of the buzzing city.

Movie goers can expect an unexpected treatment given to characters and an immense blend of recent past and present time experiences.

Talking of cinematography, Tushar Kanti Ray has worked wonderfully along with ace Kiran to shoot the film in guerrilla style, with hand-held cameras and moving shots.

With such a real portrayal of fictional characters and locale Kiran represents a new kind of independent Indian cinema that promises to please the intelligentsia and connoisseurs of world cinema.

---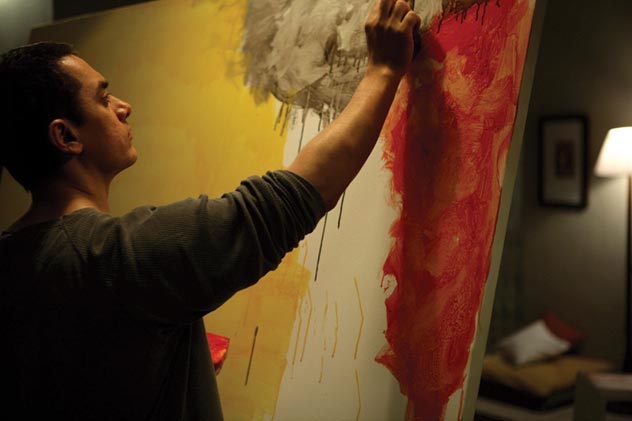 (Above): Aamir Khan in "Dhobi Ghat."

---
Oscar-winning music composer Gustavo Santaolalla's impressive notes for the title theme is particularly captivating.

Though without any songs, which is an oddity for a Bollywood film, the trailer music is enchanting. The opening of Dhobi Ghat brought in wide spread critical acclaim and much praise for the Aamir and Kiran couple.

Aamir proves that he is the real commercial and art-house expert.

In keeping to Aamir's own predictions that since "the movie is not for everyone…it is for those who love to listen to music, read a lot…for a more niche audience," the box office performance has been mixed.

---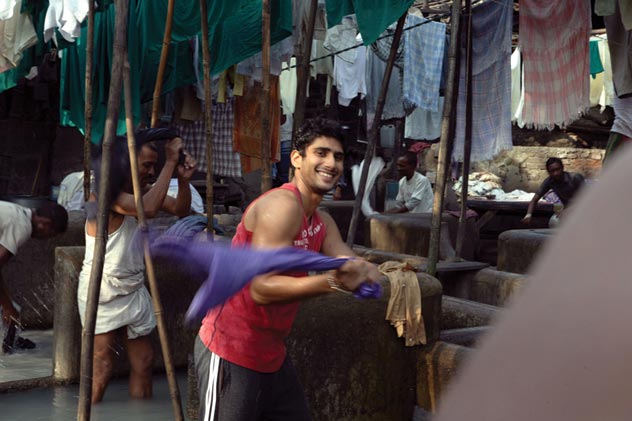 (Above): A scene from "Dhobi Ghat."

---
Even then the film has grossed substantial earnings in select urban halls.

Made on a budget of $1 million, the film is sure to do well on word of mouth as it has already gathered $200,000 in the initial week itself.

In the end the film has earned Kiran substantial kudos for creating magic on celluloid that makes for an intelligent start to her career as a director of a unique Bollywood reckoning.

---

Priyanka Bhardwaj is a reporter with Siliconeer. She is based in New Delhi.