BOLLYWOOD:
Zindagi Na Milegi Dobara: Hrithik Roshan Talks to Siliconeer

Being a star is not easy. There's more than what meets the eye as is evident by this interview with Hrithik Roshan. A Siliconeer special report.
---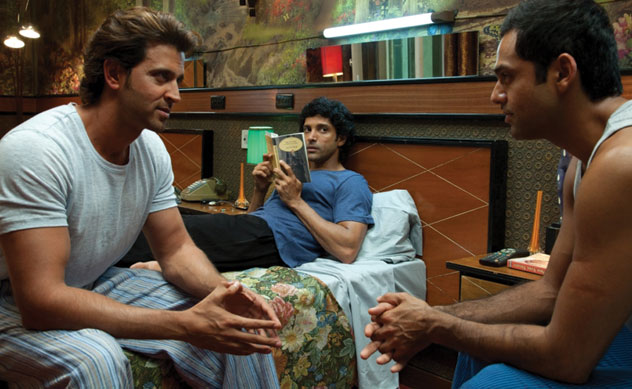 (Above): Hrihik, Farhan and Abhay in 'Zindagi Na Milegi Dobara.'

---
You want to be like him, you admire his moves when he takes on the stage, and you want to know more about how you can be like him. Hrithik Roshan is a dream that many of today's youth want to to live. We take you a step closer to the superstar through this interview.

Q: You were fortunate to present an award to your grandfather at an award function last year, what was the feeling like. What is the most cherished moment of your life?

A: It was an extremely emotional moment and an honor, both in terms of presenting the award, as well as seeing my grandfather being recognized in this way. We share a very close relationship – he has been a mentor, a role model and a true inspiration to me. To have the chance to pay respect to him publicly in this way was hugely gratifying.

Every moment of my life is truly cherished – I thank God, the Universe, my family, my extended family of fans, and my friends for all of their blessings which have really made every single moment of my life truly precious.

Q: You have done a variety of films with very different roles and get up. What is the drive behind being such a versatile actor? How do you manage to meet the challenge so well?

A: Thank you for your kind words. As an artist, it's imperative for me to continue pushing my boundaries, testing my capabilities and extending myself beyond my comfort zones.

The intensity of the roles does not allow for me to simultaneously work on several projects at any one time – I guess I am what you would call a method actor and I completely submerge myself into the skin of my characters – living, eating and breathing those characters for the entire duration of that film project. I think the challenge is met through intense focus and 110 percent commitment.

Q: Please tell our readers about your and forthcoming films.

A: Well my next release is 'Zindagi Na Milegi Dobara' which is a wonderfully fresh offering in Indian cinema. It's a road trip movie involving three friends on a journey through Barcelona for the ultimate bachelor party.

The film is directed by a dear friend of mine, Zoya Akhtar, and I feature alongside a great team of fellow actors in the film – another friend, Farhan Akhtar, Abhay Deol, Katrina Kaif and Kalki Koechlin.

Following that, and a project for which I am currently still filming, is 'Agneepath'. It is a contemporary reinterpretation of an Indian cinema classic, and I essay the character of Vijay Dinanath Chauhan, performed by the inimitable Mr. Bachchan in the original.

---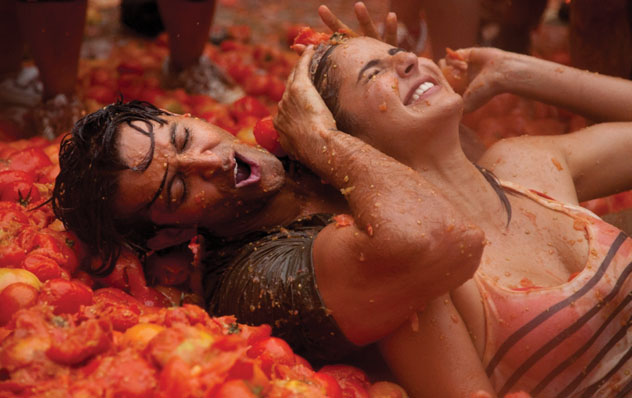 (Above): Hrihik and Katrina in 'Zindagi Na Milegi Dobara.'

---
Q: Who are your favorite costars and directors? What is special about working with each of them?

A: Ah, you know I honestly can't single out any particular fellow actors or directors, as they are each completely unique and gifted in their own ways. It has been a totally enriching experience working with everyone with whom I have been lucky enough to work – creating a new energy and dynamism for each particular film we have worked on together. They have all been special in different ways.

Q: How was your experience working with Barbara Mori in 'Kites'? Did it take a lot to learn about Hispanic culture and language.

A: It was a great experience. Barbara is an amazing actor and a very warm and vibrant human being. It was wonderful to embrace the Hispanic culture and language as, again, it allowed me to experience something new. And it is such a rich and colorful culture – not dissimilar to Indian culture in many ways – the warmth, the passion, the color, the history, family values, our love of good food… There is a huge amount of parallels between our respective cultures.

Q: What is the secret of your perfect six-pack abs?

A: An extremely disciplined daily gym and cardio-vascular routine, coupled with a healthy diet.

Q: Fans and Kids the world over, and here in the U.S. love your dance. How can they learn and adopt your style?

A: Ah, that is hugely flattering. I would encourage everyone to develop their own style, which reflects and celebrates their own individual characters and identities. Everyone has a different way of expressing themselves through dance, and I love the fact that no two dancers can perform exactly the same. Yes, they can perform a very synchronized and coordinated routine, but each has their own dancing style. The key is to let go of inhibitions and open yourself to the stage – express yourself in any way you can – wave your hands in the air, shake your hips – whatever gives you joy and elates your spirit. Dancing is such a great form of therapy and a great way of losing your inhibitions. There is no right or wrong way of performing – just tap into your heart and let the energy and movement flow.

Q: What is your favorite destination in U.S. Are you shooting any upcoming films in U.S.?

A: U.S. is so diverse and I love different parts for different reasons – New York for the buzz, San Francisco for the bohemian culture, Las Vegas for the electrifying atmosphere, the Nevada dessert for the sweeping landscape, etc. I love the open plains that some regions are rich in, but at the same time I love the bustle of the metros.

No imminent plans of filming in U.S. unfortunately, but I do hope to return there real soon. I love U.S.!

Q: What do you think of reality TV? You have been promoting a show on STAR, please share some thoughts.

A: Yes, I am currently filming for my small screen debut - a show called 'Just Dance' – and I have to say, it is reality television at its very best. It will showcase some exceptional dance talent from across India, as well as UK and U.S., where initial auditions also took place.

I am on the judging panel alongside some of our industry's top choreographers Farah Khan and Vaibhavi Merchant, and the entire experience has been alight with passion, talent, creativity, atmosphere, tension and energy.

I am certainly an advocate of reality shows which offer a platform to people with exceptional talent and gifts, who may not otherwise have the opportunity of showcasing to the world what they are made of. 'Just Dance' is certainly among that category of reality shows.

Q: Behind the Bollywood glitz, what is the real Hrithik like? How about family and your philanthropic activities.

A: You know, behind the glitz, I am a very 'normal' person – a family man who loves spending time with my amazing wife, kids and extended family. Family time is the best form of relaxation for me, and as a family unit, we do all of those regular activities that families do together – play sports, go to the movies, museums, play on the games consoles. When I'm not busy with filming or other work commitments, it's all about family time.

Philanthropic work is an important responsibility to me. I am so fortunate in life and have been blessed with so much goodness and it is my duty to help others less fortunate than myself, wherever I can. I just do my bit without necessarily making a noise about it.

Q: Besides films, what else is your passion, favorite past time, reading and music following?

A: I love to read in my free time. Music, the arts and culture are also big passions. But in all honesty, my most favourite past time is family time, whatever activities we may be engaged in during that time, which is extremely precious to me.

Q: How can fans reach you, any social network connections?

A: Follow me on Twitter.

Q: What is your message for today's youth?

A: Be true to yourself and to others. Celebrate who you are and the gift of your uniqueness, as there is no other person like you on this planet. Follow your heart and your dreams and work towards achieving those dreams with a clean heart, integrity, honesty and hard work. You're amazing and don't let anyone tell you otherwise!

Q: Any special thoughts and words for Siliconeer readers?

A: I hope to see you in US real soon. I love you all and thank you so much for your continued support, encouragement, love and affection. Oh, and make sure you go see me in 'Zindagi Na Milegi Dobara' – I really hope you love it!

Bye for now.