HINDI FILM REVIEW:
Expat Family Saga: Patiala House

Review by: Priyanka Bhardwaj
Rating: ***1/2 (Good)
Directed by: Nikhil Advani
Music composed by: Shankar, Ehsaan and Loy
Starring: Akshay Kumar, Anushka Sharma, Rishi Kapoor, Dimple Kapadia, Prem Chopra, Usman Qureshi and Hard Kaur.

---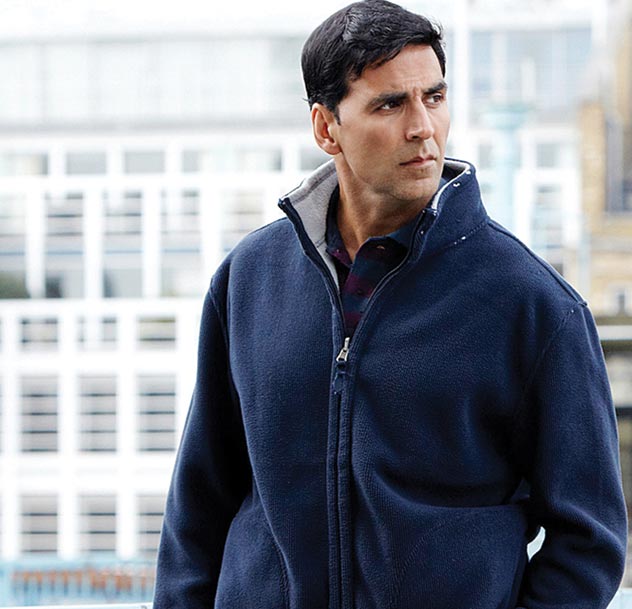 (Above): Akshay Kumar in "Patiala House."

---
Patiala House is the latest directorial venture of Nikhil Advani, produced by Bhushan Kumar, Krishan Kumar, Mukesh Talreja and Twinkle Khanna under the banner of People Tree Films, Hari Om Entertainment and Credence Motion Pictures.

An out-and-out Hindi family drama, sports has been interwoven in the fabric of this emotional, assimilative and adaptive journey of a Punjabi family, settled in Southall, United Kingdom.

The cast includes Akshay Kumar as Parghat Singh Kahlon or Gattu, Anushka Sharma as Simran, Rishi Kapoor as Gurtej Singh Kahlon, Dimple Kapadia as Mrs. Kahlon, Prem Chopra as Mr. Saini, Usman Qureshi as young Gattu, Hard Kaur as Komal Chatwal and a dozen other characters who lend credence to the film.

2010 ended and 2011 started with a lineup of lackluster Akshay Kumar films, but this film, with its offering of minimal dialogues and silent emotive performances, has reestablished Akshay as a splendid Bollywood star.

Unlike in the past few movies, Akshay plays his character with maturity and much needed restraint as he transforms from a silent loser to a convincing cricket bowler.

Several reasons may have contributed to the slow initial box office returns of the Bollywood drama but the film is slowly gaining a grip on the mass viewers as World Cup Cricket is being played out.

---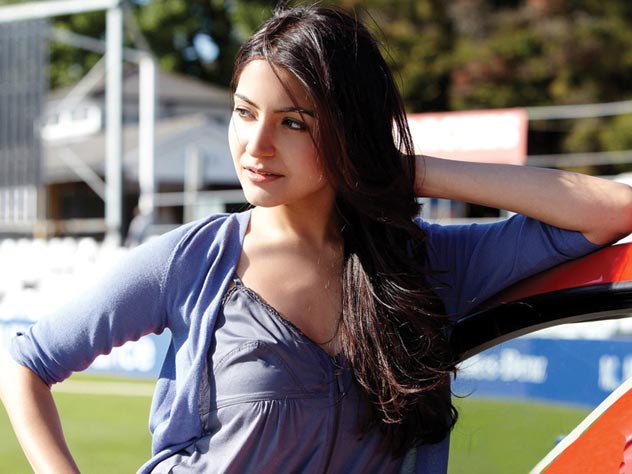 (Above): Anushka Sharma in "Patiala House."

---
Interestingly and inspiringly centered round chasing one's dreams, the film captures the social evolution of a migrant household with all Punjabi histrionic trappings that should resonate well among NRI audiences.

The narrative revolves around familial bonding and is well brought out in the climax, a measured confrontation between the father and son.

The crux of the story is the watershed in the social transformations of attitudes, when family members come of their own, shed their feelings of archaic regionalism and past bitterness and animosities to set out on a path of evolution.

An orthodox Sikh Kahlon family living in Southall is headed by Gurtej Kahlon who holds the reins of power tightly in his hands.

Bitter encounters and past racist experiences imbue in him hatred towards the goras or whites despite living in the land of the goras.

Understandably, this comes in the way of dreams and aspirations of the younger generation.

Even if it meant staying away from playing for the cricket team of the adopted land, Gurtej was adamant that his tyrannical strictures were followed by his eldest son Parghat Singh Kahlon, a.k.a. Gattu.

The leader of the Kahlon pack roars, "Tu England ke liye cricket nahin khelega?" ("You will not play cricket for England").

---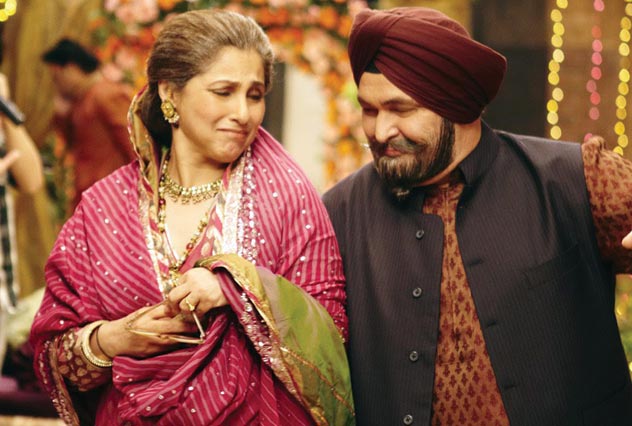 (Above): Dimple Kapadia and Rishi Kapoor in "Patiala House."

---
Gattu abandons all his dreams and decides to live the life of an obedient son and a listless store owner, more out of love and respect of his father.

However, as destiny would have it, Gattu gets a second chance to play cricket.

This presents an opportunity for Gattu to not just live out his dreams but also lend voice to the rest of the suppressed Kahlon folk.

It comes upon the entire Kahlon household, relatives and neighbors to form a support team to coax Gattu and enable him to discreetly rebel against Gurtej's diktats.

His love interest Simran (Anushka Sharma), too, breathes in him immense encouragement that leads him to win international cricket matches for England.

The film brings out succinctly how various family members join hands to break free from bondages that make them abandon their individual dreams even as they value and cherish their togetherness and values.

This united we stand approach is well applied and finally makes for a happy ending.

At various poignant moments the film is tug at the heartstring of the audience and very convincingly one easily abandons all feelings of nationalism and desperately wants Gattu to win every match for England.

Rishi's acting is remarkable as he infuses tremendous precision in his body performance and dialogues.

He is simply irreplaceable as a tough Punjabi elderly head and can easily be called the actor of the movie with his superb performance.

---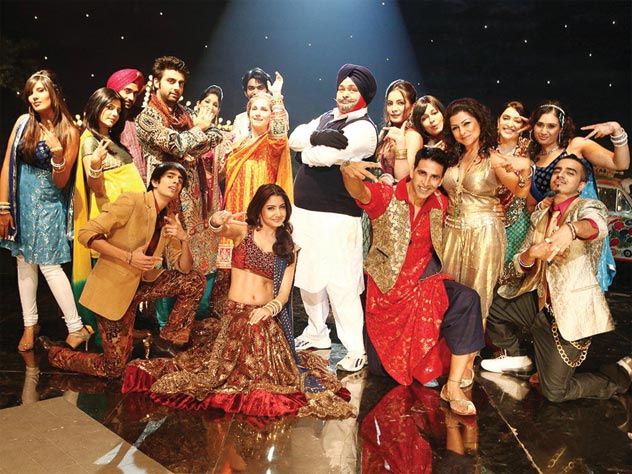 (Above): Star cast of "Patiala House."

---
The movie sends out a strong message that to adapt, evolve and giving life to one's dreams even if one has failed in the first try is what life is all about.

Dimple Kapadia's performance is extremely persuasive as her role as Rishi's better half has to be conveyed with so few words.

The director has to be complimented for not losing the plot in the maze of so many characters.

In this melee Usman Qureshi as young Gattu is definitely noticeable.

Music by the trio Shankar, Ehsaan and Loy is zingy and replete with bhangra tunes in an incredibly delightful Indo-Western fusion style.

"Laung Da Lashkara" is especially refreshing.

Santosh Thundiyil's cinematography, Manan Sagar's editing and choreography by Remo D'Souza are first rate.

Advani achieves a warm blend of every genuine ingredient of Hindi cinema to present a loud and yet a delectable family fare.

Notwithstanding the predictability this B-Town venture gets a rating of 3.5 out of 5.

An engaging entertainer and sans any over-the-top buffoonery, Patiala House is a must watch, particularly for the Indian and more so Punjabi diaspora.