COVER STORY:
Corruption At Large: India Calls for Action Against Corrupt Officials


2010 would have gone down in the history of modern India as the year of scams such as the 2G Spectrum scam, Commonwealth Games scam, but 2011 appears not too different either as the allotment of S-band spectrum by country's highly reputed defense and space and research organizations has come under Comptroller and Auditor General's scanner. It is time for concrete institutional responses as well to set the ball rolling toward wiping out corruption, writes Priyanka Bhardwaj.

---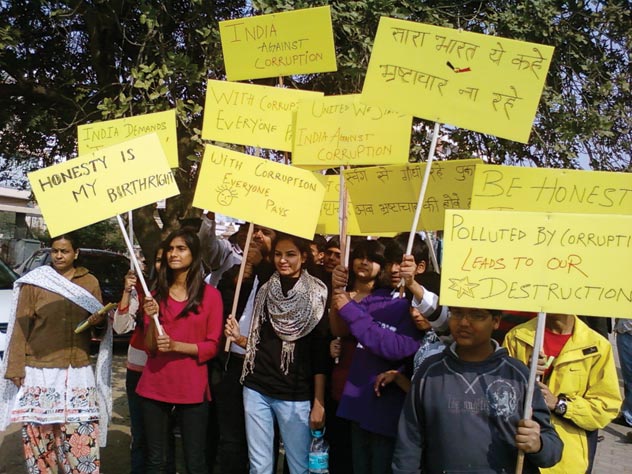 (Above): India's youth join the India Against Corruption campaign. This picture is from a rally held in Jaipur, Rajasthan in January, this year. The picture is a clear indication of the problem of corruption growing out of bounds and the concerns that Indian people have and wish to voice to the government.
(Cover photo, right): A complaint box in Leh (Ladakh), India. The problem of corruption in India has gone out of bounds with new scams emerging as days go by. (Photo: Watchsmart | Flickr)

---
Cutting across all sections of Indian demography are the twin problems of corruption and inflation that just do not show any signs of abating.

Hitting hard on the basic sustenance of every socio-economic stratum, these problems have aroused widespread feelings of despondency, anger and helplessness, directed against political establishments of the states and center.

2010 would have gone down in the history of modern India as the year of scams — 2G Spectrum scam, Commonwealth Games (CWG) scam, Adarsh scam, UP food scam, Karnataka scam, Indian Premier League scam, etc. — but 2011 appears not too different either as the allotment of S-band spectrum by country's highly reputed defense and space and research organizations has come under Comptroller and Auditor General's scanner.

A couple of months back when the CWG scam was being unearthed, former central vigilance commissioner Pratyush Sinha remarked that one in three Indians is corrupt and he attributed this to the increase in materialism and consumerism of the nation's social milieu. He categorically pointed out that social acceptability for the corrupt is increasing by the day as 'means' have come to justify 'ends.'

In such a state of affairs it is certainly not surprising that Transparency International, an international anti-graft watchdog, accorded India 84th position on the corruption perception index. India got a 3.4 rating out of a maximum score of 10. While New Zealand with 9.4 points was the least corrupt nation, at 1.1 points Somalia was the most corrupt as per the index. The report revealed rise in corruption especially in procurement of basic services due to lower functionaries demanding bribes from millions of poor Indian families.

---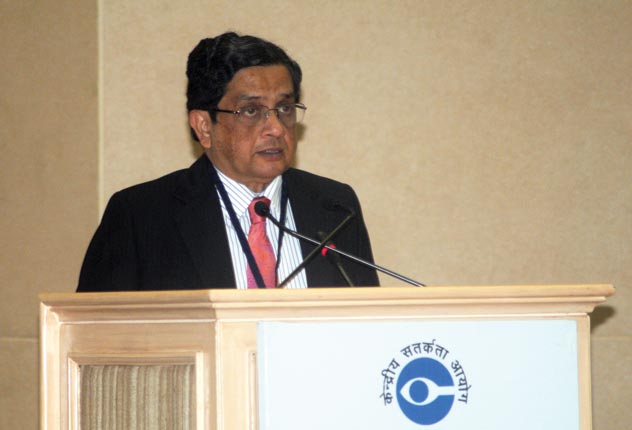 (Above): Central Vigilance Commissioner P. J.Thomas addressing the seminar on "Empowering Citizens to Combat Corruption" on the occasion of the "International Anti-Corruption Day," in New Delhi, Dec. 09, 2010. [PRESS INFORMATION BUREAU]

---
Eminent management guru, C.K. Prahalad once said that the cost of corruption in India could be put around more than Rs.2,500 billion.

It does not help even if the Congress-led coalition government at the center has instituted a taint free Prime Minister, Dr. Manmohan Singh to lead the nation. In fact dismayed by the current scenario and hoping to assure citizens and the world, Prime Minister Singh went on record to say that, "An impression has gone around that we are a scam-driven country and nothing good is happening… I wish to assure the country that our government is deadly serious in bringing to book all the wrong-doers, regardless of the positions they may occupy."

A latest report suggests that a £1 billion aid flowing from Britain's Department for International Development to India in the next four years has raised genuine and not uncalled for doubts on implementation and un-pilfered channelizing of money for the purpose it will be intended for. This aid will be administered through the political apparatus of three deprived provinces of Bihar, Orissa and Madhya Pradesh.

---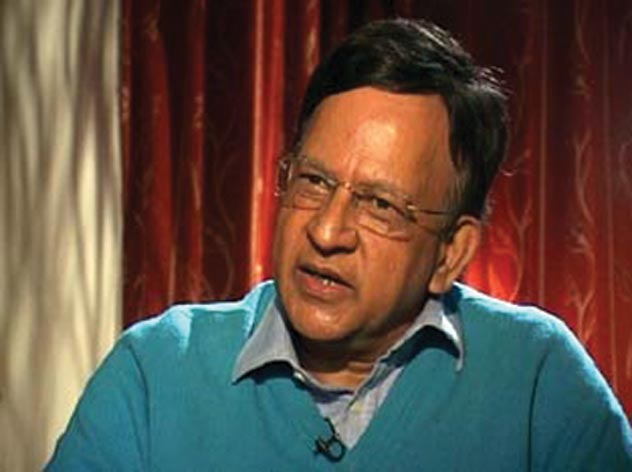 (Above): Former central vigilance commissioner Pratyush Sinha

---
Alarmingly, the provincial political leaders face grave civil and criminal charges of attempted murder, banditry, forgery, deception and so many crimes.

Innumerable instances of poor implementation of welfare schemes for the deprived and siphoning of funds exist.

In Madhya Pradesh, two officials connected with Mahatma Gandhi Rural Employment Scheme, targeted to help the poorest, illegally appropriated more than £40 million.

Despite Nitish Kumar striving hard to improve matters in Bihar the political leaders are not above board when it comes to graft payments.

Naveen Patnaik's government in Orissa is infamous for facing a host of corruption charges. Therefore it has egged some observers to express surprise that the UK has decided to send such a large aid and through such "corrupted channels" at a time when spending cuts have been the order of the day in the UK.

Talking of "black money" from India being stashed away in Switzerland, Liechtenstein and Mauritius banks, India's apex court has directed the central government to repatriate and name the persons holding these accounts. This has placed the incumbent government in a tricky situation as politicians trade allegations freely across the board.

In this regard, Transparency International has noted that about 60 per cent of Indian black money is being routed into the country's electoral process.

The fact that Mauritius ranks first in Foreign Direct Investment (FDI) inflows to India when its national income is a mere $8.7 billion and investment in its banking sector is not more than $1.5 billion is therefore not surprising.

Speaking on the issue, Srichand Hinduja, an influential international figure with a family business empire spanning oil, gas, power production, banking, heavy goods and truck manufacturing, called on the Indian government to "offer amnesty to Indians holding an estimated one trillion dollars in 'black money' in offshore bank accounts." His argument was for increased inflow of funds that would usher in more liberalization, more investment and currency regulations. Reforms in funding of political parties, declaration of donations and independent auditing was essential to weed out corruption and establish business confidence among investors, he suggested.

---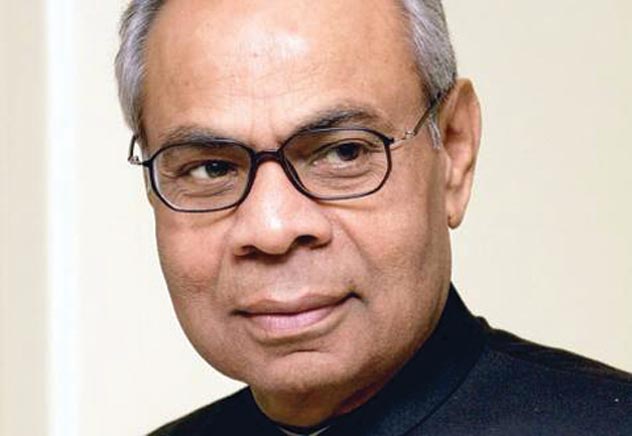 (Above): Srichand Hinduja. [REX FEATURES]

---
Even the country's judiciary has not remained untouched by corruption and utterances by certain Chief Justices of India denote that all is not too well. There have been impeachment cases against high court judges.

So while thinking of the battle against the scourge of corruption it is essential to secure it in the name of equity and socio-economic mobility of Indians. The open loot found largely among the top and lower end power-wielding functionaries endorses the urgent need to ferret out corruption.

Ramesh Manjithia, an attorney by profession says that "systemic surgeries" are required to fix up the problem. As far as the voters are concerned the cause for the fight is not all lost as recent electoral verdicts have favored political leaders who have dared to take cudgels in order to eliminate the evil in their respective states. The case is definitely worth copying at the center.

Absence of foolproof laws and absolute tediousness of enforcement processes have been responsible for improper implementation of good governance. All along the focus that has been on delegating the responsibility to rectify the situation on "Rama" (that is political leaders of eminence say for instance Sonia Gandhi or Manmohan Singh) when "Rajya" (state) or people's power holds the capacity to initiate real change.

---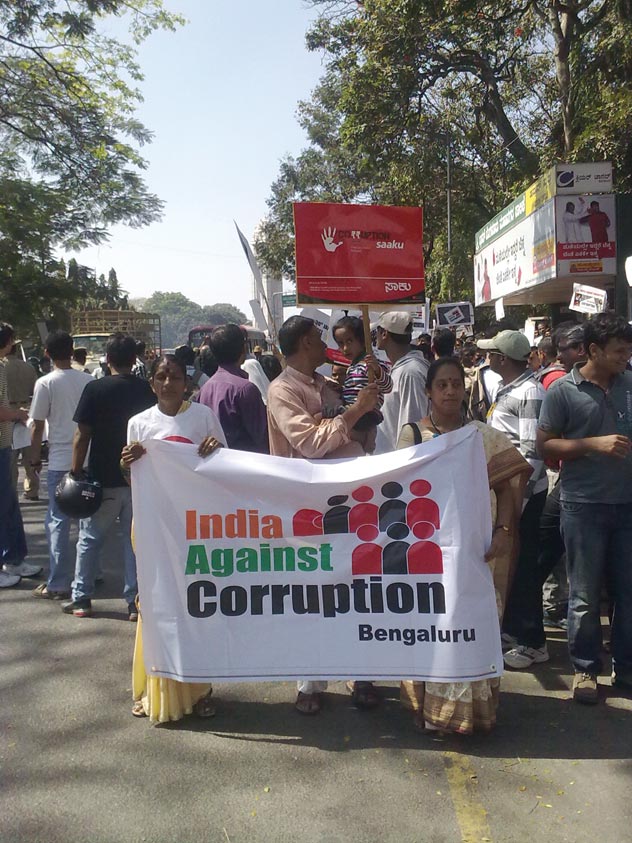 (Above): A peaceful march organized by India Against Corruption in Bengaluru and across India in over 50 cities in which the people of India joined hands and took to the streets demanding the formation of an effective anti-corruption body called Lokpal. The people raised slogans against corruption which unfortunately has become a common characteristic with politicians and some government officials. (Photo: At the Crossroads Blog)

---
Effecting the facilitation of processes of rectification, formulation of institutional commitments like financial and law enforcement incentives, overcoming India-specific barriers and laying down distinctive legal standards is as essential as maintaining political pressure on governments.

The long march to attain a corrupt-free state will certainly be helped by the growing rate of literacy and enunciation of rights like the Right to Information Act.

The people of India have taken this fight to the streets by organizing rallies across the nation demanding an end to this problem.

The recognition of media's role and that of politicians have been acknowledged since long, it is time for concrete institutional responses as well to set the ball rolling toward wiping out corruption.

India's path to development will certainly have to be secured in more acceptable ways and means.

---

Priyanka Bhardwaj is a reporter with Siliconeer. She is based in New Delhi.