EDITORIAL: Battling Corruption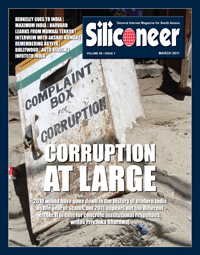 Corruption is a now a household word across many nations, more so in India. The common man is reeling under the pressure of record inflation while new scams amounting to astronomical numbers unearth daily.

At times it is hard to judge when or where this number will stop.

The fact that India is a nation with over a billion people, many living under the poverty line or with a very meager income, it is not surprising to find that given the right guidance and platform, they will not refrain from voicing their concerns to the government.



In Sanskrit culture, 12 years is considered a yuga or era. By that reckoning, Siliconeer has entered a new era, because with this issue, Siliconeer has begun its 12th year of publication.

We would like to take this opportunity to warmly thank our readers, advertisers, patrons and friends for supporting our endeavors, particularly during some really challenging times. Truly, your support and love keeps us going.

Here's to another 12 years! Yuga yuga jiyo, Siliconeer.


The current government while trying to convince the people of India on one hand that it is working to end corruption is at times at loss for words, specially when the political leaders or government officials themselves end up being largely responsible for the never-ending scams that seem to mushroom on a daily basis.

Last year we saw a multitude of scams right from the Common Wealth Games where in one instance an air conditioner was purchased for almost twenty times the cost of the retail unit in the local markets.

Instances like these have largely gone unchecked many times and have made way for the corrupt politicians and government officials to find courage and go for a much bigger kill.

Look at the IPL tamasha, or the 2G Spectrum scams. The financial numbers are just mind-boggling.

India, as it stands is one of the most corrupt nation in the world. Corruption is also a major cause of concern for the Indian people, and those who live outside India as well.

A recent BBC Poll concluded that the most talked about issue in India is corruption. India has also received very poor ranking from the Transparency Index.

In this month's cover story, our reporter in New Delhi, Priyanka Bhardwaj, takes on the issue and analyzes the effects it will have on the nation and its standing in the international community.

The people of India have waited far too long and patience is running low, it's now time for action and all efforts should be taken to set the records straight.

Some 50-odd years ago, UC Berkeley scholars organized a conference on India's urban future. This coming spring break, more than twenty faculty, researchers and graduate students will travel to New Delhi from Berkeley, to take part in a symposium/workshop on "The 21st-Century Indian City: Developing an Agenda for Urbanization in India."

It is perhaps the first time a major U.S. university has organized a symposium abroad with such a range of multidisciplinary participation.

We keep hearing that the 21st century is destined to be the Asian century; if so, its epic dramas will unfold on an urban stage. More than half of humankind now lives in urban areas, and much of this present-day urbanization is taking place in Asia, especially in India and China.

This process of urbanization is both a consequence of, and a further boost to, the forces that are driving economic growth in these countries.

Dysfunctional infrastructure creaks under the combined pressures of lopsided growth, political skullduggery and governance gridlock. Yet, these cities are also undeniably beacons of hope for millions. They are the incubators of the new middle-classes, fertile ground for the emergence of social movements and political mobilization, ceaseless job creators for rural migrants, and the wellspring of civil society growth.

Hopefully, the workshop will help in developing comparative insights and policy prescriptions, which are attentive to India's needs and are informed by the successes and failures of other developing and developed countries. Fifty years ago, the collaboration between Indian urban scholars and policy makers and Berkeley took place in Berkeley. Today, as we move towards creating a forum where ideas about urbanization can be debated and shared in the spirit of global intellectual collaboration, it is only fitting that Berkeley goes to India. Ashok Bardhan is senior research associate at the Fisher Center for Real Estate & Urban Economics at the University of California at Berkeley and presents a report.

It was one of the worst attacks on the city of Mumbai. The metropolis was under siege by jehadi terrorists including the prestigious Taj Mahal Hotel at the Gateway of India. Twelve Taj employees out of a total of 31 were killed inside the Taj hotel in an effort to protect guests from jehadi terrorists during the 26/11 Mumbai attacks in 2008.

A couple of years down the line the Harvard Business School has devised a study module that looks at the staff's selfless service for their customers beyond their line of duty to save lives. Nobody could be trained or prepared for such an event that shocked the globe, writes Siddharth Srivastava.

The Siliconeer team wishes all readers and friends a very happy Holi!