SUBCONTINENT:
Top Guns Tussle: Bollywood Pitch for India's Defense Buy


Hollywood has made numerous movies that shows the military capabilities of the United States. In India, Bollywood is not too far behind. American defense aircraft manufacturing giant Lockheed Martin has taken a cue from this and roped in Bollywood star Shahid Kapoor to try out their jets, in an effort to make a pitch for the sale of air defense combat planes to India, writes Siddharth Srivastava.

---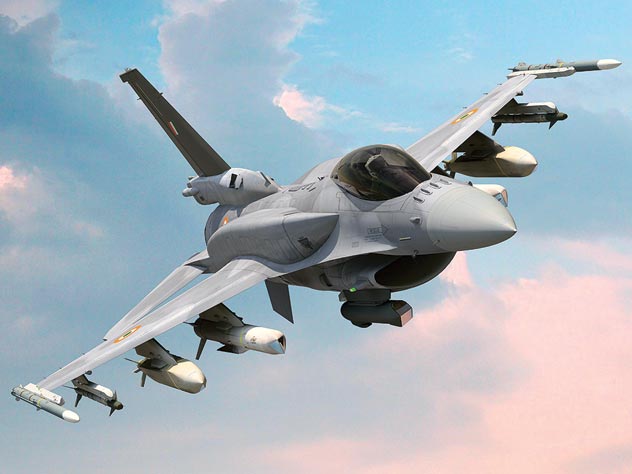 (Above): An F-16 Super Viper combat aircraft. (Lockheed Martin photo)
---
Tom Cruise in Top Gun presented the beauty of man and the mean flying machines in perfect sync. Many years down the line fighter jet maker Lockheed Martin roped in top Indian movie star Shahid Kapoor this month to try out its deadly F-16 Super Viper combat aircraft as a co-pilot, also to create a big impact.

It was a win win situation -- Kapoor is playing the role of a fighter pilot in his forthcoming film Mausam. For Lockheed the event created the buzz about its jets as a contender for the big $12 billion fighter aircraft contract that India is due to sign. The company is of course well aware that in India nothing sells like Bollywood.

Indeed, the competition is stiff for India's largest ever defense deal, the US$12 billion 126 medium multi-role combat aircraft (MRCA) contract, with the six players in the fray keen to outdo each other.

Lockheed Martin, Boeing (American), Dassault's Rafale (French), Gripen (Sweden), MiG (Russian) and Eurofighter Typhoon (a consortium of British, German, Italian and Spanish companies) have been presenting their fighter jets for testing by the Indian Air Force (IAF).

The new MRCA fleet will replace the shrinking MiG-21 interceptors and fit between the more powerful Russian Sukhoi-30MKIs and the low-end indigenous Tejas lightweight fighter.

"It's a huge honor and privilege and, at the same time, probably the coolest thing I have done yet in life. I am super excited about it," said Shahid, the first Bollywood star to fly an F-16, ahead of his flight.

---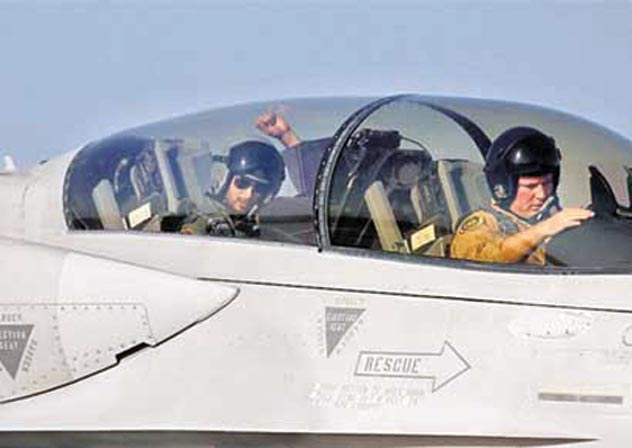 (Above): Actor Shahid Kapoor sitting behind the pilot in an F-16 jet during a 40-minute flight which had its share of turns, loops and tailspins.
---
The actor of the super hit movie Jab We Met added that he underwent a rigorous one month of tests and training to be able take the flight during the AeroIndia 2011 military-cum-civil aviation trade expo near Bangalore in which defense players from 40 nations presented their wares given India's massive US$100 billion defense modernization program.

"Though Kapoor didn't take controls of the aircraft mid-air, the flight was operated on mission mode for about 40 minutes with AESA (Active Electronically Scanned Array) radar," Lockheed said in a statement.

Other high profile people who rode pillion in fighter jets during the air show included the 73-year old Tata Group chairman Ratan Tata (in a Boeing F/A-18 Super Hornet), India's only cosmonaut Rakesh Sharma (Super Hornet), Olympic gold medalist Abhinav Bindra (F-16) and politician Navin Jindal (in Dassault's Rafale).

But, it was clearly the good looking 29-year-old Kapoor who stole the show.

---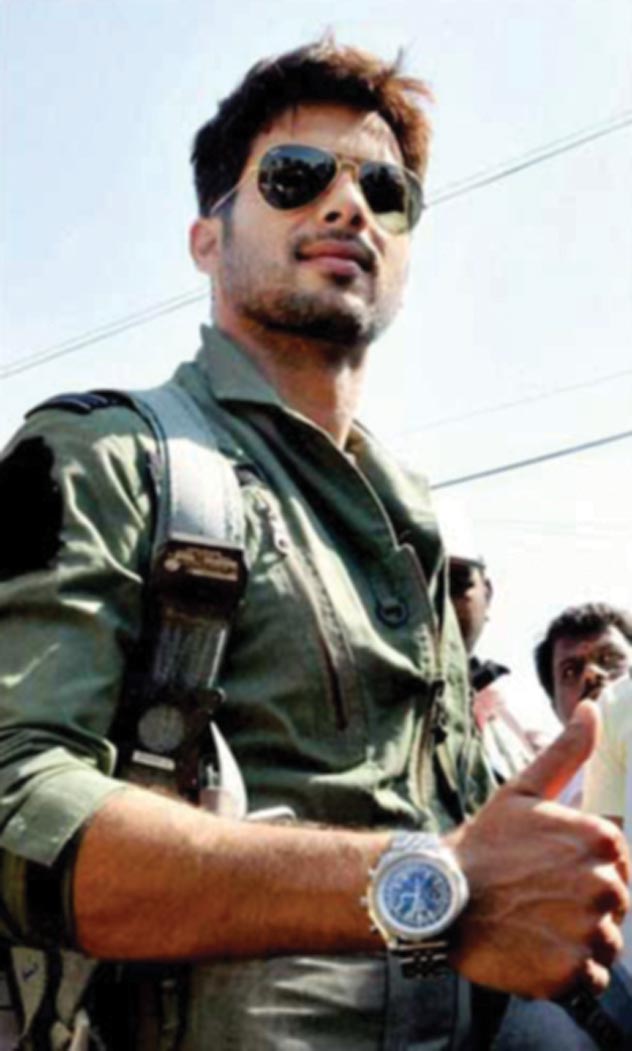 (Right): Clearly overwhelmed by the experience, Shahid Kapoor said, "I wanted to get a first-hand experience of flying on a fighter aircraft. Thanks to Lockheed Martin, I have had the privilege of becoming the first actor to fly the F-16. Such an opportunity doesn't come by as a civilian."
---
Going by the media focus on Kapoor, Lockheed managed to create the "buzz" around its jet though there surely will be many more serious parameters on which it will be judged.

"It was unbelievable. The experience could not be defined, it needs to be felt. We were on a mission," Kapoor said after the flight.

America's Defense Push

Lockheed is, however, just one among many American majors that have been pushing to win defense deals with India consequent to new strategic depth in Indo-American relations.

In a bid to sweeten future contracts, Washington cleared the road for high technology defense and aerospace exports to India a couple of weeks back by removing sanctions on Indian entities imposed following India's second nuclear weapons tests at Pokhran in 1998.

Nine important Indian state-owned defense and aerospace companies were struck off the list of firms to which American companies could not sell dual-use technology without official permission.

The de-listed entities are Bharat Dynamics and four affiliates each of the Indian Space Research Organization and the Defense Research and Development Organization.

Keen to diversify weapons procurement India has been asking America to ease its export control restrictions to allow high-end weapons technology tie-ups.

Last month U.S. secretary of commerce Gary Locke said that his country viewed high technology defense sales to India as a "cornerstone" of the strategic partnership between the two countries.

---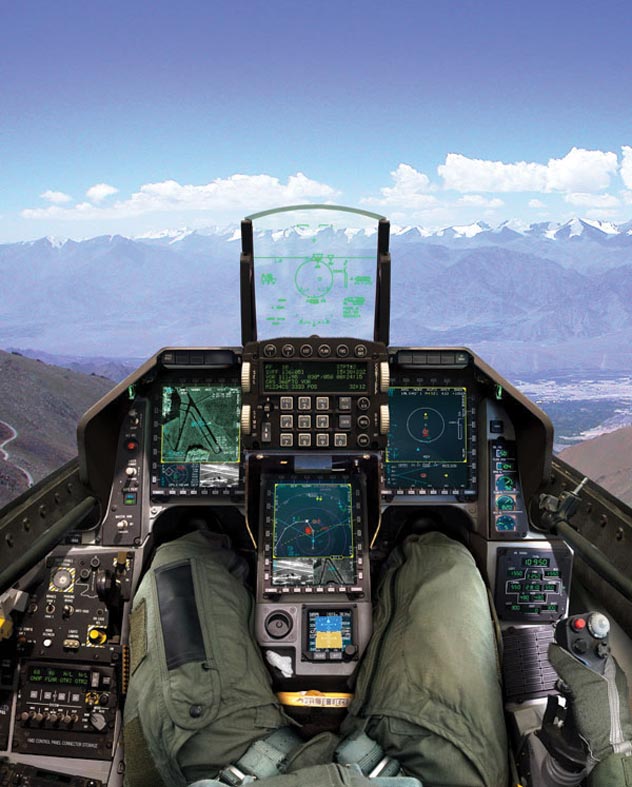 (Above): Inside the cockpit of an F-16 jet. (Lockheed Martin photo)
---
Earlier this month India inducted a military aircraft C-130J from America in about 50 years. The two countries are also on the threshold of signing the biggest defense contract ever -- the $4 billion deal for 10 C-17 Globemaster III giant strategic airlift aircraft that India's defense minister A.K. Antony said is in the "final stages" of negotiations.

Meanwhile, the first of the six American C-130J Super Hercules military transport planes was commissioned into the IAF. The C-130J was flown by an IAF crew into India from Lockheed Martin's manufacturing facility at Marietta, Georgia in the United States.

These planes are being inducted by the IAF under a $1.2 billion Indo-American deal inked in late-2008 as part of a process of increased Indo-U.S. dealings that now span dual use technology arenas such as nuclear energy and space.

U.S. Ambassador to India Timothy J. Roemer said, "the sale of the C-130J to the IAF on-time and on-budget is exactly the type of win-win situation President Obama talked about during his historic visit to India last November."

India has inked a deal for eight Boeing P-8I planes for over $2 billion in 2009 and has acquired the Airborne Early Warning Air Craft, Hawkeye E-2D, developed by U.S. firm Northrop Grumman.

In 2008, India purchased the amphibious transport vessel USS Trenton (re-christened Jalashwa) for nearly $50 million. The Jalashwa is the first-ever warship acquired by the Indian Navy from the U.S. and the second-biggest that India now possesses.

With the Americans also getting Bollywood into the picture, it is clear that they mean business.