EDUCATION:
Whole Child: Global School Silicon Valley


Public schools in the recent times have seen the worst budget cuts. The result — increased class sizes, teacher layoffs, and extra-curricular activities eliminated. With limited availability in top notch public schools, many South Asian parents in Silicon Valley are turning to private schools. Siliconeer president Ashok Gupta takes a look at one such school in Silicon Valley.

---

(Above): A view of a classroom at the Global School, Silicon Valley. [Photo: Jeffrey Hosier]

---
The multi-generational family system in India has a long tradition of imparting values, education and development of the whole child.

In recent years however, with an inclination towards adapting to the West, the role of parents seems to be taking a different course. It is not easy to impart relevant values in their wards.

The recent years have seen a spike in private educational institutions that promise a complete development of the child with a focus on knowledge, social skills, physical fitness and the likes.

The Global Indian International Schools (GIIS) spread over seven countries, with over 17,000 students and 1,500 teachers offer International Baccalaureate, IGCSE Cambridge and Indian CBSE education.

GIIS has established their first Global School in Silicon Valley under the leadership of Chandra and Narpat Bhandari.

I recently visited the Global School of Silicon Valley and met Chandra and Narpat Bhandari, along with principal Dave Hague and administrator Susannah Vaughan.

Education is an integral part of an individual's life and South Asians are no different. The question is – How much, and to what extent? Is it only becoming a source of our bread and butter? Is it going to make our life better? Is it just having the grade marks in class?

Memorizing an enormous set of textbooks and then writing back on the answer books is done to score marks. There will be peers who have scored lesser marks – but have gone on to establish success stories. This situation was aptly portrayed in a recent Bollywood flick '3 Idiots,' which many of us can relate to – and that is the 'whole child' dream of the Bhandaris.

The strength of the foundation will decide how tall a structure it can hold. Such is the case with the primary education. More and more South Asian families are turning towards private institutions for their kid's education.

---

(Above): Chandra and Narpat Bhandari with a student at the Global School, Silicon Valley. [Photo: Jeffrey Hosier]

---
"Education helps develop three aspects: physical, mental and character," says Bhandari, "the Global School provides a curriculum that is aimed at helping the child develop into a well-rounded individual.  And, in order to achieve that we have mandatory five day physical education, computer learning, music and art classes from junior K." 

Chandra Bhandari, a full time volunteer at the school, added that, "With the changing role, a parent won't have to drive the student from class to class during weekends. Kids get everything during their school hours and can have fun with their parents during the weekend."

A strong elementary education has been one of the core values for any Indian family. With Challenger and Harker schools in the market place, Global School provides an affordable solution for those looking for private education.

The Global Indian Foundation was co-founded in 2002 by Late Dr. L.M. Singhvi, former Indian Ambassador to United Kingdom. The journey has since then delivered smiles on the faces of hundreds of students, giving them an opportunity to excel in whatever they do, be it leadership, enterprise, sports, culture, art or intramurals.

The Global School strives to mold the future of the younger generation who will be the global citizens of tomorrow.

With the world coming closer and the concept of a Global Village in the offing, the management is taking full advantage of new technology. Narpat Bhandari says, "We walk the talk when it comes to Global and the students get an opportunity to interact with other students from as many as 23 worldwide campuses. We are wired to execute real time face-to-face interaction.

Recently we had two of our students from Japan come and share their story of the Tsunami. Rahul and Riya traveled to GSSV with their father, Mahesh Deshpande, just to share their story with their friends across the Pacific."

---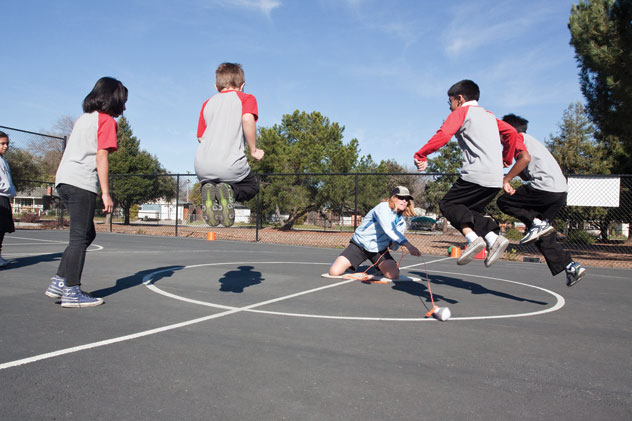 (Above): Kids during a PE class at the Global School in Silicon Valley. [Photo: Jeffrey Hosier]

---
With education funding cuts, increased class sizes, and loss of jobs for our teachers, the current public school education system is facing a challenging time. Real Estate prices have soared in areas with top public schools, making it a challenge for parents looking to send their kids to topnotch schools be able to actually do so. Moreover, if you are in the U.S. on a temporary visa and unsure of your tenure, getting your kids in to a top order school, even if you live in the right area can rarely be possible due to overloads.

For those who can afford, the private school system has become a chosen path.

It is imperative for the education system to essentially shape one's life and to give them an opportunity to perform on the global stage and make the world a better and peaceful place.

Today's education not only provides us a profession but also a purpose in life. It is very aptly said that: "'Know thyself' was written over the portals of the antique world. Over the portal of the new world, 'Be thyself' shall be written."

Located on eleven acres of land in Silicon Valley, on the border of Los Gatos and southwest San Jose, the Global School plans to get fully accredited by the Western Association of Schools and Colleges (WASC).

Interested readers can learn more about the school at www.myglobalschool.org.