RECIPE:
Tasty Treat: Paneer Chaatwala


Here is a recipe for a zesty, filling appetizer that is rich in taste and proteins as well. Mamta Jain shows how to make it.
---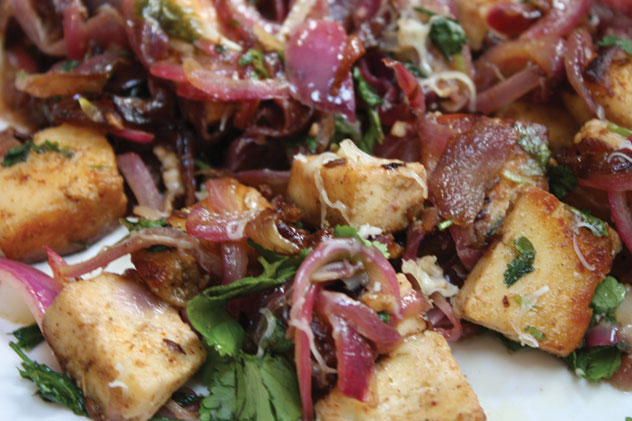 (Above): Paneer Chaatwala [Photo: SILICONEER]

---
Ingredients

For the cover:

4 red onions cut at length

2 cups paneer cut in ¾ or 1 inch cubes

2 green chilies finely chopped

1 tsp ginger grated

2 tsp cilantro finely chopped

1 tbsp chaat masala

2 tbsp cooking oil

salt to tastel


Preparation Time: 20min

Cooking Time: 10 min

Method:

Heat oil in a pan and add onion and cook for about five minutes. Add the rest of the ingredients: paneer, chilies, ginger, chaat masala, salt and lime juice and stir for 3-4 minutes to marinate the cubes well. Garnish with chopped cilantro and serve with hot.

Make it a meal: Roll the Paneer Chaatwala in a Kawan Paratha, Roti or make a Paneer Panini (stuffed in bread and grill it) and enjoy it with a spicy mint chutney.