EDITORIAL: Justice Delivered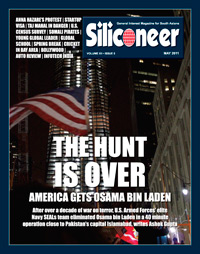 The news came as we were about to start dinner. U.S. Navy SEALs, an elite force of the U.S. Army was out on a mission in Abbotabad, a town near Islamabad, Pakistan.

Their target — Osama bin Laden, the founder of the terrorist group al-Qaeda, who was responsible for the September 11 attacks on the United States and numerous other mass-casualty attacks against civilian and military targets and was on the American Federal Bureau of Investigation's lists of Ten Most Wanted Fugitives and Most Wanted Terrorists.

On April 29, 2011, U.S. President Barack Obama authorized a raid on bin Laden's suspected location near Abbottabad, Pakistan. It wasn't until the early morning of May 2 (due to weather and time considerations) that the operation was successfully carried out by U.S. Navy SEALs, with intelligence support from the Central Intelligence Agency (CIA). Within moments of entering the compound, bin Laden was shot in the head and chest the wounds of which were fatal.

It was a moment that the American people and the world had waited for over a decade. For some it was jubilation, for some it was a somber moment, and remember those who lost their loved ones either as civilian victims or as war heroes who died fighting the war on terror, this was justice well deserved.



In Sanskrit culture, 12 years is considered a yuga or era. By that reckoning, Siliconeer has entered a new era, because with this issue, Siliconeer has begun its 12th year of publication.

We would like to take this opportunity to warmly thank our readers, advertisers, patrons and friends for supporting our endeavors, particularly during some really challenging times. Truly, your support and love keeps us going.

Here's to another 12 years! Yuga yuga jiyo, Siliconeer.


Words cannot replace the loss of loved ones. "It's over," said a woman who had lost her son, who he died in Afghanistan fighting the war on terror.

In the words of President Barack Obama: "Tonight, I can report to the American people and to the world that the United States has conducted an operation that killed Osama bin Laden, the leader of al-Qaeda, and a terrorist who's responsible for the murder of thousands of innocent men, women, and children."

"It was nearly 10 years ago that a bright September day was darkened by the worst attack on the American people in our history. The images of 9/11 are seared into our national memory — hijacked planes cutting through a cloudless September sky; the Twin Towers collapsing to the ground; black smoke billowing up from the Pentagon; the wreckage of Flight 93 in Shanksville, Pennsylvania, where the actions of heroic citizens saved even more heartbreak and destruction."

"Justice has been done."

Based on news reports, one cannot stop from wondering, how could a fugitive like Osama bin Laden live in a mansion located in close proximity to a Pakistani military academy and Pakistan government be unaware of it. It is not that he was hiding in the North Pakistan Afghanistan border ranges, but as reports suggest, he was living in a luxurious mansion which is currently valued at $1 million and is so closely located to the capital city of Islamabad.

In this month's cover story Ashok Gupta presents a report on the operation and President Obama's address to the nation following the success of the operation.

The U.S. Census Bureau recently released the numbers defining the growth of Asian-owned businesses between 2002 and 2007. The Asian Indian community appears to have passed with flying colors.

"A consistent approach, customer-first attitude and conservative spending have been the key factors for growth of Asian Indian businesses," one business owner pointed out.

This has helped in creating jobs and also accumulation of wealth among the community. In such times when businesses are struggling, data such as this is very encouraging and an eye opener for those who are falling behind.

There is a lot to learn from these immigrant business owners who have come to the U.S. empty-handed and have worked hard to build legacies and survive such tough economic times. Be it a restaurant owner, a grocer, a professional, there is a story behind every success.

Our story talks about such businesses and the growth of the Asian Indian business community in the U.S.

If you heard that a wonder of the world, the Taj Mahal was about to sink, at first thought that would sound absurd. However, studies indicate that it might actually happen.

The sheer negligence and abuse of mother nature by the urban society and industrialization has depleted and dried up the Yamuna river, causing a grave danger of India losing the Taj Mahal that could potentially sink.

The clock is ticking and the officials at the Archaeological Survey of India need to get their act together and fix the problem before it's too late, warns Siddharth Srivastava.