COVER STORY:
The Hunt is Over: U.S. Forces Eliminate Osama bin Laden


On May 1, 2011, as the Nation was about turn in for the night, a very important development that people of America and the world have been waiting for over a decade, took place. The hunt for Osama bin Laden was over. What followed was a series of celebrations outside the White House, at Ground Zero and elsewhere in the country, writes Ashok Gupta.

---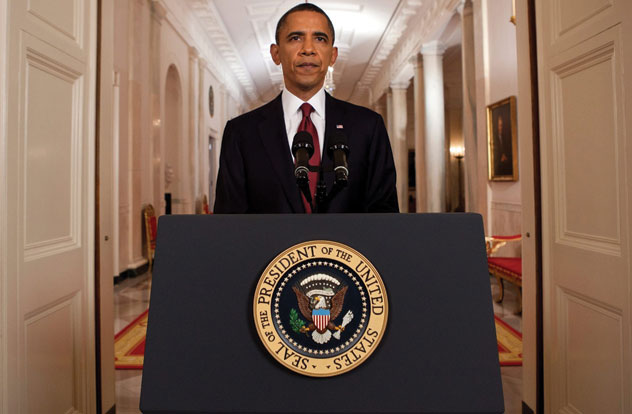 (Above): U.S. President Barack Obama addressing the nation on May 1, 2011, announcing the U.S. Armed Forces' success in the operation in which al-Qaeda leader Osama bin-Laden was killed. (White House photo)
(Below Right): Terror organization al-Qaeda leader Osama bin-Laden.

---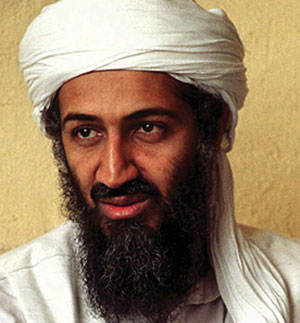 The U.S. Navy SEALs, an elite force of the U.S. Army was out on a mission in Abbotabad, a town near Islamabad, Pakistan.

They had identified their target, the chief of al-Qaeda, Osama bin Laden was reportedly staying at a mansion in Abbotabad. Sources say the mansion was built in 2005.

Osama bin Laden was the founder of the al-Qaeda organization, responsible for the September 11 attacks on the United States and numerous other mass-casualty attacks against civilian and military targets. He was a member of the wealthy Saudi bin Laden family.

Bin Laden was on the American Federal Bureau of Investigation's lists of Ten Most Wanted Fugitives and Most Wanted Terrorists for his involvement in the 1998 U.S. embassy bombings. From 2001 to 2011, bin Laden and his organization have been major targets of the War on Terror, which totally has resulted in between 80,000 and 1.2 million civilian deaths in Iraq, Afghanistan and Somalia between 2001 and 2007.

On April 29, 2011, U.S. President Barack Obama authorized a raid on bin Laden's suspected location near Abbottabad, Pakistan. It wasn't until the early morning of May 2 (due to weather and time considerations) that the operation was successfully carried out by U.S. Navy SEALs, with intelligence support from the Central Intelligence Agency (CIA). Within moments of entering the compound, bin Laden was shot in the head and chest the wounds of which were fatal.

The entire raid, including intelligence sweeps of the compound were completed in less than 40 minutes. His body was taken into custody and facial recognition tests were performed.

Later, genetic testing further supported bin Laden's identification. Within 24 hours of his death, bin Laden's body was taken out to sea for burial.

---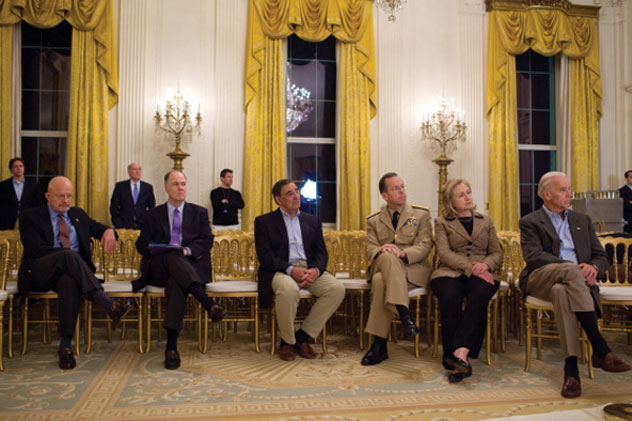 (Above): Seated from left, James Clapper, Director of National Intelligence, National Security Advisor Tom Donilon, CIA Director Leon Panetta, Admiral Mike Mullen, Chairman of the Joint Chiefs of Staff, Secretary of State Hillary Rodham Clinton, and Vice President Joe Biden listen as President Barack Obama makes a statement on Osama Bin Laden in the East Room of the White House May 1, 2011. (Official White House Photo by Pete Souza)

---
In a nationally televised address to the nation, U.S. President and Commander-in-Chief of U.S. Armed Forces Barack Obama announced: "Tonight, I can report to the American people and to the world that the United States has conducted an operation that killed Osama bin Laden, the leader of al-Qaeda, and a terrorist who's responsible for the murder of thousands of innocent men, women, and children."

"It was nearly 10 years ago that a bright September day was darkened by the worst attack on the American people in our history. The images of 9/11 are seared into our national memory -- hijacked planes cutting through a cloudless September sky; the Twin Towers collapsing to the ground; black smoke billowing up from the Pentagon; the wreckage of Flight 93 in Shanksville, Pennsylvania, where the actions of heroic citizens saved even more heartbreak and destruction."

"Justice has been done," said U.S. President Barack Obama in this historic address.

Abbotabad is a popular summer resort, located in a valley surrounded by green hills near Pakistani Kashmir. Islamist militants, particularly those fighting in Indian-controlled Kashmir, have had training camps near the town.

The al-Qaeda leader Osama bin Laden was hiding out in a mansion near a military training academy of Pakistan about 150 kilometers from Islamabad, when he was killed in a dramatic CIA-led operation involving helicopters and ground troops on Sunday night of May 1, 2011.

U.S. Navy SEALs commandos conducted a swift, unannounced operation, where they were air-dropped from choppers into the compound. After a rapid gunfire exchange, they engaged Osama bin Laden into conflict and shot him in the head. The entire operation lasted about 40 minutes. There were no American casualties except that one of the choppers crashed but no American soldier was hurt.

Osama's sheltering in Pakistan, resulted in immediate comments from India, saying the news underscored its "concern that terrorists belonging to different organizations find sanctuary in Pakistan." The question here is, how can, the most wanted terrorist bin Laden, take shelter in Pakistan next to a Military Academy with the neighbors not knowing about it? The fact that Osama bin Laden was apparently living in a relative luxury house not far from Islamabad itself poses awkward questions for Pakistan, when just 10 days ago Pakistan's army chief addressed army cadets at the academy, near where bin Laden was killed, saying "the country's military had broken the back of militants linked to al-Qaeda and the Taliban."

---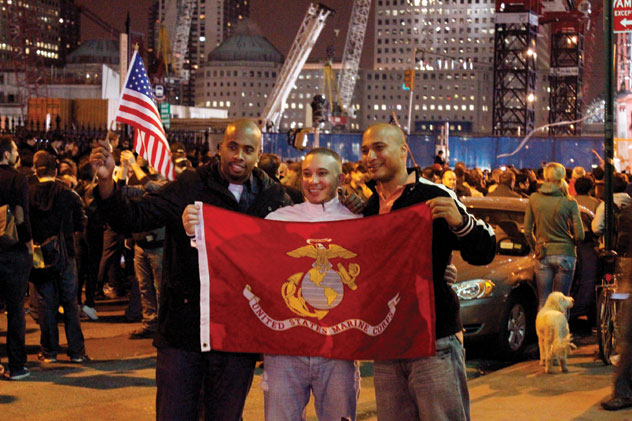 (Above): As the news of bin-Laden's death unfolded, the American people took to streets, celebrating a much-awaited and long overdue victory in the war on terror. This picture is from Ground Zero in New York. Similar celebrations were also seen outside the White House compounds in Washington, D.C. (PHOTO: NEMILAR | FLICKR)

---
Pakistan meanwhile has to do a lot of damage control because the Americans have been reporting the whereabouts of bin Laden to be in Pakistan. While it was originally believed that Osama was taking sanctuary in mountains and caved in Northern Pakistan and Afghanistan border area, the actual location comes as an alarming surprise.

The mansion Osama was living in was reported as being 'custom built' with two compounds, one outer and then another one inside it. There were no phone lines or Internet connections and the walls were about 16 feet high.

The story is still unfolding.

According to a Senior Administration Official: "In the beginning of September of last year, the CIA began to work with the President on a set of assessments that led it to believe that in fact it was possible that Osama bin Laden may be located at a compound in Pakistan.  By mid-February, through a series of intensive meetings at the White House and with the President, we had determined there was a sound intelligence basis for pursuing this in an aggressive way and developing courses of action to pursue Osama bin Laden at this location.

In the middle of March, the President began a series of National Security Council meetings that he chaired to pursue again the intelligence basis and to develop courses of action to bring justice to Osama bin Laden.  Indeed, by my count, the President chaired no fewer than five National Security Council meetings on the topic from the middle of March -- March 14th, March 29th, April 12th, April 19th, and April 28th.  And the President gave the final order to pursue the operation that he announced to the nation tonight on the morning -- Friday morning of April 29th.

The President mentioned tonight that the pursuit of Osama bin Laden and the defeat of al Qaeda has been a bipartisan exercise in this nation since September 11, 2001, and indeed, this evening before he spoke to the nation, President Obama did speak to President Bush 43 and President Clinton this evening to review with them the events of today and to preview his statement to the nation tonight."

According to another Senior Administration Official: "The bottom line of our collection and our analysis was that we had high confidence that the compound harbored a high-value terrorist target.  The experts who worked this issue for years assessed that there was a strong probability that the terrorist that was hiding there was Osama bin Laden.

What I'd like to do is walk you through the key points in that intelligence trail that led us to that conclusion.  From the time that we first recognized bin Laden as a threat, the CIA gathered leads on individuals in bin Laden's inner circle, including his personal couriers.  Detainees in the post-9/11 period flagged for us individuals who may have been providing direct support to bin Laden and his deputy, Zawahiri, after their escape from Afghanistan.

One courier in particular had our constant attention.  Detainees gave us his nom de guerre or his nickname and identified him as both a protégé of Khalid Sheikh Mohammed, the mastermind of September 11th, and a trusted assistant of Abu Faraj al-Libbi, the former number three of al Qaeda who was captured in 2005.

Detainees also identified this man as one of the few al Qaeda couriers trusted by bin Laden.  They indicated he might be living with and protecting bin Laden.  But for years, we were unable to identify his true name or his location.

---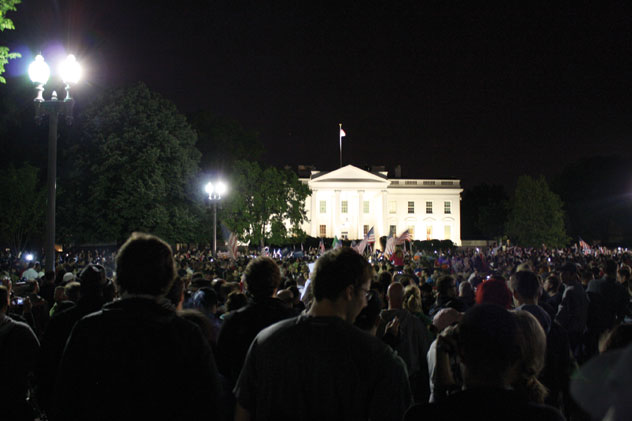 (Above): A jubilant crowd of thousands gathered outside the White House as word spread of bin Laden's death. Hundreds more sang and waved American flags at Ground Zero in New York — where the twin towers that once stood as symbols of American economic power were brought down by bin Laden's hijackers 10 years ago. (PHOTO: LOZANOPUCHE | FLICKR)

---
Four years ago, we uncovered his identity, and for operational reasons, I can't go into details about his name or how we identified him, but about two years ago, after months of persistent effort, we identified areas in Pakistan where the courier and his brother operated.  Still we were unable to pinpoint exactly where they lived, due to extensive operational security on their part.  The fact that they were being so careful reinforced our belief that we were on the right track.

Then in August 2010, we found their residence, a compound in Abbottabad, Pakistan, a town about 35 miles north of Islamabad.  The area is relatively affluent, with lots of retired military.  It's also insolated from the natural disasters and terrorist attacks that have afflicted other parts of Pakistan.  When we saw the compound where the brothers lived, we were shocked by what we saw — an extraordinarily unique compound. The compound sits on a large plot of land in an area that was relatively secluded when it was built.  It is roughly eight times larger than the other homes in the area.

When the compound was built in 2005, it was on the outskirts of the town center, at the end of a narrow dirt road.  In the last six years, some residential homes have been built nearby.  The physical security measures of the compound are extraordinary.  It has 12- to 18-foot walls topped with barbed wire.  Internal wall sections — internal walls sectioned off different portions of the compound to provide extra privacy.  Access to the compound is restricted by two security gates, and the residents of the compound burn their trash, unlike their neighbors, who put the trash out for collection.

The main structure, a three-story building, has few windows facing the outside of the compound.  A terrace on the third floor has a seven-foot wall privacy — has a seven-foot privacy wall.

It's also noteworthy that the property is valued at approximately $1 million but has no telephone or Internet service connected to it.  The brothers had no explainable source of wealth.

---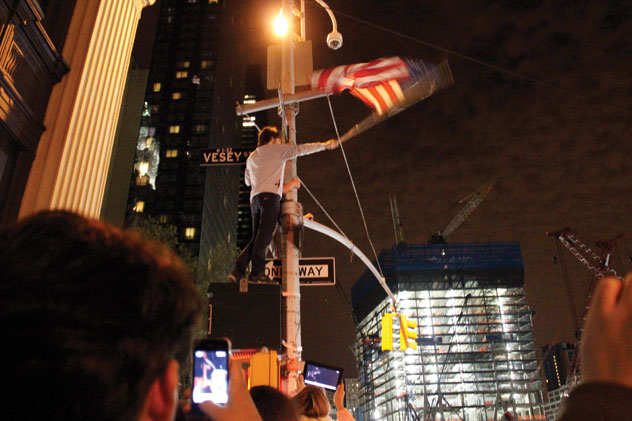 (Above): A jubilant crowd of thousands gathered and sang and waved American flags at Ground Zero in New York — where the twin towers that once stood as symbols of American economic power were brought down by bin Laden's hijackers 10 years ago. (PHOTO: NEMILAR | FLICKR)

---
Intelligence analysts concluded that this compound was custom built to hide someone of significance.  We soon learned that more people were living at the compound than the two brothers and their families.  A third family lived there -- one whose size and whose makeup matched the bin Laden family members that we believed most likely to be with Osama bin Laden.  Our best assessment, based on a large body of reporting from multiple sources, was that bin Laden was living there with several family members, including his youngest wife.

Everything we saw -- the extremely elaborate operational security, the brothers' background and their behavior, and the location and the design of the compound itself was perfectly consistent with what our experts expected bin Laden's hideout to look like.  Keep in mind that two of bin Laden's gatekeepers, Khalid Sheikh Mohammed and Abu Faraj al-Libbi, were arrested in the settled areas of Pakistan. 

Our analysts looked at this from every angle, considering carefully who other than bin Laden could be at the compound.  We conducted red team exercises and other forms of alternative analysis to check our work.  No other candidate fit the bill as well as bin Laden did.

So the final conclusion, from an intelligence standpoint, was twofold.  We had high confidence that a high-value target was being harbored by the brothers on the compound, and we assessed that there was a strong probability that that person was Osama bin Laden."