COMMUNITY
Building Partnerships: Ambassador Rao's Talk at ICC


Nirupama Rao recently became India's Ambassador to United States. Last month she visited the India Community Center in Milpitas, Calif., where she met with the Indian community and gave a talk on U.S. – India relations. A Siliconeer report.

---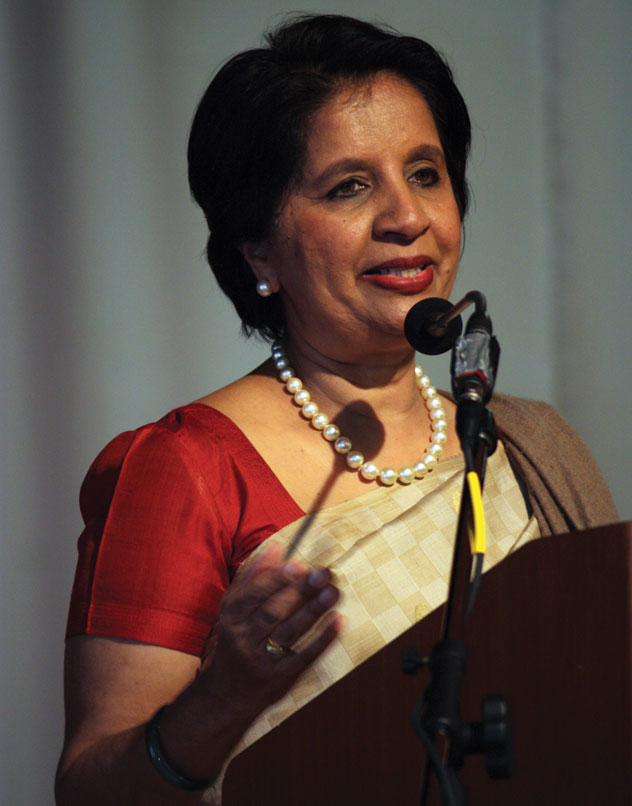 (Above): India's Ambassador to U.S. Nirupama Rao talks at ICC in Milpitas, Calif., Dec. 4. [Photo: SILICONEER].

---
She joined the Indian Foreign Service in 1973. In a diplomatic career spanning over three decades, she served in various world capitals, including Washington, D.C., Beijing and Moscow. She acquired extensive experience in India-China relations, having served in the East Asia Division of the Ministry at policy level capacities for several years, and later serving as India's first woman Ambassador to China from 2006 to 2009. Her other ambassadorial assignments include Peru and Bolivia, and Sri Lanka.

Nirupama Rao assumed responsibilities as Ambassador of India to the United States in September, last year.

Rao had also served in Washington as Minister for Press and Cultural Affairs at the Indian Embassy from 1993 to 1995. She was a fellow at the Center for International Affairs (now the Weatherhead Center) at Harvard University in the early 1990s. She was also a distinguished international executive in residence at the University of Maryland at College Park in 1999-2000.

Ambassador Nirupama Rao and her husband, Sudhakar Rao, recently visited San Francisco Bay Area and among various meetings, they also visited the India Community Center, Dec. 4.

San Francisco's new Consul General N. Parthasarathi, Deputy Consul General Kumar Tuhin and Consul for Community Affairs Ashok Jha accompanied the ambassador.

After formal introductions by ICC's Talat Hasan, Consul General Parthasarathi briefly touched on the changes he plans to bring at the consulate to further strengthen the services, and the thought about increasing partnership between India and the U.S.

---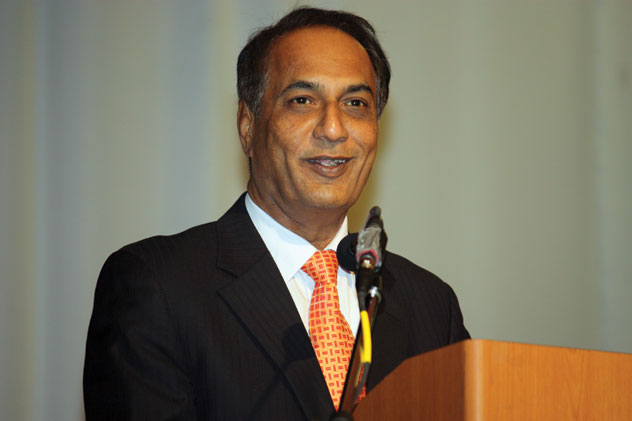 (Above): Consul General N. Parthasarathi speaking at ICC in Milpitas, Calif., Dec. 4. [Photo: SILICONEER]

---
He said that Indians here in Bay Area could play a pivotal role in this process, mainly due to the fact that Indians were so successful and well recognized here.

The ambassador began her speech with words of praise for ICC, "This a very privileged moment for me to be here in your presence this evening specially because you have created and extraordinary institution, the India Community Center, whose motto — to serve, to unite and to celebrate — epitomizes with what the spirit of India should be, because we are a country of diversity and pluralism."

"This is my second visit to California in the first three months of my tenure. What you have achieved, has made India proud and in many ways cemented the partnership between India and the United States as a global strategic partnership," she said, adding, "India and the United States have a natural affinity for each other."

The ambassador stressed that the world's oldest democracy, United States and the world's largest democracy, India, have a lot to partner, embracing almost every field of human endeavor. Security, dialogue, economic development, trade, energy, agriculture, counter-terrorism are some of the areas where the two countries are working together.

She further stressed that contribution of the Indian American community is very important in this process.

Looking forward to the youth, she mentioned that young Indian Americans have made their place in almost every possible field, be it art, science, business or politics.

"You have created a wonderful highway which works in both directions, a bridge between both the countries," she said.

"The friendship that exists between our people and the American people is indeed a very natural and spontaneous one," commented the ambassador.

---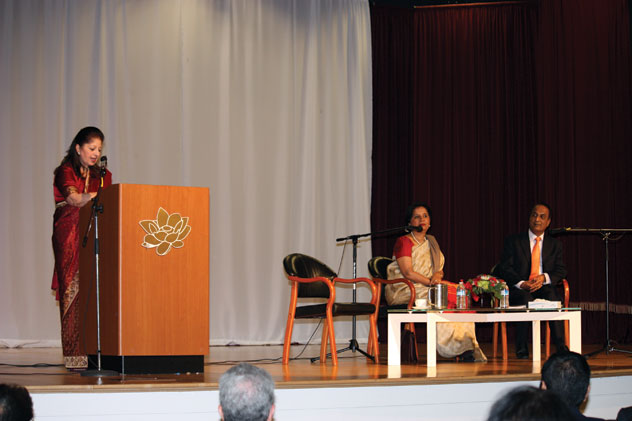 (Above): ICC's Talat Hasan welcoming India's Ambassador to U.S. Nirupama Rao and Consul General N. Parthasarathi to the center in Milpitas, Calif., Dec. 4. [Photo: SILICONEER]

---
The general tone of the discussion was positive, one that looks forward to building further on the current trend of partnership and integration between the two nations.

There are stereotypical images of India that somehow cloud the perspective of Americans or other countries think of India, Indian Americans here have to be able to relay that message of India that is very different in reality and there is more to it than just stereotypical myths, pointed the ambassador.

There are tasks that still need to be accomplished and it is very important to focus on these tasks that affect the day to day lives of so many of India's population.

"A natural, enduring and defining partnership for the 21st century," is how the ambassador described the relations between India and the United States.

The ambassador's address was followed by a Q&A session, where the diaspora put forward their concerns, questions to the ambassador and the consul general.