EDITORIAL: Decisive Polls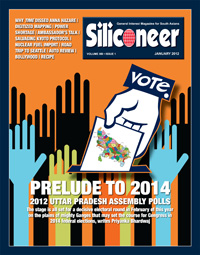 While the rest of the country is grappling with an anti-corruption Bill in the making, Election Commission of India has announced state assembly polls in the most populous state, Uttar Pradesh, and four more states: Punjab, Uttarakhand, Manipur and Goa, around the same time.

In all probability, low levels of polling and multiple contenders may result in a hung assembly and emergence of Congress as a potential kingmaker in eventual formation of state government.

The stage is all set for a decisive electoral round on the plains of mighty Ganges and bread basket of the country that may set the course for Congress in 2014 federal elections and test waters for Gandhi who could be a likely prime ministerial contender, writes Priyanka Bhardwaj.

Time magazine's year-end issue features 'The Protestor' as its 'Person of the Year.' While mentioning protests from all over the world, the editors at Time chose to downplay Anna Hazare's massive movement against corruption in India. Whether this was deliberate, or simply didn't matter, is a subject of hot debate.

It has often been seen that U.S. media in general lack covering events in India. With the Internet and social media, and the growing Indian American diaspora, ignoring India altogether could prove to be a poor proposition.

Sandip Roy and Lakshmi Chaudhry present a commentary.

Knowledge of the spatial nature of one's surroundings is essential for resource use, environmental management, allocation of land rights and diplomatic relations with other communities. Obtaining and recording geographic information is an essential component of community functioning. Processing this information and making robust decisions is critical to the continued existence of a community, whether it is a small nomadic tribe or a nation the size of India.

Protection of India's environment and forests requires the processing of large amounts of geographic information as well as numerous levels of bureaucratic approval. Integrating a decision support system with a Geographic Information System – an information management system, dedicated to the analysis of geographic information, that integrates different data sets and provides users with the ability to compare features across spatial data sets with different origins – could improve environmental regulation in India, writes Shashank Srinivasan.

India's high 8% GDP growth is threatened by insufficient supply of electricity that is pre-dominantly coal-fired, a recent report by Deutsche Bank has warned.

The study says that India needs to address its coal supply and distribution issues or else power shortages could deduct as much as 0.5% of India's GDP growth.

The current measures to deal with the problem have not been sufficient, writes Siddharth Srivastava.

Nirupama Rao recently became India's Ambassador to United States. Last month she visited the India Community Center in Milpitas, Calif., where she met with the Indian community and gave a talk on U.S. – India relations.

The ambassador said that the world's oldest democracy, United States and the world's largest democracy, India, have a lot to partner, embracing almost every field of human endeavor. Security, economic development, trade, energy, and agriculture are some of the areas where the two countries are working together.

She further stressed that contribution of the Indian American community is very important in this process. Siliconeer was there and brings you a report.

The recently concluded UN Climate Change Conference at Durban provided a new lease of life for Kyoto Protocol that came into existence in 1997. As usual, the latest round of climate change talks was soaked in political and moral skirmishes. India did manage to walk away with what seemed like a bargain, writes Priyanka Bhardwaj.

A road trip to Seattle, covering much of North West United States in one go. It was his longest family road trip by far, touching many tourist attractions. Sixth-grader Vansh A. Gupta talks about his thanksgiving break.

The Siliconeer team wishes all readers, associates and advertisers a very happy and prosperous 2012.