TRAVEL
Thanksgiving Break: A Mega Road Trip


A road trip all the way to Seattle from Fremont, covering much of North West United States in one go. It was his longest family road trip by far, touching many tourist attractions. Sixth-grader Vansh A. Gupta talks about this thrilling road trip during the thanksgiving break.

---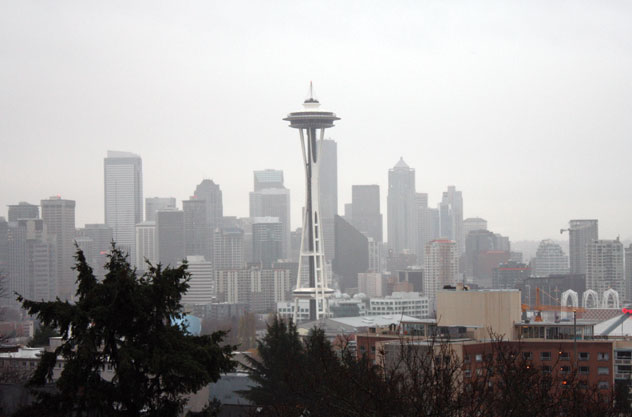 (Above): View of downtown Seattle from Kerry Park. [Photo: Amar D. Gupta | SILICONEER]

---
I thought this Thanksgiving break would be dreadful and boring, as I sat at home doing nothing and feeling blue. I had no idea what was coming up; it was all a surprise!

We started our tour, heading North on Interstate 5, as we passed through countless tourist attractions like Mount Shasta, Shasta Lake, Shasta Dam, Sundial Bridge, Turtle Bay Museum, and Woodburn Outlets.

It was raining like crazy, it was cold, windy and dark. My only wish at that point was for was a comfortable bed to crash in! Our first stop was Tigard, Oregon, which is about 10 miles south of Portland. We stayed the night in Embassy Suites-Washington Square. Adjacent to our hotel was the Washington Square Mall. No wonder the hotel had the "Washington Square" in its title.

I would rate this Embassy Suites a 4 ¾ stars for its amazing ambience, clean environment, comfortable rooms, and spectacular food and location. I had the best breakfast the following stay. And yet again, off we went in the SUV to explore Portland, OR.

---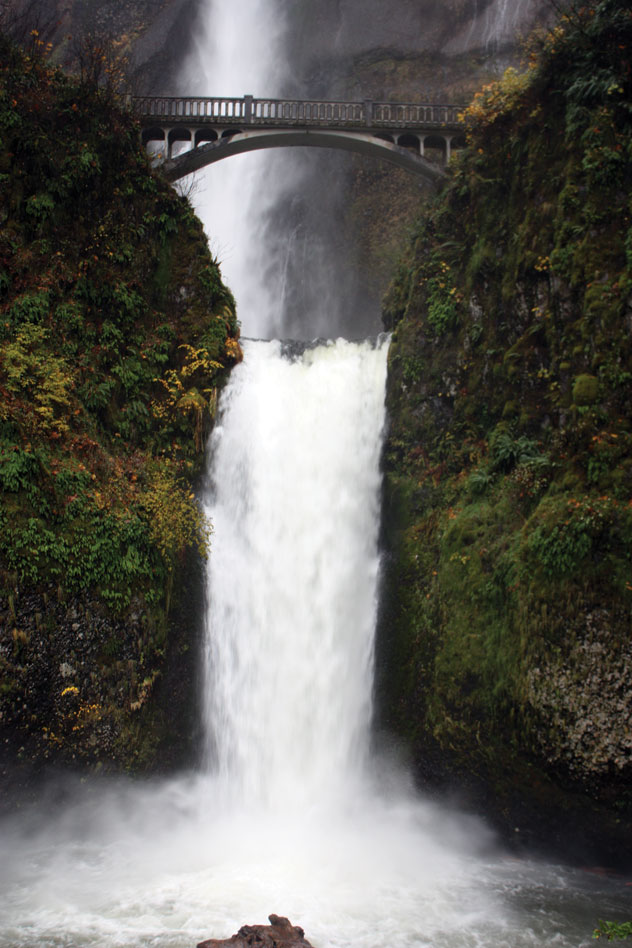 (Above): Multnomah Falls, Oregon. [Photo: Amar D. Gupta | SILICONEER]

---
We went through historic route 30 Columbia River Highway, which goes through Bridal Veil, Multnomah, and ends at Latourell with many waterfalls passing through. Some waterfalls we passed were the Latourell Falls, Horsetail Falls, Wahkeena Falls, and the mother of all, Multnomah Falls. It was raining and cold, and dusk was already setting in at 3:00 pm. We decided to sacrifice the downtown trip and headed straight to Seattle, WA instead.

But then, what good would it be to drive on the boring I-5, so we decided to take a detour. As it was aptly called, went through the 'Bridge of Gods' over the Columbia River to enter Washington. The Bridge of Gods is a metal bridge and at this time of the year, it was lit up with wonderful holiday decorations. The Bridge of Gods was also the welcoming entrance to WA- Rte. 14. As we continued are road trip in WA-Rte. 14 West, the view was very breathtakingly beautiful. It was very foggy over the steep mountains and we could barely see the lake, it looked like a route to the gates of heaven. And finally back on I-5 N, we cruised toward our destination, Seattle.

The real fun started in Seattle. I stayed with my cousins (Meera and Ria) at their home. Needless to say, we were exhausted and the warmth of the home provided the stigma to a really deep sleep that night.

The next day, waking up fresh and rested, my cousins and I headed to Zoka Coffee Shop and Mighty-O Donuts. Mighty-O Donuts is known for its delicious, fresh and vegan donuts. The Zoka Coffee Shop is known for its delicious and award winning brewed drinks. With rain and cold temperature, a donut and a latte are the best way to start what would seemingly be a very long day, I thought.

---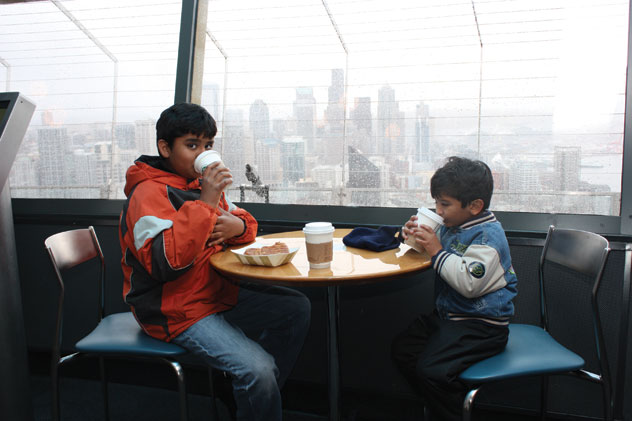 (Above): Vansh and his brother Janam enjoy a warm drink at the Space Needle in Seattle. [Photo: Amar D. Gupta | SILICONEER]

---
Next up, the family headed over to one of the most famous landmarks in the West coast, the Seattle Space Needle. I was excited to go to the top of the needle and see all of Seattle. The Seattle Space Needle is the second tallest structure in Seattle. The structure goes up to about 600 feet and the observation deck (the highest floor in the building) is about 520 ft. It was cool how I could see all of Seattle in just one needle shaped structure. The day we went it was very windy. Inside the observation deck were cool gadgets such as a controllable camera; a map full of info of each street for tourists to tour around; also a gadget were you could see the view of Seattle from the Space Needle at any time of the day instantly on that gadget. Atop the Space Needle was a Starbucks Café where we had warm drinks to shake off the cold wind and rain that was, by this time getting on my nerves. The Needle done, we headed to other places, driving through downtown and then stopped for view of Seattle downtown from Kerry Park.

---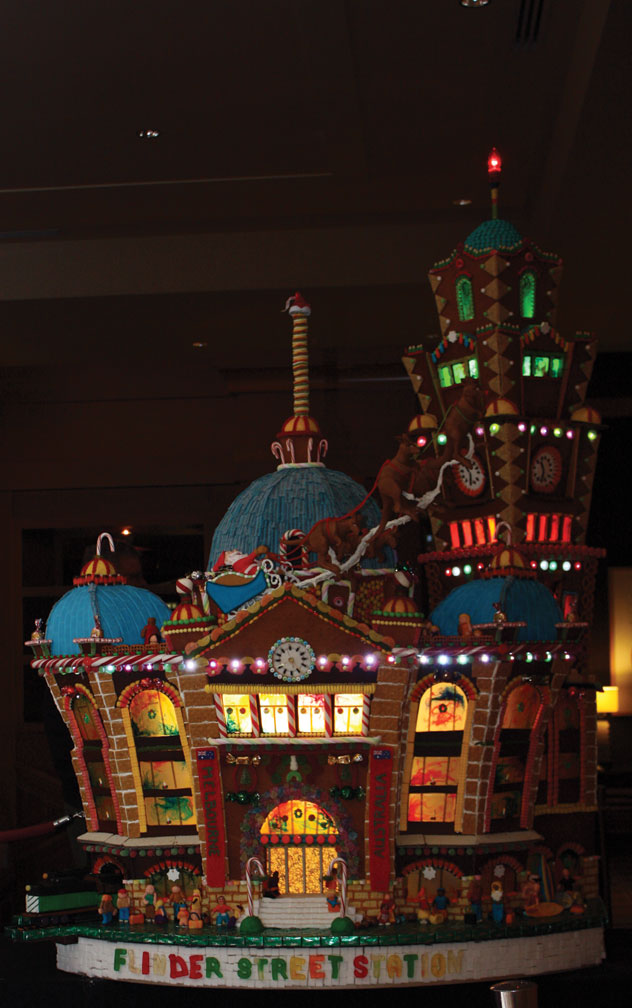 (Above): The Gingerbread town display at the Sheraton Hotel in downtown Seattle. [Photo: Amar D. Gupta | SILICONEER]

---
The drive around the Seattle downtown was amazing. At first glance, the downtown looks like any other, but then there are some attractions that make it different from the rest. The Space Needle is an example, and then there are the Christmas decorations. But you know what people say, there is always something different and extraordinary about each place. Here's one about Seattle, inside the Sheraton Hotel located in the downtown was a gingerbread village, which we saw. The town was unbelievably unique with its beautiful décor, completely made out of gingerbread cookies! If it hadn't been for the place, it would have made a great filling snack!

---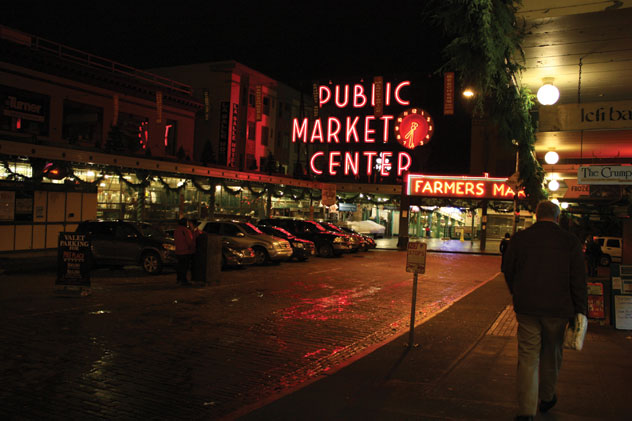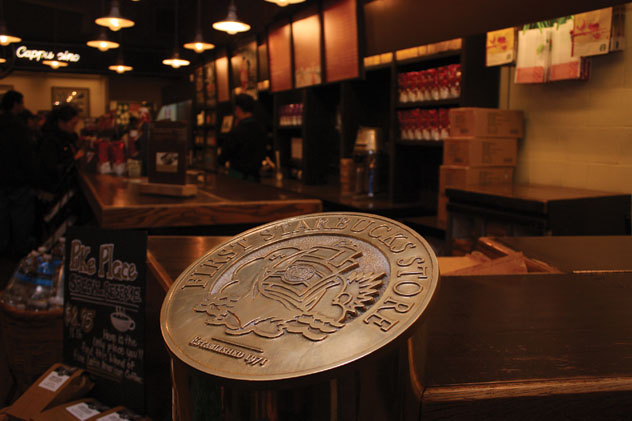 (Above): (Top): The Pike Place Farmer's Market in Seattle downtown. (Bottom): The first store of the Starbucks Coffee chain that started from the Pike Place location. Starbucks still has it's coffee named after this store - Pike Place roast. [Photo: Amar D. Gupta | SILICONEER]

---
With the gingerbread still in my mind, we headed to Pike Place Farmers Market. It was also the place where the modern coffee generation started. Yes, the first Starbucks store, which we saw and had coffee, something that felt as if it was more of paying tribute to Starbucks for feeding the new coffee generation. We also visited many other places like the Ballard Locks, Boeing Factory, Inchin's Bamboo Garden, and B&O Coffee Shop, all in three days.

Ballard Locks or "Hiram M. Chittenden Locks" was a unique experience where I learned about how it separates out all the salt water and keeps the water fresh even when the ships and sea creatures approach from the ocean. Now isn't that cool! The Ballard Locks is located at the west end of Salmon Bay. The Locks is all outdoors but the fish observation center is indoors and underwater which was cool to me. Now if I tell you how it works, that would spoil the fun of seeing it all by yourself.

---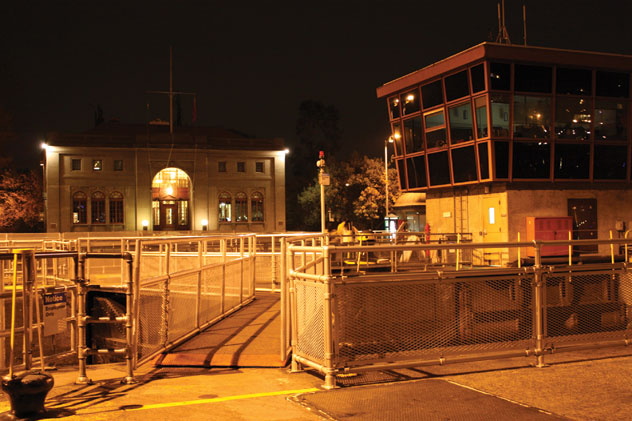 (Above): A night time view of the Ballard Locks in Seattle. [Photo: Amar D. Gupta | SILICONEER]

---
The following day it was a trip to the Boeing Factory. Boeing is where aircrafts made. We decided to take the tour of the factory in Everett, Washington. Note: If your child is less than 4 ft. he or she cannot go to the tour. In the tour we saw the making of Boeing 747, 767, 777, 787, and the 787 Dreamliner. The tour was about 90 minutes long with about a mile-walk and a ride in an elevator the size of a car garage.

The first plane was the Boeing 747. Though Boeing airplanes may look the same from the outside, from the inside the airplanes are full of features, totally customized to the needs of the customer, in this case the airline it is being made for. The best airplane yet is the innovative 787 Dreamliner. You know what people say "save the best for last," that is exactly what happened at Boeing, the tour guide took us to the future 787 Dreamliner last.

It was a magnificent experience to see these massive jets being built piece by piece and how they bring all of it together, under one roof.

---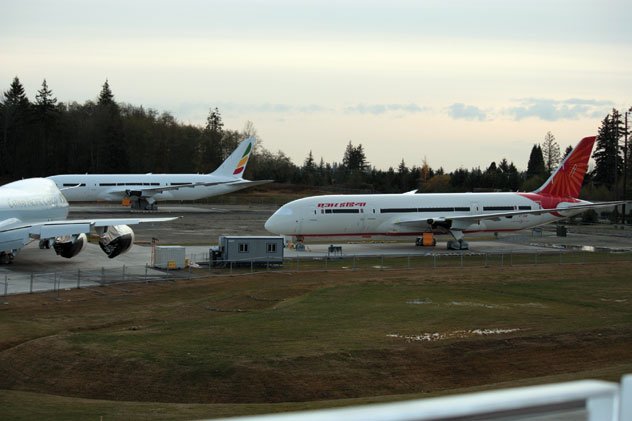 (Above): An Air India plane being painted at the Boeing Factory in Everett, Washington. [Photo: Amar D. Gupta | SILICONEER]

---
Hungry and craving hot food, we went to Inchin's Bamboo Garden, which in my opinion had the best Indo-Chinese cuisine. This restaurant is rated about 4 stars. What is the last thing to end a perfect day, for a sweet tooth like me, its desserts! Desserts in Seattle = B&O Coffee Shop, where we checked in at midnight for a fantastic treat. The tour of Seattle was done in my opinion, but there was still a bag full of surprises during the road trip home.

When we started our trip back to California, I thought that was the end of wonderland, but boy was I wrong! As we started the way back, we first went to Mount St. Helens, then to Woodburn Outlets, then to Medford, and then, Crater Lake.

Mt St. Helens is a mountain and an active volcano. Washington State Hwy 504 East (Spirit Lake Hwy) goes across Mt St. Helens crossing through remote water systems and territories. We hit a lot of snow on top of the mountain and close to the volcano. The view from the top was majestically beautiful and the volcano was fascinating. Mount St. Helens highest elevation is about 8,370 ft., and is part of the Cascades range. If you go about 60 miles you will end up in Johnston Ridge Observatory and there is a nice view of the volcano. That done, we quickly headed to our next stop at Woodburn outlet mall.

---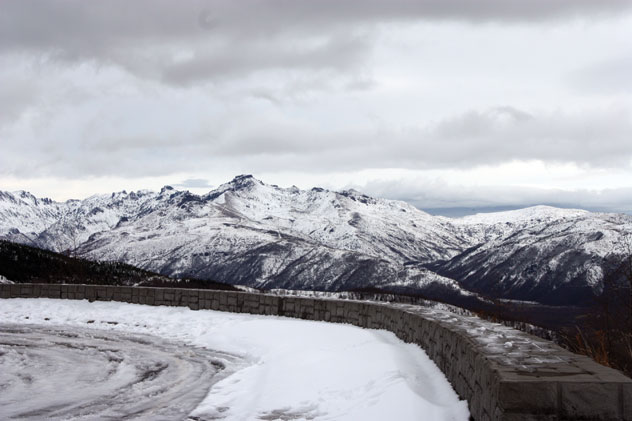 (Above): The snow covered peaks of Mount St. Helens. [Photo: Amar D. Gupta | SILICONEER]

---
Woodburn outlets, turns out, was a shopping Mecca, especially for mom and dad, no sales tax! As it was just after thanksgiving, there was a huge sale, my parents shopped! Woodburn Company Stores mall is outdoors and is huge with hundreds of factory stores!

Tired from the exhaustive shopping crusade, we headed to Medford, where we decided to have dinner and as it was dark, called it a day. After dinner at Shari's (a setting similar to Denny's or IHOP), we headed to our home for the night – Holiday Inn Express, Medford, Oregon.

---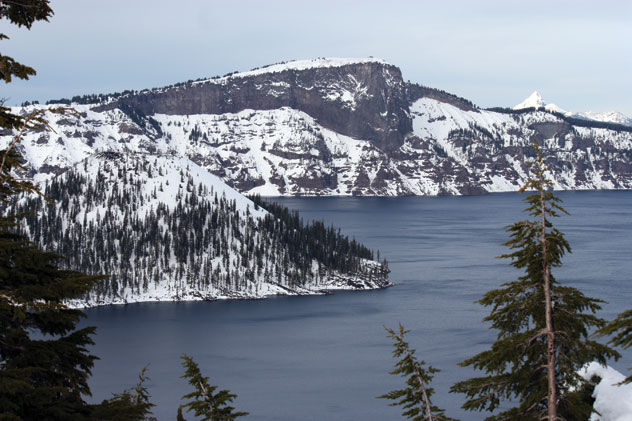 (Above): The beautiful Crater Lake. [Photo: Amar D. Gupta | SILICONEER]

---
The next day (last day) of vacation I visited Crater Lake, again, as the last time we went with my friends in Spring Break I could not see the actual lake. This time we got to see it all, it was totally worth it the effort! Crater Lake is located close to Klamath Falls and is very beautiful. The lake is about 2,000 ft. deep. The width and length is about 6 miles. The view was great with the snow, trees, mountains, and lake together. Oregon Rt. 62 (Crater Lake Highway) welcomes you to Crater Lake with a scenic drive. While coming back we took U.S. 97 with the nice view of Klamath Lake that went along the highway for almost about 10 miles.

We crossed the same tourist attractions again while coming home, briefly stopping on Hwy 97 to take pictures of Mount Shasta before we headed back to I-5 South.

---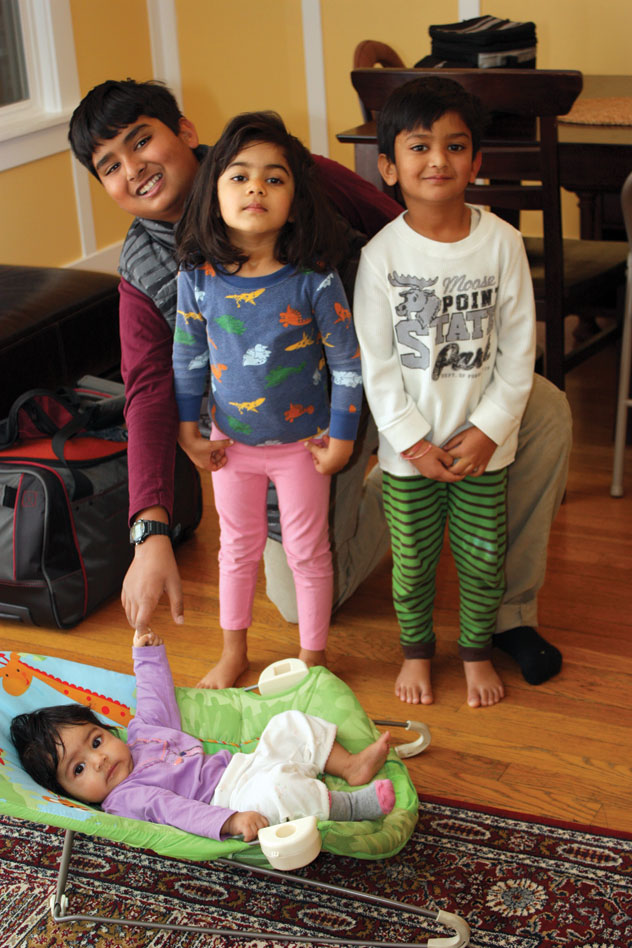 (Above): Author Vansh, his cousin Meera, Vansh's younger brother Janam, and Meera's little sister Ria. [Photo: Amar D. Gupta | SILICONEER]

---
Lastly, we stopped for dinner at Mary's Pizza Shack at Anderson, Calif. After some great pizza, we finally headed to home sweet home which was now about 250 miles away. At this point, it was dark and I was exhausted. I slept my way back to home all the way from Mary's!

This Thanksgiving turned out to be good with all those places we visited, the food, the stay, the drive, and best of all, the quality time we spent with my cousins and extended family in Seattle.