THEATER
The Whimsical Sultan: Naatak's 'Tughlaq'

Naatak presents performances of Girish Karnad's famous 1964 theatrical rumination on Muhammad Bin Tughlaq, an eccentric and occasionally cruel 14th century Indian ruler. Sujit Saraf offers a preview.
---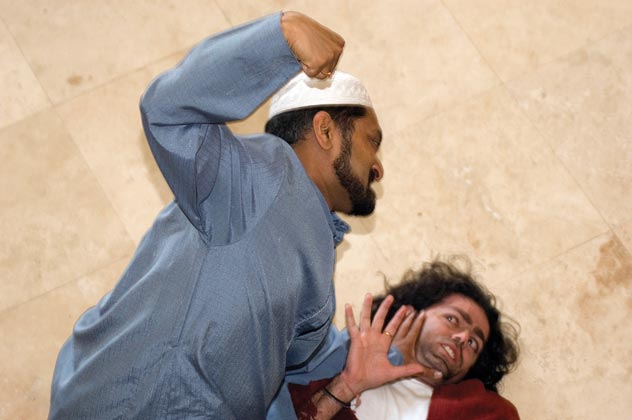 A scene from Naatak's "Tughlaq," Girish Karnad's celebrated 1964 play.
---
A year after Muhammad Bin Tughlaq became Sultan of Delhi, "he resolved to lay Delhi waste," writes Ibn-i-Batuta, the Moroccan traveler who visited Delhi in 1335. Having ordered the entire population of Delhi to move to Daulatabad in the Deccan, the Sultan mounted the roof of his palace and looked around. When he saw neither lamp nor smoke anywhere, he said, "Now my heart is pleased and my soul is at peace." But the Sultan found no peace in his new capital, and forced his people to return to Delhi within two years. The two journeys – each more than 750 miles – brought great hardship to the people of Delhi. Thousands perished.

There is no shortage of cruel and eccentric sultans, kings and emperors in the history of India, men whose arbitrary reigns bankrupted whole kingdoms, destroyed thousands of lives and brought misery to millions. Even amidst the abundance of power-crazed murderers, pederasts, zealots and afeemkhors who ruled the northern parts of India in the seven hundred years following the arrival of Ghori, Muhammad Bin Tughlaq stands alone as the most eccentric and least comprehensible of all. He was said to have boasted, "I punish the most trifling act of contumacy with death. This I will do until I die or until the people act more honestly." The whims of the Sultan dictated the flavor of his rule, changing from intelligent and humane on a given day to insensitive and bloodthirsty on the next. Ibn-i-Batuta records of Tughlaq, "The people never tired of rebelling nor the king of punishing them."

On June 11, Naatak's production of Tughlaq, Girish Karnad's play chronicling the unnatural reign of Muhammad Bin Tughlaq, opens in San Jose, Calif. Karnad's Tughlaq is a troubled man, his kindness competing with bloodlust, his desire for good administration perpetually in conflict with a penchant for fantastic schemes, and his good intentions swamped by a deep sense of insecurity. When the Sultan died in 1351 the historian Barani recorded, "the king was freed of his people and they from the king."

Written in 1964, Tughlaq is one of Girish Karnad's best loved plays, and has been staged countless times all over the world in many languages. Naatak's production, in Hindi with English supertitles, is directed by Manish Sabu and produced by Pradeep Gupta. Shows run from June 11 to June 20.
For more information, visit www.naatak.com.